Day 1 – June 10, 2022
Heathrow Airport to New Cross (London)
Miles: 30+
Terrain: Nearly all flat
Weather: Sunny and mild with no significant wind
As expected, the bicycle case was oversized and overweight so they charged me $100 extra for it (this is normal). However, it weighed in at 78 pounds, 8 pounds over the maximum for that category. So I spent a few minutes off to the side moving items out of the bike case into my carryon, which luckily had just enough room to accept the panniers, shoes, and a couple of other items. The case was now 70.5 pounds which was acceptable so off it went. Then I had to lug the rest of that stuff around all day, but no big deal really (they gate checked the carryon, naturally, on the first flight, and then I had no problem fitting it in the overhead bin on the way to London.
The flight from Dayton to Charlotte had me worried a bit because I had only a 1 hour 15 minute layover and had to change concourses. Ever notice how when you're in a hurry during a transit you're always at the far end of one concourse and have to go to the far end of another? But if your layover is 4 hours, you're at the adjacent gate. I think they do that on purpose. Anyway...after hurrying along for about a 20 minute walk I managed to arrive 10 minutes before boarding started, which was enough time to use the restroom, but I didn't really have time to get food. Luckily they give you a decent meal on American Airlines transatlantic flights. After eating that, and watching one movie, I managed to sleep the rest of the way for about 5 hours of terrible sleep.
Upon arrival at Heathrow around 0915, it took 30 minutes to get through the passport control area, and another 20 minutes to get my bag, and then I had to get to the storage place in Feltham about 4 miles away. An Uber cost 27, but a cab only cost 25...what's that all about? Anyway, I took the cab, had a nice conversation, and arrived just after 10am. Then it was an hour and a half to assemble the bike, which fortunately worked with no issues (so far) and then went across the street to a supermarket to buy some bread and cold cuts for sandwiches (which accounted for lunch and dinner) plus something I forgot to bring along, namely suntan lotion. Amazingly the weather looked pretty nice so I fed and protected myself before setting off just after noon to tour London.
The ride meandered about as I took my time hunting geocaches and moving in the general direction of Abbey Road where there was a webcam to do. Once that got taken off the to-do list, it was an even more random meandering path down to Westminster and along the Thames. The map above doesn't really show the full extent of the wandering as I headed off down various side trips and into lovely parks for the next 7 hours or so. (See photos below) Then, after eating my second round of sandwiches, it was off to my lodging for the night, a hostel to the southeast which turned out to be very noisy thanks to a bar at the corner with live rock music. Luckily for me I enjoy the occasional rock song, so I drifted off around 9:30pm with the music bouncing around in my head.
Tomorrow I have a fairly easy ride southeast to a campground where I'll try my first night of camping. I expect to be quite chilly as the nights are in the 50-degree range at this time of year.
Now for the pictures...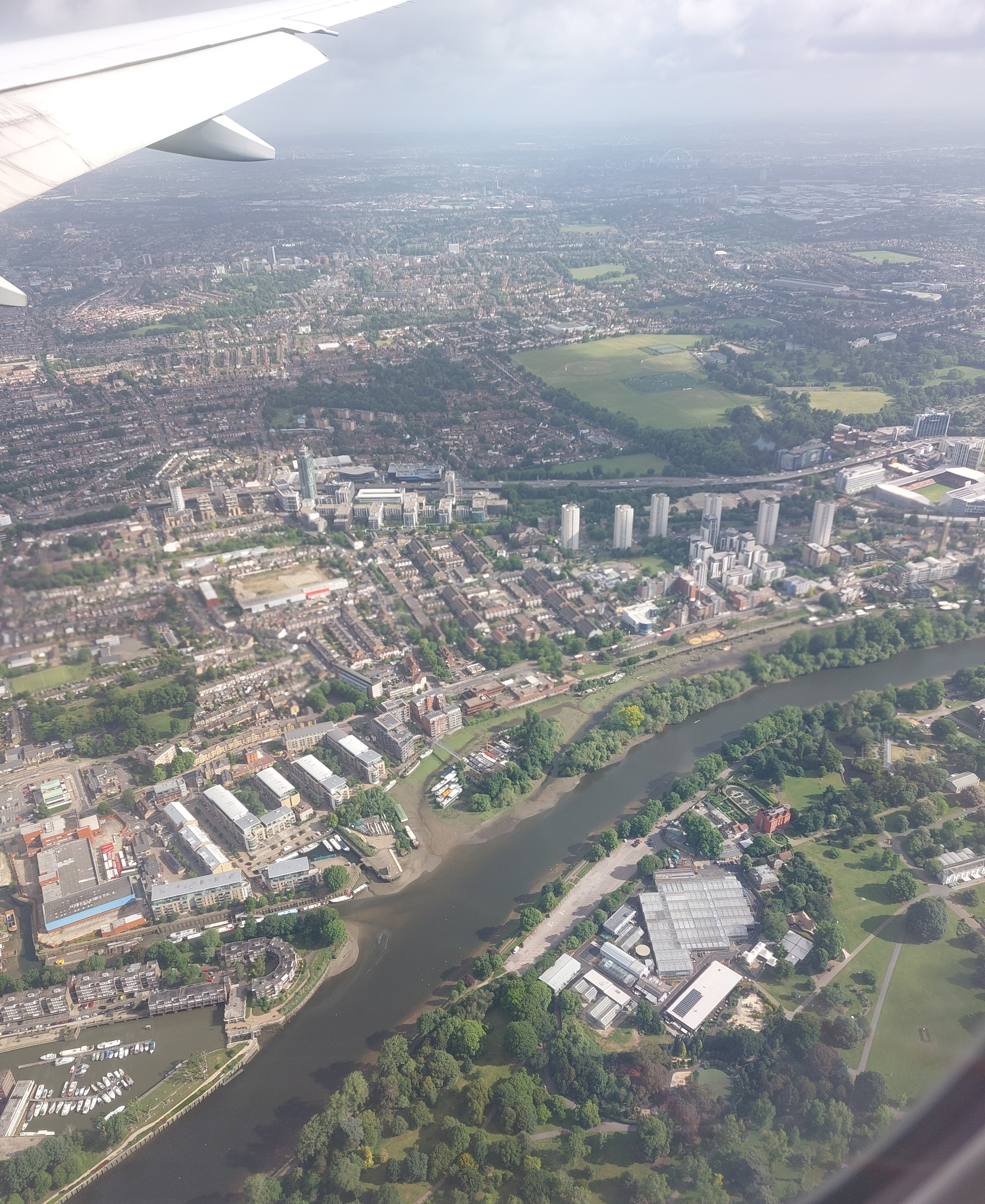 My view of London as I fly overhead on the way to Heathrow. I'll be bicycling along down there shortly.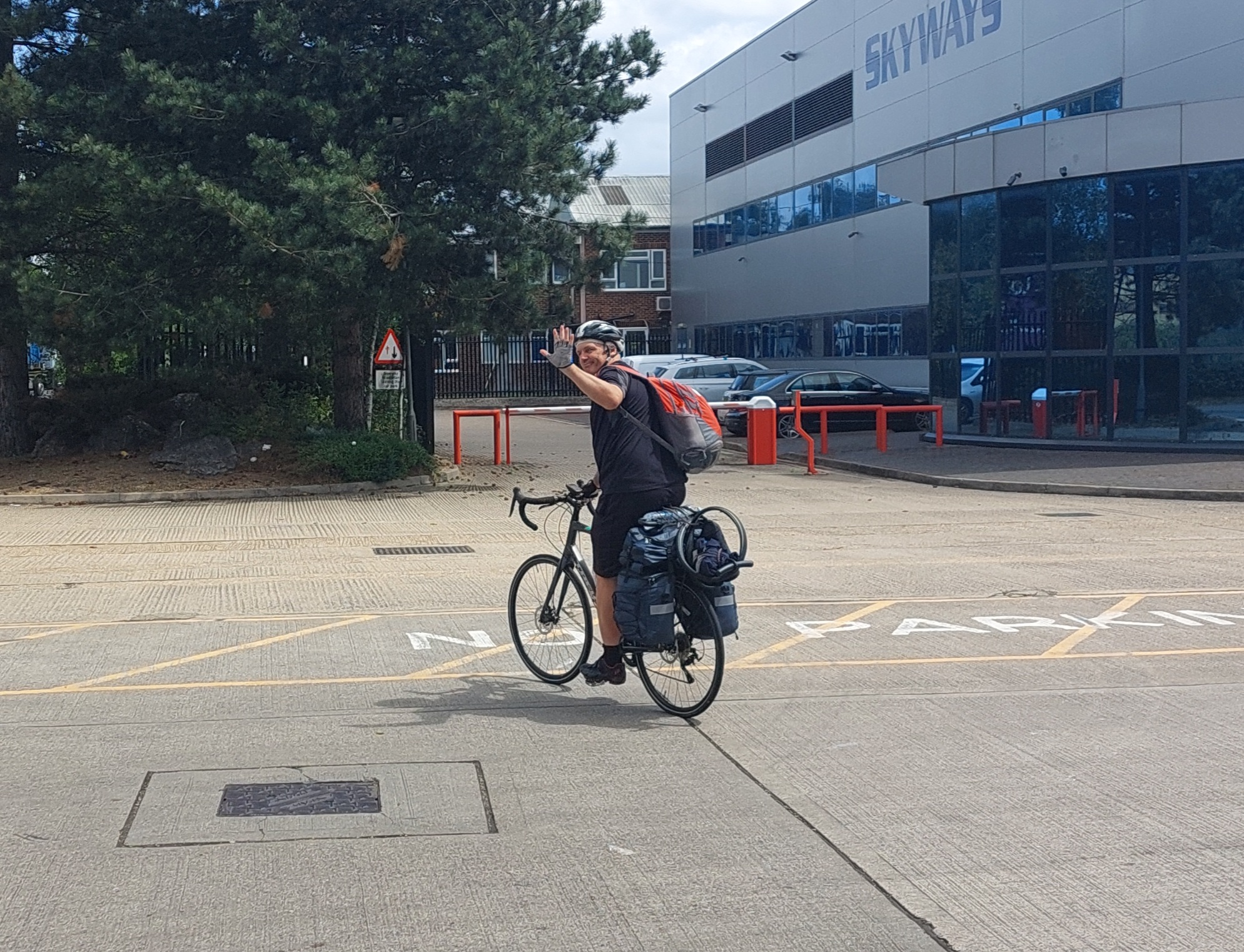 The guys at the storage place were kind enough to snap this photo of me as I head out to begin my journey.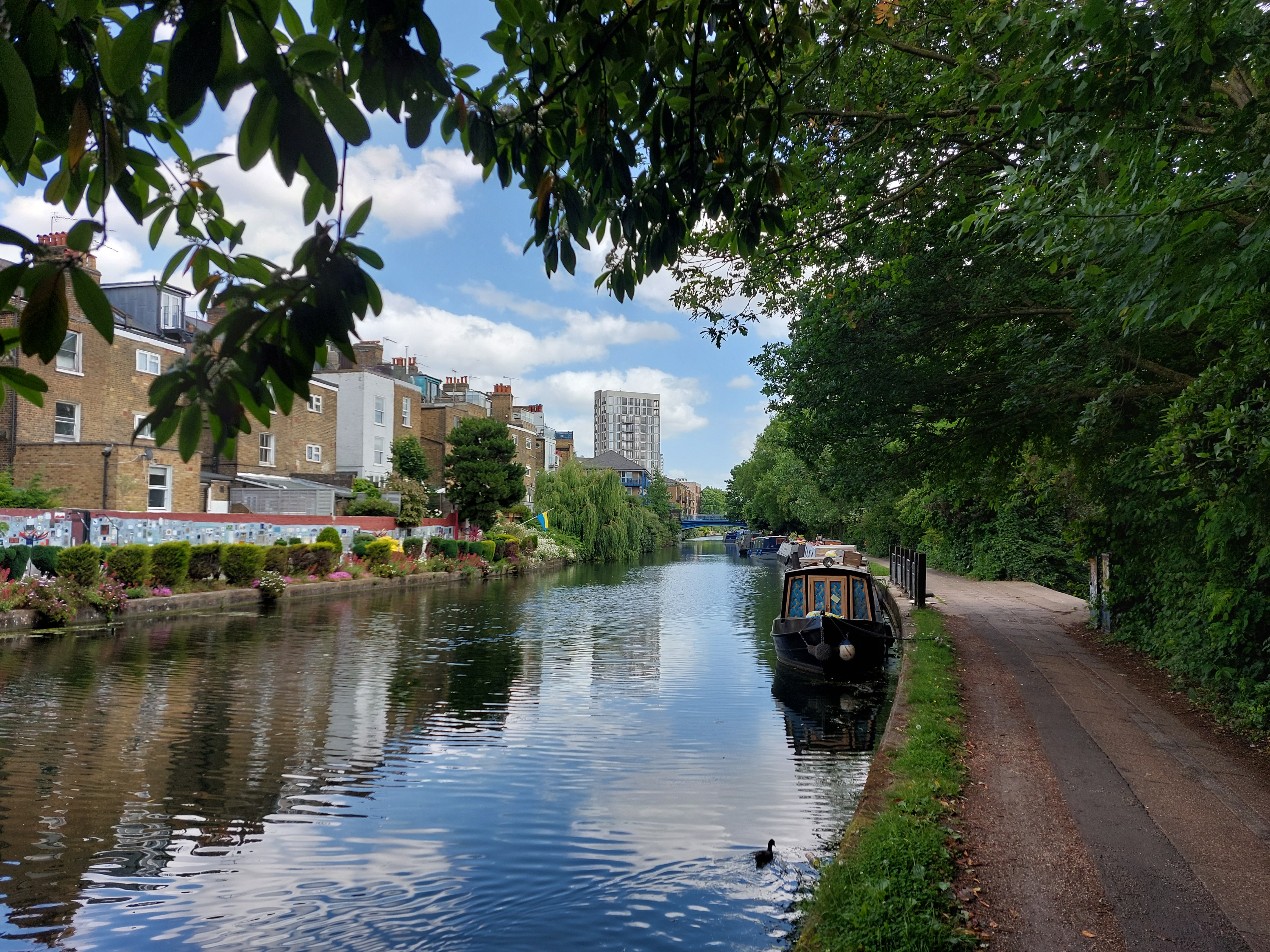 A nice view of one of the city's many rivers as I head along eastward toward London proper.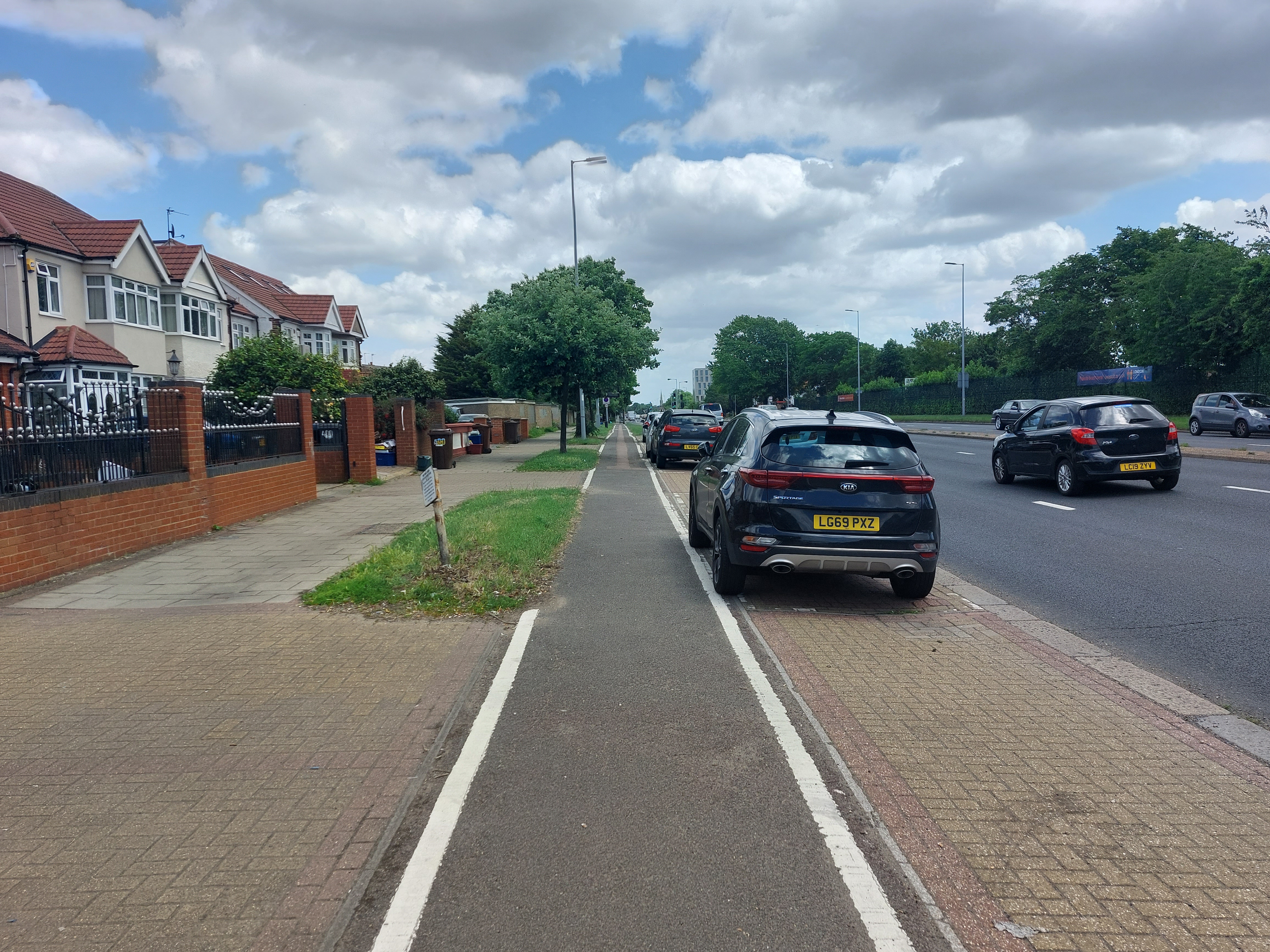 Riding on the opposite side of the road than I'm used to can be quite challenging. Luckily many of the major roads have cycle lanes built in like the one you see here. Even better, cars park on the right of you (so the driver door side faces the street and you're less likely to get knocked over if someone opens their door suddenly...and also cars that come in or exit parking aren't going to run me over).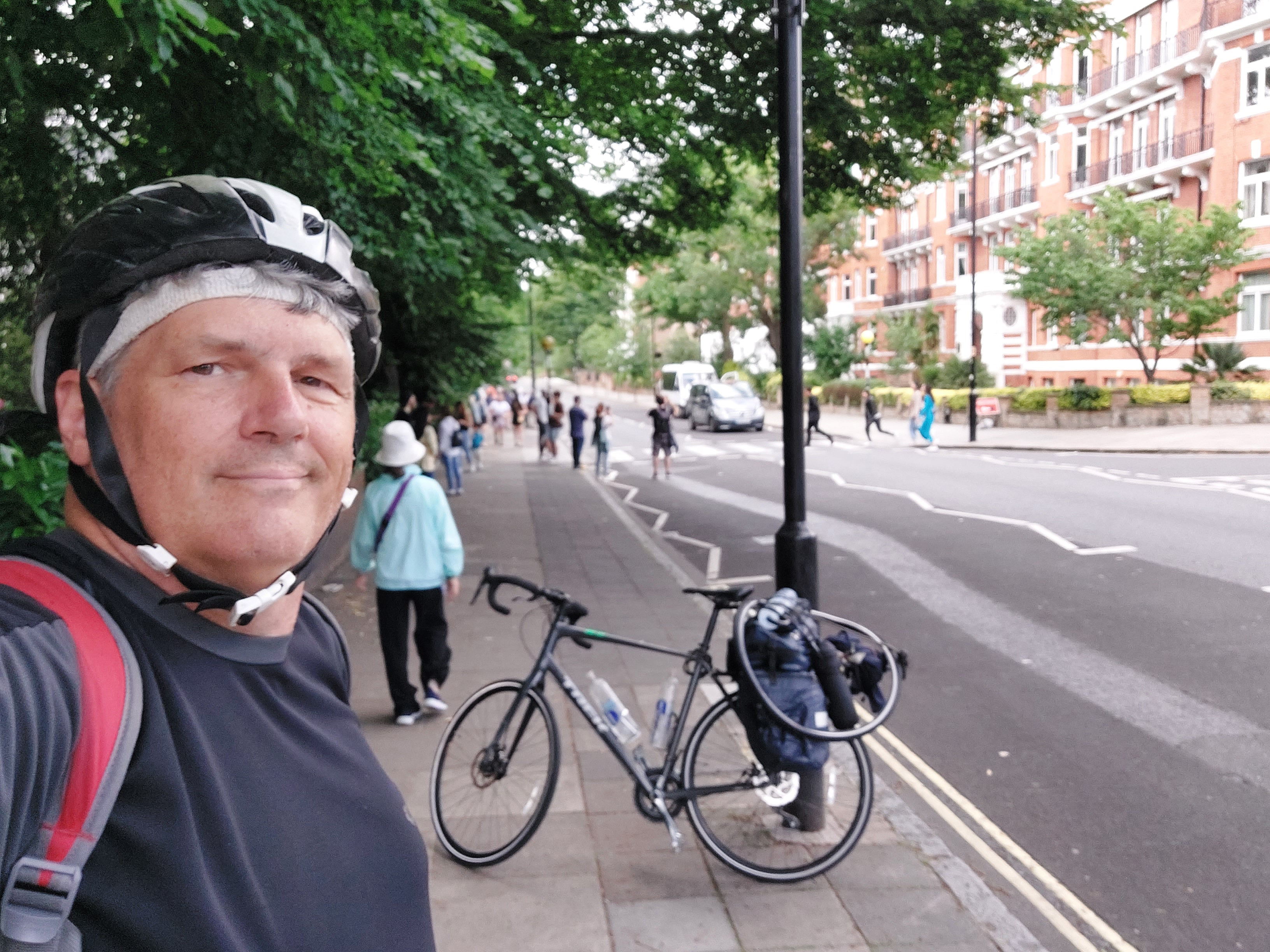 The first target of the day was the Abbey Road site from the famous Beatles album. Well, here it is. You can see some fans in the background going across while people take their photos. While I was here several dozen groups did the same thing. Some were better about making the shot than others.
Interesting side note. On the actual album cover there is a Beetle on the left side (a Volkwagen Beetle, I mean) which was owned by some random guy who lived in the area. After the album was released people kept stealing his license plate. Eventually, though, Volkwagen bought the car from him for $25000 (a princely sum in the 1960s) and it now sits in a museum next to another famous Beetle, namely Herbie the Love Bug.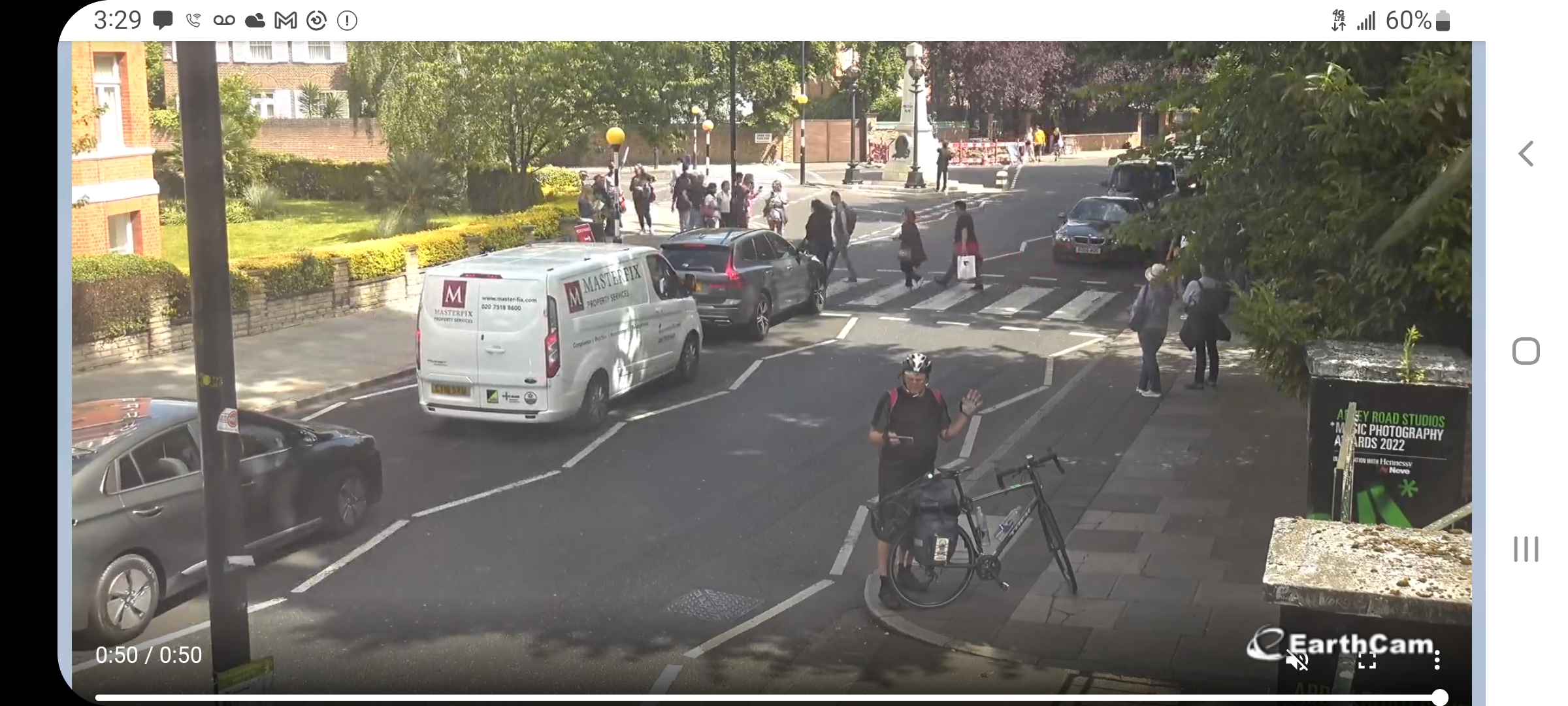 Part of the reason to come here was to visit the nearby webcam. This live cam actually makes a better view of the Abbey Road crossing than my selfie does. You can check this camera yourself anytime and watch as tourists humorously try to duplicate the album picture, blocking irate motorists in the process. Just search online for Abbey Road webcam.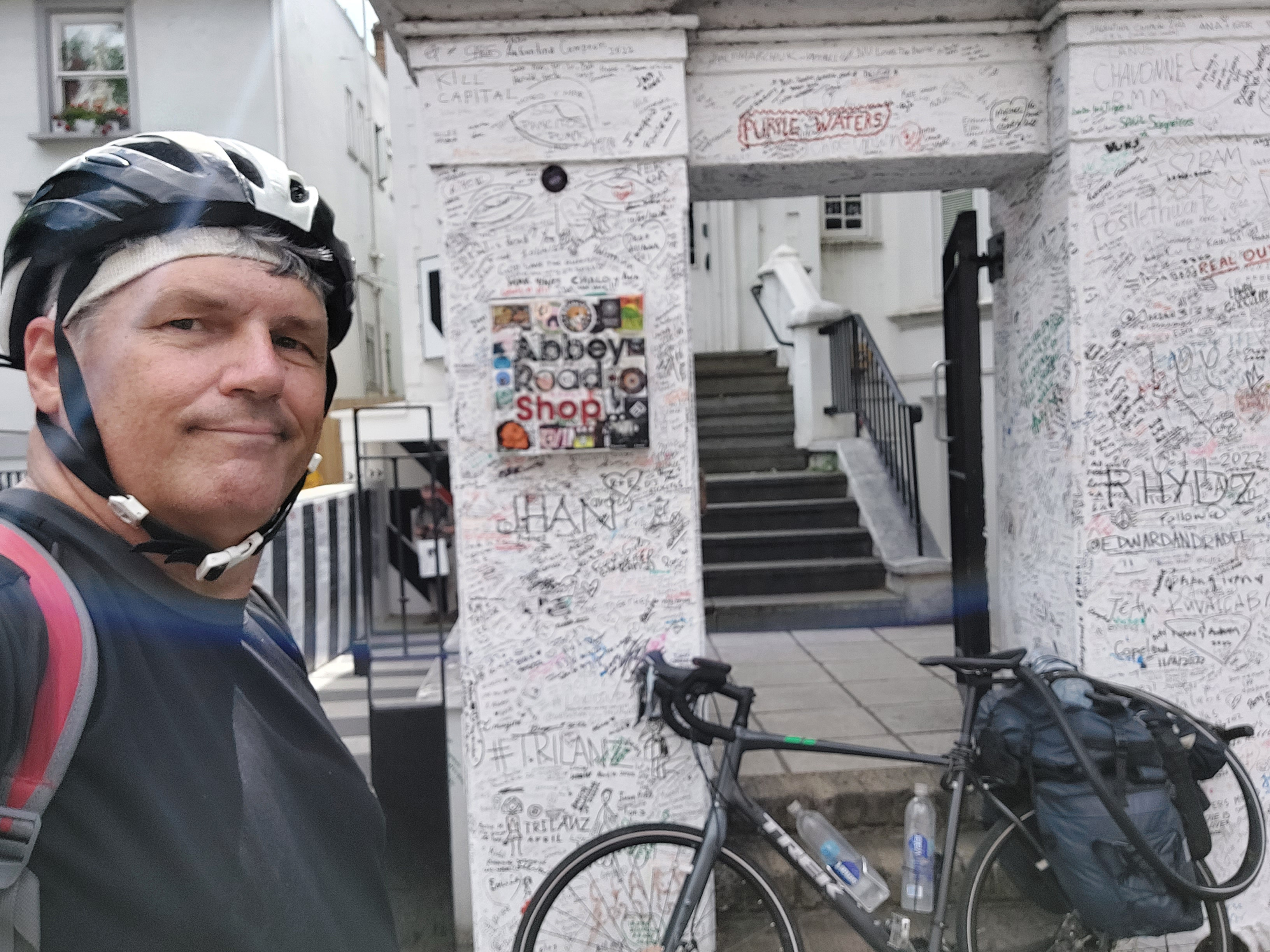 Here's the famous Abbey Road studios where fans are encouraged to write on the walls.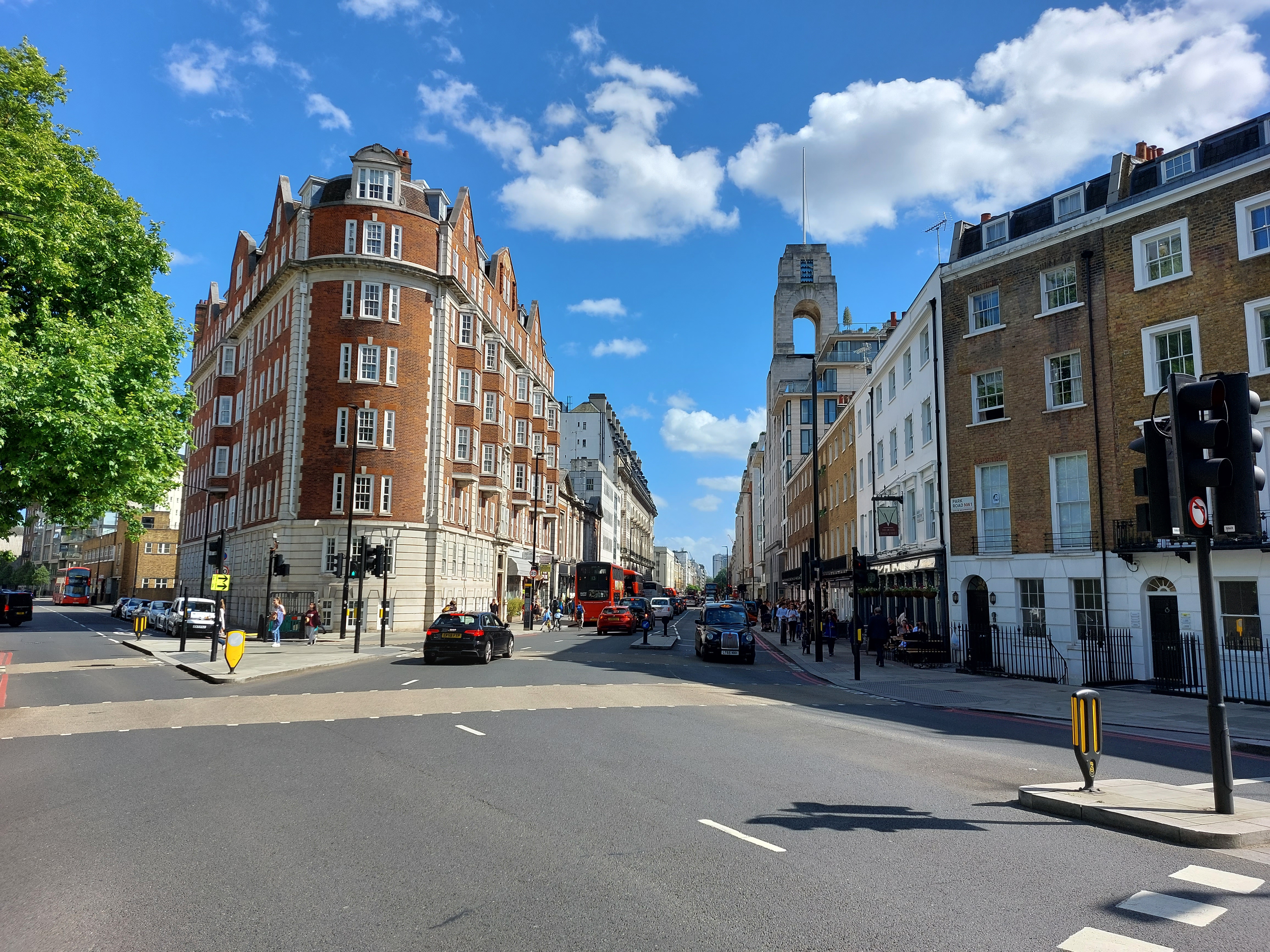 Moving along, here is a typical street view as I ride toward Westminster, getting blocked repeatedly by buses which were everywhere.
A scenic statue in one of the parks I went through. See what I mean? Buses everywhere!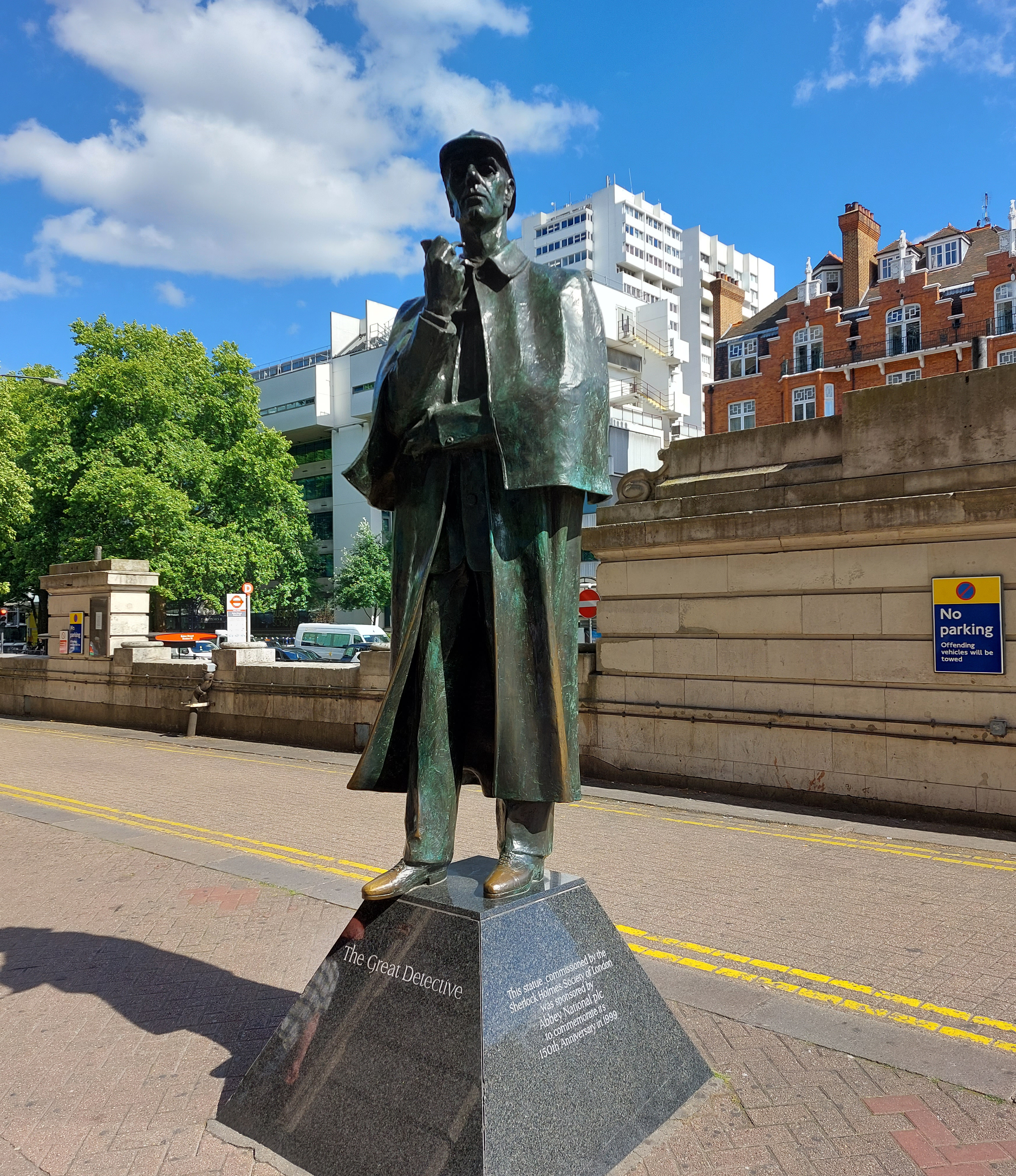 My journeys took me to Downing Street where they have this nice statue of Sherlock Holmes.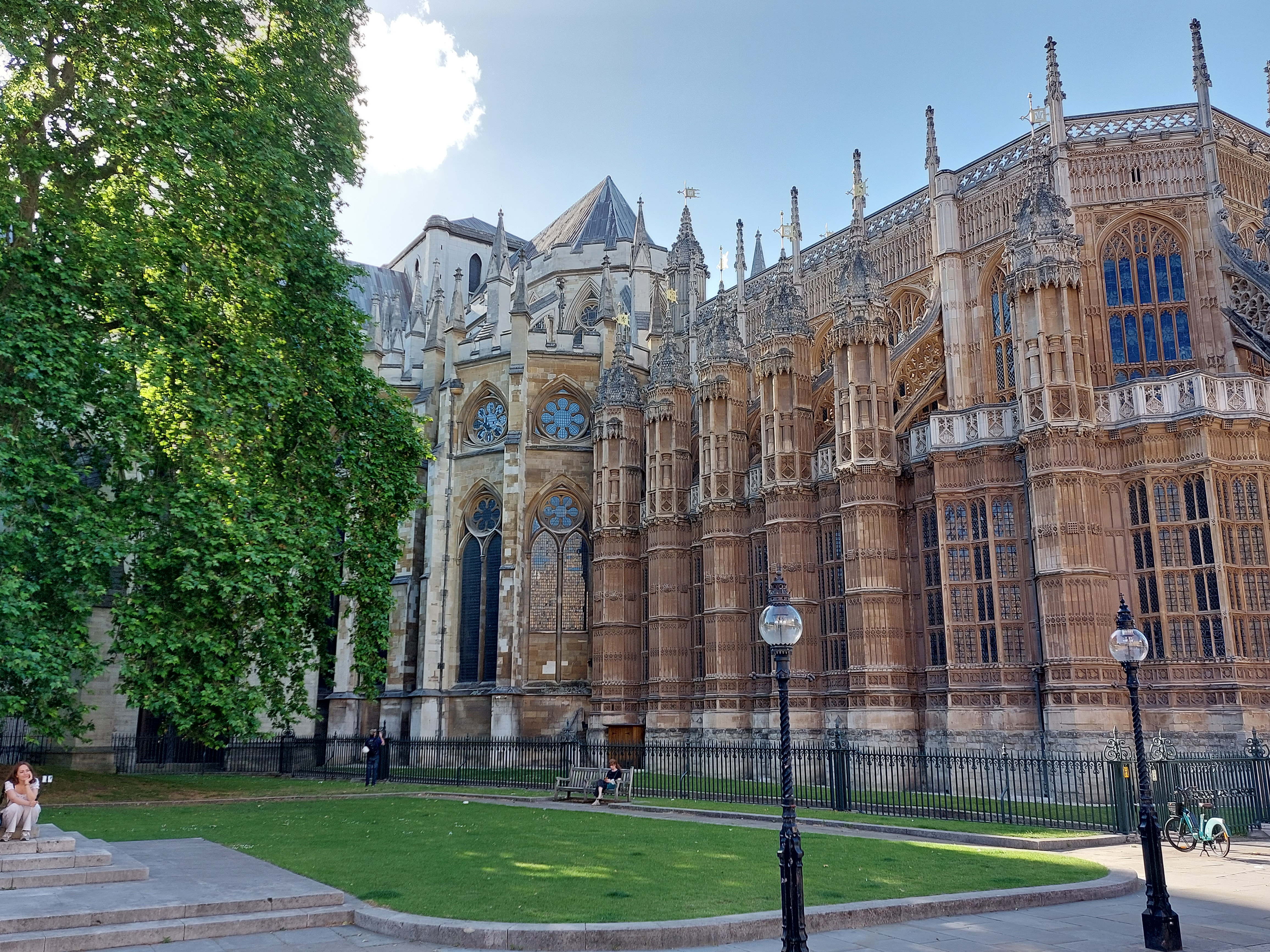 This is Westminster Palace, where the King and Queen live.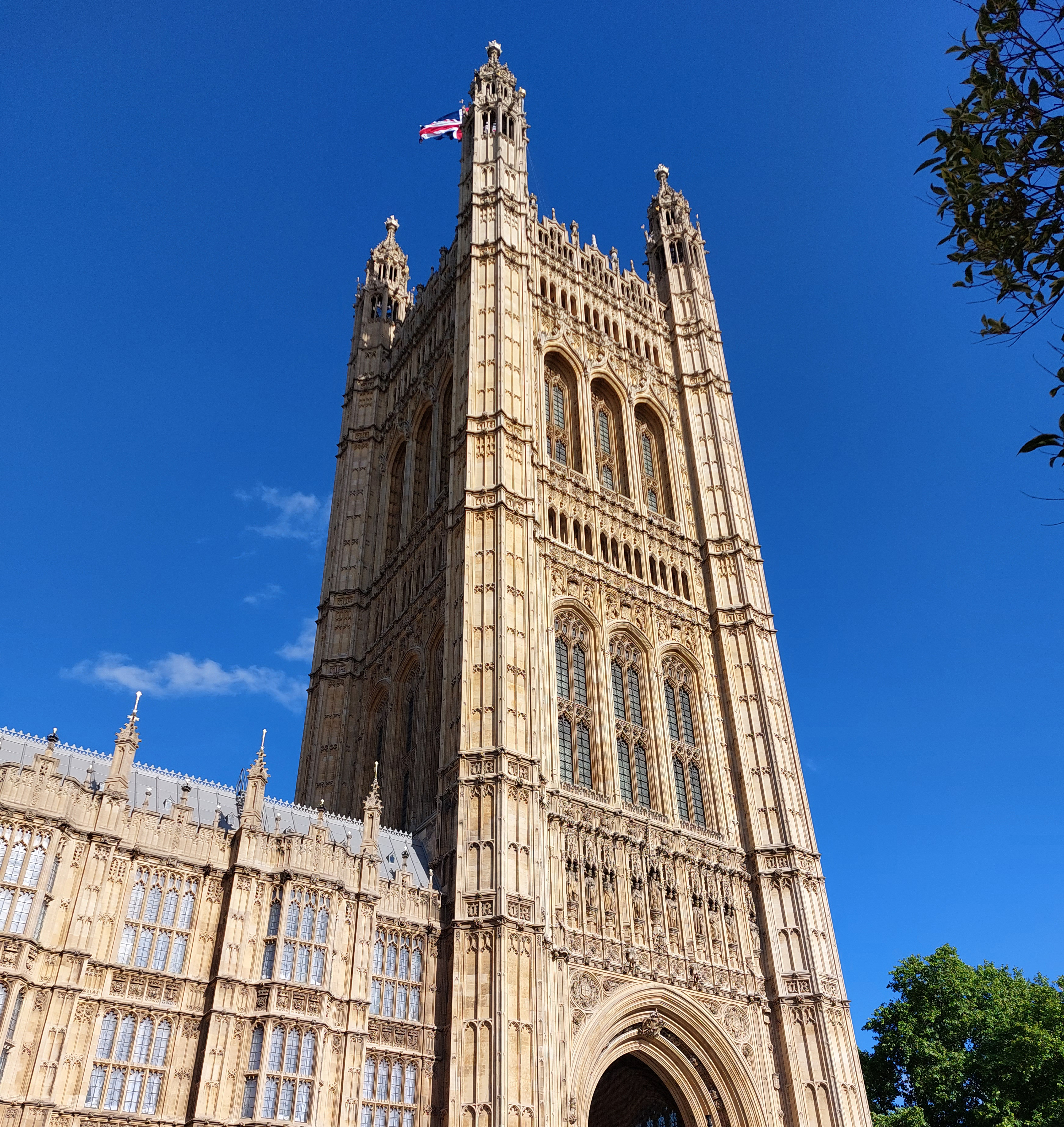 Another view of this amazing place.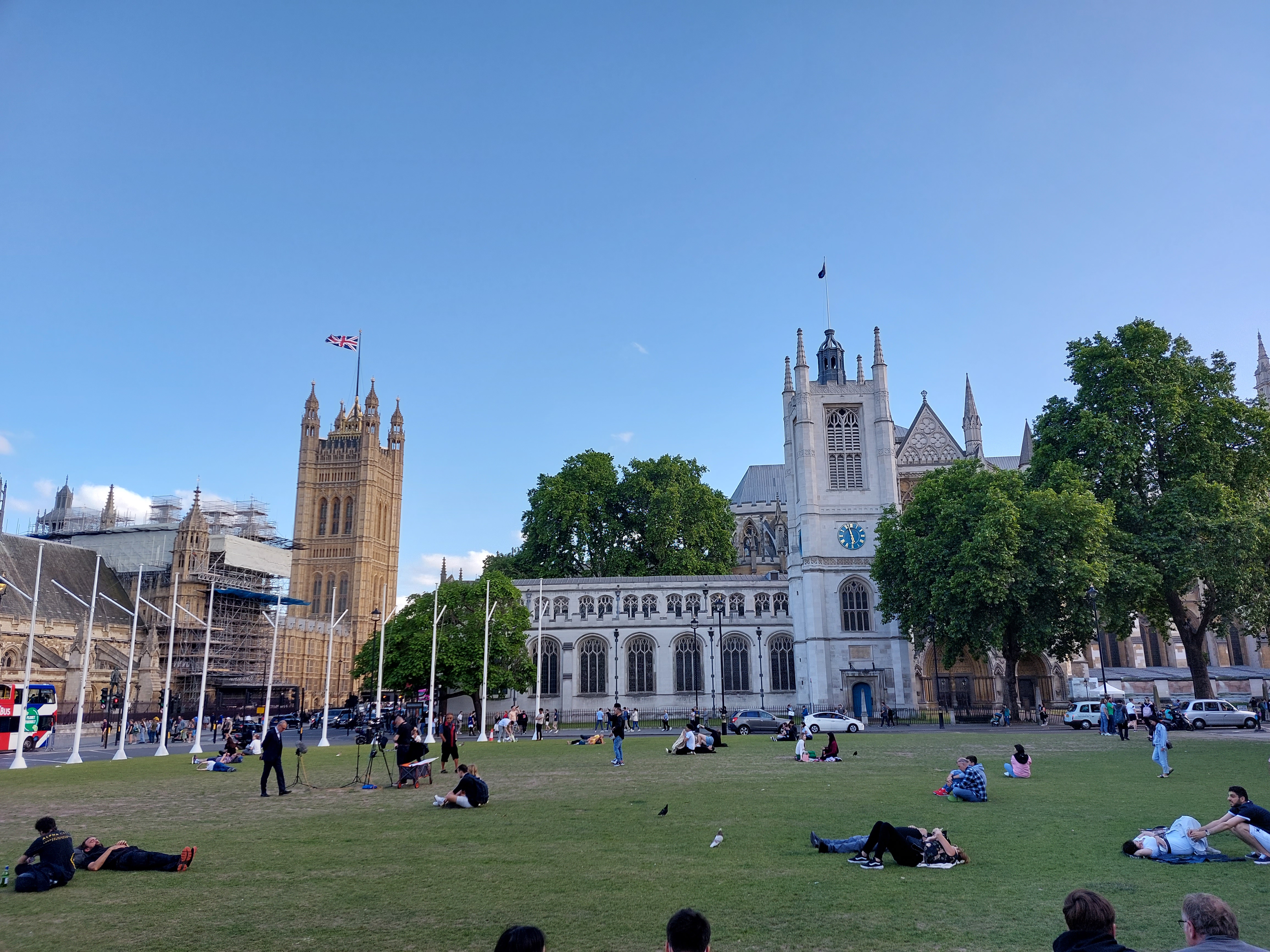 This is Westminster Abbey and Trafalgar Square, apparently a nice place to get a nap.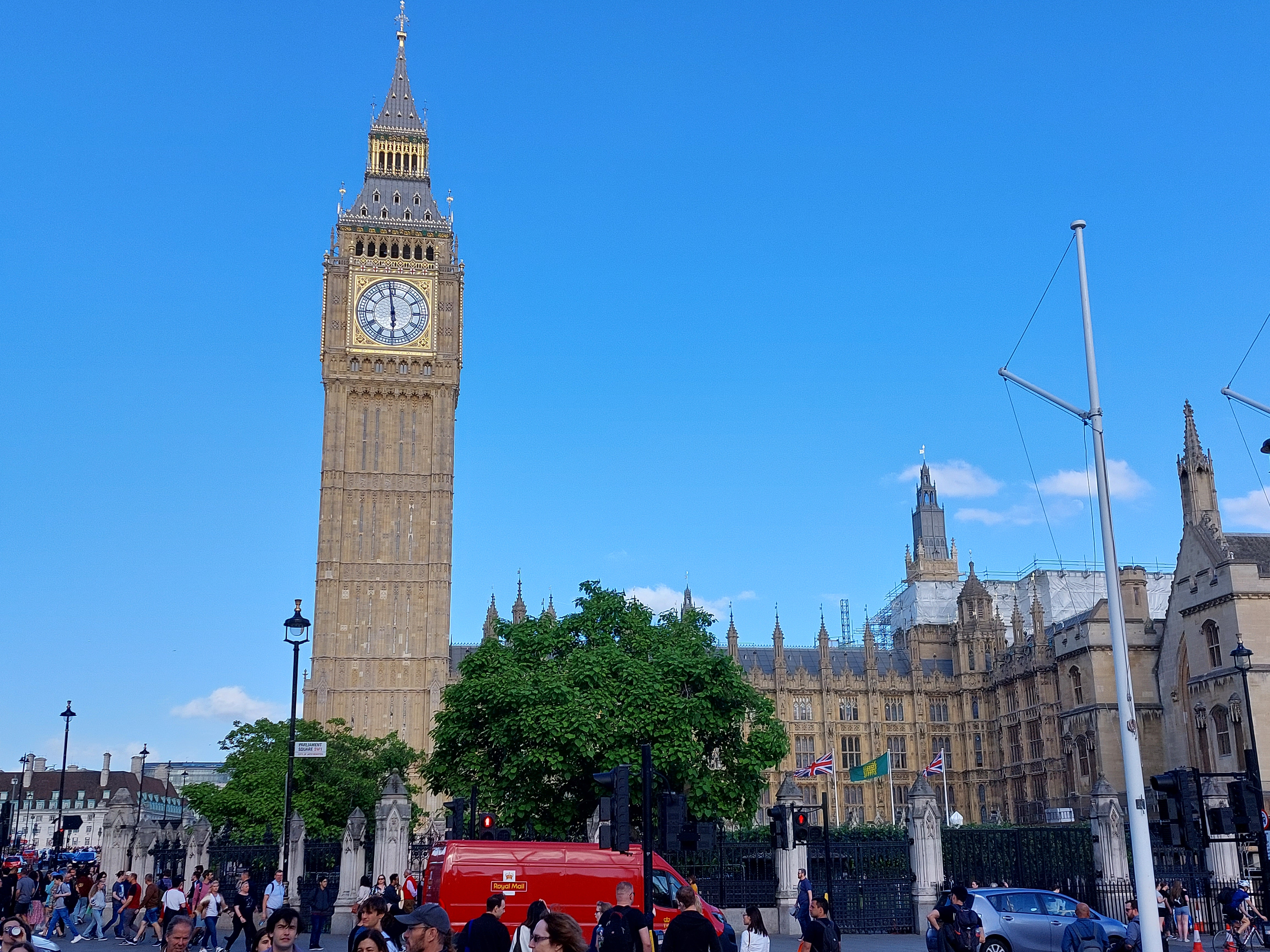 Just to the left of that previous photo you have the iconic Big Ben.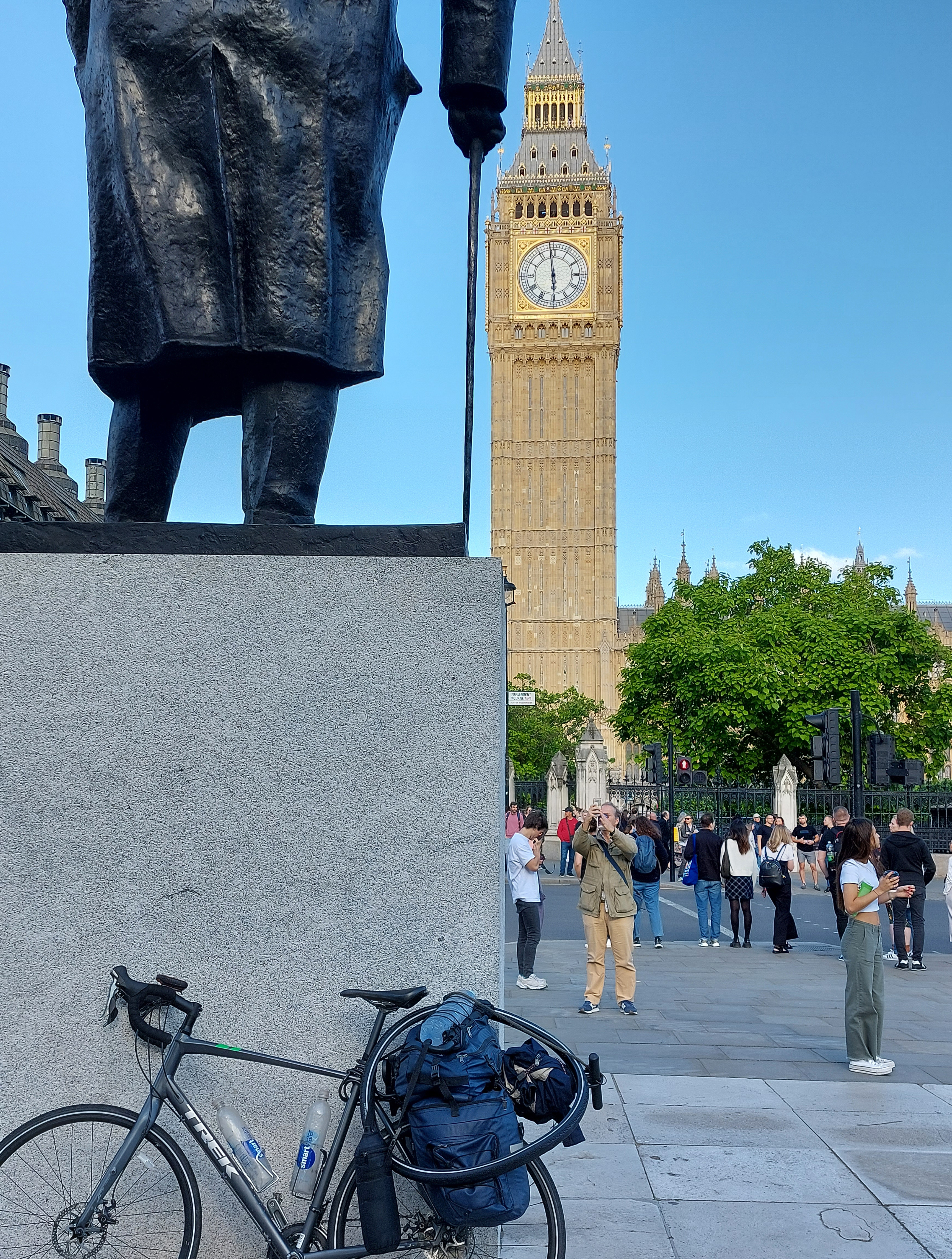 My bike appreciates the view. (Notice that water bottle dangling to the side on a strap. I've got to figure out a better way to secure that thing.)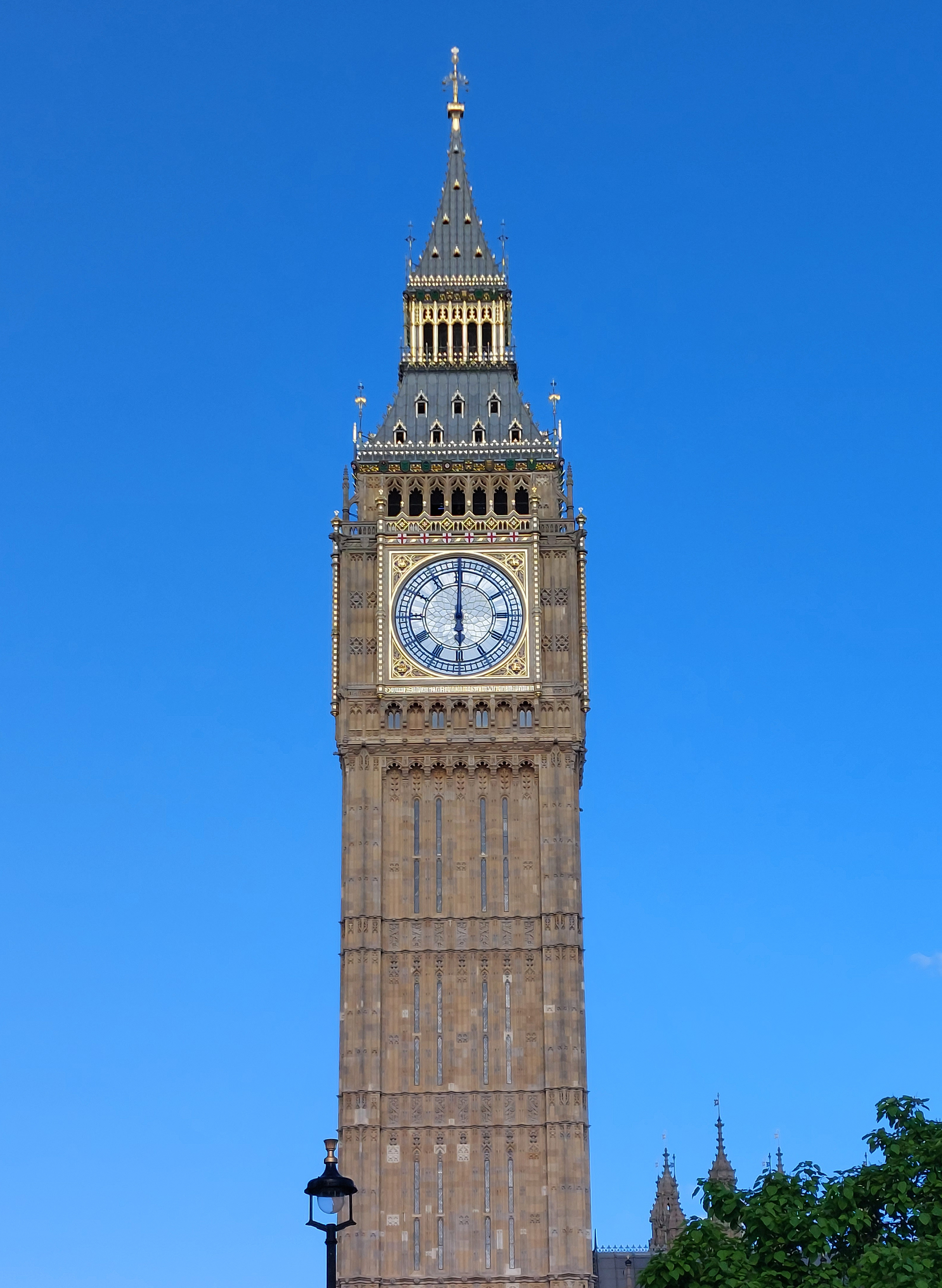 I managed to visit at exactly 6pm so the clock hands were perfectly vertical.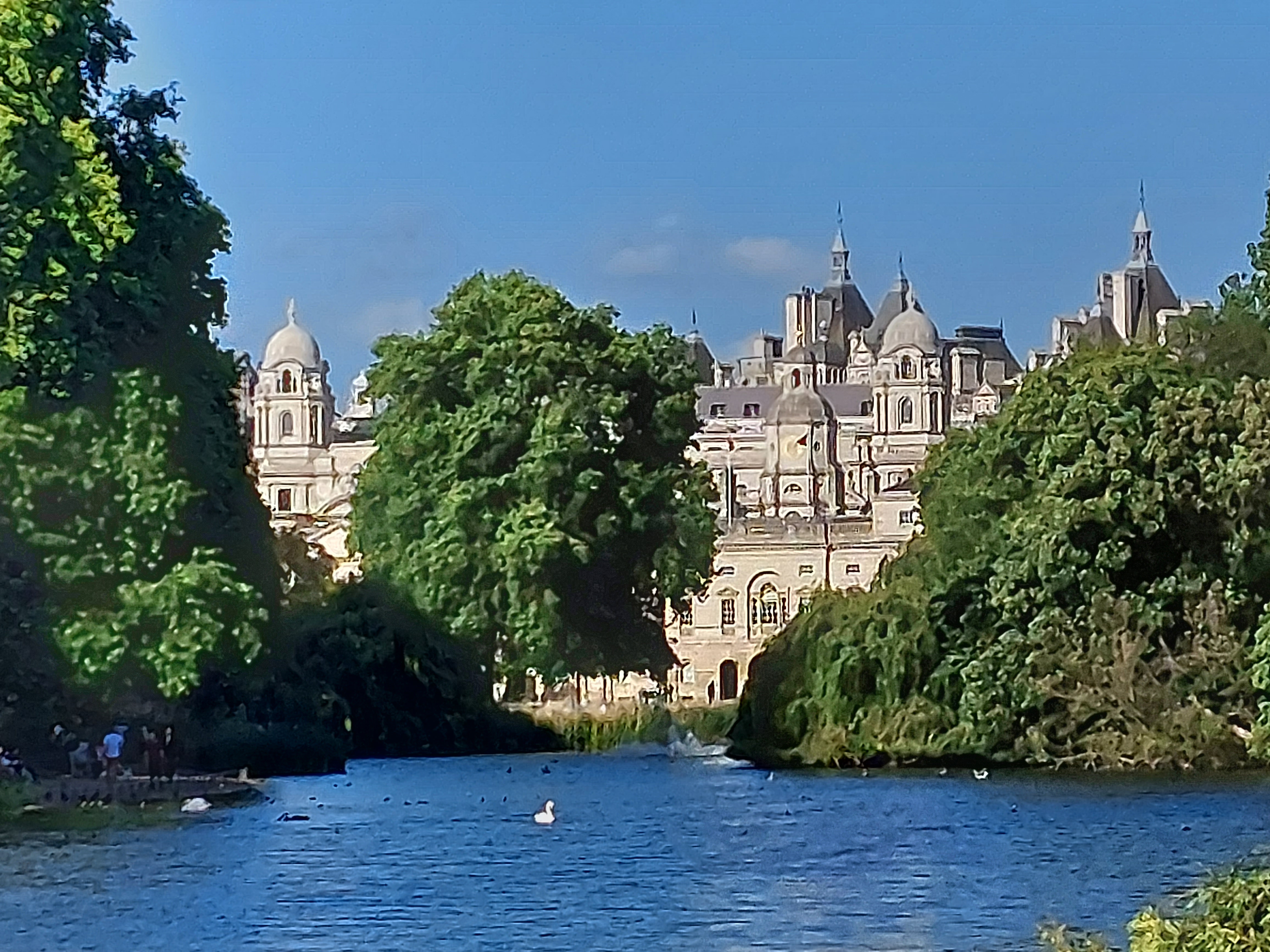 I was going to go to Buckingham Palace also, but you can't bike through the park surrounding it, so I got close enough for this one picture and then left. At the edge of the park is where I had dinner and figured out where I was staying for the night. (Most of the time I have no idea until I get close to the end of the day. Tomorrow night and the days I'll be on the Channel Islands are exceptions.)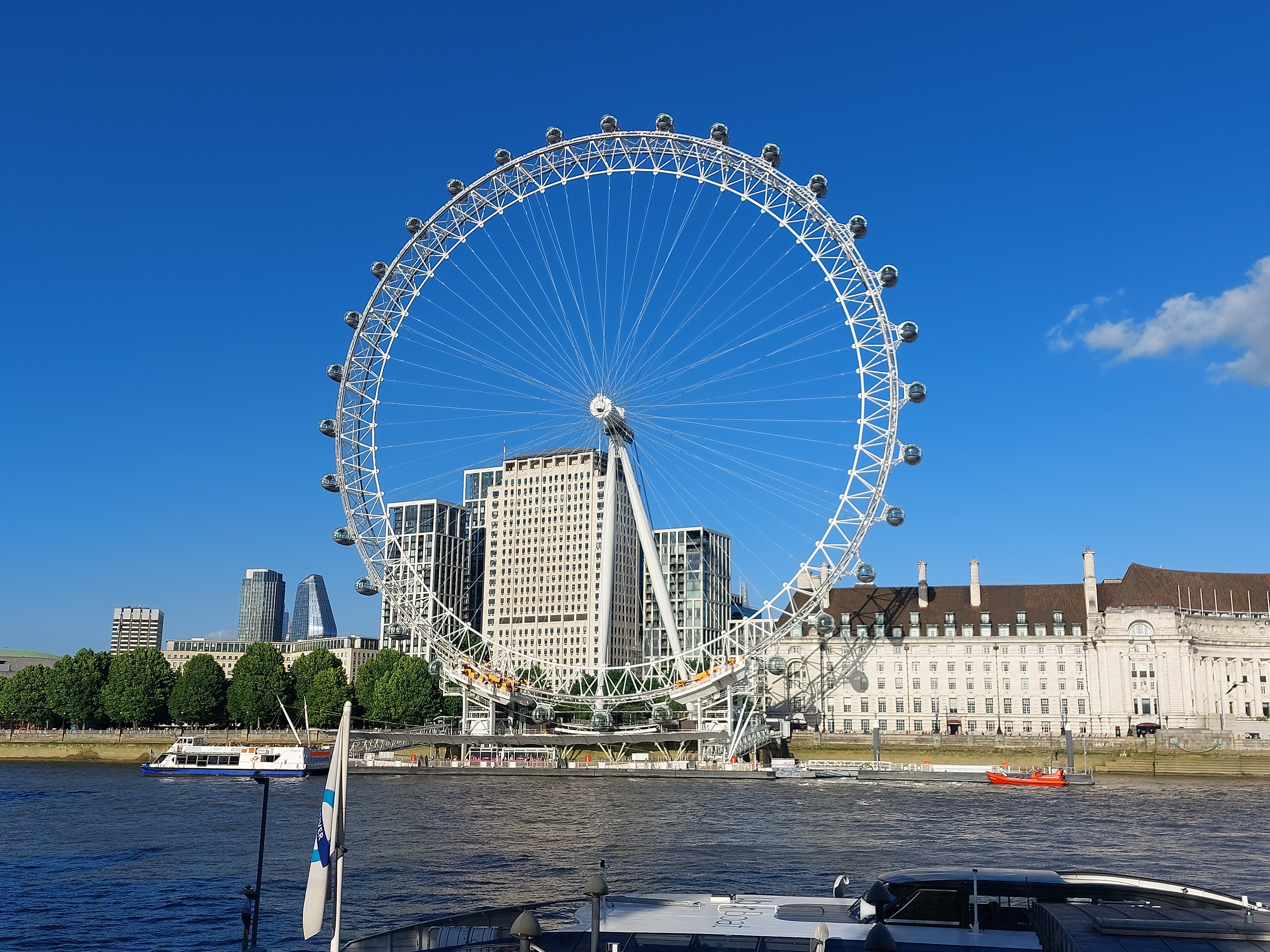 Riding along the Thames was very scenic. Here's something you've probably seen often enough in pictures and movies.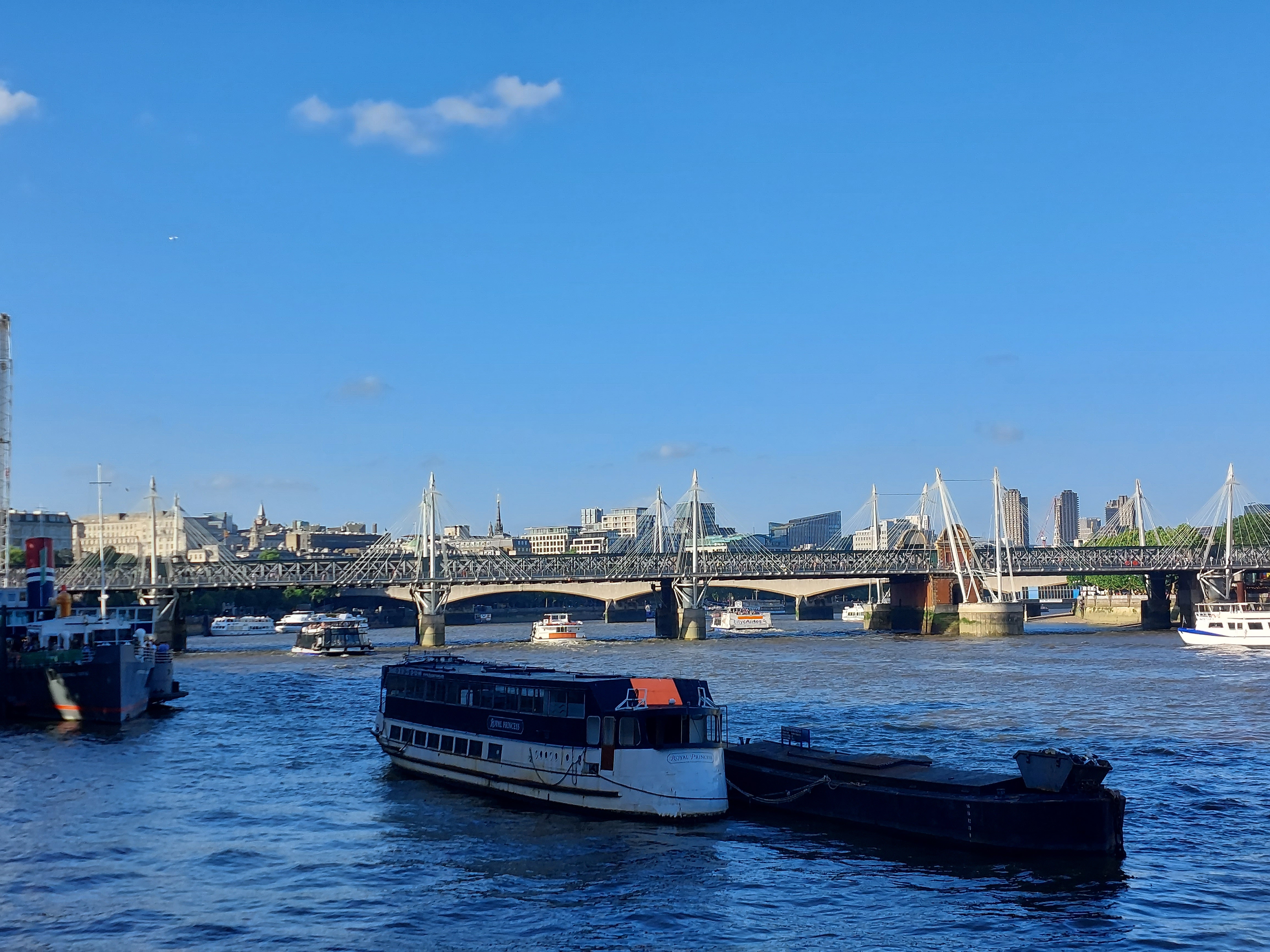 Here's one last shot of the crowded Thames before I headed across and then on to the hostel for some much needed sleep.