Day 4 – June 13, 2022
Portsmouth to Jersey (Travel Day)
Miles: 10
Terrain: One pretty decent climb
Weather: Cool, no significant wind
(Note: The map here doesn't include a few additional miles I had to ride to get to the ferry terminal in Portsmouth.)
After a very, very long and exhausting day yesterday, I was looking forward to what amounts to a day off as I travel out to the first of three Channel Islands...in this case, Jersey. Getting up was hard, because the bed was soooo comfortable (my first actual hotel room of the trip and the only one I'll see for at least the next several days) and I was still really sore. Still, I had to be at the ferry by 0800 or thereabouts for the 0900 departure, so I dragged myself out of bed around 7 and got moving. The shower felt great, but hauling all my stuff down those narrow stairs (it took 2 trips) sucked. Luckily the bike was still there (recall I had to leave it locked up outside the night before) and I got moving toward the port about 0745. The ride took a little longer than expected because I was so slow, but I wound up in a queue having to sit there for almost 20 minutes before they let me board.
Once on the ship I had lunch (the last of my sandwiches from the day before) and went to sleep on my comfy reclining chair. An hour or so later I got up and started trying to work on one of these site updates, but they only gave us a limited amount of data on the satellite wifi so that idea was out. Instead I watched a couple movies and waited out the long 10+ hour ferry trip, which also stopped in Guernsey along the way. This particular ferry, apparently, makes a daily loop consisting of Portsmouth-Guernsey-Jersey-Guernsey-Portsmouth, the third leg of which I will be on tomorrow, from 1905-2105. The fourth and final leg is overnight and most people buy sleeping cabins for that since it arrives at about 4 in the morning.
Anyway, it was nice to have a day off and relax for a bit because my body really needed it. Part of what kept me going yesterday was that I knew I'd have this day off today, as well as several more days in the islands where I could ride as much or as little as I wanted. Now here are some pictures from today's relatively straightforward experience.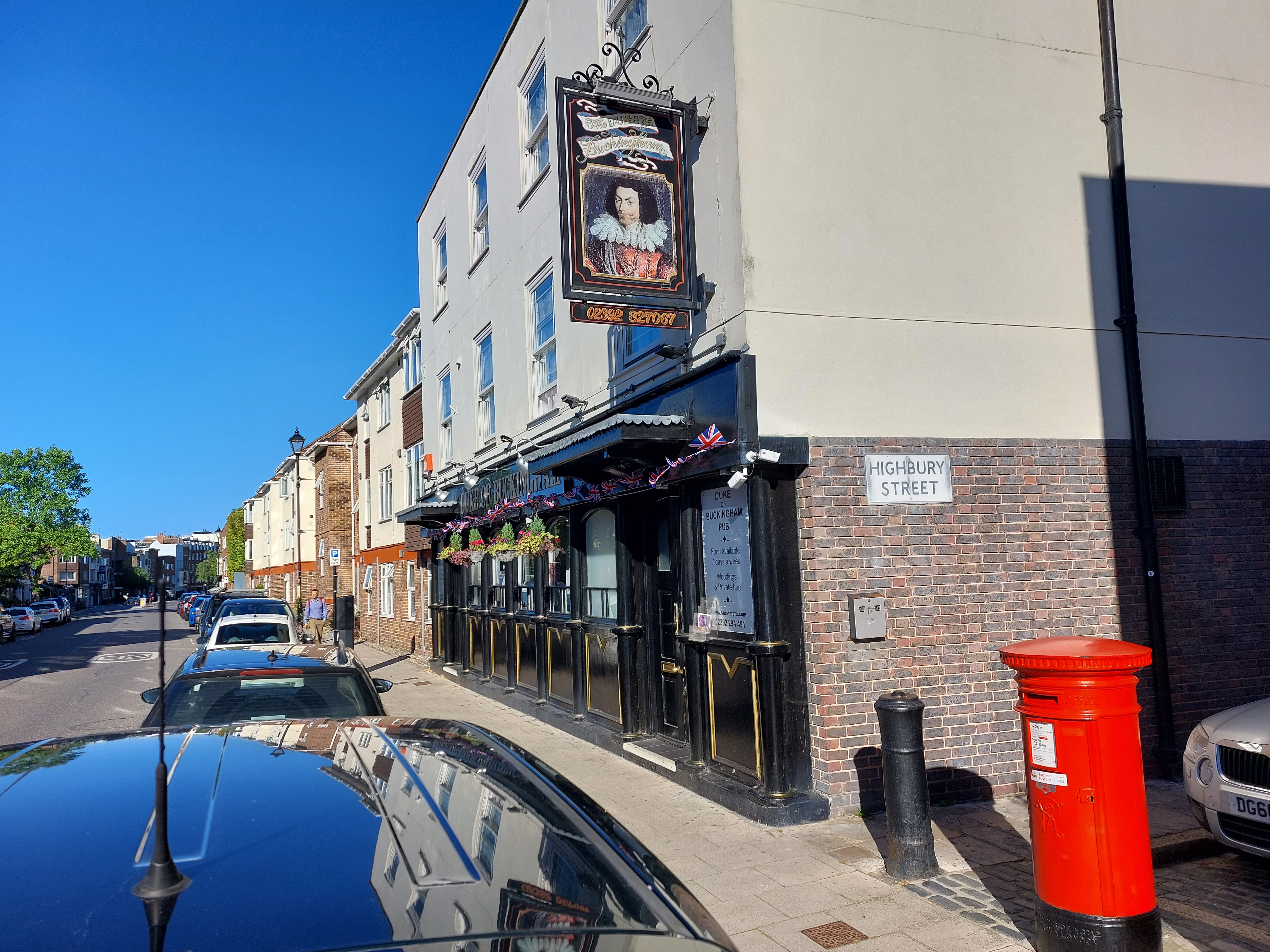 This is the place I stayed last night, the "Duke of Buckingham." It's a pub, with a hotel built into the side of it (the hotel entrance is on the left). Apparently these sorts of places are popular all over Britain. I expect I'll stay in one or another of these again later this trip. We shall see.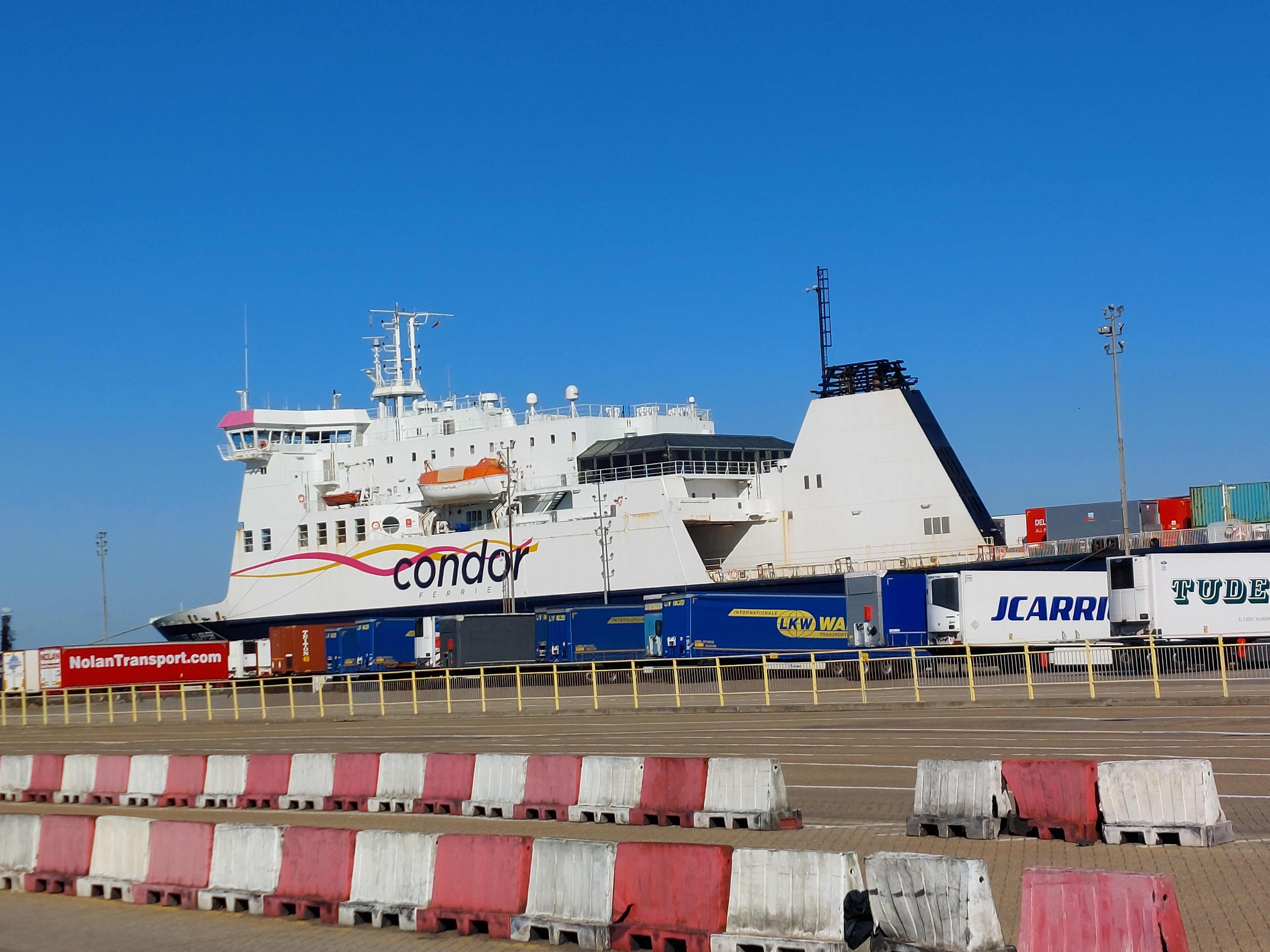 There it is, the ferry that will take me to Jersey. These are more like small cruise ships, actually. The reclining seat was more like a first class airline seat, perfectly comfortable to nap in, and they had a full restaurant inside too. Something I would need later, because I didn't get a chance to replenish my sandwich supplies this morning.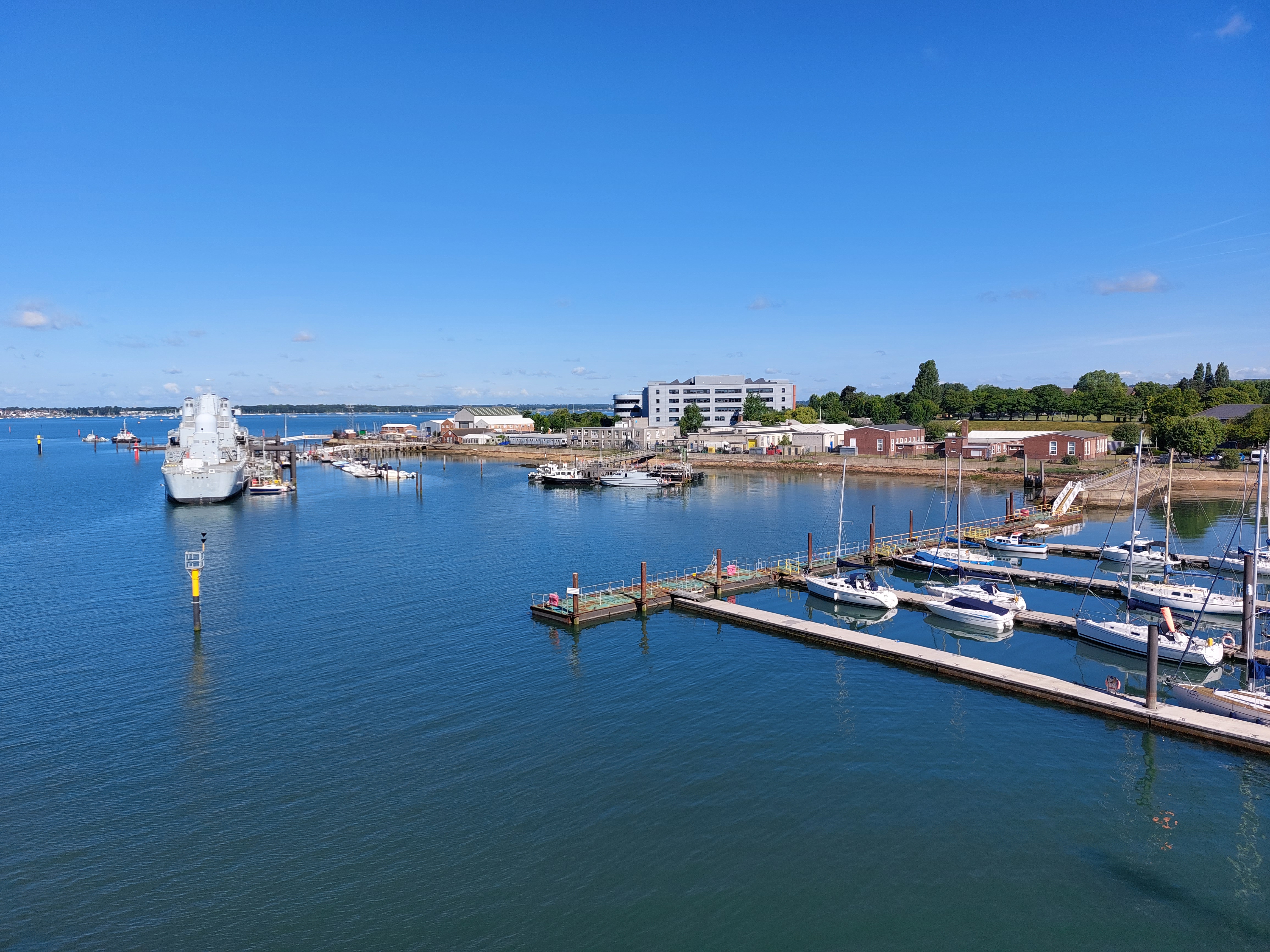 Now for a few photos of Portsmouth as we sail out of the harbor.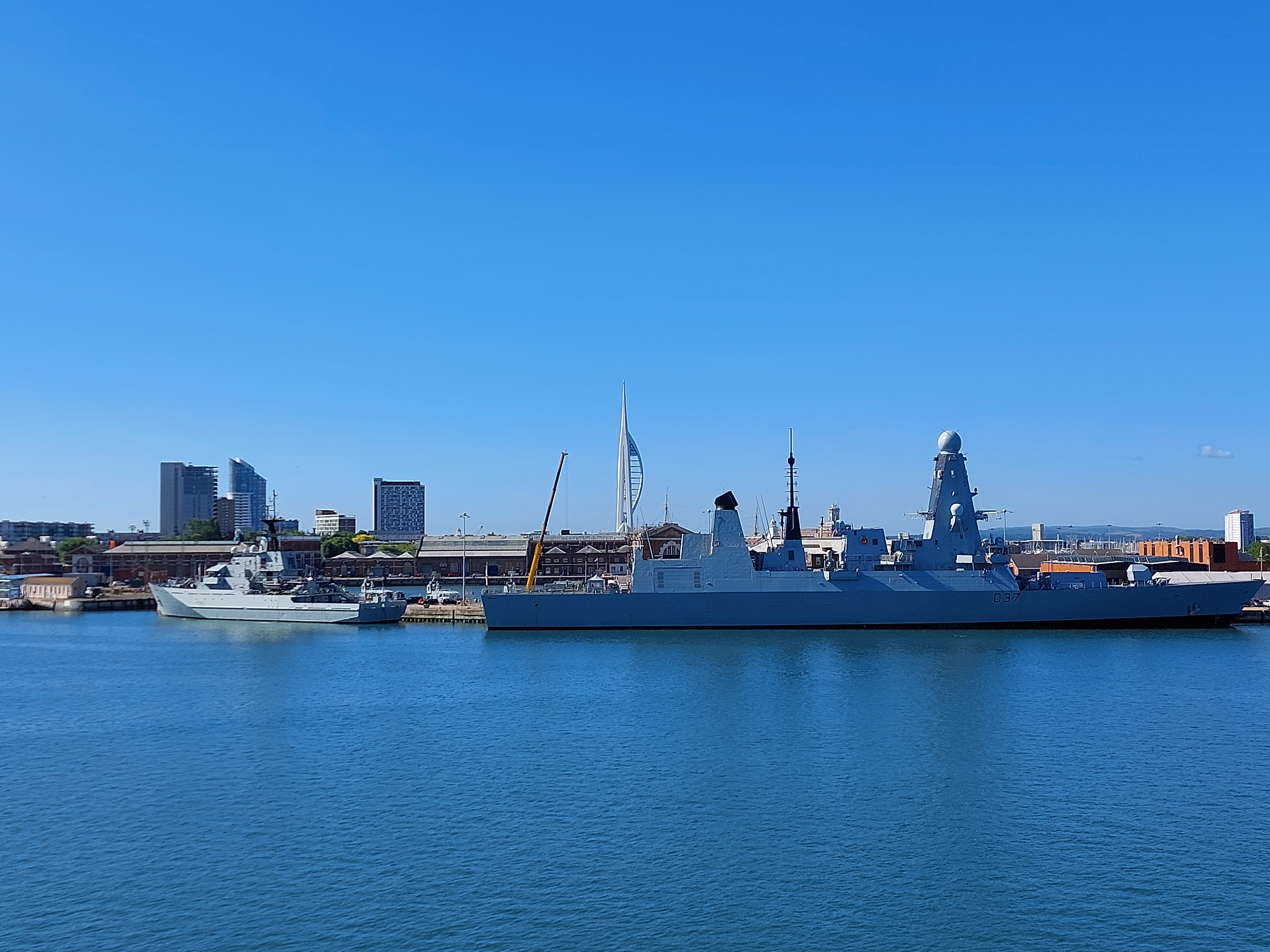 In addition to being a civilian port, this is also an active military port too.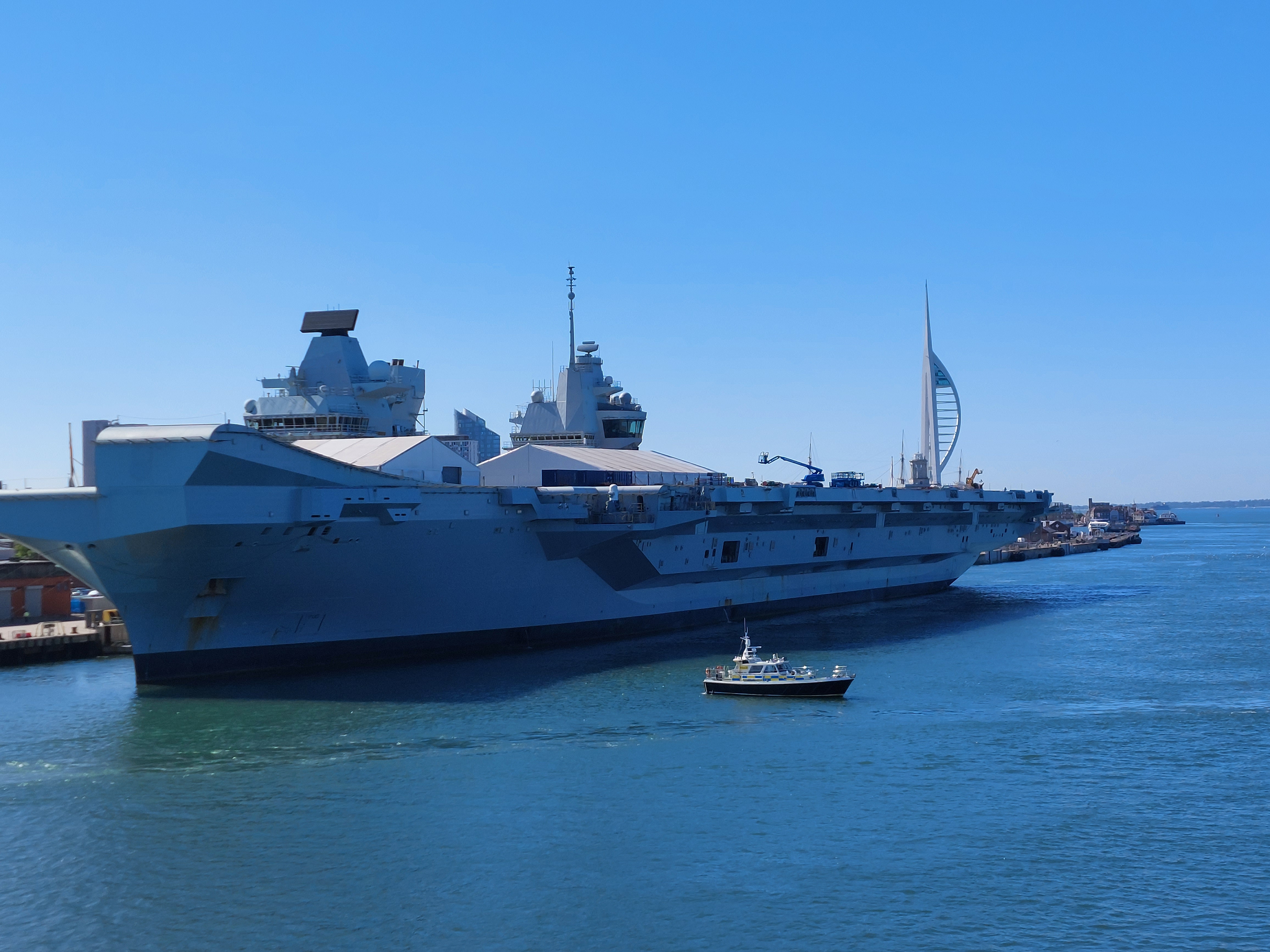 Interesting aircraft carrier...the launch deck (left side) is sloped upward.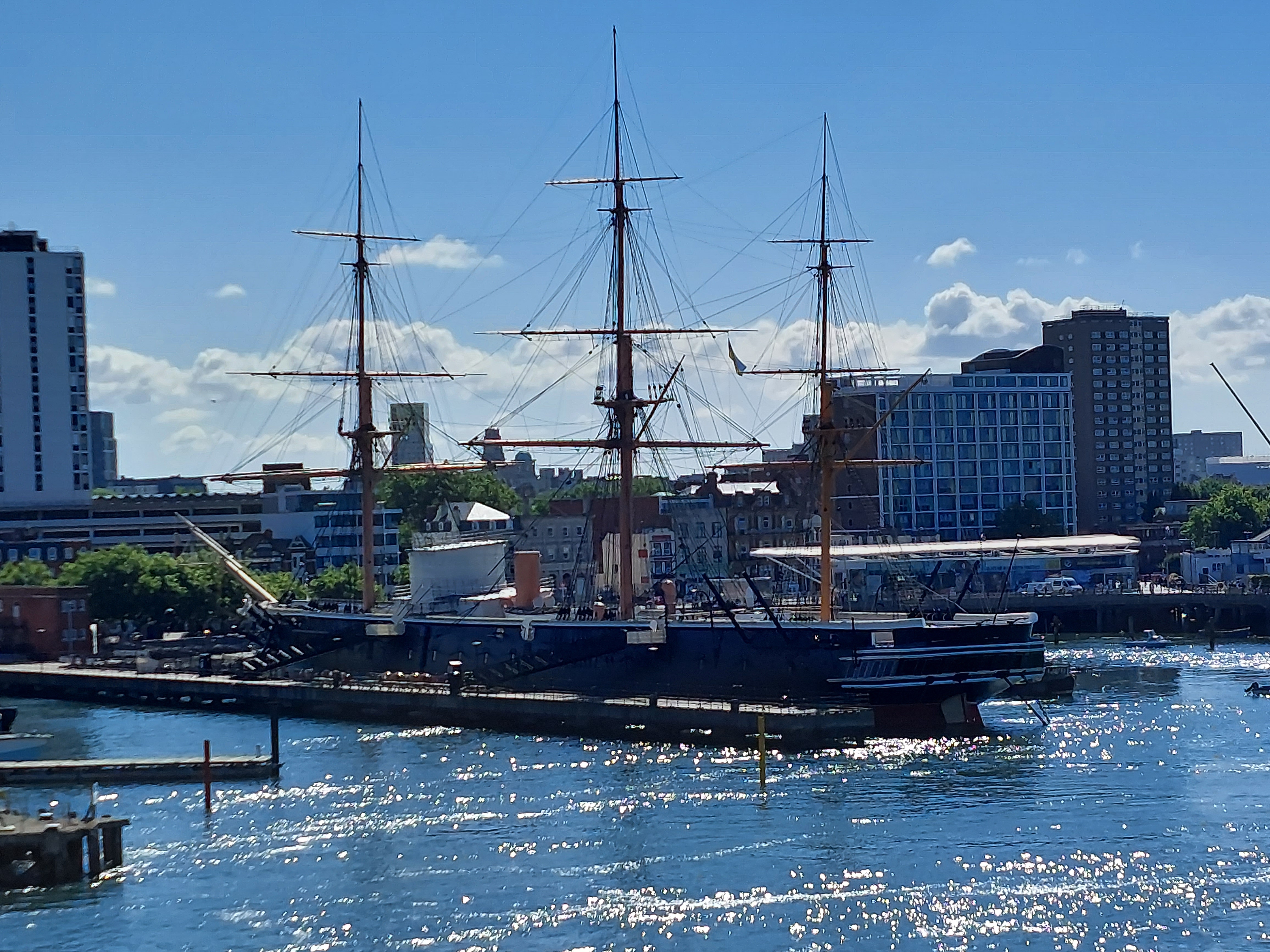 This is the HMS Victory. I've actually toured this ship before, on a previous visit while cruising around Europe. It's quite the experience...but if you're tall you have to duck down a lot.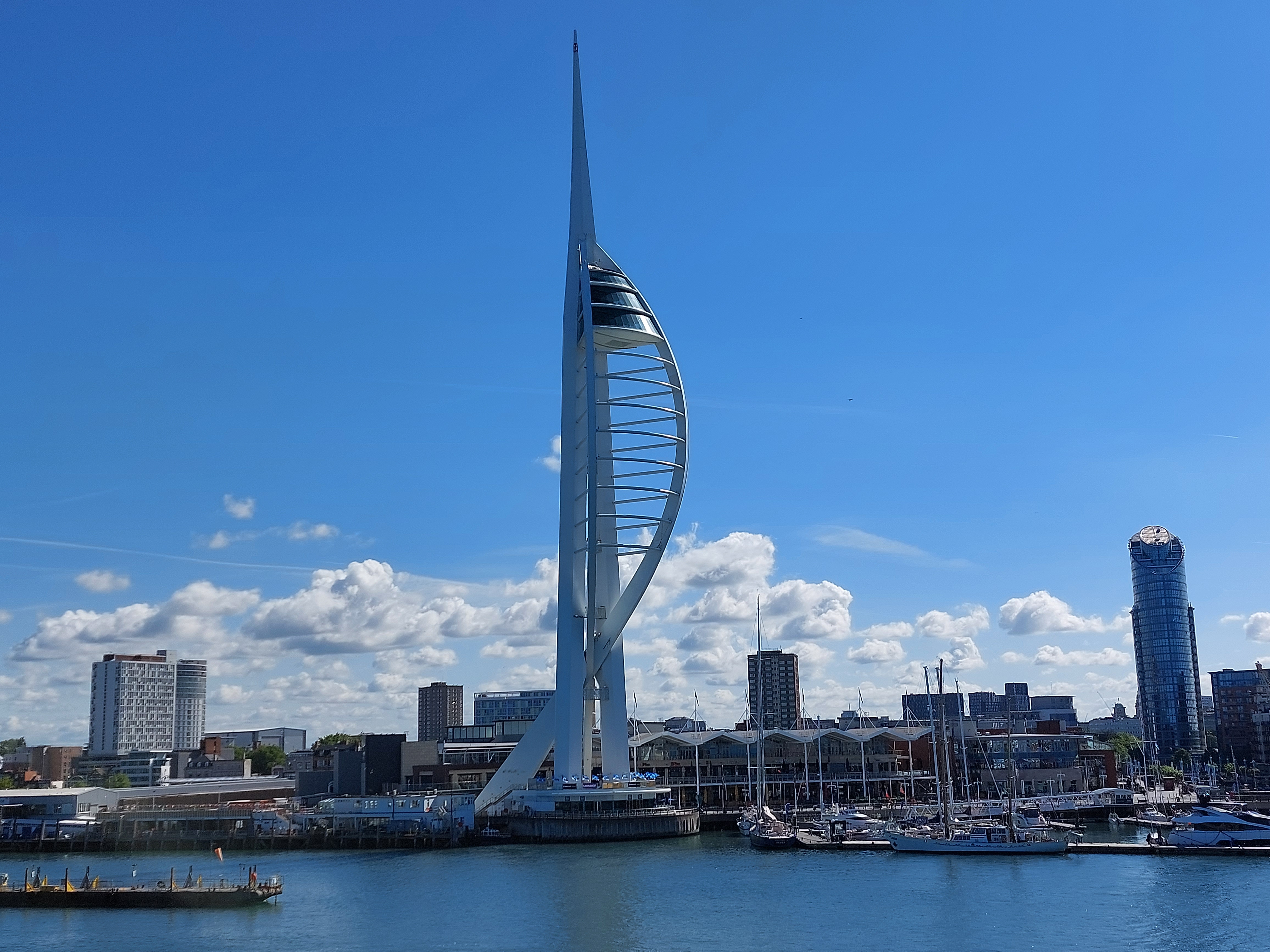 The Spinnaker Tower, the iconic symbol of Porstmouth.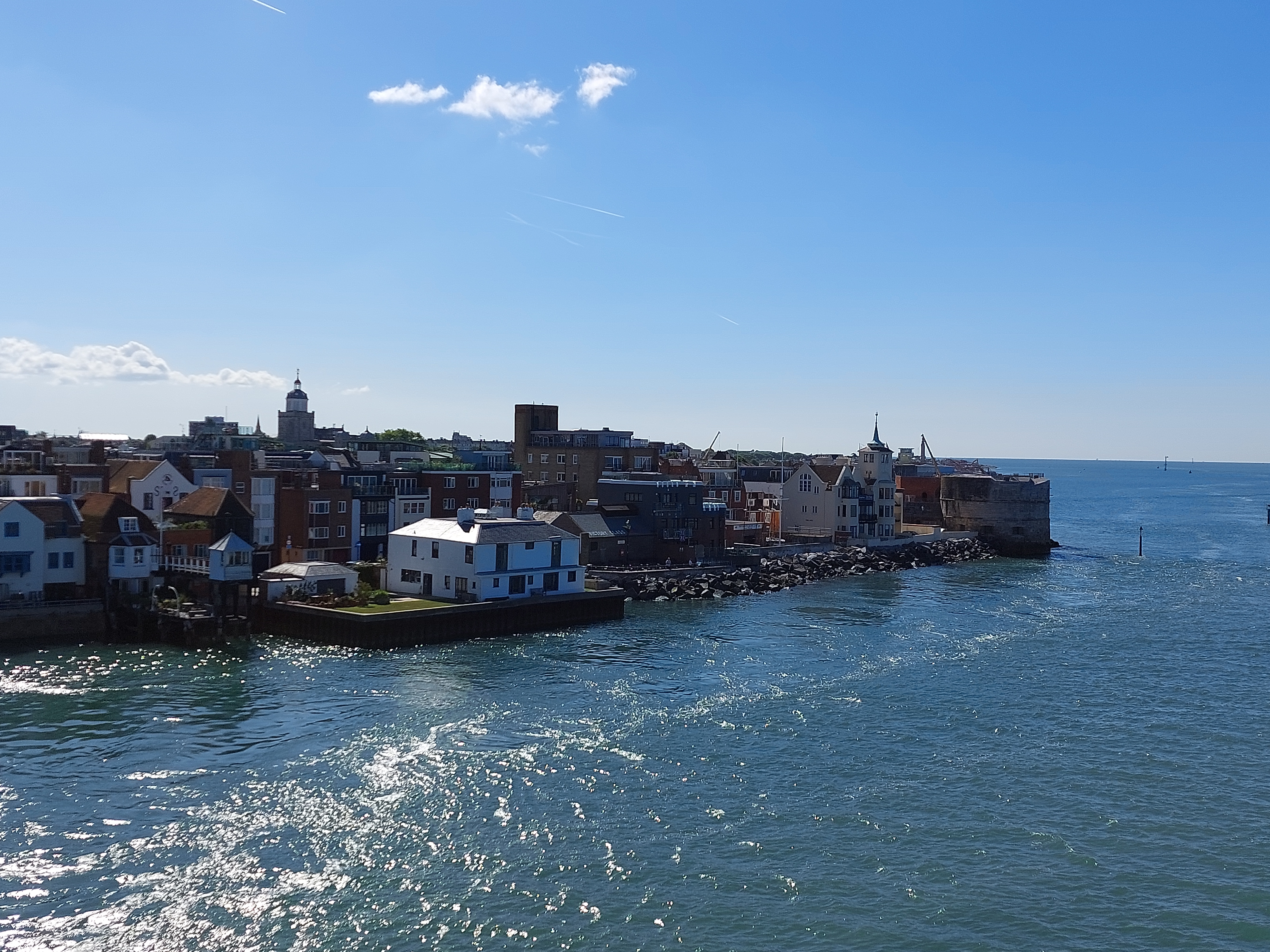 One last shot of the end of the peninsula as we sail by heading south.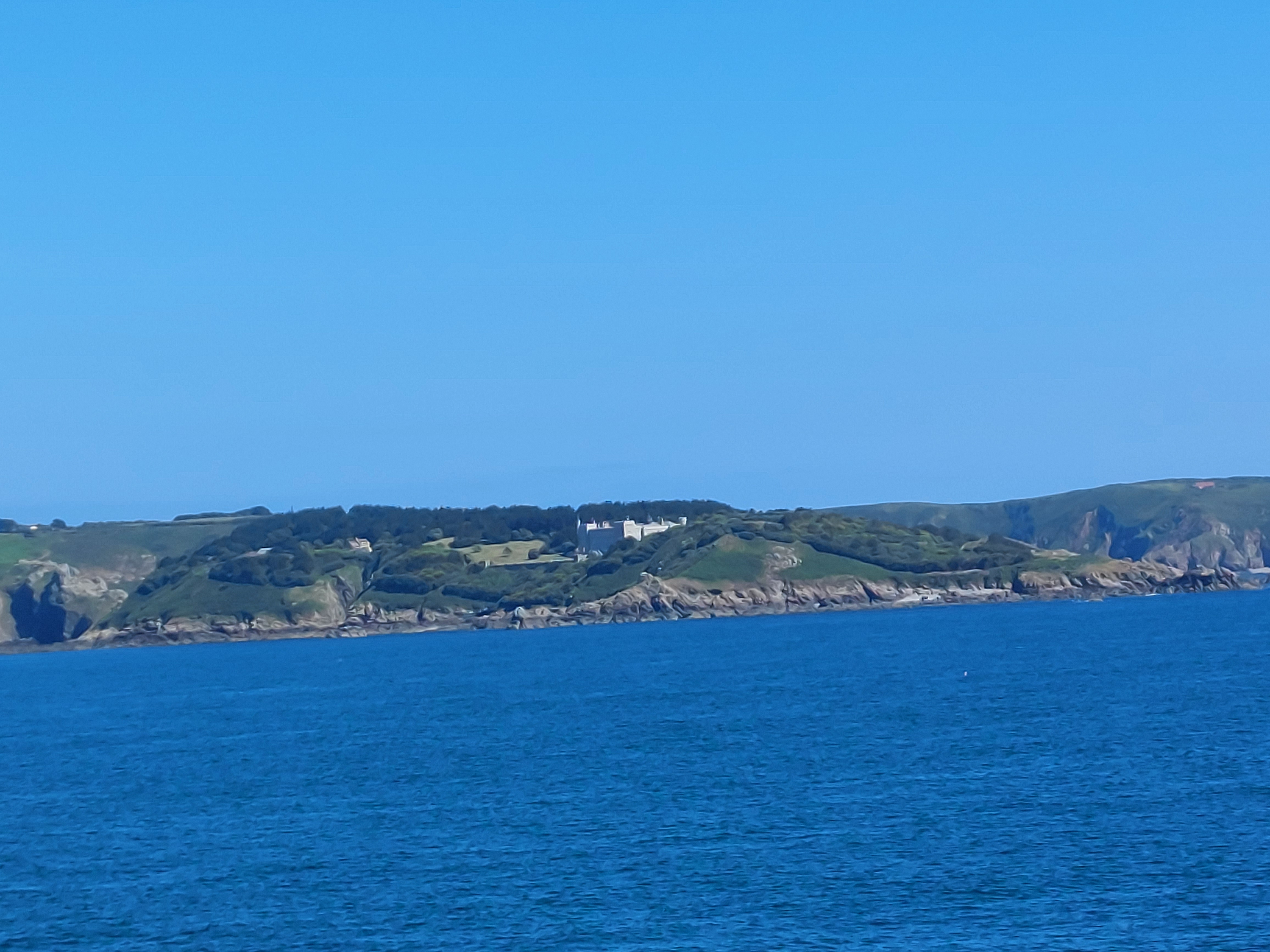 First look at Guernsey as we approach to make the intermediate stop. I'll visit this place in a couple of days.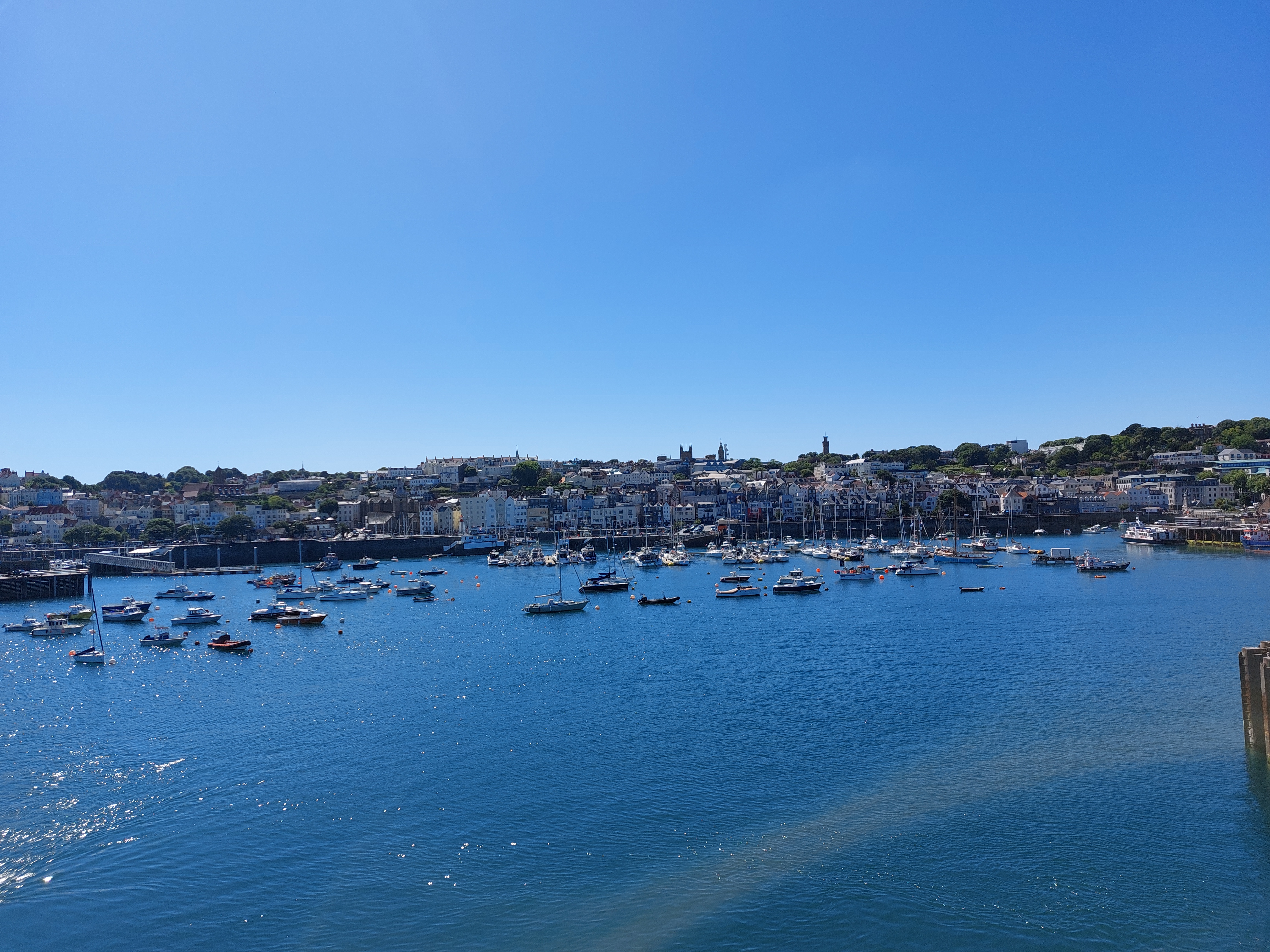 A look at the beautiful Guernsey harbor.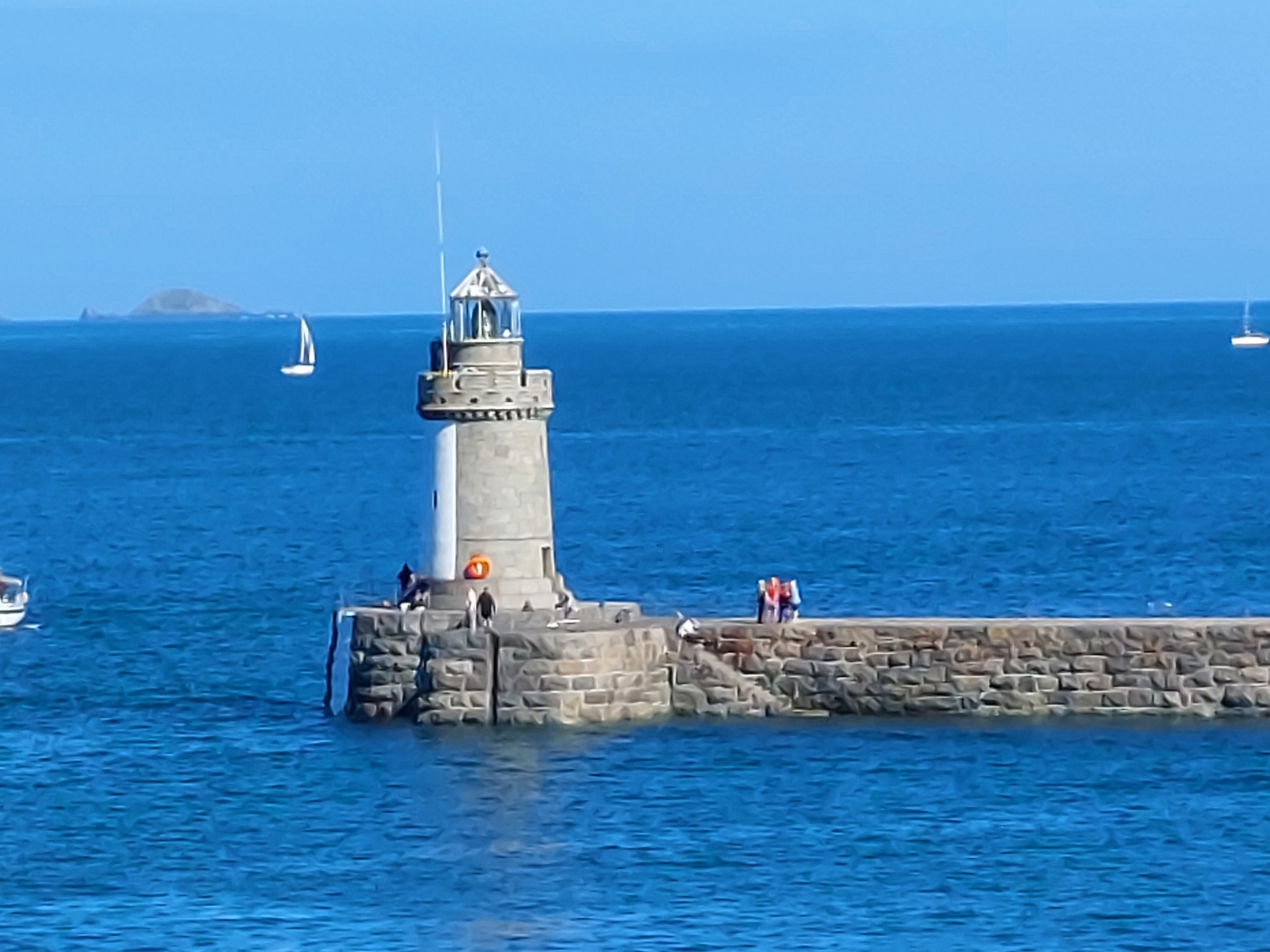 A close up of the lighthouse at the entrance. Those people on the right are geocachers having an event. How dare they have an event so close to me that I can't attend! It's like they're taunting me. I later waved at them as the ferry went past on our way back out.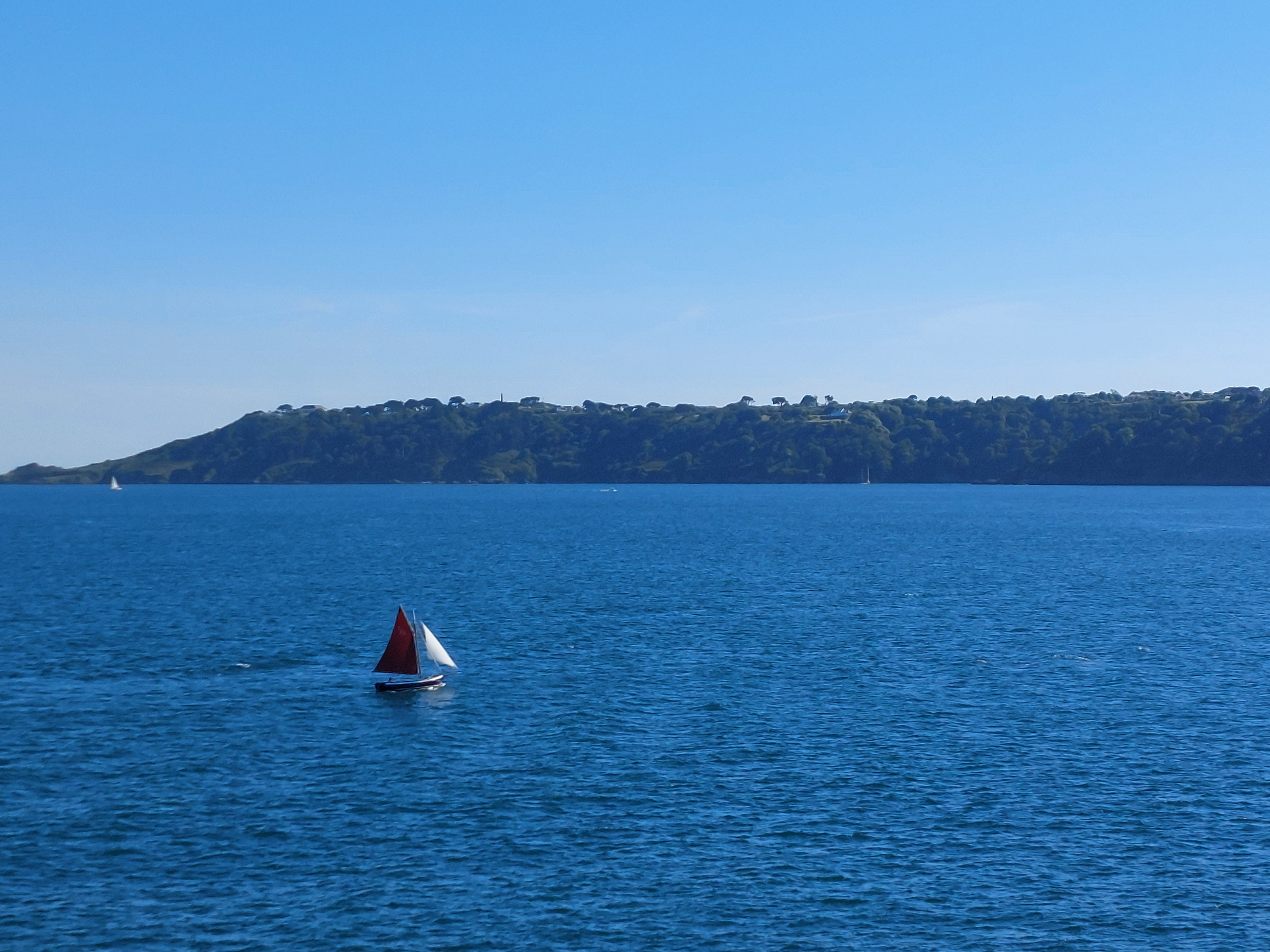 Farewell, Guernsey, for now...but I'll be back soon.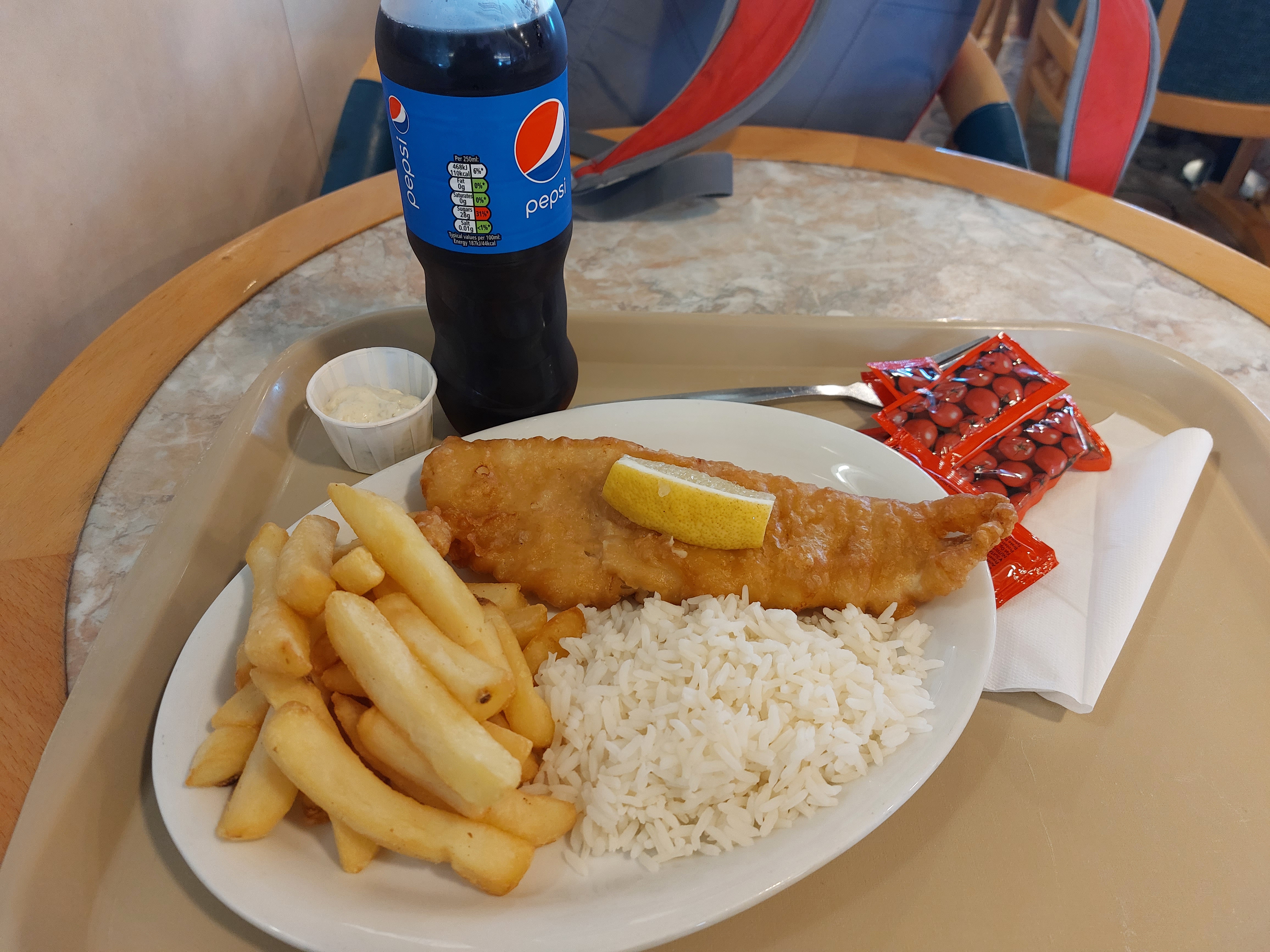 Now that we're on our way to Jersey, it's dinner time! This the first meal I've bought at an actual restaurant since arriving, and of course it's fish and chips. There were supposed to be peas, as well, but I traded them out for rice. Fairly expensive but really tasty.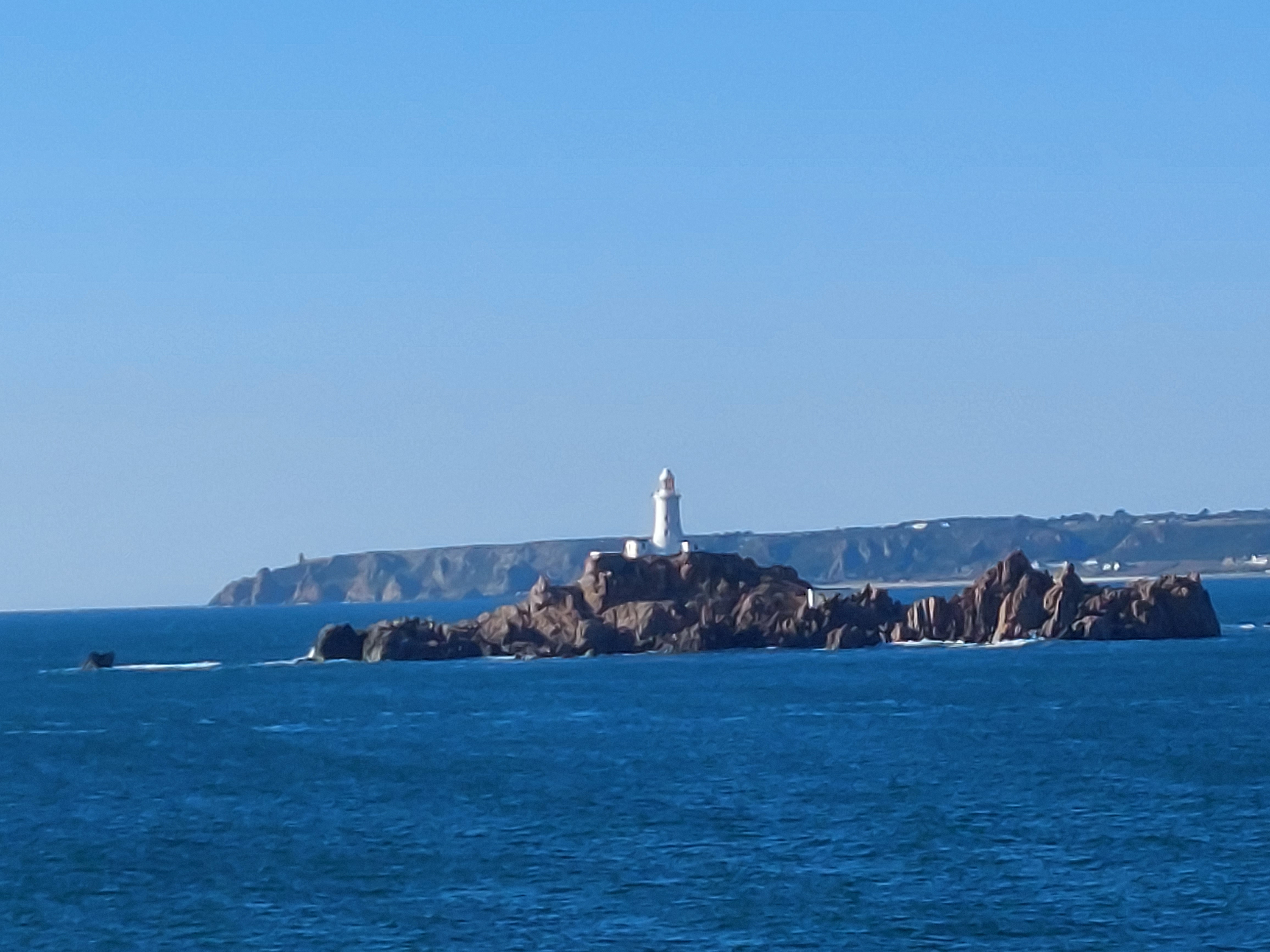 Arriving in Jersey now. Nice lighthouse...how do they manage to build something like that up on those windswept rocks?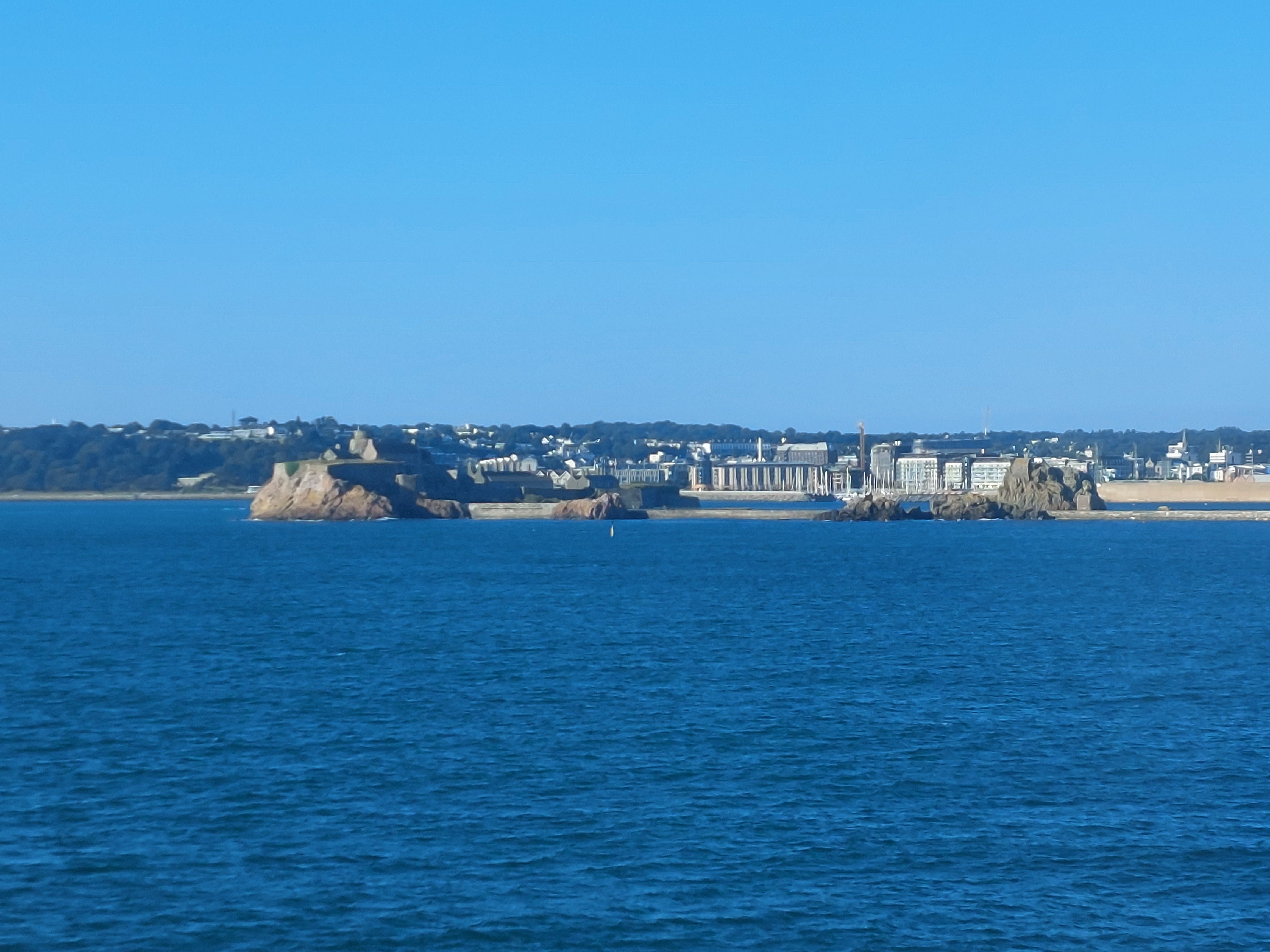 Another view as we approach Jersey.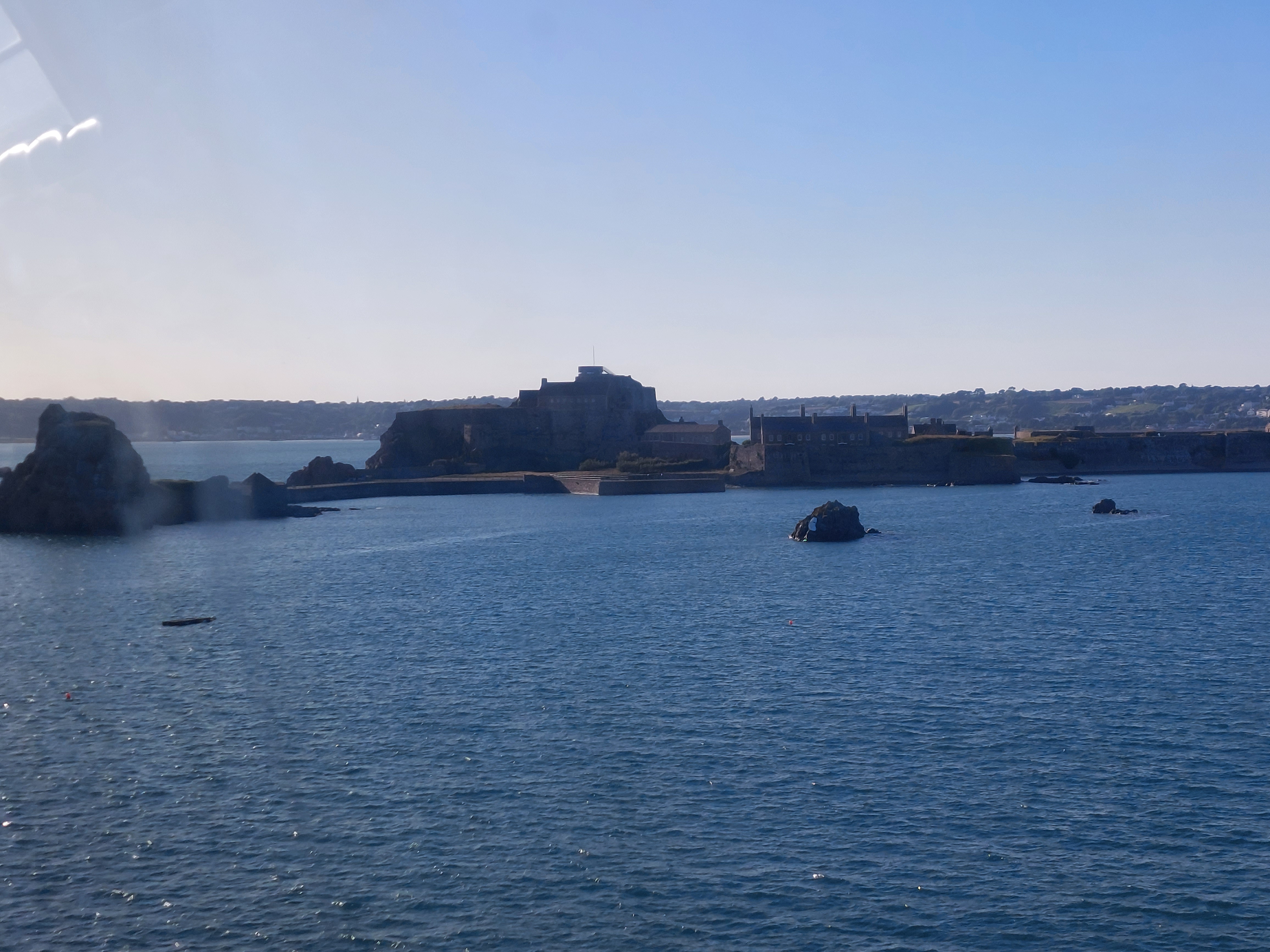 Magnificent fort built on what looks like a tiny spit of land, but actually it turns out the tides are so severe here that for a few hours around low tide you can just walk out to this, so construction would've taken a while but didn't require boats.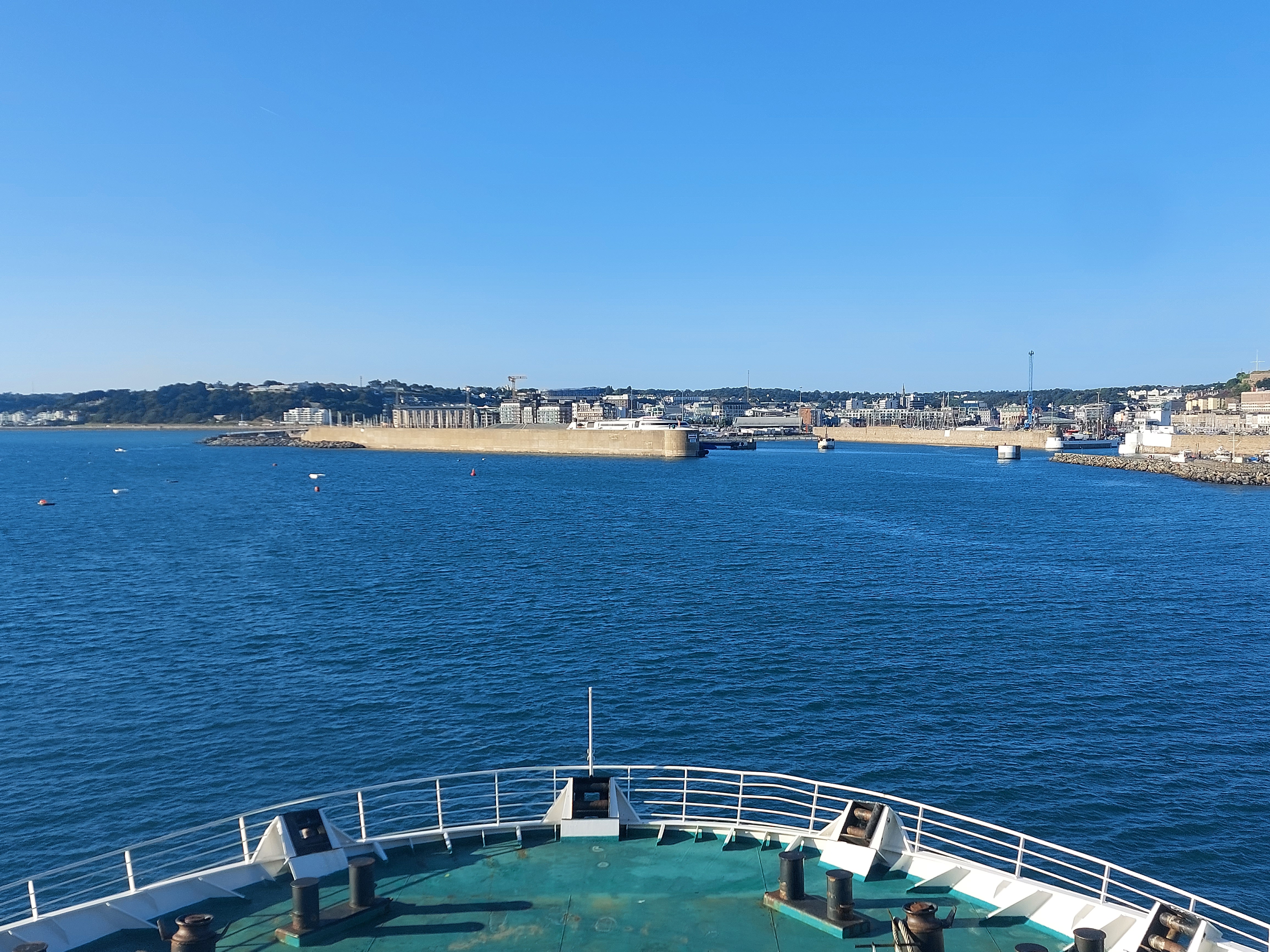 In we go!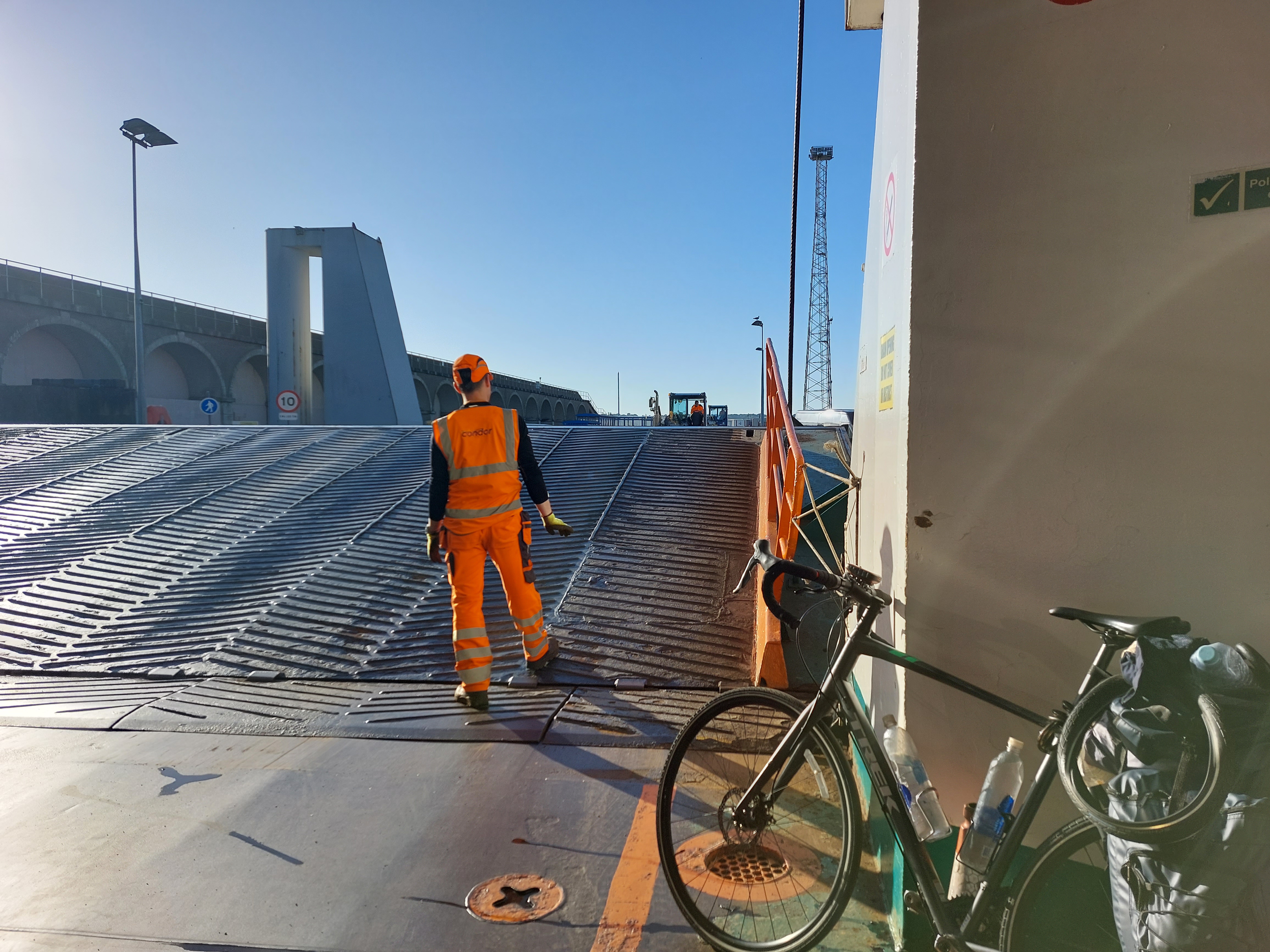 The bike is eager to get off this noisy deck, and out for a short ride to the campsite.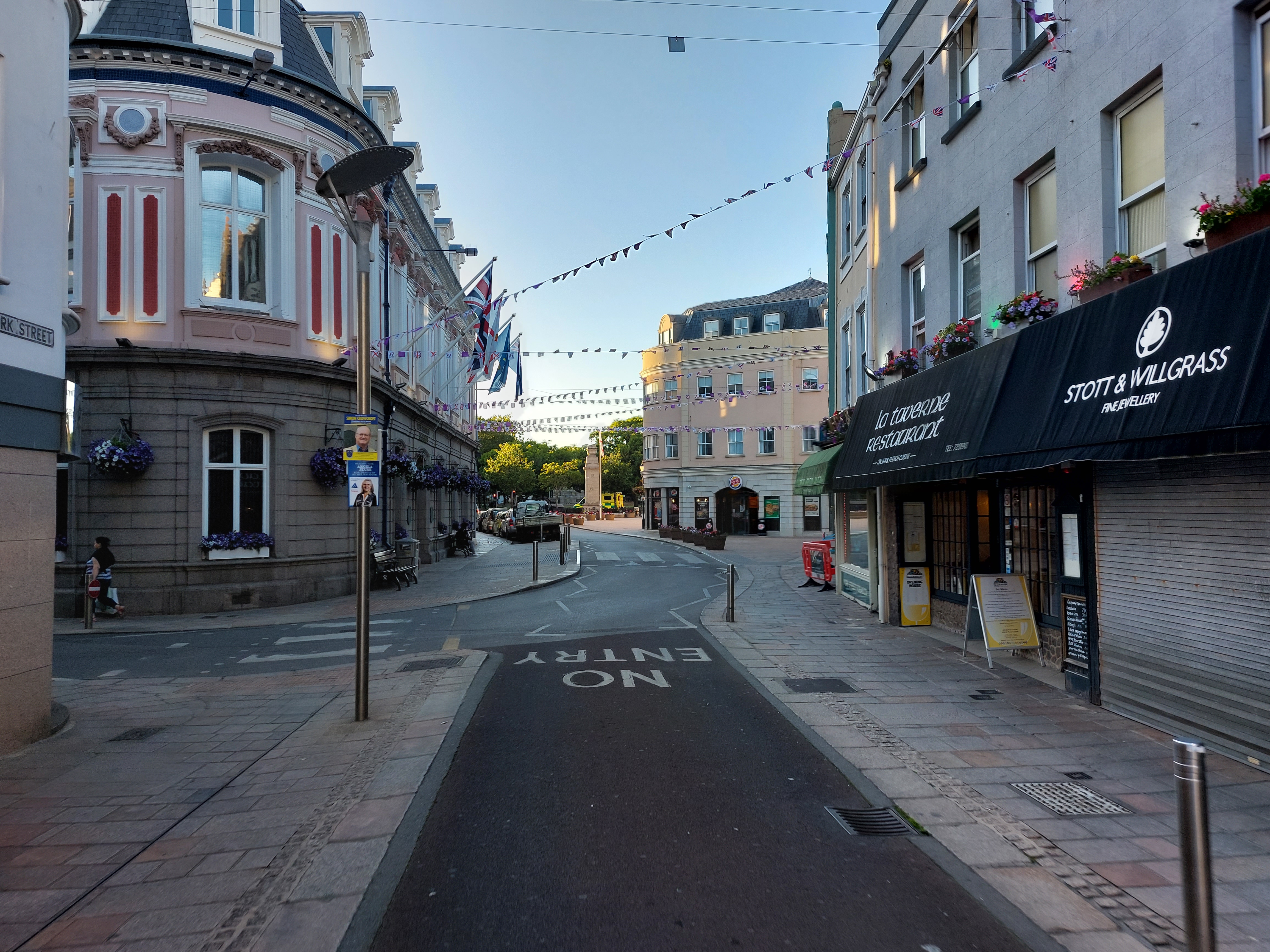 Here's a look at the town as I ride through. Not too crowded at this hour. I took a side route around to avoid the main street, though, which I was told would be quite busy (and it is). Once I left town, the ride was almost completely uphill all the way, which was tiring after having sat on the boat idle all afternoon.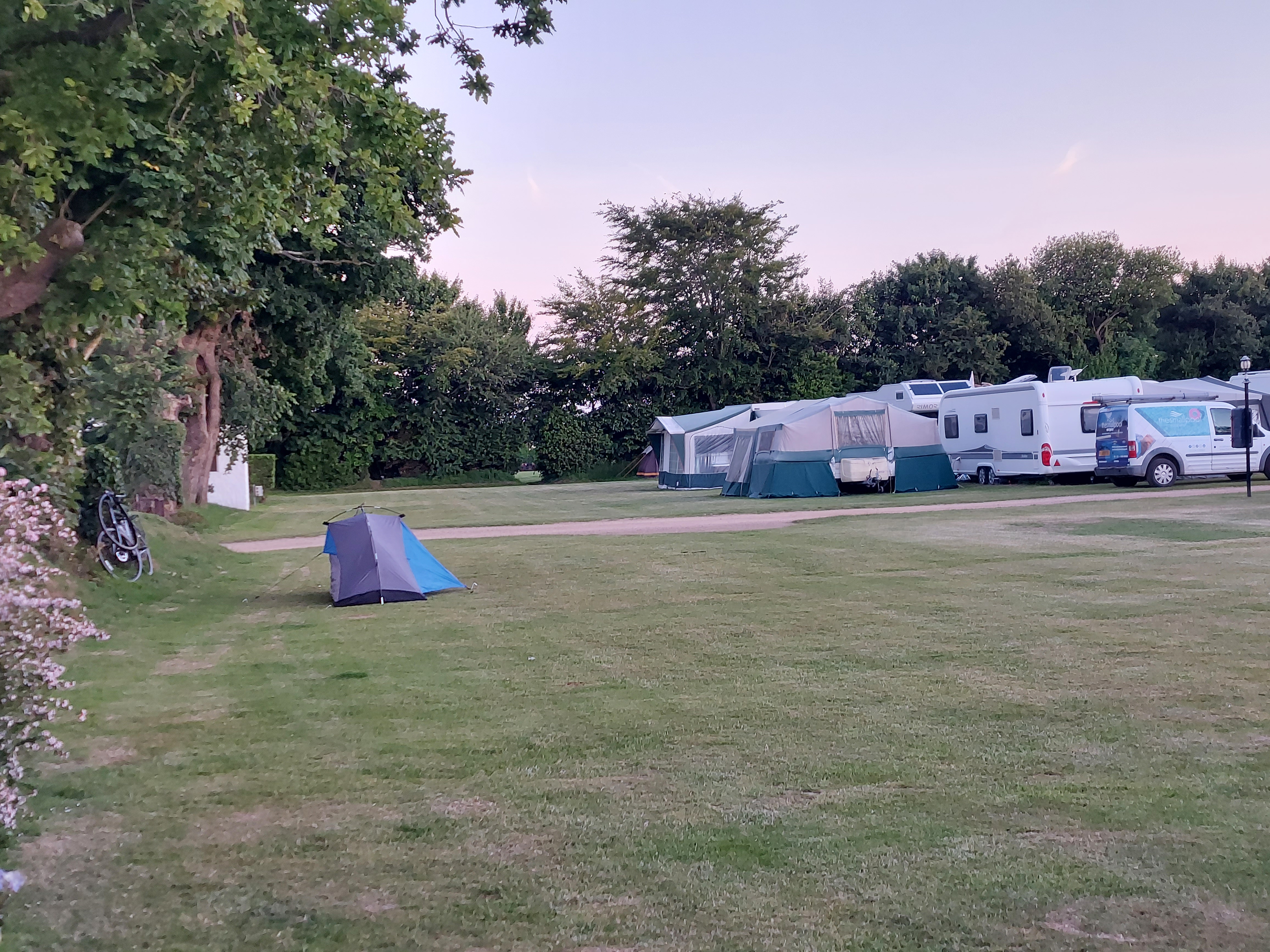 Finally, the campground. My tiny lonely tent sits ostracized by the big campers, all alone as usual. Anyway, Beauvelande is a great campsite, by the way, if you're ever on this island. Reasonable prices, good wifi, and outstanding showers. Plus the owner was super cool, letting me keep the tent up the next day until I had to leave around 5pm (otherwise I would've had to lug all my stuff around all day long). Highly recommended!