Day 6 – June 15, 2022
Guernsey Touring Day
Miles: 20 (or thereabouts)
Terrain: Some short climbs and one moderate one
Weather: Comfortable and no significant wind
Today was basically a day off, one which resulted because of the way I had to schedule the ferry rides during the tour. In order to visit Guernsey for more than one night (that is, to avoid the situation where I arrive at 9pm one day and leave early in the morning the next day) and also have a chance to take a day trip to Sark (tomorrow) I needed to stay one extra night. While not strictly necessary for rest purposes, it was a welcome diversion and a chance to do some touring and exploring (and geocaching) without having to worry about ANY deadlines or time limits, unless you want to count sunset as a delimiter.
So I took my time getting up, worked on updating the blog in the morning, then headed across the street to grab lunch at the nearest supermarket (conveniently only a half mile away). Then it was off to see what I could see and what caches I could find. I had poor luck early but things got much better in the early afternoon, when it also got warm enough to take off the long sleeved biking jersey I brought along. The map to the right shows a very basic approximation of my route, but of course there were a zillion little side trips and mini-hikes in there that probably brought the total mileage to around 20 and the vertical gain maybe 50% more than you see here. The only really noticeable hill was on the way down the coast toward Fort George, where you see that big bump in the middle of the elevation guide. The rest of it was just the occasional small hill and nothing really serious. I didn't even notice the wind until I had to go back to camp and had it in my face, and it got cooler very quickly as the sun was going down, but even so it wasn't enough to really bother me.
Guernsey is a great place to visit, by the way. There's lots of history, beautiful villages and churches, a strong French influence (most of the streets are "rue du ___" for example), and lots of really nice people. Plus it's not as expensive as you might think. I saw gas cheaper here than back on mainland England, for example. I highly recommend a visit if you ever get the chance. Here are some pictures to show what I mean...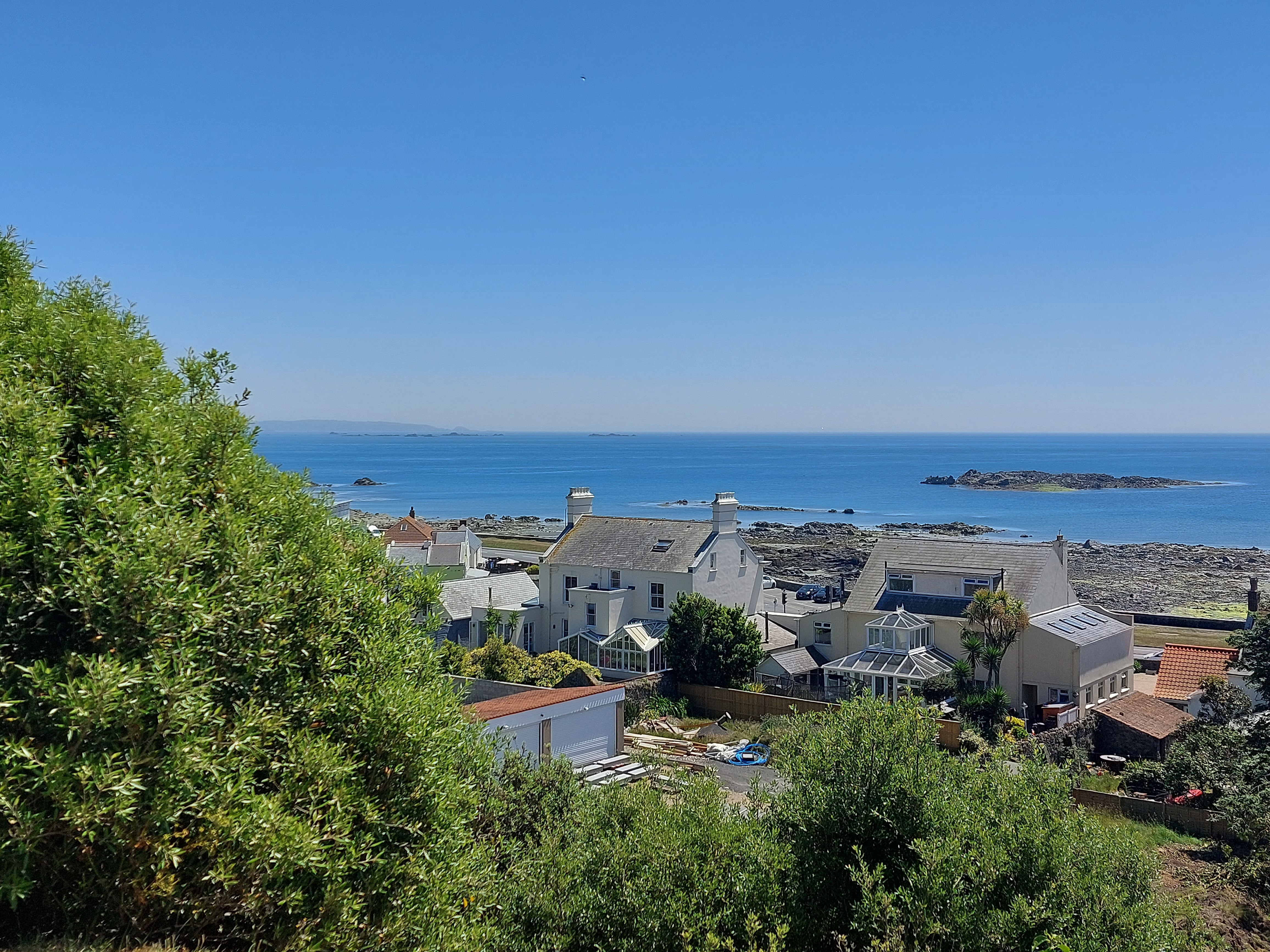 Here's my first look at the coast as I descend back down from my campsite. Hmm, looks like the tide is out. More on that later.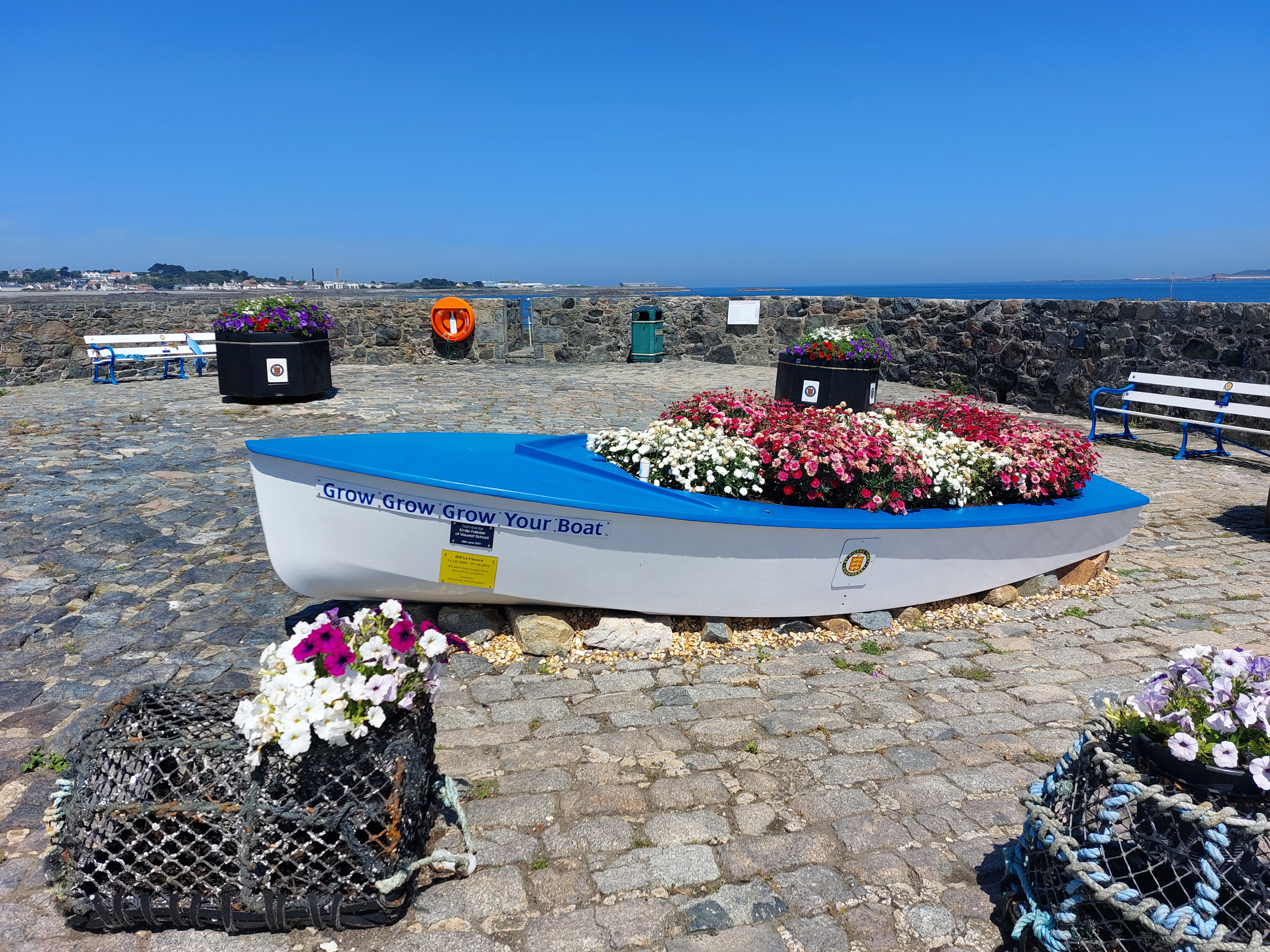 When your old boat doesn't float anymore...turn it into a garden!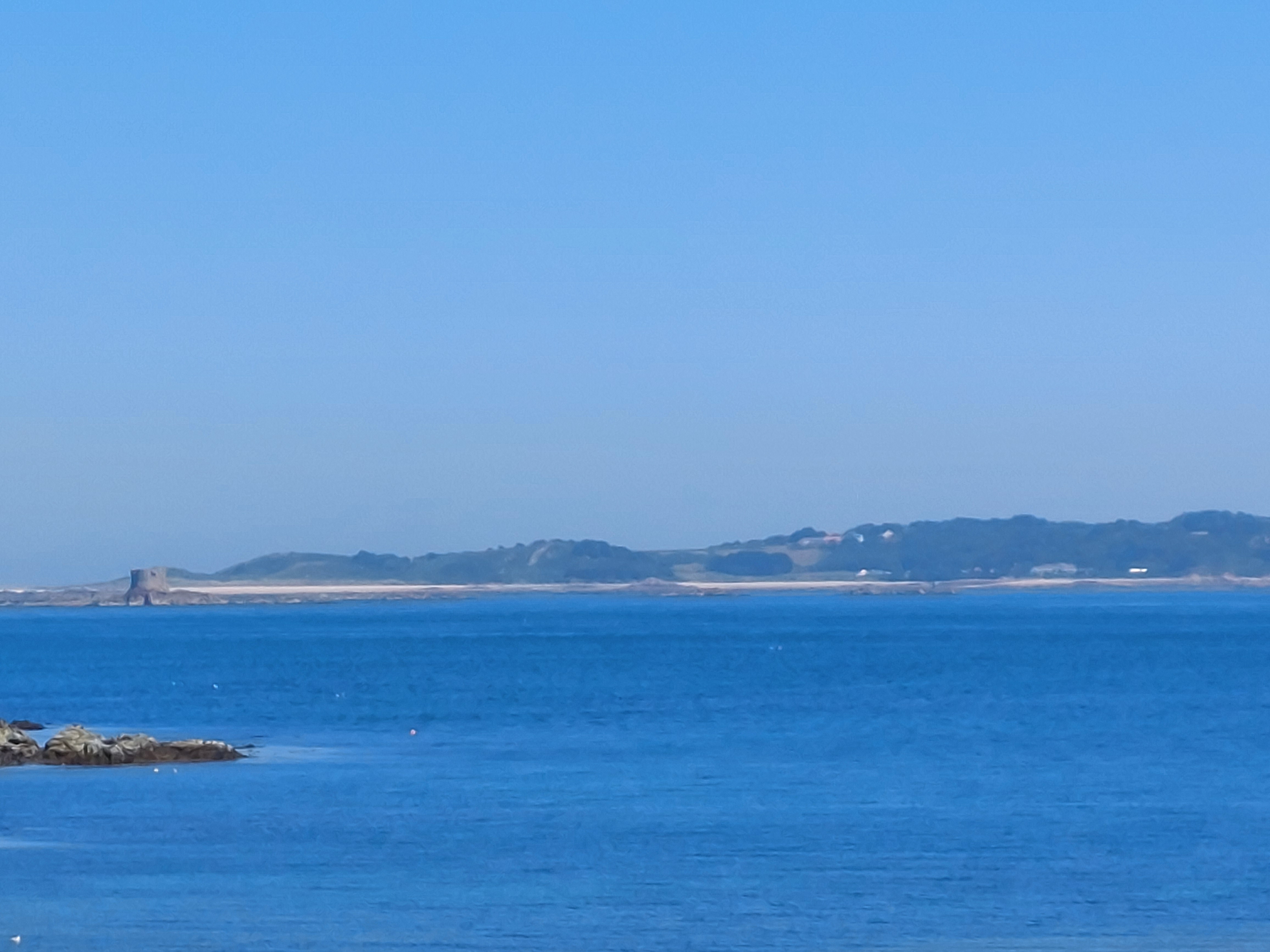 After arriving on the shoreline I pedaled on toward town. Here's a view looking out at the land ahead.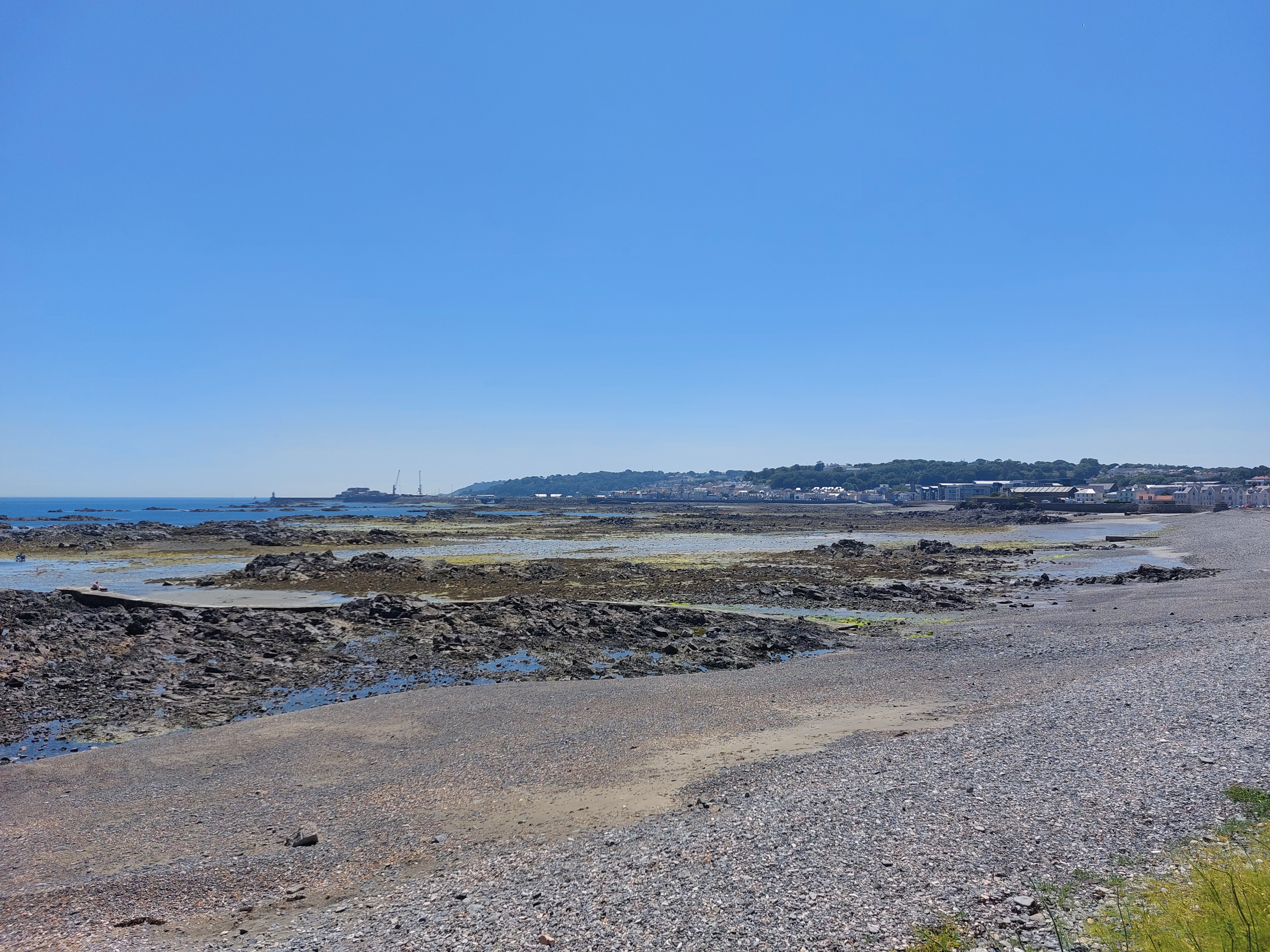 Getting close now. You can see what I mean about the tide being out.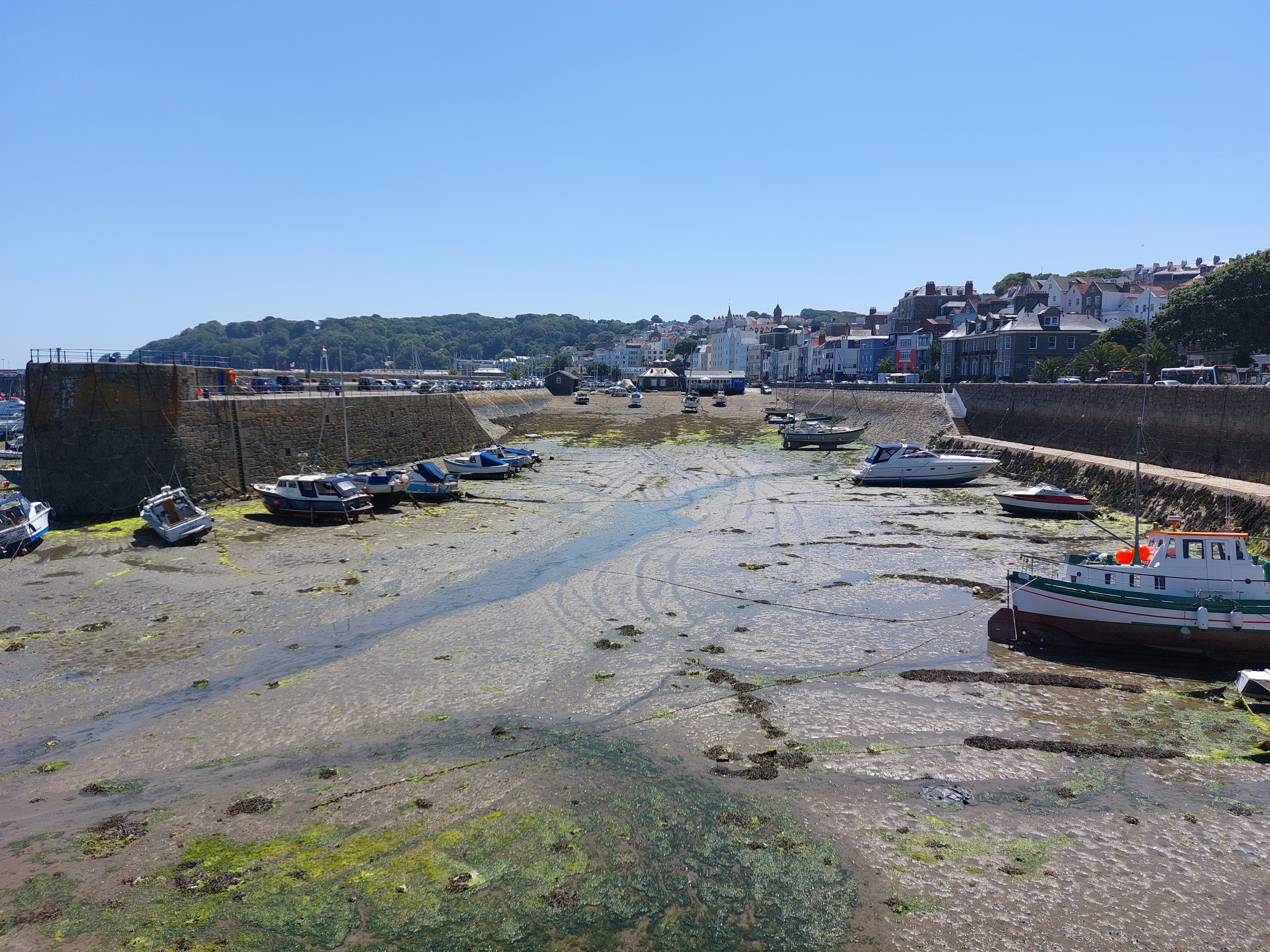 In fact, it gets so low here the boats are left high and dry. Apparently this is normal, though, as I saw this sort of thing pretty much everywhere along the waterline as I rode by.

The town itself was very pretty and charming. Yes there were other people there, I just managed to find a moment where everyone in view had walked by me or around a corner.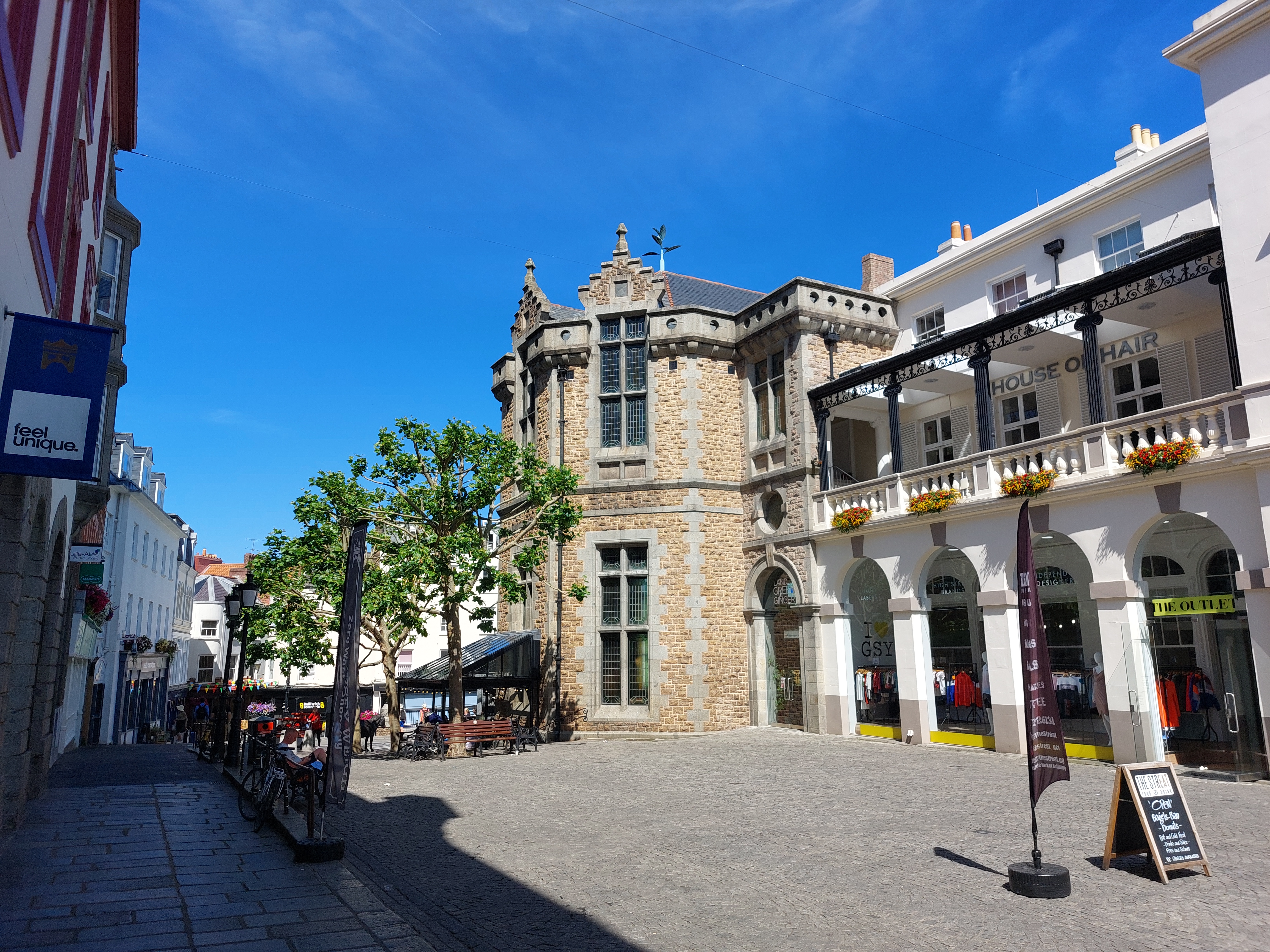 Another nice section of town. There were really too many of these to take a picture of every one. You'll have to visit and see for yourself.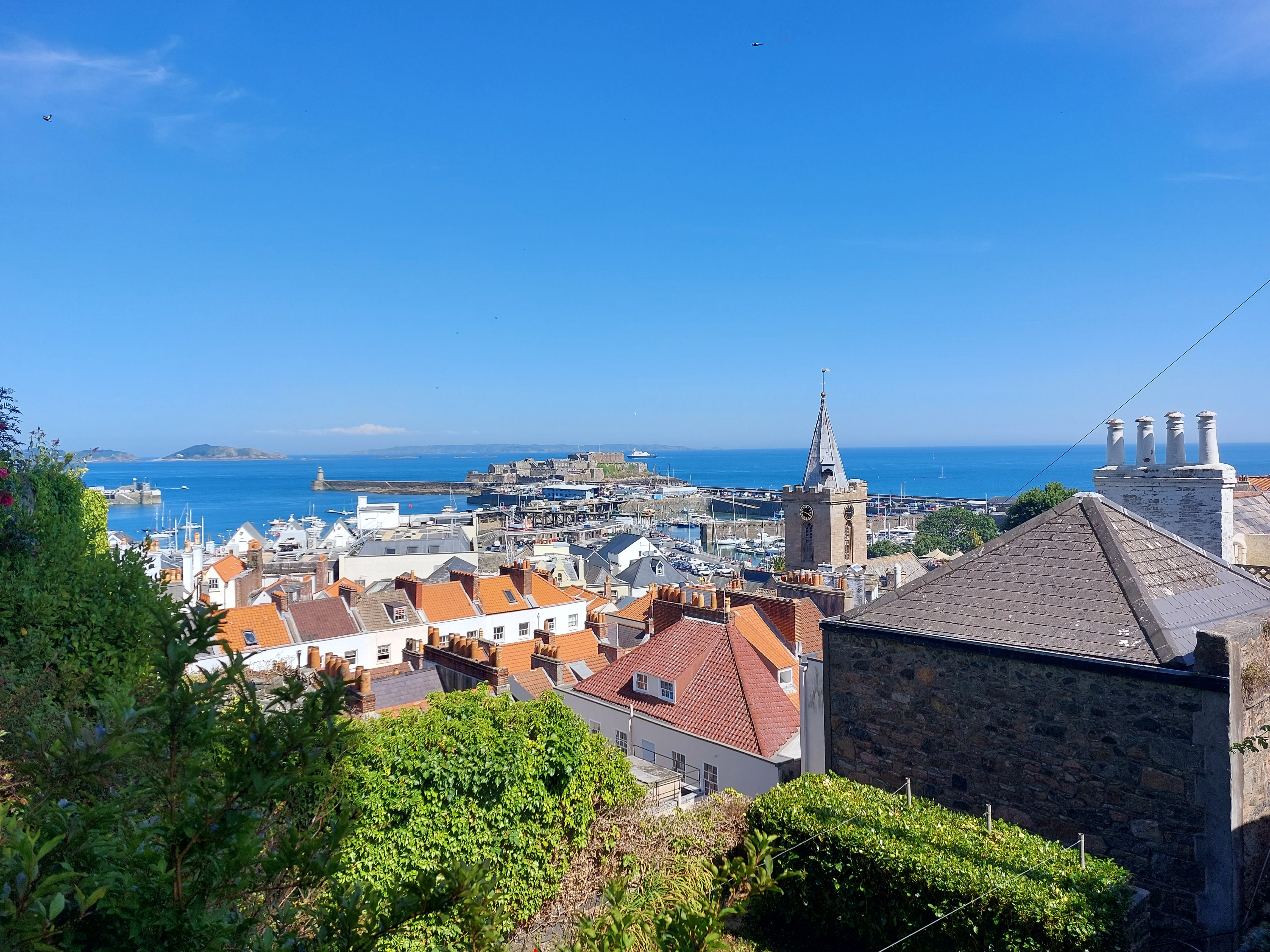 As I meandered about, I searched for geocaches along the way. This one took me to a secret staircase that had a great view.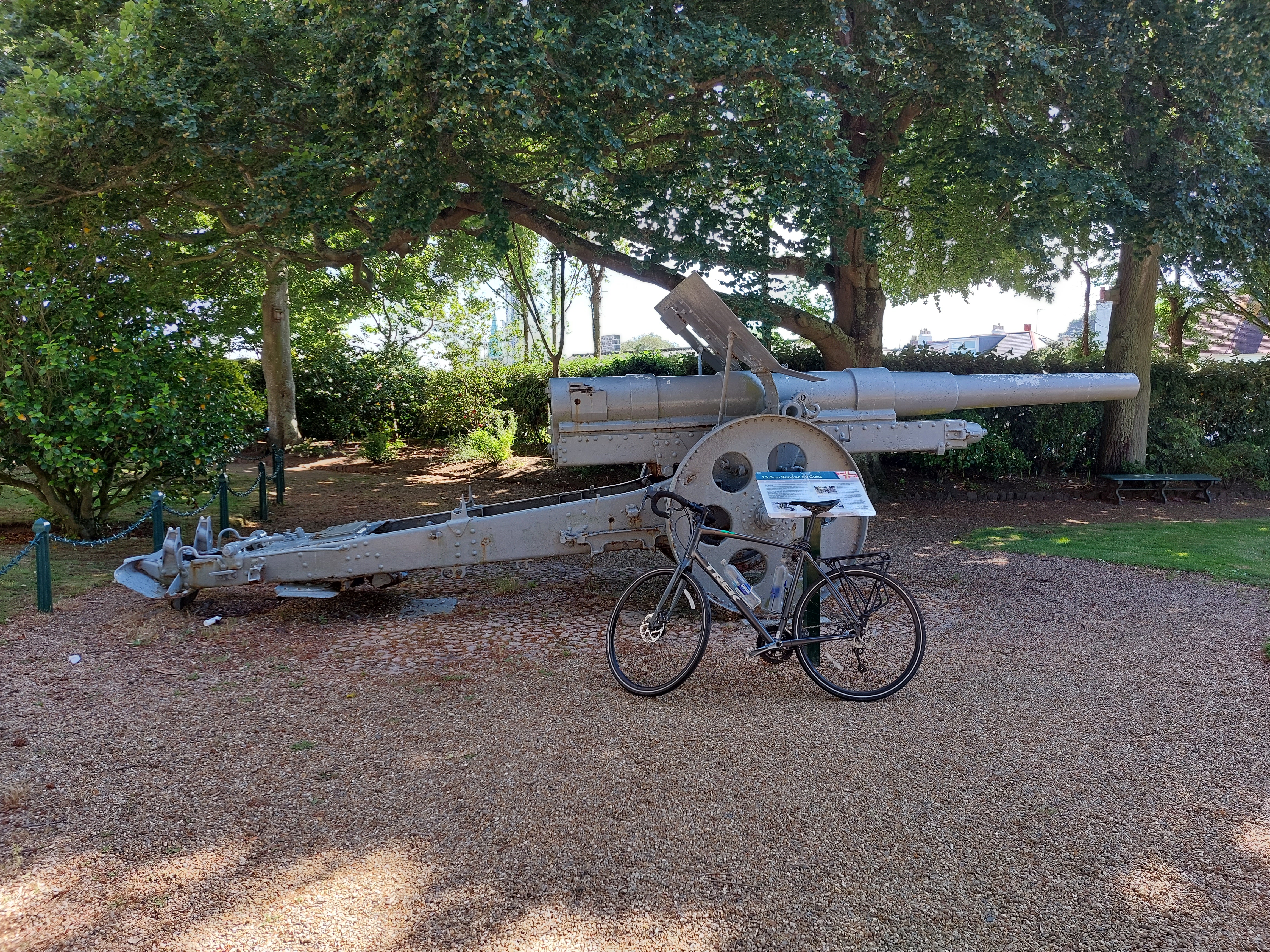 Another one brought me to a museum that had this relic of WWII, a German artillery piece left behind on the island after the liberation.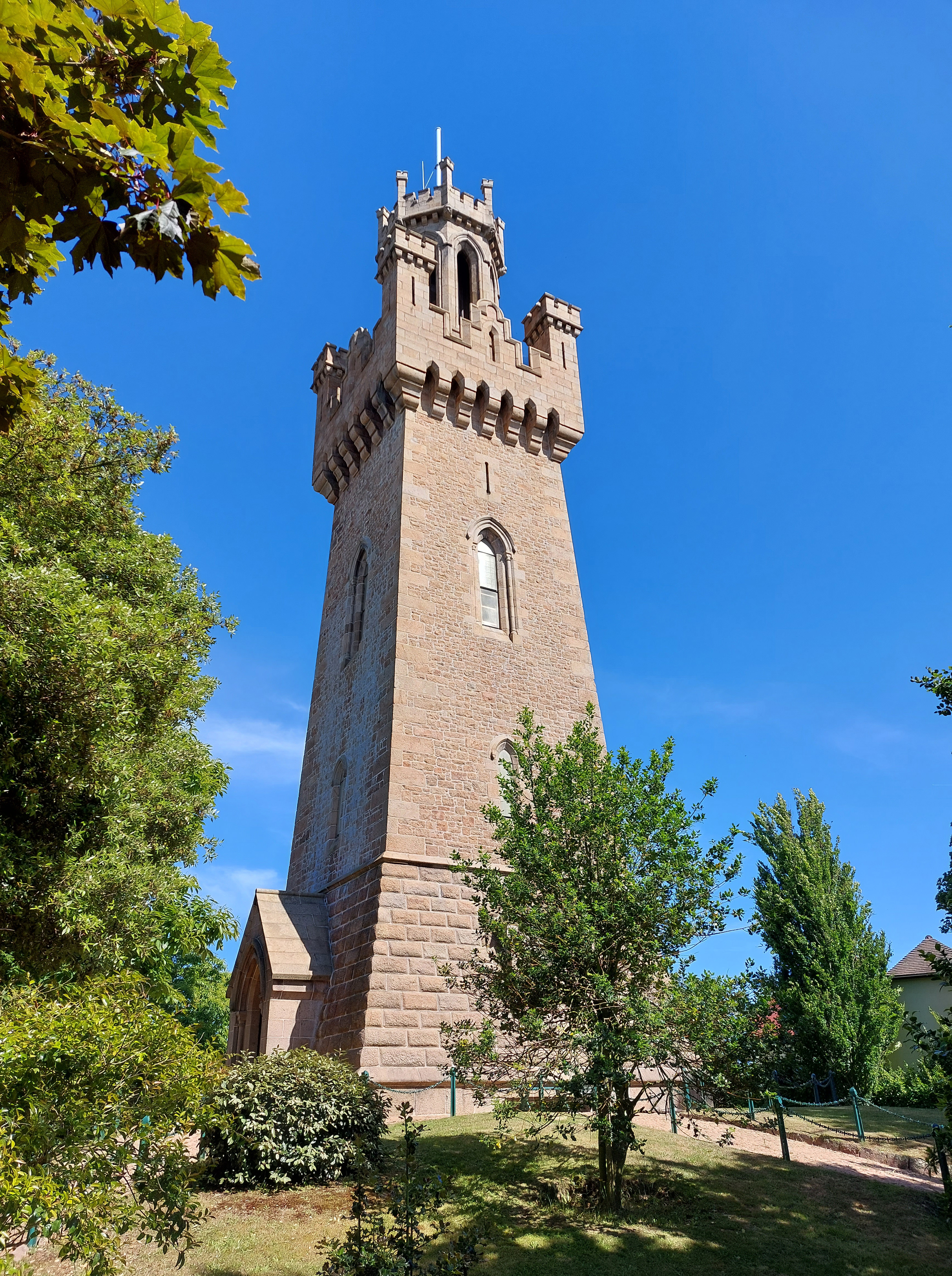 Near the museum was this lovely tower that promised some great views. Alas, the door was locked. But wait...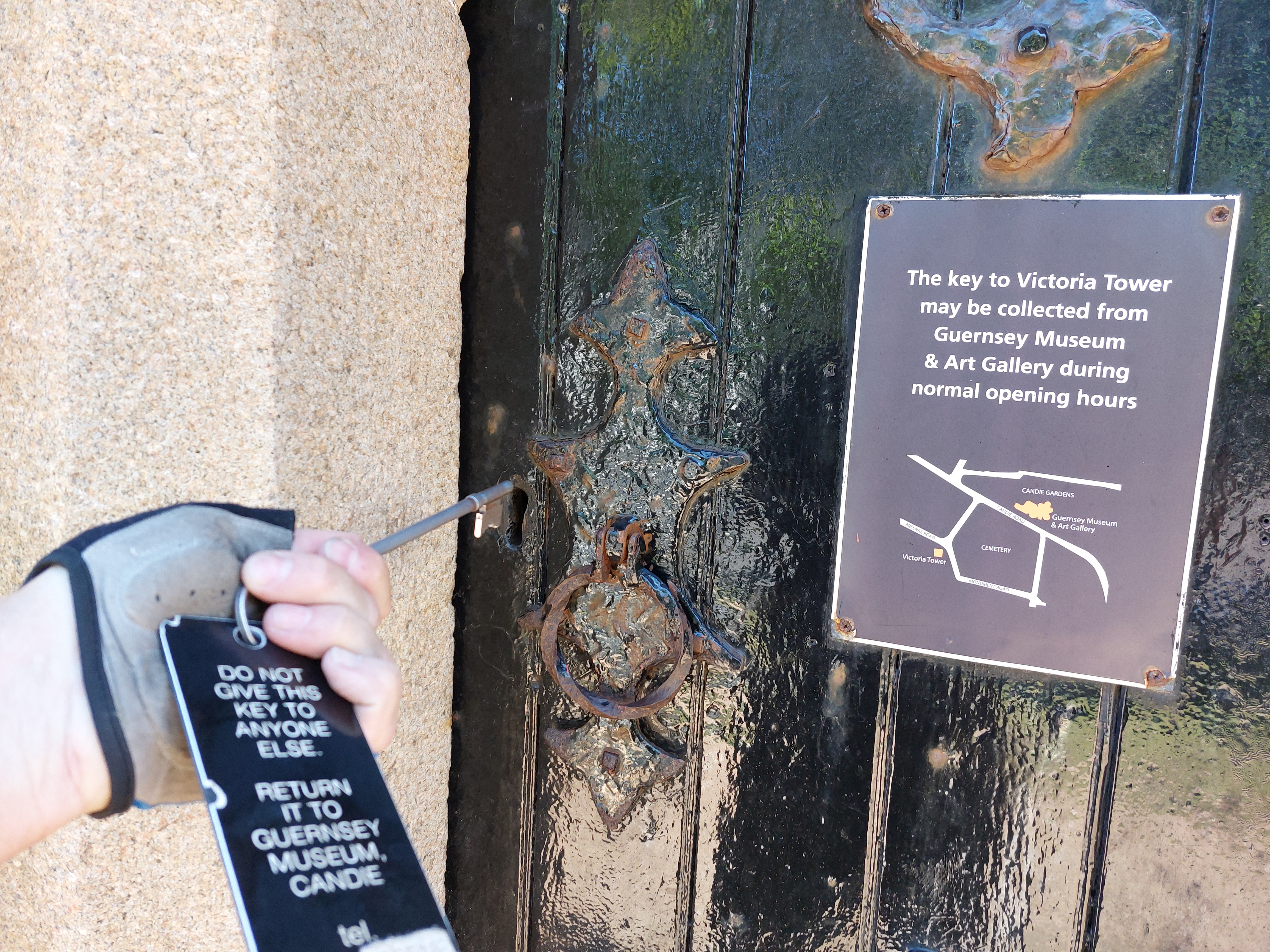 Turns out you can get the key just by going to the museum and asking for it...so I did. And this is not the sort of key you can just go copy at one of those kiosk places...anyway, let's go inside, I have to return it within 30 minutes.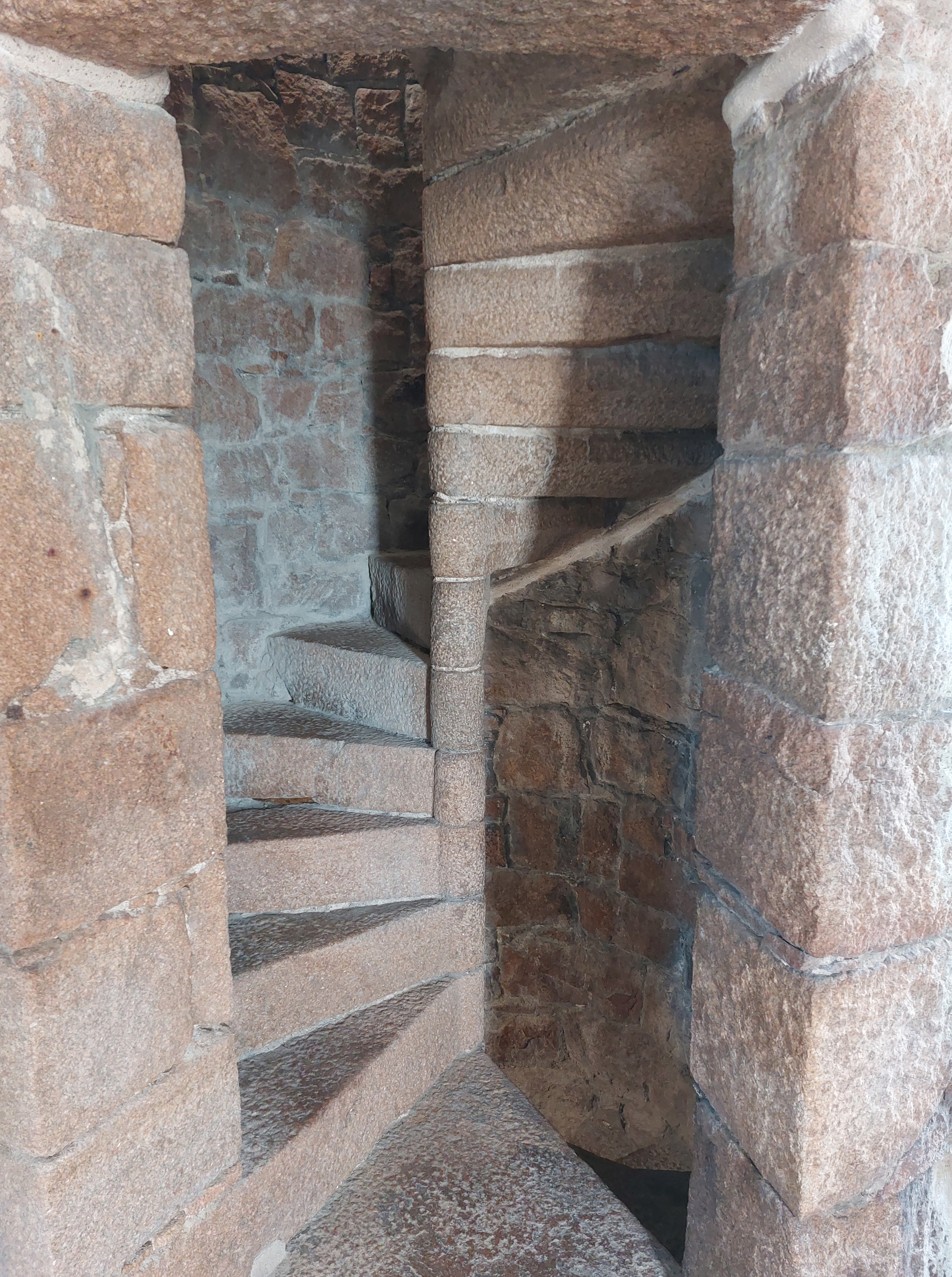 Now I have the place to myself...I hope. Up the spooky stairs I go...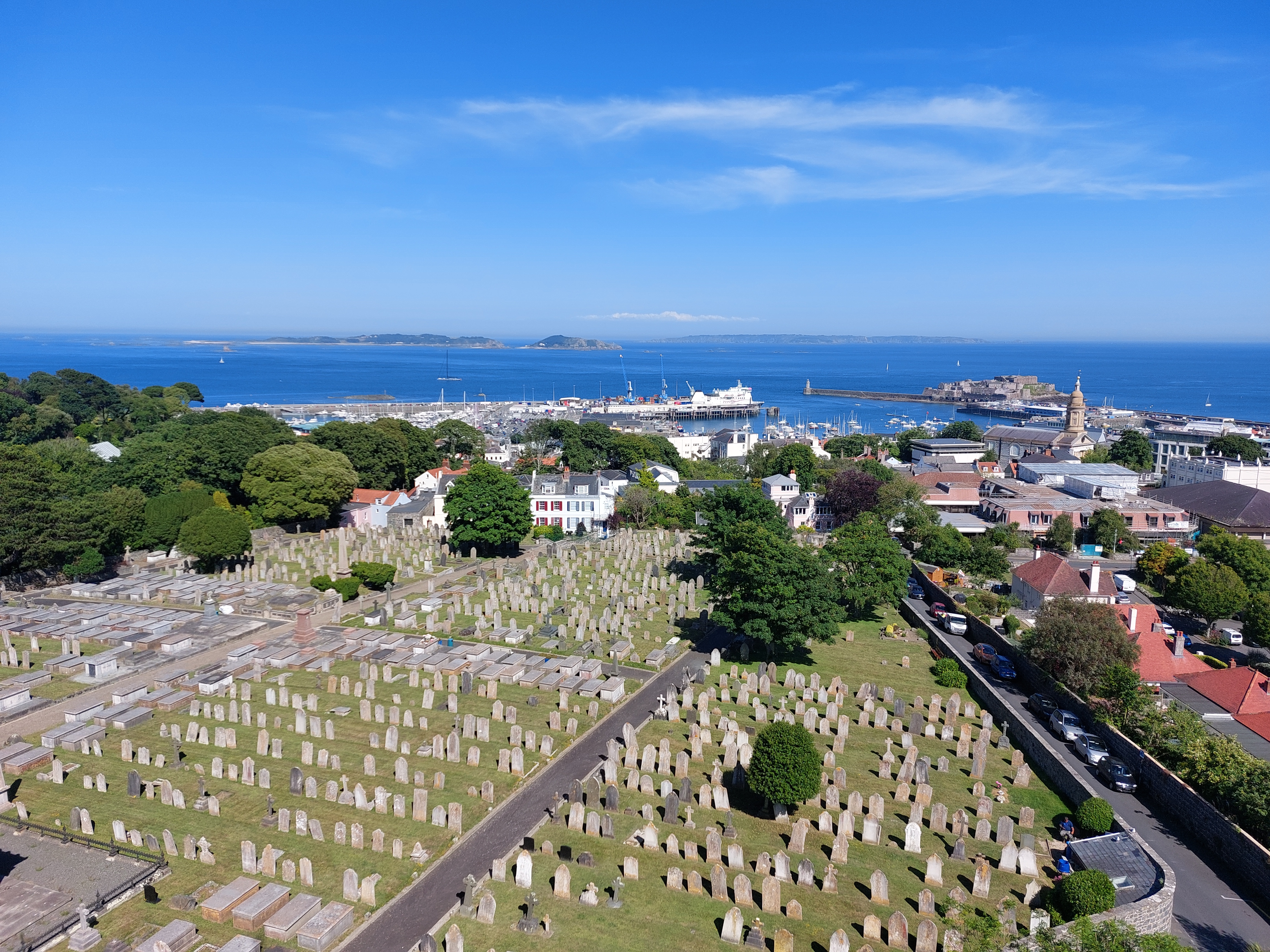 Having made the climb I now had some of the best views of the town and surrounding area right in front of me. These next few photos, taken from on high, are presented without commercial interruption.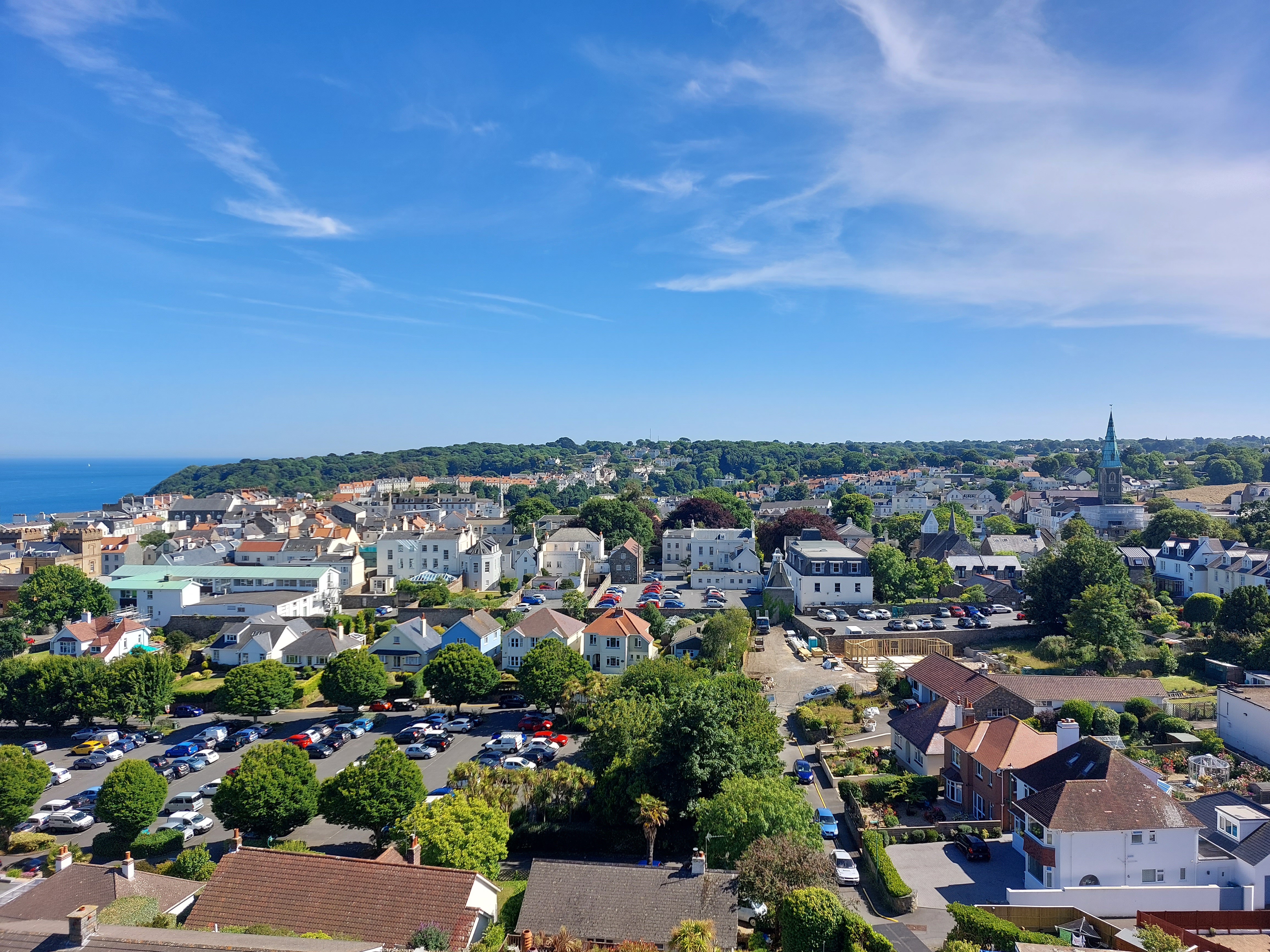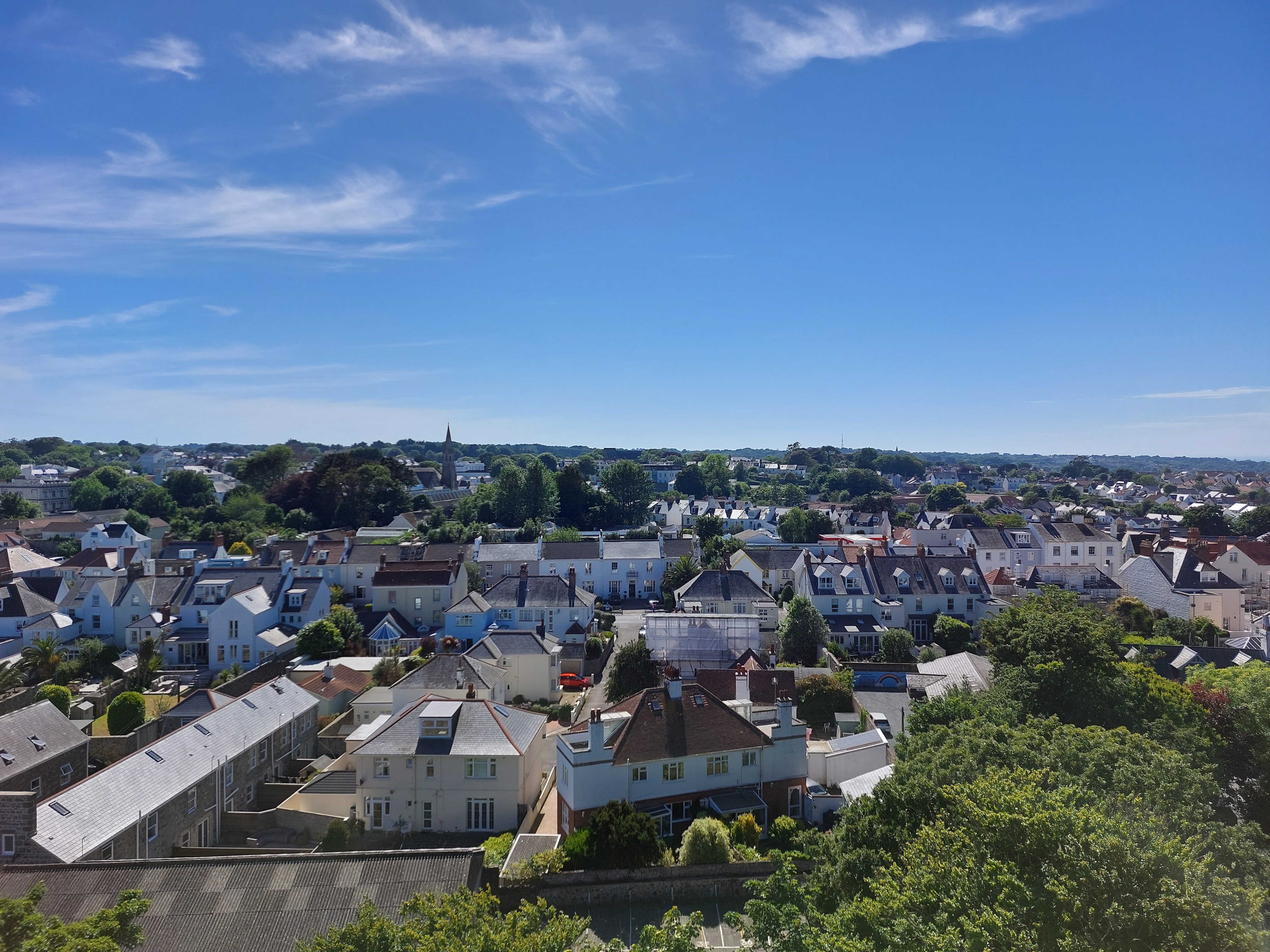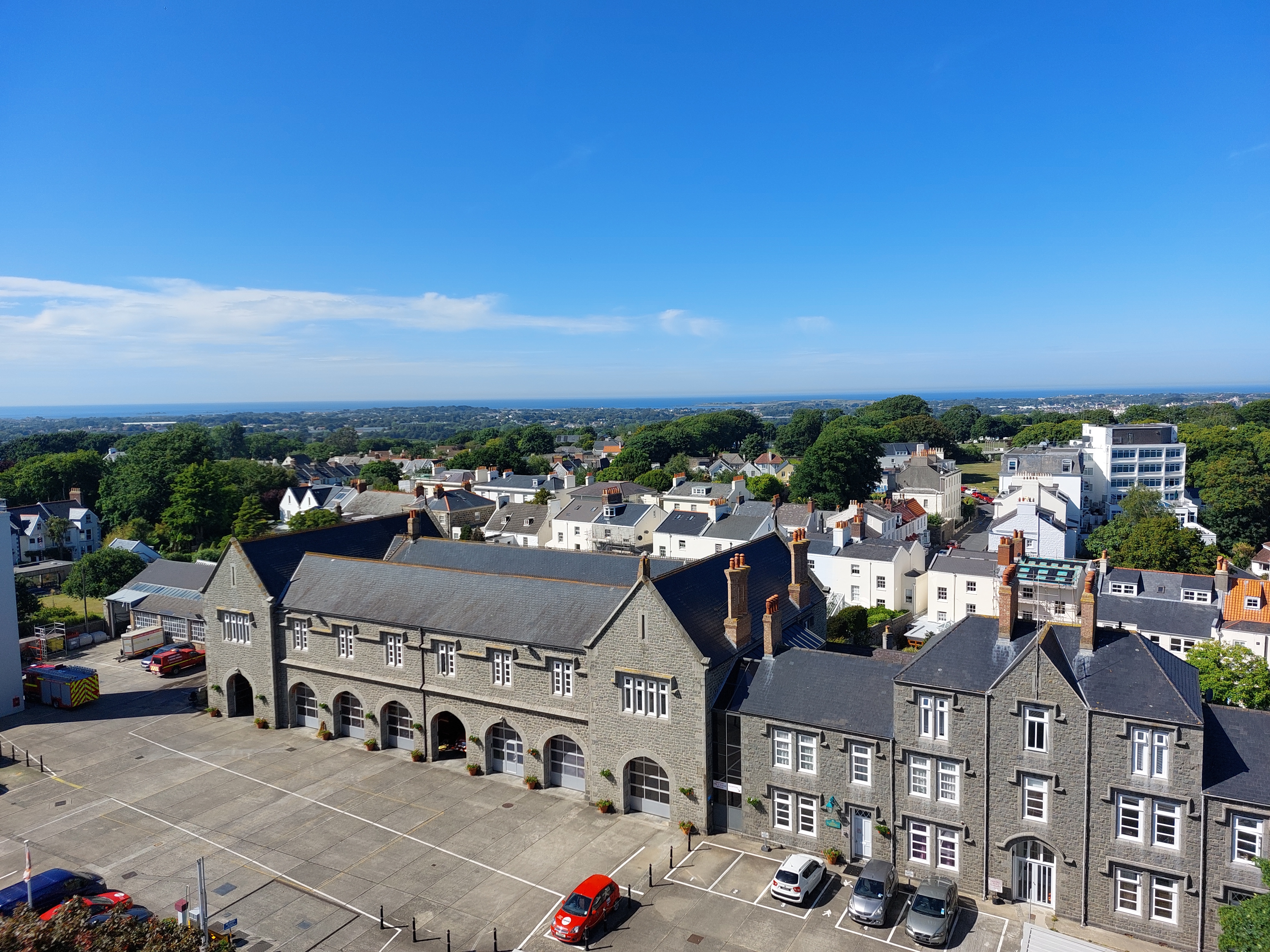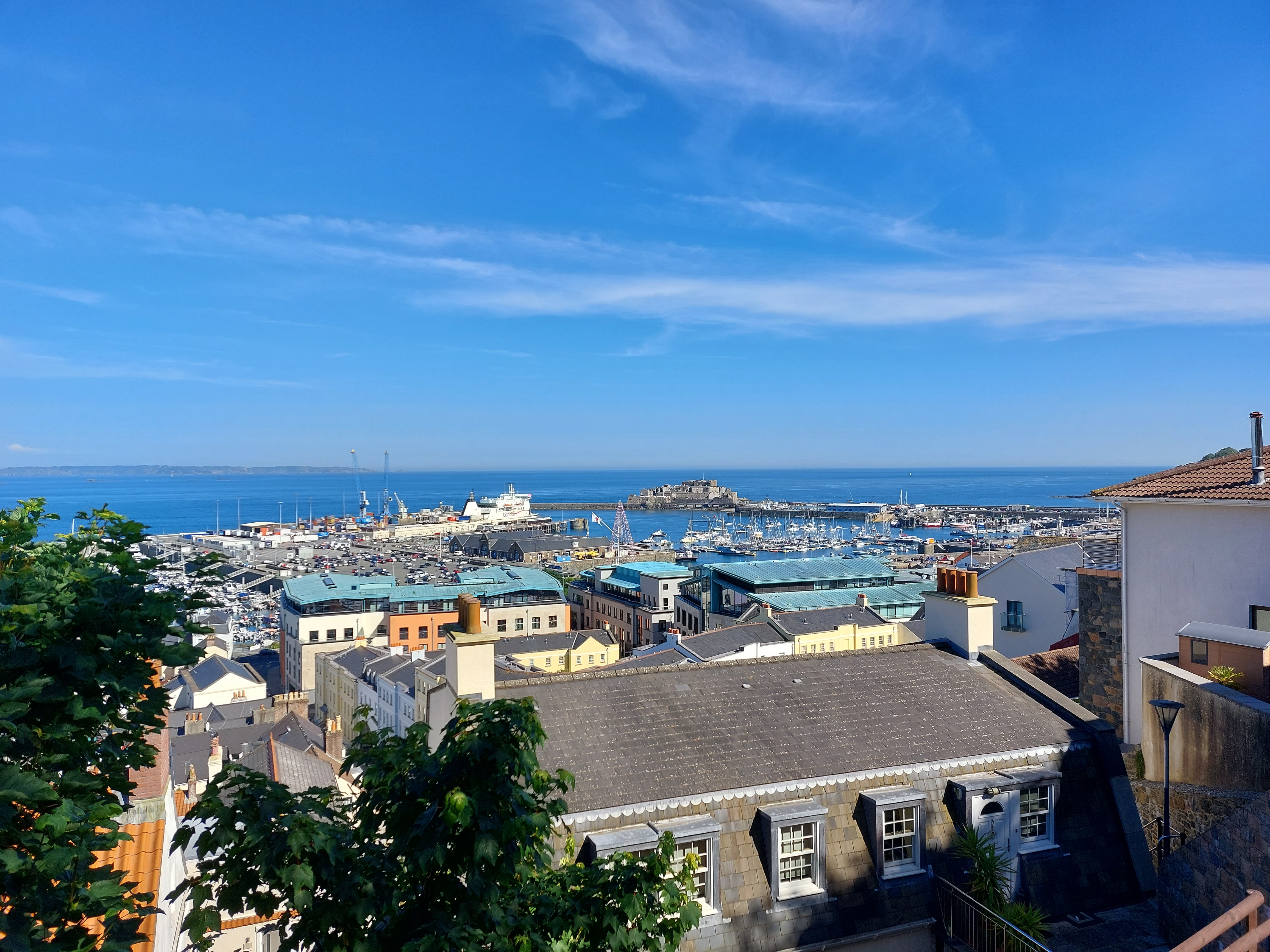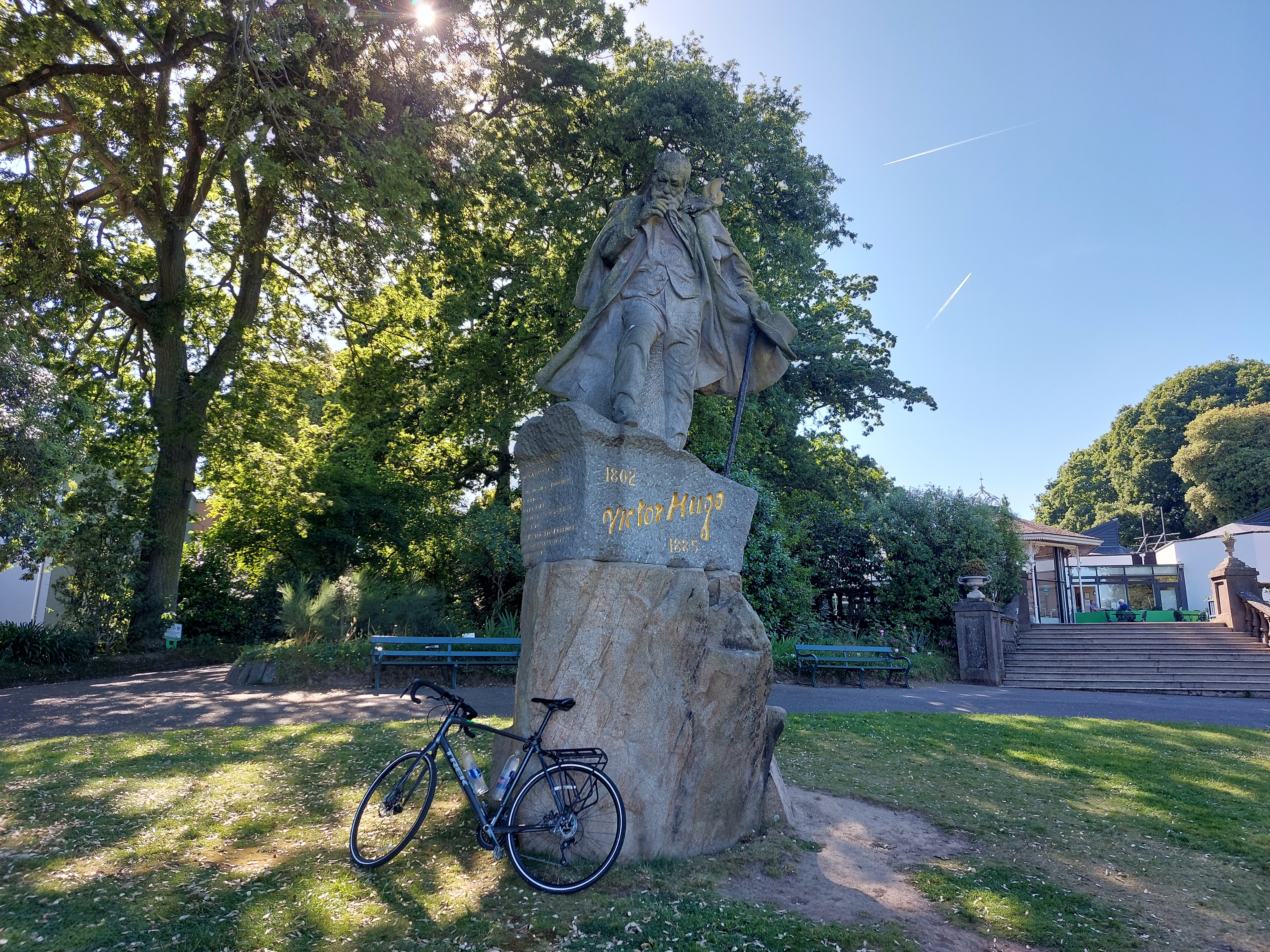 Once I returned the key it was back out on the road. I made one more stop near the museum to view this statue of Victor Hugo, who was exiled here on Guernsey for some affront. In fact, it's while living here on the island that he wrote "Les Miserables." So there, you learned something new about Guernsey!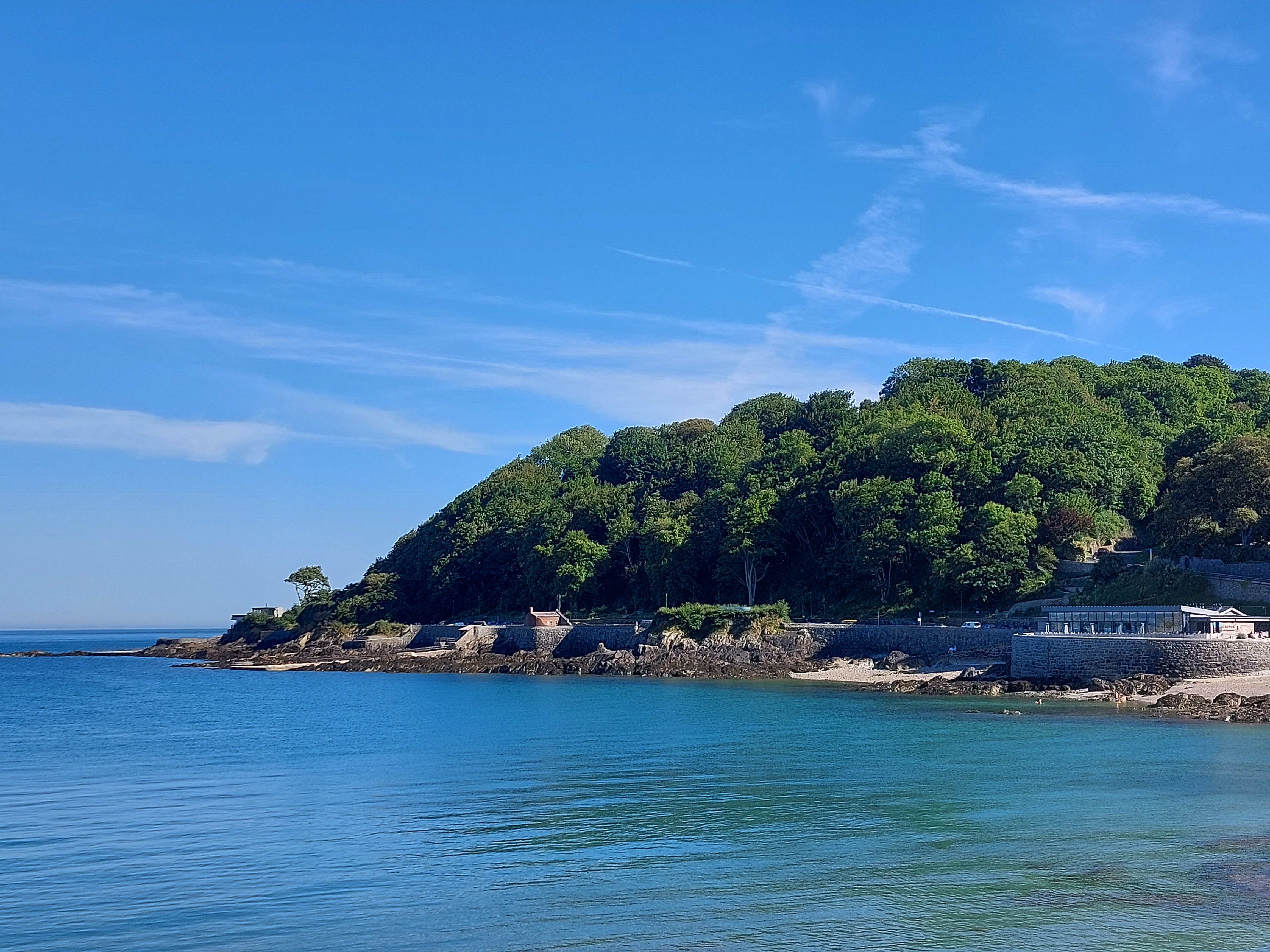 Leaving town now, I headed north along the coast. In addition to the nice view, I also got a look at the hill I had to climb soon. The road goes up on the right and keeps going up, up, up for quite a ways.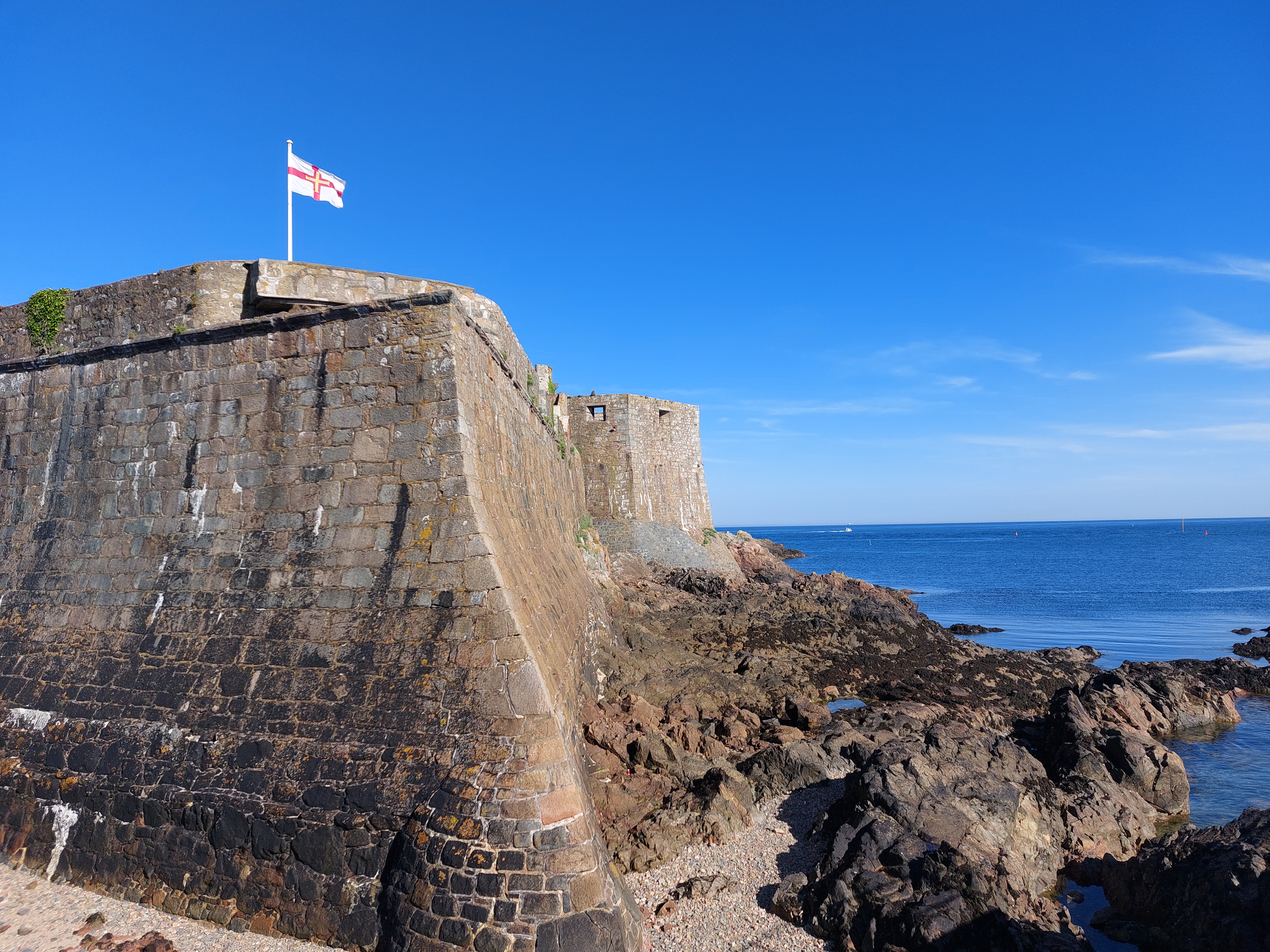 Rather than tackle the hill right away, I headed out to see the fort and lighthouse.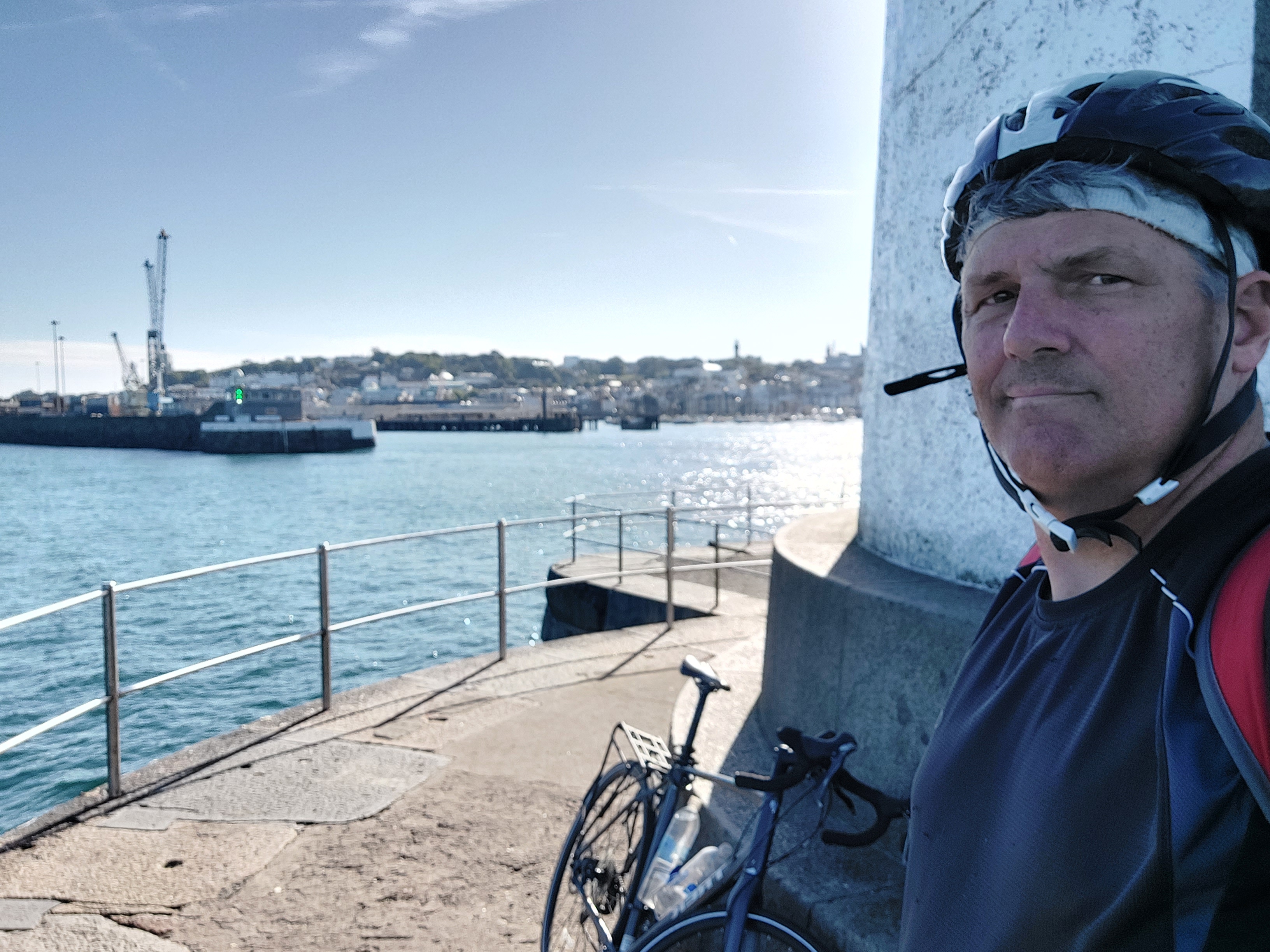 This is that same lighthouse from the pictures the other day. As you can see, I did in fact successfully reach it. However, you could not ride a bike on the causeway out to it, so I had to walk (sigh). Walking in my cycling shoes is starting to give me heel blisters.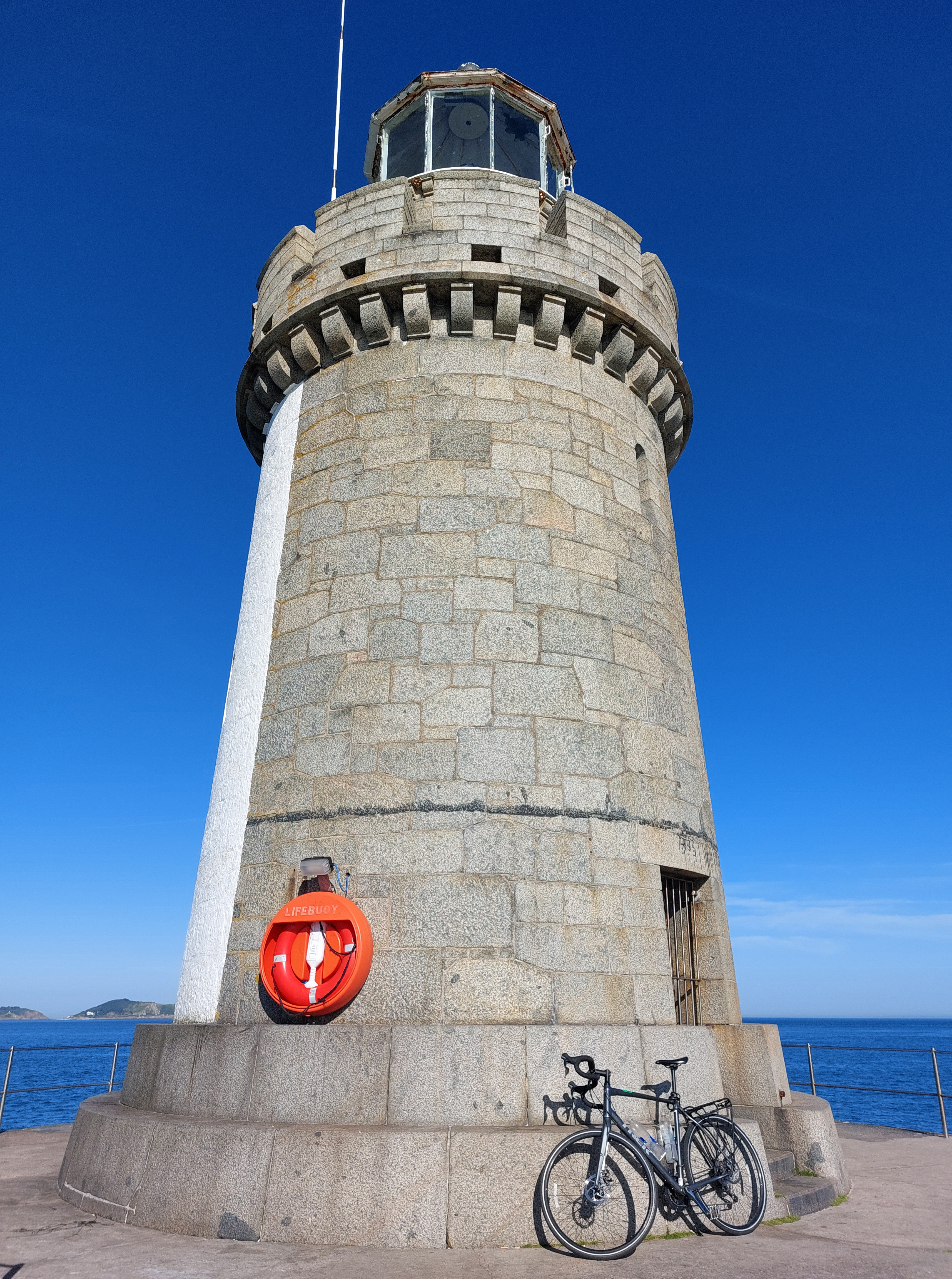 My bike rests against the base of the lighthouse (which I think is one of the prettier ones I've visited).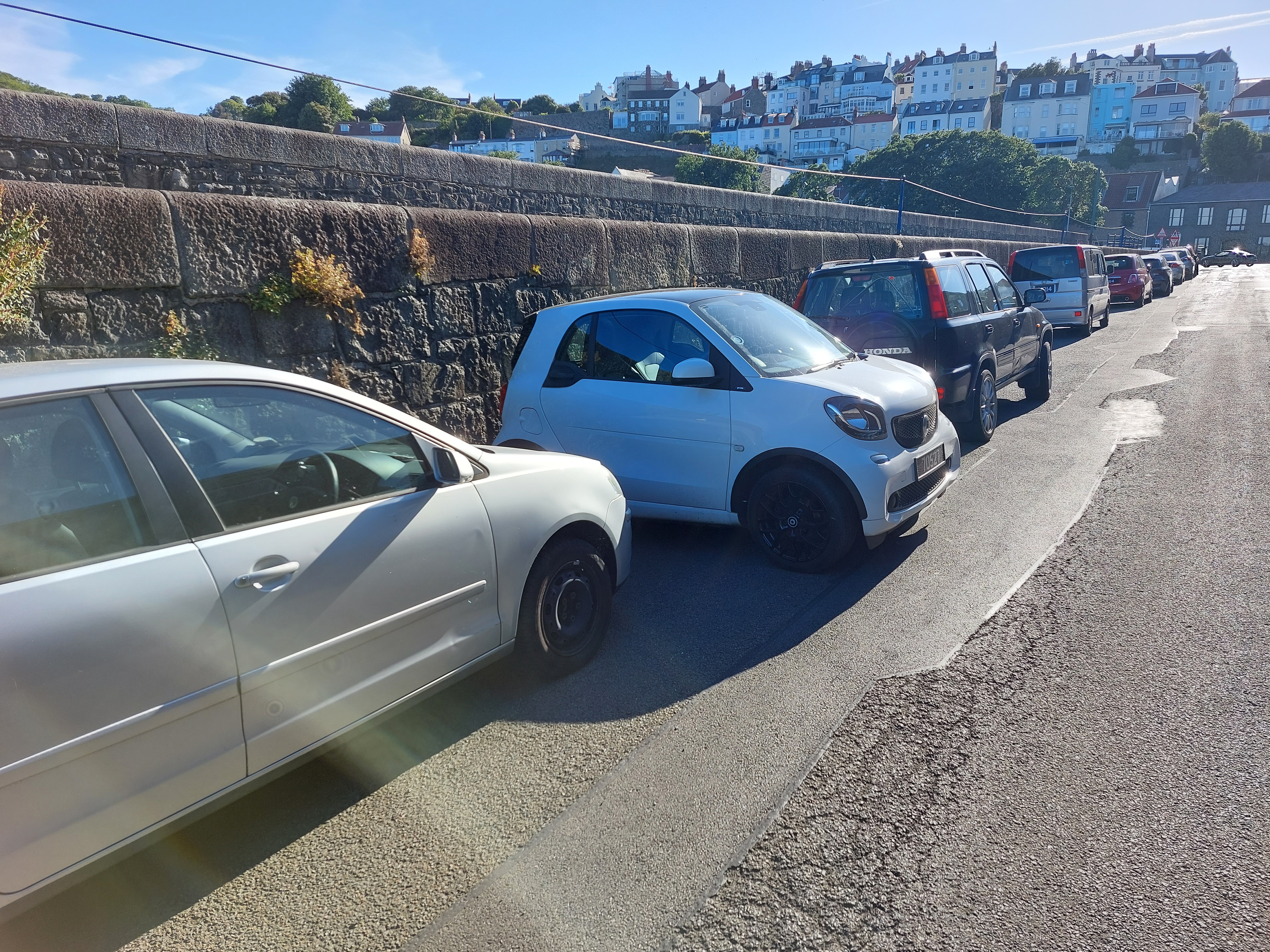 They have some very different parking options in Great Britain, by the way.

Another view of the fort, with a nice sailboat adjacent to give it that picture postcard look.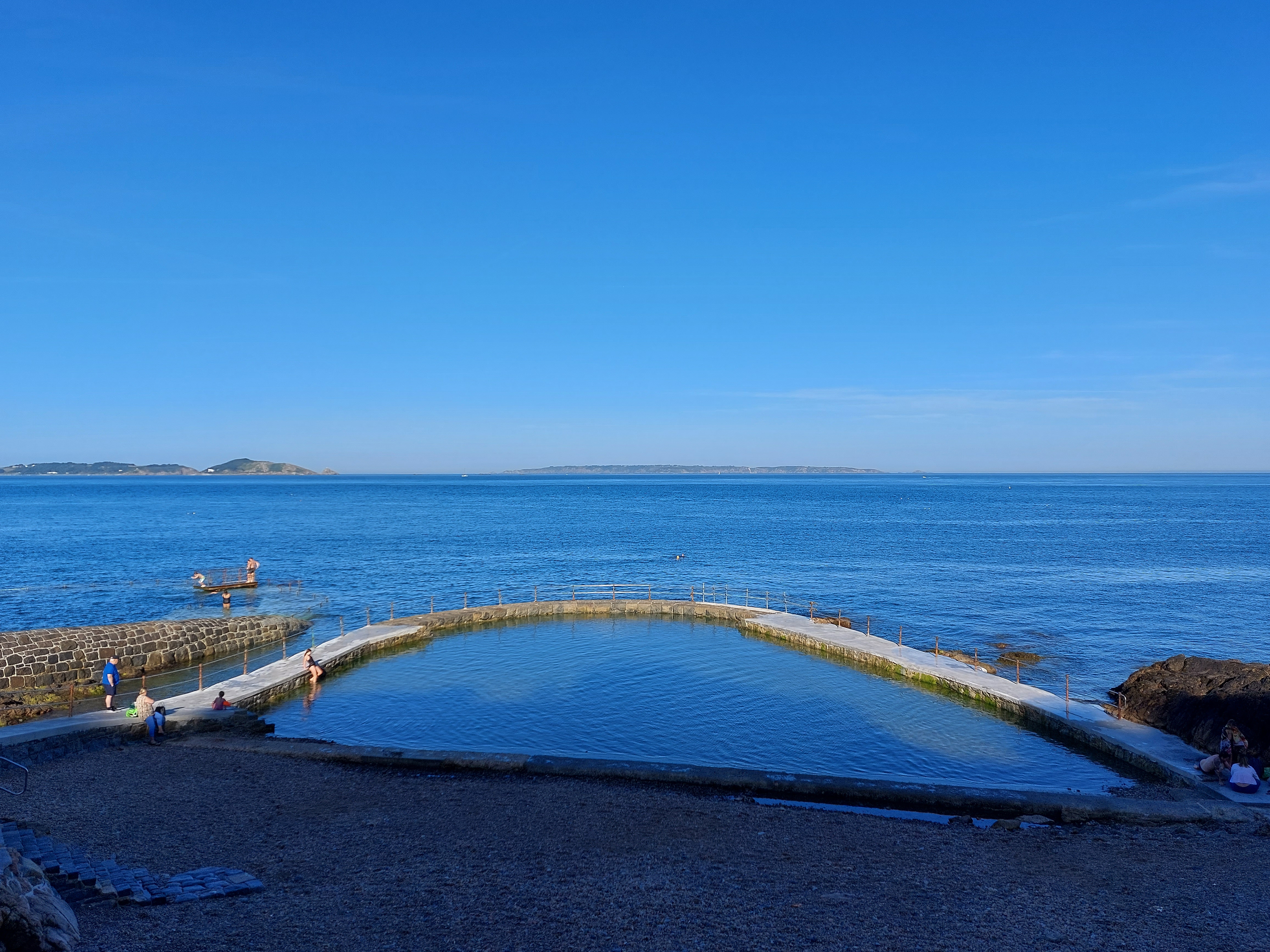 In various places around the island they've built public "bathing pools" right into the ocean like the one you see here. Just go down and have a swim in the sea water, with no worries about sharks or sharp rocks or anything like that. This one isn't very busy but several of the others I saw were quite crowded. Oh and of course they are tide-dependent.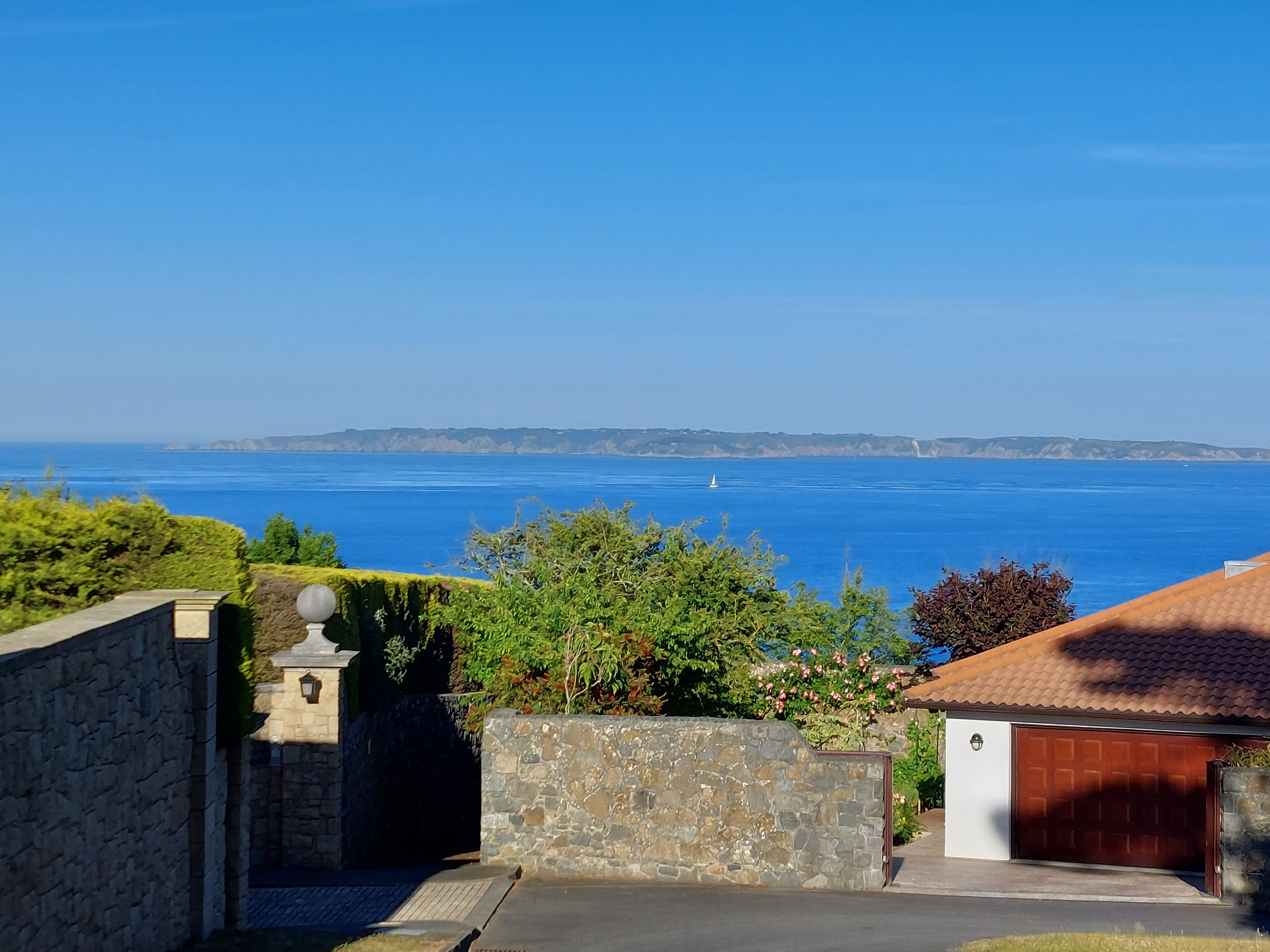 Near the end of the day I finally went up that steep hill I was talking about. There were some very nice homes up there and they all had this amazing view.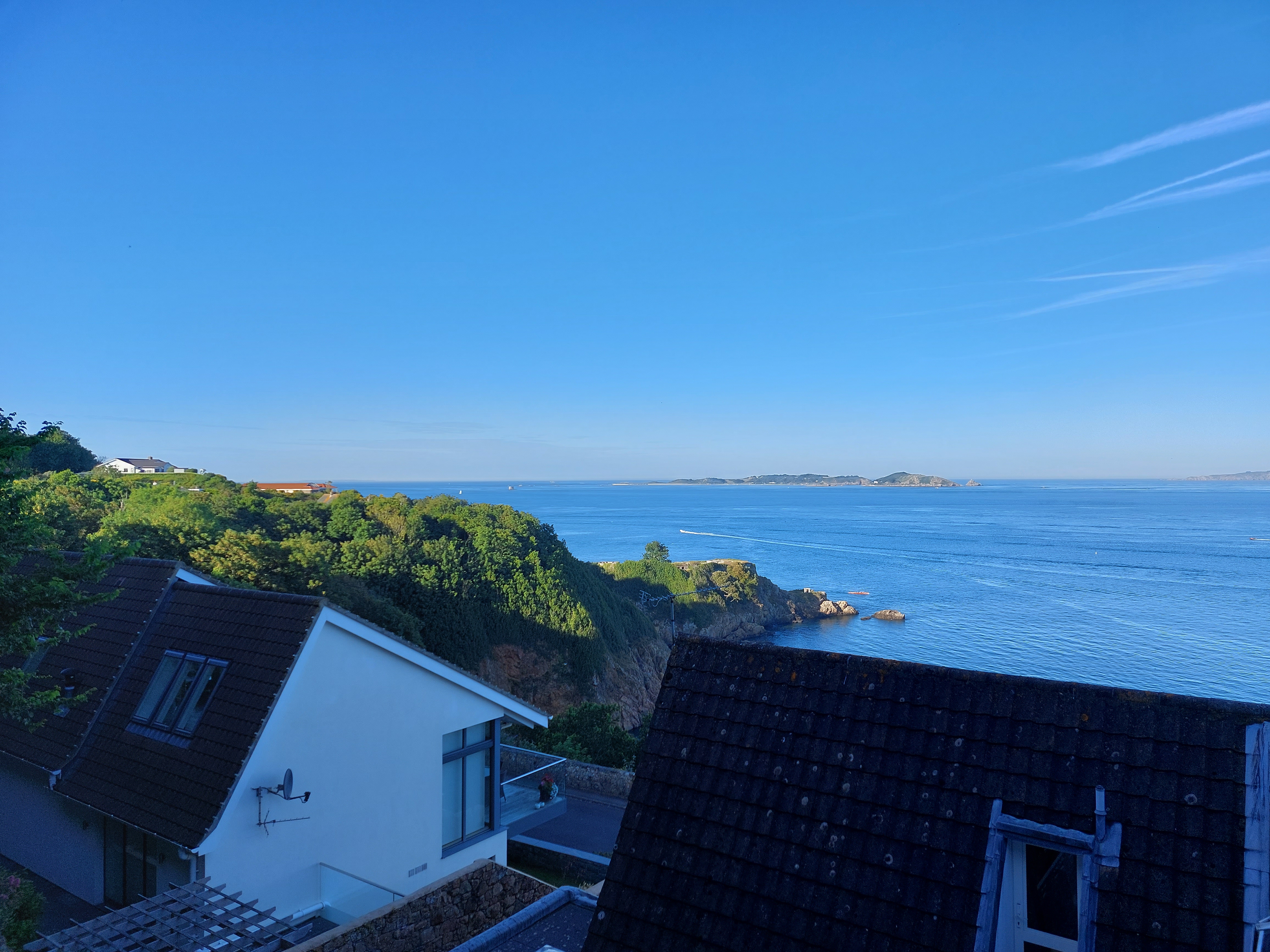 Here's another example. I could really see myself living in a place like this.

Okay, last shot of the fort, I promise! This is taken from up on that hill just before I started back down and in the direction of the campground, to call it quits for the day. Tomorrow I'll visit one of the neighboring islands and probably have just as many pictures (but none of this fort).