Day 9 – June 18, 2022
Poole-Bridport
Miles: 60
Terrain: Steep climbs, some of them severe
Weather: Cold, rainy, and headwinds (the trifecta!)
I've talked to a lot of people about this trip so far...having a bike laden with gear is a good conversation starter, but also, just randomly bumping into other cyclists is fine, too. Sometimes you just get to chatting while waiting in line for a ferry, especially if that wait is particularly long (like yesterday).
One thing people usually get around to asking is "Where are you off to next?" and when I said Poole to Exeter, I almost inevitably got a cringey look and warnings about the hills. So I wasn't exactly looking forward to these next few days as I set off on Part II of this trip through Western England (with a dip into Wales at some point).
The map to the right shows today's expected elevation gain and at under 2000 feet it doesn't look too bad, but that was before you factor in the rain and winds. Plus the hill in the center there was really bad. Like, I almost couldn't push the bike uphill bad. I managed to make it about two-thirds of the way before dismounting and then it probably took half an hour to go a quarter mile to polish it off. All the while I was thinking, "How in the world did I ever get through some of those nasty climbs on previous Bikeabouts?" I'm not really sure because this little 1860-foot day that clocked in at about 60 miles took me 10 hours to finish, and when I finally arrived I was dead dog tired. Of course it was raining and cold and windy and I had to put up a tent, because there weren't any real hotels in this area and I couldn't possibly have ridden another 20 miles to the first option left on the map (even if I thought I could get there before they closed their check-in desk, which I knew I couldn't).
So tonight I wound up "farm camping," which I guess is a thing here in England...some farms set up pitches (campsites) in a secluded area and give you water, restrooms, primitive showers, and maybe some power outlets and let you spend the night. It only cost 10 pounds, which is quite the savings over the 90 it would've cost if I could've made it to that hotel, but I spent the night wet and shivering in my tent. Luckily by morning the rain stopped long enough for me to pack up, but still, it was quite the challenge. One of the campers who was leaving gave me a couple of water bottles (since the camp water supply was limited for some reason) and those hit the spot, seeing as I was nearly dry from a long day of torturous hill-climbing. Still another camper, in a very cool-looking campervan, invited me over for a beer, which I appreciated very much, but honestly I was just so tired and hungry I needed to get a shower, eat dinner, and go to bed. I was out by 9:30pm and got up at 6:30, that's how tired I was.
Anyhow, in between the rain showers that bothered me most of the afternoon, I was able to take some pictures, so here they are...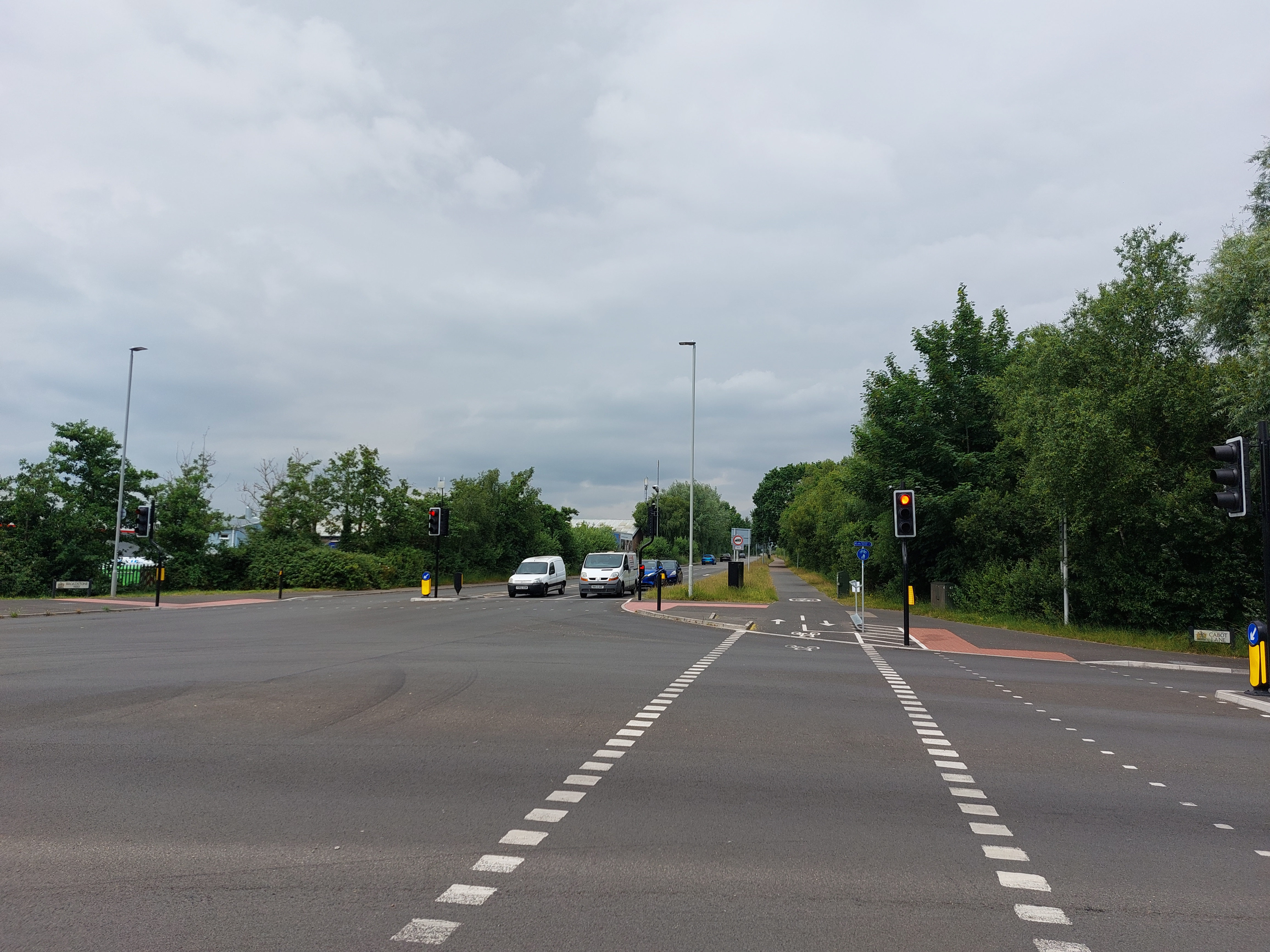 I didn't get many photos of Poole because the parts I rode through were mostly residential and there wasn't much to see there. They did have some nice cycle paths, like this one here, which took me most of the way out of town. I'm still not enamored with the way they sometimes make you ride on the wrong side of the road, though.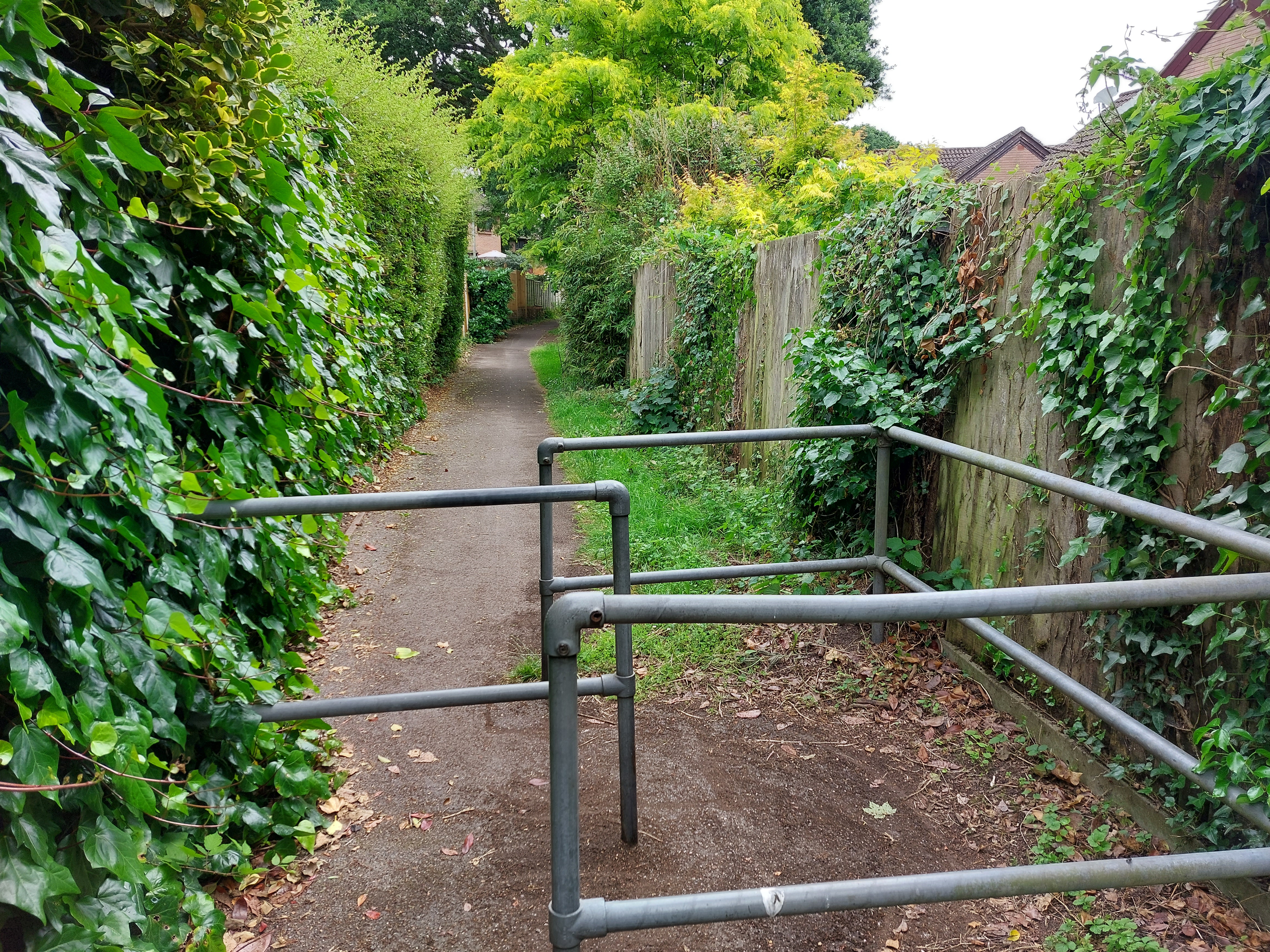 Sometimes I went off the roads onto real bicycle paths, but while those were nice and all, they often had these stupid anti-motorbike gates which work well enough, I suppose, but are extremely difficult for my oversized bike to fit through.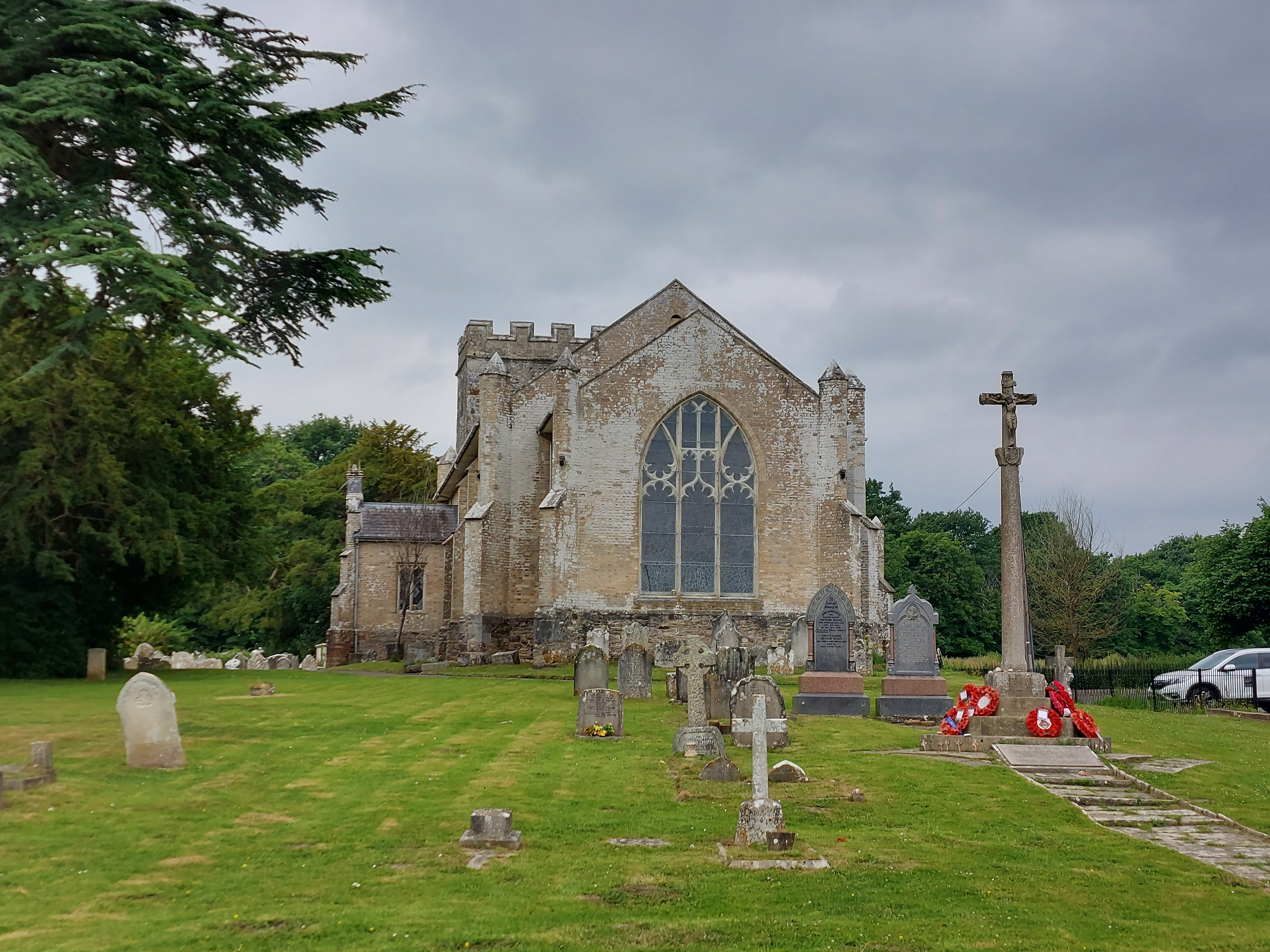 Another beautiful church, this one on the outskirts of Poole as I was leaving. England sure has its share of pretty churches.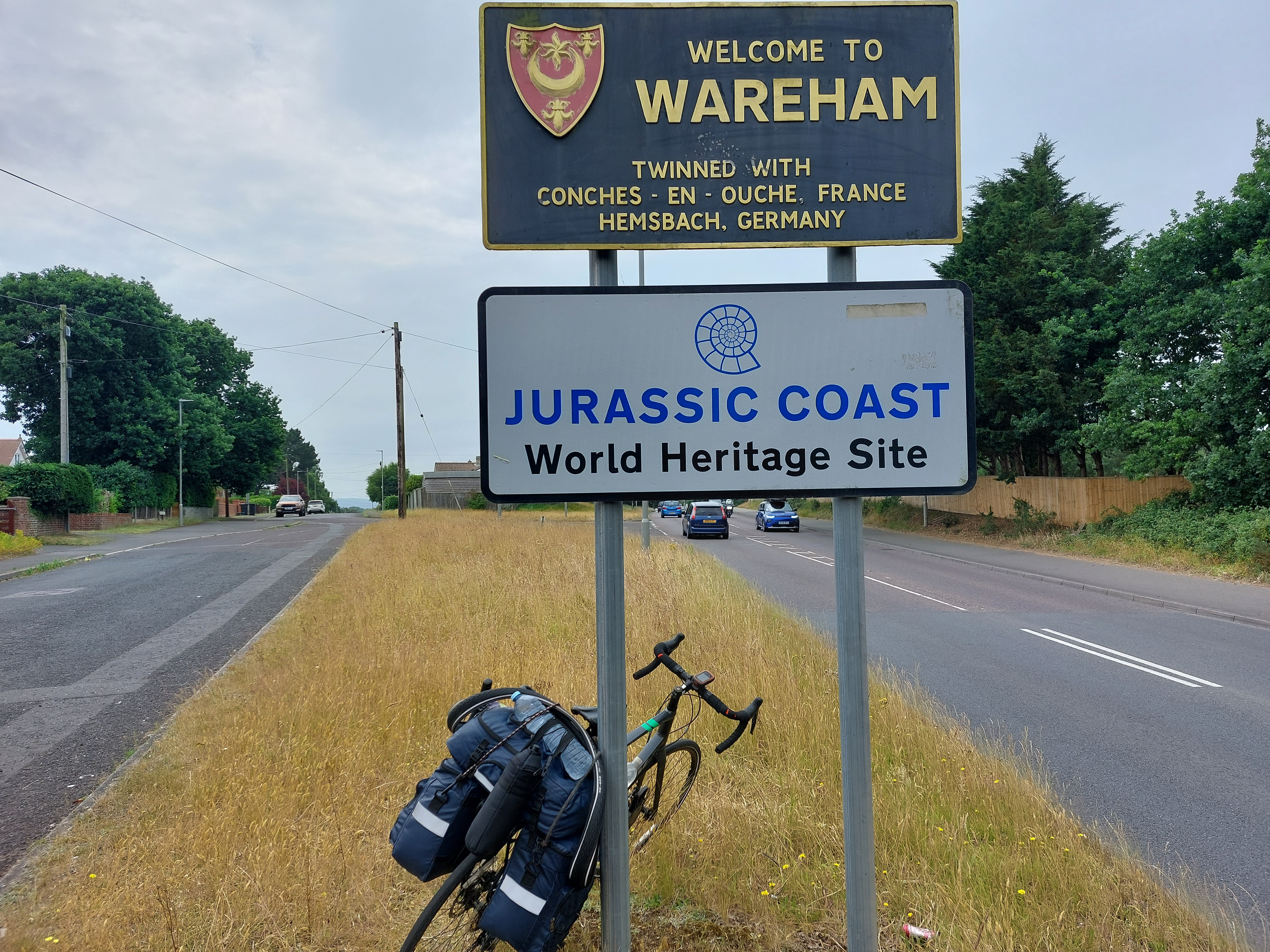 While stopping for the cache here (one of the few caches I did today) I noticed this sign about the Jurassic Coast. Apparently this area is so full of fossils from that era that they named the whole place after it.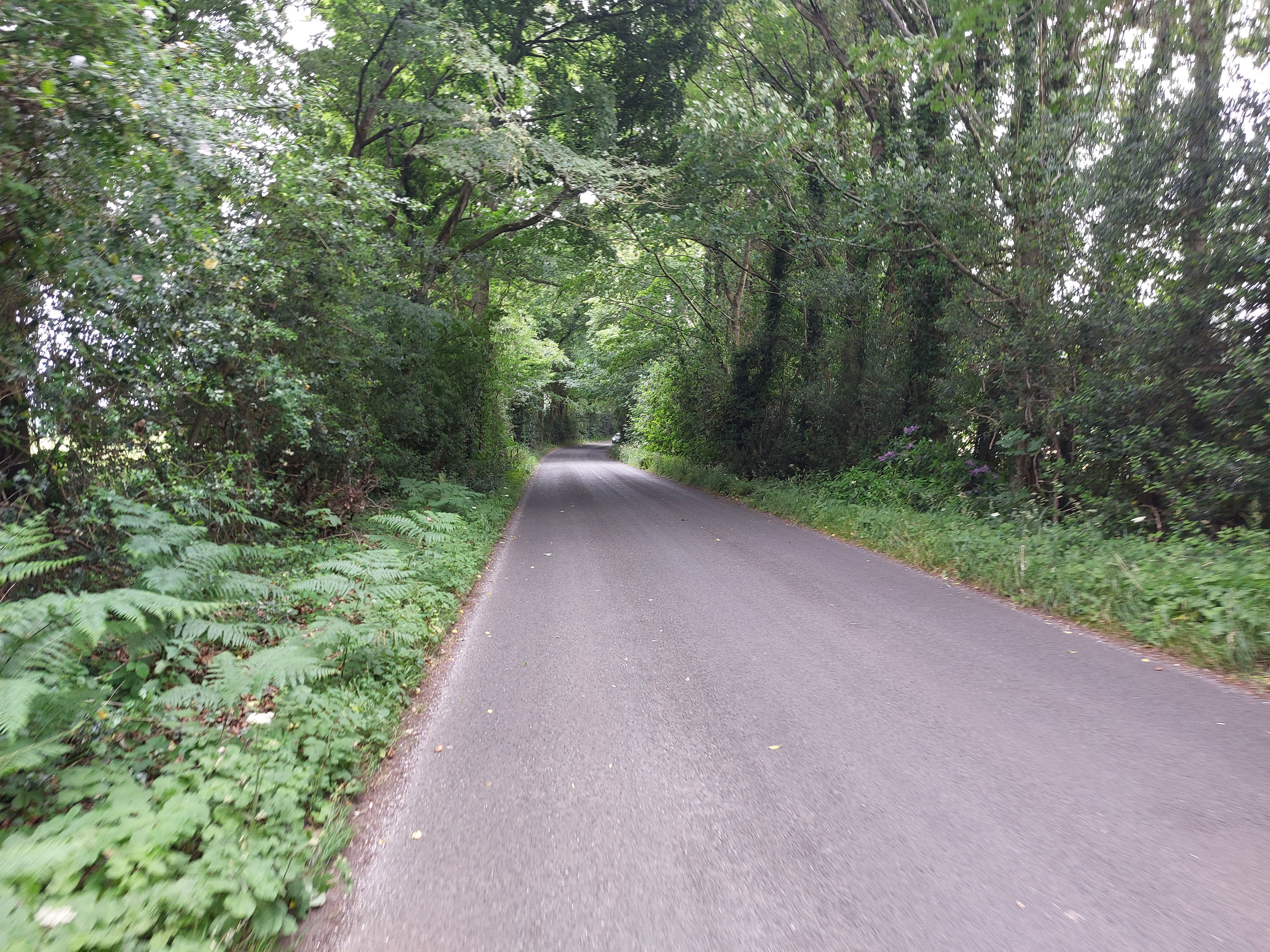 All right, out onto the roads I go. This is what the route looked like most of the morning. Very wide, but not so much that a car could pass me while another was coming from the other direction.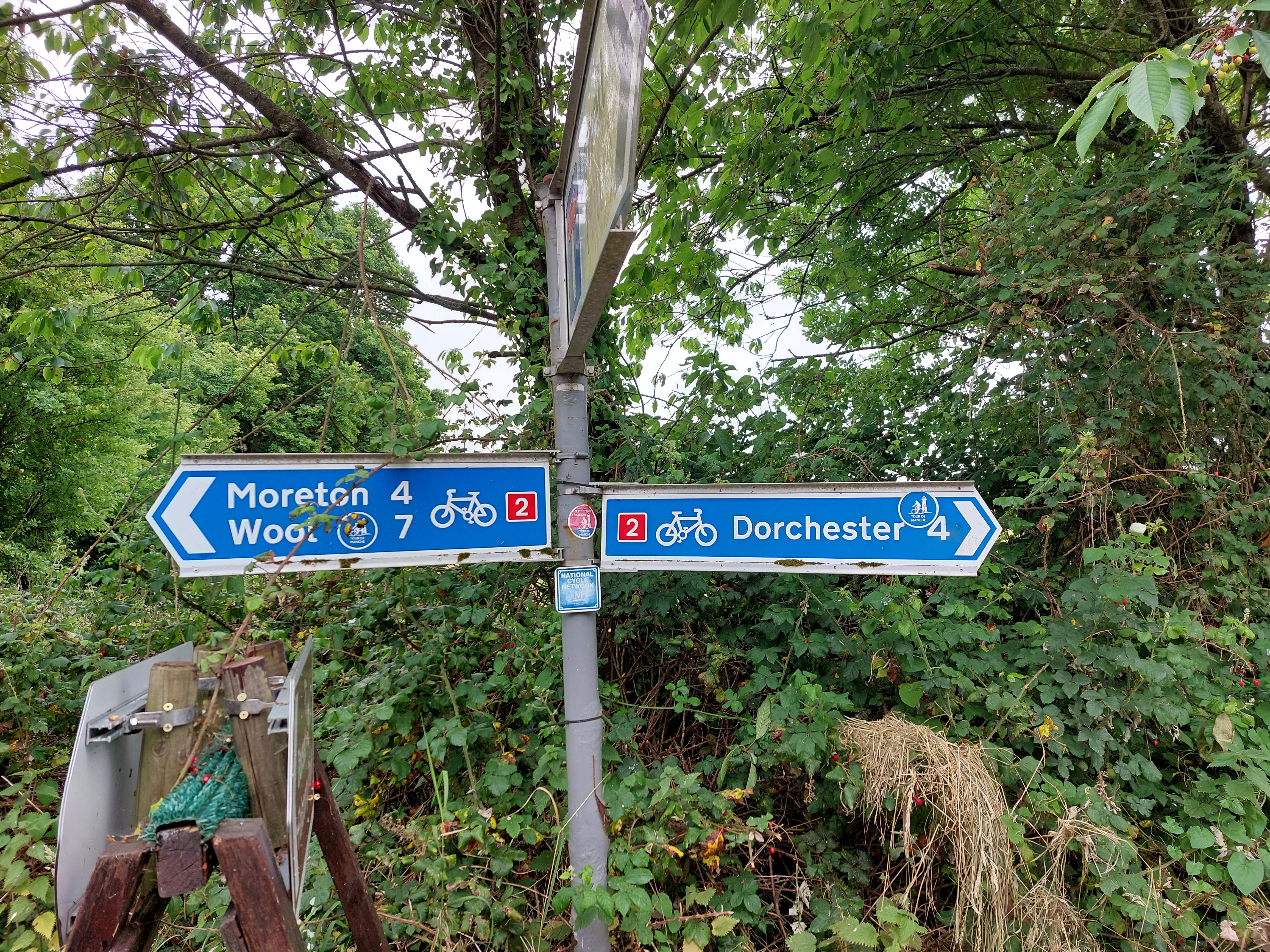 Turns out I was following "National Cycle Route 2," which I guess crosses all of Southern England. I was heading in the direction of Dorchester, shortly after which I would meet that big nasty hill.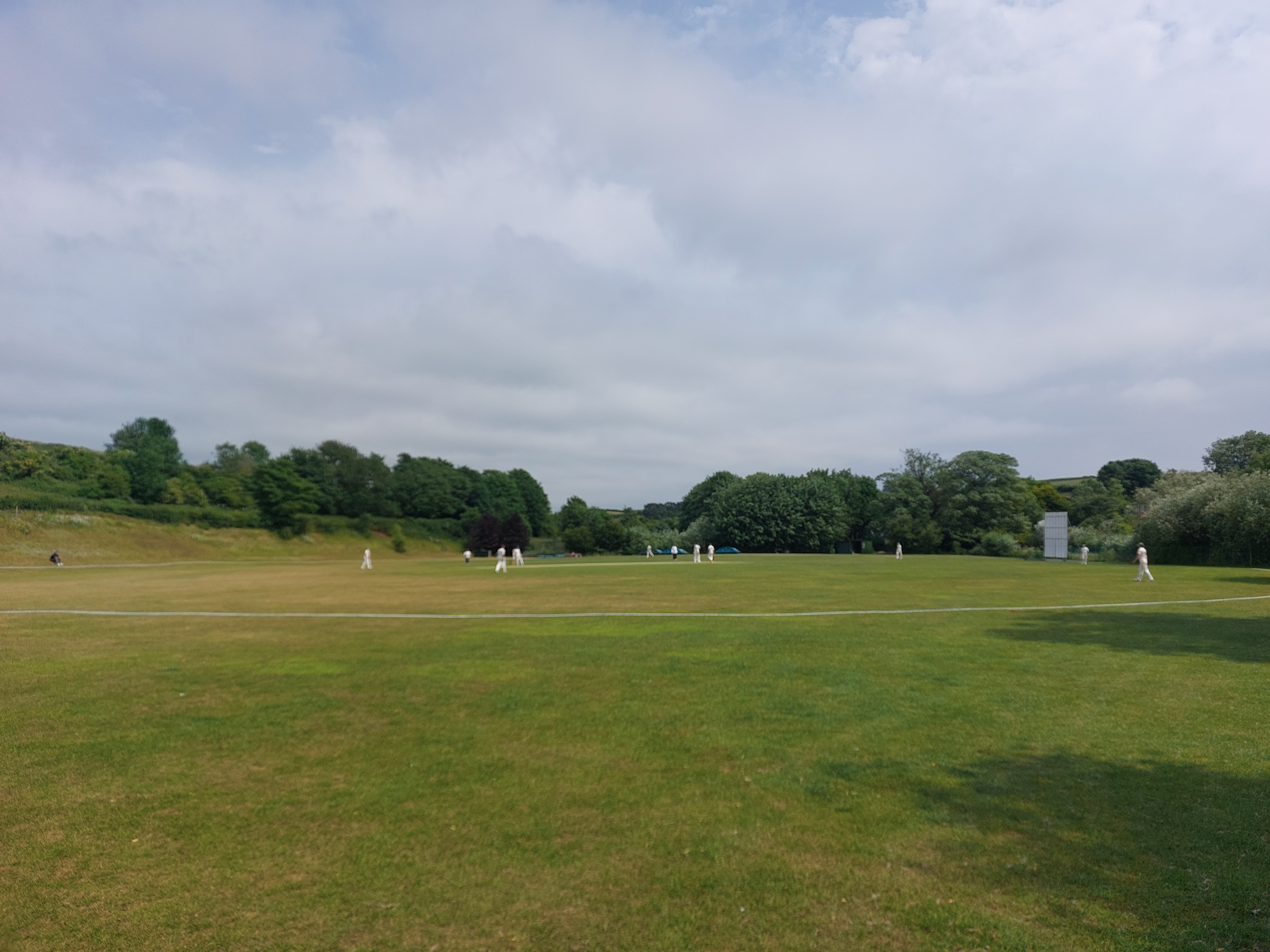 On the ride along the cycling trail I stopped to watch a few minutes of a cricket match. Such a strange game...at least I know enough about how it works to figure out what was going on. By the way, the bowler was a girl!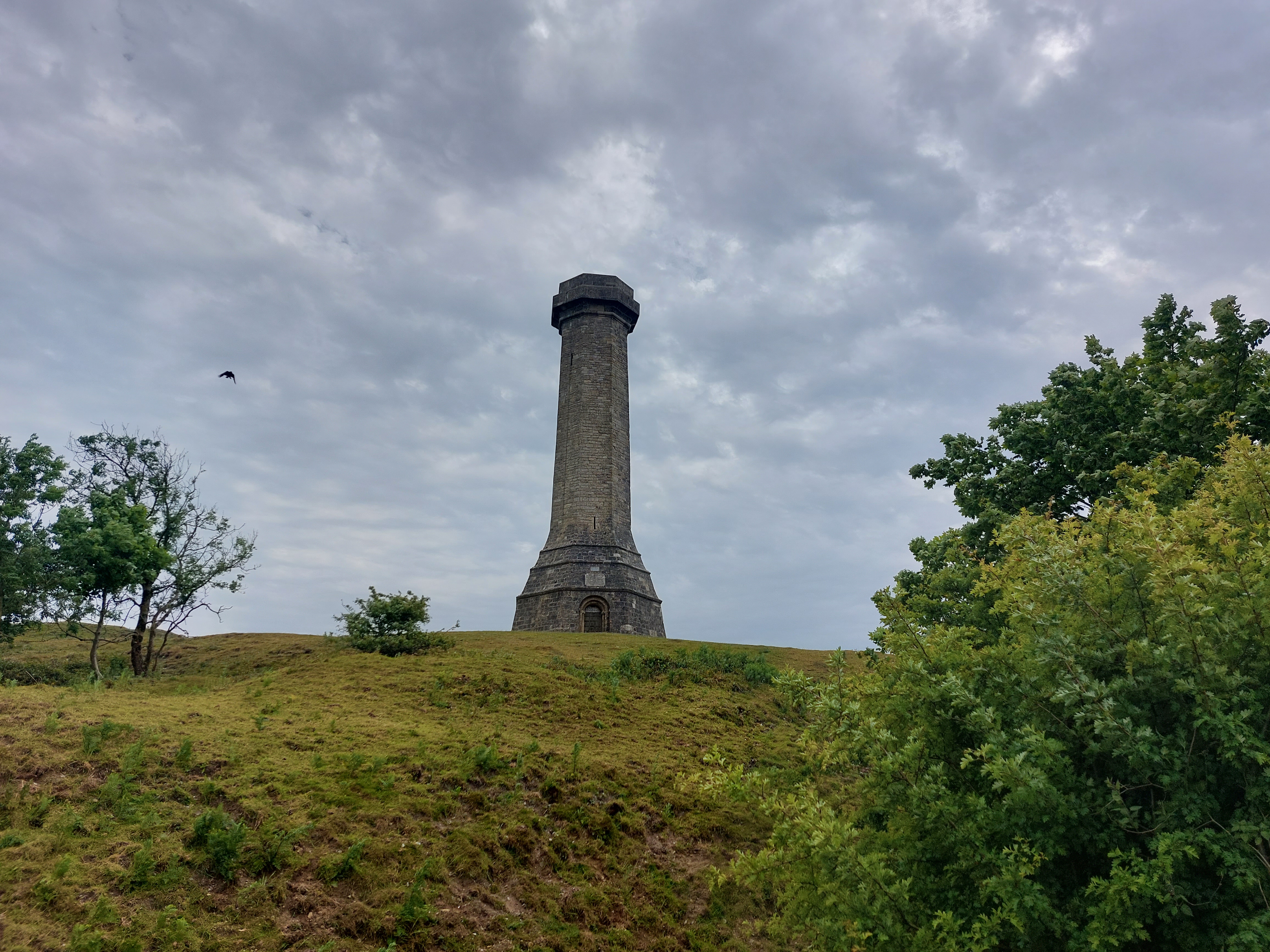 I didn't stop for any photos on the way up that giant hill, but this was sort of my landmark all the way up because I knew I had to get about to this point before I'd crest the top. I'm not even sure what this thing is, actually, but it sure made an easy spot to focus on.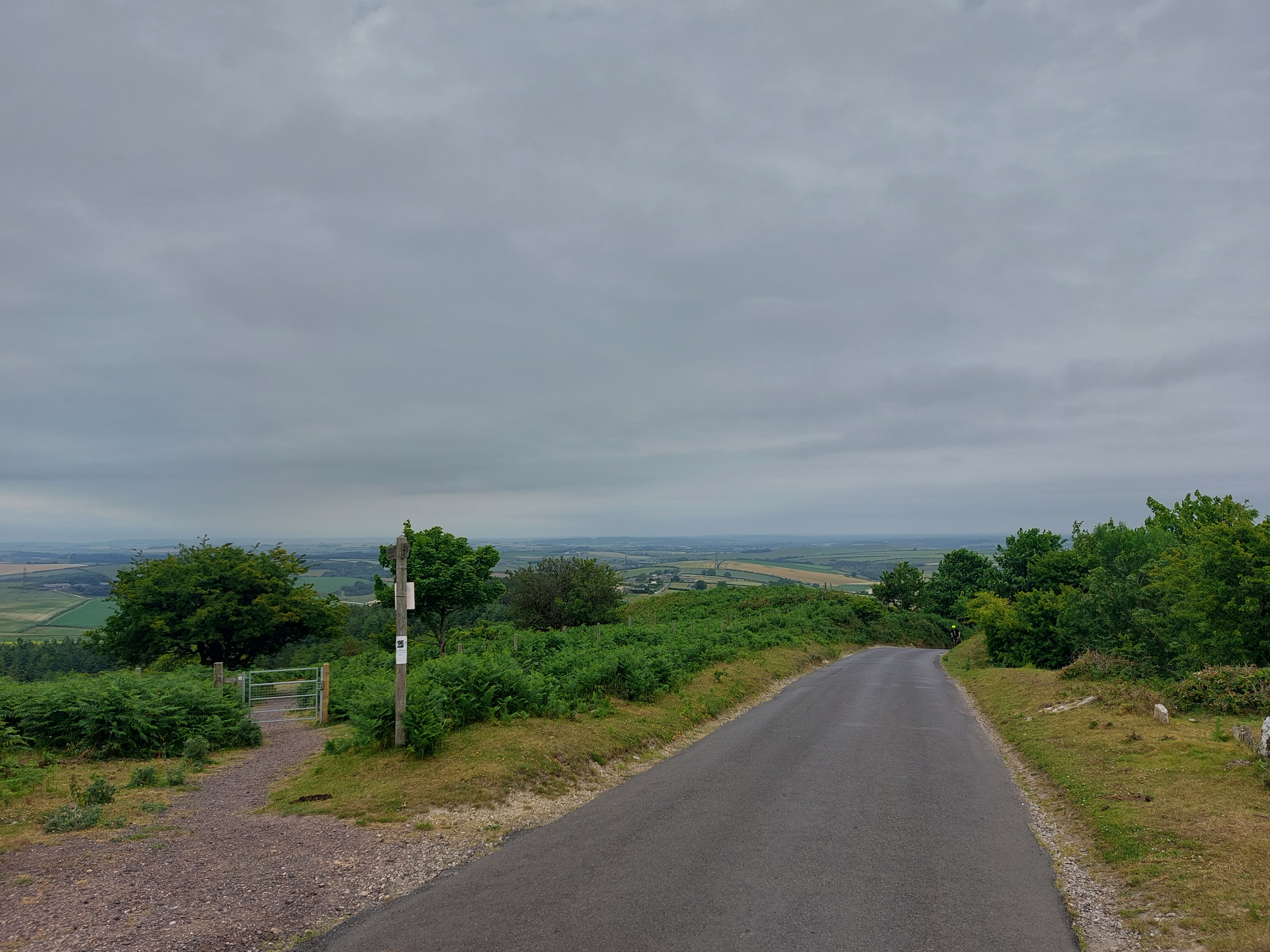 And now, my reward, here's the view looking down the other side. Notice there's another cyclist coming the other way. I saw several during my long climb. They sure made it look easy, being probably half my weight and not carrying 40 pounds of gear.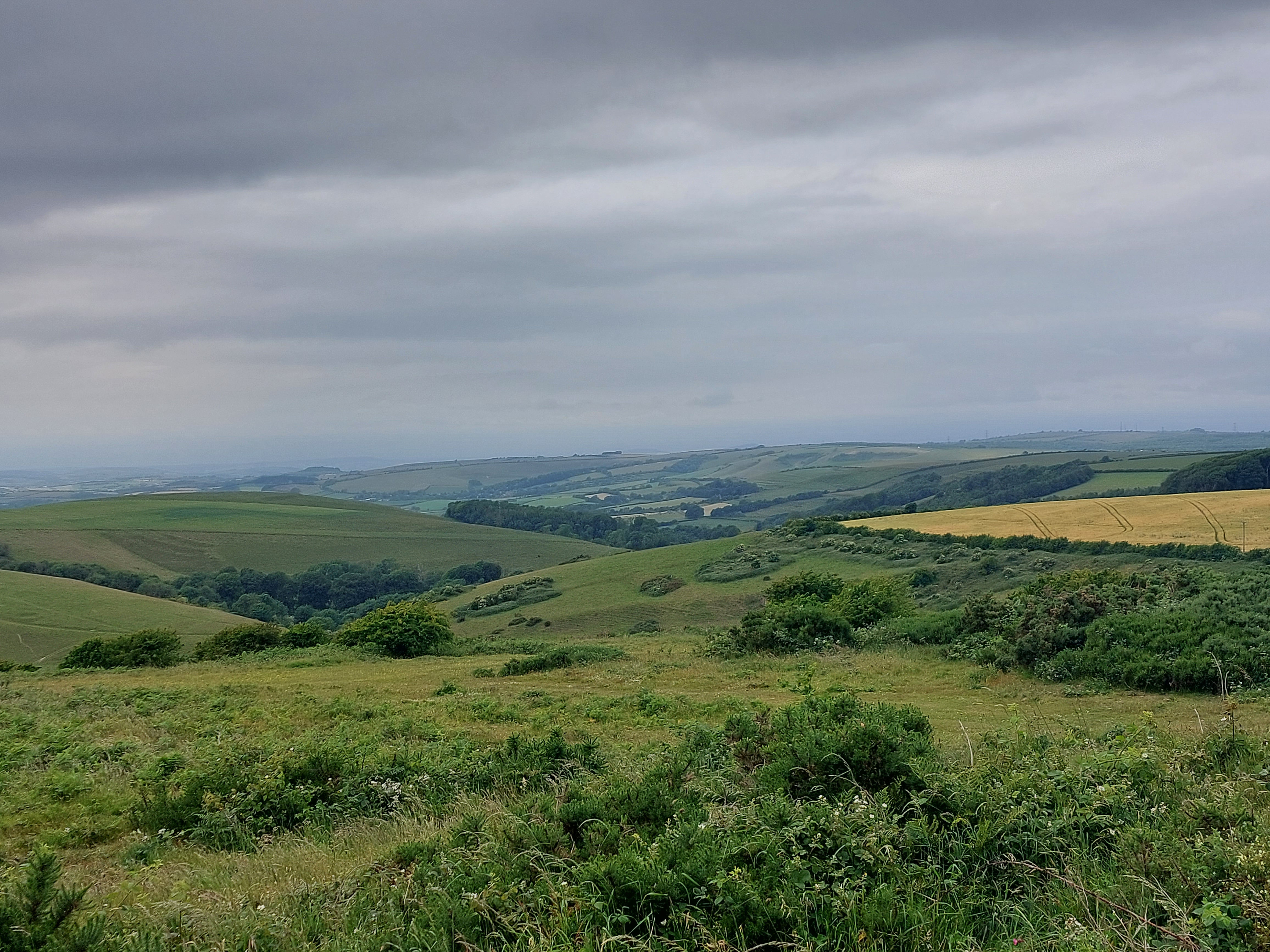 After the big hill there were several more climbs. I had some great views on some of them, like this one here.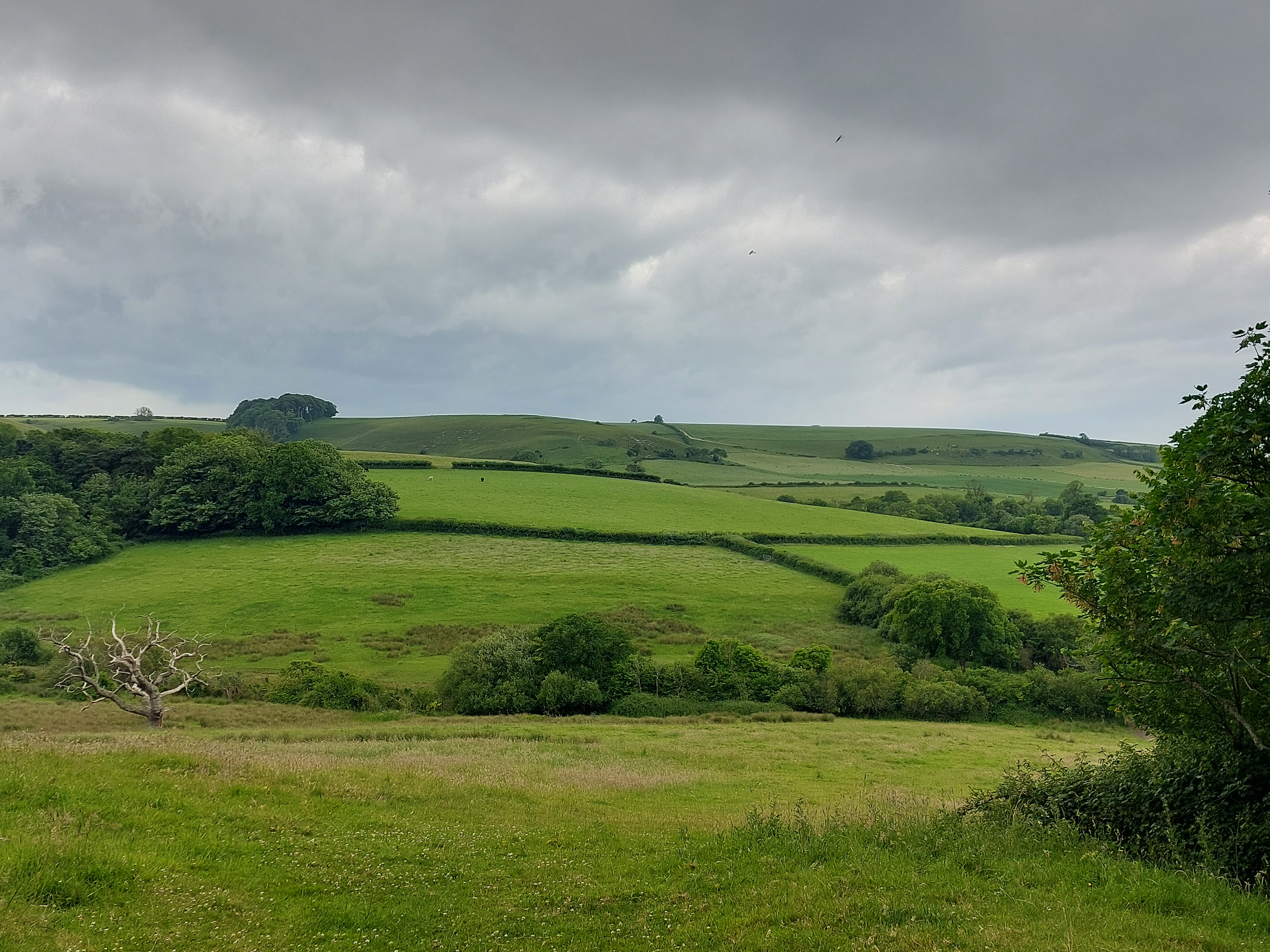 Here's another one. The way the hedgerows divide up the farm country is so cool. Classic English countryside right here.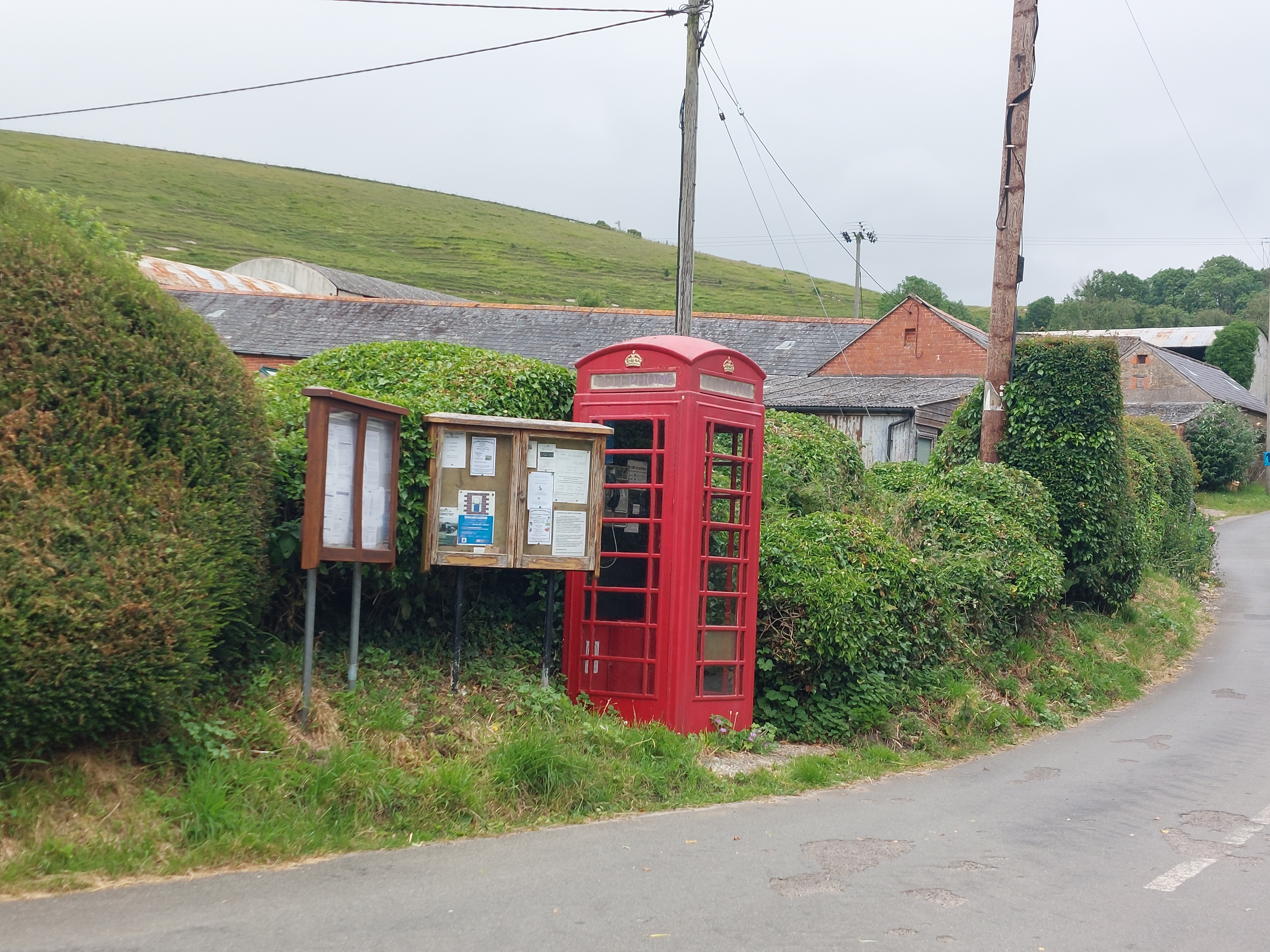 Seen in a small town. I'm pretty sure you aren't allowed to leave England until you've taken a photo of a police call box, so here's mine.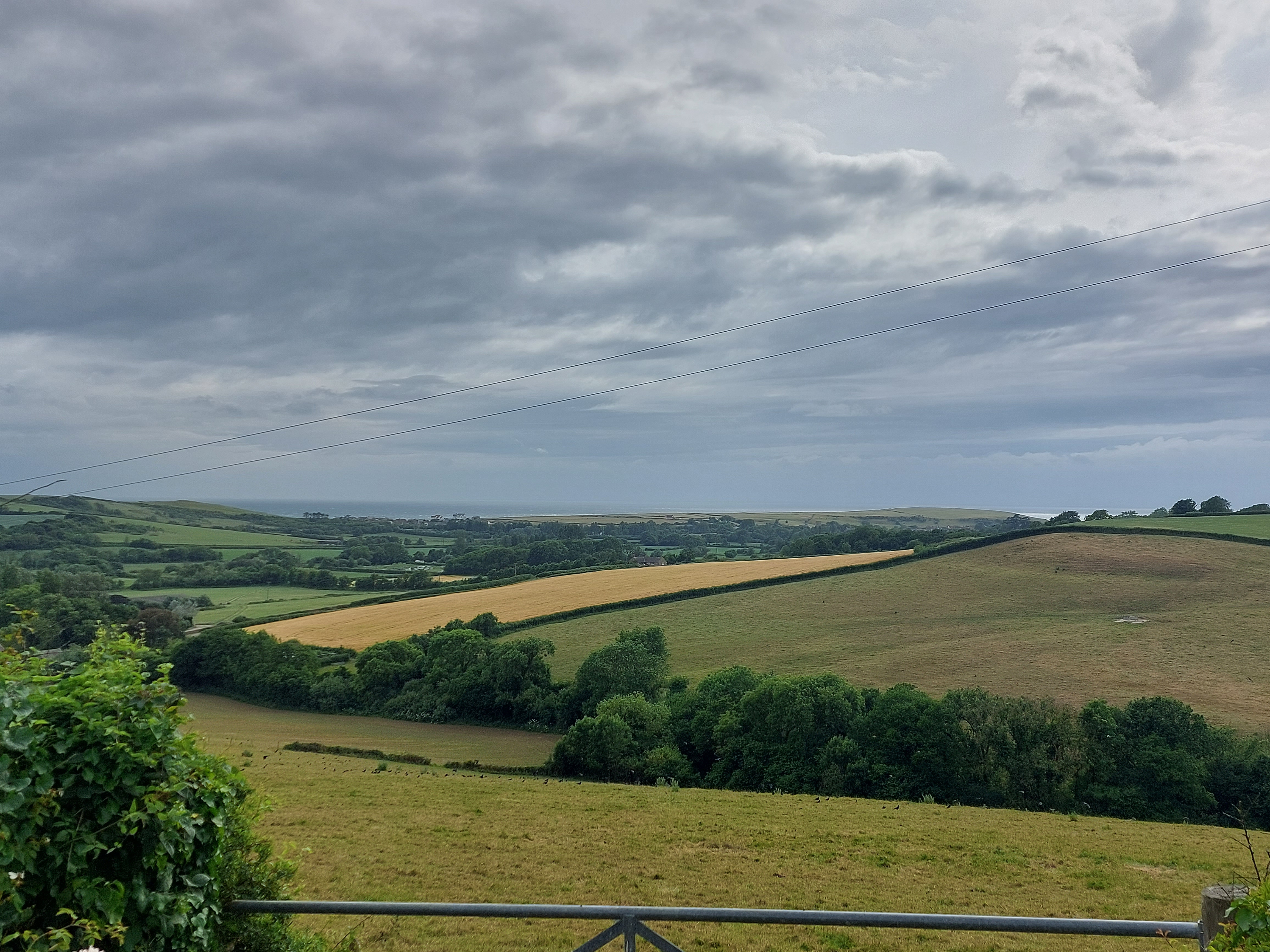 Now back on the road for some more scenic views. This was just before the next rain shower hit. Notice the difference in the weather today compared to pretty much every other day of the trip so far? I've actually been surprisingly lucky to last over a week in England without rain.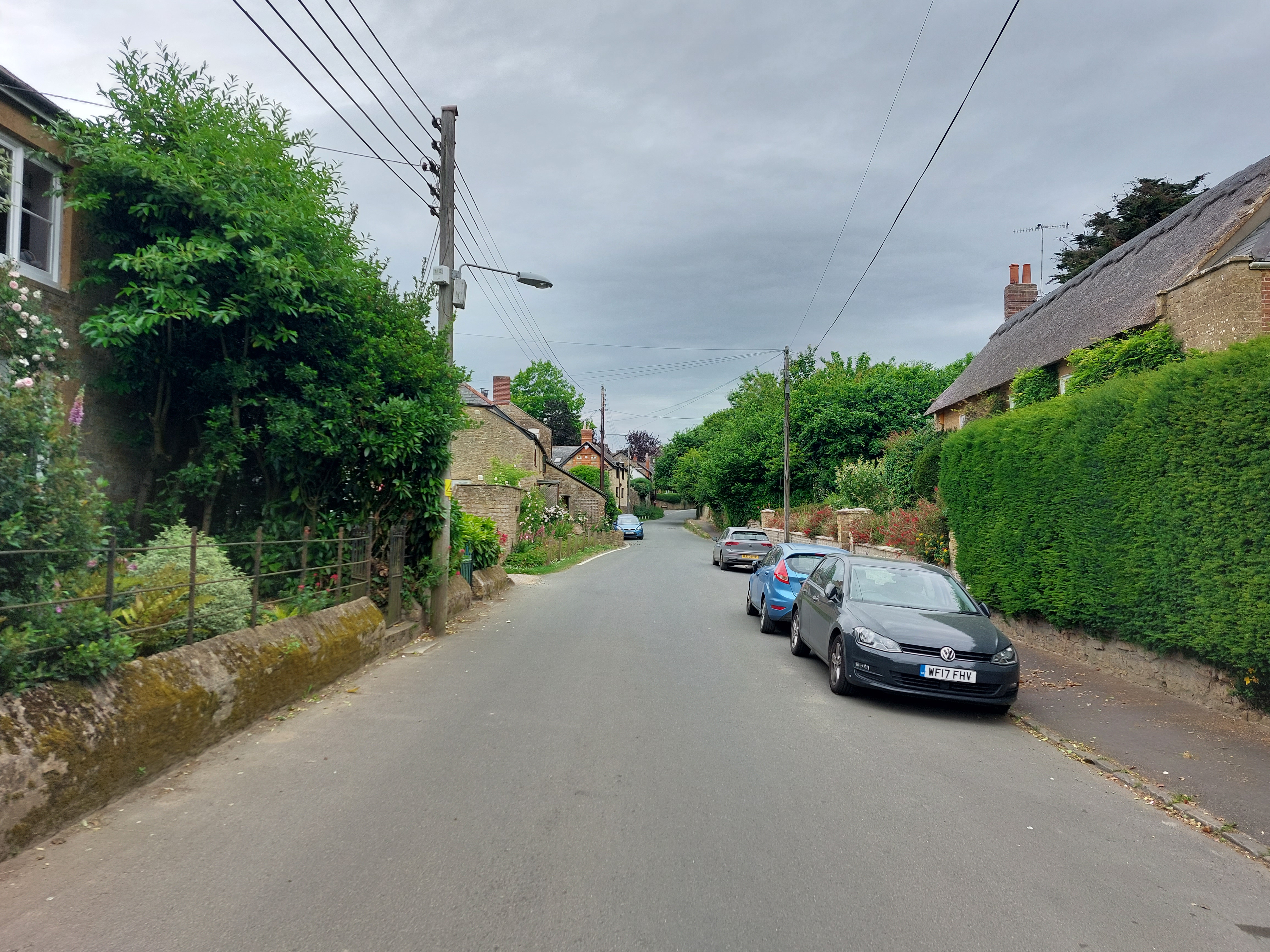 I wasn't out in the fields all day, occasionally I did go through a small town and it usually looked something like this.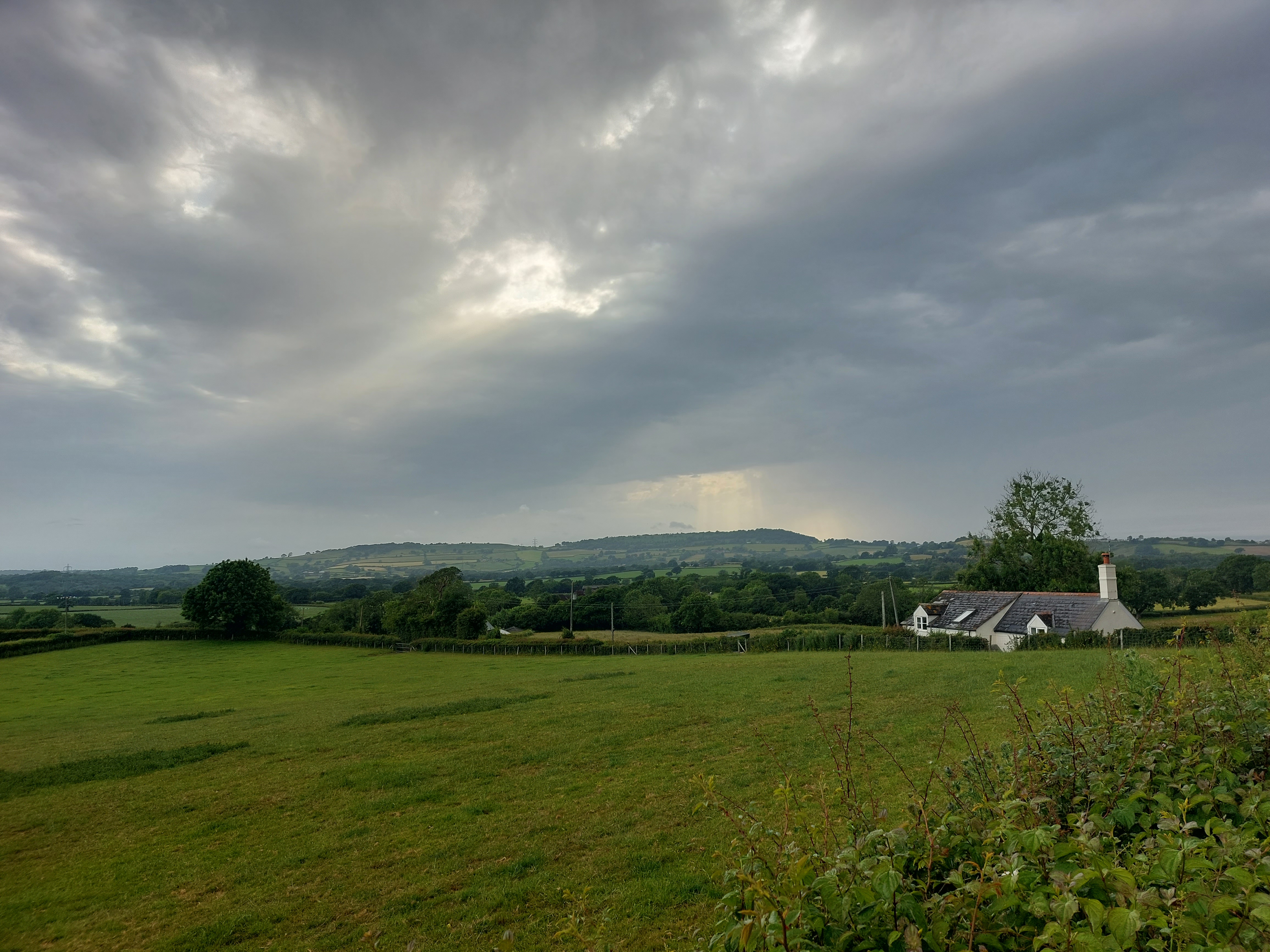 Okay, okay, one last look at the beautiful countryside and it's time to camp.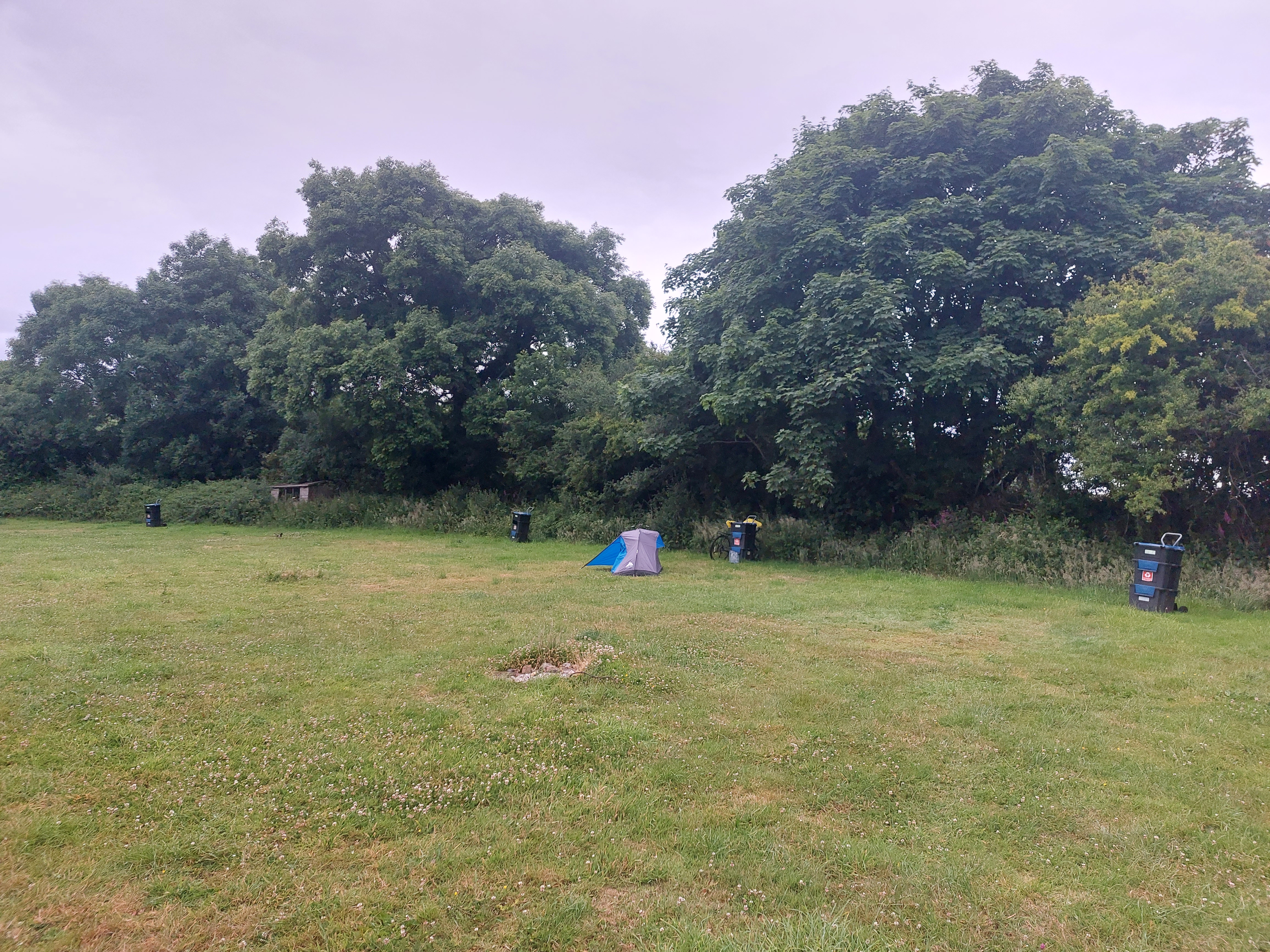 Once again my sad little tent sits alone, shunned by all the bigger tents and campers. I wish I could've gotten in that little shack to the left, as it probably would've been more comfortable, but it was locked. Oh, and the black tub things are for recycling.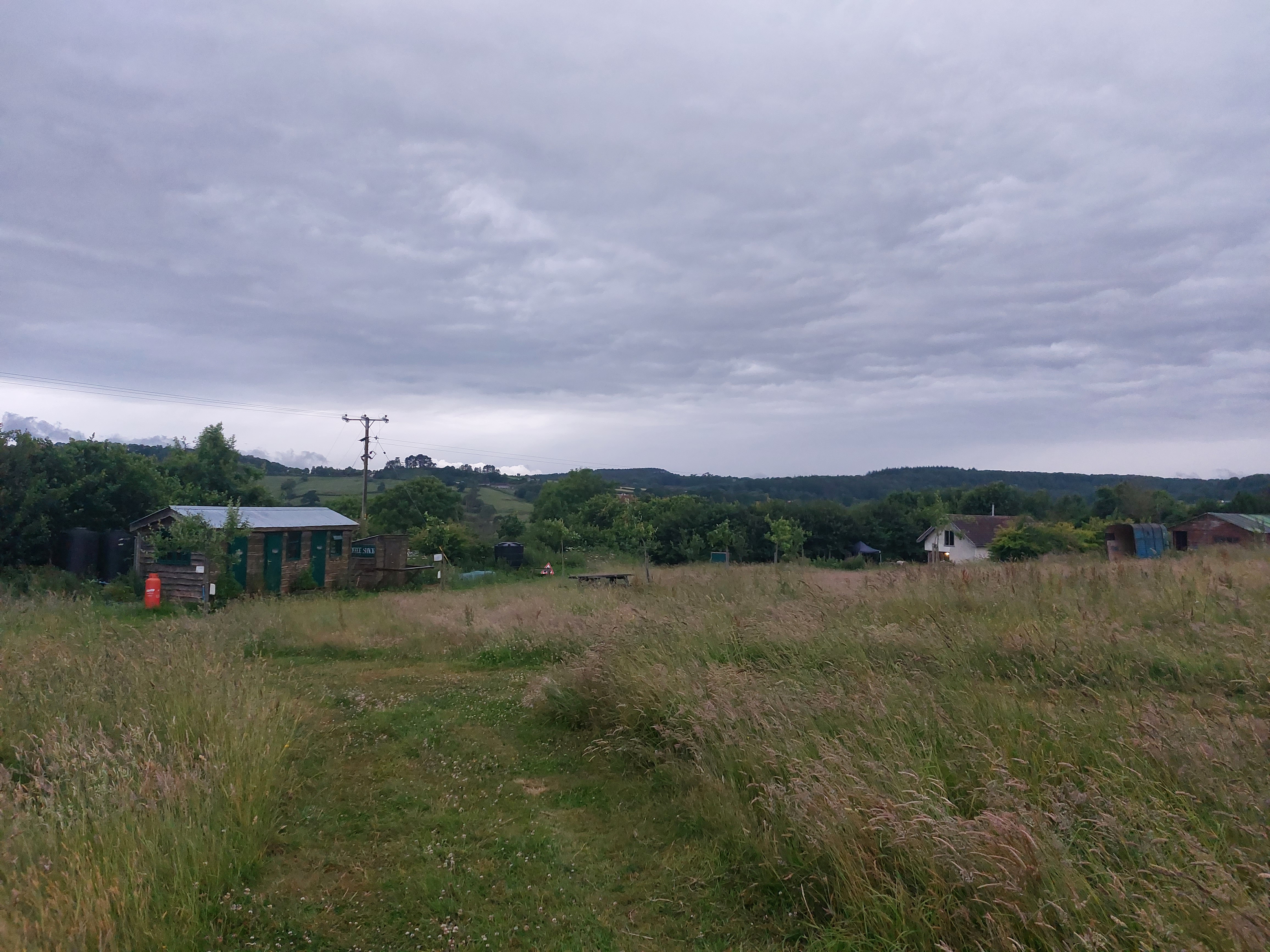 Yep, I was camping on a farm. There's the farmhouse on the right. The building to the left has the showers, power outlets, and a freezer you could use if you were staying more than one night. Unseen off to the left are the outhouses (yep, actual outhouses, with compost toilets and everything). All the comforts of home! Now if only the rain would stop...and the temperature would go up...sigh. Time to freeze in my tent, then off to Exeter in the morning.