Day 10 – June 19, 2022
Bridport-Tiverton
Miles: 60
Terrain: Strenuous climbing most of the day
Weather: Cold, sparse rain, moderate headwinds/crosswinds
Got up at 0630 today after about 9 hours of tossing and turning in my chilly, wet tent, and set about packing up to leave. This took about an hour and there was still no water at camp so I was glad to have those spare water bottles from the neighboring campers yesterday. That still wouldn't have been enough water but I managed to find a place to refill my bottles partway through the day, so it all worked out.
The weather was extremely chilly as I set off at 0730 but I figured once I got going my hands would warm up, and they mostly did, thanks to the big climb there at the beginning. The rest of the day was some of the worst hills yet this trip and my legs were really feeling it about halfway through, when I finally got to the midpoint in Exmouth. It was here that I got on a local wifi and started casting about for a place to stay, hoping for one less than 30 miles out that was affordable. The only place in Exeter was another house rental, but I really wanted something more along the lines of a hotel tonight, in order to be sure to get a good night's rest. Luckily I spotted a Best Western (look, an actual chain hotel, my first of the trip!) up in Tiverton just within range, with a pretty decent price of 43 quid for the night. Then I just had to endure another 30 miles and 800 feet of climbing to get there, and I arrived about 6:30pm, so the whole ride today took 11 hours to go 60 miles. Pathetic. I am so slow on this overloaded bike!
The overcast skies and occasional rain didn't make for much in the way of scenery today, but here are a few pictures anyhow: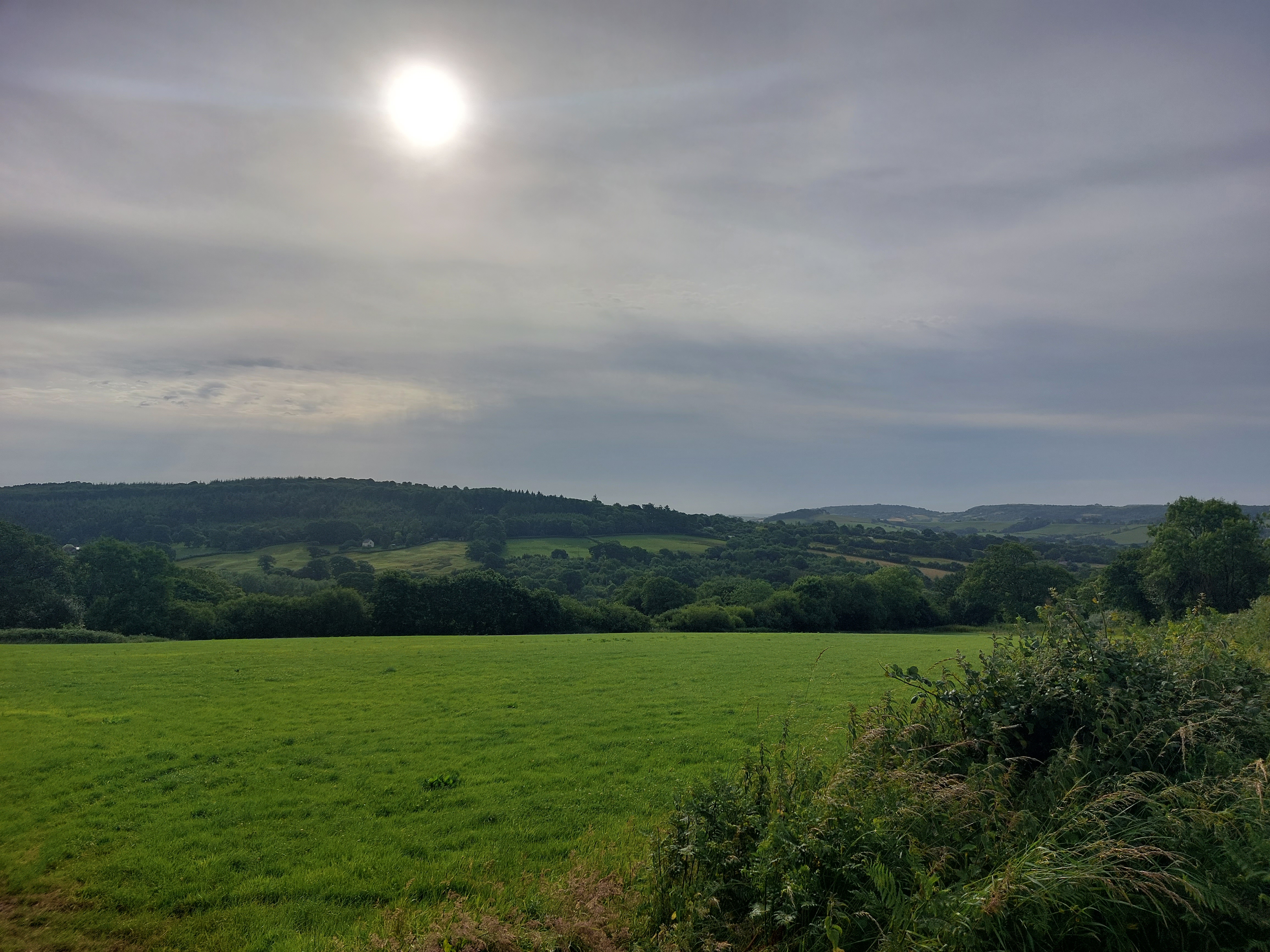 Morning as I leave camp, looking out across the fields to the south. Beautiful...too bad about the overcast skies.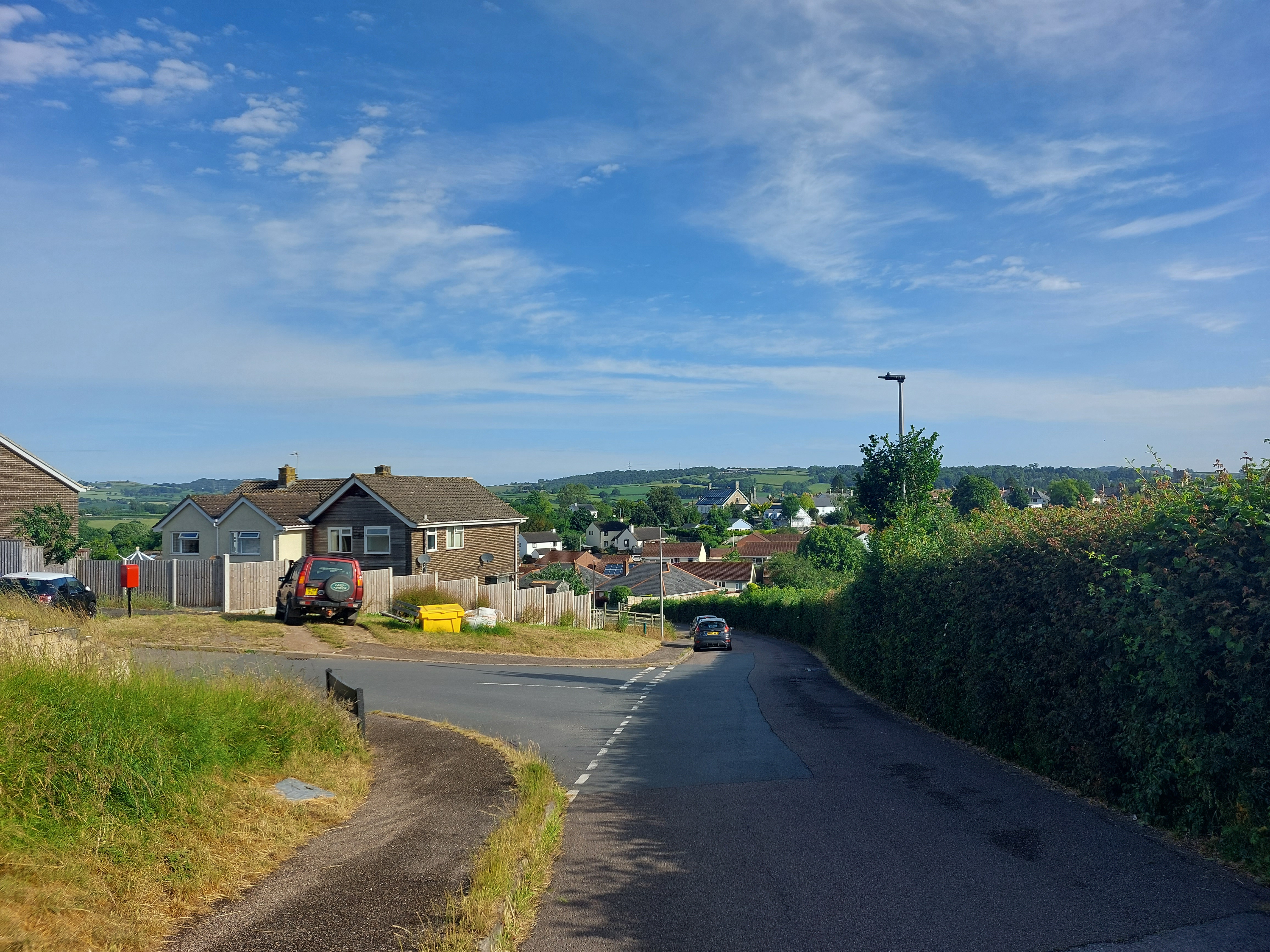 At one point as I headed west the skies cleared up and I thought maybe the overcast look and rain would be a thing of the past. Wrong!

More of that amazing countryside. I can't get enough of these views.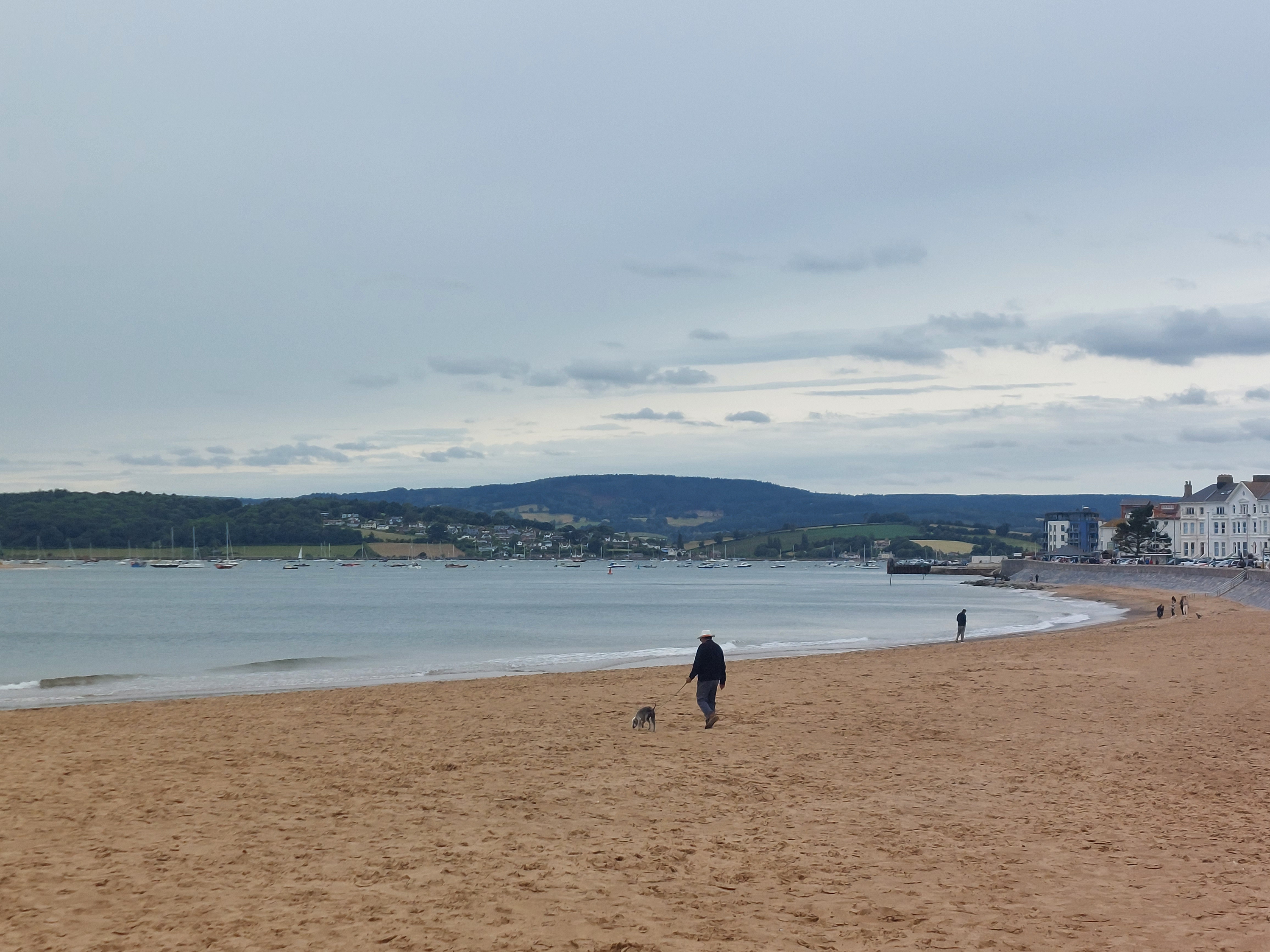 After about 5 hours of riding I finally made it to Exmouth, where they have a nice harbor and a pretty decent beach. A bit cold for a swim today, although some people were doing it further up the coast.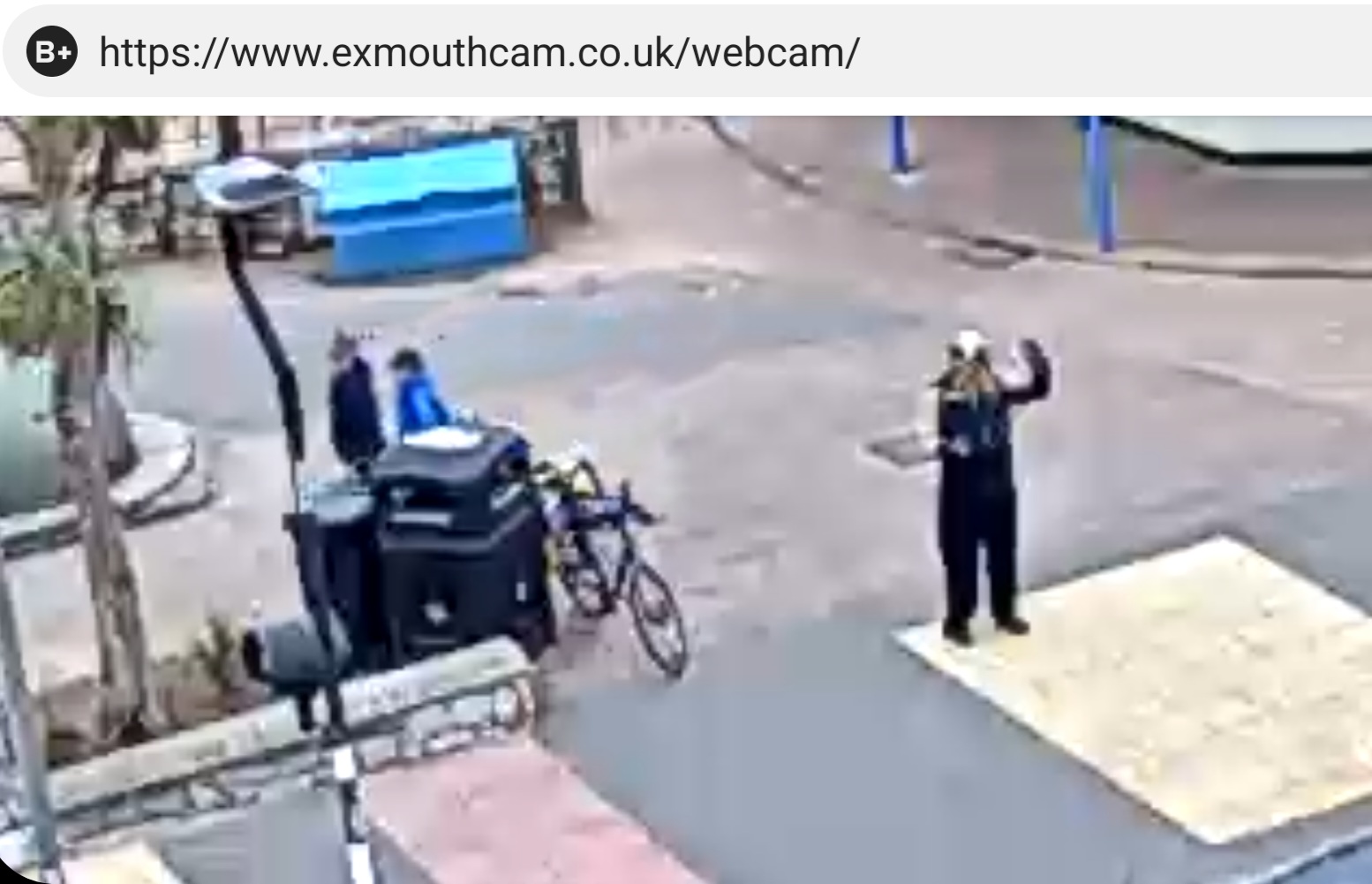 Okay, so the real reason I went all the way down there was to do another webcam geocache. Here I am waving to the camera in the sky. (I am the world leader in webcam finds, which is why I'm so obsessive about them. There are only a few left in the world I haven't been to.) You can check out this particular cam yourself if you like, by going to the website up on the top of this screenshot.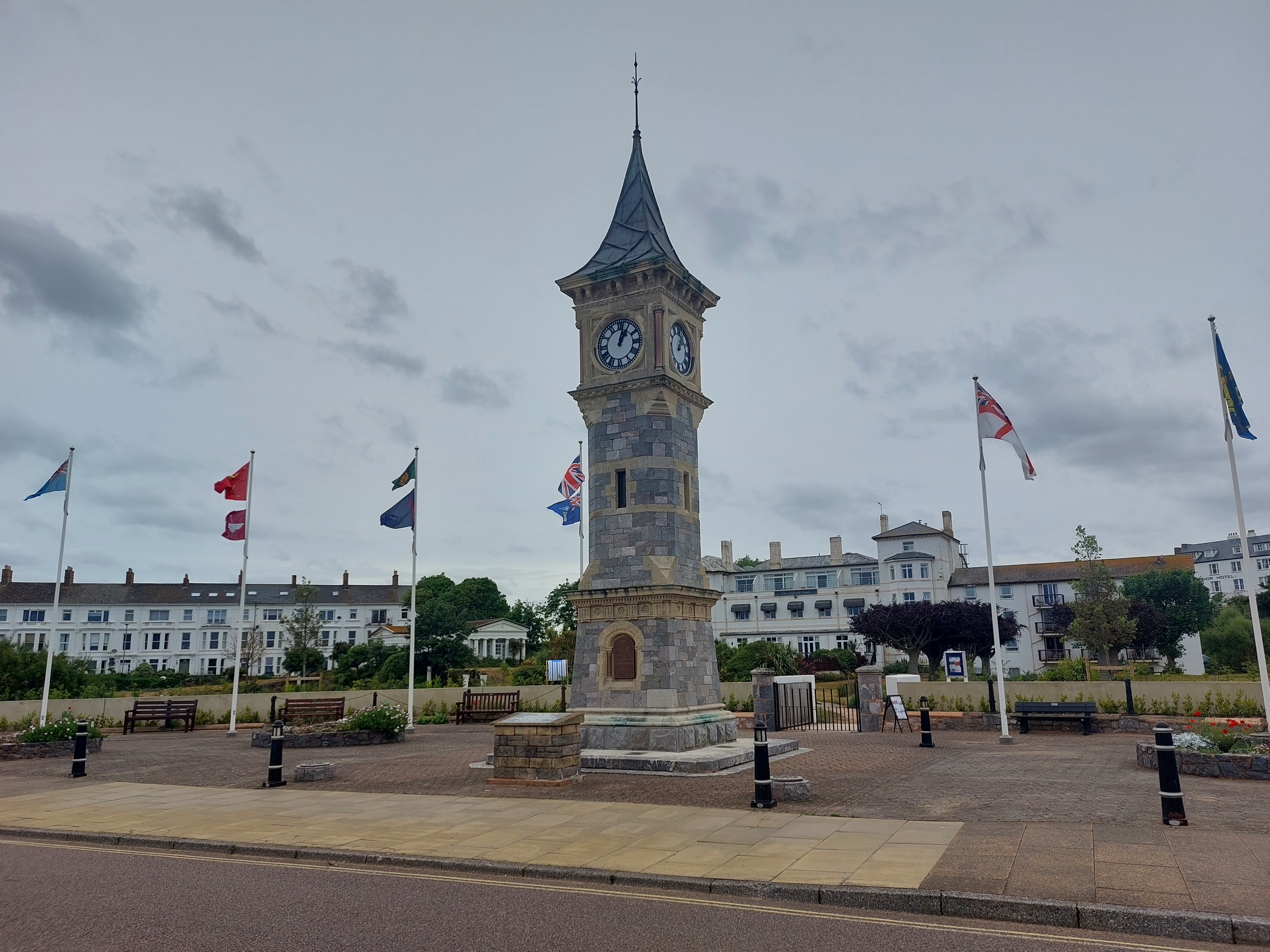 Here's a nice looking clock tower along the Esplanade in Exmouth, just opposite the beach.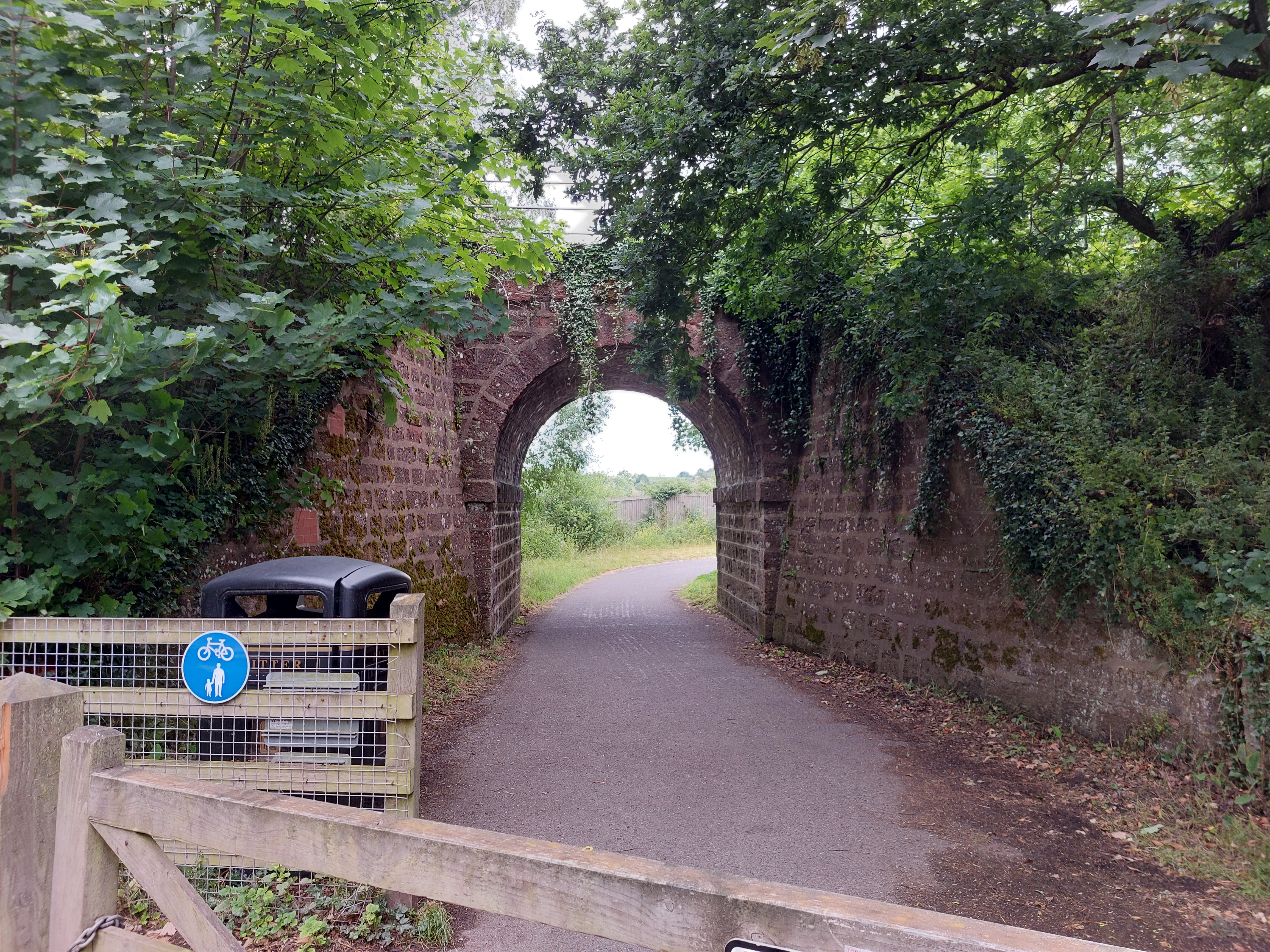 For the next couple of hours I got to enjoy one of the more scenic bike paths I've been on, riding along the waterfront and into Exeter. The path looked like this much of the time, and had plenty of walkers and cyclists on it. The only complaint I had was getting through some of the gates.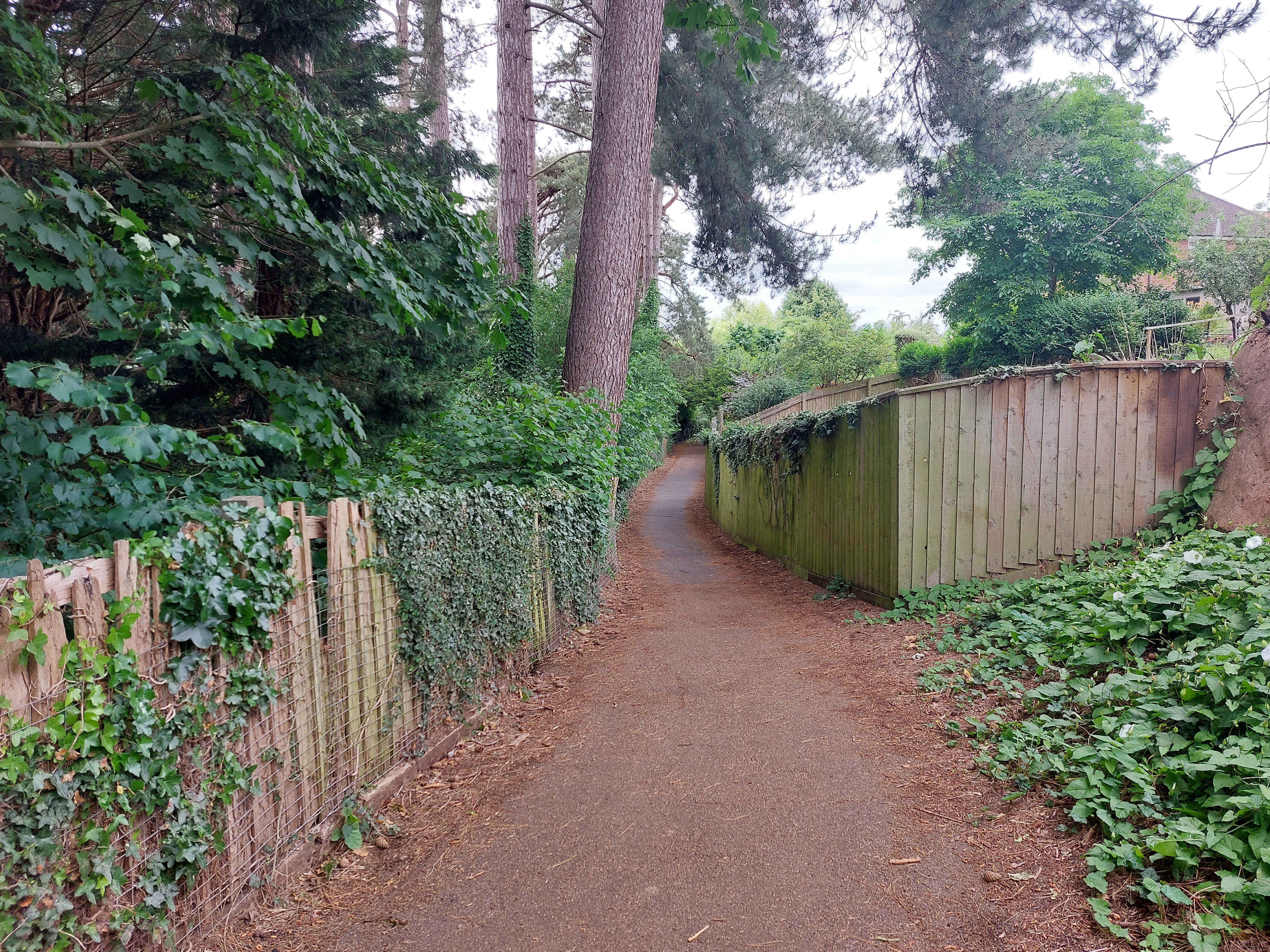 Here and there the path got narrow but always remained fairly level, about the only place today where I had no significant hill climbing to worry about.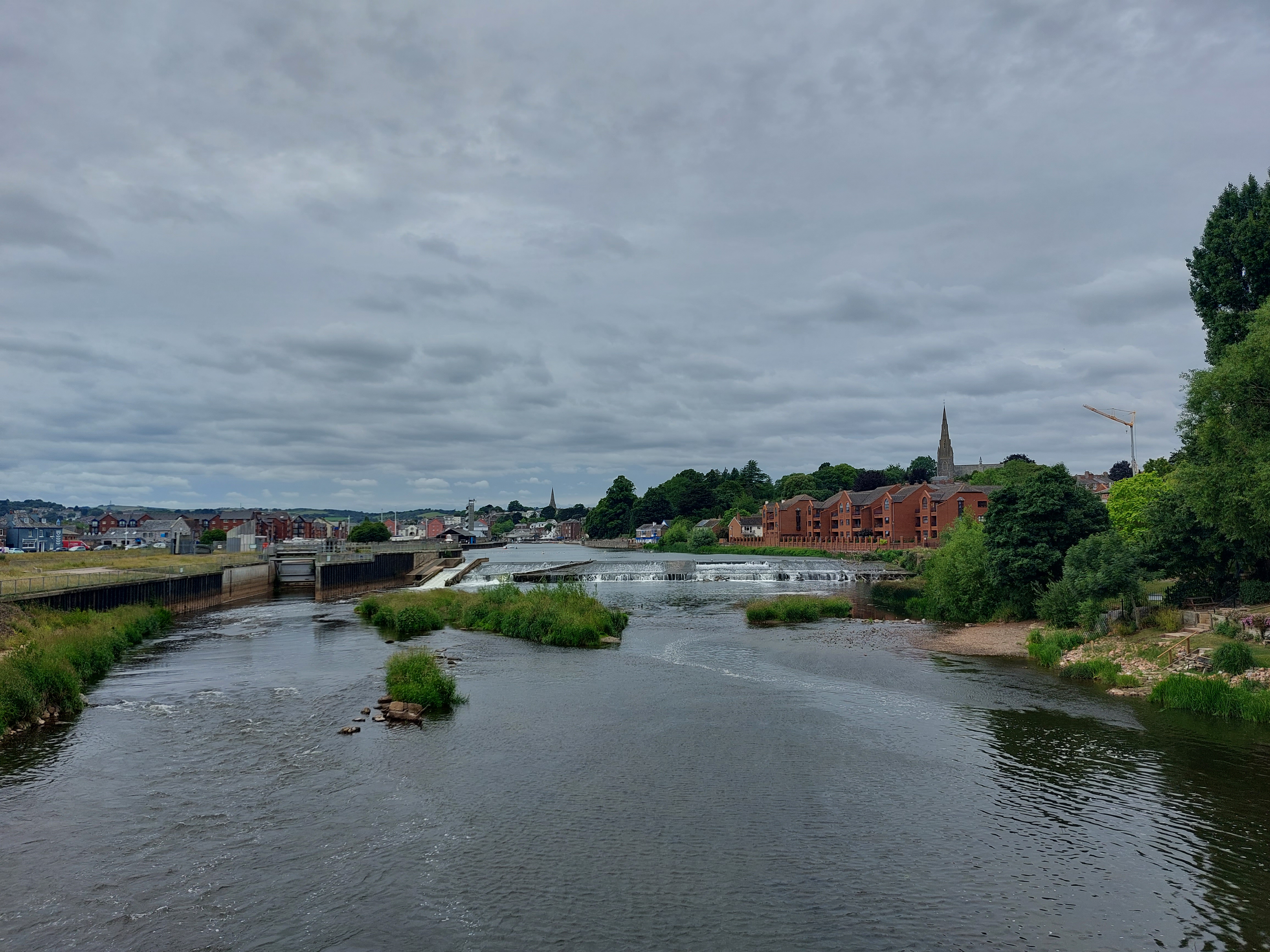 My first look at Exeter, as the bike path crossed the river on a bridge.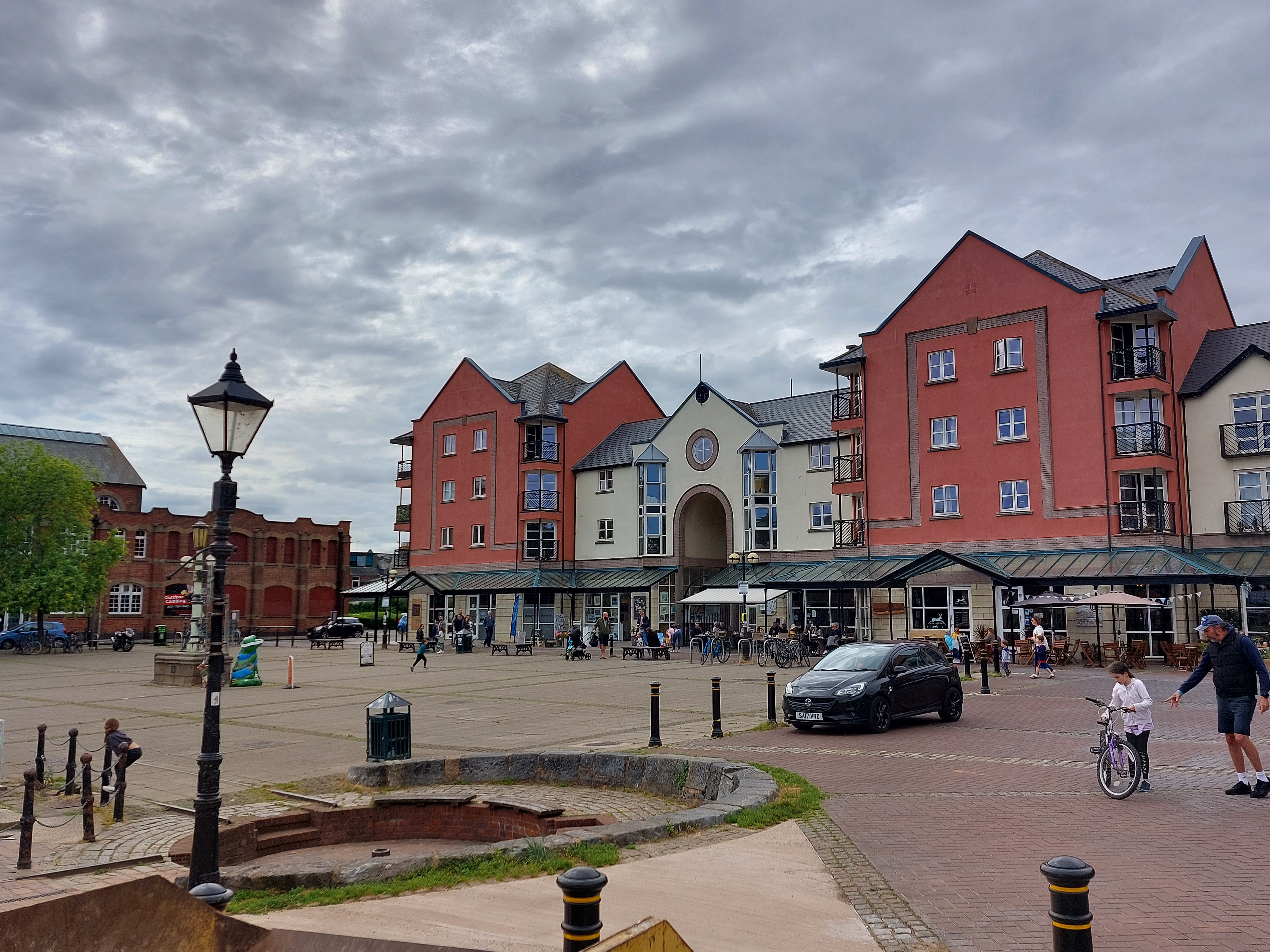 The town square.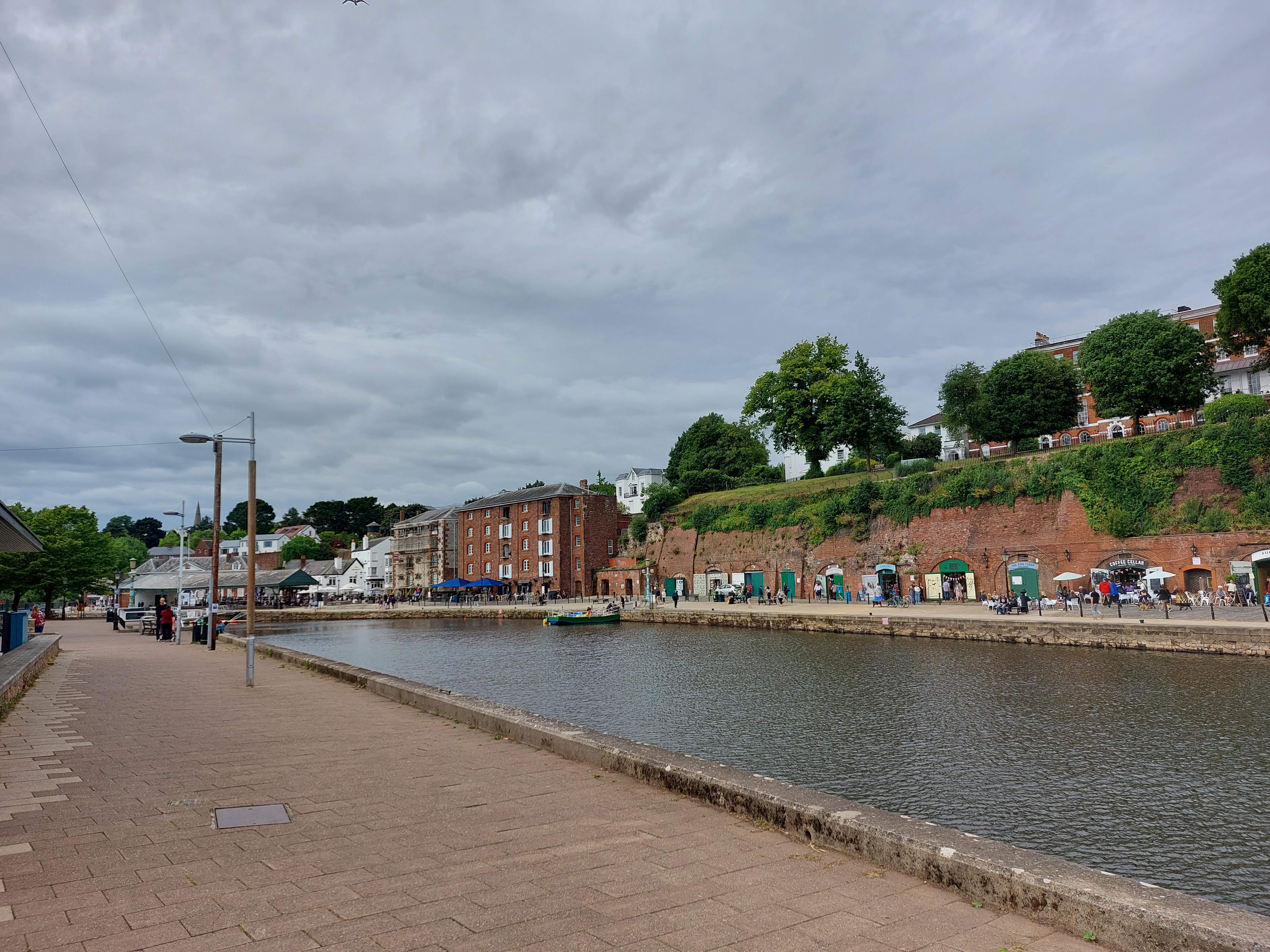 A view along the waterfront as I rode through town. Notice the stalls for vendors built right into the wall across the way.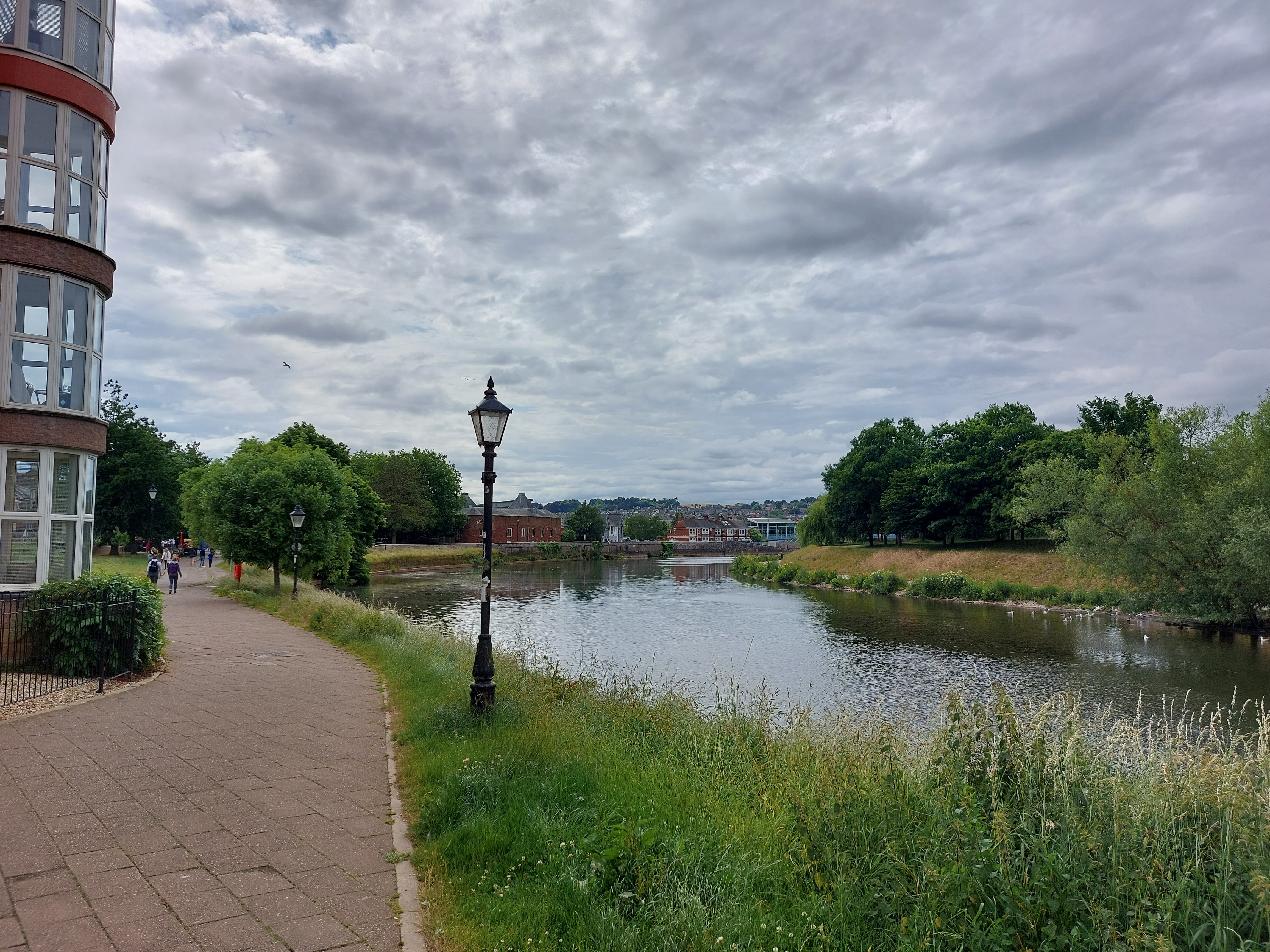 Like I said, this was a very pretty ride along the river.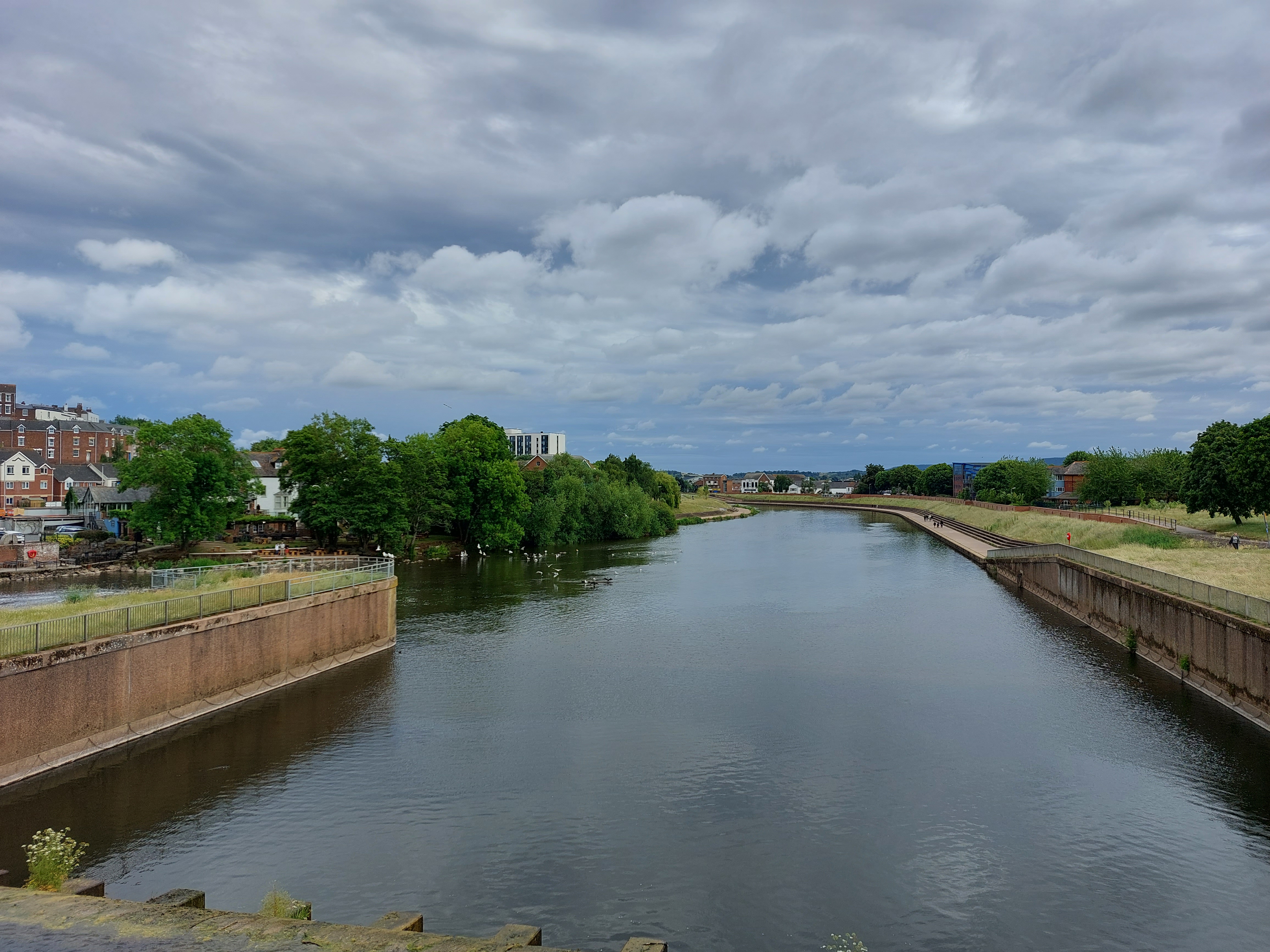 Another view as I cross yet another bridge.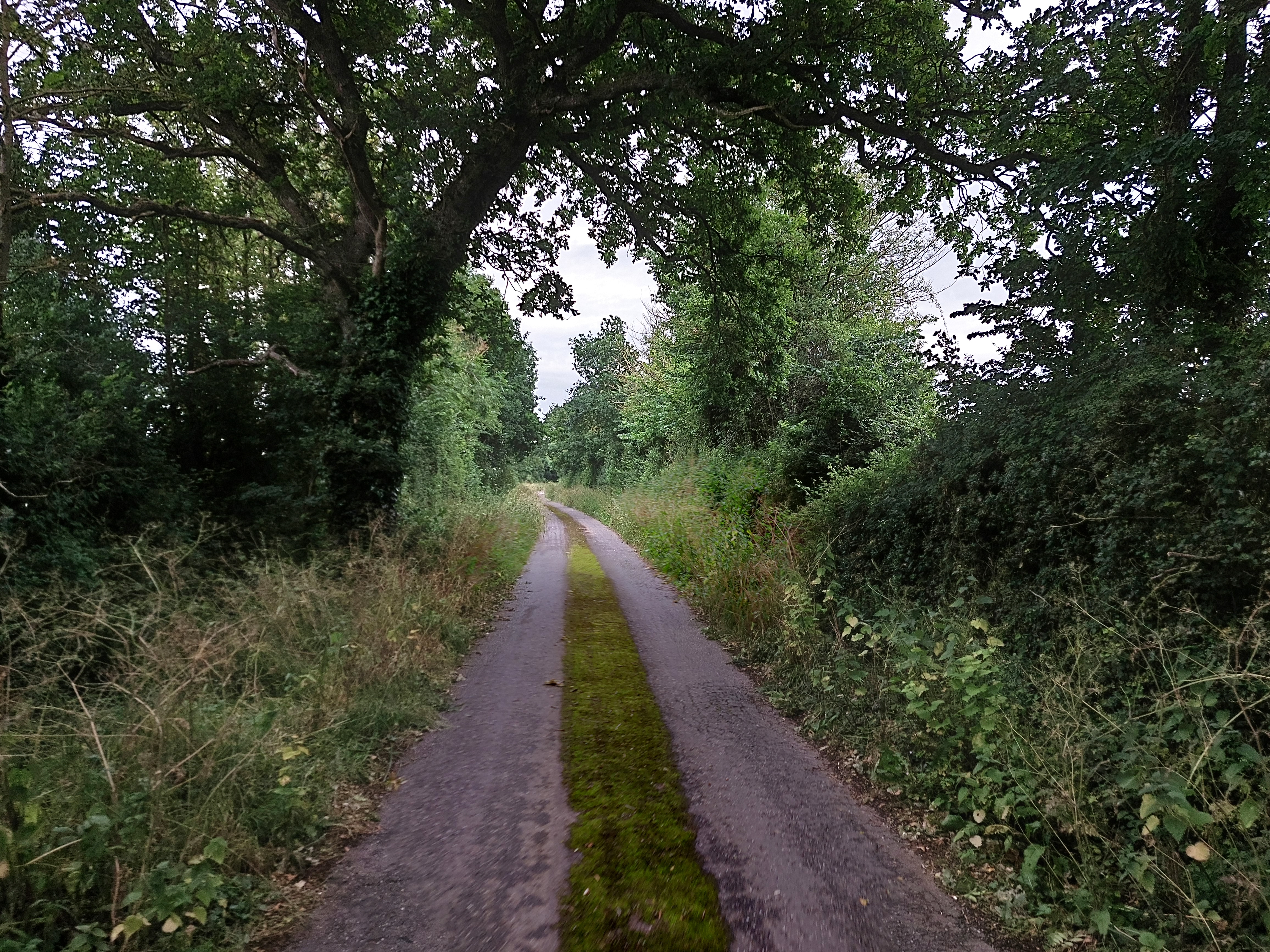 After leaving Exeter it was back into the countryside for a few last miles. The bicycle path was replaced with some barely used roads. For about 20 minutes I didn't see another vehicle out here.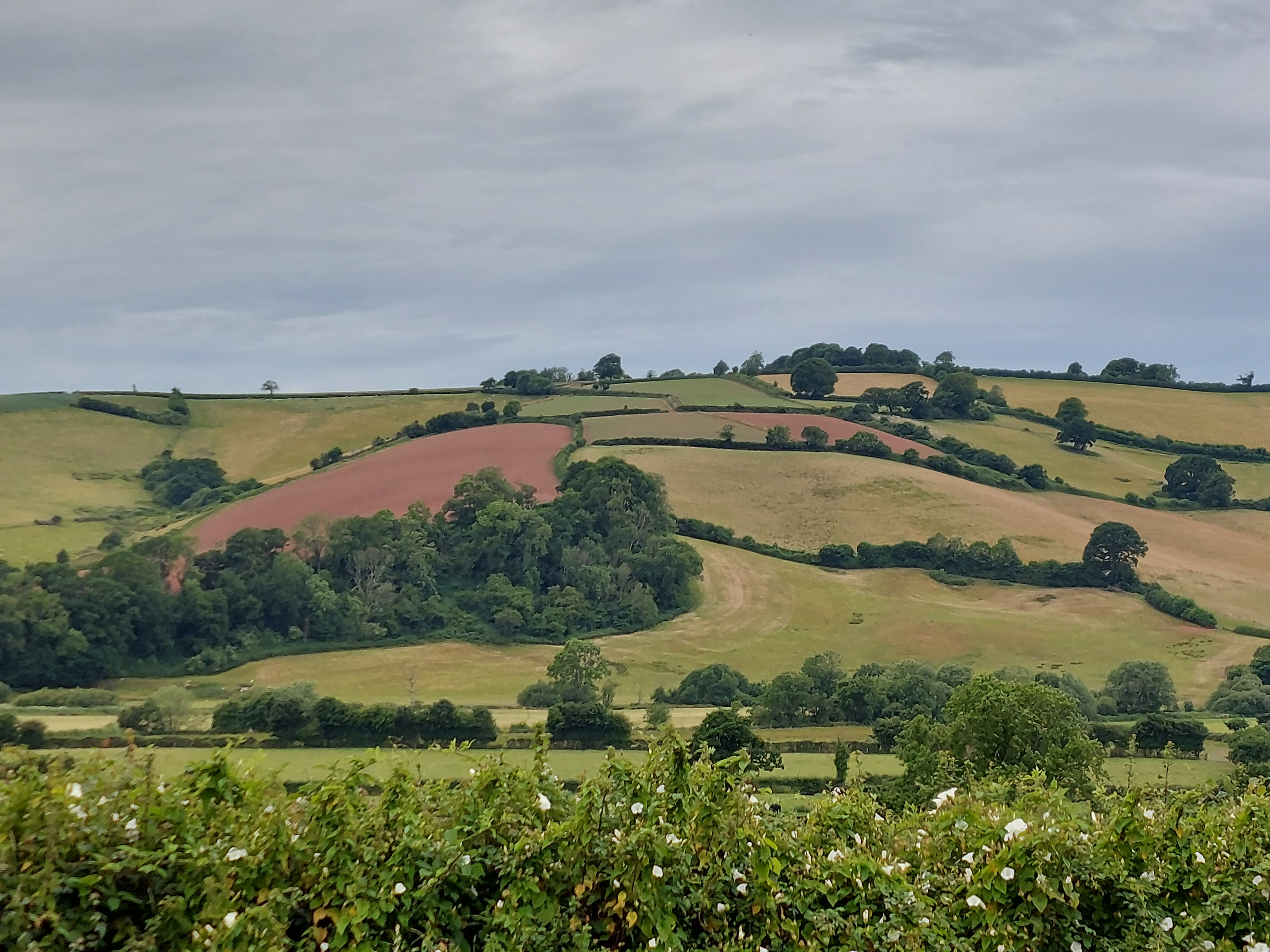 I did get to enjoy some more scenery, though.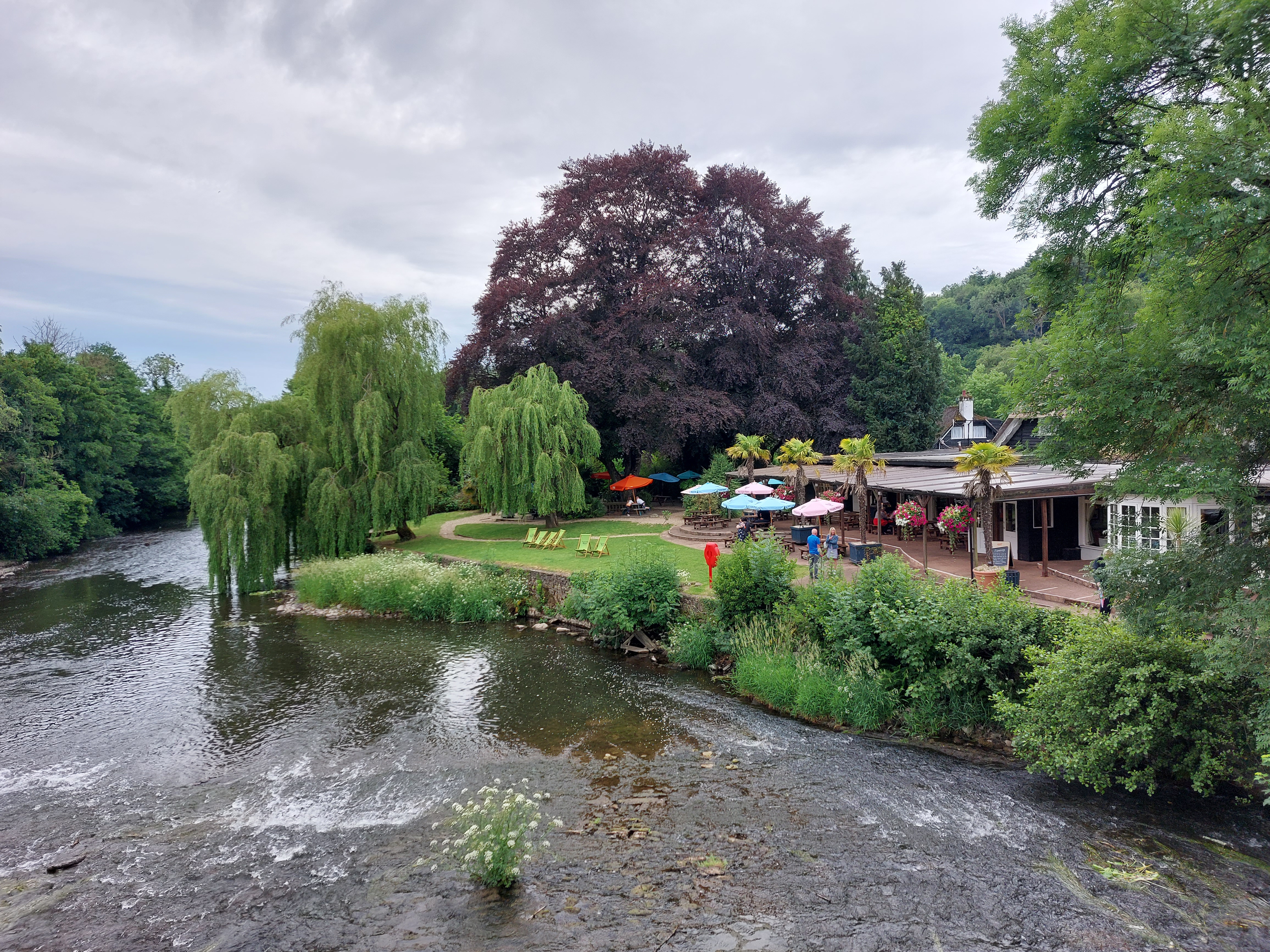 As I drew near my destination I encountered this restaurant with its beautiful view of the river. Very lovely. This was only a couple of miles from my hotel and I didn't encounter any other picture-worthy scenes today so that's it for now. Tomorrow I continue north, slowly making my way toward Liverpool...