Day 15 – June 24, 2022
Chester to Liverpool
Miles: 41
Terrain: Mostly flat
Weather: Cool, overcast (with a brief shower); mild tailwinds(!) mostly
At last, an easy day with no serious climbing and plenty of time to enjoy a scenic ride, instead of sweating out every torturous hill! Honestly, it felt like a little slice of heaven after the last week grinding out the miles on my ride halfway up the west side of England. In fact, as it turns out, when the day began I was one-half of the way done, so now I'm down to less than 2 weeks to go on this trip. I figured I'd be in Liverpool two weeks in, so I wound up being only about half a day off, which is not bad.
I did find out last night, however, while perusing ferry schedules and timing, that I was a bit too ambitious with the plan for the second half of this trip. Based on the available ferries to Ireland (which do not sail every day, mind you) and Isle of Man, there was no way to get to Dublin any time earlier than 3 or 4 days from now, and then, there'd be no way back for at least a couple more days afterward...which means if I want to see Ireland this trip, I'd have to do that, and then head straight back to London, skipping pretty much the whole rest of the ride.
Which means, time for a hard decision, and I think I made the right one...no visit to Ireland this tour. I found a way to still go to the Isle of Man (tomorrow), stay overnight, and leave on the morning ferry on the 26th, to Heysham (a bit up the coast) which will put me in the Lake Country by that evening. That gives me 10 days to go into Scotland and then swing back down to London (since I need to be in town early on the 7th to get my bike container out of storage). I probably want to do it in 9 days just in case there is some major issue and because I really hate racing the clock in these sorts of situations. That means I probably won't make it to Edinburgh either but that's okay, I'm sure I'll be back in Scotland for another visit sometime in the future (and Ireland too). Plus, extra bonus, my sister will probably be thrilled to hear I'm not doing Ireland this trip as that's someplace she really wants to visit and now we can plan a trip together.
So anyway, having made those choices and purchased the ferry tickets and hotel rooms for the next two nights, I set out on a leisurely tour along the peninsula heading around to the Mersey ferry, which I'd checked out the times for in advance so I wouldn't miss the last one. The ride was flat and I had a tailwind for the first time this trip so it was easy going and I felt great, probably the best I've felt this whole time. I've resisted talking about all the aches and pains for the most part but they've been there this whole time, until today. I barely noticed the few slight hills I came across and stopped frequently for geocaches, which made for a thoroughly enjoyable afternoon.
When I got to the ferry, though, I found that the last one had already departed and the remaining ferry times had been booked in advance by some kind of private party so there was no way to take the boat across the river. You can see by the map that riding all the way around would take forever so I asked if there was some other option and the lady said to take the train. After making sure they allowed bikes on said train, and being assured they did, it was off to the rail station about a half mile away, and guess what, it cost about half the price of the ferry and was probably way faster. The only trouble was squeezing the bike into the lift (I had to stand it on end) to get to the platform, then the train showed up like 2 minutes later and 5 minutes after that I was in Liverpool. Plus I saw a whole bunch of other people with bikes on the exit platform so I felt right at home. Luckily the rail strike wasn't happening today (but it is tomorrow) because otherwise I would've been taking an expensive taxi ride, most likely. (At least he could've used one of the car tunnels, which don't permit bikes).
Once in Liverpool I spent a couple hours touring around and then headed to the hotel, just getting in before the rain. Tomorrow, it's off to the Isle of Man. Now brace for some pictures because I've got a lot of them today...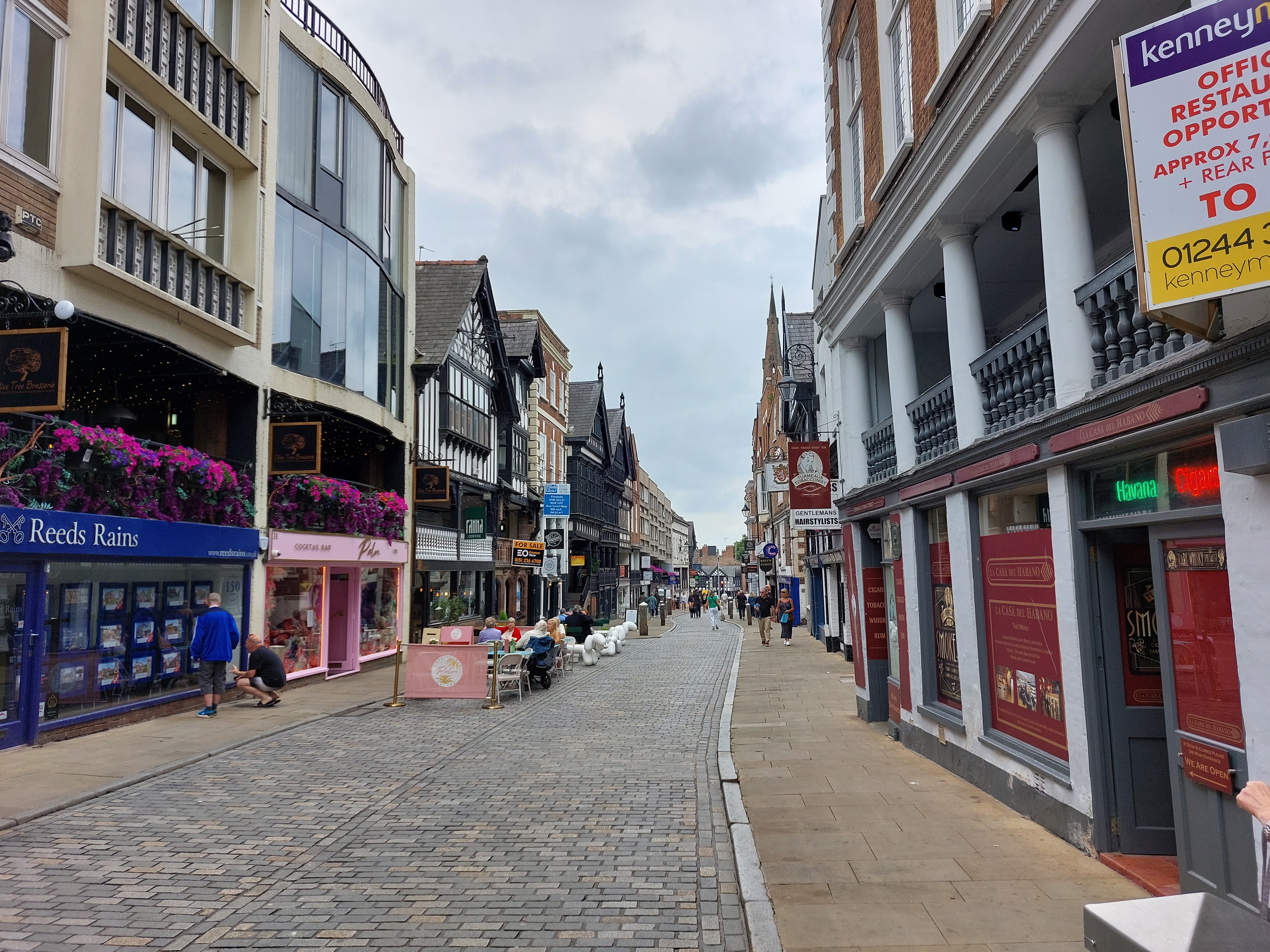 One last view of Chester before I head out. Much busier in the morning!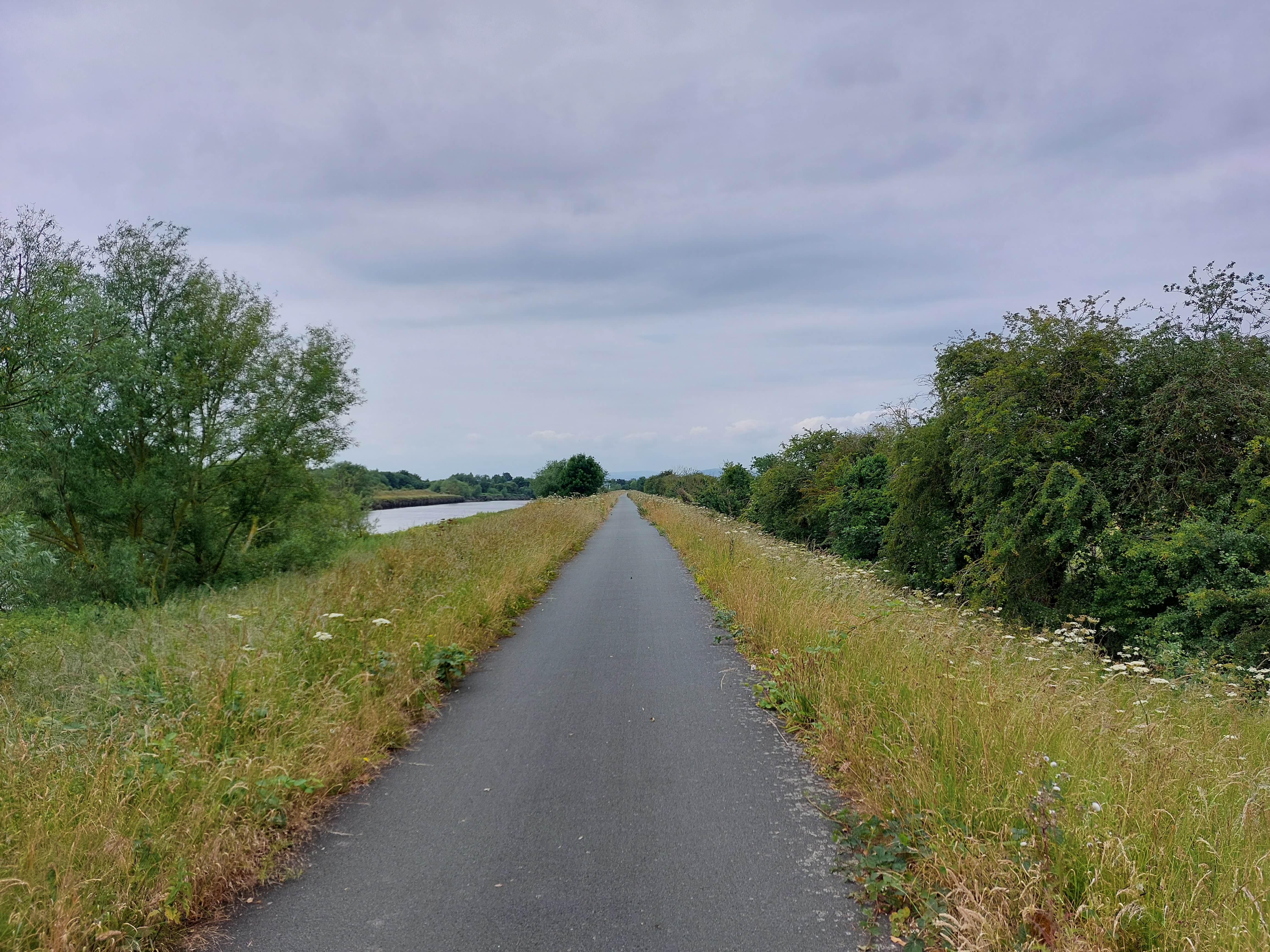 The first part of the ride was on this wonderful, smooth bike path following the water.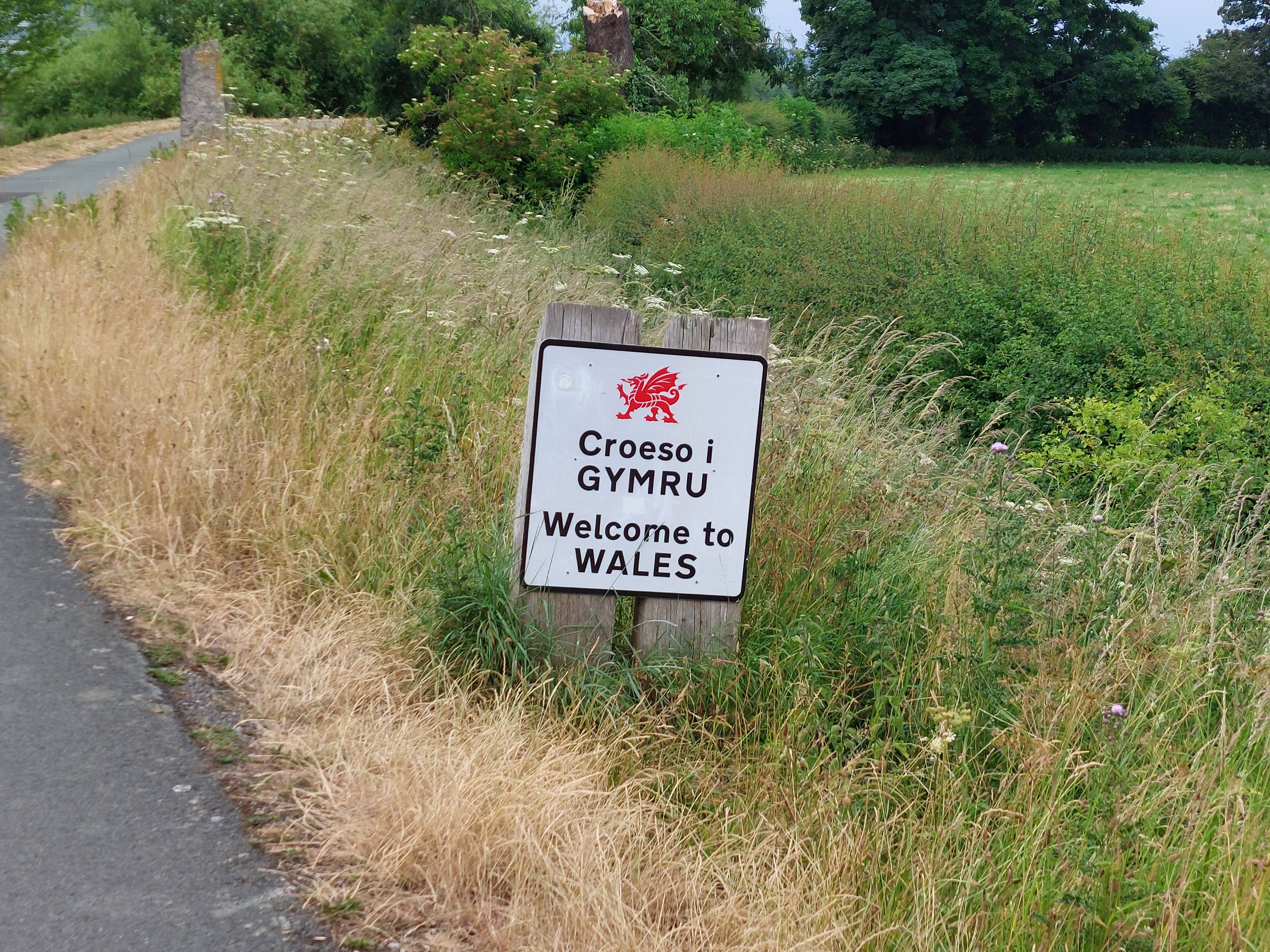 Yesterday I complained that there weren't any signs welcoming me to Wales. Well, I finally saw one...on a bike path, of all places! Apparently a tiny piece of this peninsula is in Wales.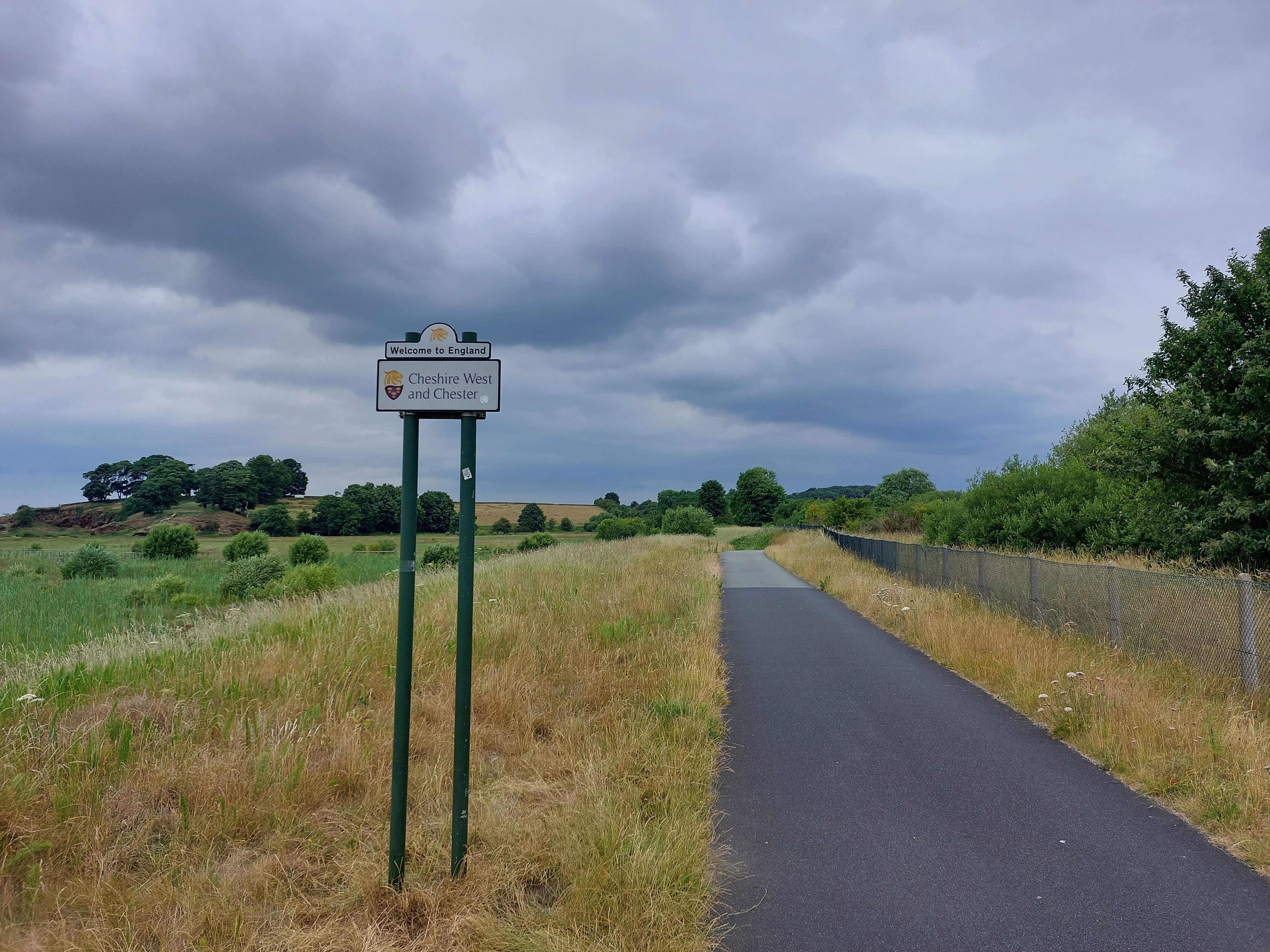 Well, that didn't last long, maybe a couple of miles, and now I'm back in England (and in Cheshire, where the famous cat is from). So long Wales, I won't be seeing any more of you this trip!

Partway along the path wound through some open farmland with annoying gates that I had to stop and open by hand. I soon found out why, they have sheep wandering around loose all over the place. This lot had no fear of man and just came right over to say hi.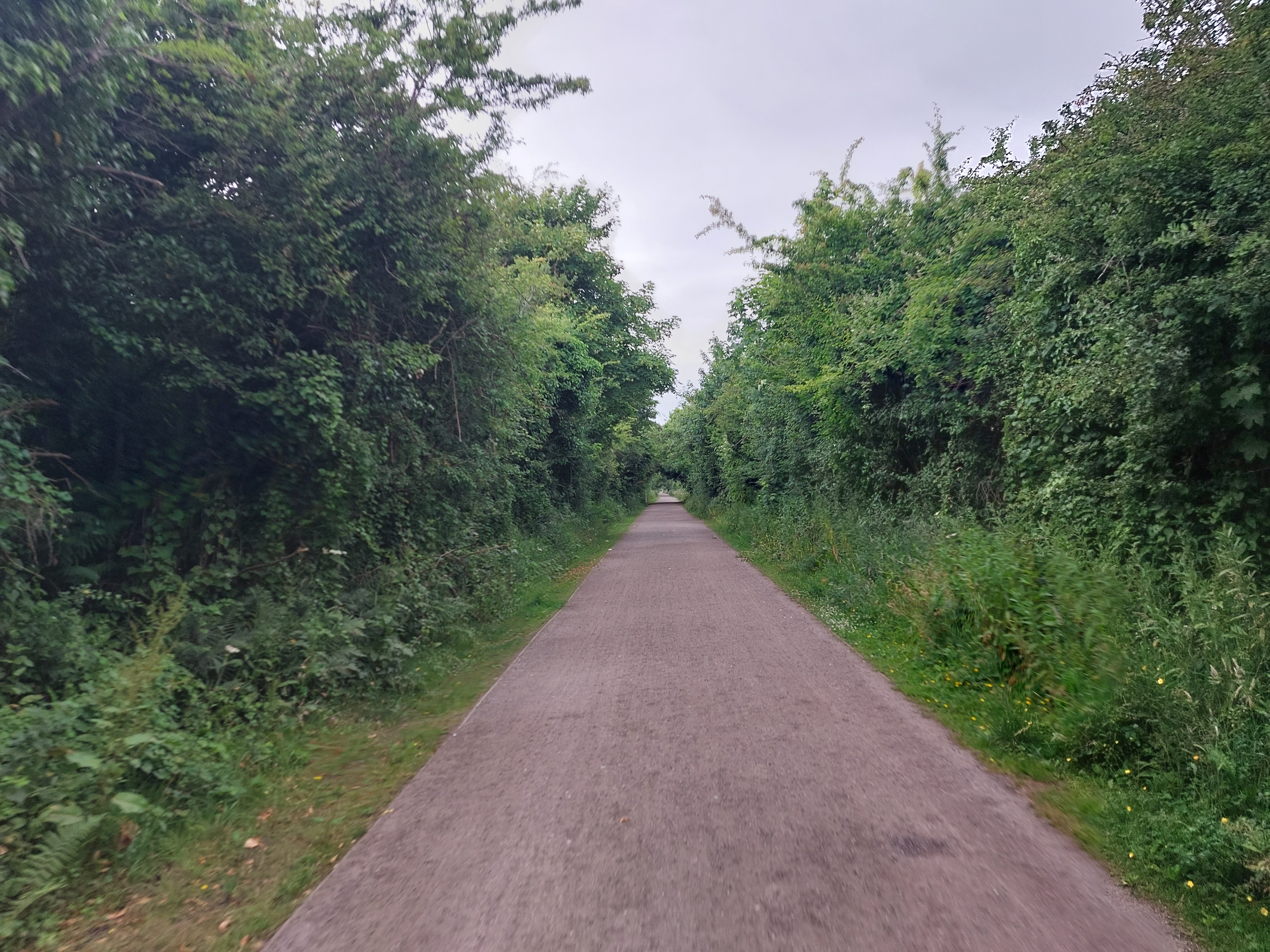 After leaving that area it was back to the crushed gravel surface but with some nice tree cover, which was good because this is the part where I got rained on for about half an hour. Not too bad but I did have to put the rain cover on over the panniers.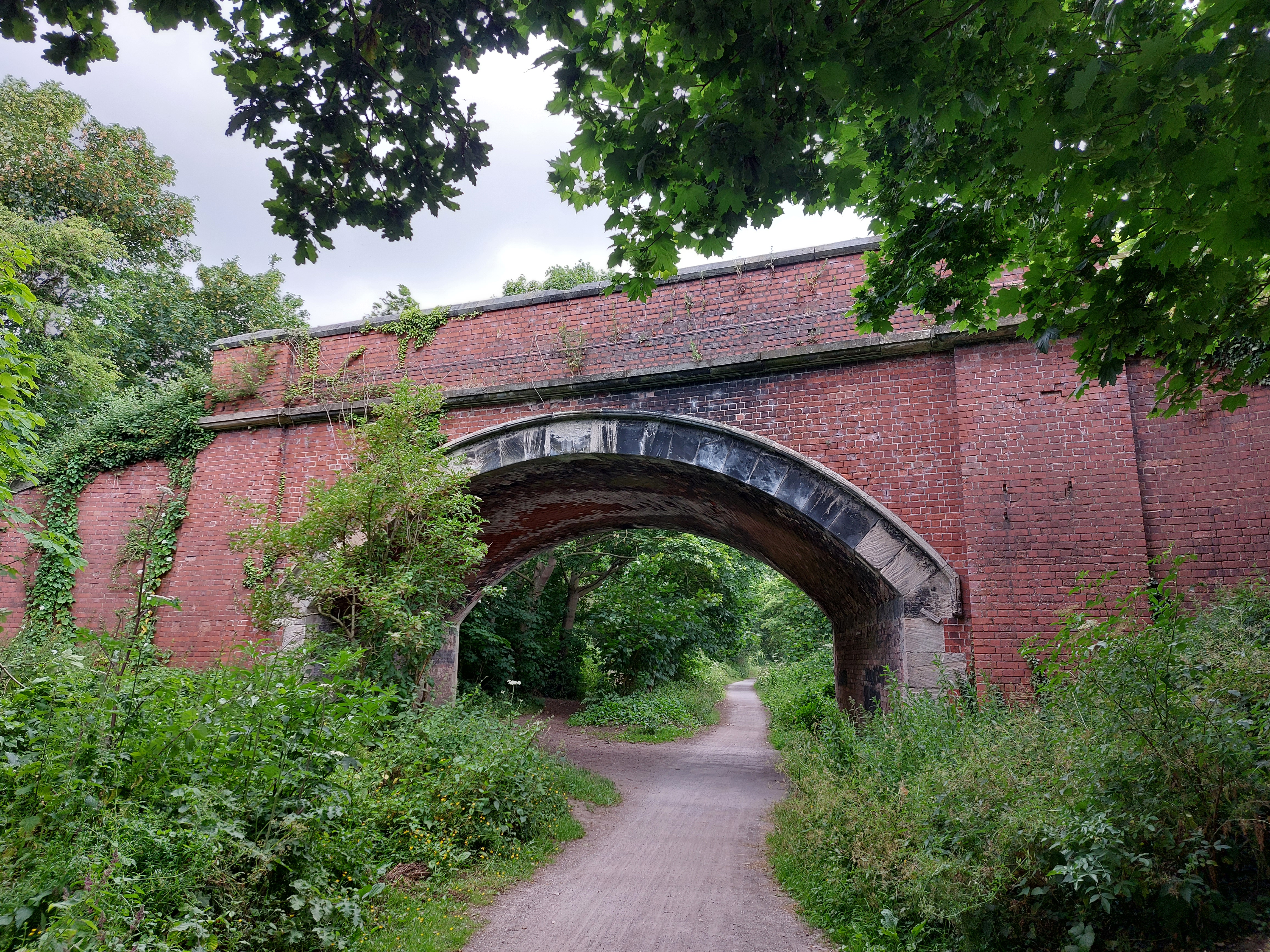 The path took me under some really cool bridges. Here's a nice partly ivy covered one.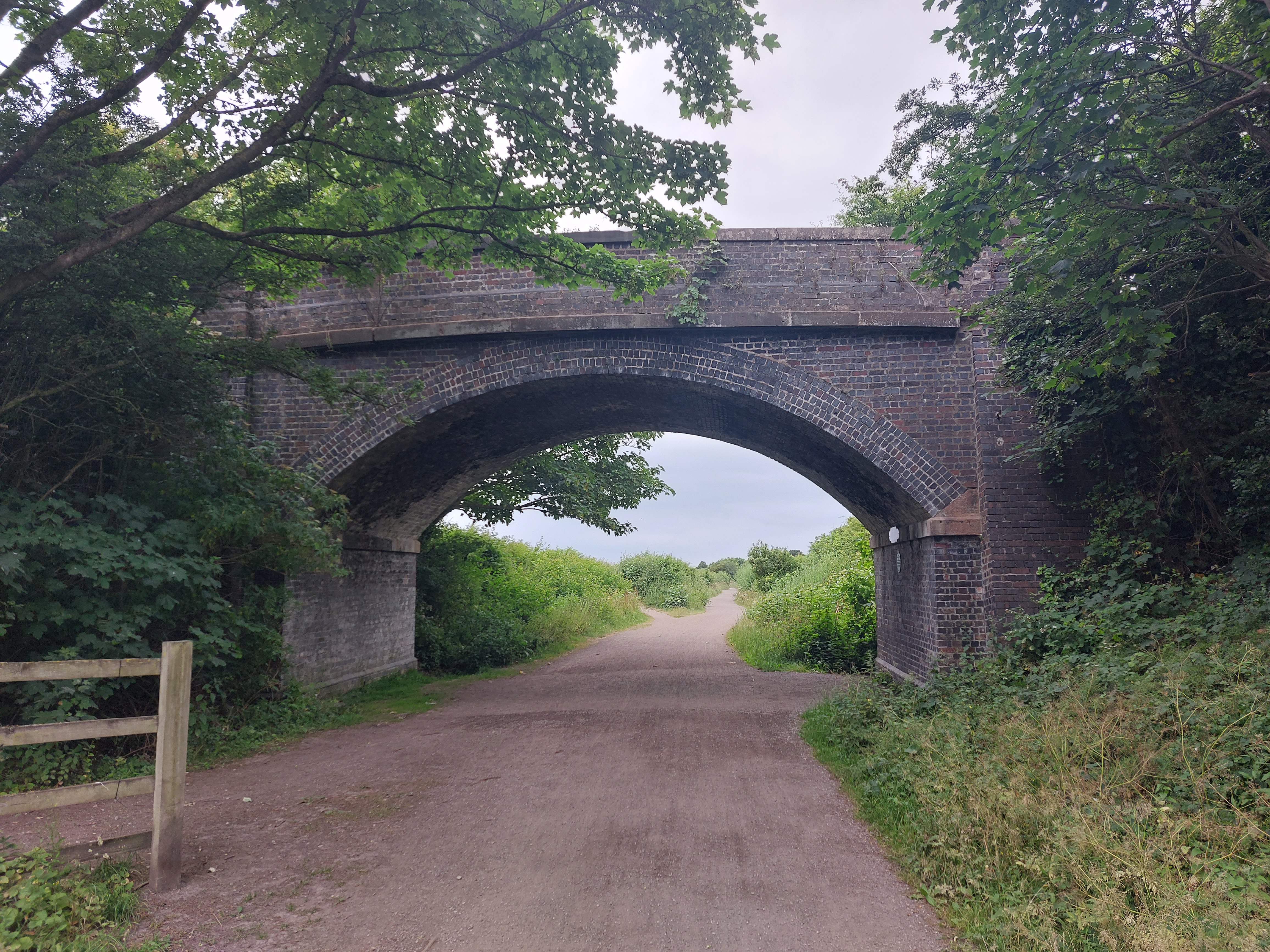 This one sort of looked like a gateway to the outdoors. I'm on the Wirral Circular Trail now, by the way...it loops all the way around, but I didn't intend to go quite that far.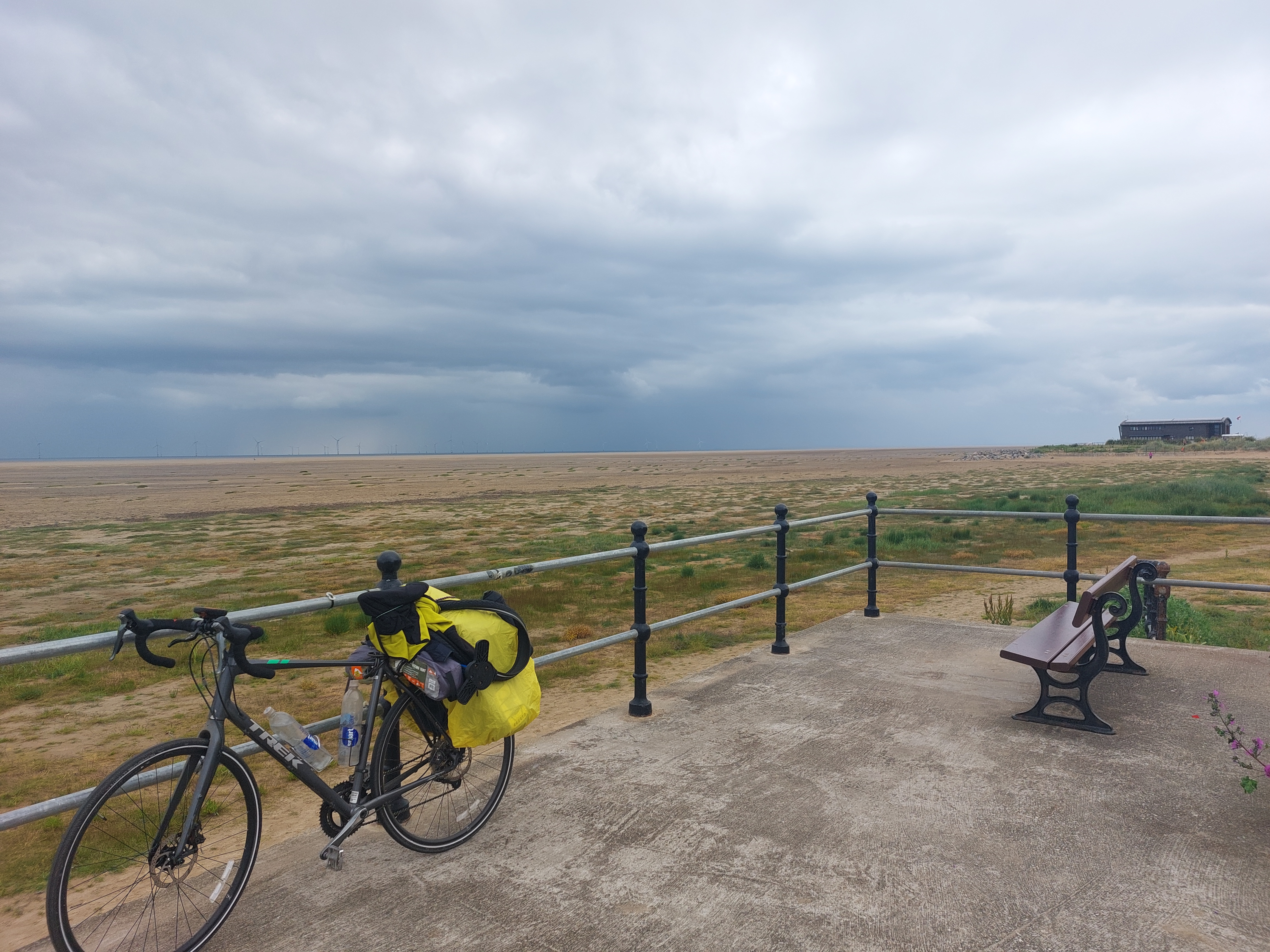 When I got to the end of the peninsula I expected to find a beach, and I did...but it was weirdly empty and extremely wide. Turns out it was low tide and it gets partly covered in higher conditions. If you look out on the horizon, those windmills mark the edge of the water. There were some people out there walking dogs and I did see one wheeled sand sailing thing but it was too far out for a good photo.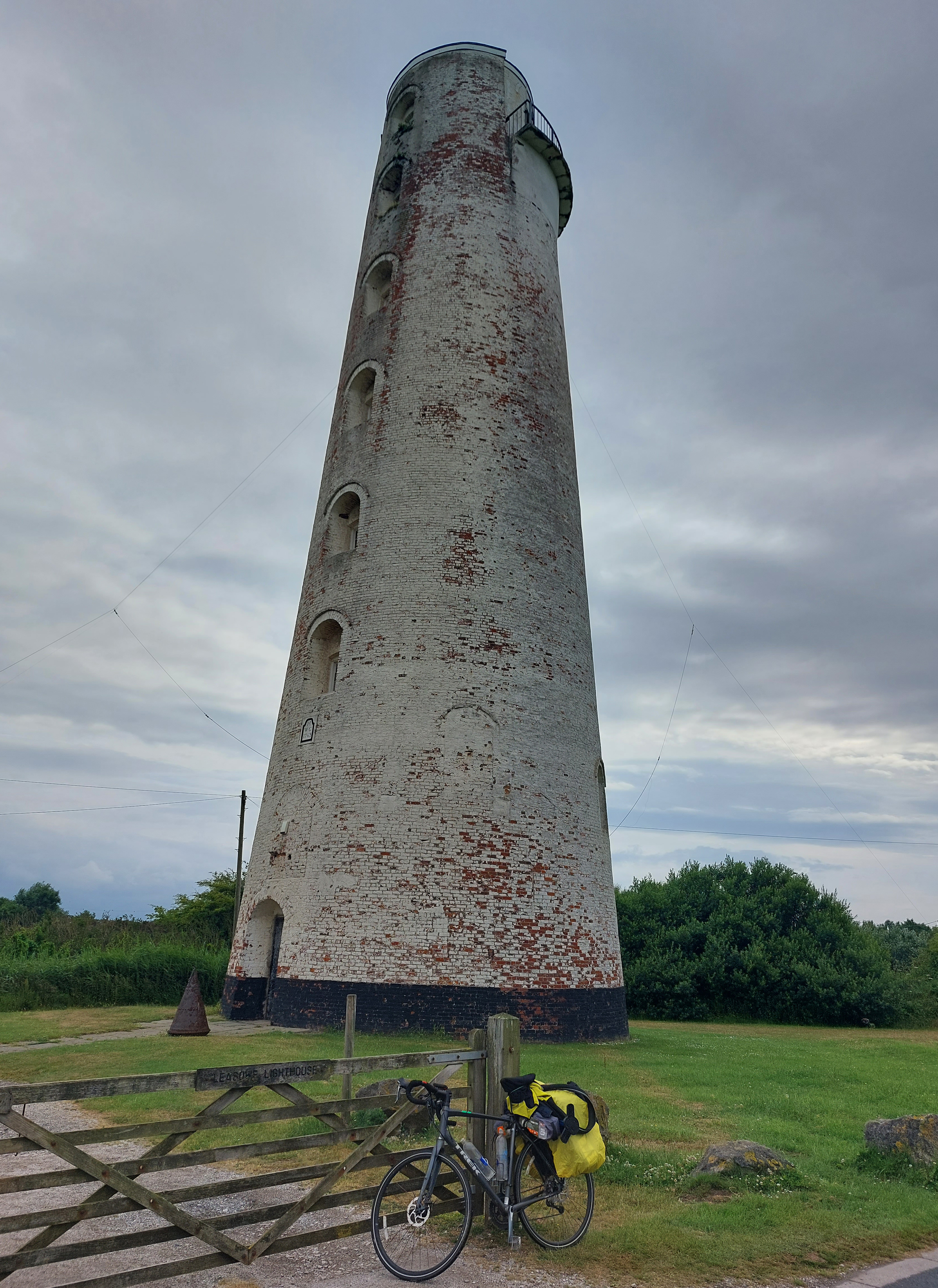 Ultimately the ride brought me to my main target of the day, the Leasowe Lighthouse, home of another one of those webcam geocaches I keep talking about. Plus it's really a cool relic structure (no longer in operation).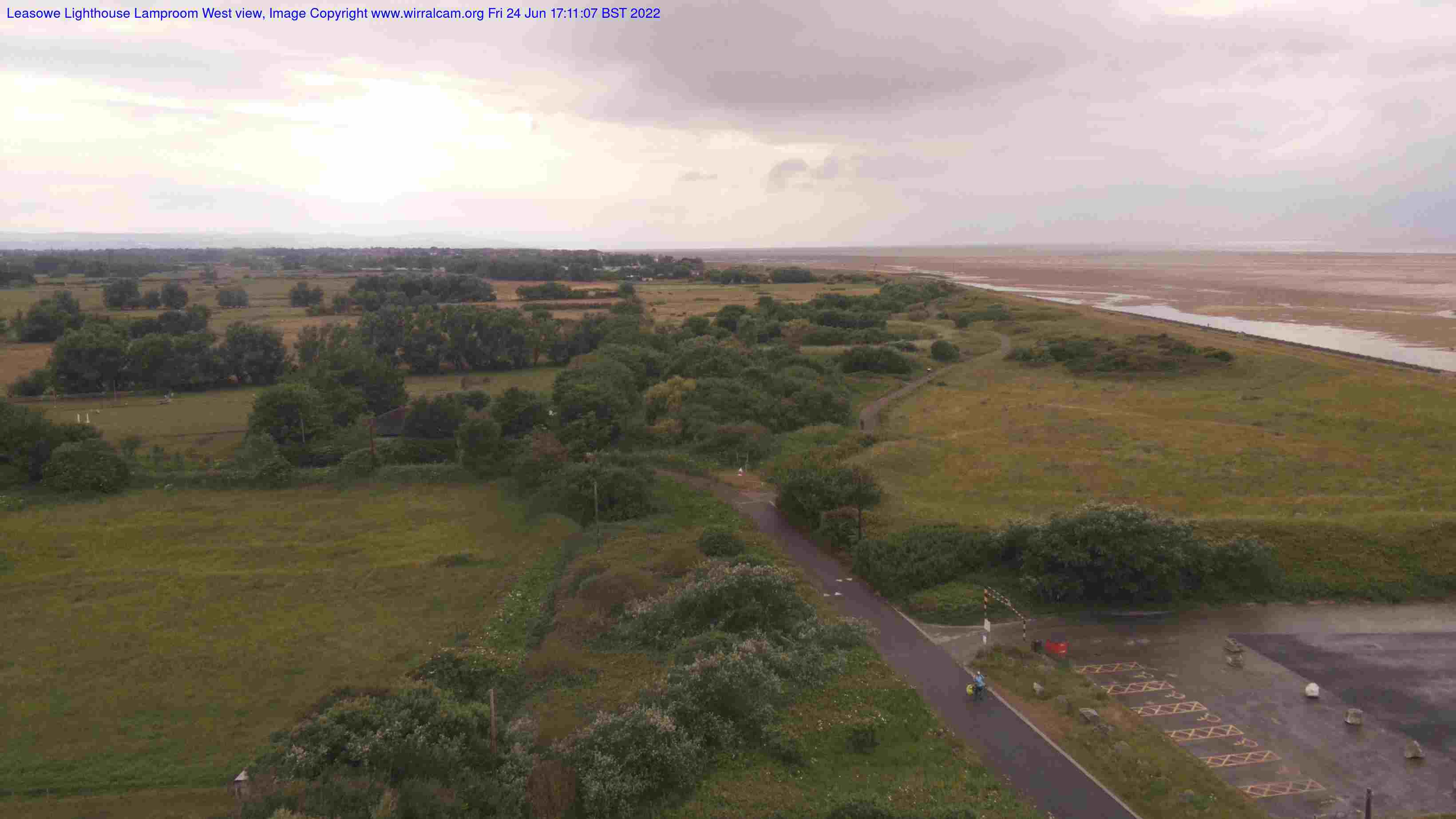 There's a webcam up in the tower and here's the view from it. You can see me and my bike (with the yellow rain cover on the panniers) down on the right side, bottom, near the entrance to the parking lot. Not very impressive, I know, but there I am as seen from a lighthouse!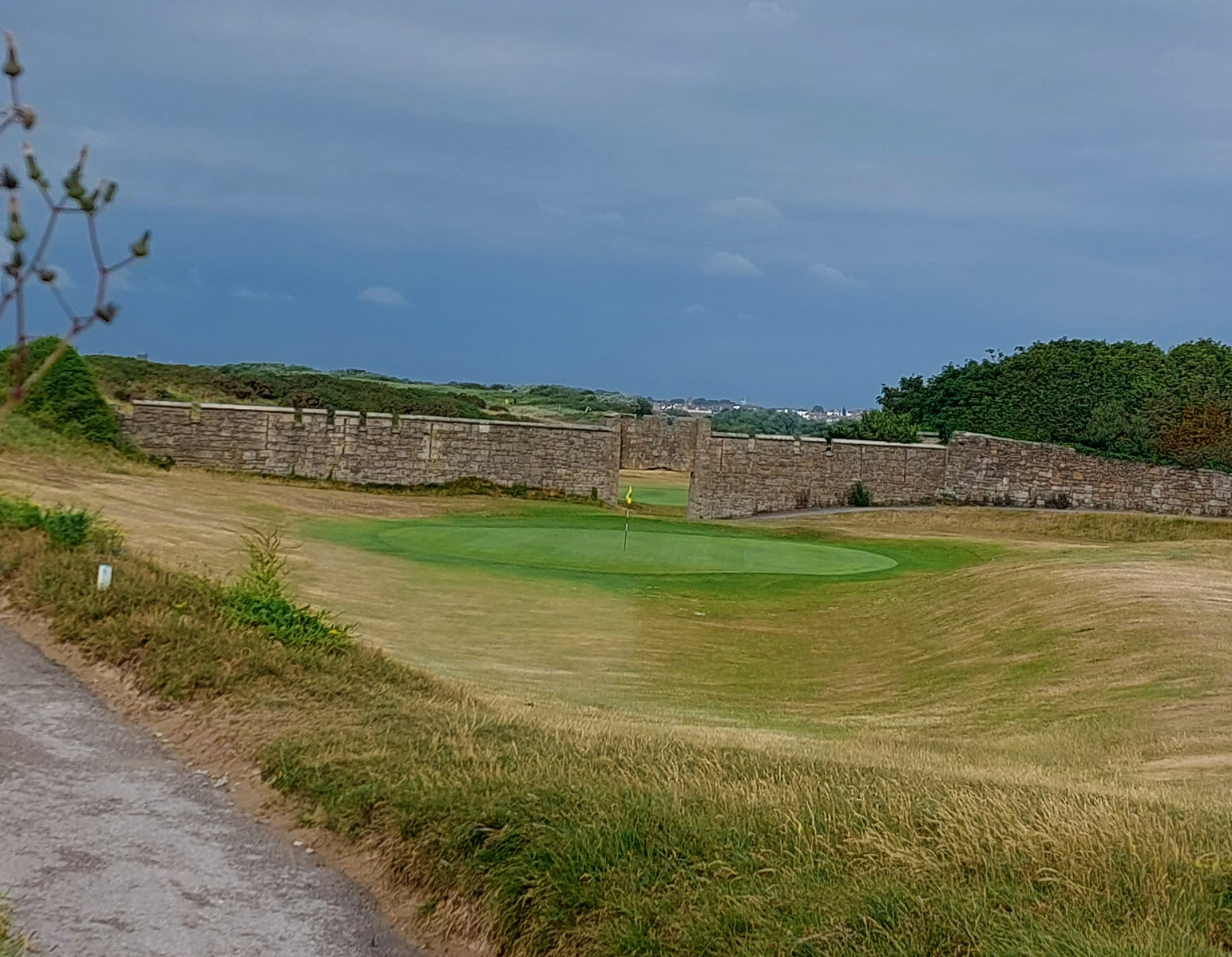 After that I continued along the coast and passed the edge of a golf course. Here's the hole nearest the trail...how'd you like to hit up onto a green that had stone walls right behind it? You can't do that on every golf course!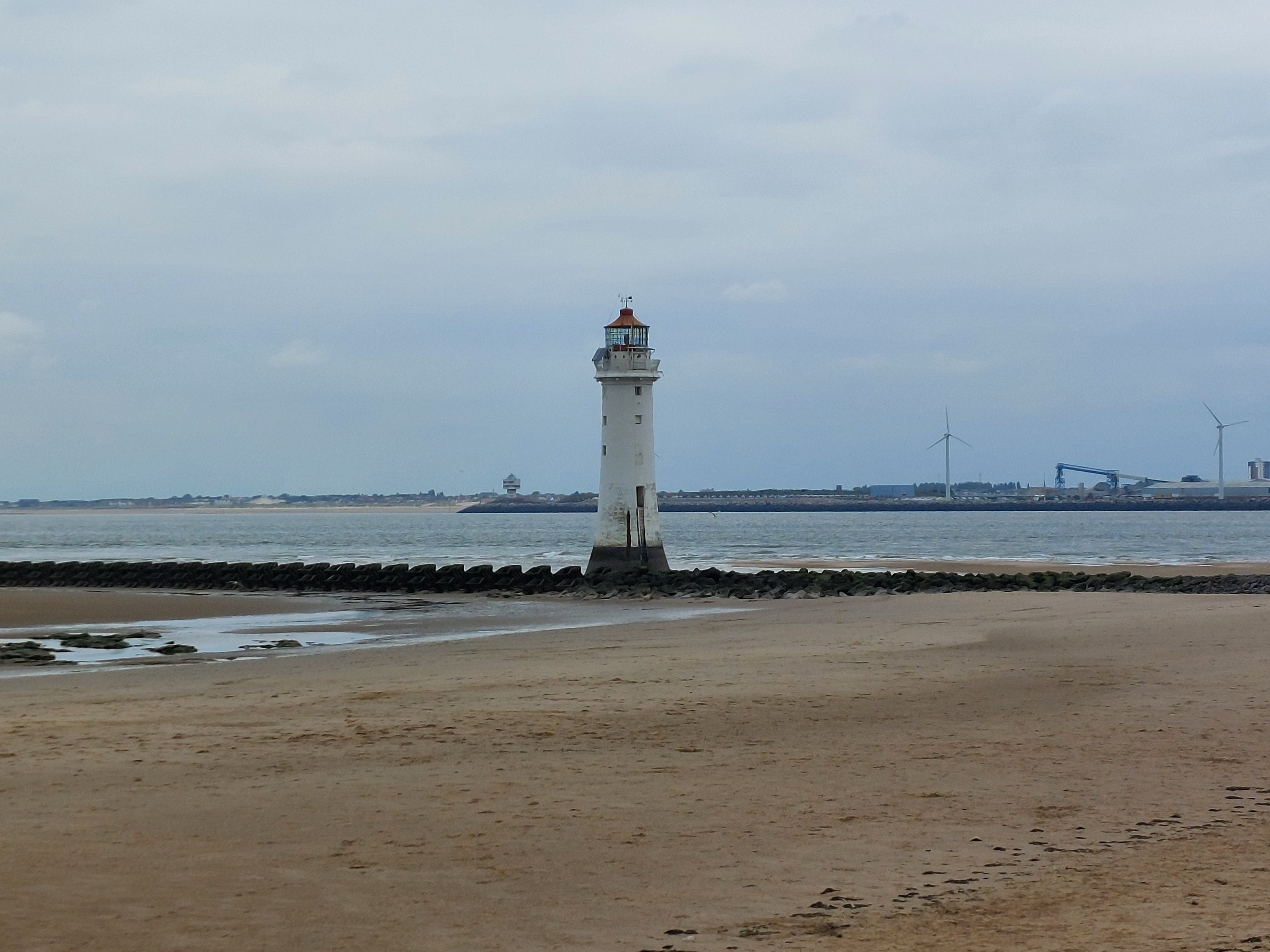 Here's another lighthouse near the waterfront of Birkenhead, across the river from Liverpool. Low tide makes it look like a lonely sentinel up on the sand.

There's also this cool fort nearby. There's a restaurant inside, and also, they have their own "escape the fort" escape room, which I think would be amazing to try.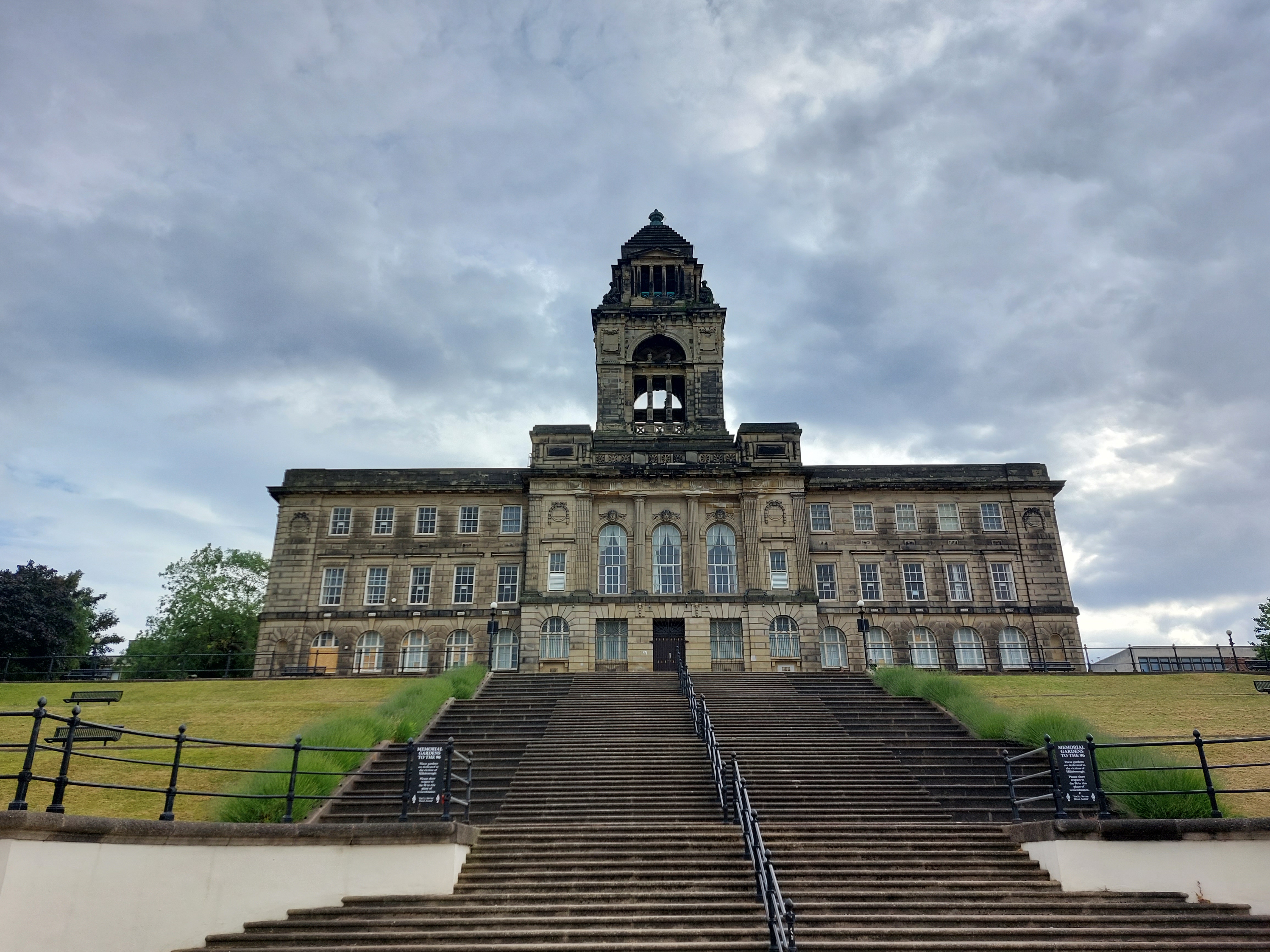 Here's a cool building I rode past on the way to the ferry.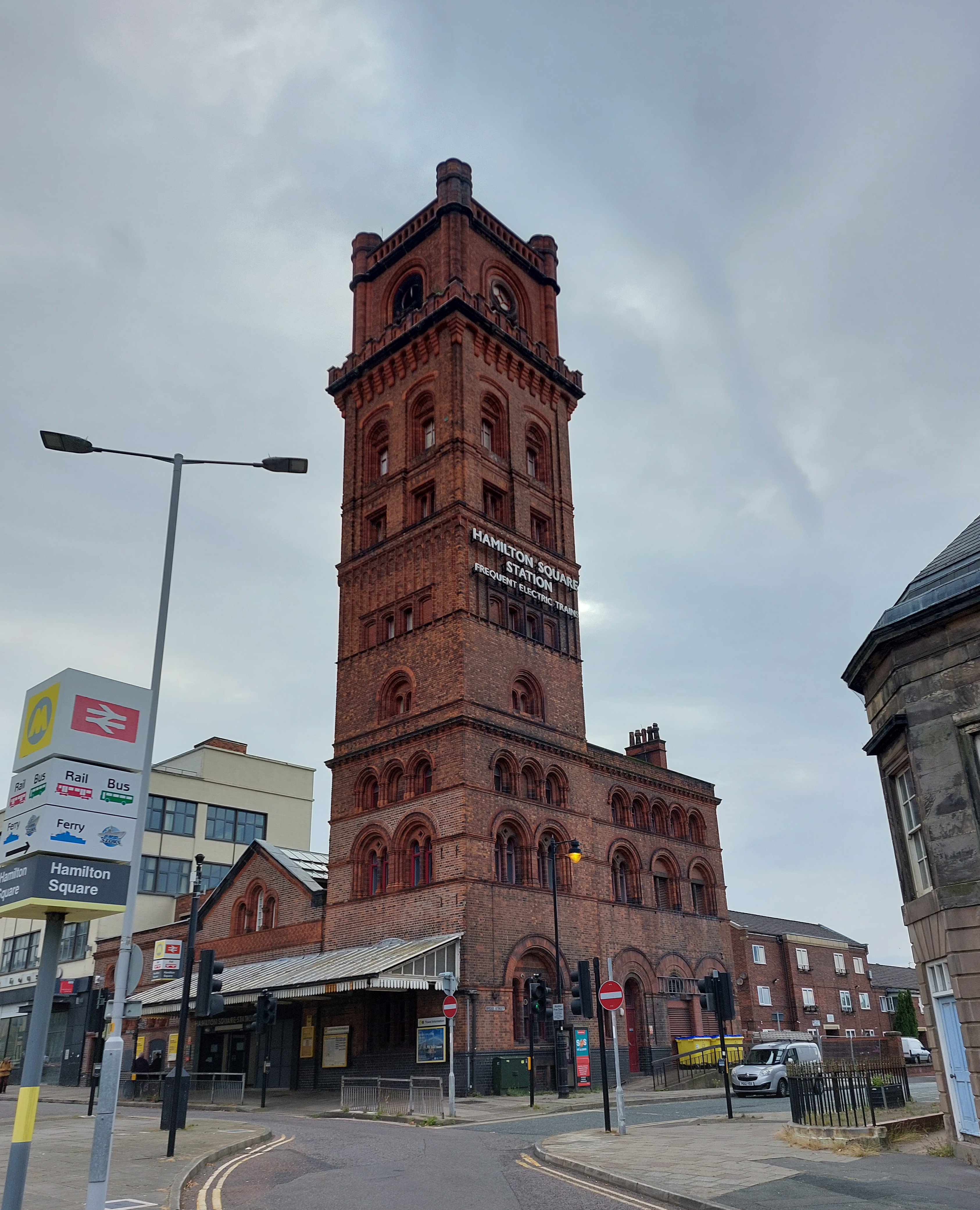 And as I already mentioned, the ferry didn't work out, so here's the rail terminal. Doesn't look much like a train station, does it? Of course the train platforms are all underground.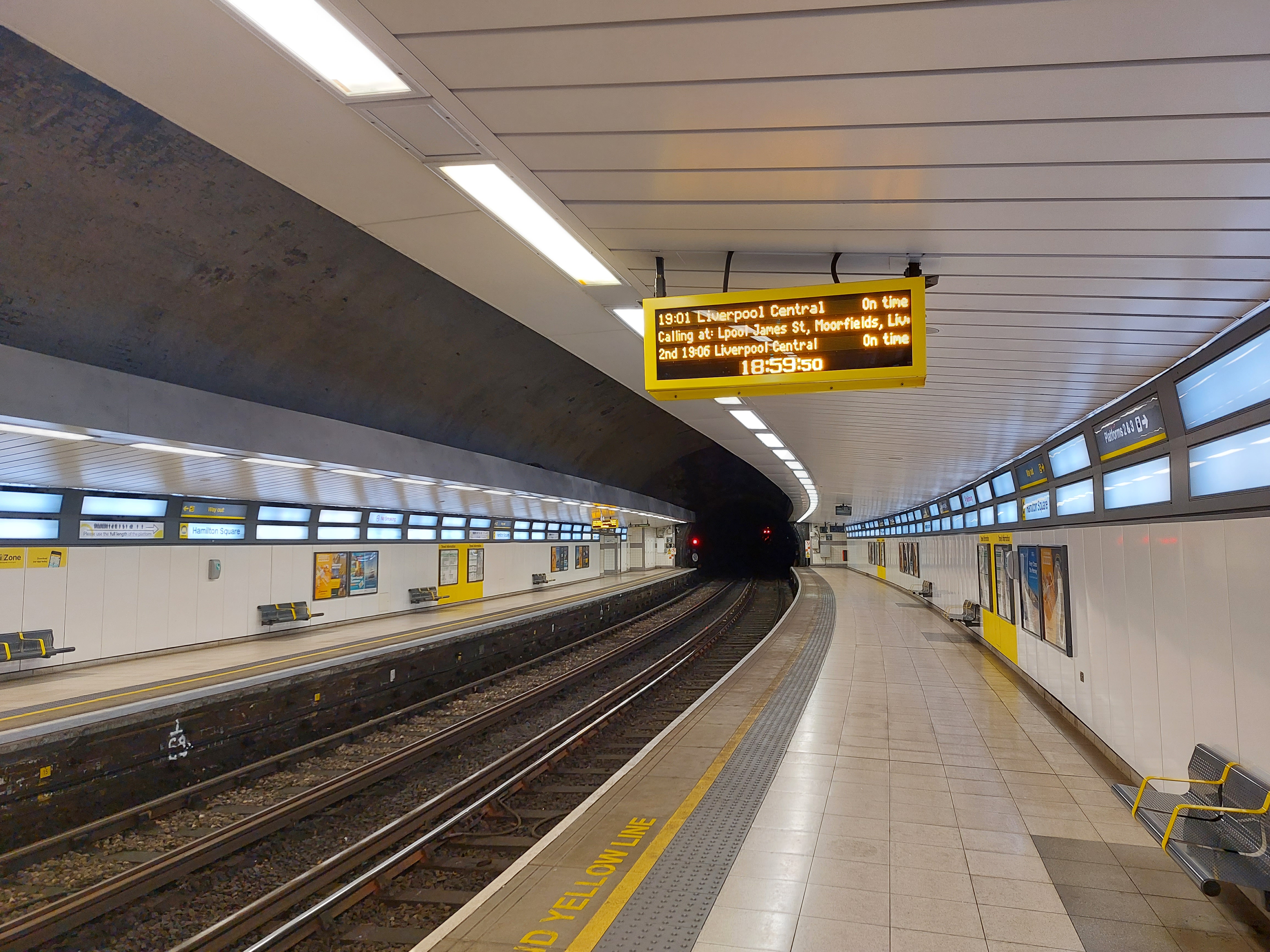 Here's what the empty platform looks like (once I muscled the bike into and out of the lift).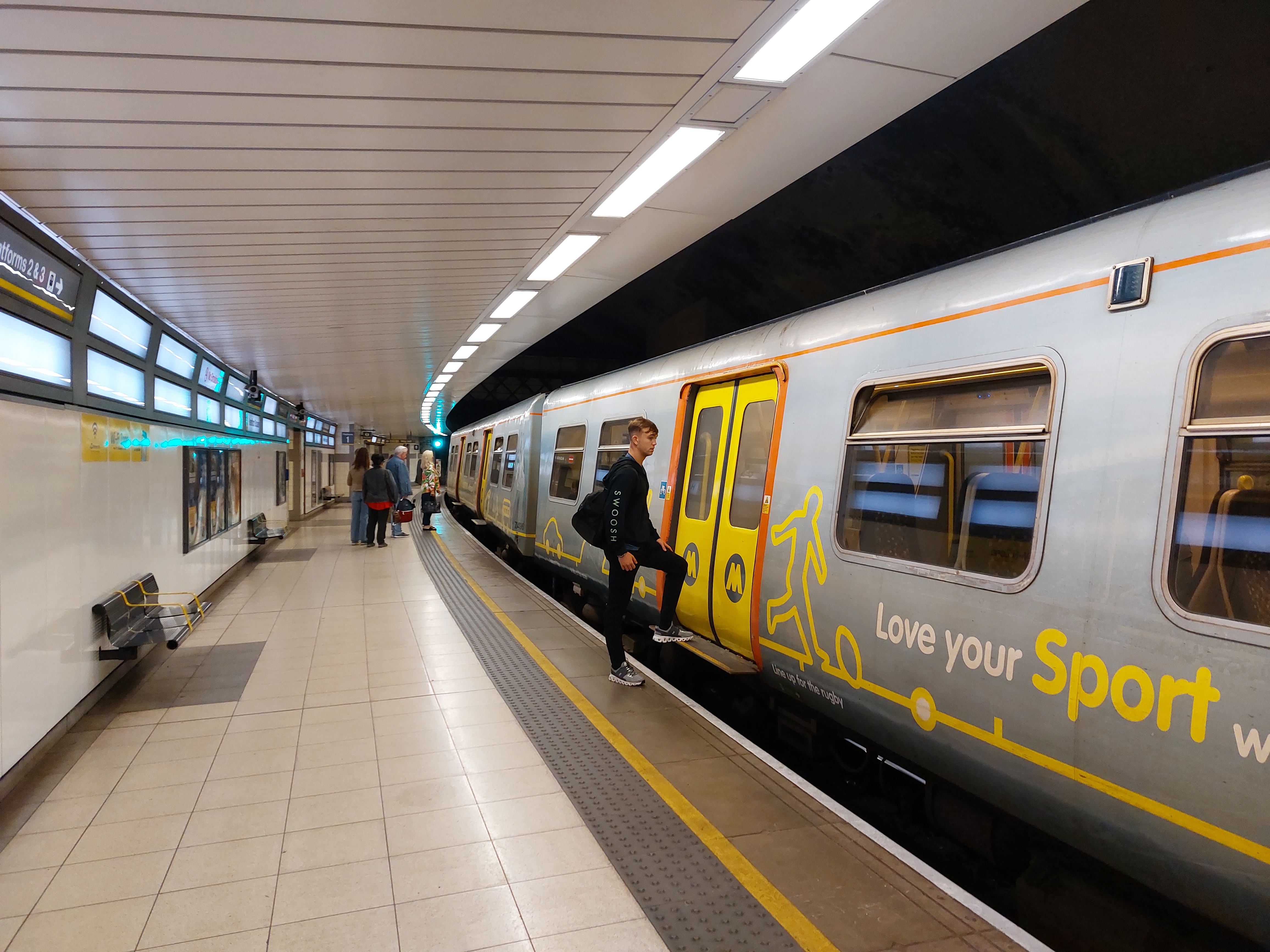 I wasn't the only one there, obviously. I had only a couple minutes to wait and then the train showed up. I snapped a photo and got on board quickly since these trains don't really linger. Luckily not too many people at just after 7pm. I imagine this would've been much more difficult during commuter hours.

The bike enjoys a brief rest before I force it to work again. Notice how it fits neatly in that space there. Oh and as you can see I've taken to wrapping my thick cold-weather jersey over the seat to add a little extra padding (for reasons I won't go into, but you can probably well imagine).

And just about 5 minutes later I got off on the Lime Street station platform, dealt with the lift again, and emerged into Liverpool.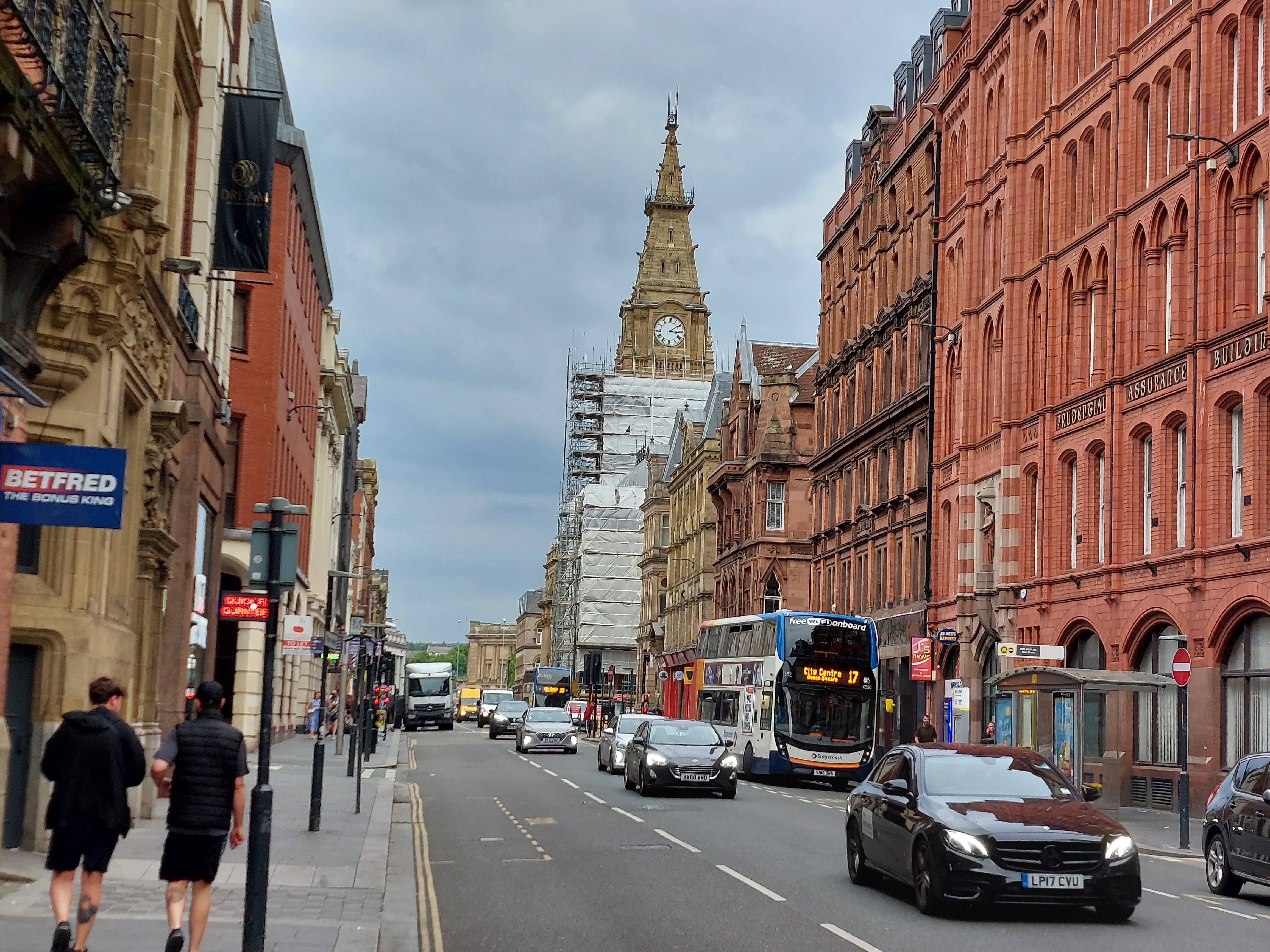 My first look at one of the main streets.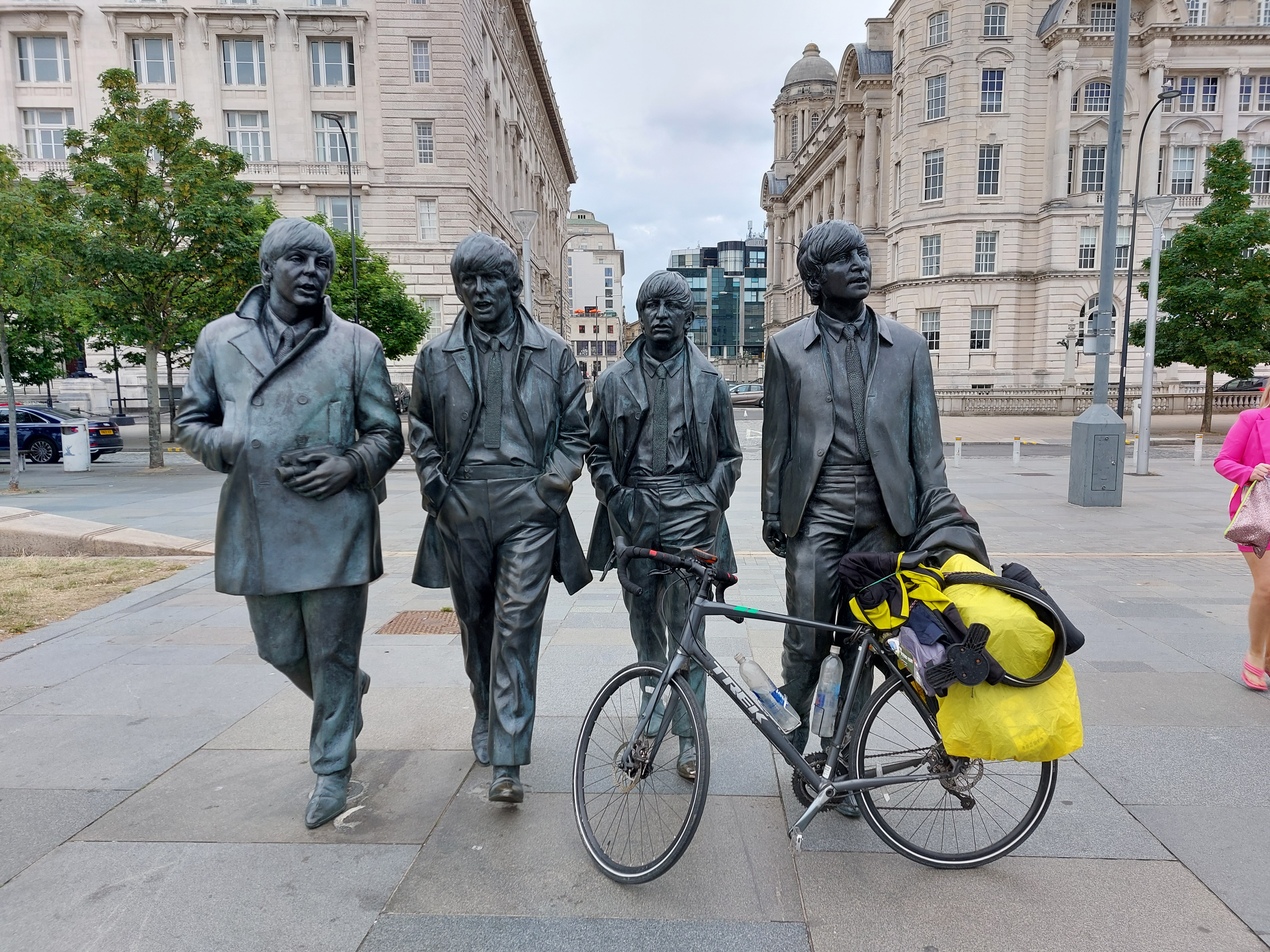 Of course Beatles stuff was everywhere. My bike rests against the iconic statue at the waterfront.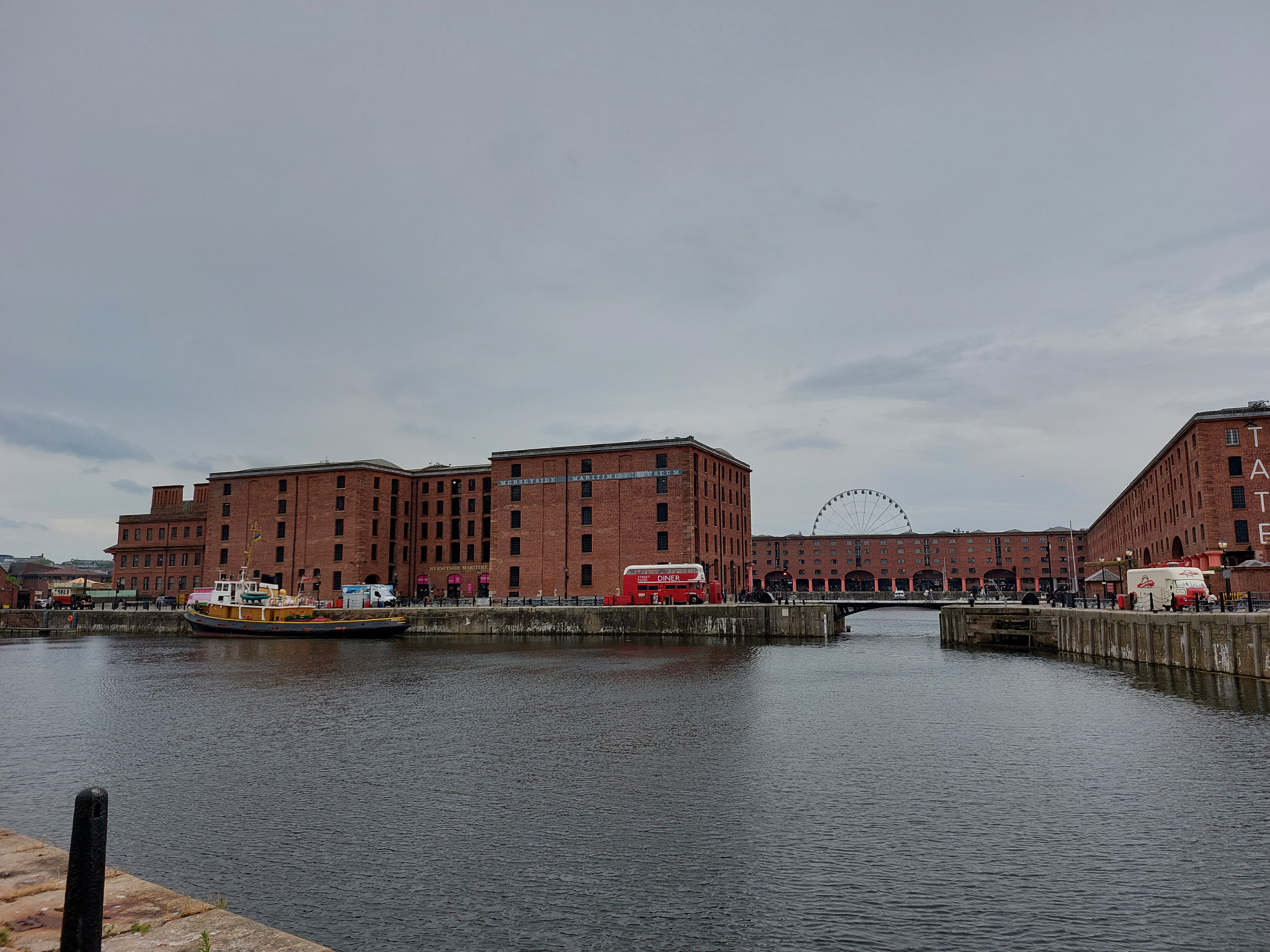 Here's a look at the Maritime Museum along the waterfront.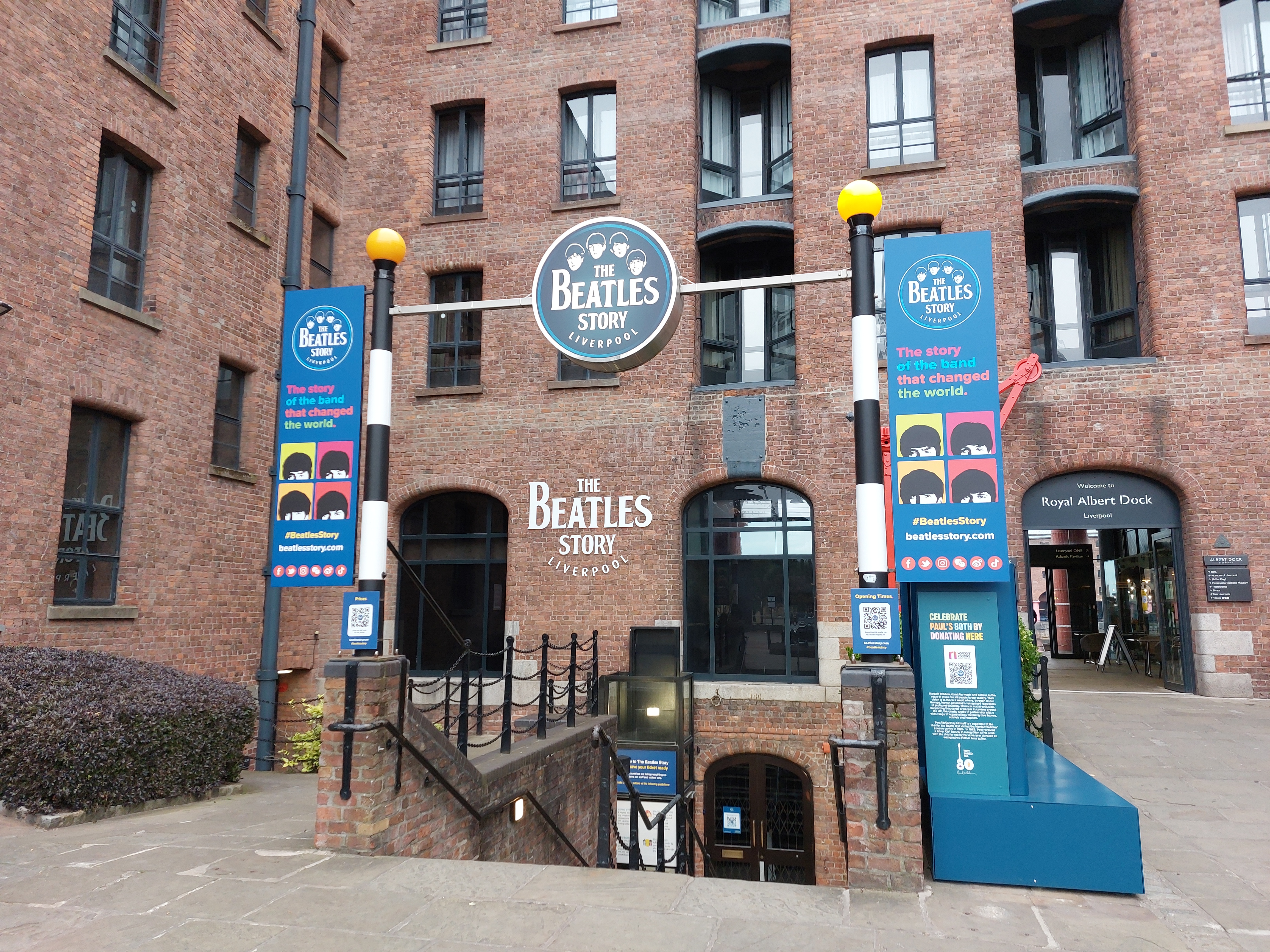 More Beatles stuff. I'm told this is the place to go if you like the band. Not enough time for me to visit today, I'm afraid.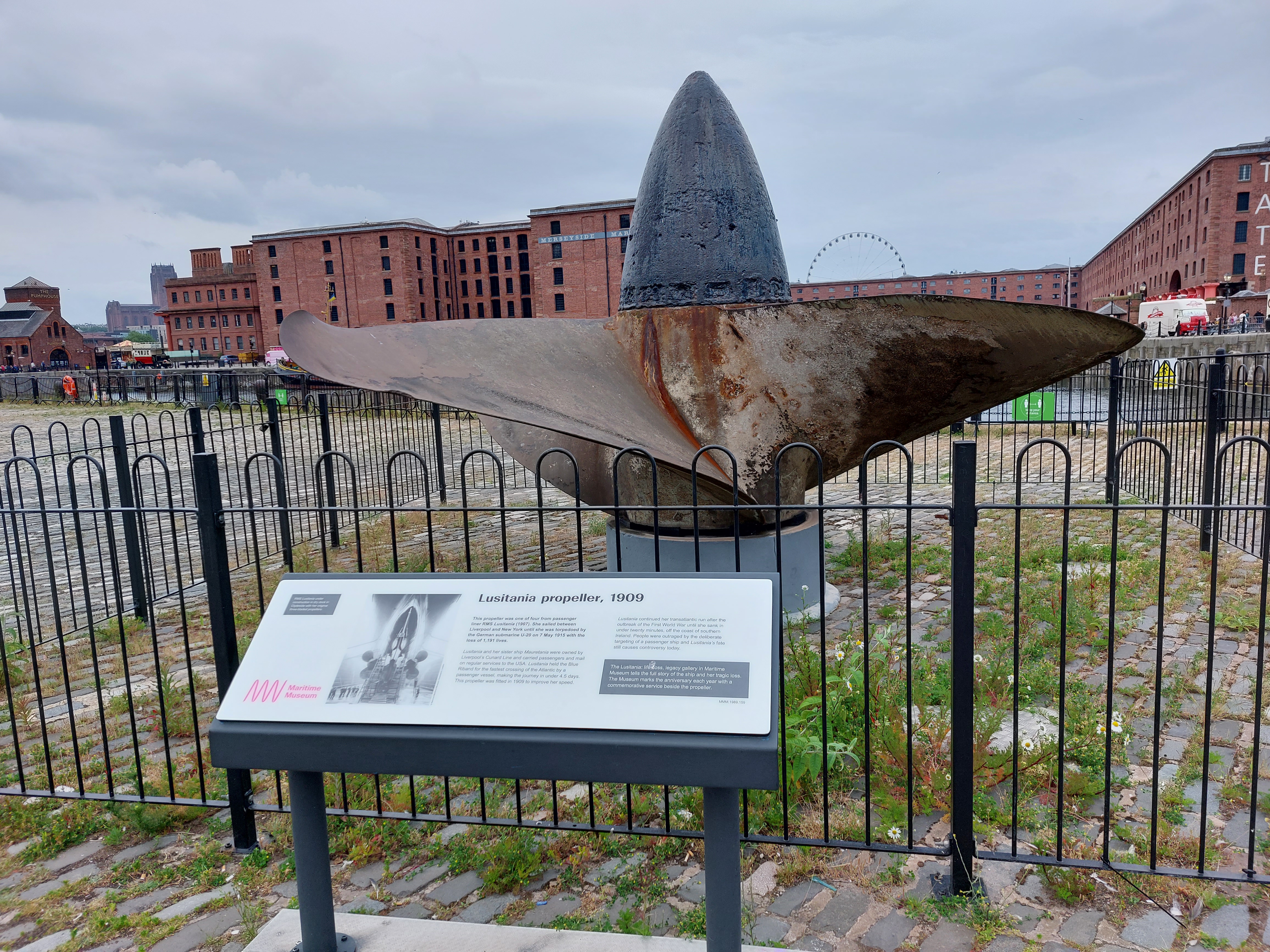 There were some exhibits outside the museum, like this one, one of the propellers from the Lusitania.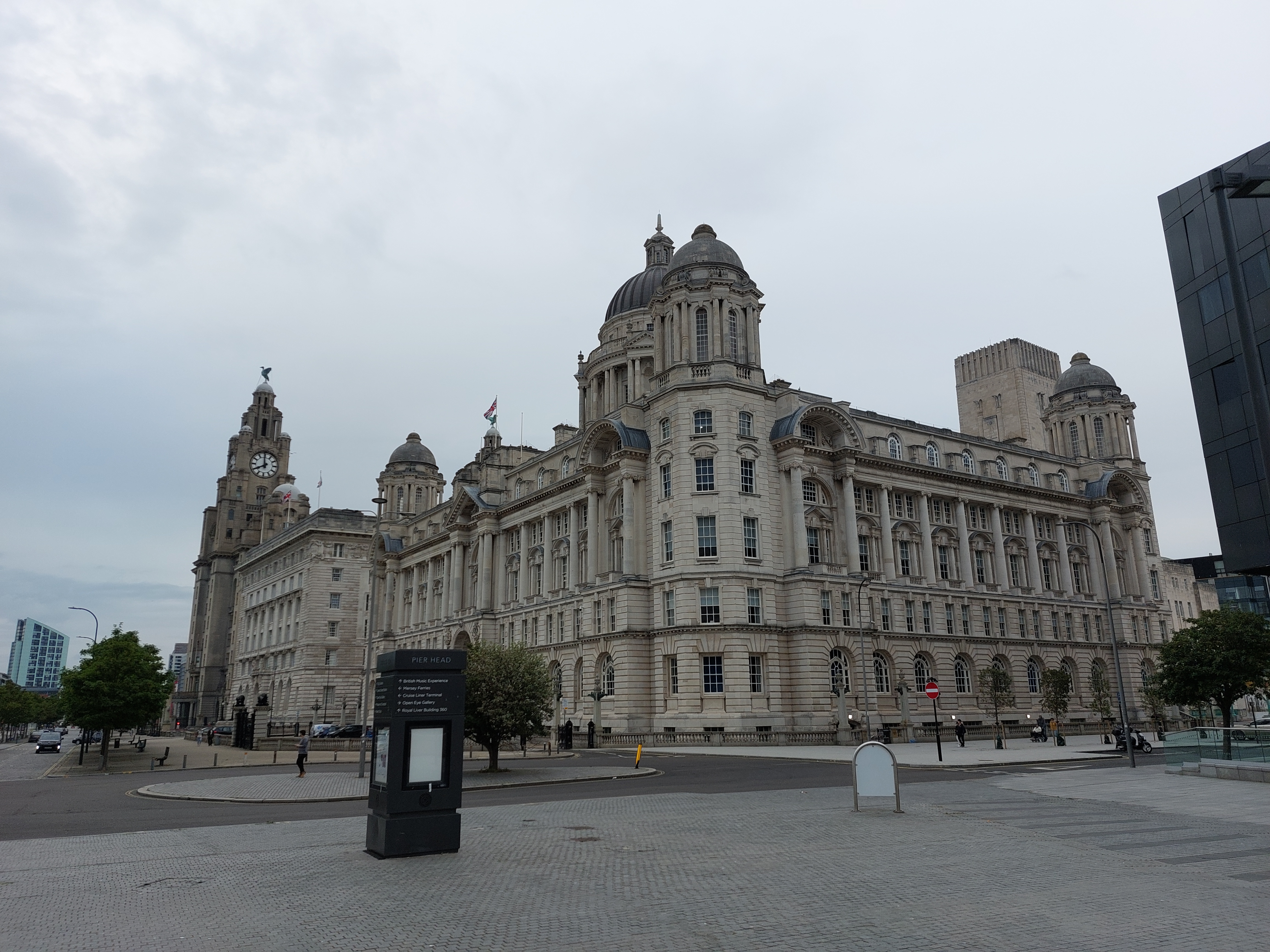 This awesome building is the city hall, I believe...right along the waterfront, which is to the left. Very cool. But that was the last thing to see today as now I'm off to the hotel, heading north out of the scenic stuff and into mostly docks and industrial districts.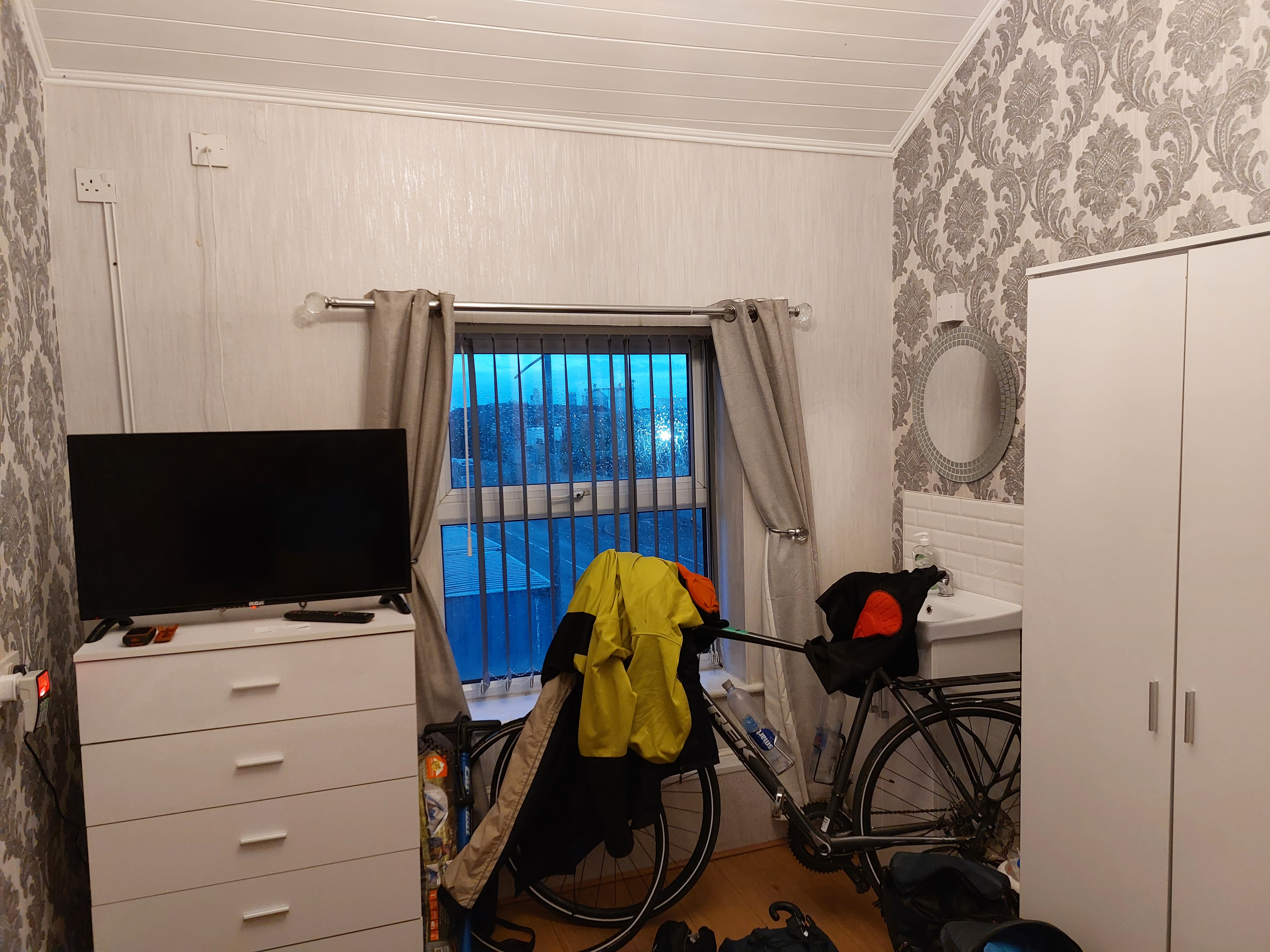 And here's my hotel room, this photo taken from the bed right up against the wall. A far cry from yesterday's amazing luxury (I don't even have my own bathroom here, just that sink in the corner) but then I only paid half the price for this one. You get what you pay for! Now off to bed, the Isle of Man awaits me tomorrow...