Day 17 – June 26, 2022
Douglas (Isle of Man) to Windermere
Miles: 64
Terrain: Reasonably flat early then extremely hilly
Weather: Cool, overcast, some rain later; moderate tailwinds
The map to the right doesn't include the approximately two miles I rode from the hotel on Isle of Man to the ferry dock there, but they were mostly downhill, and some of the worst of the day because I had to go into screeching headwinds and pouring rain. By the time I got to the ferry I was soaked and freezing and then had to sit on the boat for the next 3 hours in wet clothes because there wasn't any way to change once I got aboard. Luckily I found a nice warm spot away from most everybody else and took a nap while waiting out the ride.
Once in Heysham, at about 1pm, I grabbed some food at a nearby store and then headed on up the coast toward my hostel (the "YHA" means "youth hostel association," so if you ever see any more YHA's on any of these maps, you know it's a hostel). The ride there was about 1600 feet of elevation and something like 38 miles so it didn't seem like much, although that's a lot of climbing to do in a relatively short period. I'm getting to really, really hate the climbing, and it's wearing on me severely. I dread every hill and crawl up at the slowest possible pace, wishing this could all be over. The hills are no fun at all, not even a little. I brought too much gear, and I got too old, I'm afraid...
Anyway, after enjoying a few casual miles along the bay, the route moved inward and the climbing began. There were numerous spots where I had to push the bike, and precious little opportunity to enjoy any resulting descents because the roads were too steep or rutted to allow myself any speed. Plus as the day wore on it started lightly raining, making the roads wet and holes or broken pavement hard to spot. I ground out the miles slowly, knowing the hostel wasn't terribly far by comparison to other days, and when I got there I unloaded everything and ate my second sandwich of the day. Then it was off to continue the ride.
This particular day I had a second destination, another one of those webcam geocaches I keep talking about, over in a town called Coniston. I knew this would add another 22 miles and 1000 feet of elevation gain, but this was the very last webcam in Europe I don't have, and I certainly wasn't going to pass up the opportunity. I could've waited and done it tomorrow, and then just continued north from there, but while that would've saved maybe 6 miles (I mapped it out) it didn't save any elevation gain at all. I decided if I had to climb those 1000 feet, I would do it with all my gear off the bike. This proved to be a pretty good decision because shortly after I left the rain got much worse, stopping only just before I got to Coniston, and the ride back out was extremely tough so I'm really glad I didn't have 40 pounds of gear along with me for that. Oh and I got the webcam, so that's it for those...you won't be hearing about any more of them this trip.
After all that I made it back to the hostel at quarter till 10, ate dinner, prepped tomorrow's ride and called it a night. Here are some pictures from today's adventure: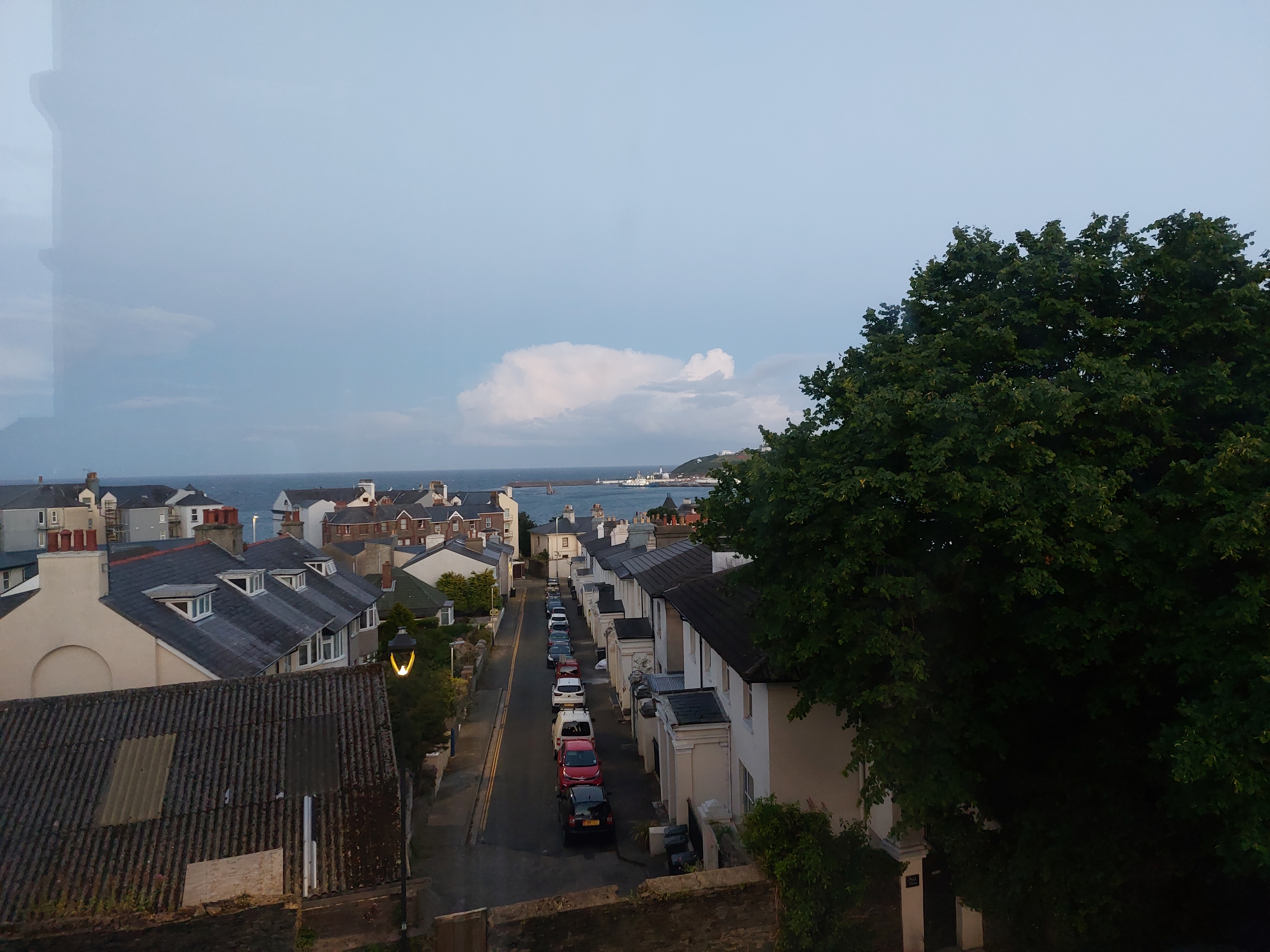 Here's one last look out my hotel window of the town of Douglas on the Isle of Man. The next morning this view looked much wetter.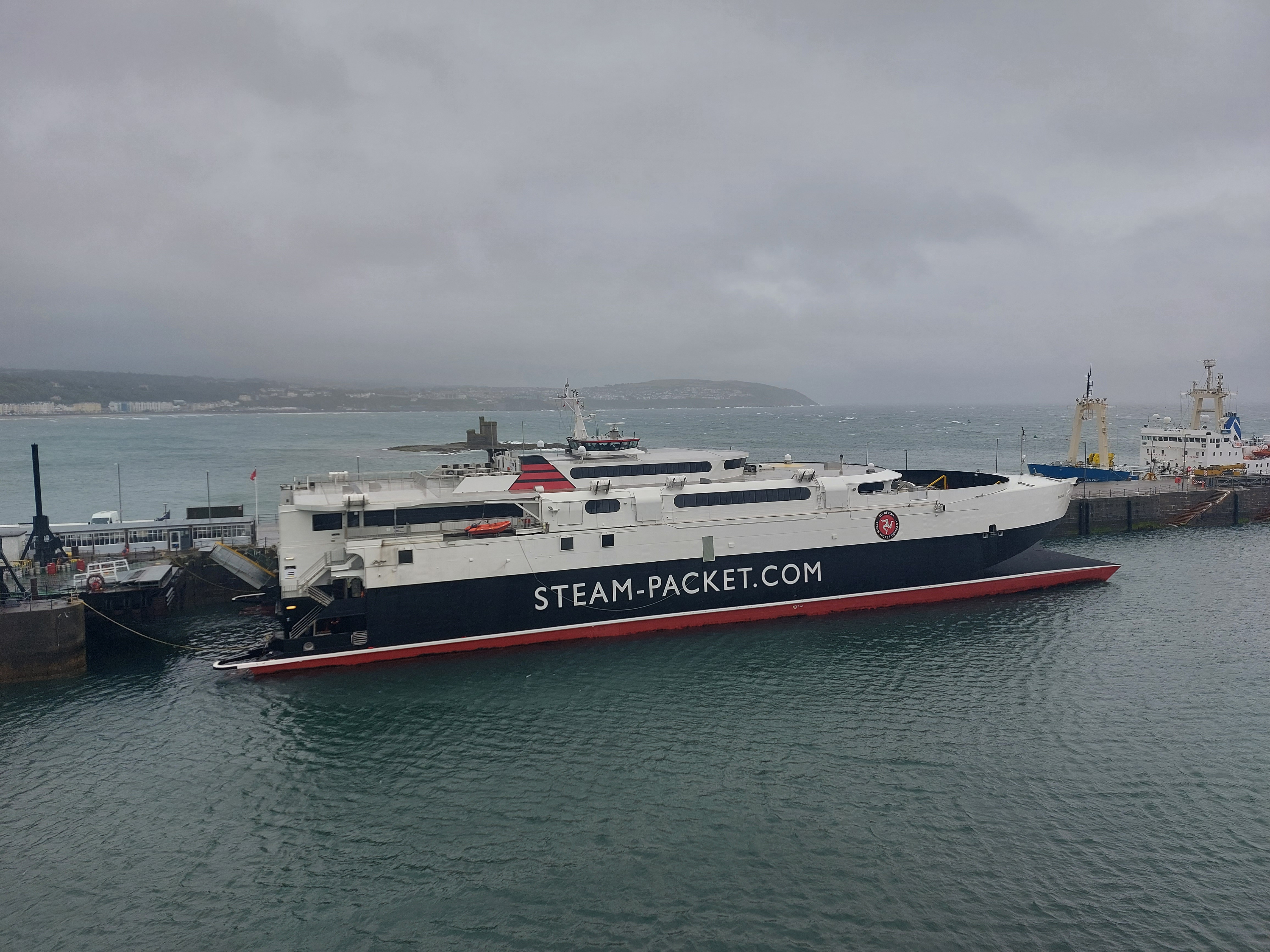 A better look at the ferry.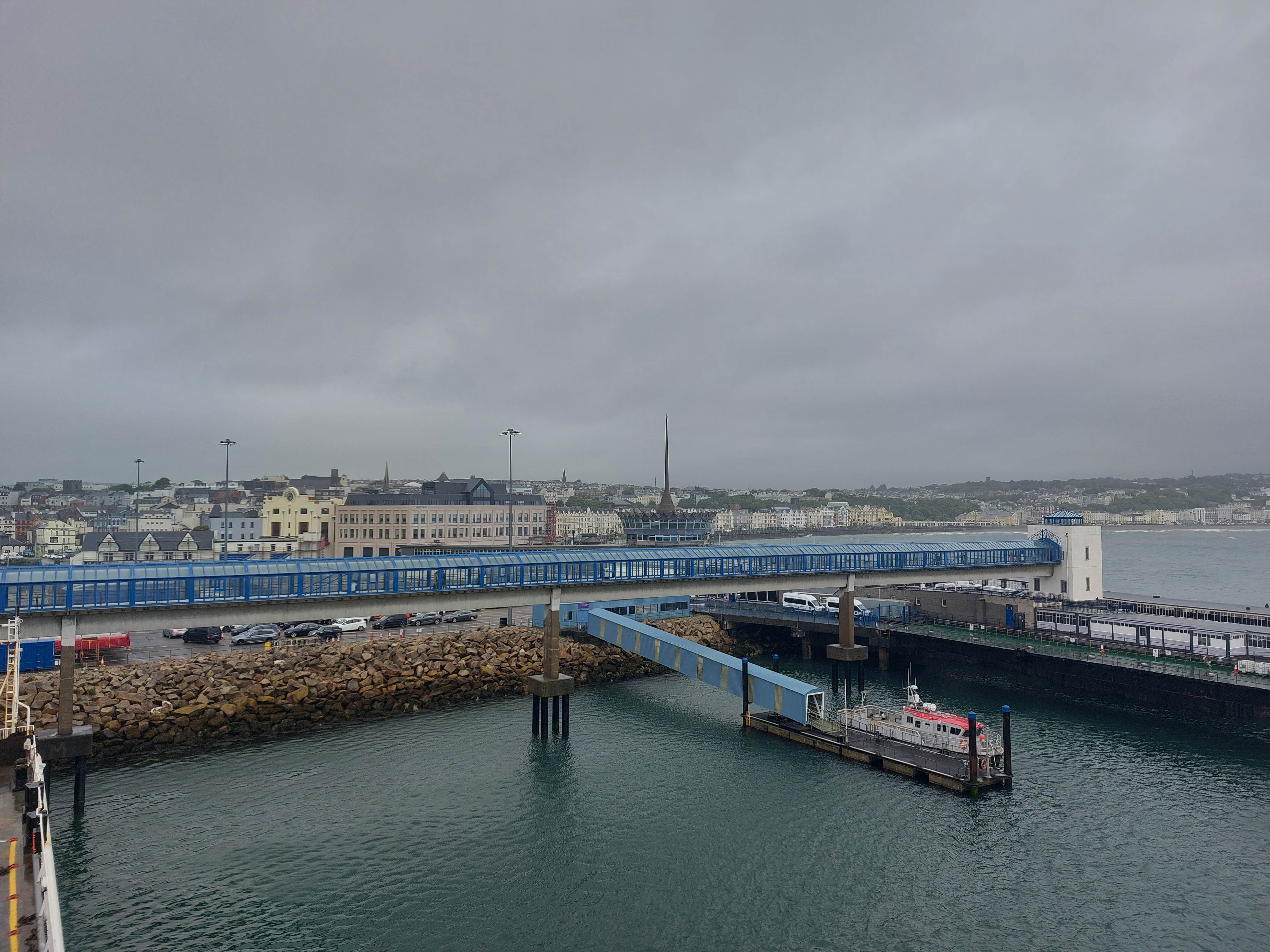 One last shot of Douglas. Notice how the ferry line has these nice covered walkways for foot travelers...passages I did not get to use since I had a bike.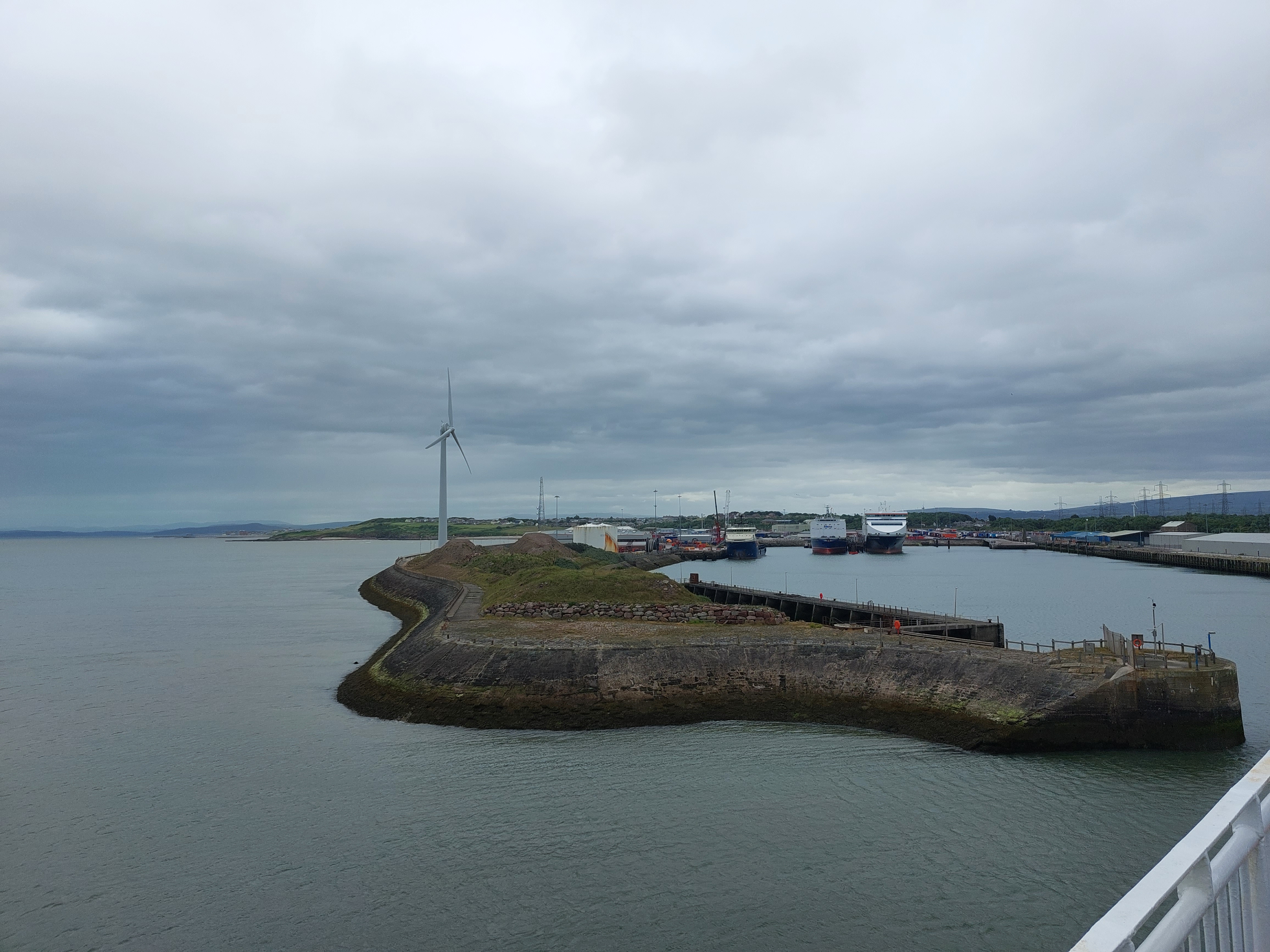 And here's the port of Heysham several dozen miles to the east. Not much to it, really...just a set of docks and some windmills.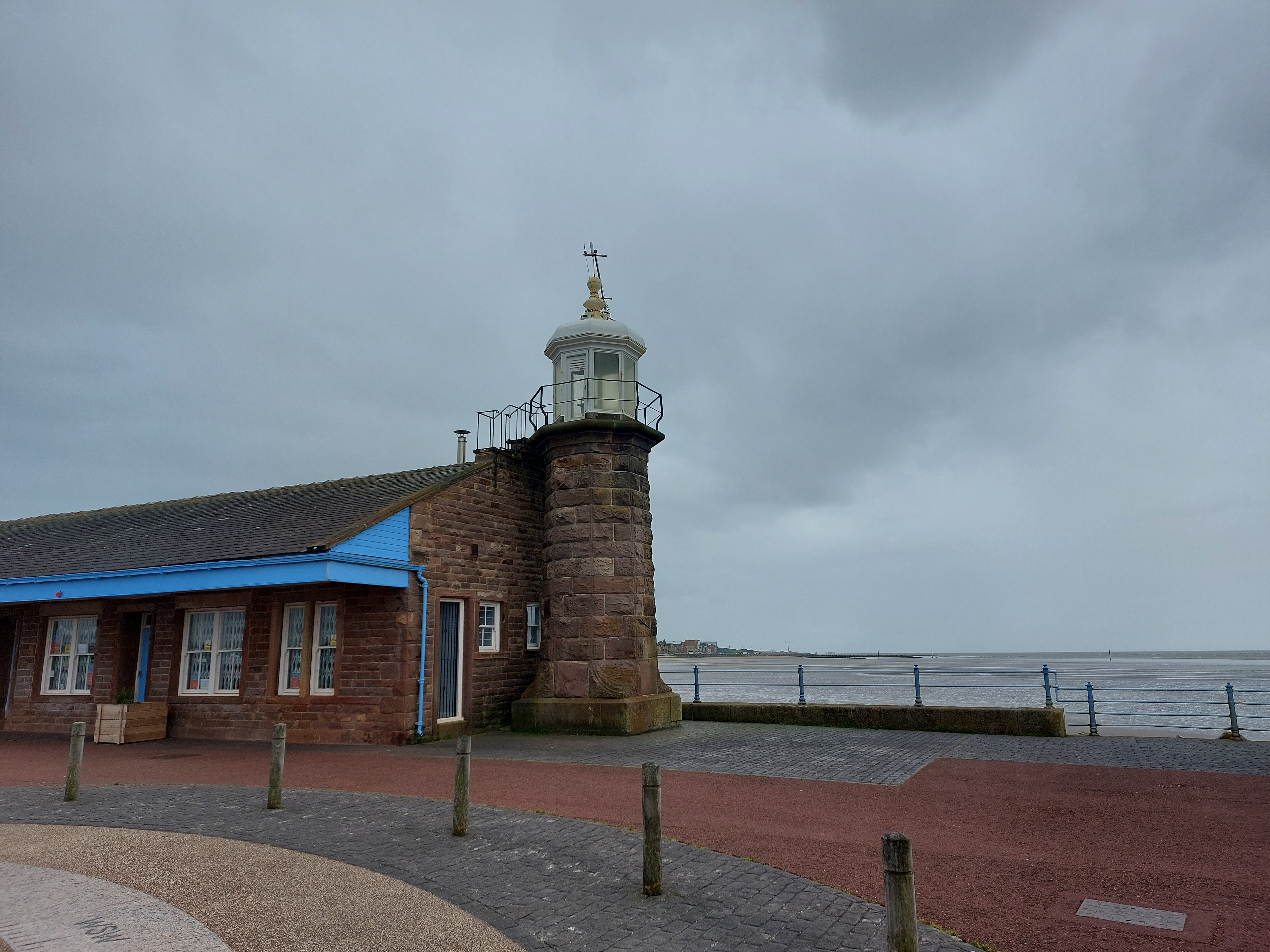 A bit further up the bay I came across this neat lighthouse at the end of a pier.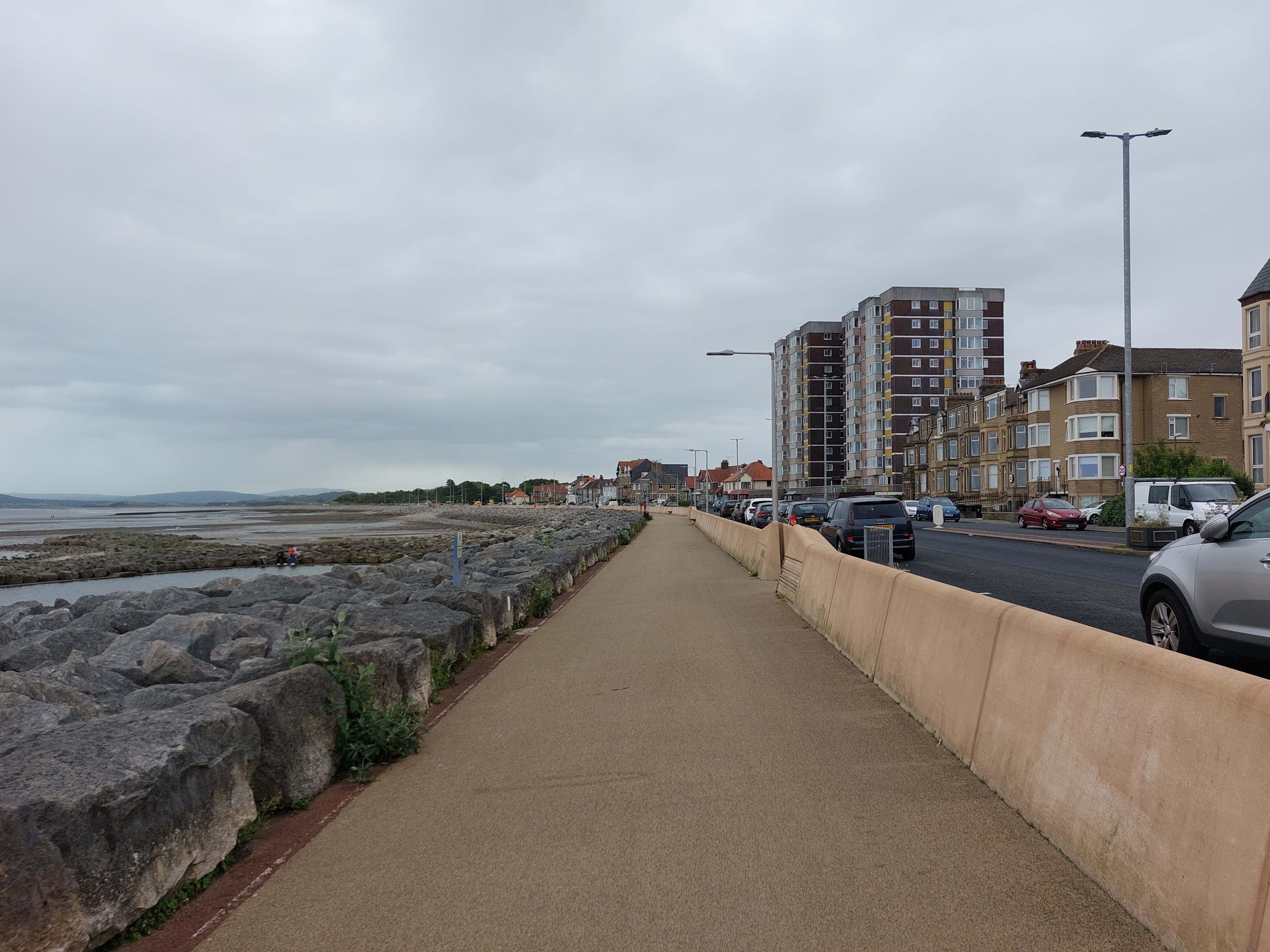 For several miles I got to ride on this waterfront bike, a nice luxury that wouldn't last too long, unfortunately.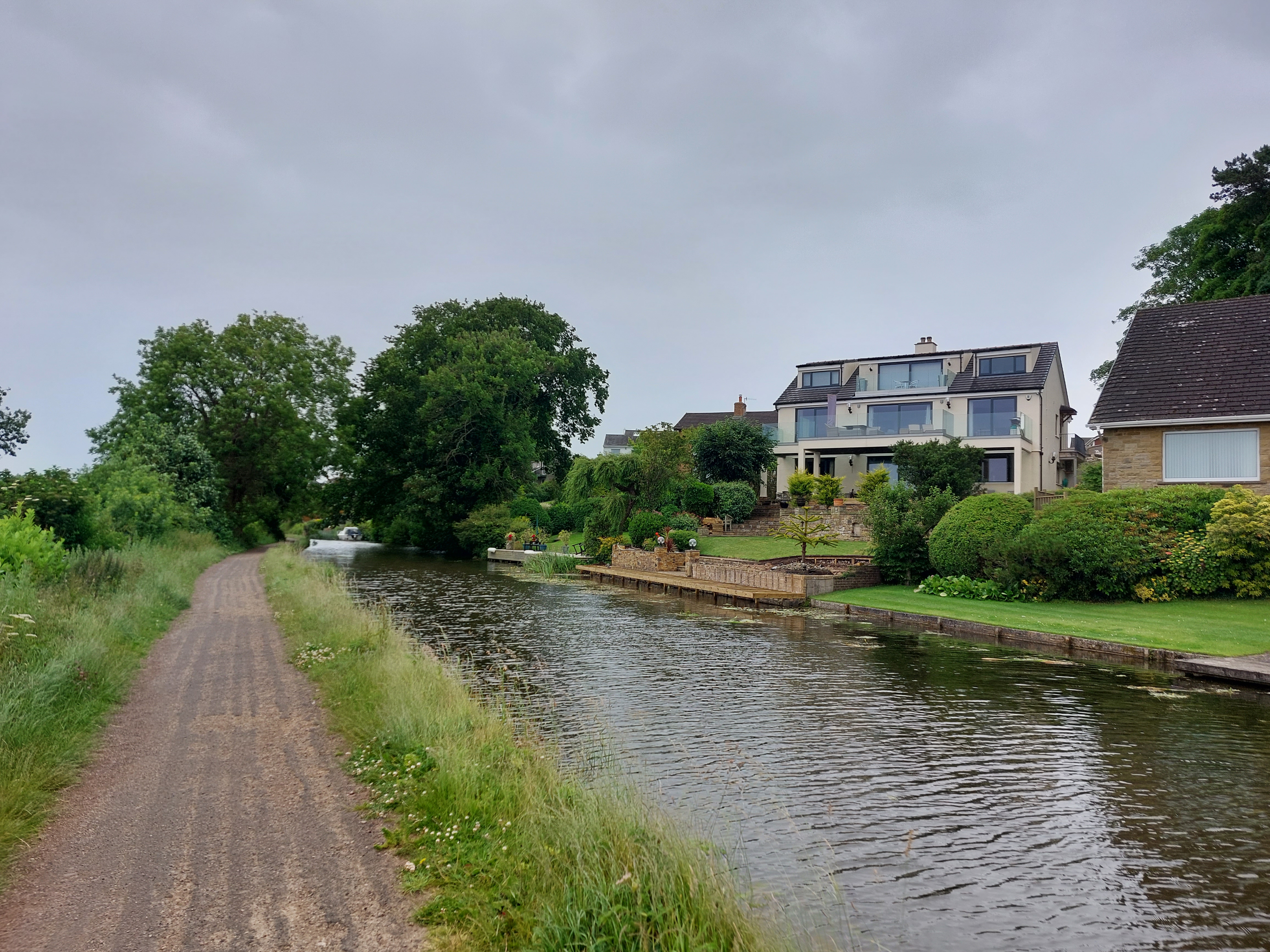 Once I moved inland I wound up on gravel paths (or badly worn pavement like this) but had some nice scenery along the canal. They love their canals here, don't they?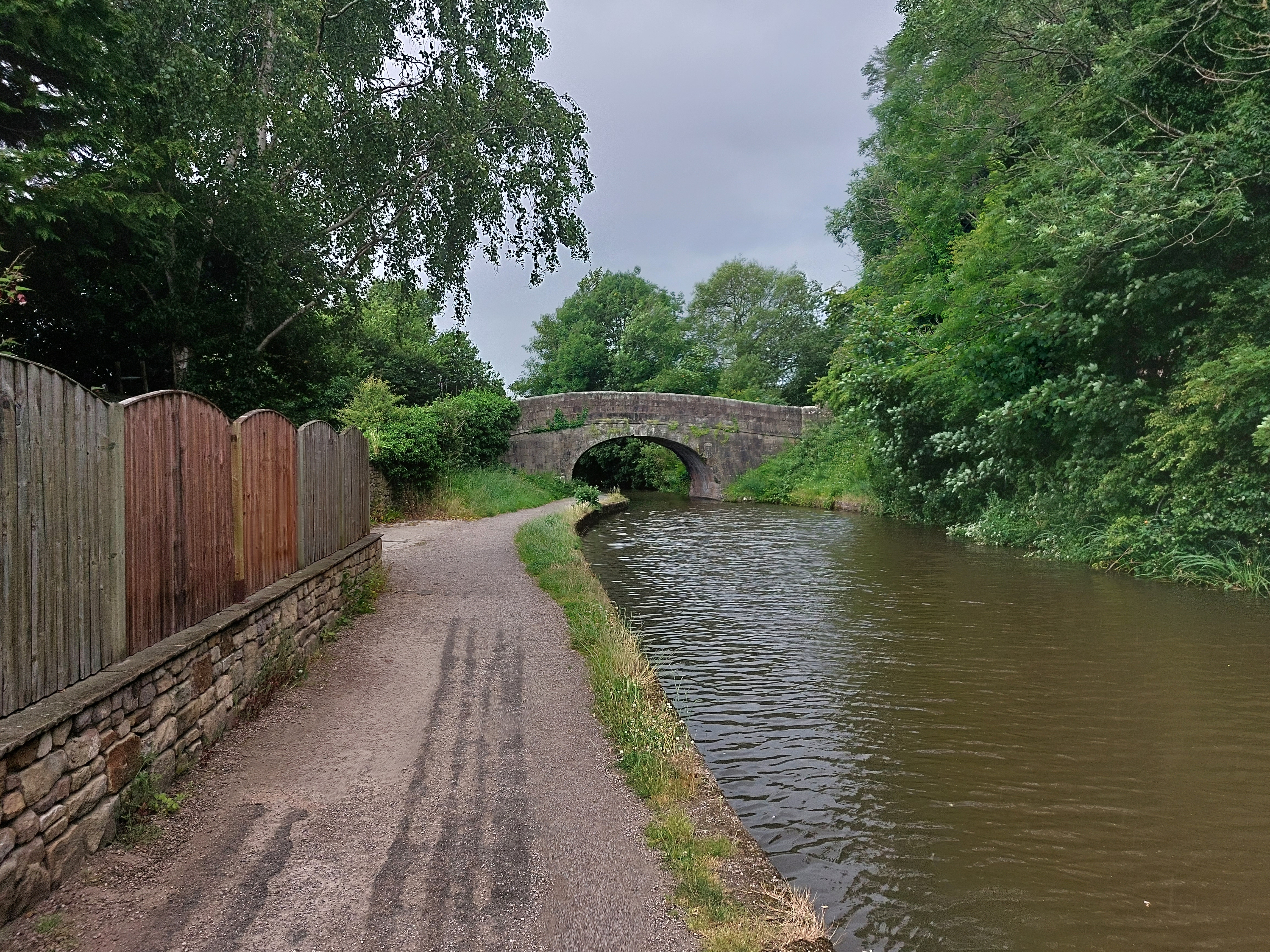 There were lots of these cool stone bridges all along the way. As usual I had to duck when going underneath.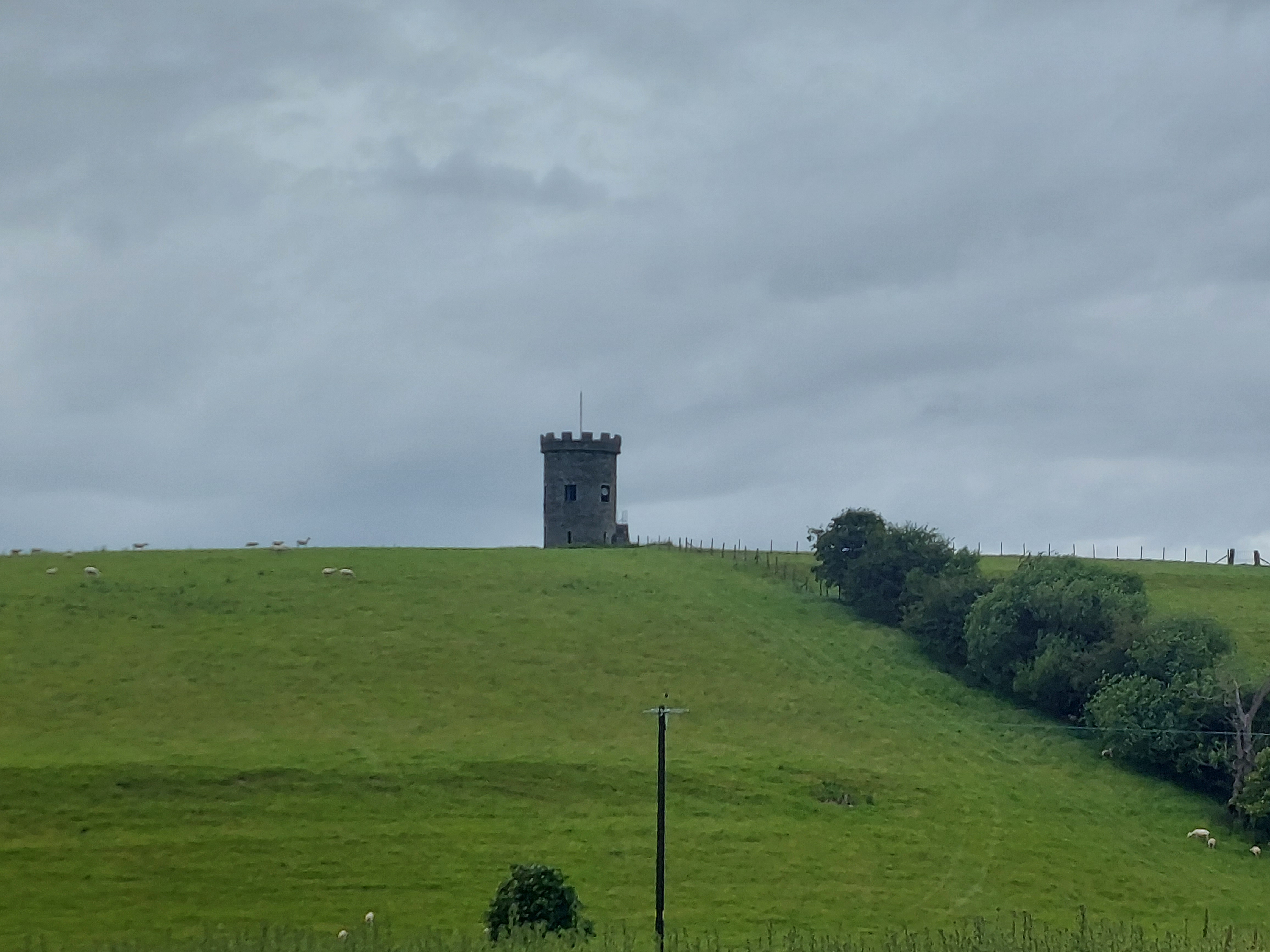 Back out in the farmland I caught sight of this lonely tower. What it's there for, I have no idea.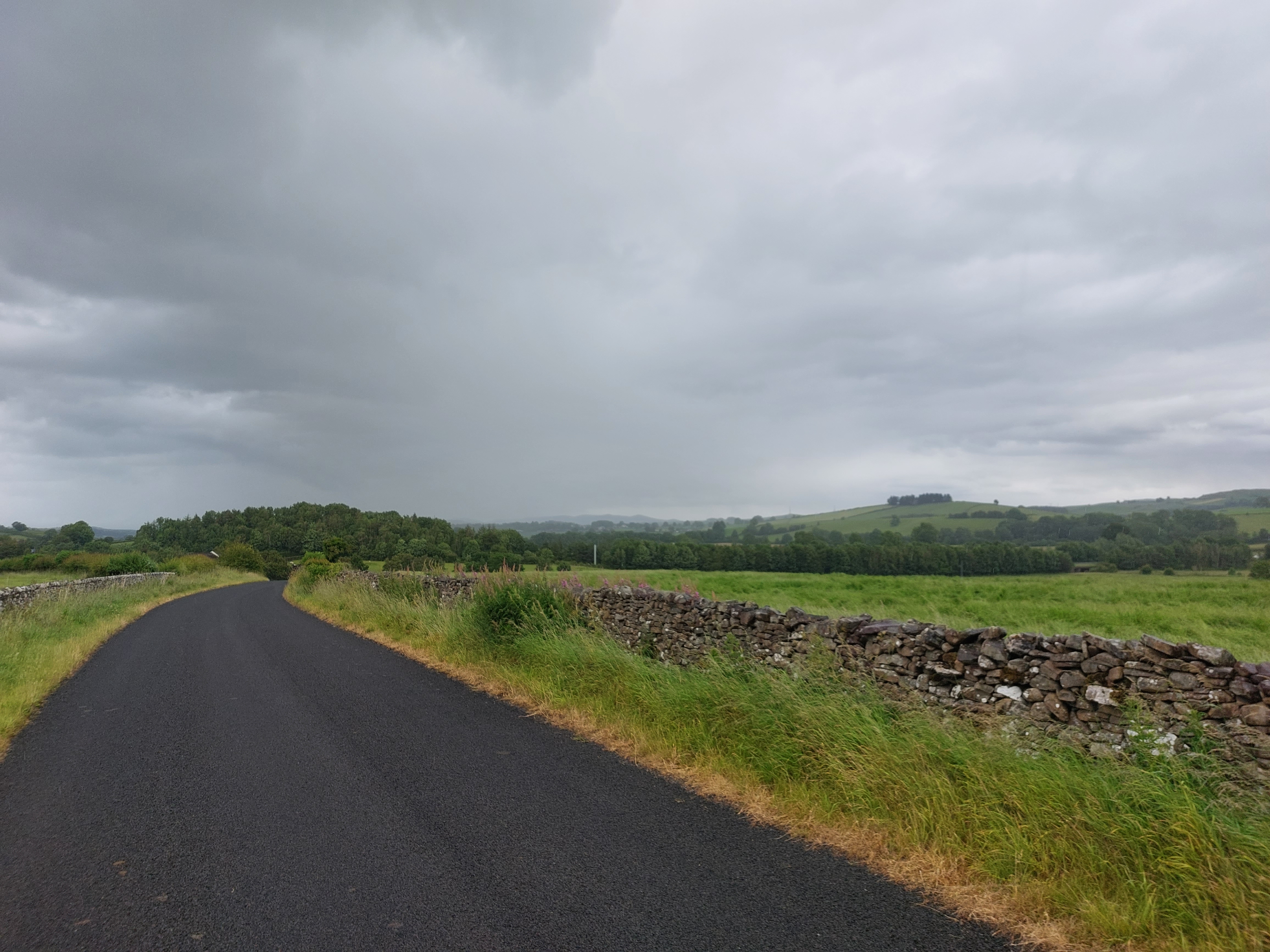 Typical view from the first half of the ride. The roads were decent, the views nice, but overcast skies and drizzle put a damper on the enjoyment.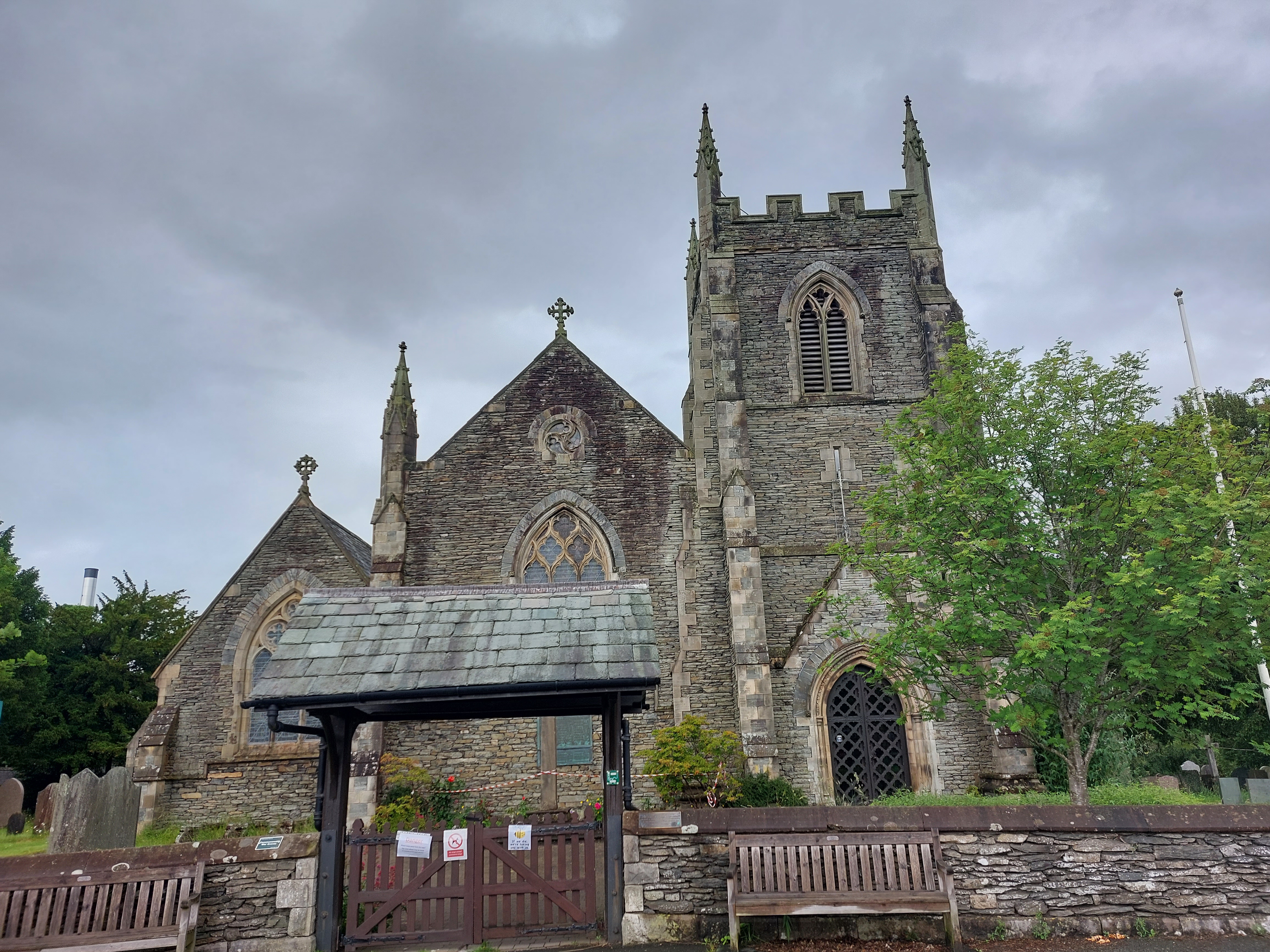 Here's the first of two nice churches I saw along the way.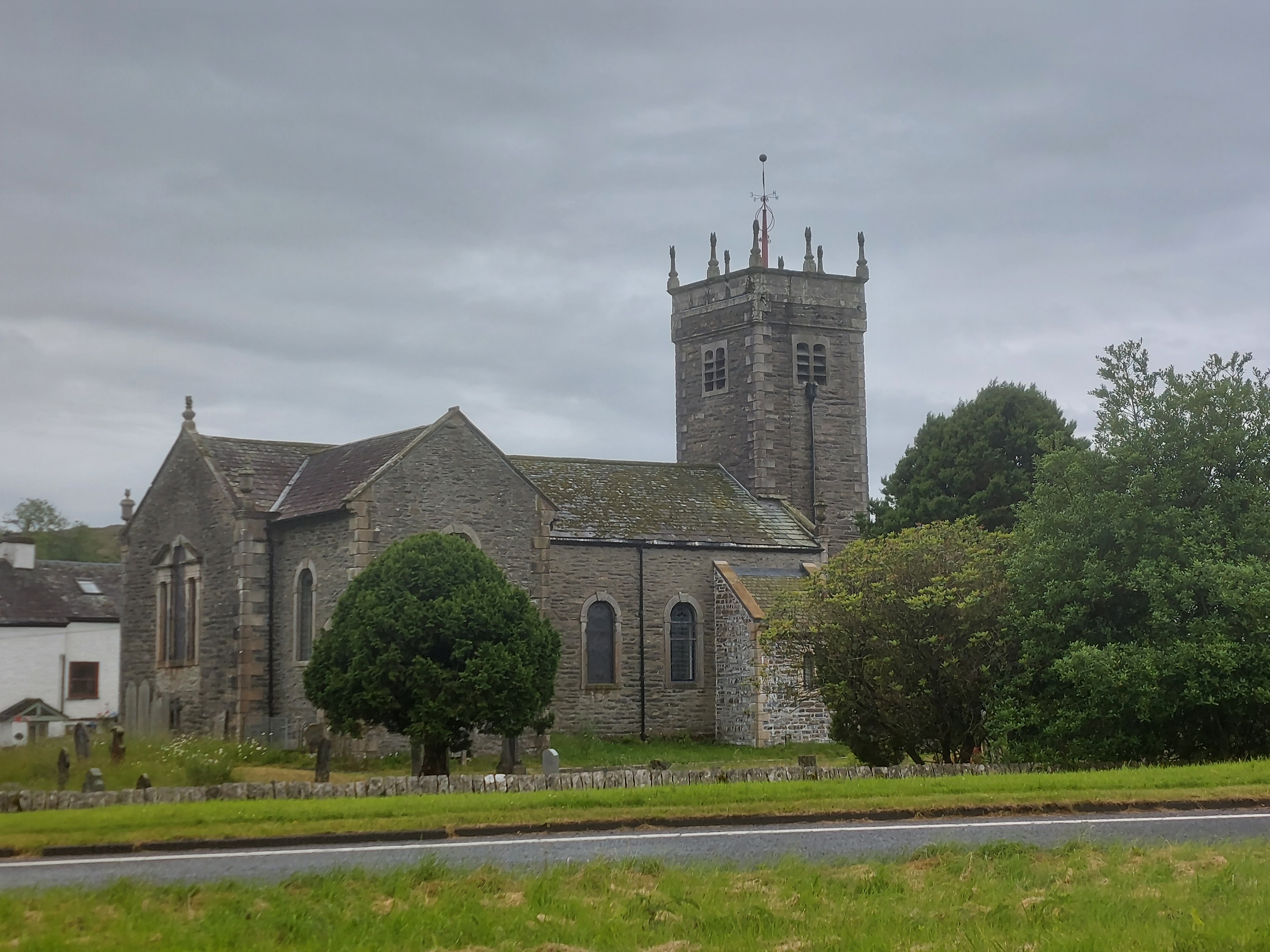 And here's the second.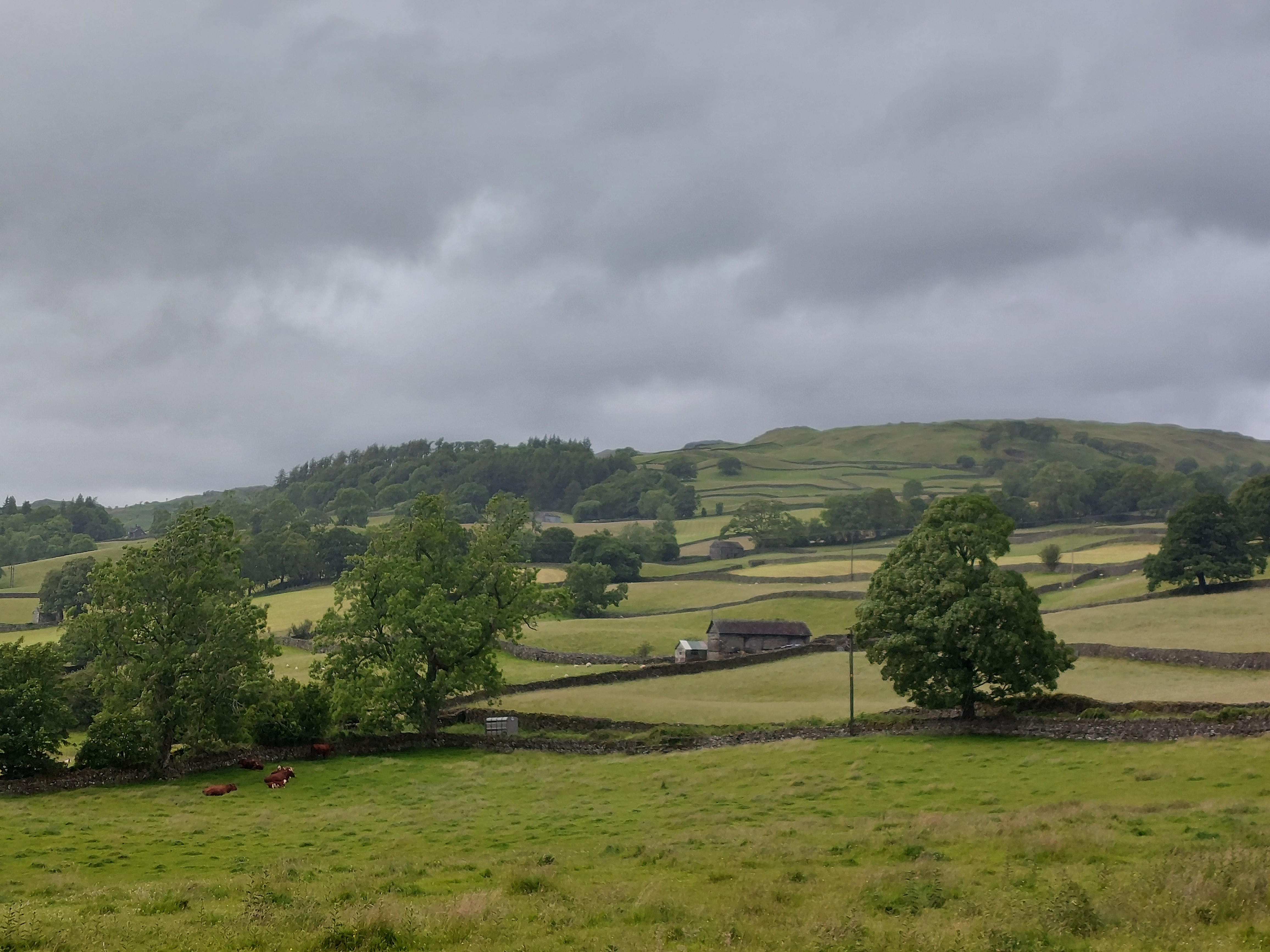 I just love the way the rolling hills are accentuated by the low stone wall dividers.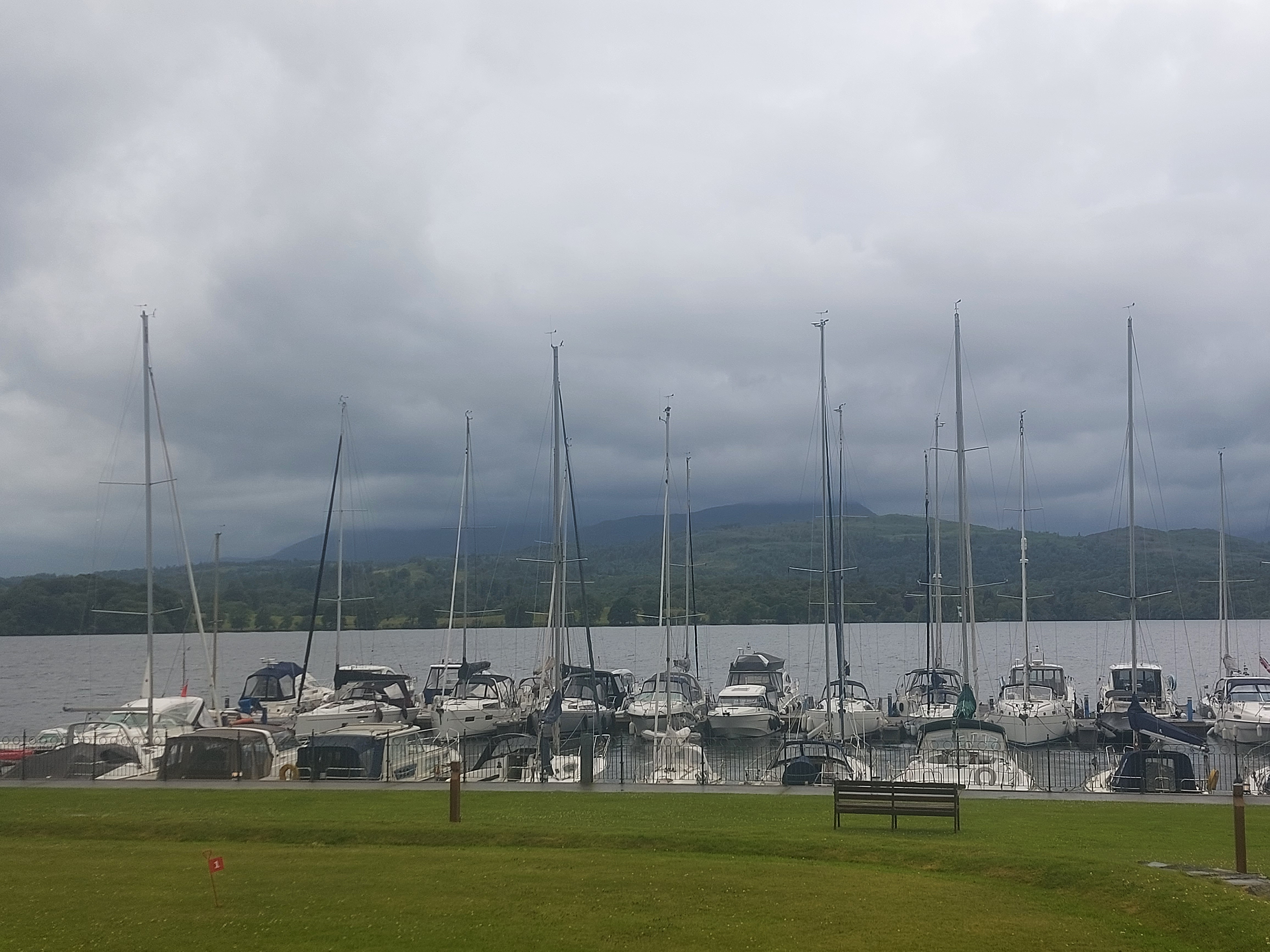 Okay at this point I've stopped off at the hostel and continued on into the Lake Country. Here's one of the lakes in question, Lake Windermere. It's quite large and has an impressive collection of boats.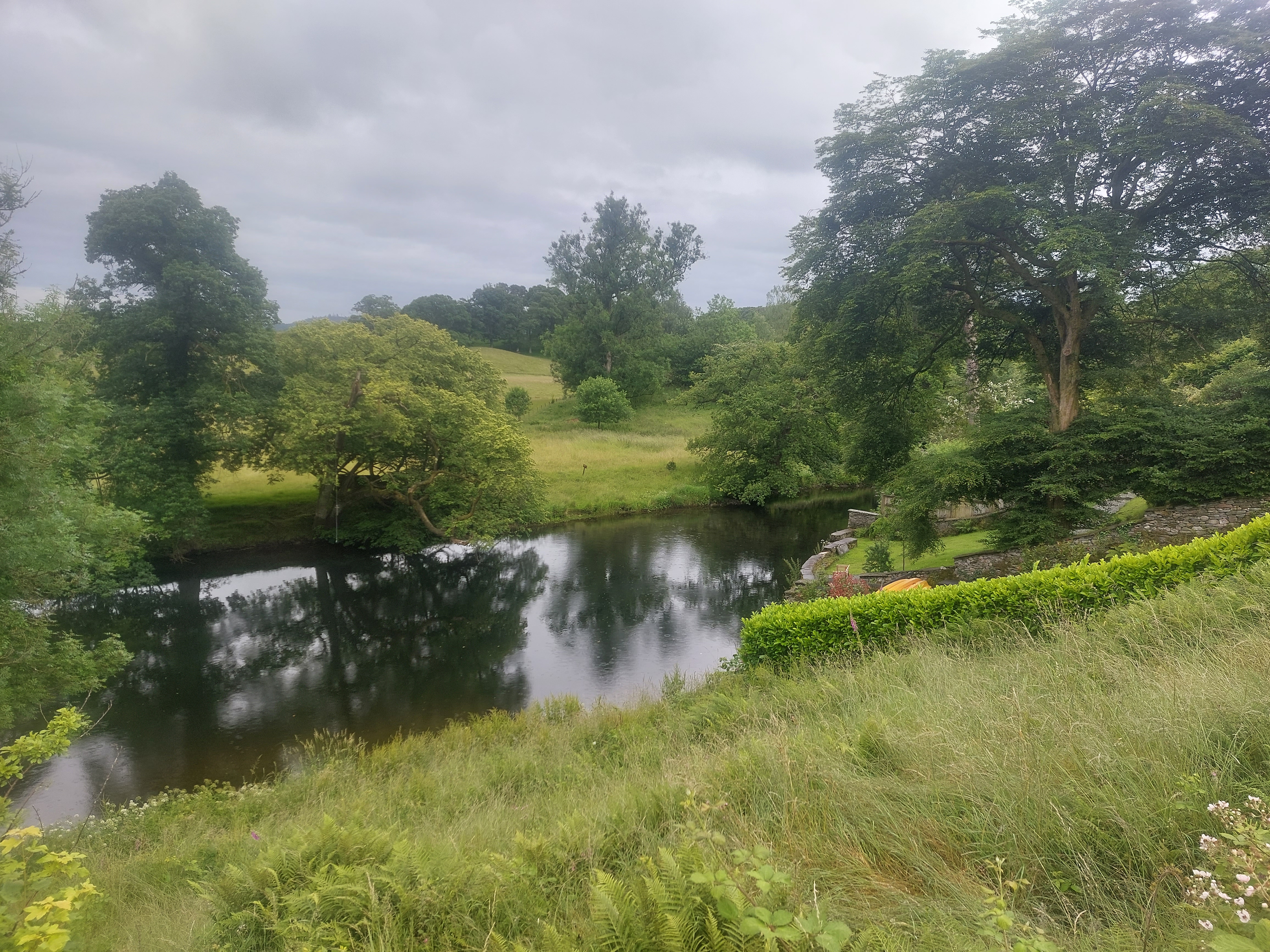 Here's a nice view I saw just before turning south toward Coniston. If you look closely you can see the rain hitting the water. After this the showers got more intense.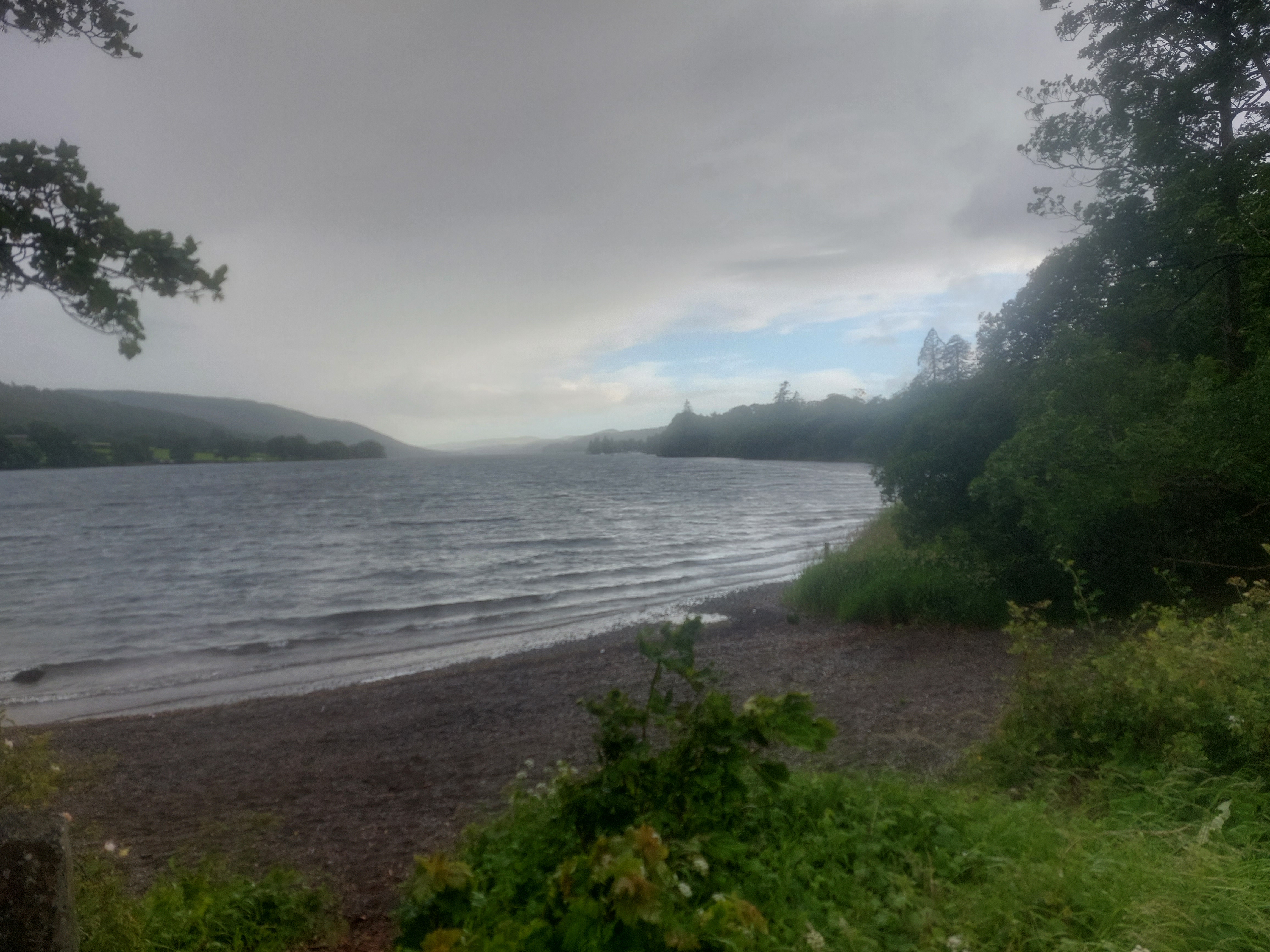 The lake near Coniston as the rain finally moves off.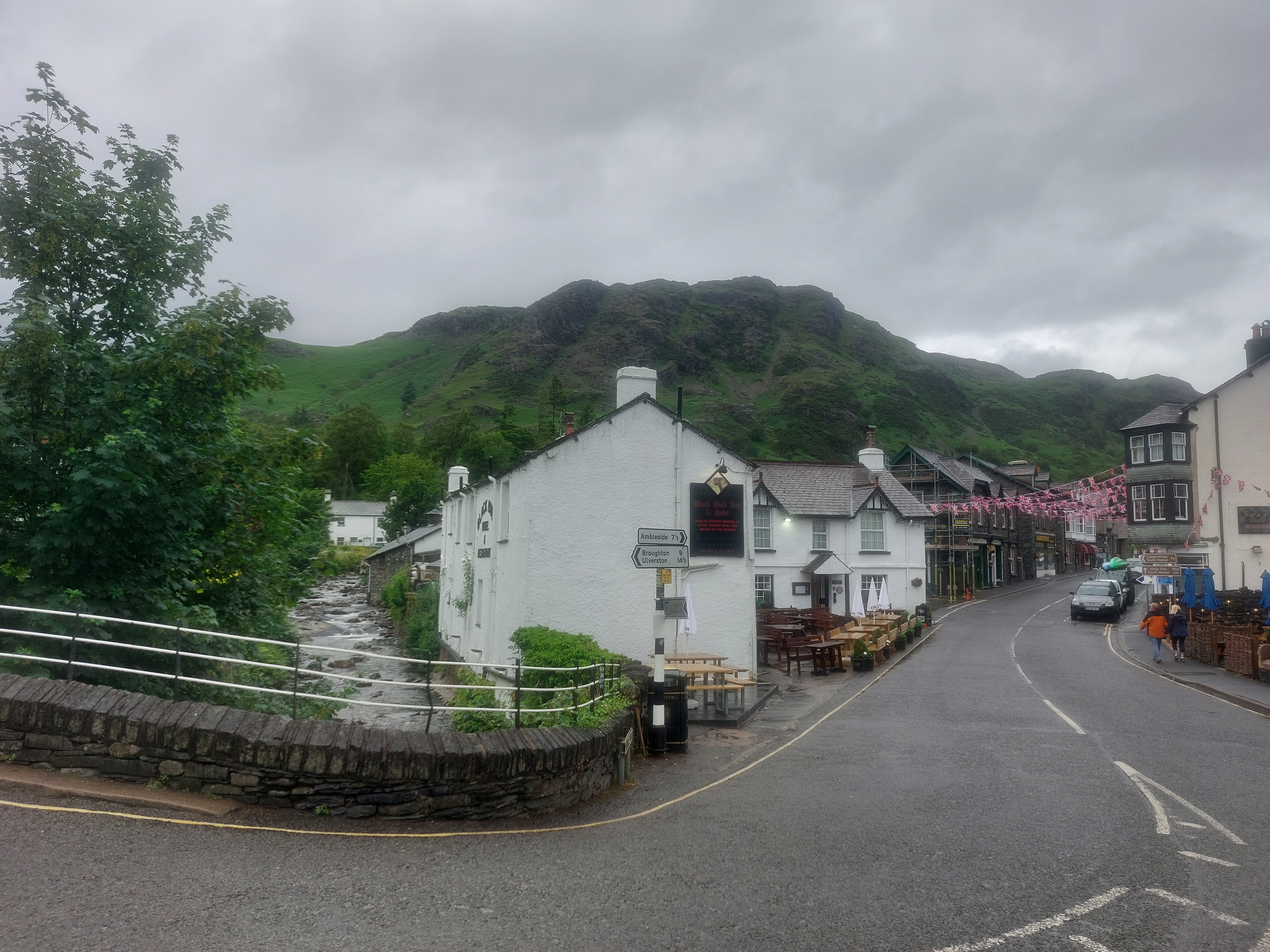 Coniston itself is a nice pretty little town.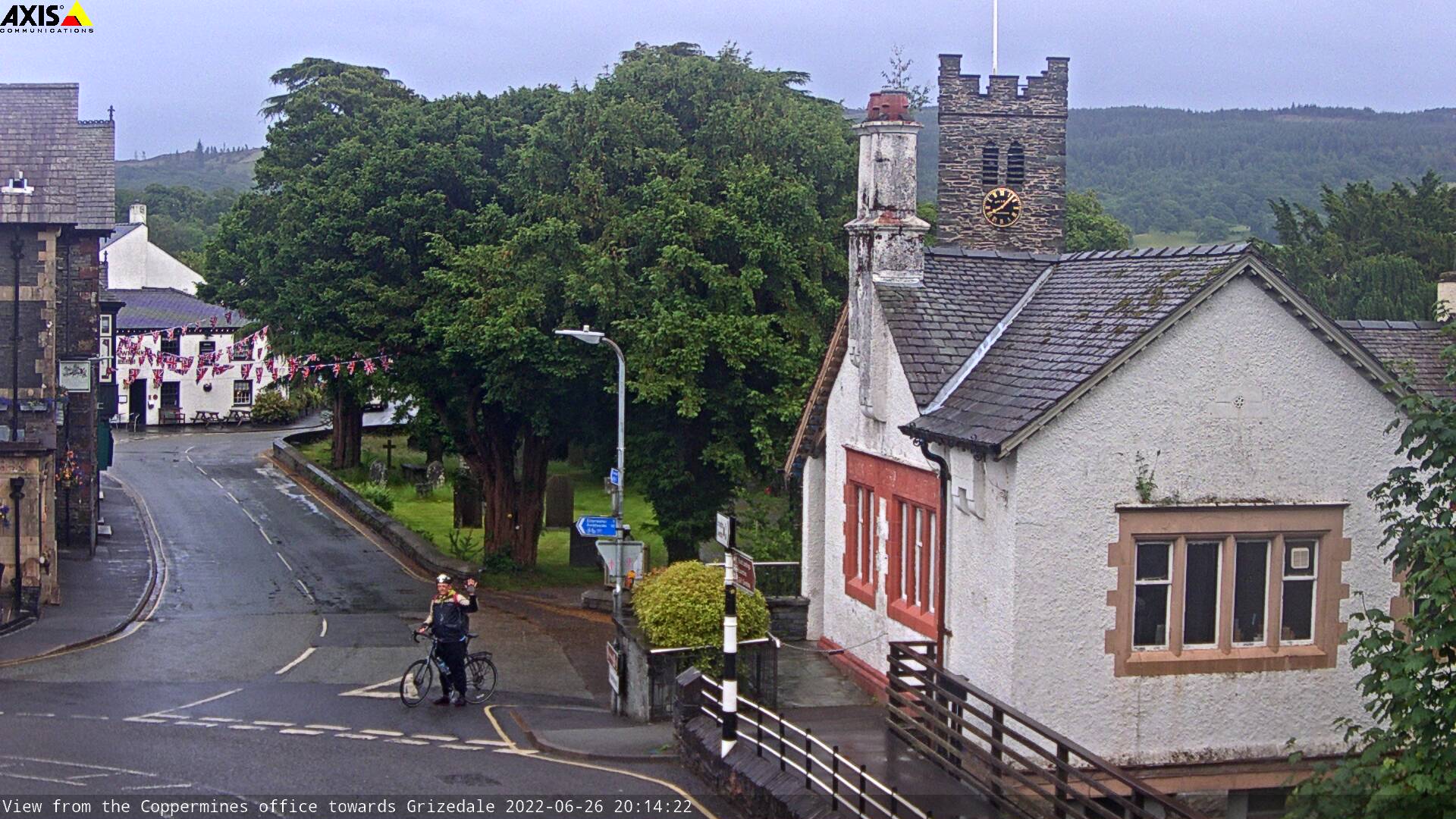 Here I am on the webcam I rode so far to get. Last one of these this trip, I promise!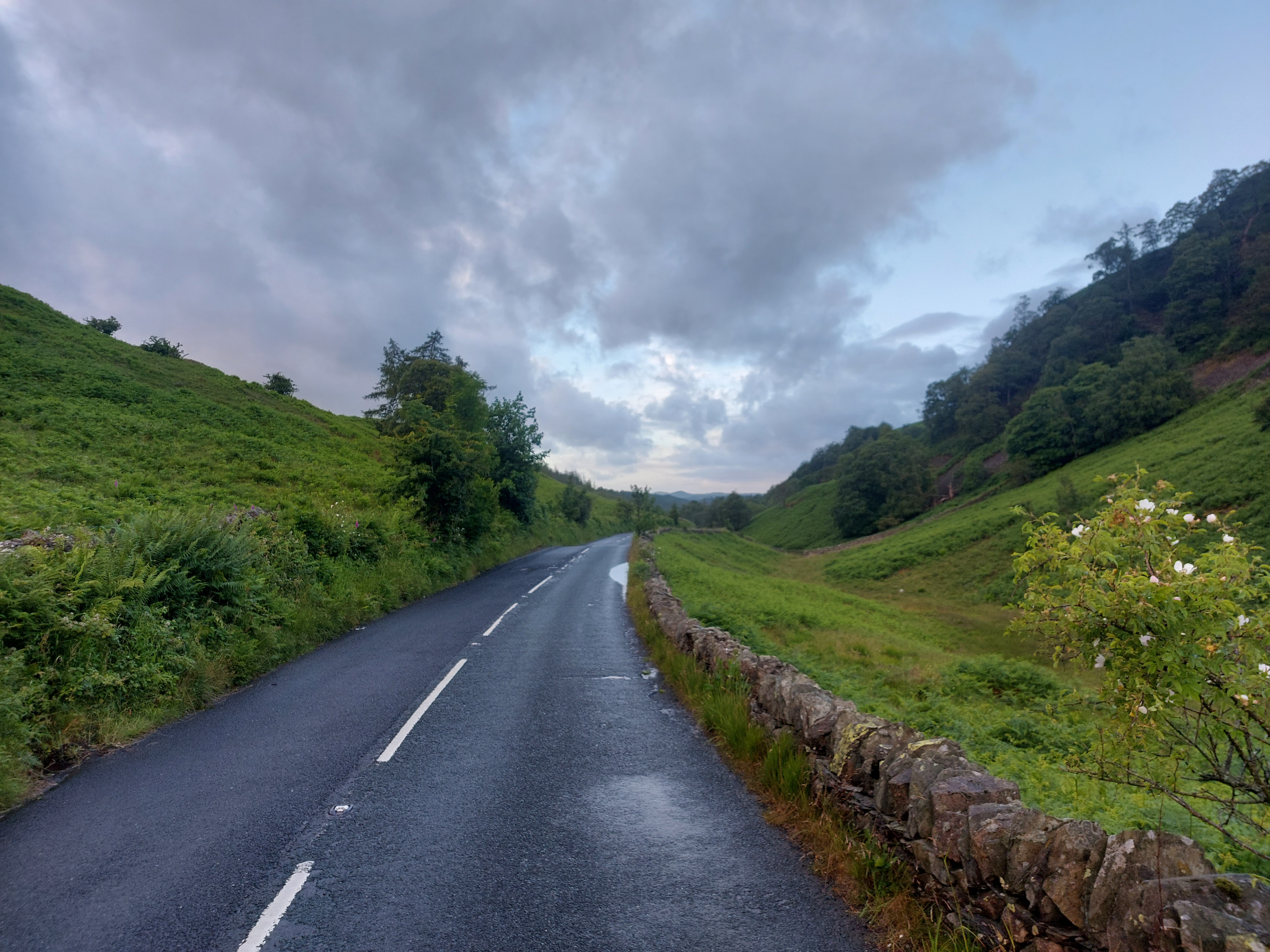 This was part of the excessively long climb back up toward my lodging for the night. The road's still wet, but at least the rain has passed.

And one final view of the valley I just climbed out of. The scenery is amazing around here...I just have to torture myself to see it! Anyway, tomorrow promises to be another hill-climbing slog with rain and cold weather to boot. Am I having fun yet....?