Day 20 – June 29, 2022
Carstairs to Haddington
Miles: 66
Terrain: Difficult climbs early and late, decent otherwise
Weather: Cool, partly cloudy, moderate tailwinds/crosswinds
Yet another day where I didn't want to leave the hotel, but this time I actually had a plan. The weather forecast last night was for light rain most of the day in Carstairs, but not as much in Edinburgh, so I thought when I got up that I should wait until later to leave to minimize the rain risk. Also, as though in agreement with this plan, two other things happened: the hotel had not yet done my laundry as promised, and my phone mysteriously didn't charge the night before despite being plugged in properly. Both would take an hour and a half or so to rectify and this hotel fed me breakfast anyway so I was in no particular rush. In fact I wound up going back to bed for an hour after eating. (Like I said, it can be hard to get going in the morning.)
Once I got up (again) I checked the weather and it had modified somewhat into the rain basically tapering off after 11am so I just packed up and waited until then to depart, and to my great pleasure the rain did indeed stay away the entire rest of the day. I even had a tailwind (not nearly as nice as yesterday's but still there) propelling me north, but this became a crosswind once I got halfway through the day. You can see from the map that I had some hills to endure early on and a few on the descent toward the coast, but after that the only really bad one came near the end and it was pretty tough. After a full day of riding the last thing I want to see is a couple of miles of steep climbing, especially after pedaling for a couple of hours in the flats (where it's not terribly difficult, just constant pedaling).
Of course the target of the day was Edinburgh, the northernmost city I'll visit on this trip, but you might take note of that slight diversion there west of town where I headed over the Forth Road Bridge. Naturally this had to do with that silly geocaching game I keep talking about, since one of the regions of the UK I need to visit for that is "Northern Scotland" and to get there I had to cross that body of water there called the "Firth of Forth." There are actually three bridges, one for trains, and the other a new one called the Queensferry Crossing. However, Google Maps routed me onto Forth Road so that's where I went. Turns out that bridge has really nice pedestrian and bicycle lanes on the sides, but is only barely in use...only buses and motorcycles go across, plus the occasional car with some special permit that allows it. So the whole crossing was quiet and honestly kind of creepy, like the "Walking Dead" or something...a whole two-mile long bridge with nobody on it but me (it seemed like). I did see one or two other people but they were rare, and a bus went by once or twice, but otherwise it was empty. Quite the surreal experience, actually, especially having gone across super busy spans like the Golden Gate, or the George Washington bridge in NYC.
After that I meandered along the northern suburbs of Edinburgh and basically skipped the city itself on my way eastward to my hotel. At the end of this travel day I had 7 days remaining on this tour (I must be back in London or very close to it by the night of the 6th of July because I have to claim my stuff from storage on the 7th and put the bike together that night for my flight home on the 8th). At 60 miles a day that's 420 miles to go and what do you know, that's almost exactly how many miles it is by bike to London from here! What an amazing coincidence. Anyway, that just means I can't take any more days off or slack on the mileage, or else I'll be stuck having to take a train in order to make it there with enough time to meet my departure schedule. (Or worst case scenario if I can't get on the train, I just adjust my return time, although that will be costly.) Let's hope I don't have to do any of that and just make it back when I need to. The amount of hills left on the tour suggest I can do it, but it's all up to the wind, especially once I get to the flat terrain in a few days.
Anyway, let's worry about that later, on to today's pictures!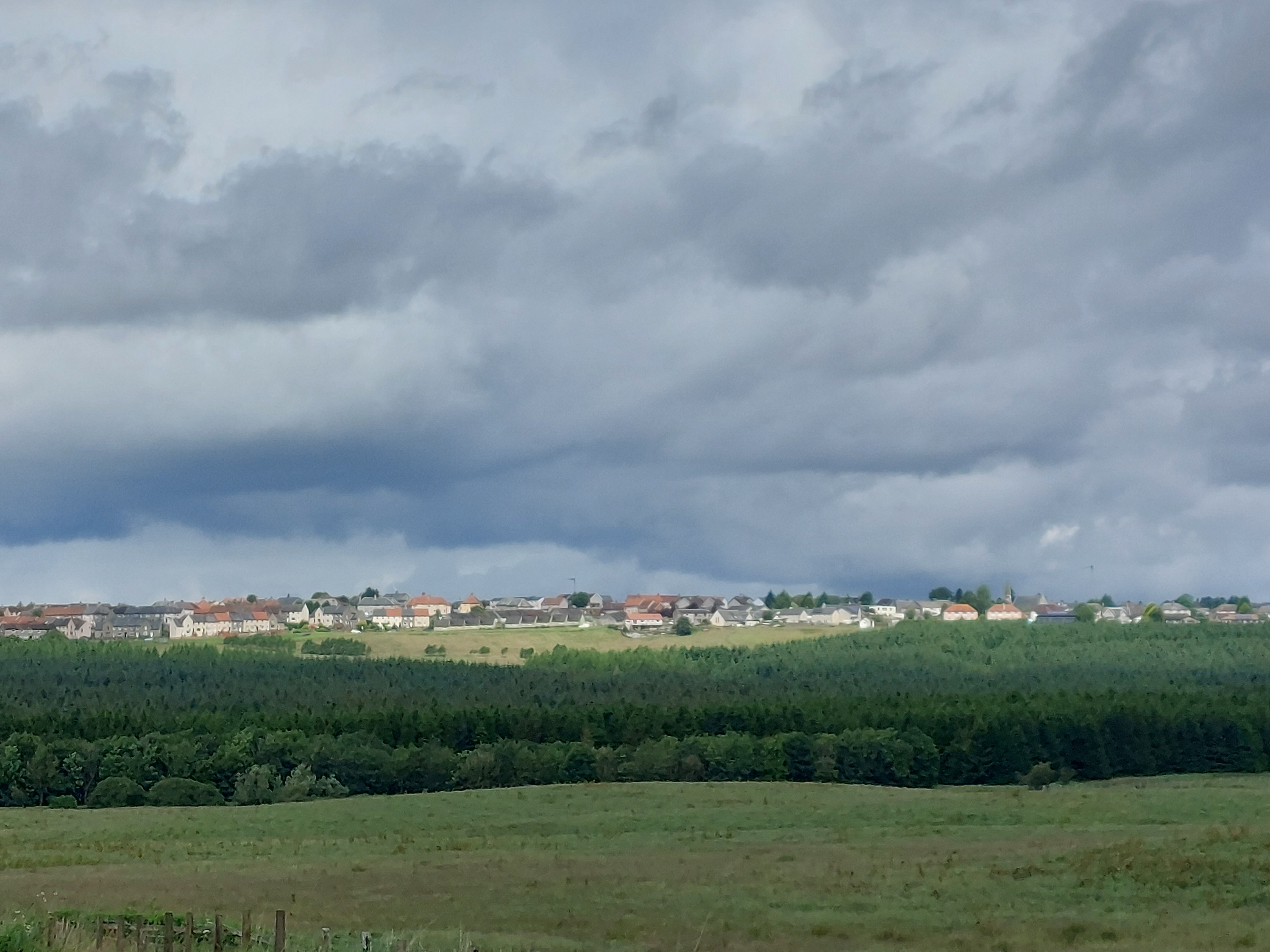 The morning started out overcast, but at least there's no wind. Here's a village up ahead atop one of the first hills I had to climb.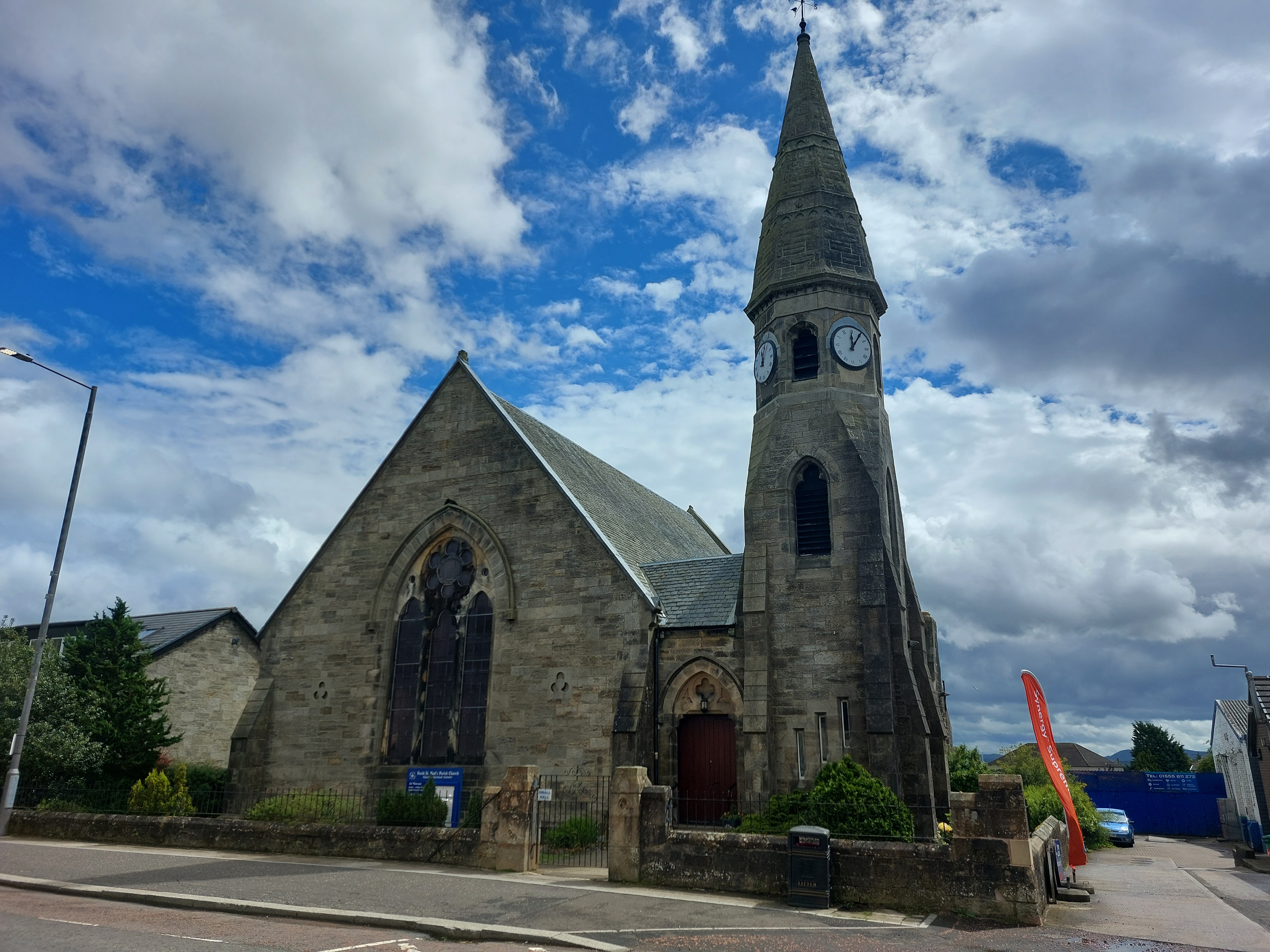 Today's church picture is an early entry, seen in that village I just posted above.

They sure do have a lot of windmills here. This is one of those photos that just doesn't do justice to the view, which was quite breathaking up at the top of the morning's hill climbing. After this I got 4 straight miles of descent, which would've been great if the road hadn't been so rough.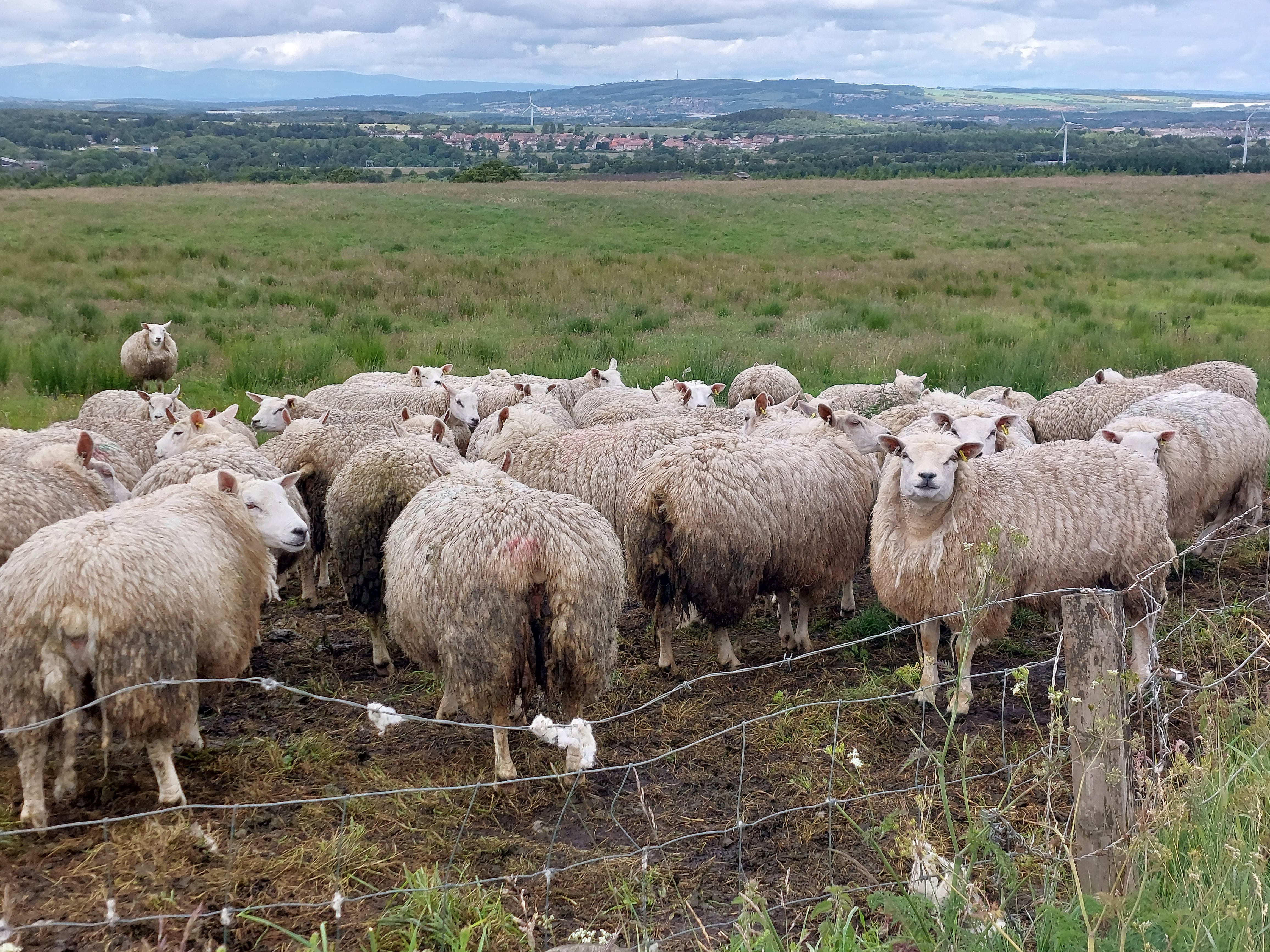 The local residents are not impressed by my cycling prowess.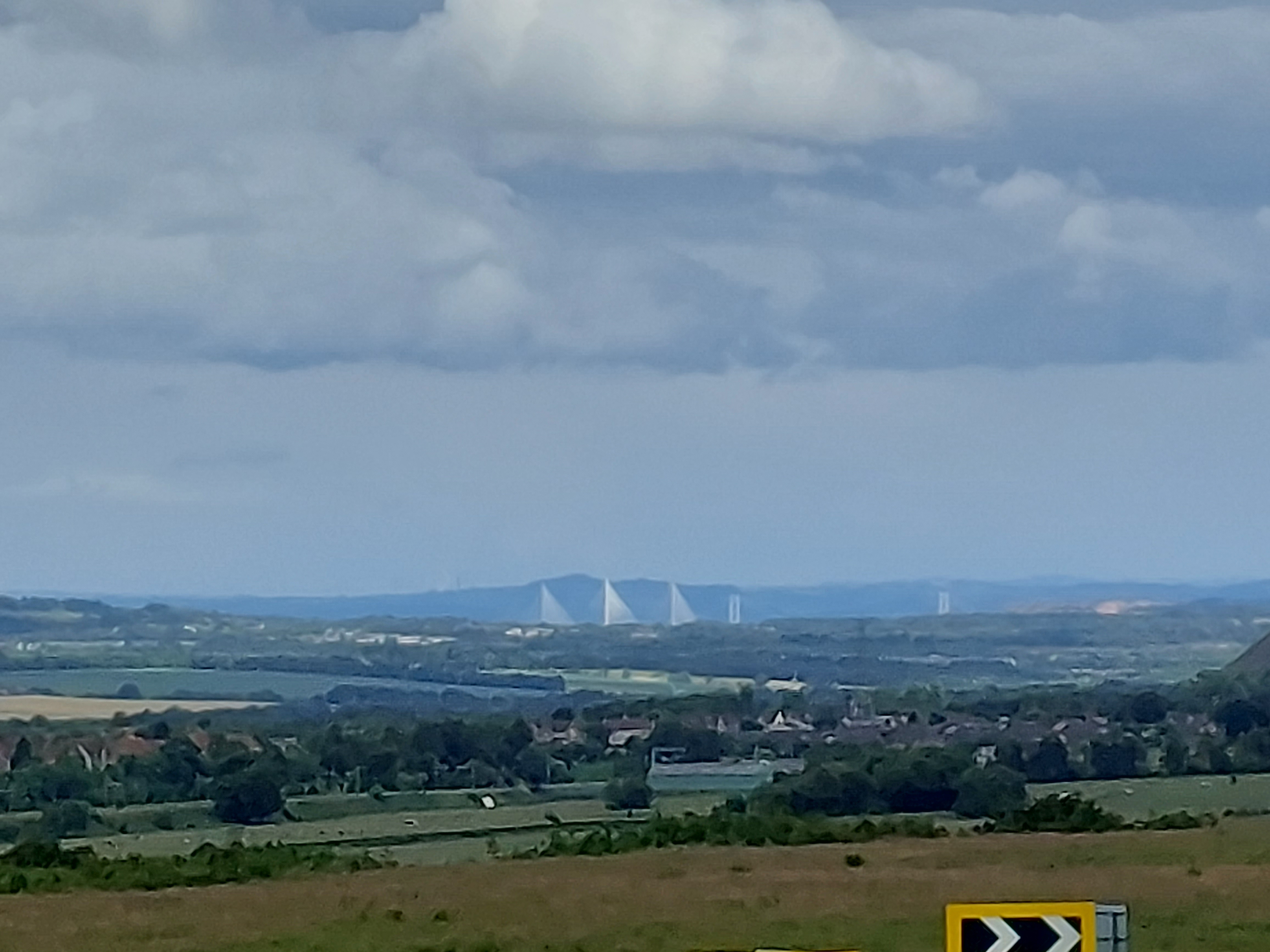 My first look at Edinburgh in the distance. Well, to be fair, those are just the tops of that Queensferry Bridge I mentioned, but still...

More nice scenery as I rolled along in the early afternoon.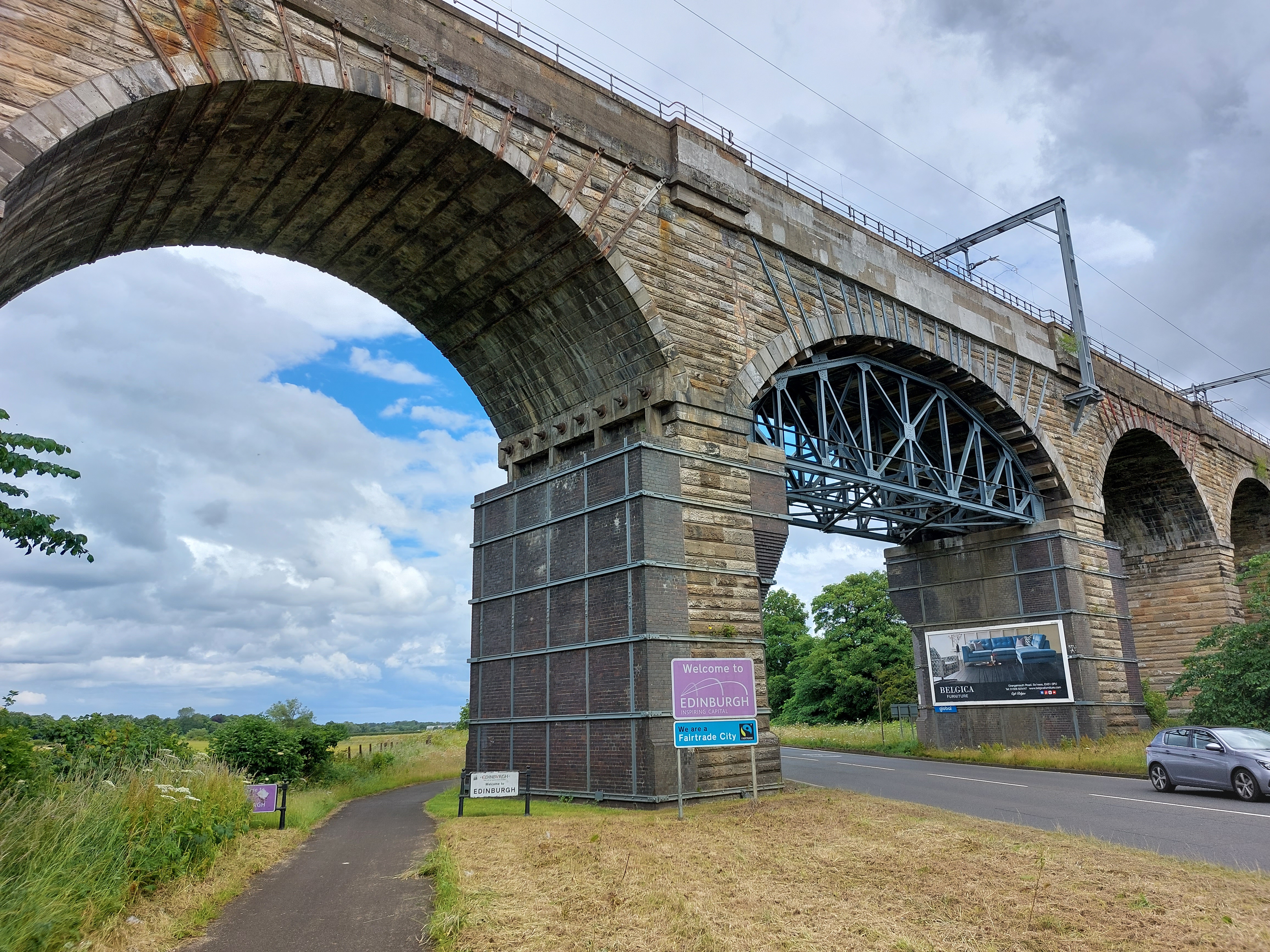 At last I reached Edinburgh, northernmost city on this trip.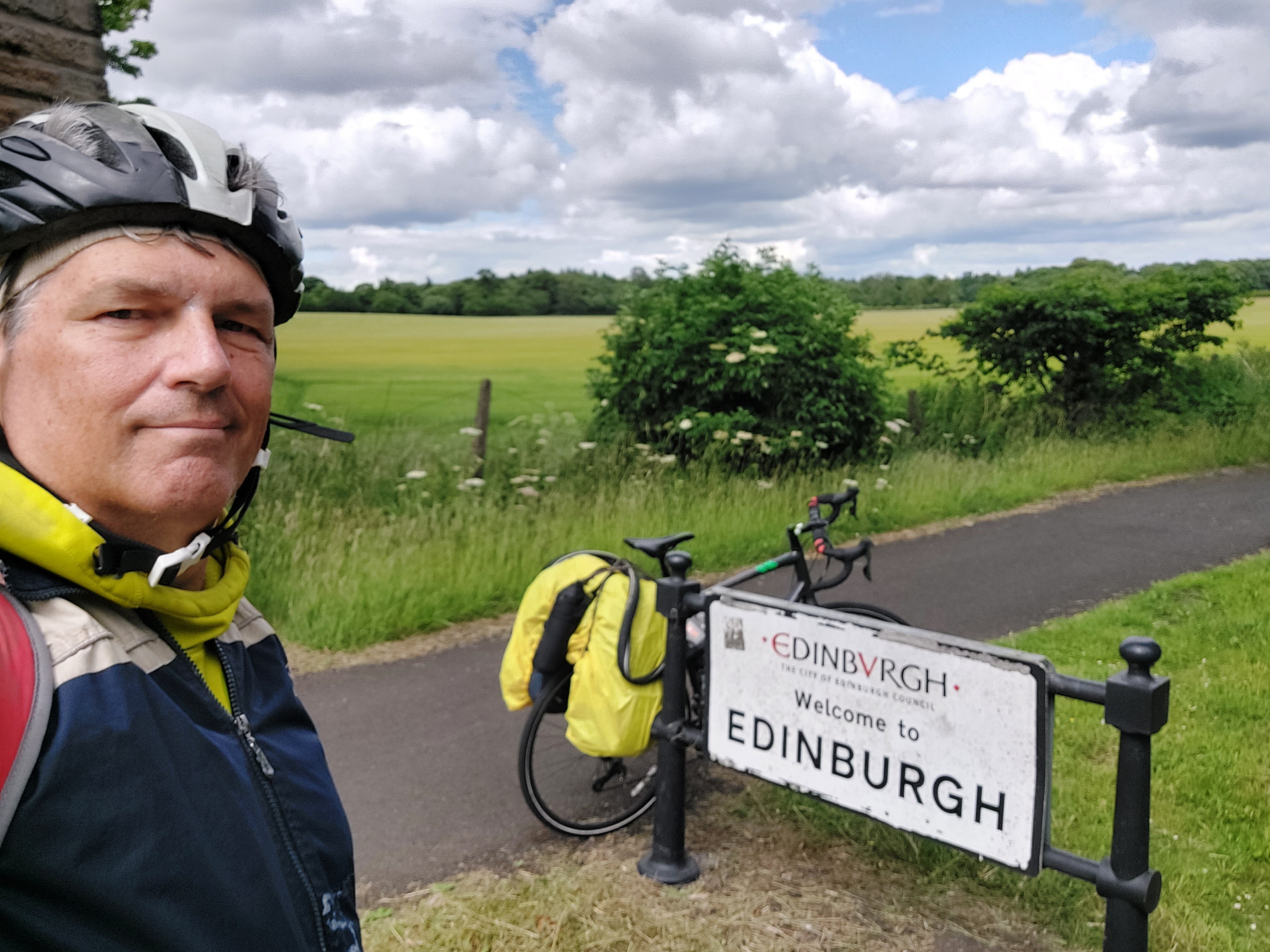 Yep, I was really here!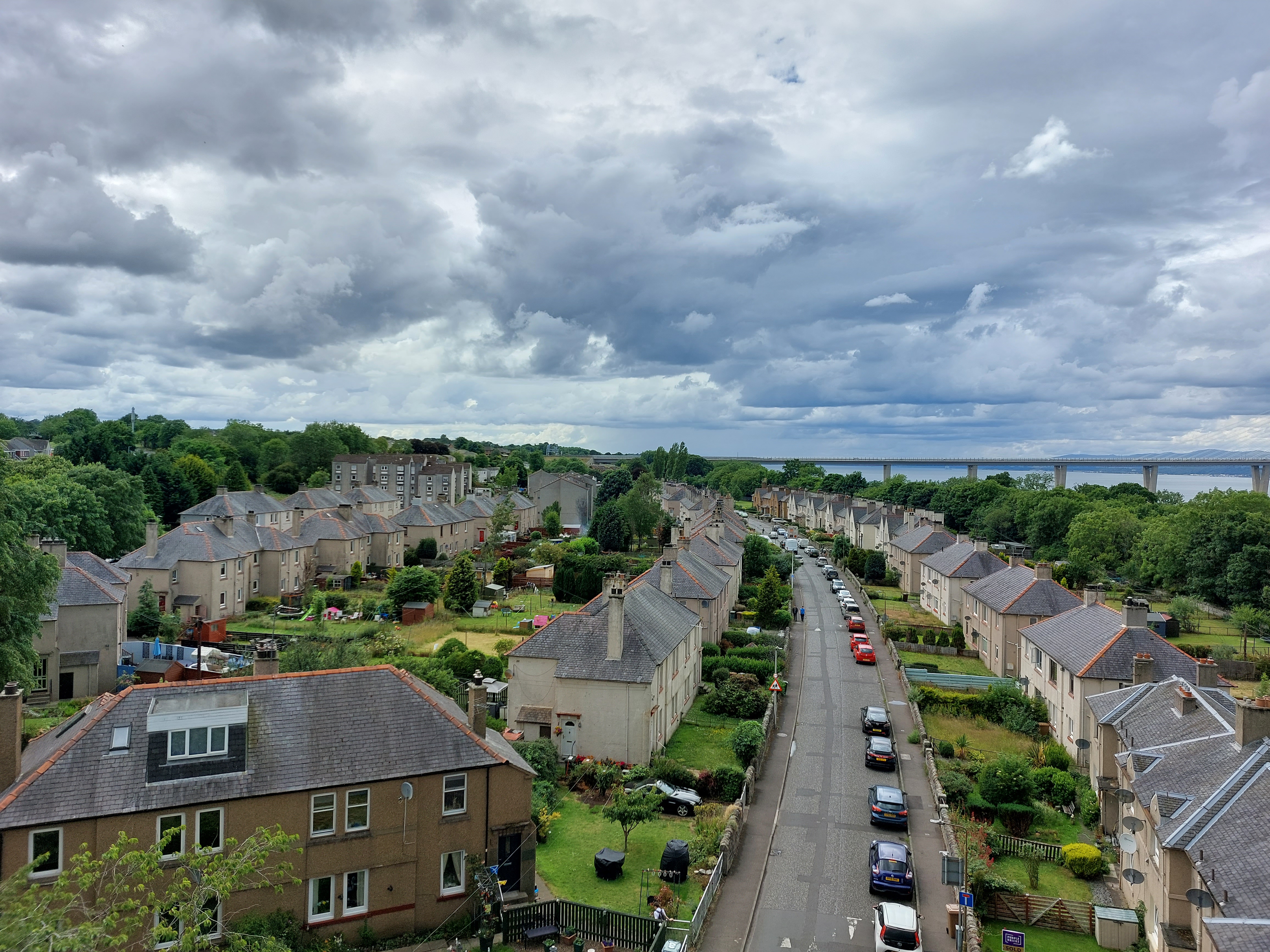 This is the view to the west as I start across the Forth Road Bridge.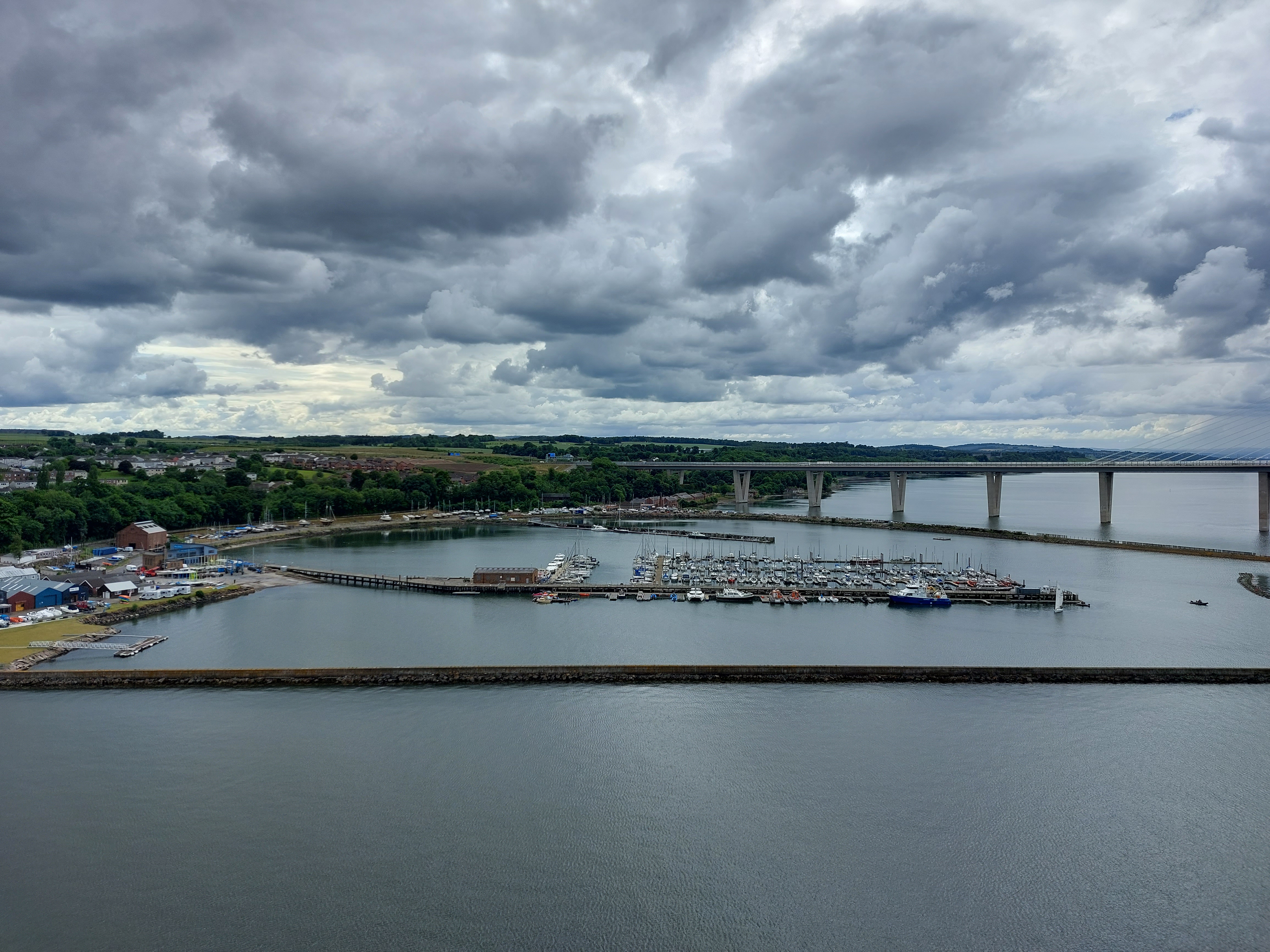 Same bridge, same direction, just further out over the water now.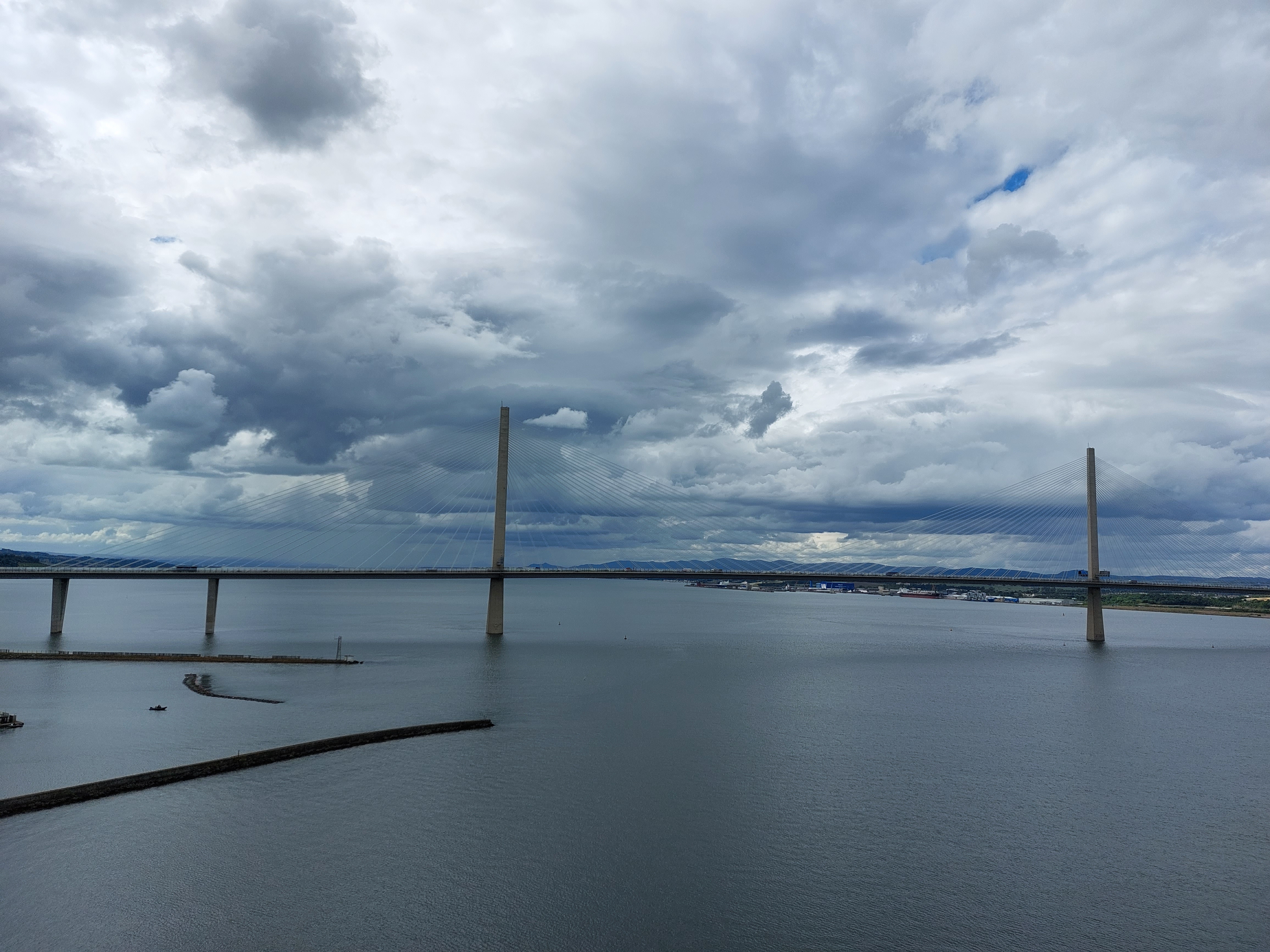 There's the Queensferry Bridge, which is way busier than this one, that's for sure.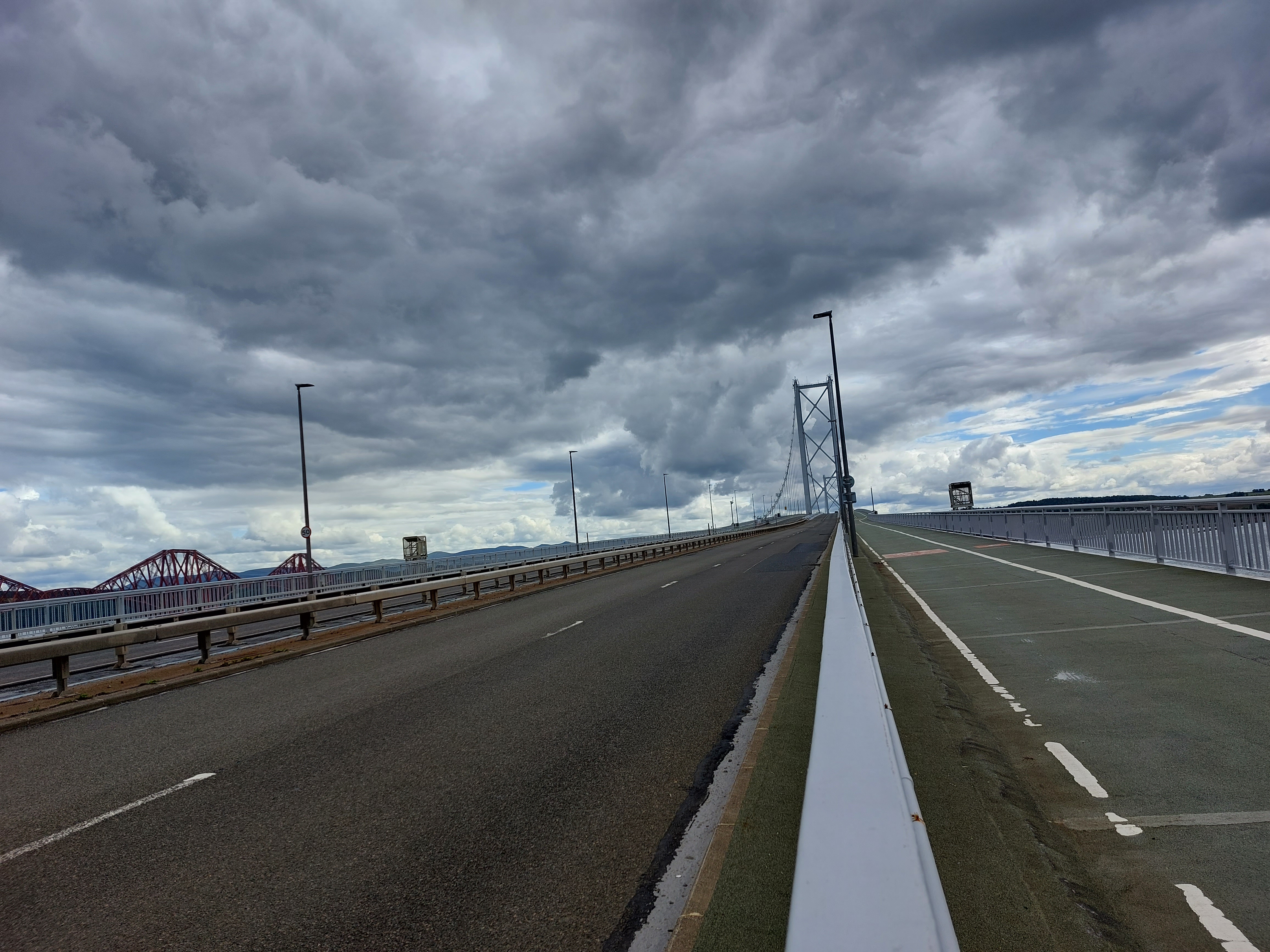 You can see how deserted it is. Creepy, huh?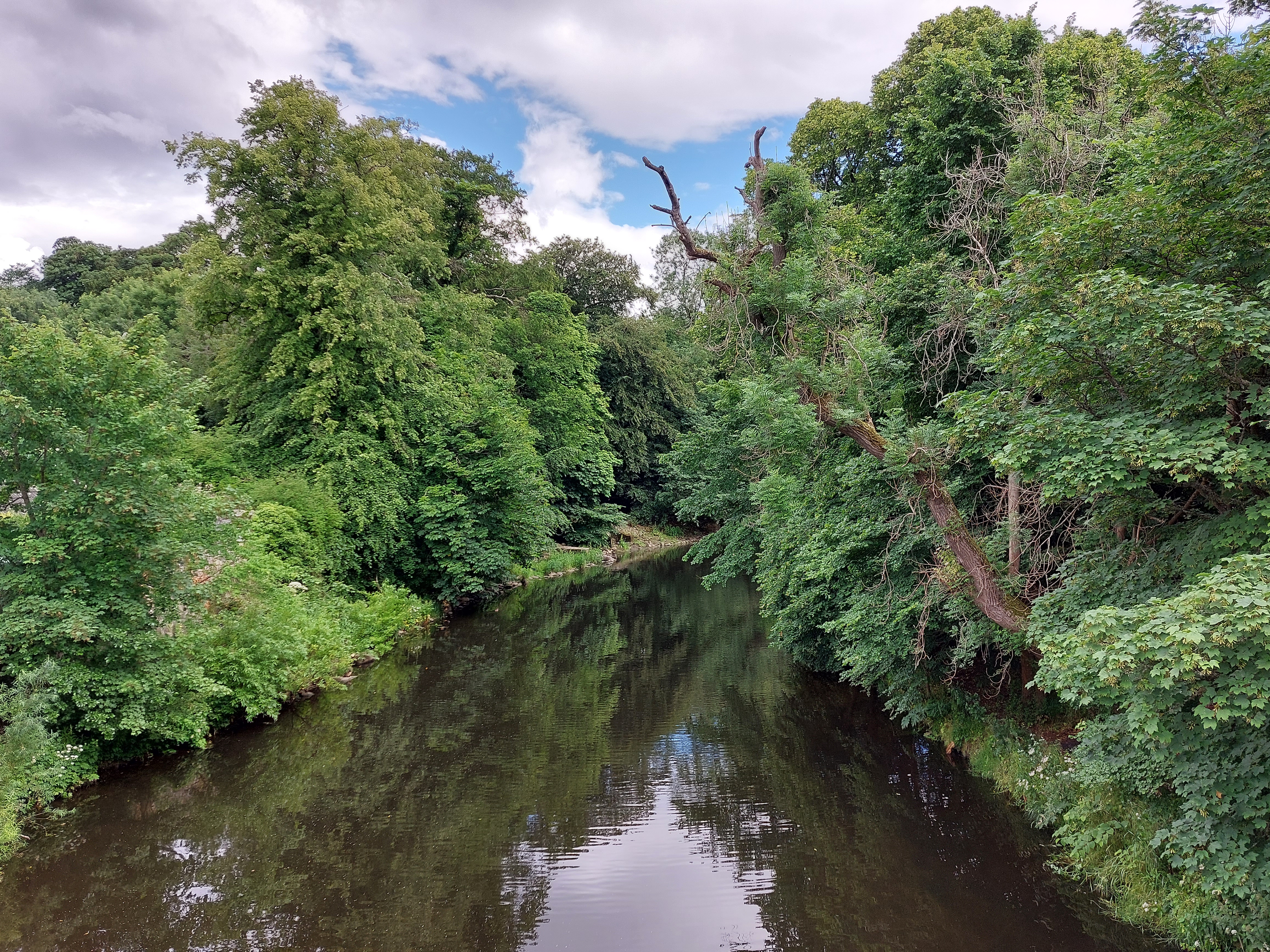 After I got done at the bridge, I headed off to Edinburgh and the route took me through some undeveloped land including this very picturesque river.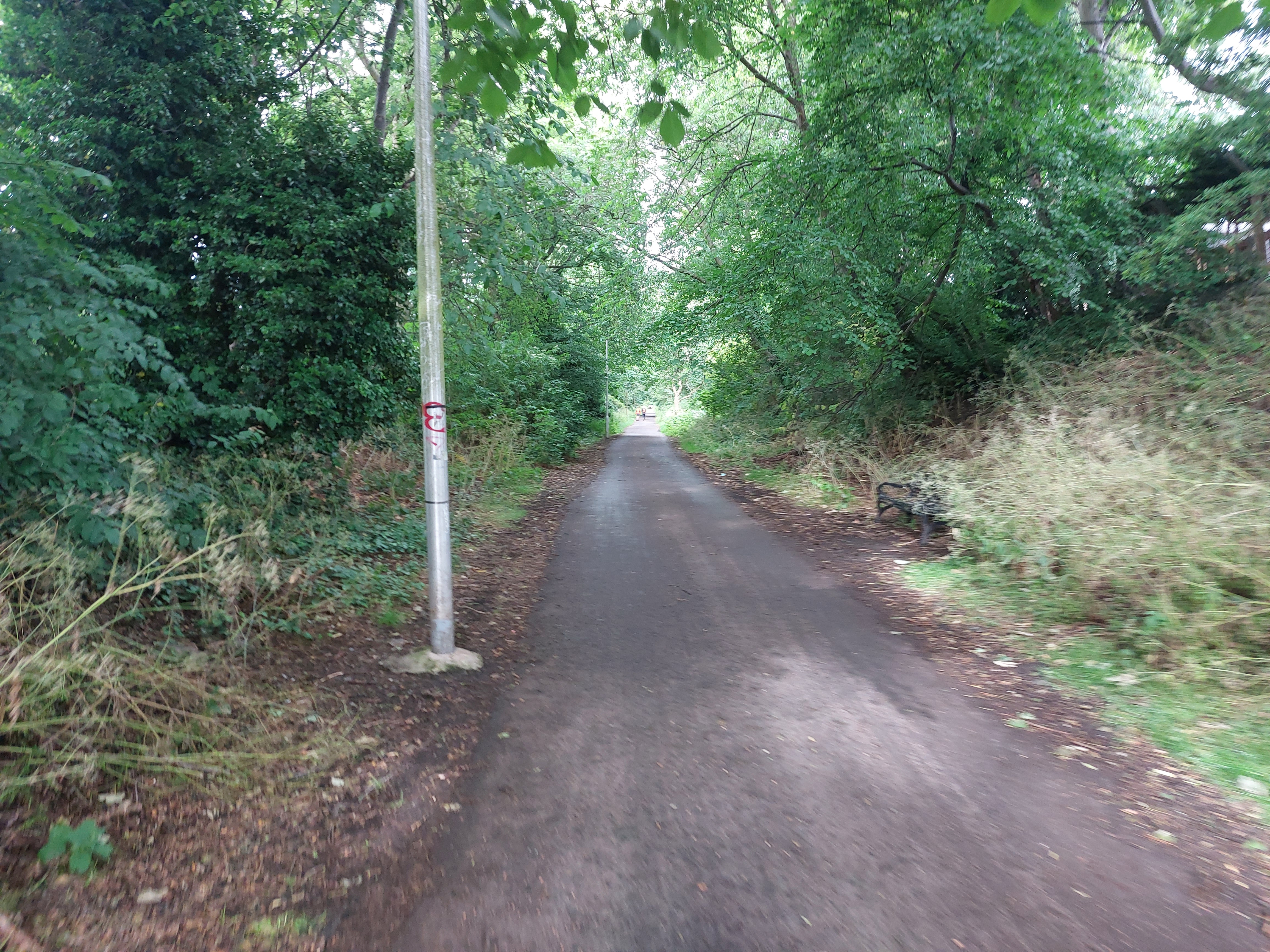 For quite a while I was on bike paths like these, which were decently paved but crowded with people. I sat down on that bench over there and had a sandwich after taking this photo.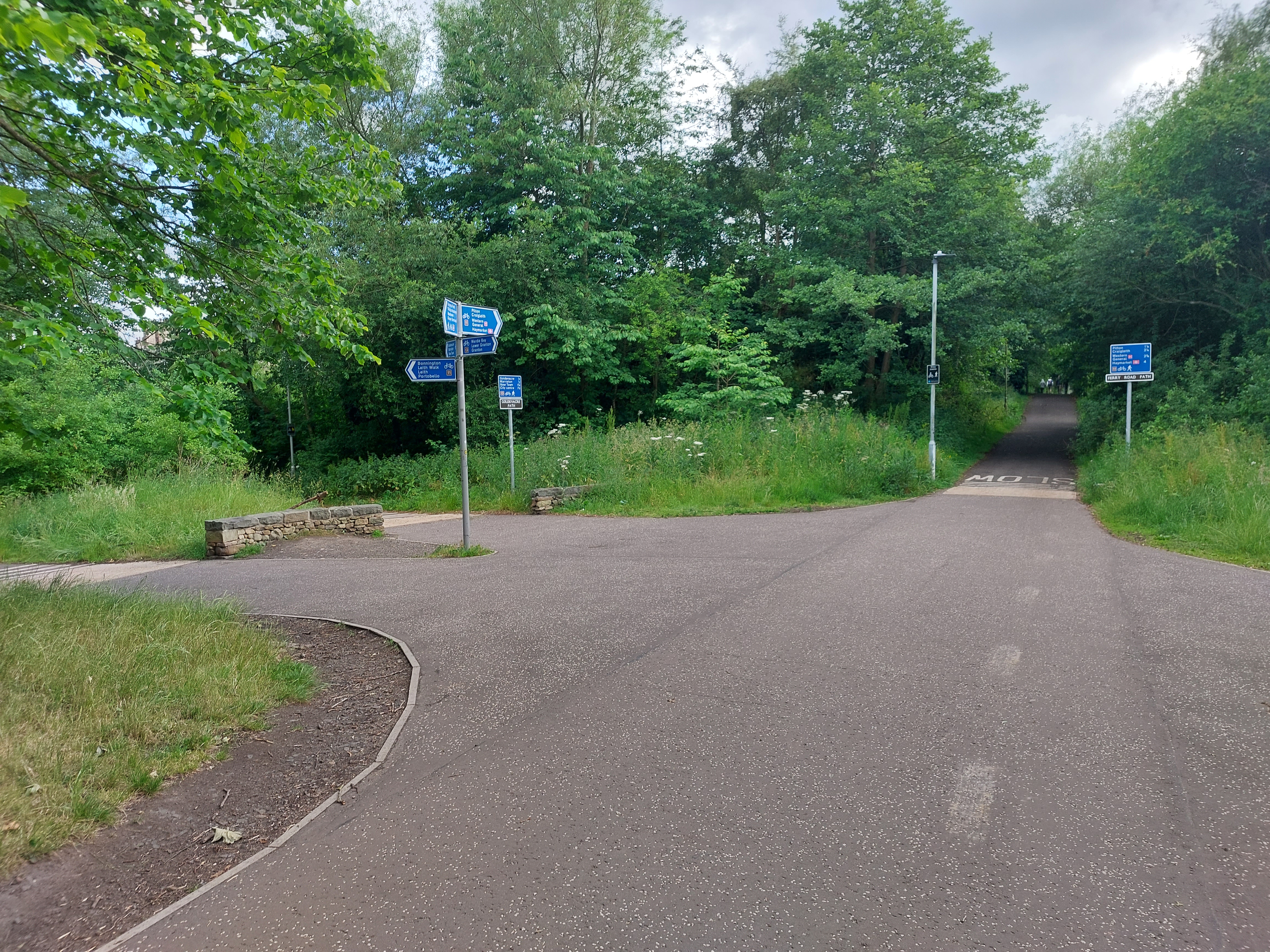 There are tons of bike paths here in Edinburgh as you can see from the signs. Look at all those different bike routes!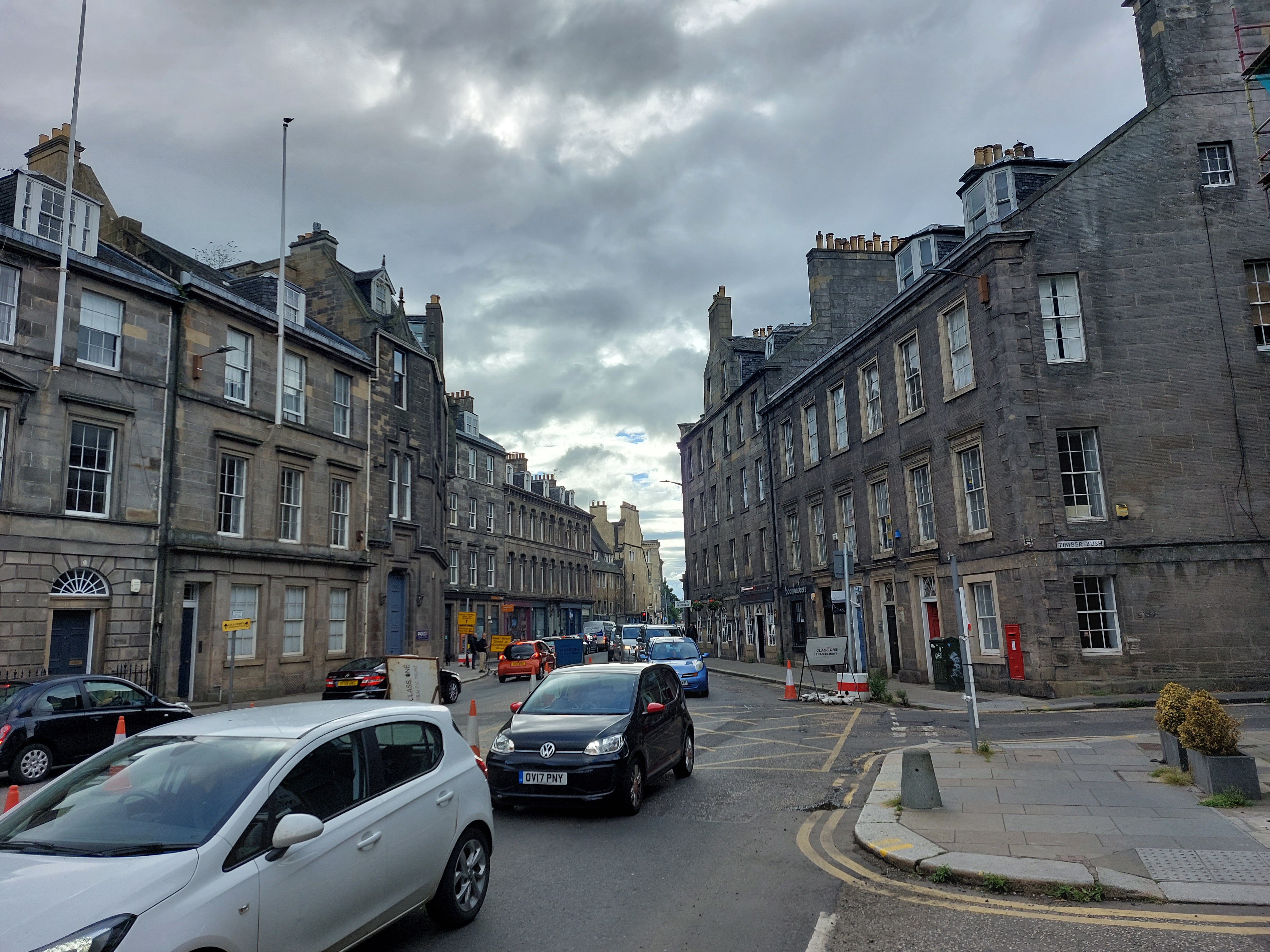 This is the only actual picture of Edinbugh I took because the small section of it I rode through was so busy I never really had a good place to stop and pull over for a photo.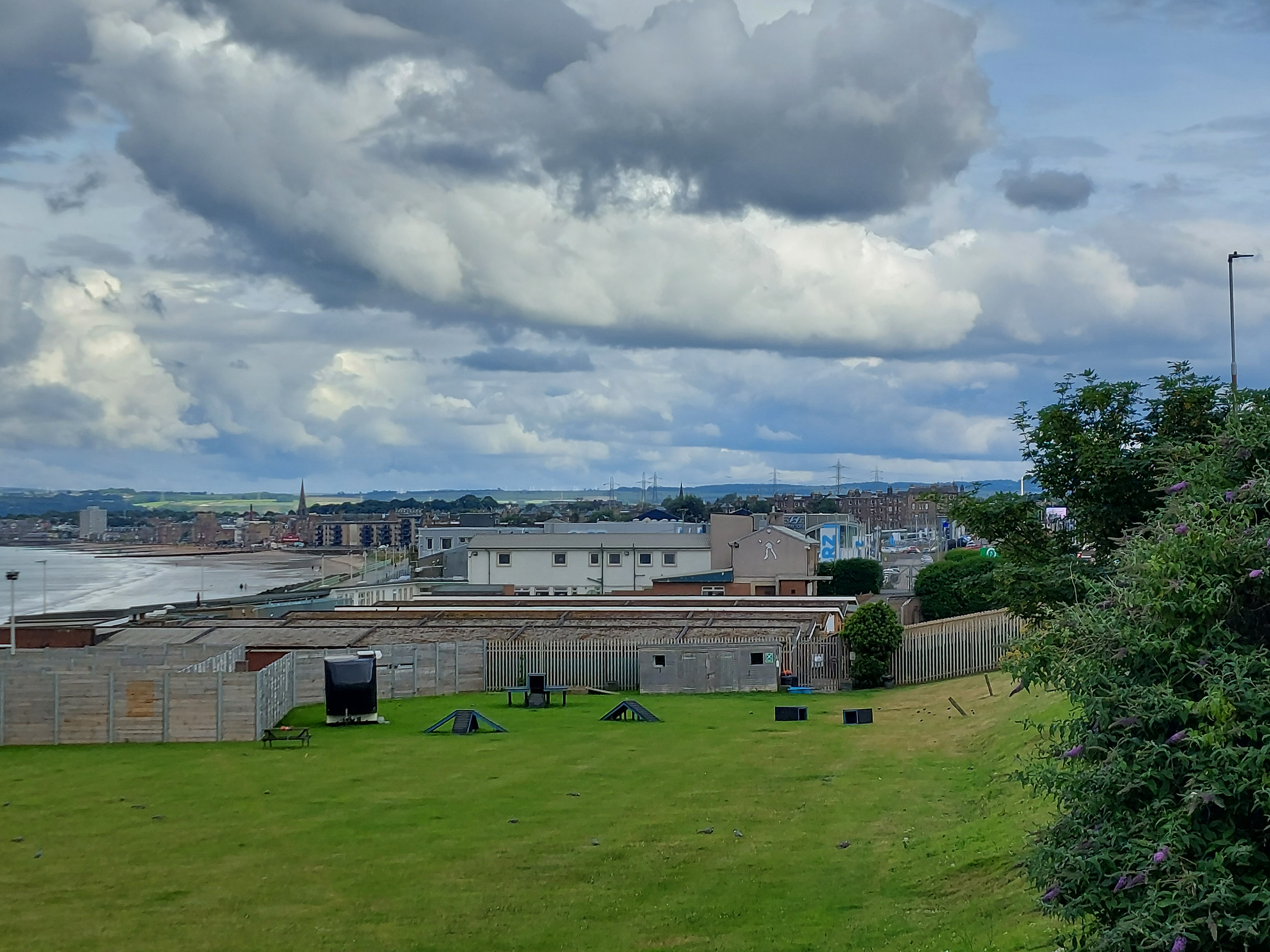 This is further along looking out at the coast after most of the city is behind me.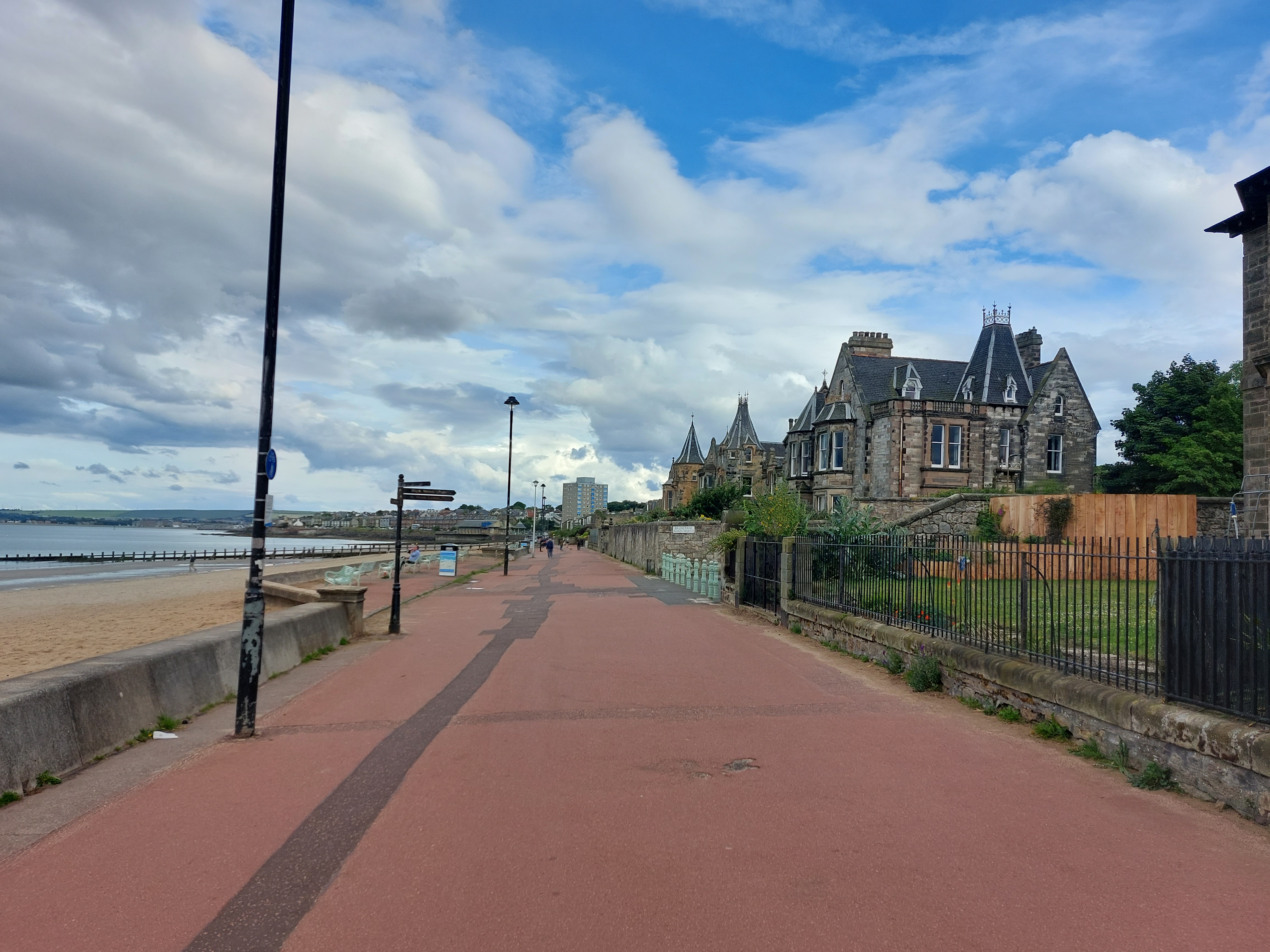 The route now took me along a mostly pedestrian-filled path that was quite lovely, just super crowded most of the time.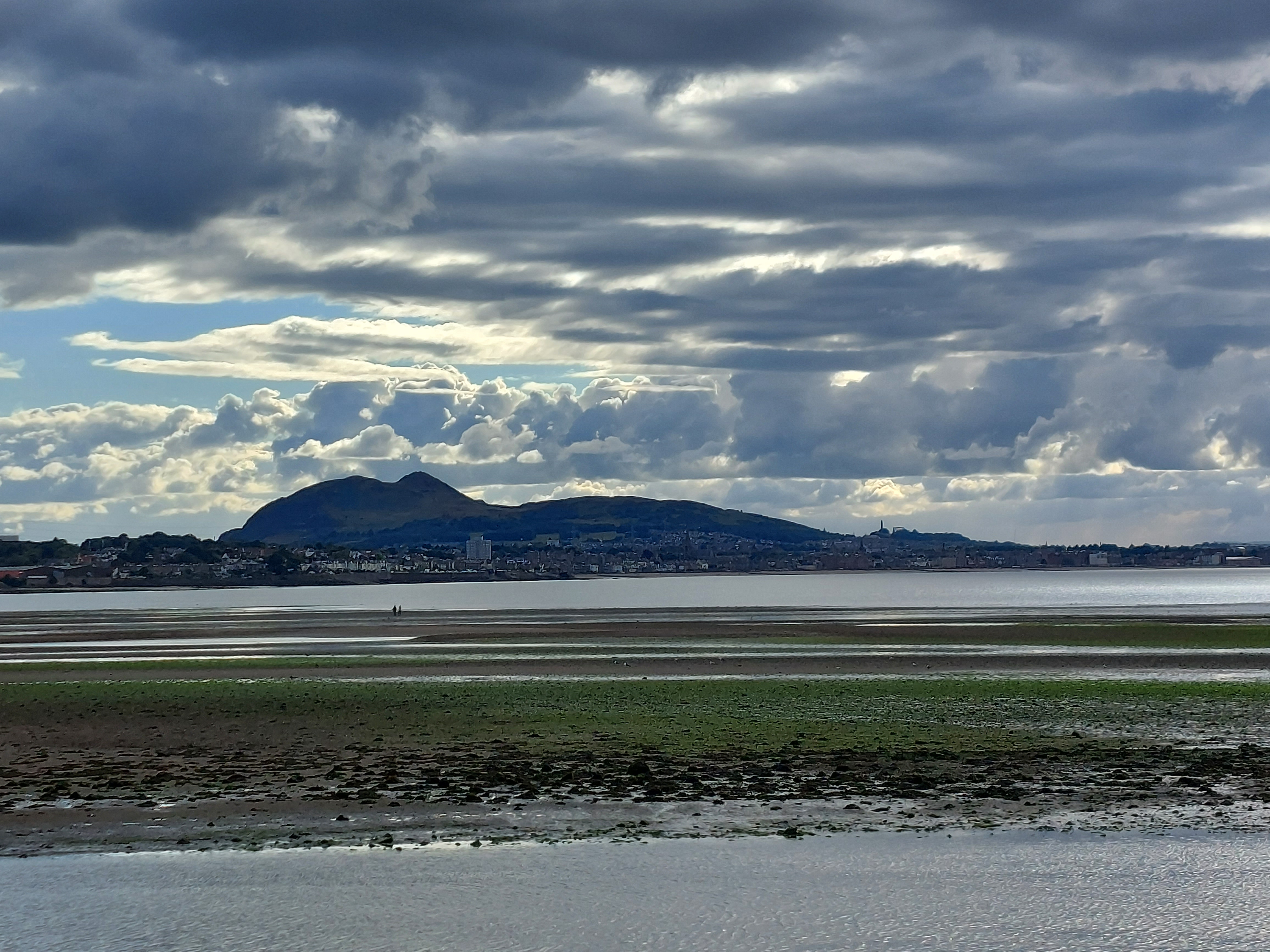 Here's a picture looking back at Edinburgh (why is it I keep visiting places at low tide?).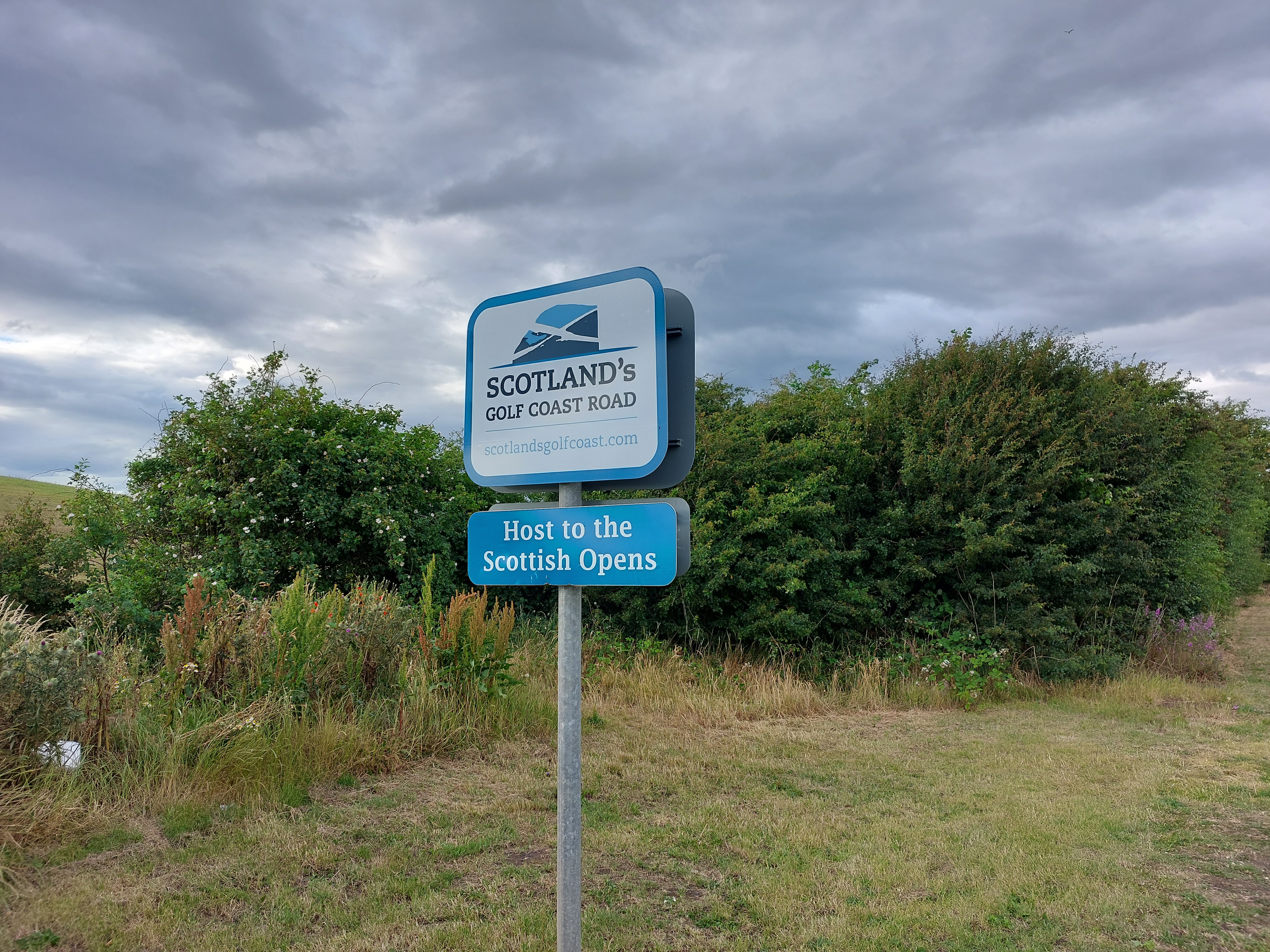 Now the road took me along the "golf coast" (haha), home of numerous golf courses and famous tournaments.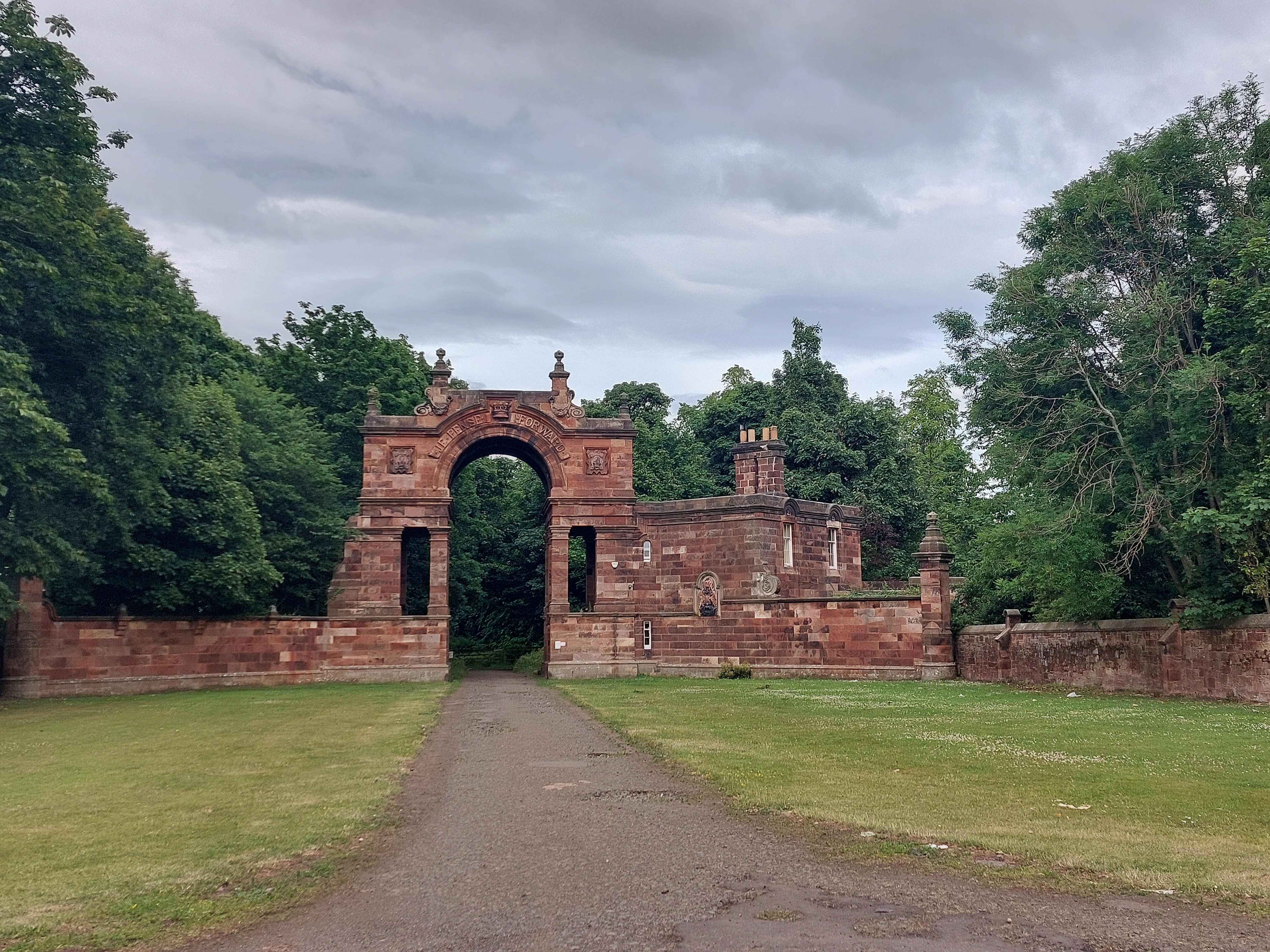 I don't know what's back there, but it sure does have a cool looking entrance.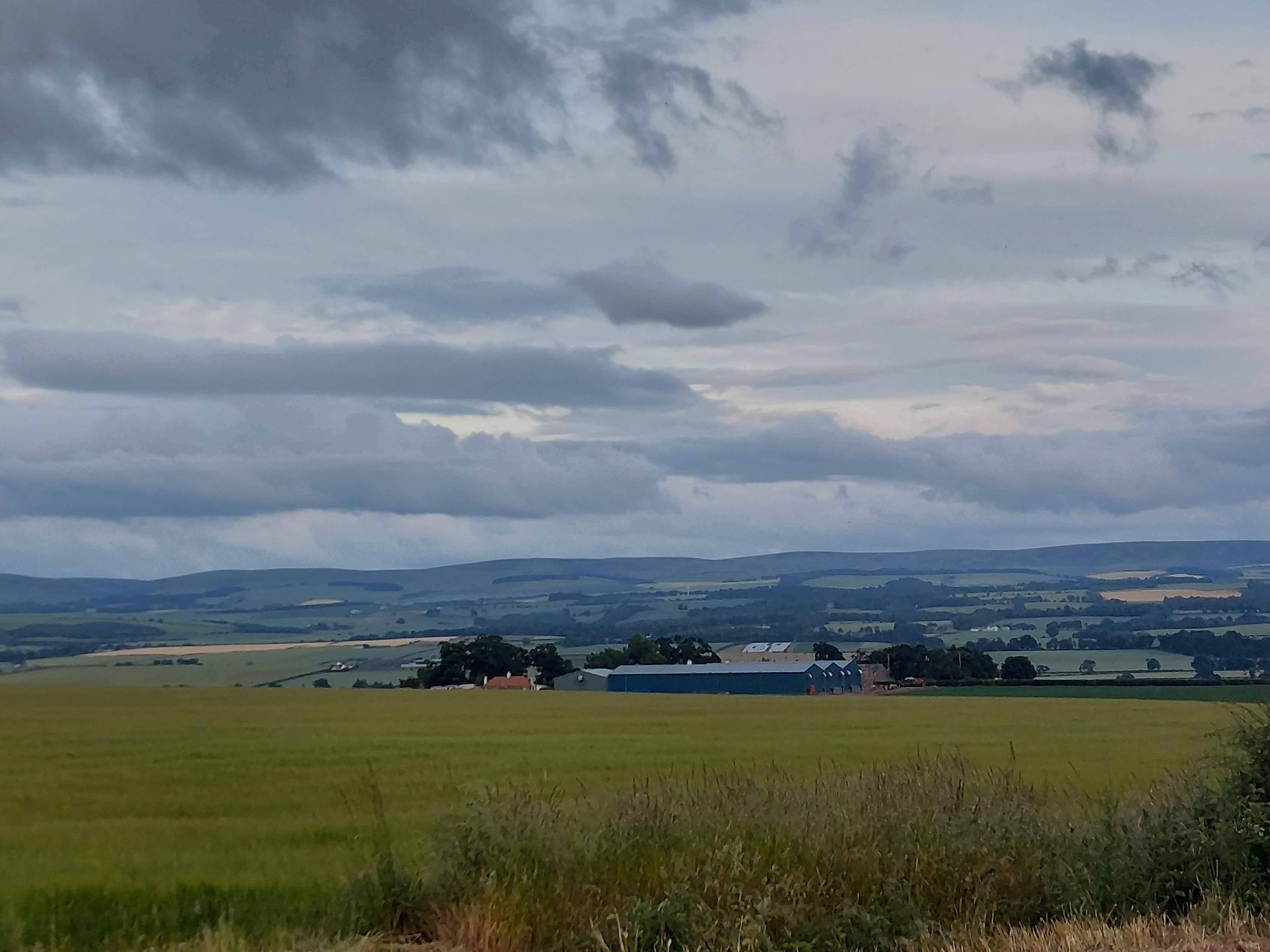 With the city in my rear view mirror I got to look at more beautiful countryside the rest of the day.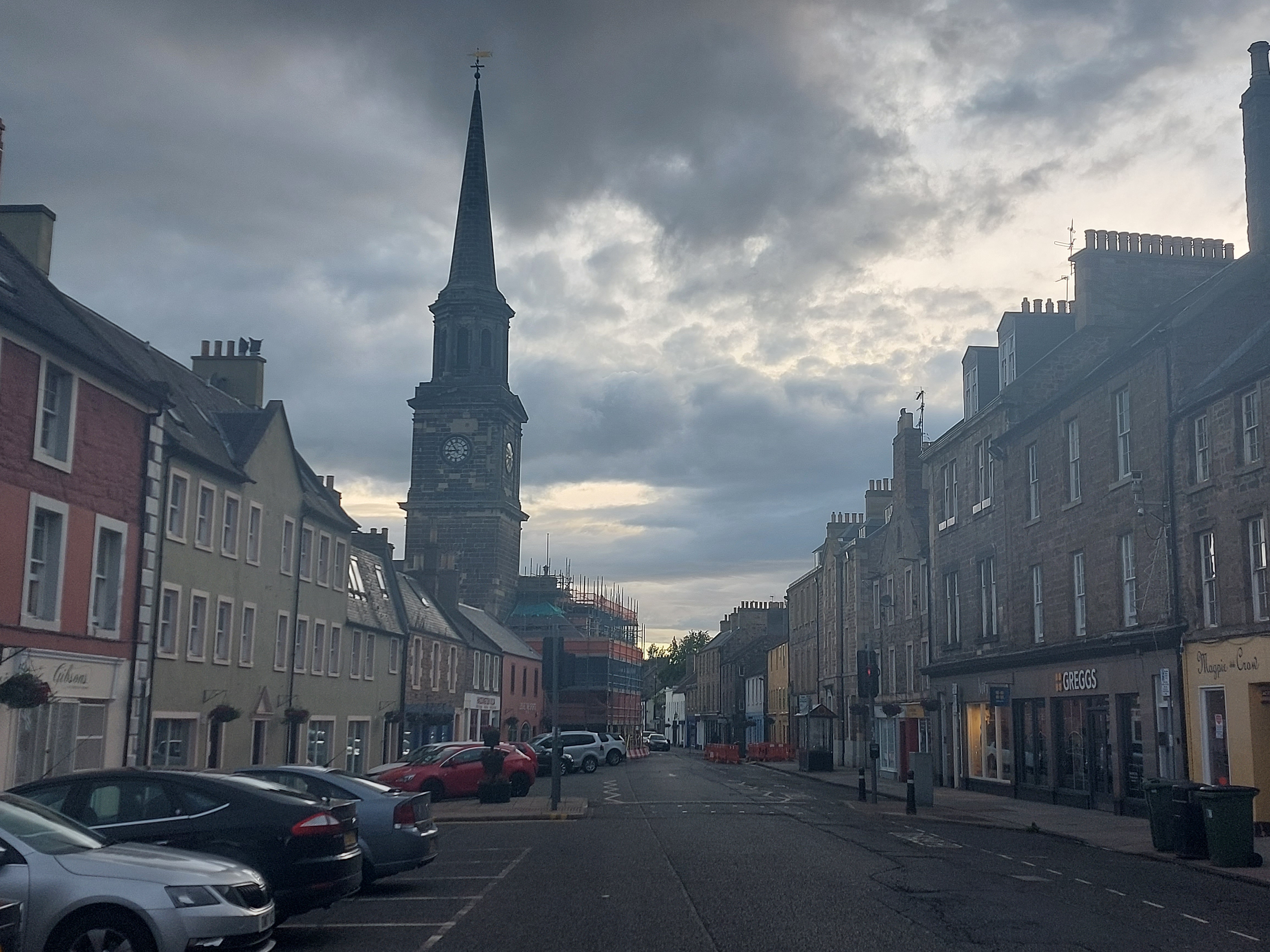 Here's a look at my destination, the town of Haddington. I love the clock tower...too bad it has all that scaffolding around it or I would've taken a better picture from another angle.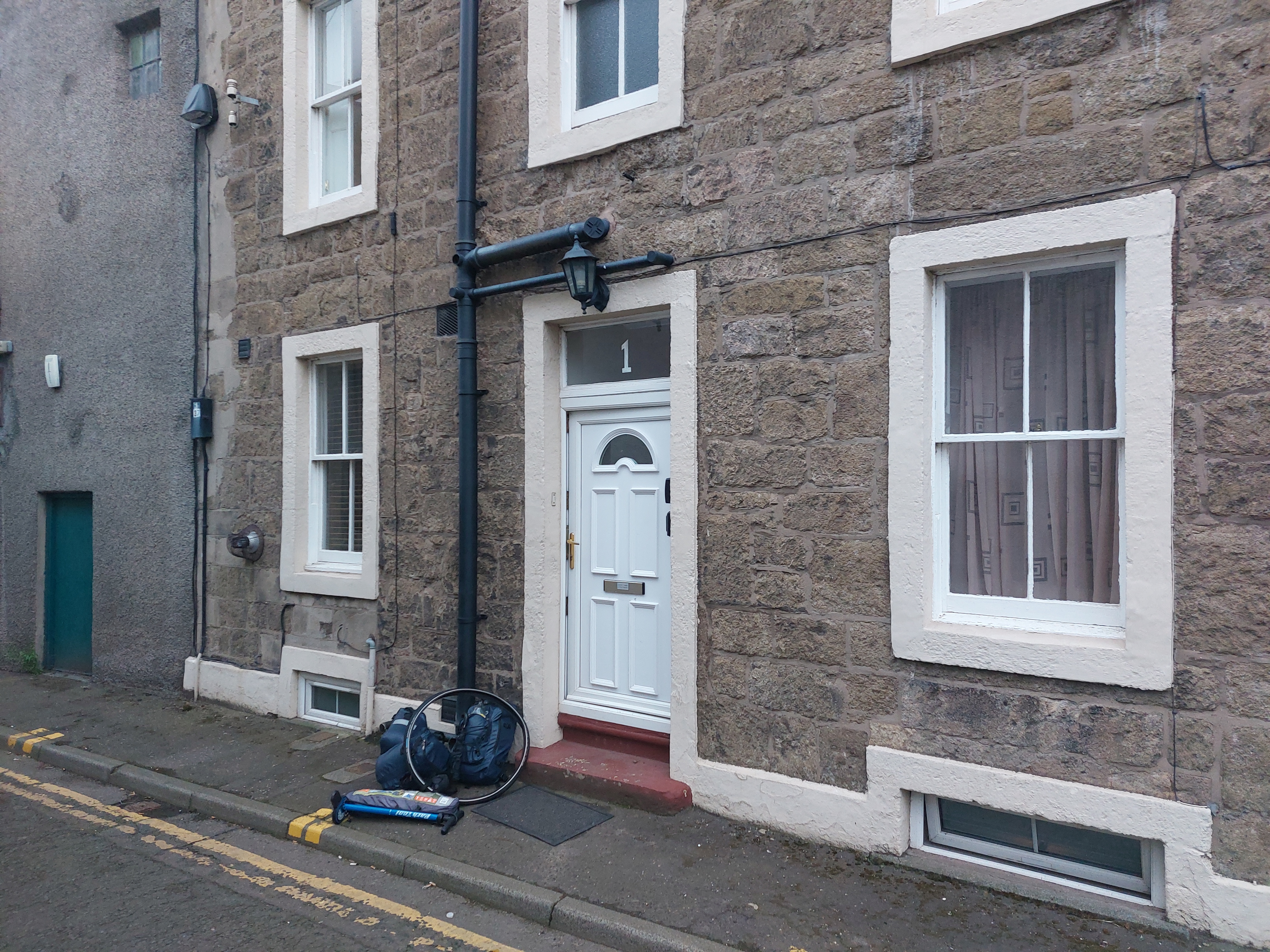 Now here's my hotel (with my bike put away but the rest of the stuff still waiting to be carried upstairs). Hard to tell it's a hotel, isn't it? There was no front desk; you collected your key from a lockbox on the side of the door (I got an email earlier in the day with the code). In fact I have yet to even see any hotel employees and probably won't during this entire visit. A big change from yesterday's wonderful friendly hostess and service.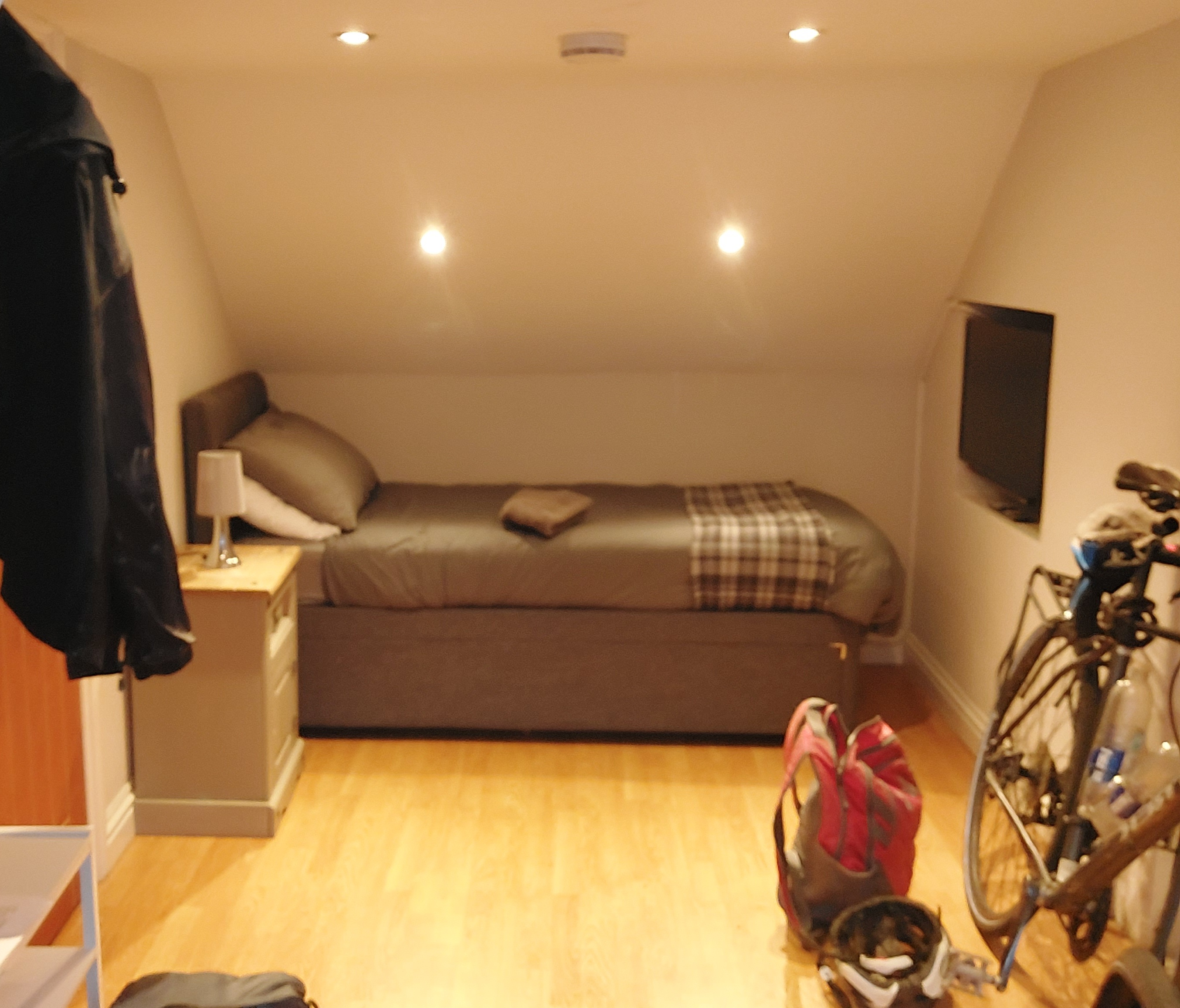 And this is the entire room (photo taken from the window opposite the bed). Feels more like a hostel, really. At least it was cheap (and available, since there weren't many choices in this area at all and I got the last room in this place).