Day 21 – June 30, 2022
Haddington to Wooler, England
Miles: 60
Terrain: Easy early, then a major climb, followed by lots of little climbs
Weather: Cool, cloudy, rain late; mild crosswinds/headwinds
The map gave me two potential routes today, both about the same distance, and with only a slight difference in elevation, but I picked the one that went out to the coast hoping for some nice views there. I did get a few...in fact I took more pictures today than any other day since London.
The weather started out decent; I didn't even have to put my coat on until I got to the other side of that big ascent in the middle of the map. At that point I was now heading south into a fairly mild headwind, and going downhill quite a ways, so I knew I'd get chilly having just sweated up a 6 mile climb. (Honestly it wasn't the worst one this trip...fairly gradual except very near the end.) Once the coat went on it didn't come back off because after that it started to get drizzly, and then downright rainy for about 2 hours late in the day. During the hardest rain I took shelter under heavy tree cover, but that only cost me about 15 minutes. I still made it to the hotel well before dark.
The first part of the ride was through several small towns concluding in Dunbar along the coast, and then I had to get on the A1, one of those not-quite-restricted highways I mentioned in a previous post. I hate riding on them, but had little choice for about 5 miles after leaving the water, before finally bailing and heading off into more farm country. Eventually this brought me to the border of England (you can see it as a faint dark line heading northeast between Coldstream and Berwick-upon-Tweed, and in fact it follows the Tweed River there as a natural boundary. After this I battled numerous short but steep climbs until finally arriving in Wooler very tired and hungry from another challenging day of riding.
The hotel I chose turned out to be extremely nice, the best so far. I'll leave you to see what I mean in the pictures, which are coming right up...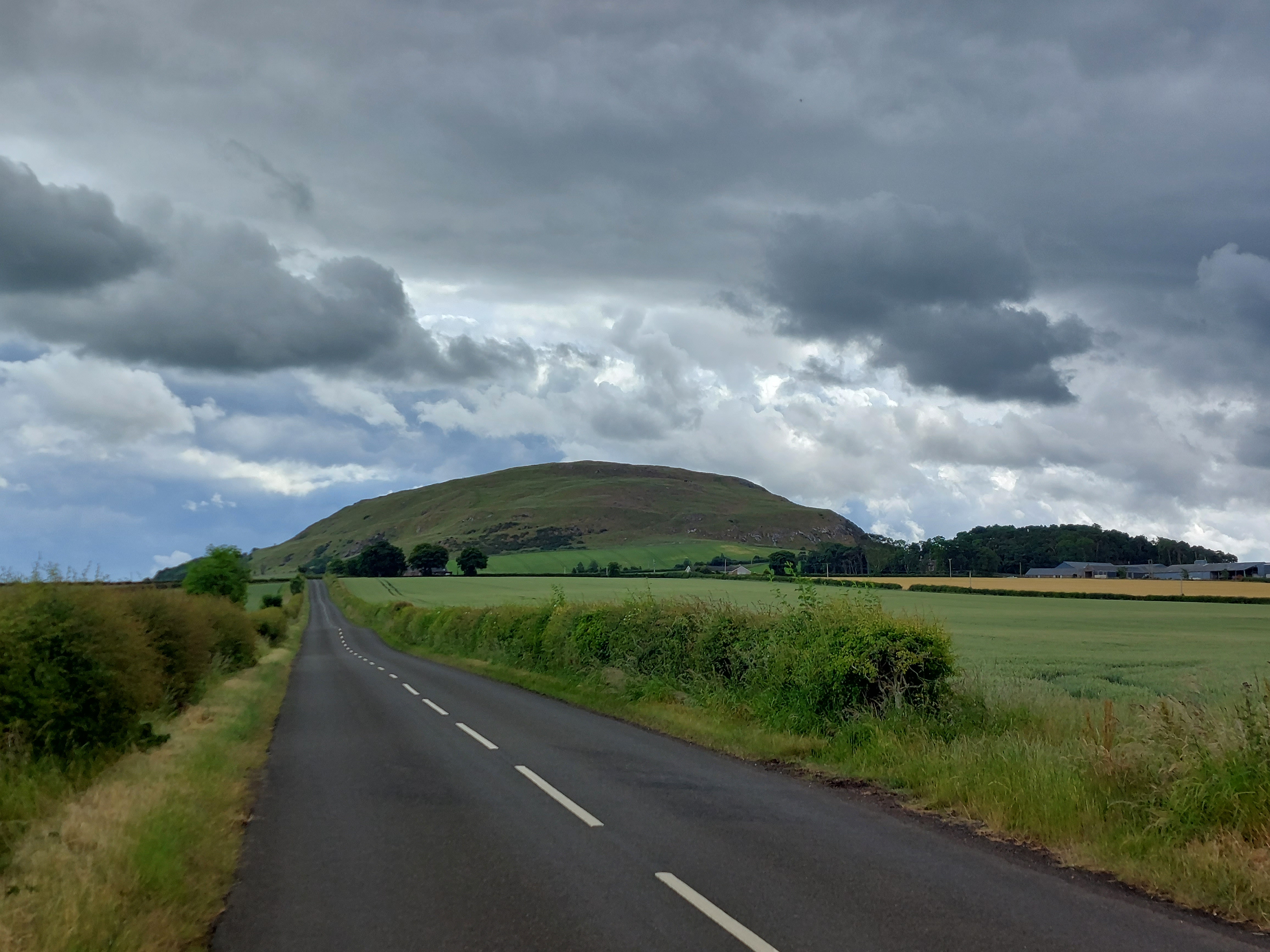 Heading out toward the coast I went past this somewhat lonely hill that was actually covered in sheep. I got close enough to see them a bit later, but turned away and didn't have to climb up there, fortunately.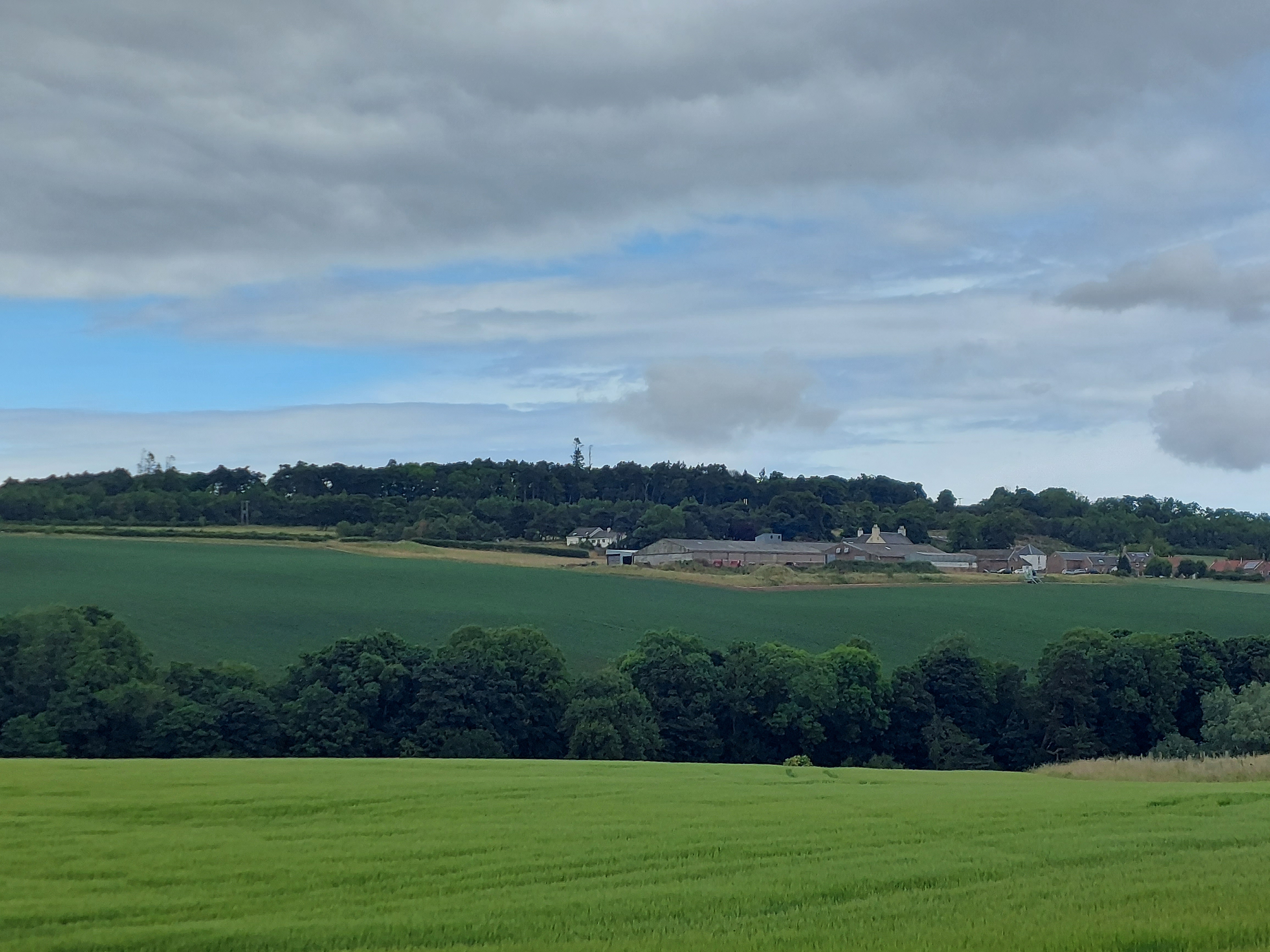 One of a great many scenic views you're going to see in today's photo collection.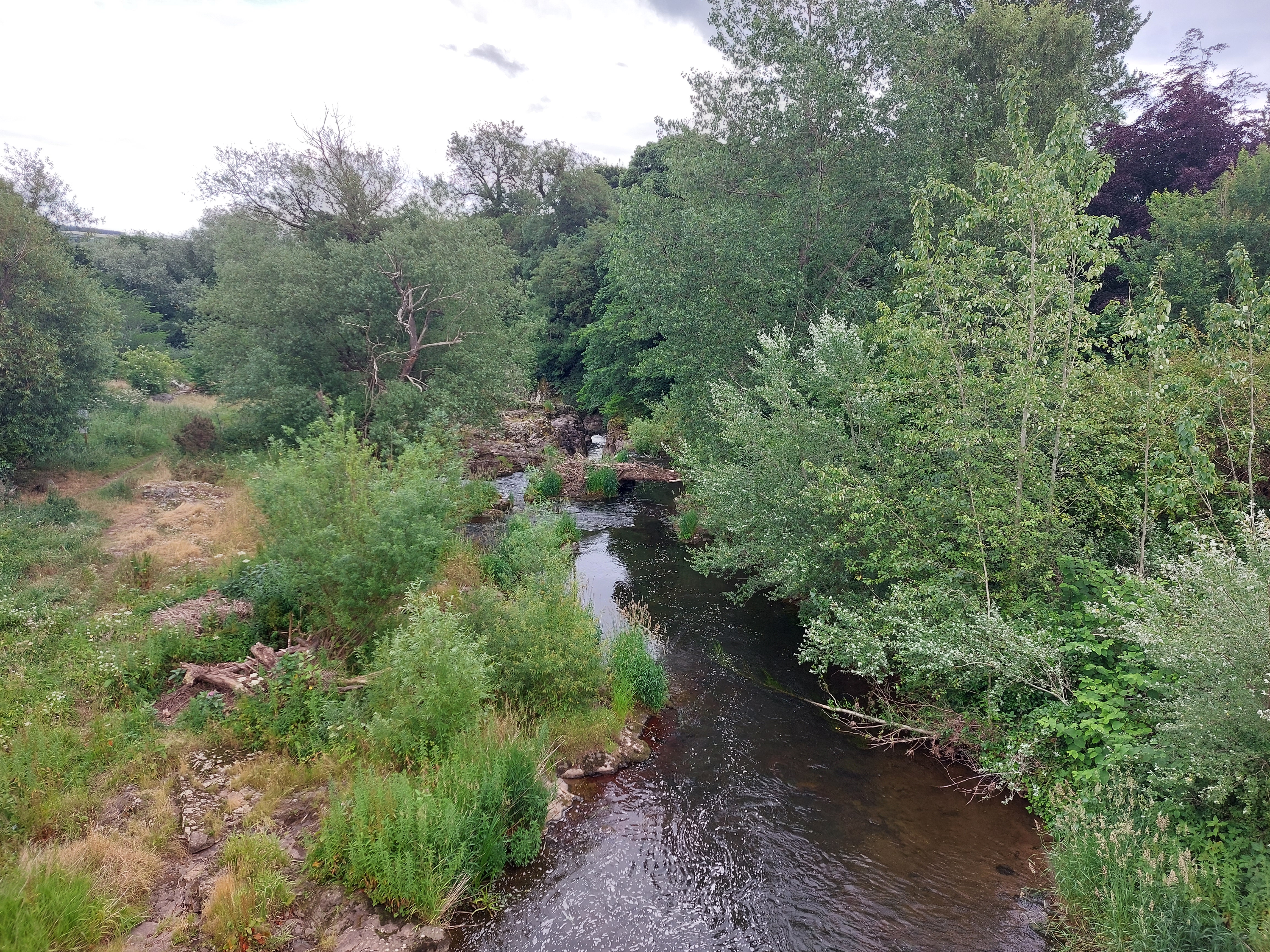 A nice river crossing during the early part of the day.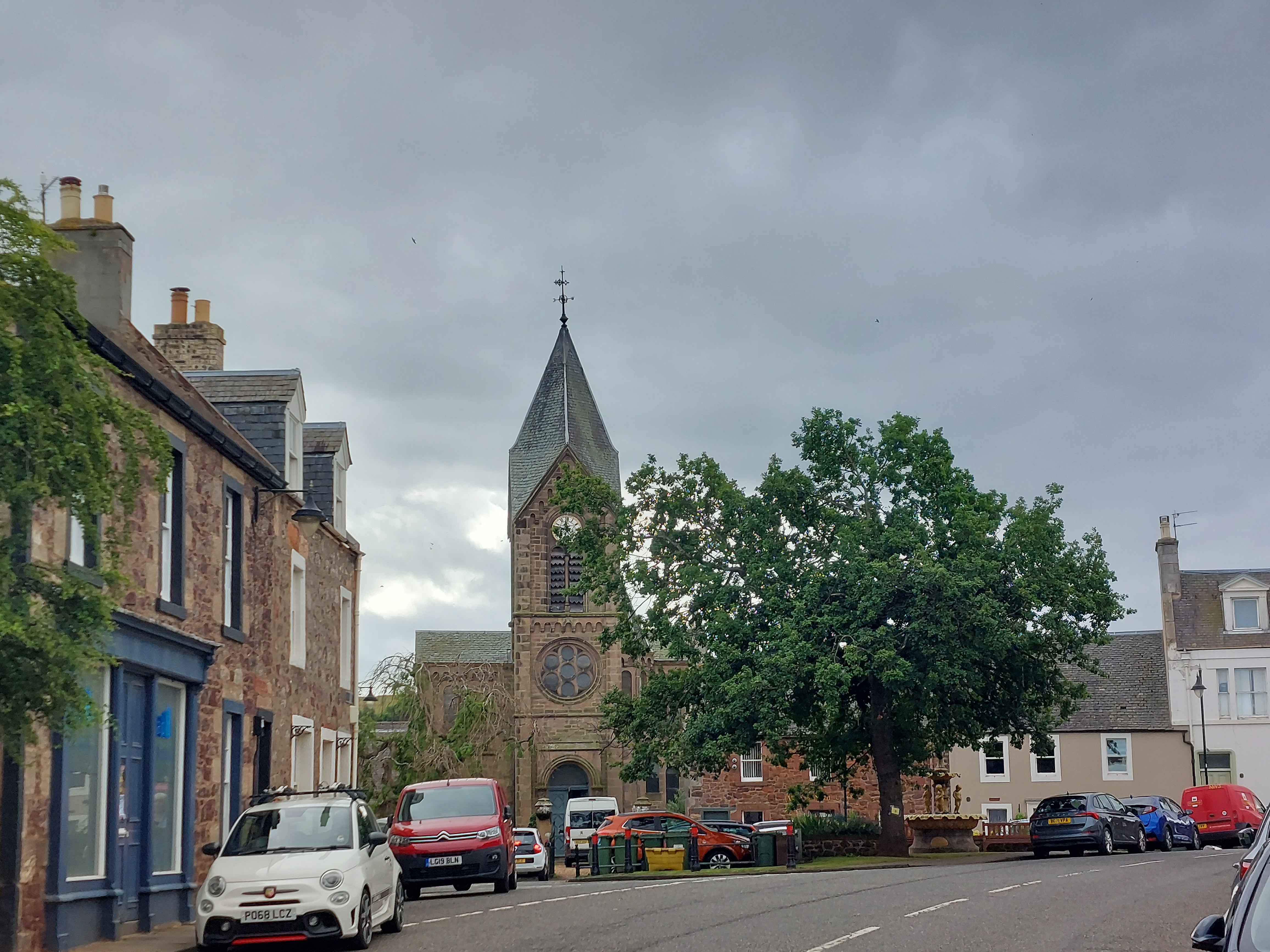 The first town I passed through, East Linton.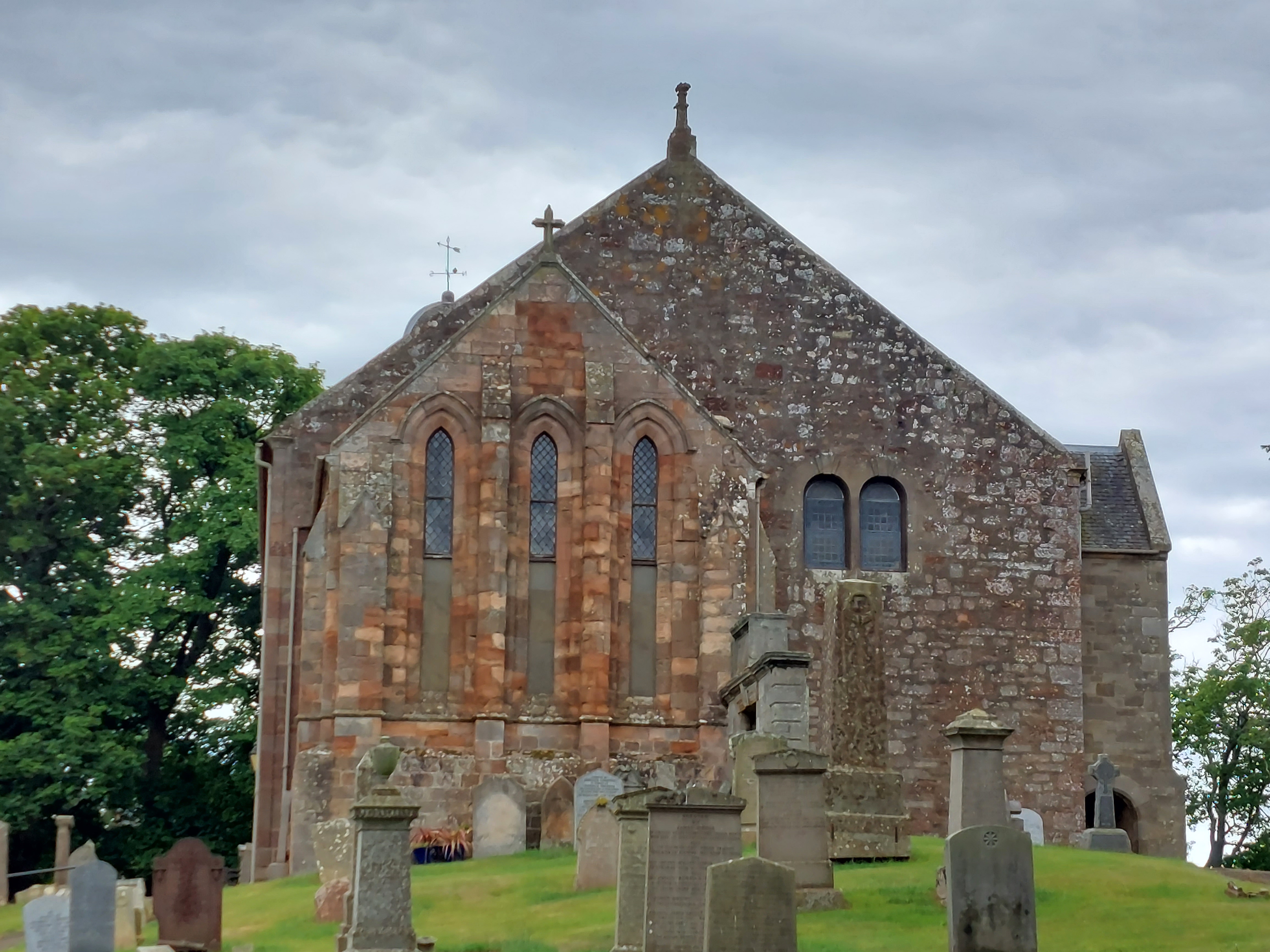 Another scenic church, on the outskirts of East Linton.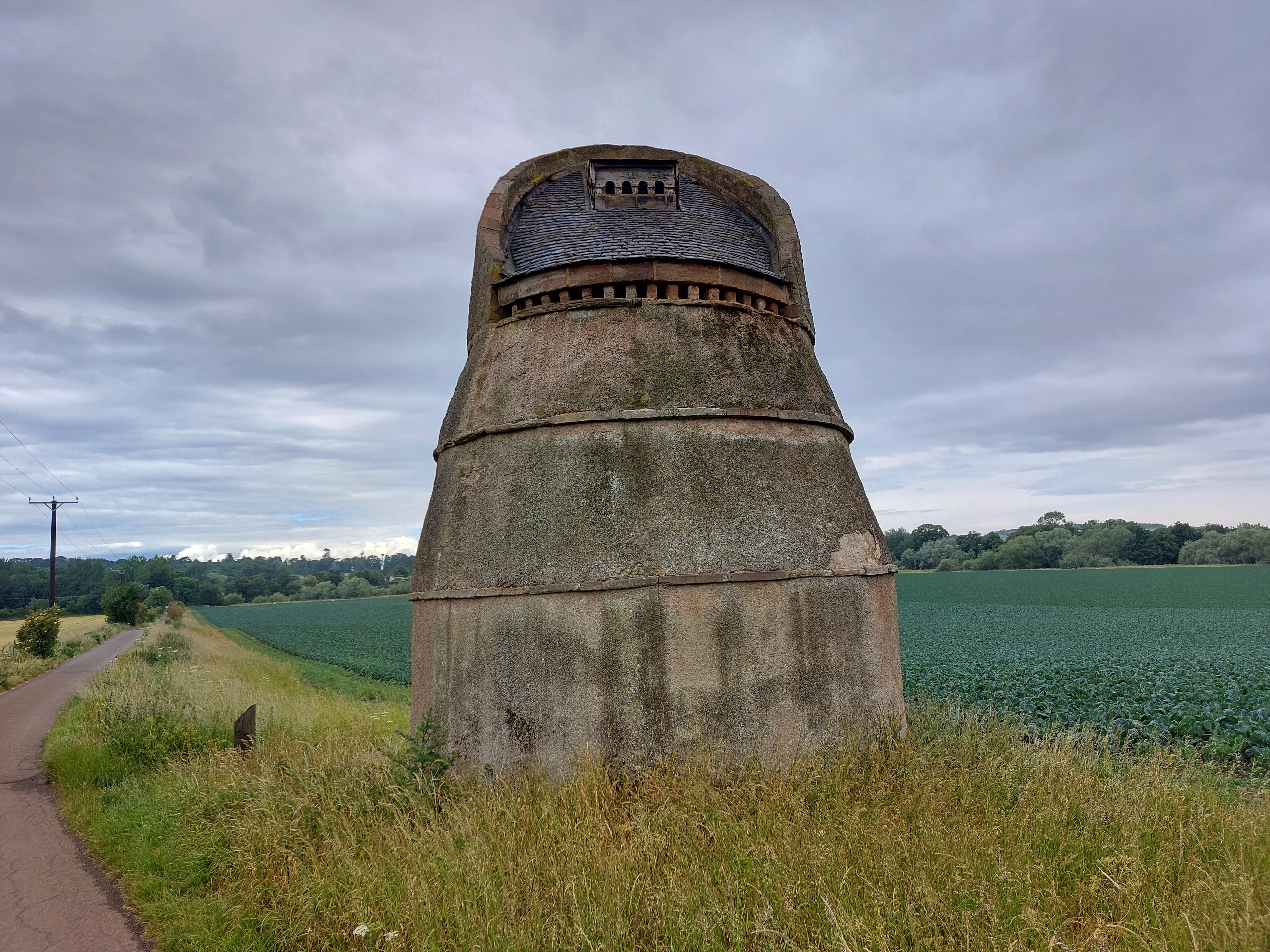 I spotted this weird thing on my way along a bike path out of town. I wasn't sure what to make of it, but it turns out, according to that sign over to the left there, that it used to be a pigeon roost back in the feudal era. Wealthy landowners considered young pigeons a delicacy so they would breed them in structures like this (with metal rings around the outside to keep the rats out). Of course the farmers hated this because pigeons eat a lot of grain, but in the feudal system what they thought about the situation hardly mattered, right?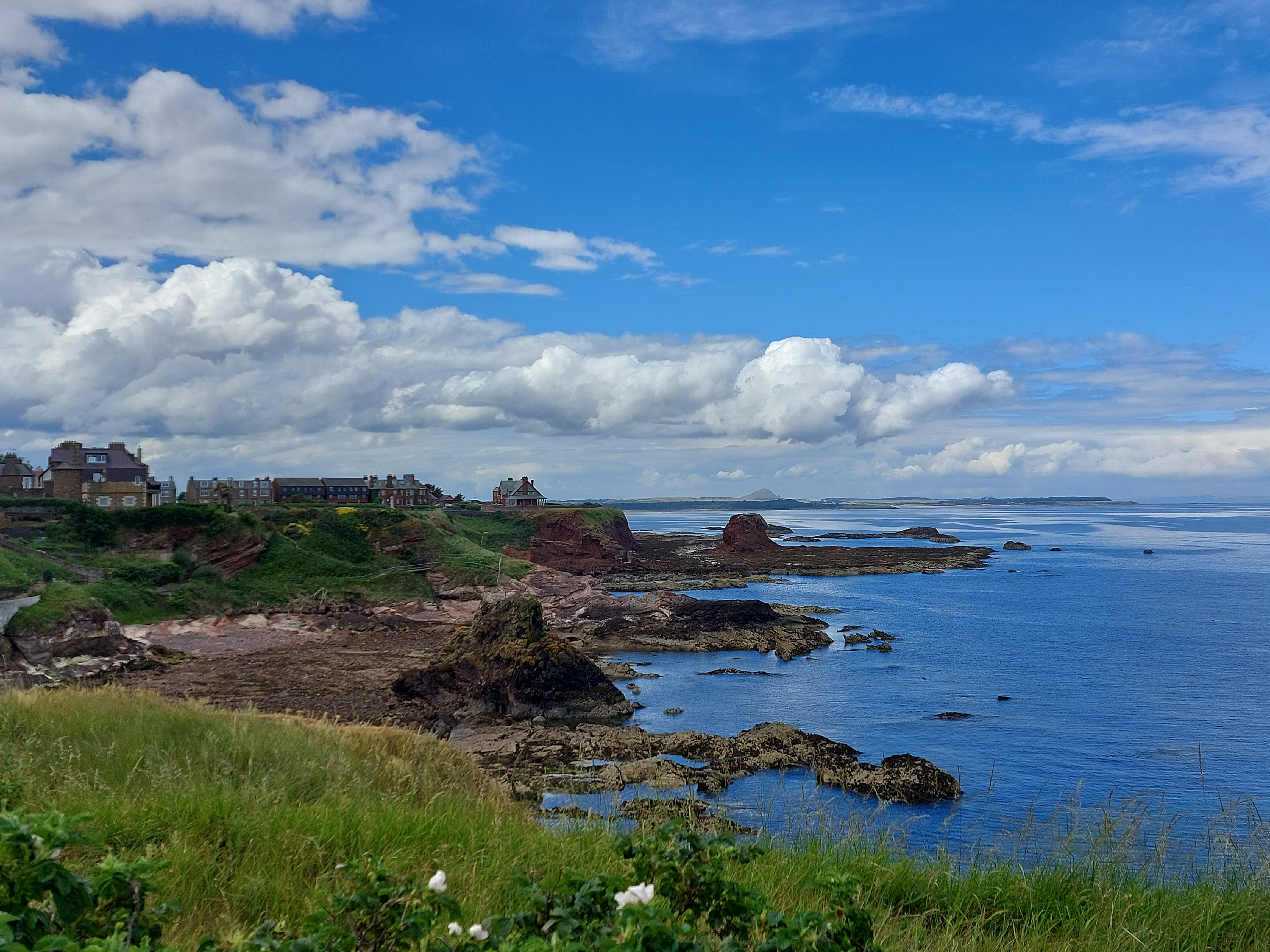 Later on I came to Dunbar and got a couple of really nice photos looking out over the water there. The weather looks so much better in this direction, doesn't it? Back the other way it's nothing but rain clouds.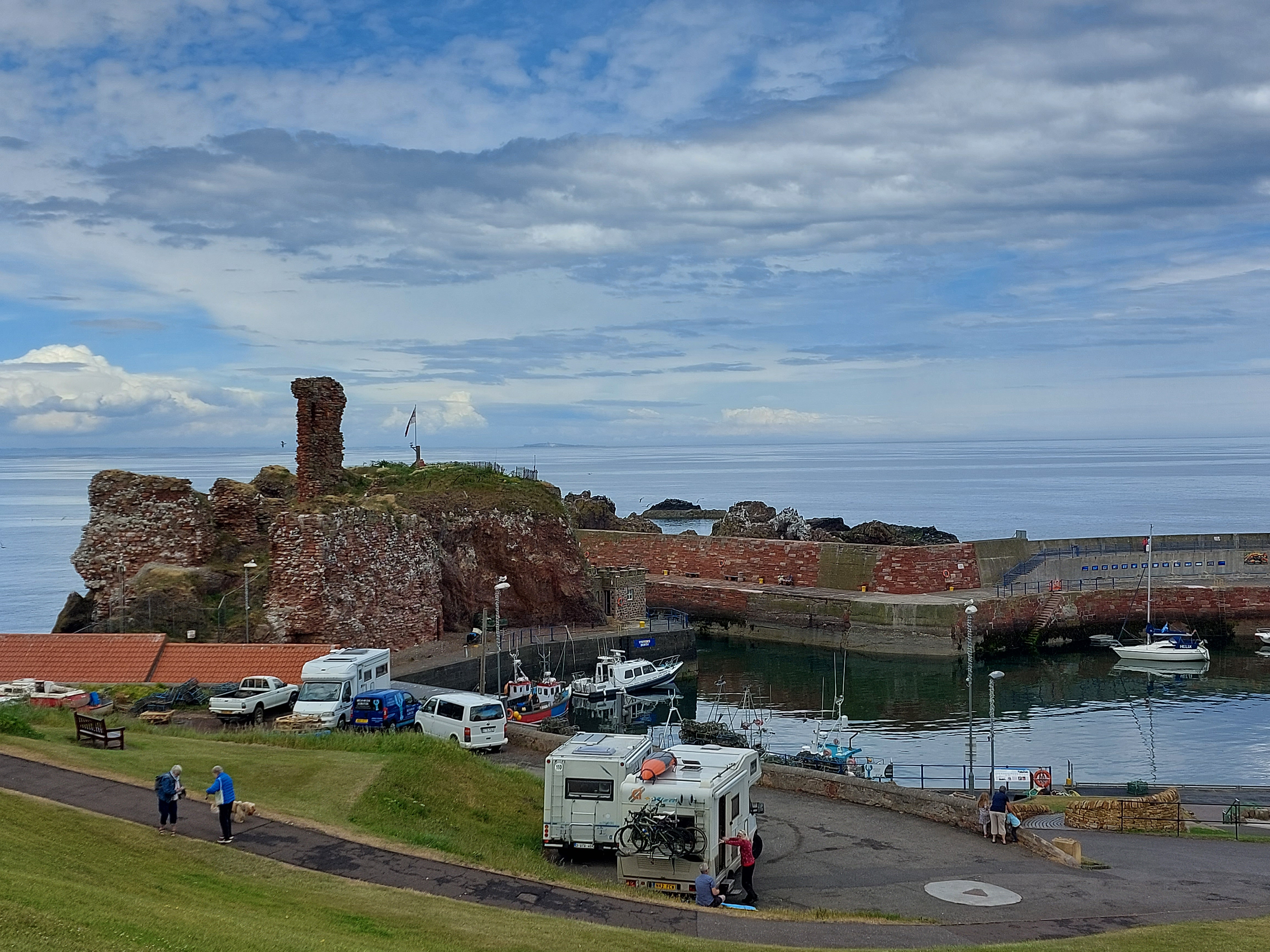 View to the right of the previous image. I wonder what that brick structure used to be? Oh and the boats come in through a very narrow channel there in the middle of the picture.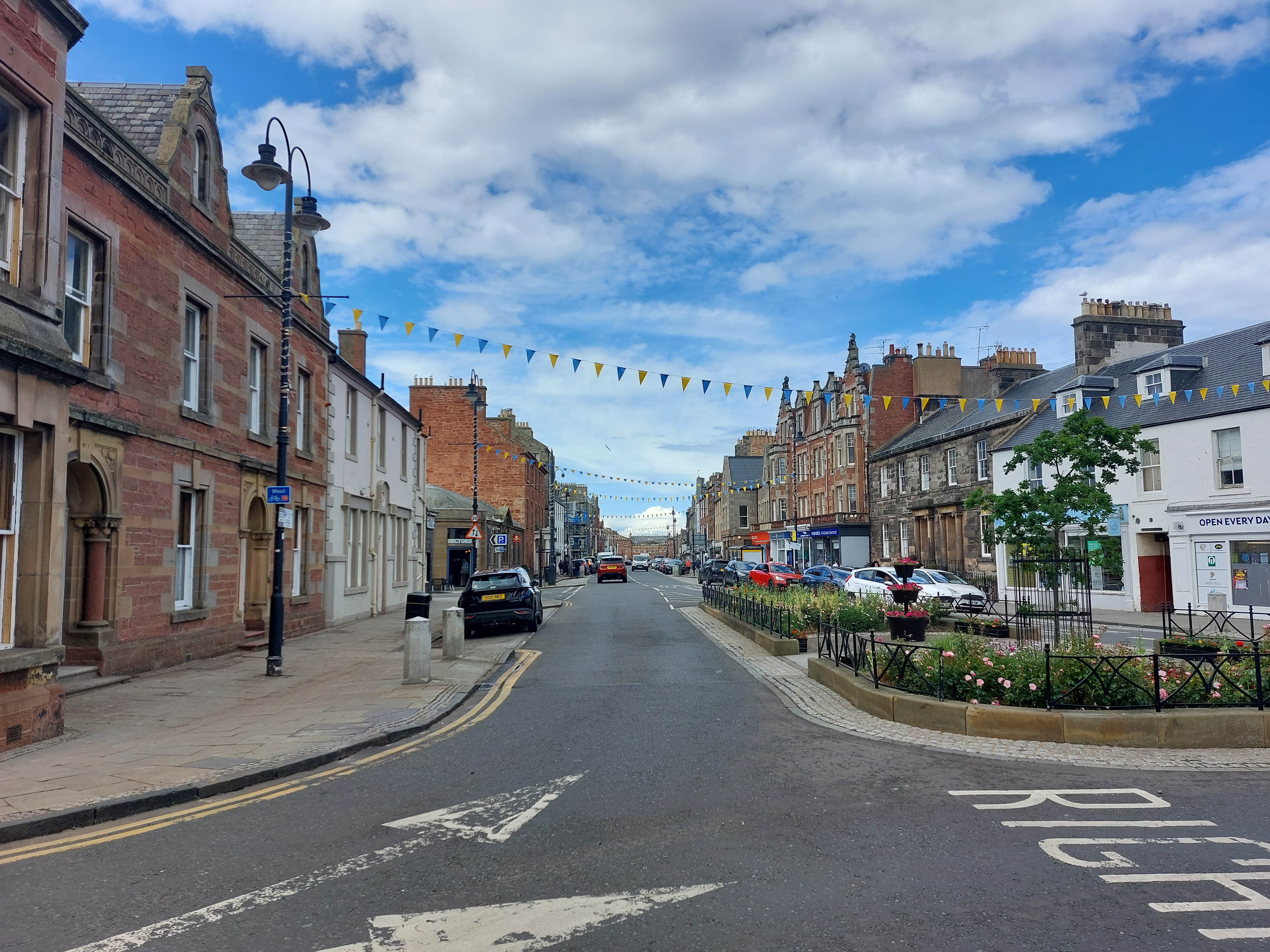 This is downtown Dunbar. A lot of towns I've shown pictures of have those lines of flags flying overhead, which has something to do with the Queen....50th anniversary of her rule, I think, or something. You know, royal stuff. :)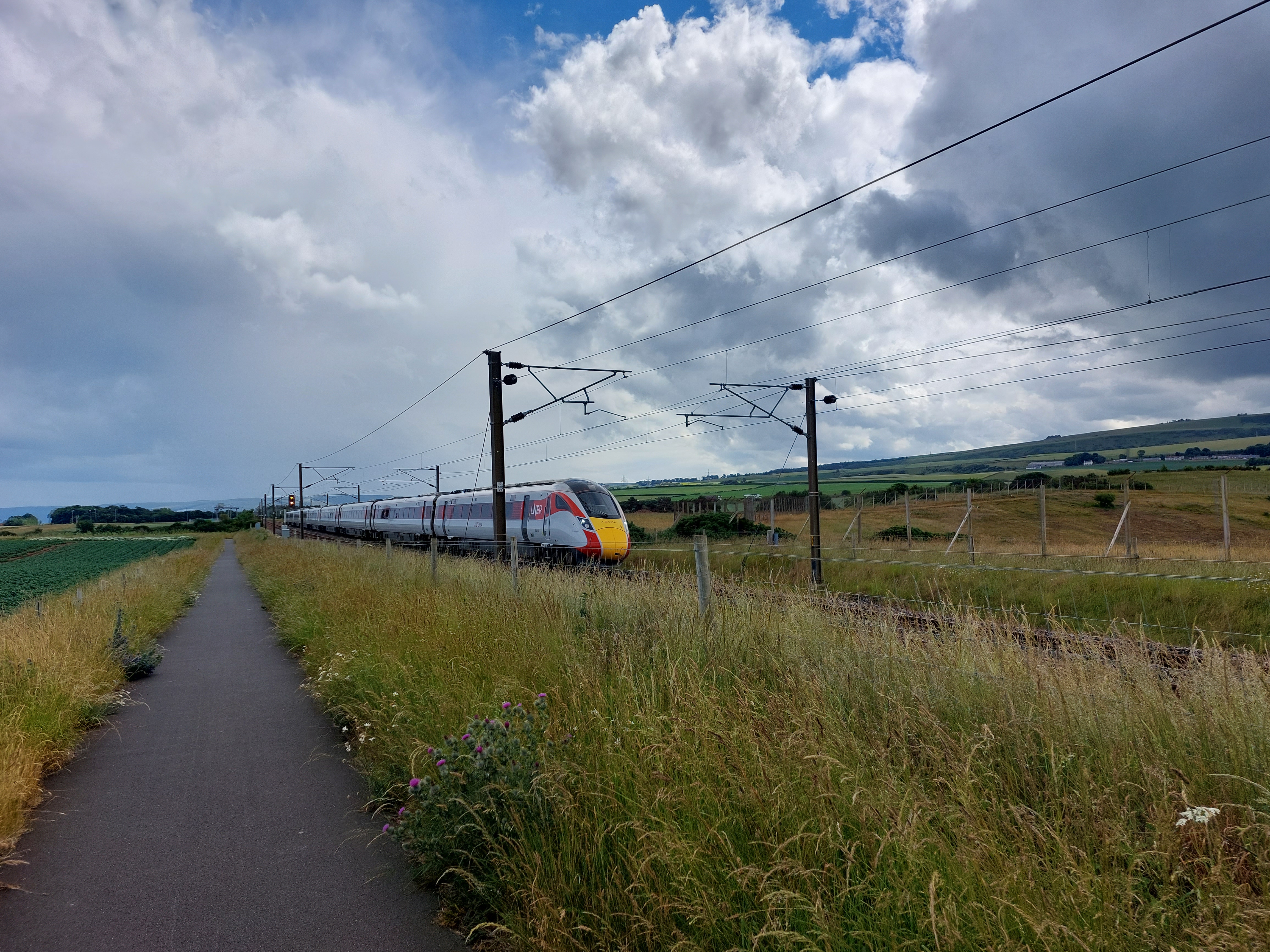 Leaving Dunbar, I arrived on a very nice bike path including a section so new Google Maps didn't know about it. Oh and also I caught one of those high-speed electric trains passing by. It was gone almost before the camera clicked off the photo.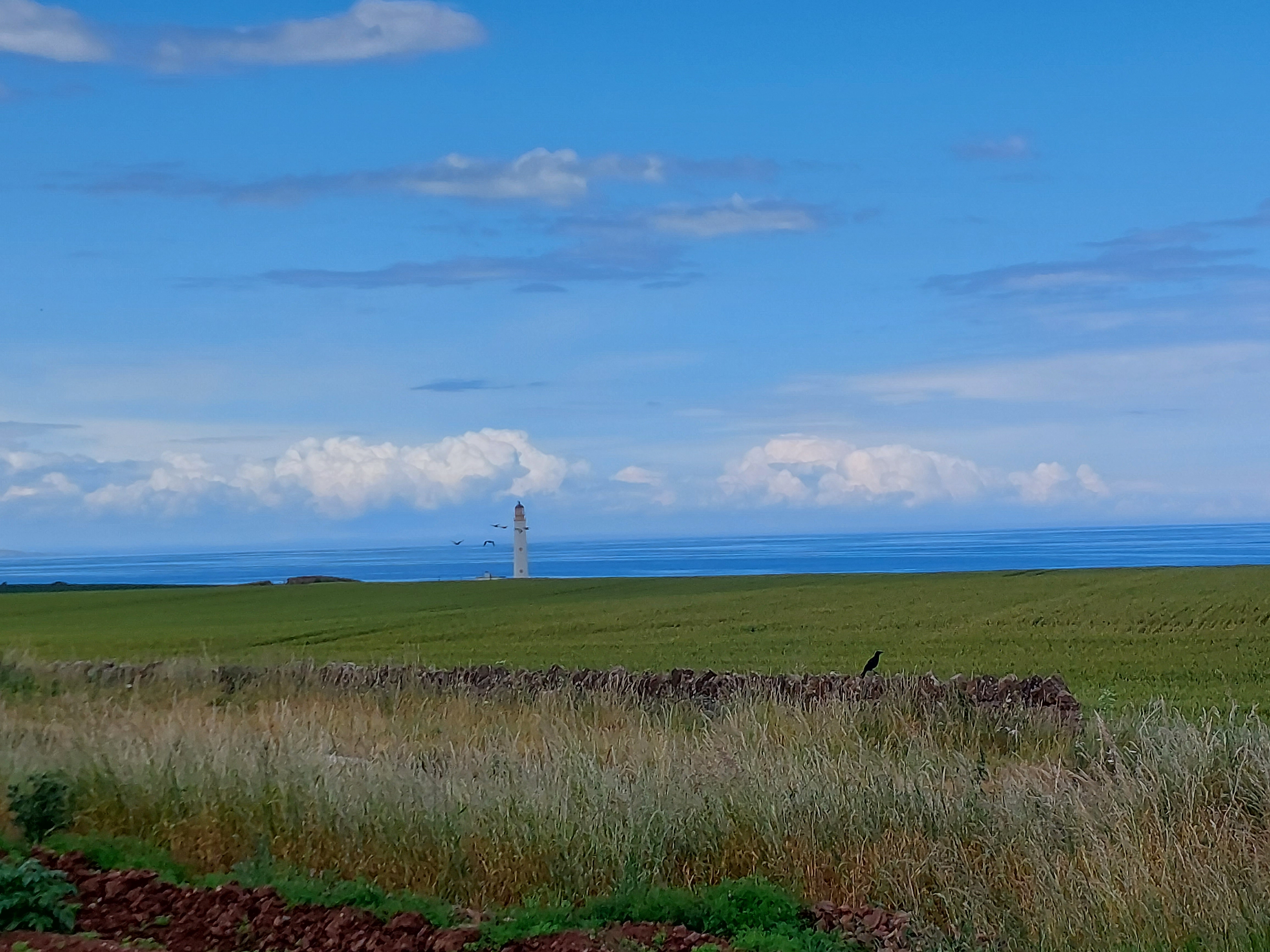 Further down the coast I caught this very lonely lighthouse just sitting there by itself. I guess the birds like it, though.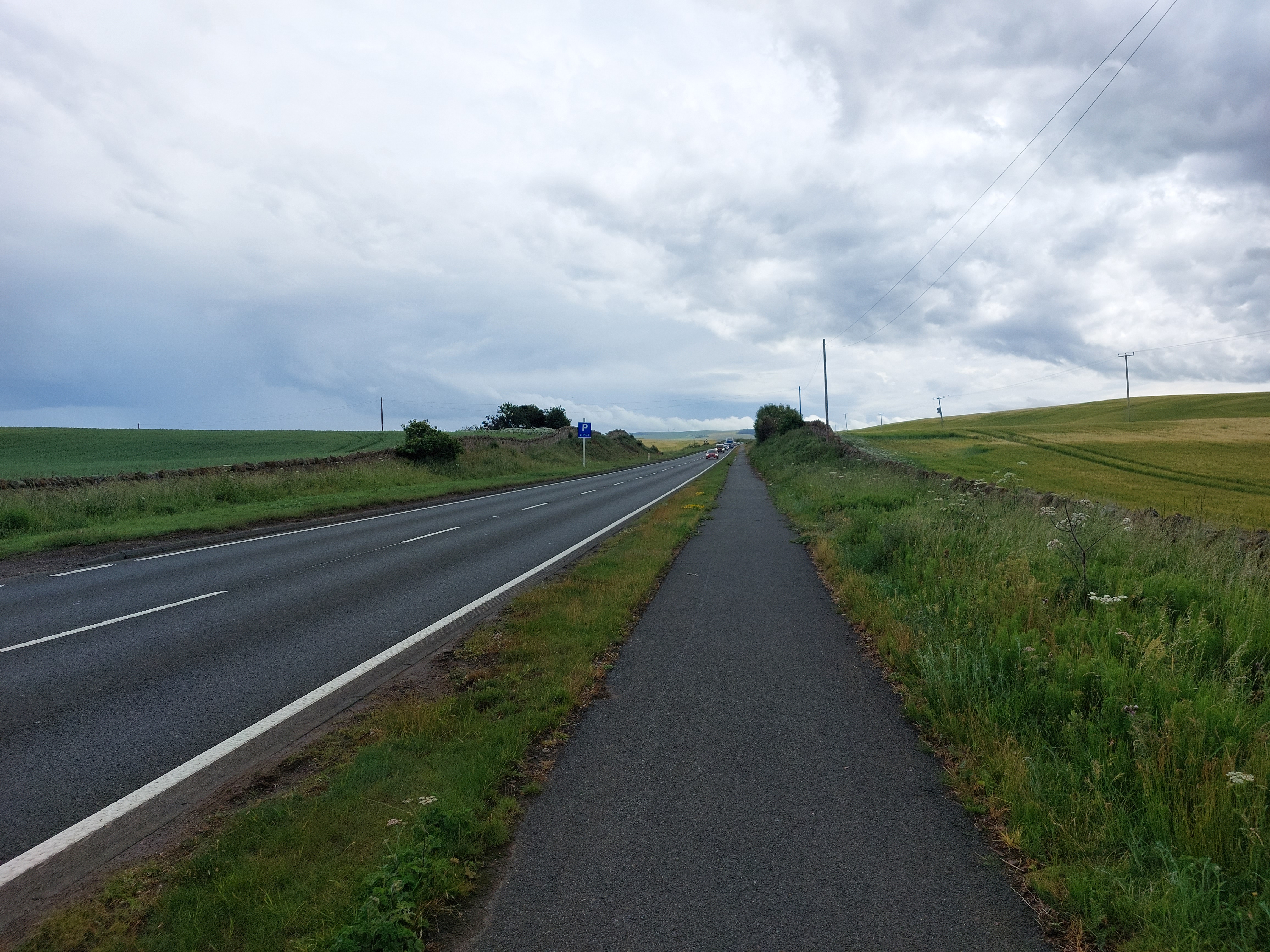 I mentioned up top that the route took me along the A1, one of Englands biggest and busiest non-motorway, and I was worried about it ever since I saw it on the map last night. So when I got here and found the bike path paralleling it, I thought I was in for an easy ride. The bike path stayed with it maybe halfway, though, and that was that.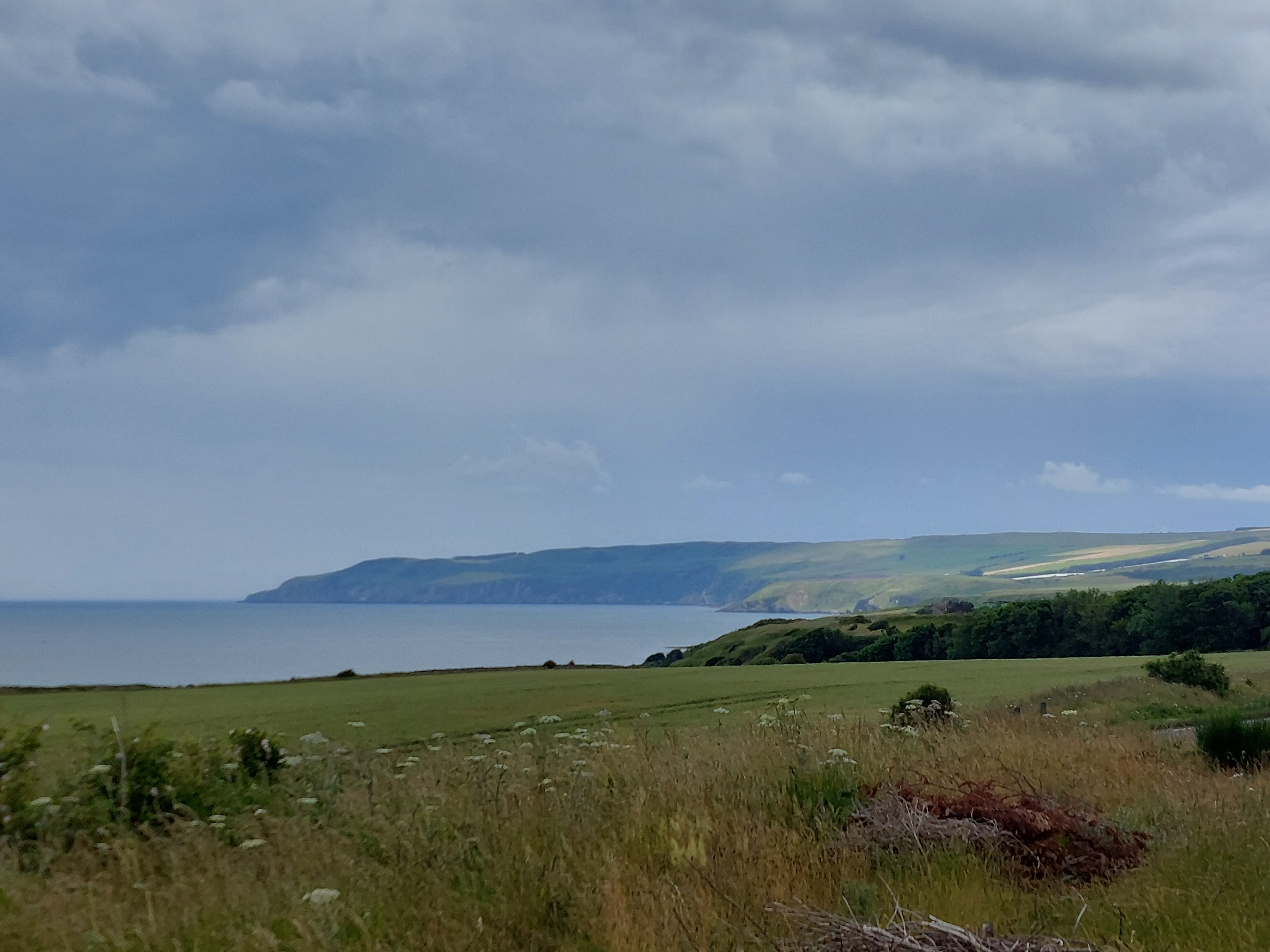 Before the trail ended, I got treated to this nice view of the rugged Scottish coast, the last time I'll see it this trip.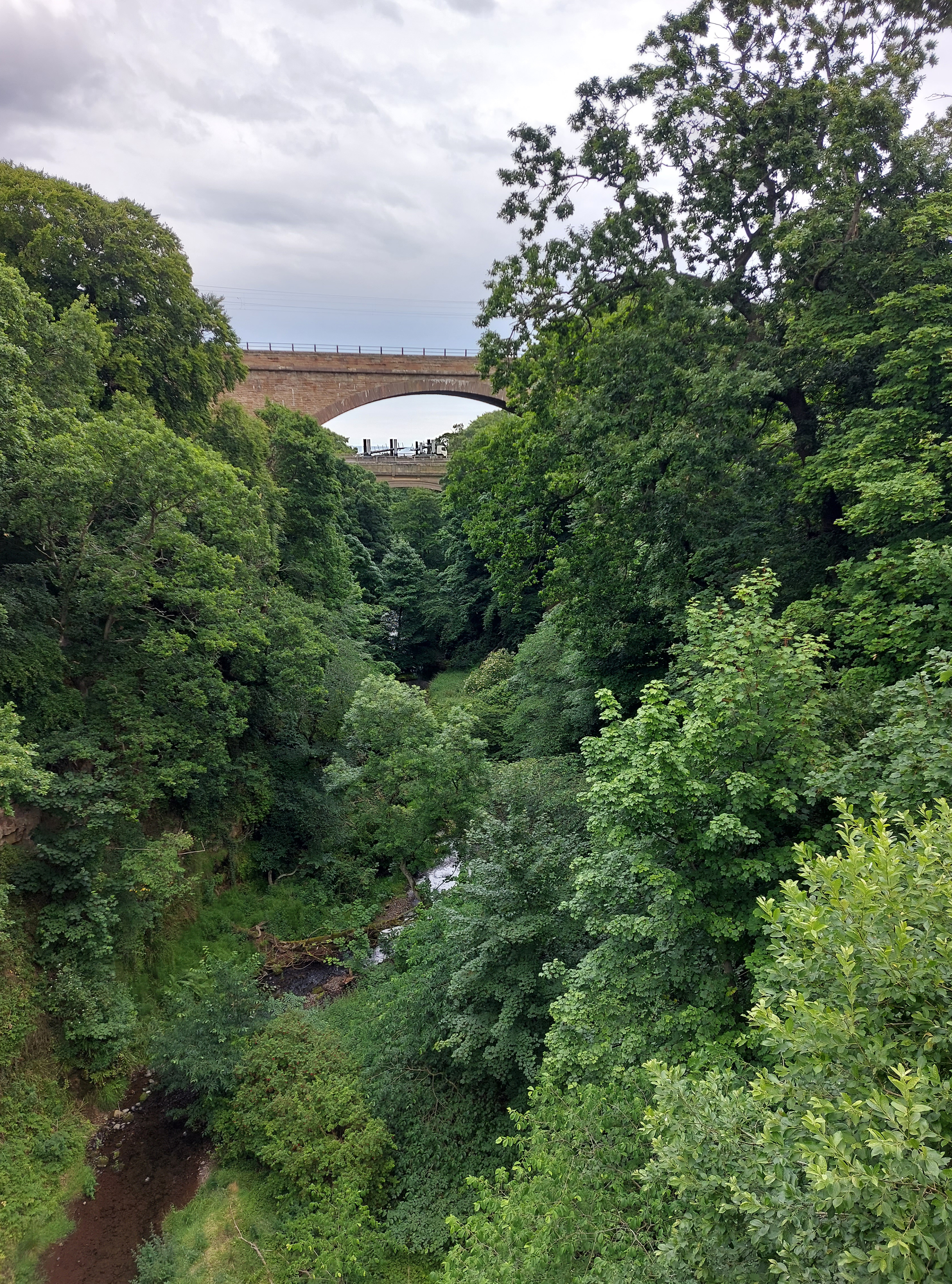 The path eventually diverged from the A1 briefly (that's it over on top of the bridge there) and I did get this nice river crossing view out of it.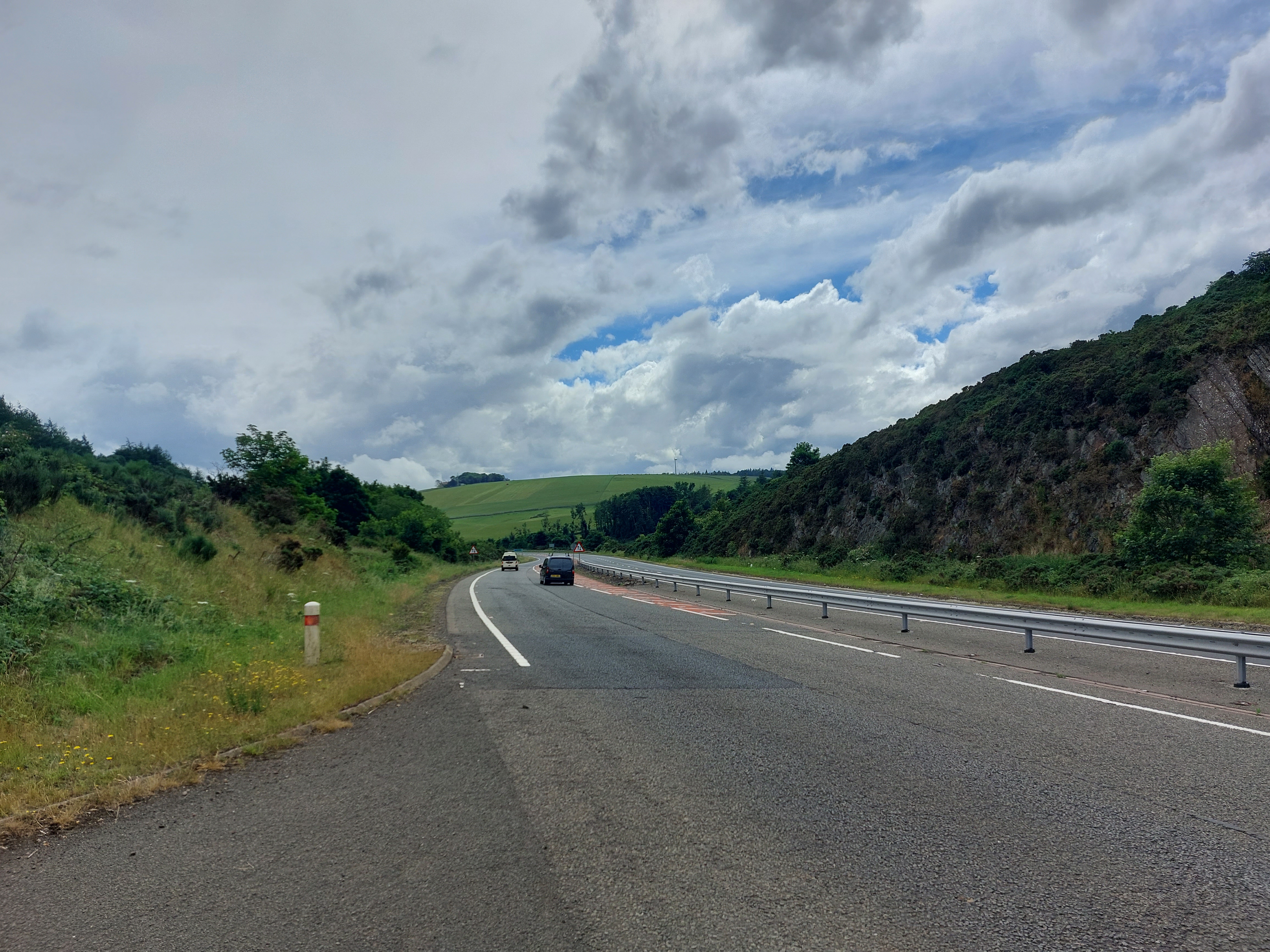 And here's where I was forced to get on the busy thoroughfare for a nerve-wracking 5 miles on that tiny shoulder which only lasted 4 of those miles...the last mile was downright harrowing, I can tell you. Not for the faint of heart, and I hope to not have to do anything like that again.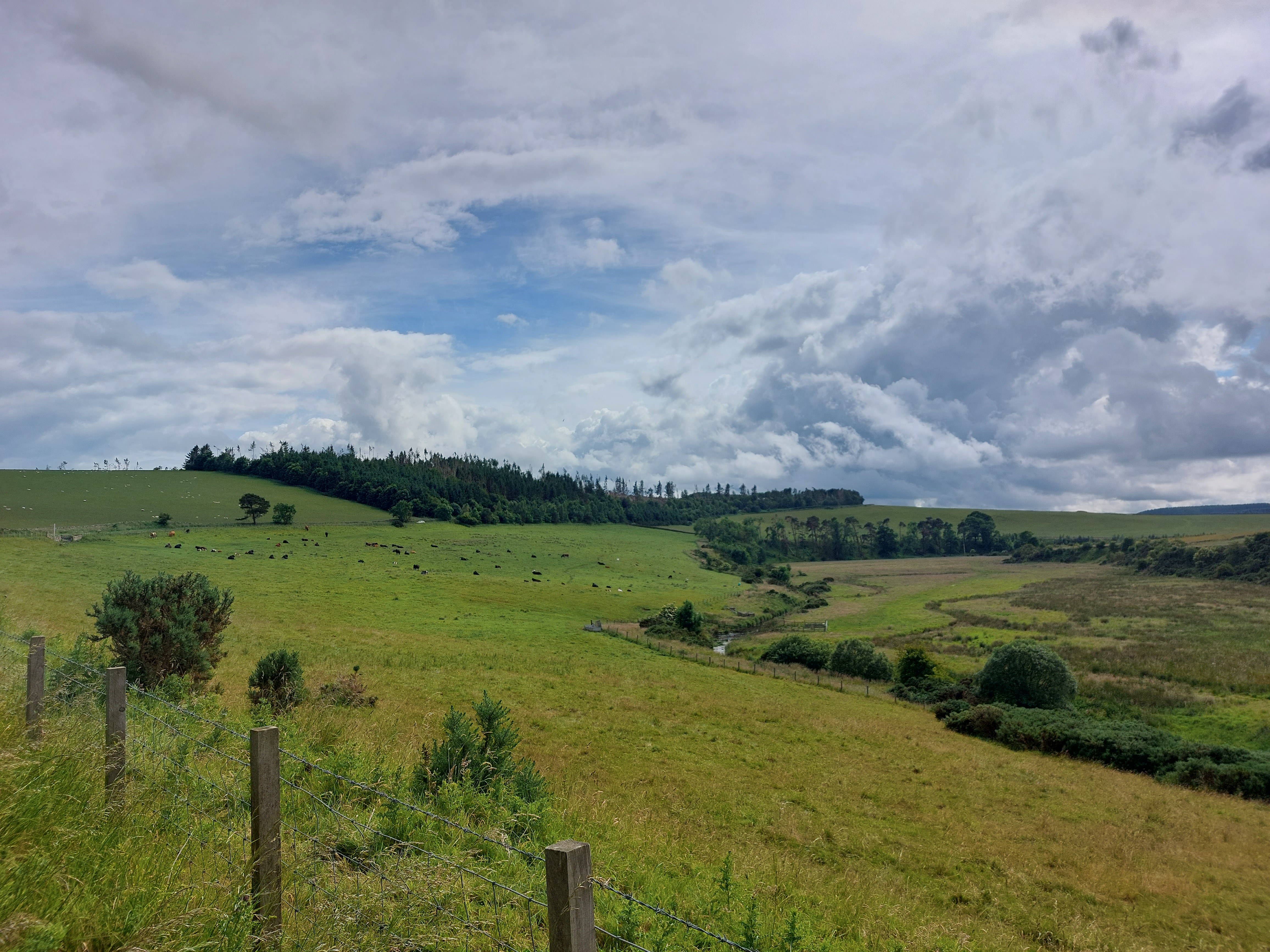 Whew! I survived the scary A1 and now it's back to beautiful pastoral Scottish countryside for a while.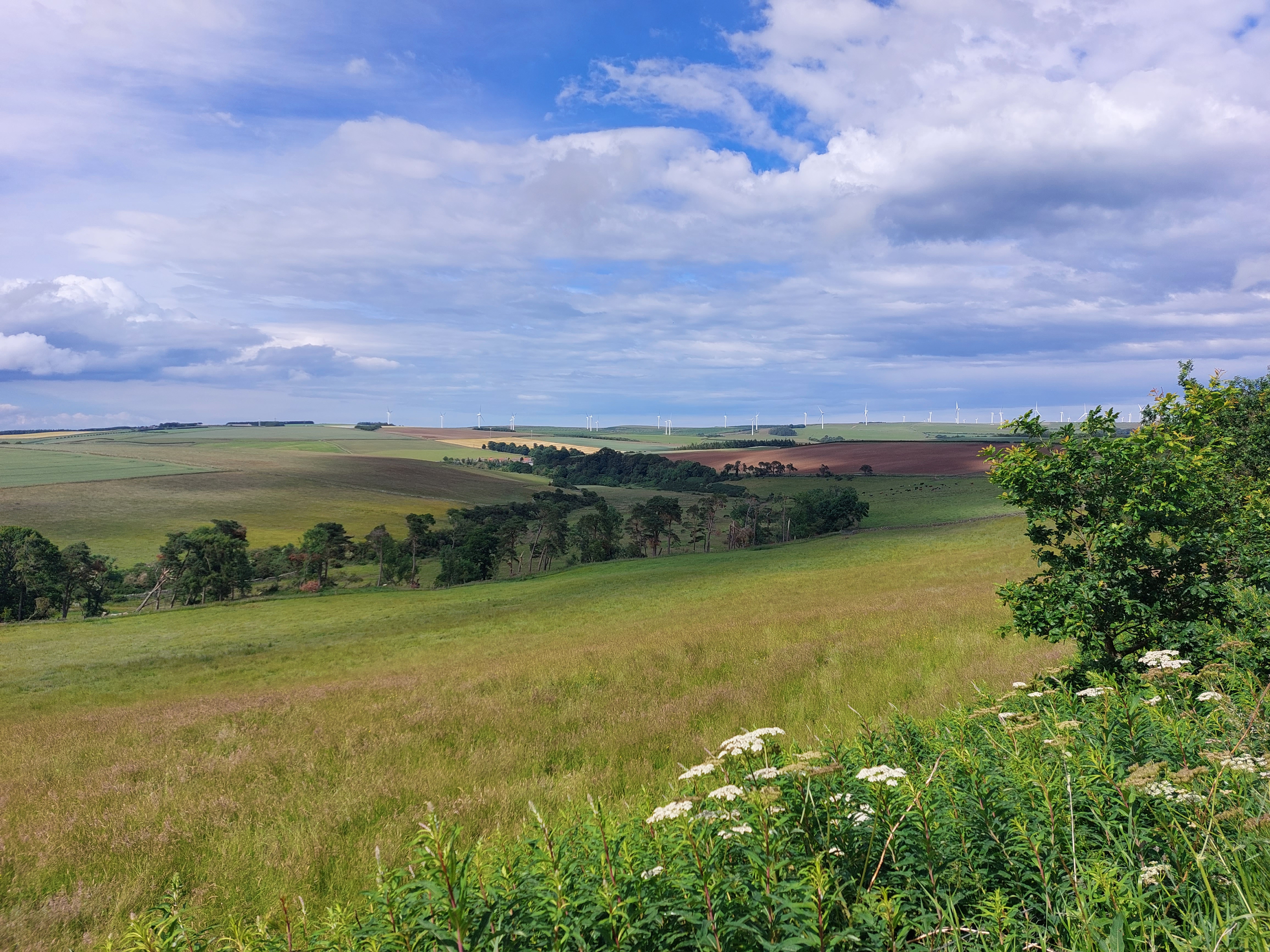 See what I mean? Just gorgeous.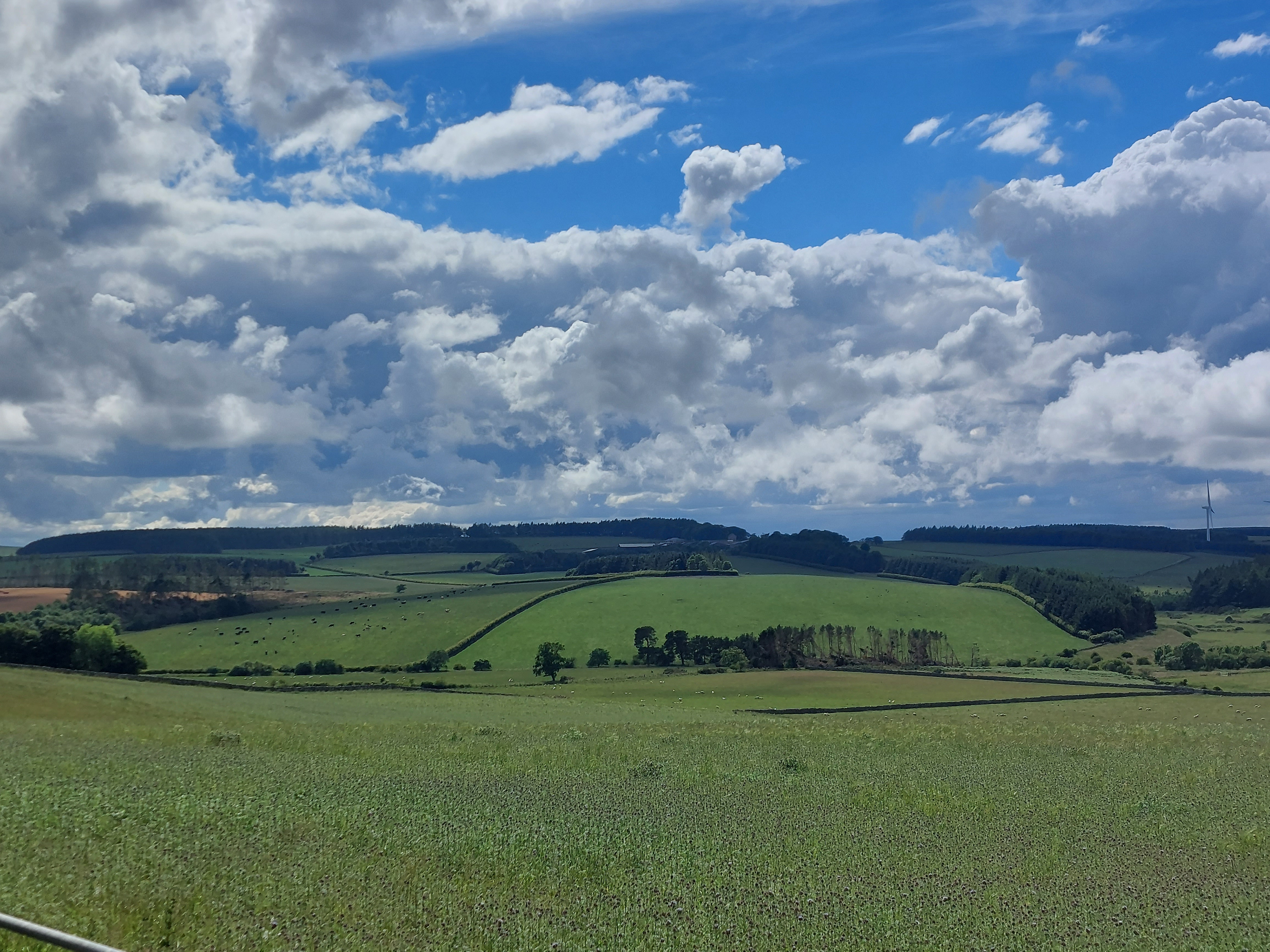 Sorry if I'm boring you with all these amazing views, but I can't help myself.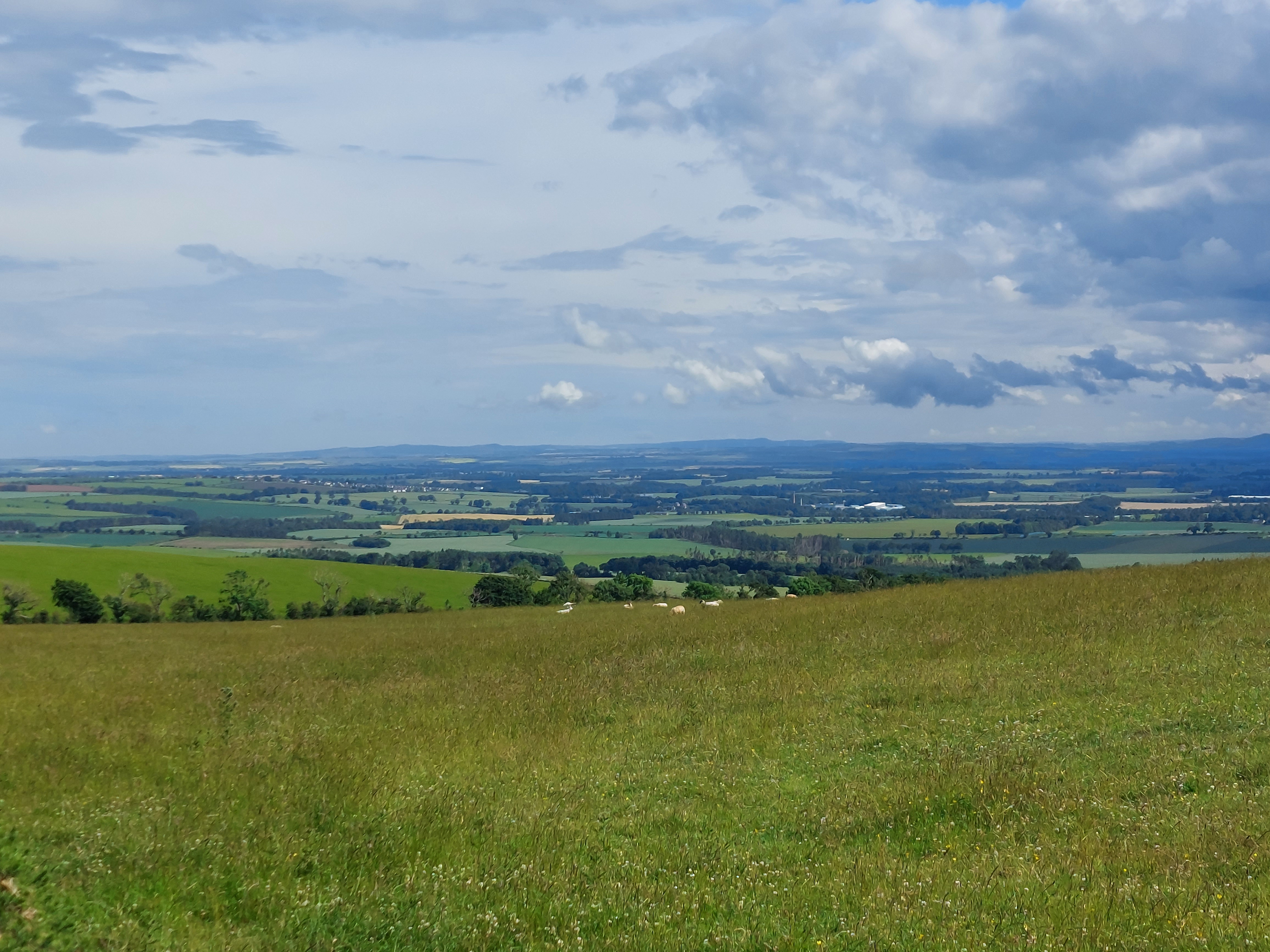 Seriously, every hill I topped had what looked like a better view than last time.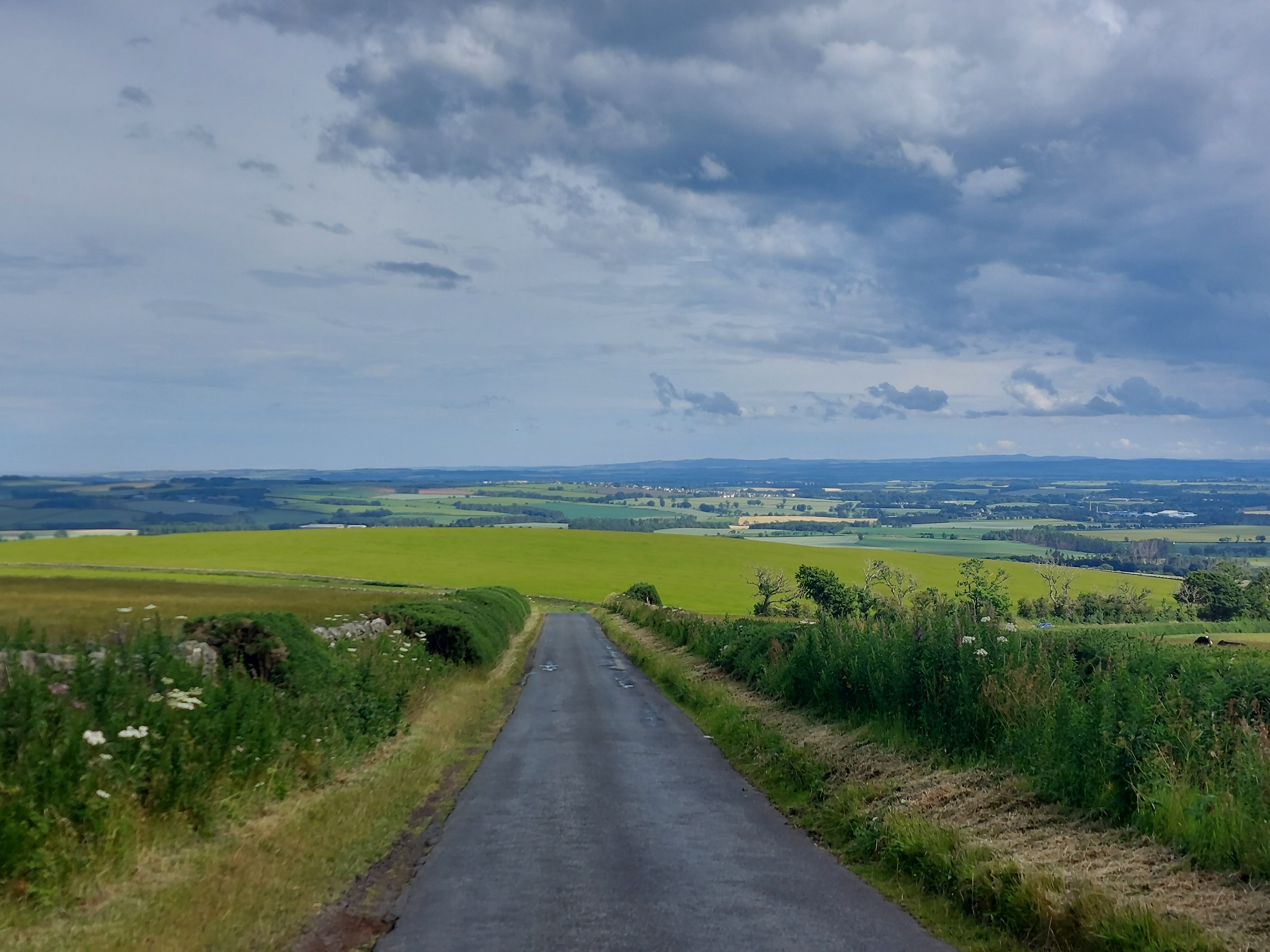 This one came after a particularly steep climb, and also my first rain shower of the day (you can see the road is wet, but at least it's not raining at the moment).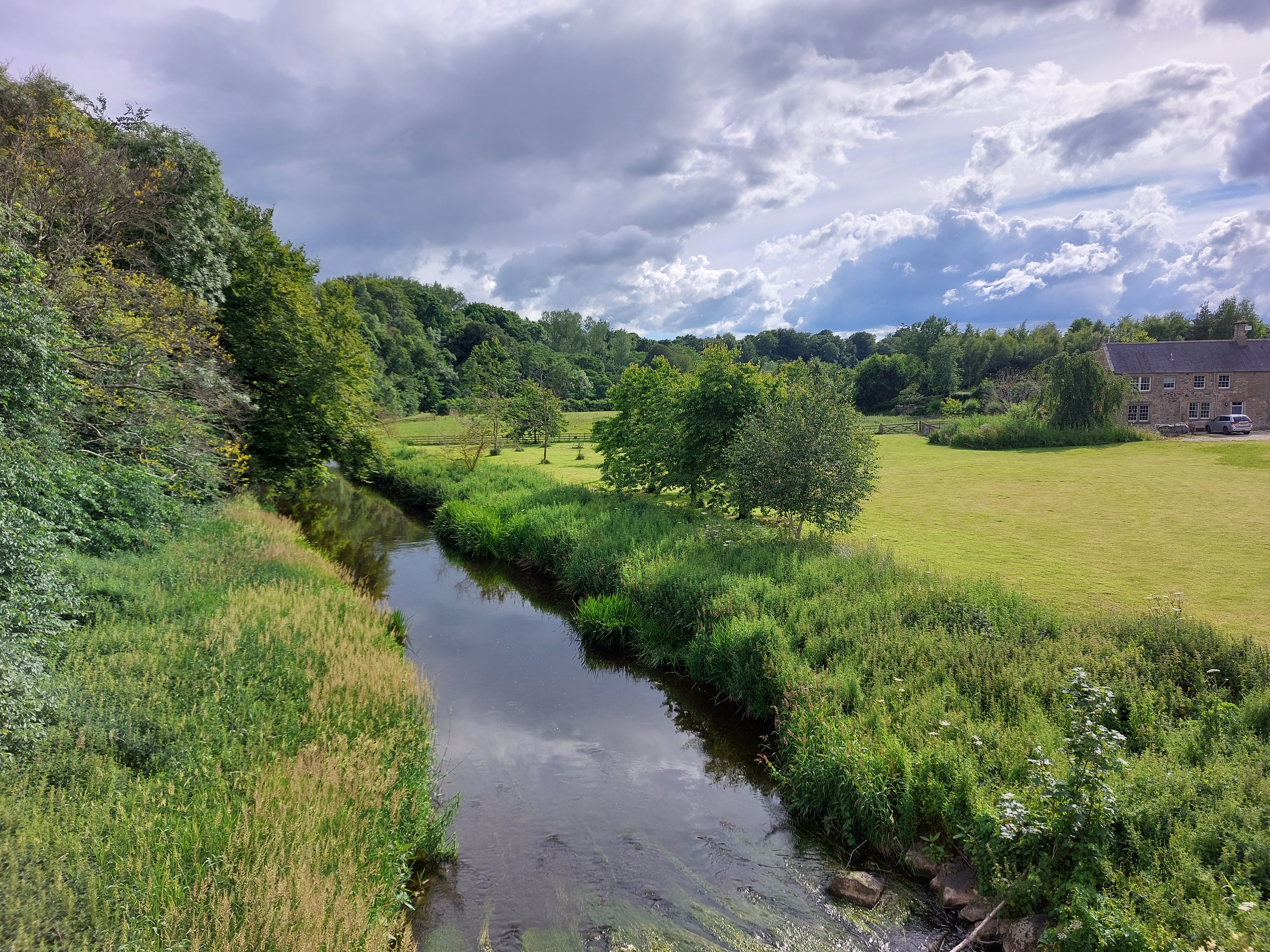 Wow, just wow. These are the views that make all that climbing worth it.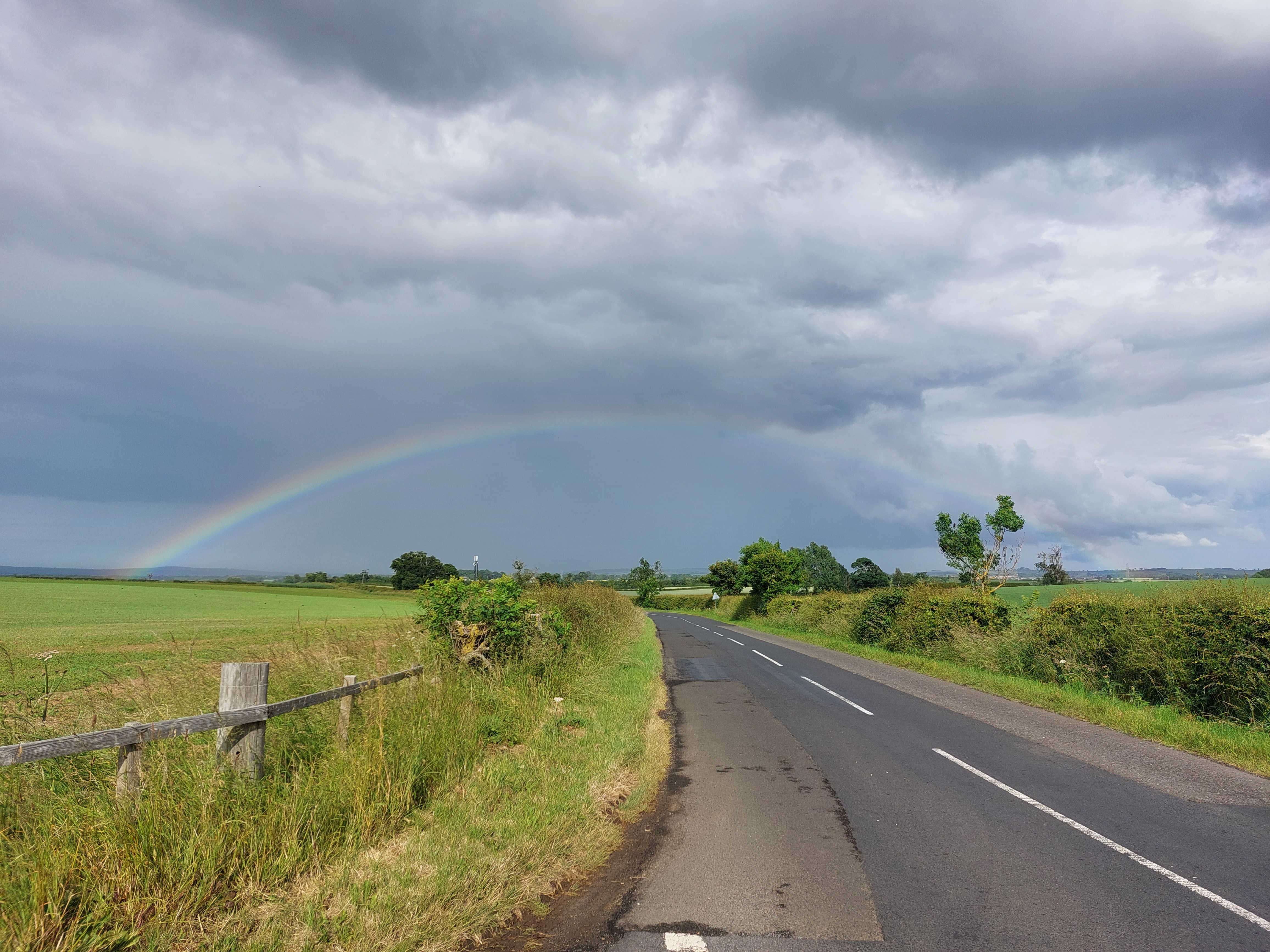 Once the showers started, they came and went for a while, but at least they gave me some more scenery.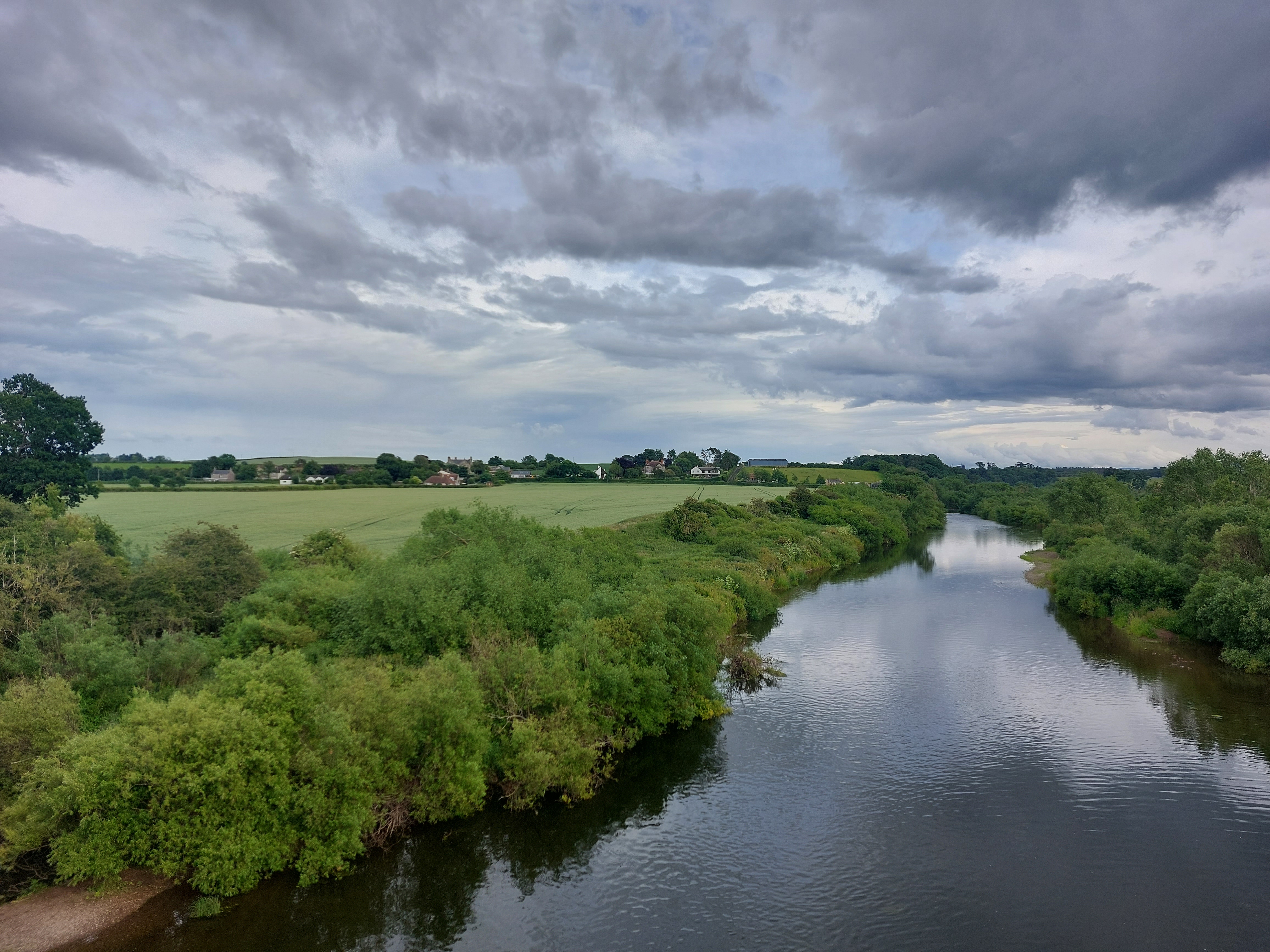 Had enough yet? Of course not.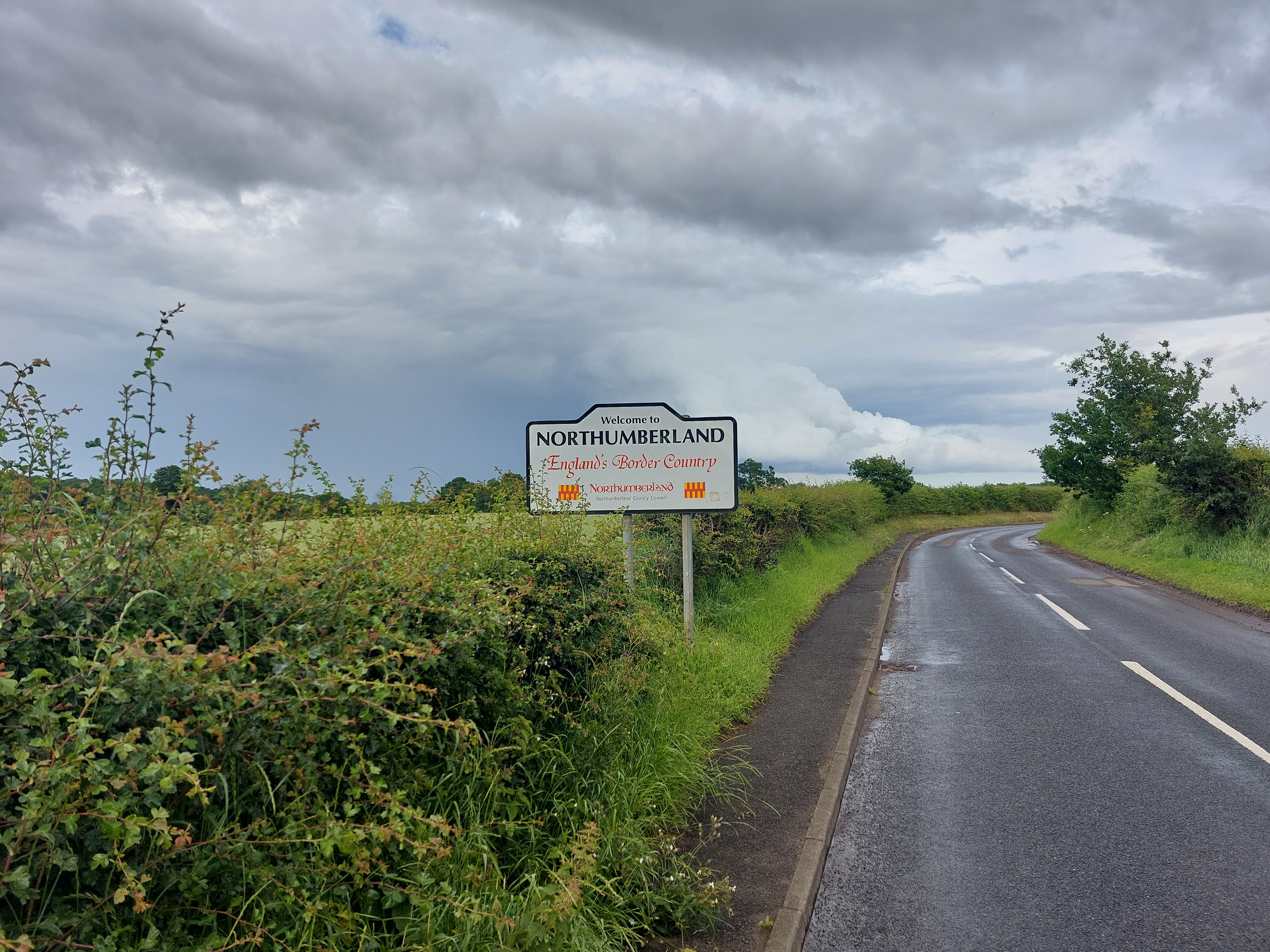 Eventually, though, I had to say goodbye to Scotland and now it's back into England for the rest of the tour.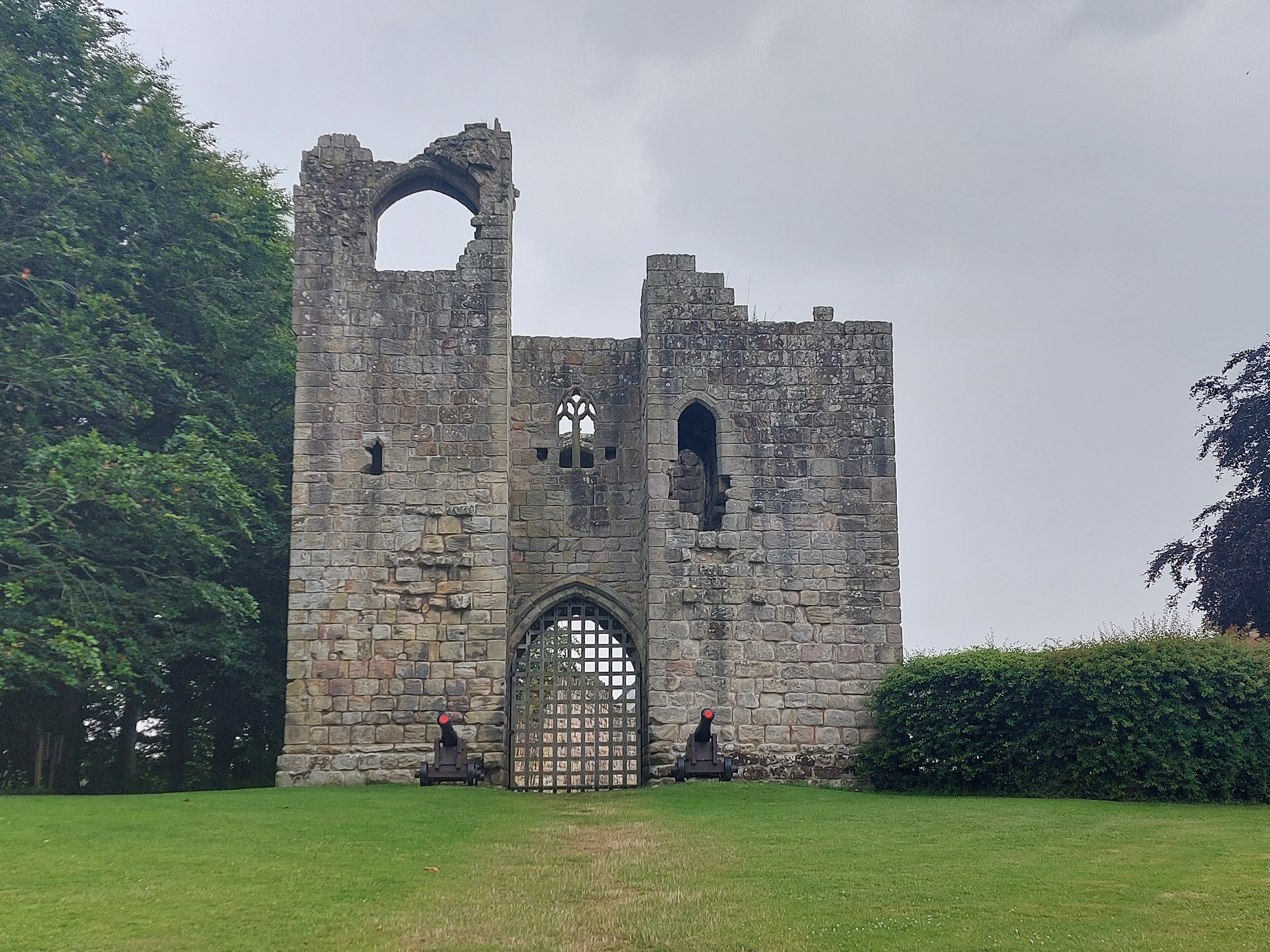 Here's a ruined castle in a town called Etal.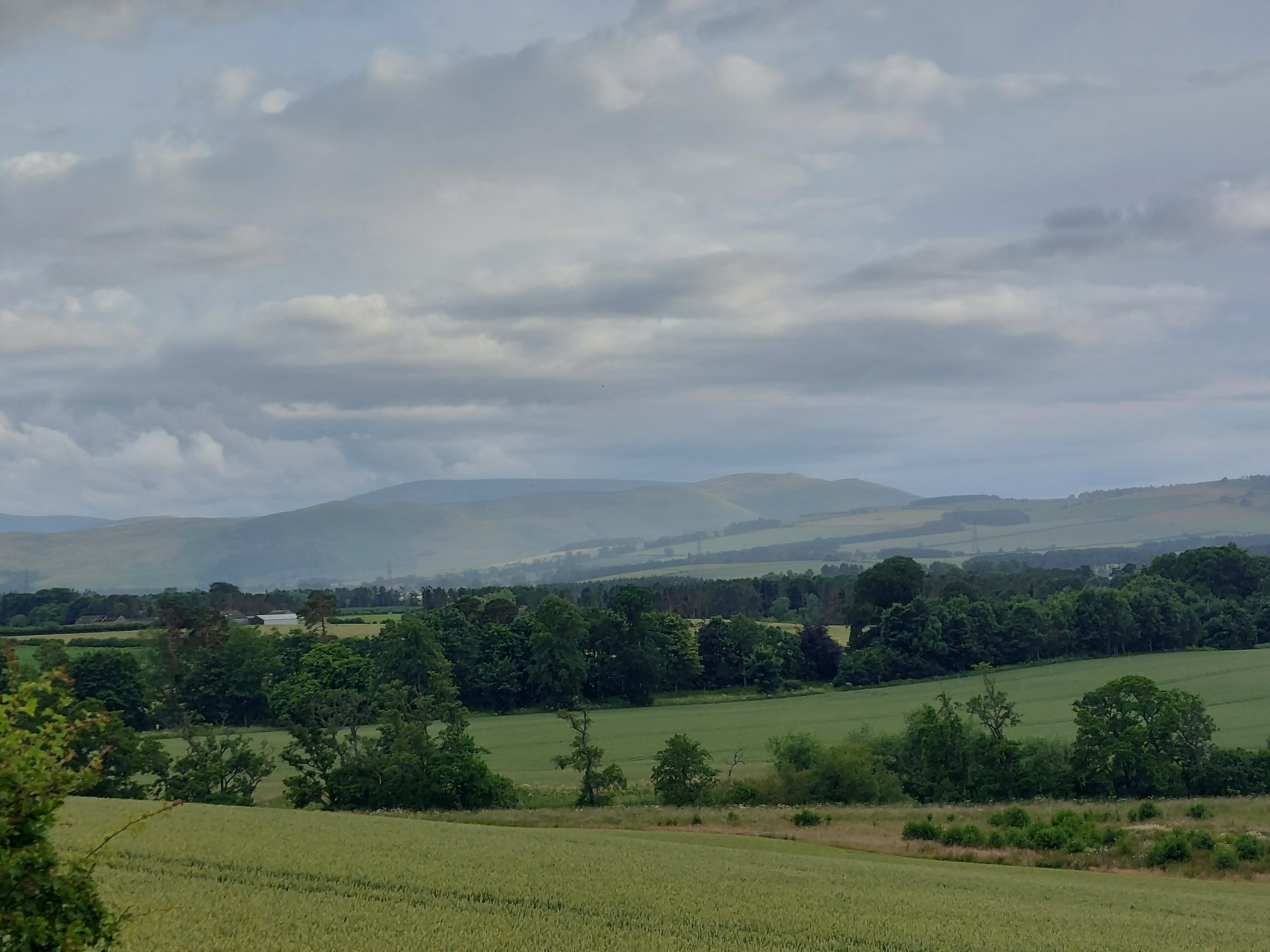 More scenery to enjoy, but look at the rain coming over the hills in the distance. Pretty soon that rain will be landing on me.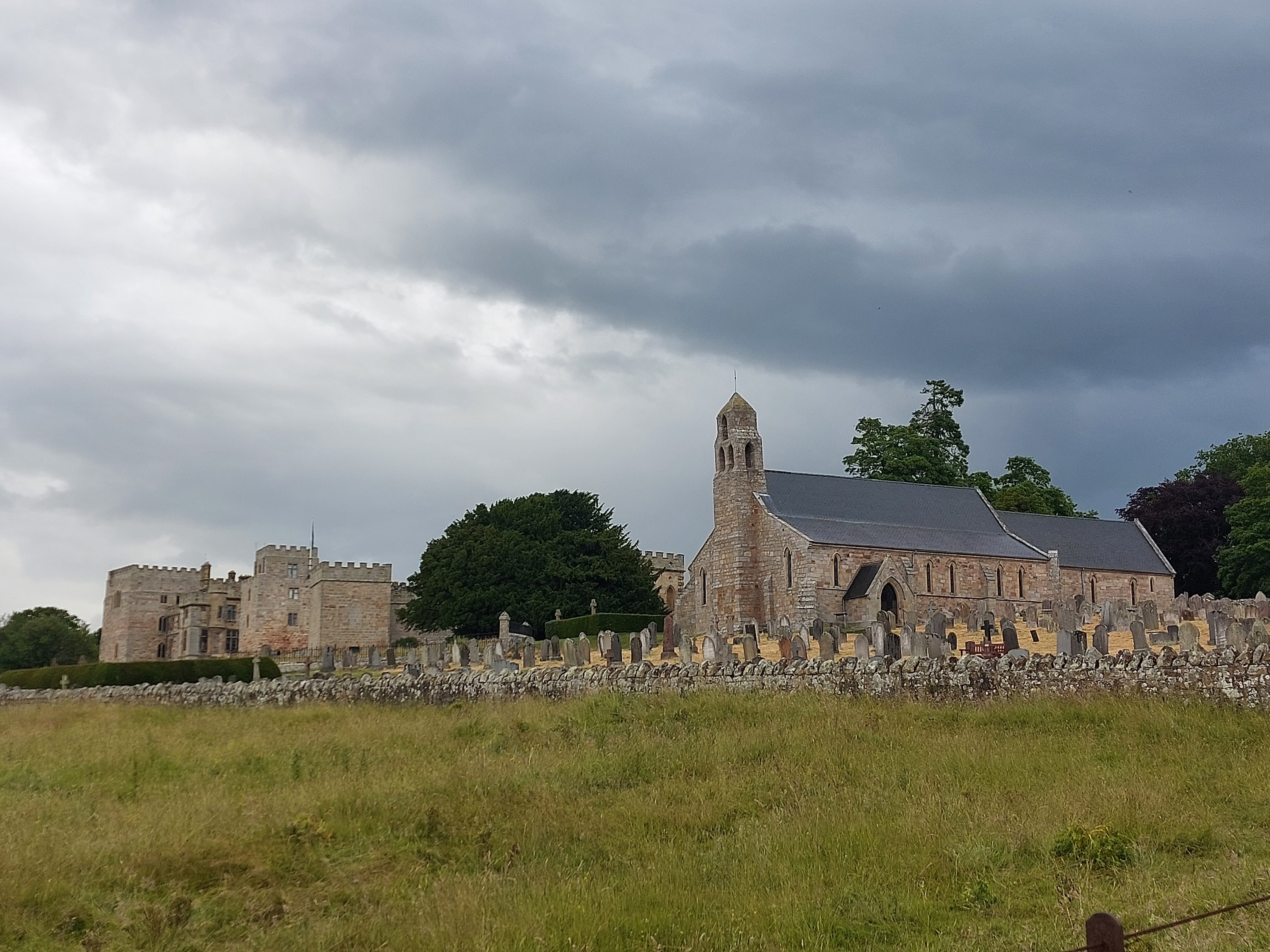 Here's a two for one special....a nice looking old church, and a ruined castle, both in the same photo!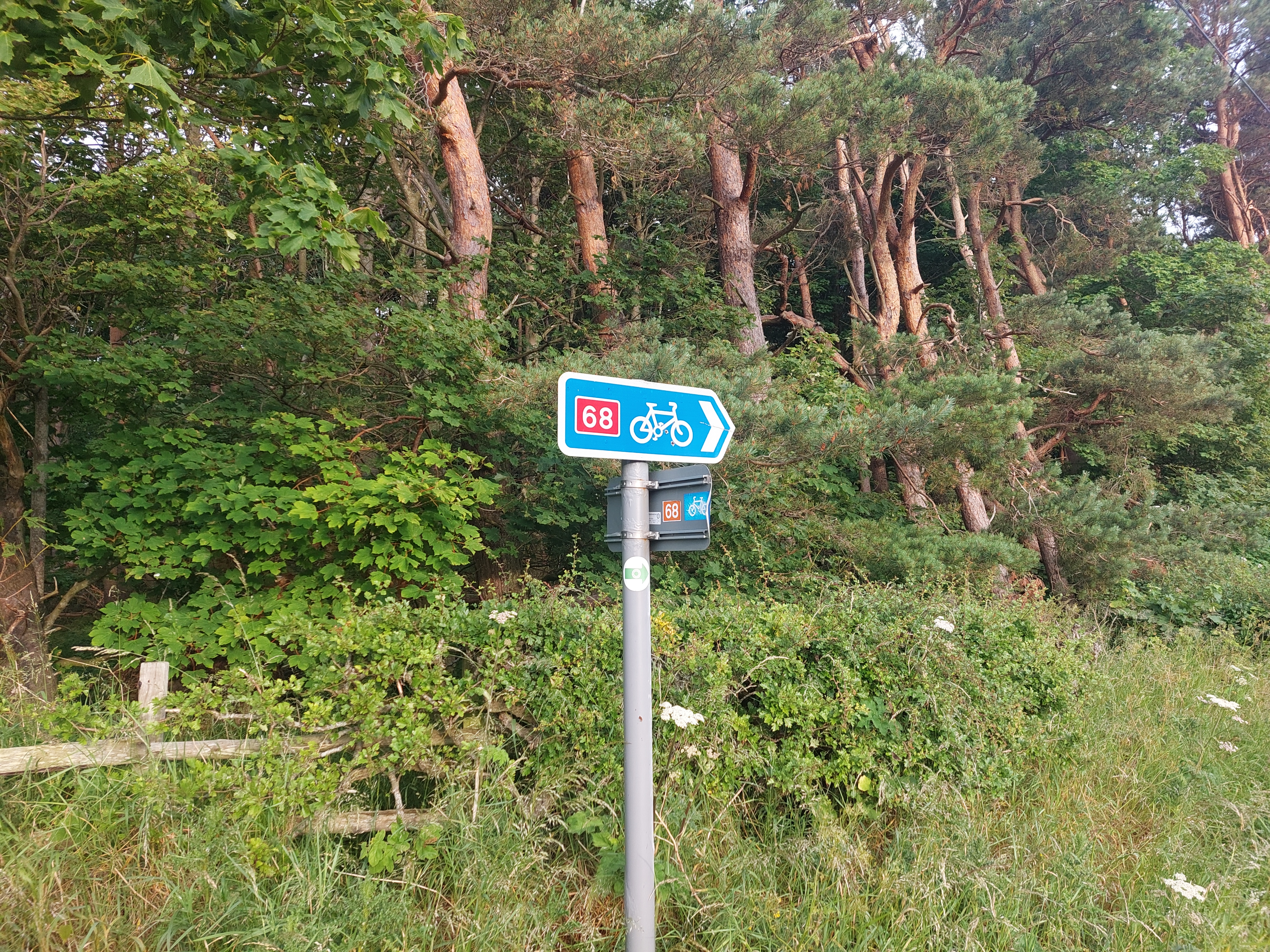 Once I left the A1, I spent most of the day following National Cycle Route 68. Google Maps has stopped saying the whole thing, though. Instead of saying "Turn right on National Cycle Route 68," it now just says "Turn right on 68." I like that so much better.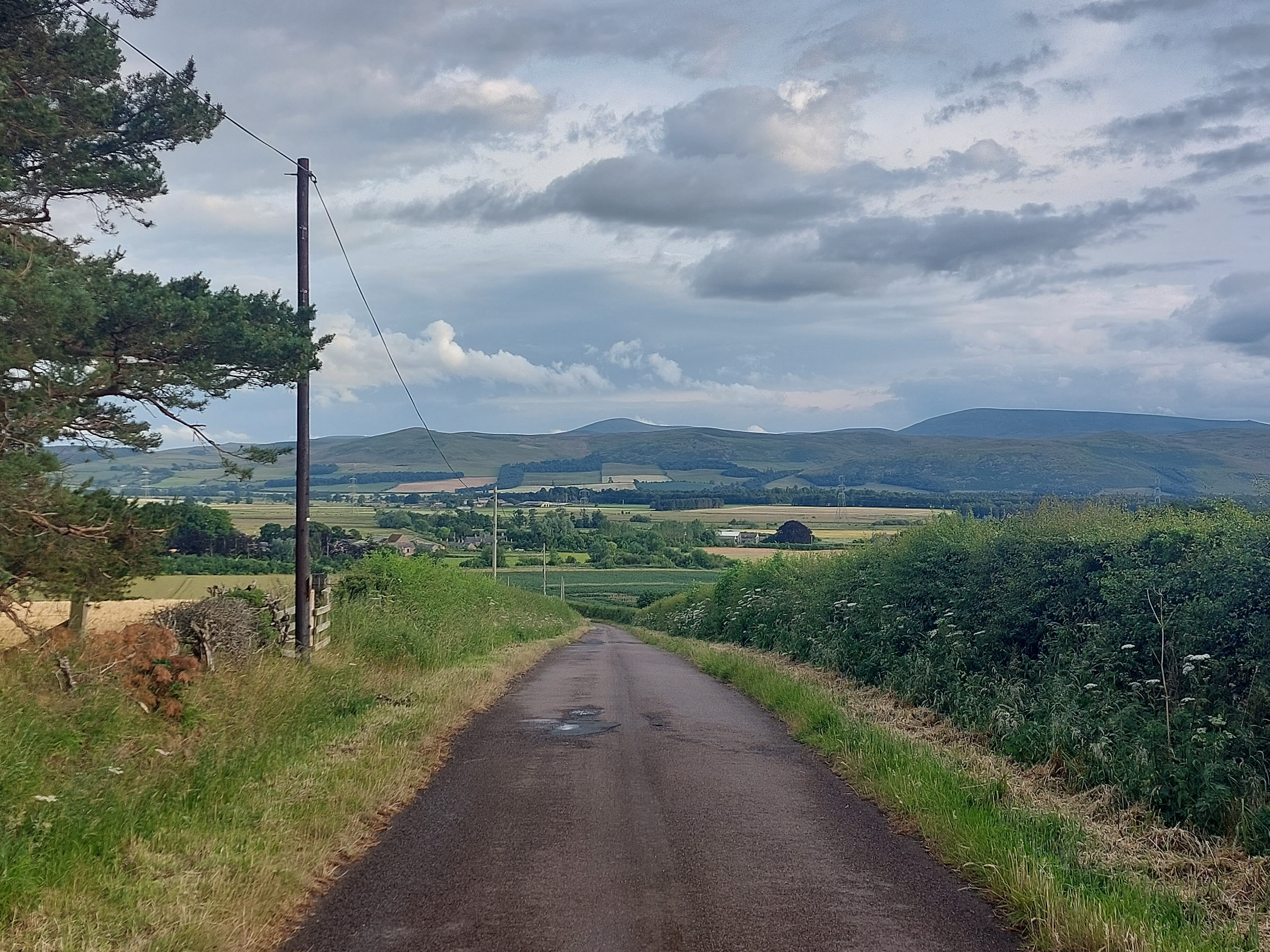 After a while the rain ended and I spent the last hour and a half drying off in the slight headwinds, and apparently so did the roads. This view is looking out at the last village I went through before reaching my destination.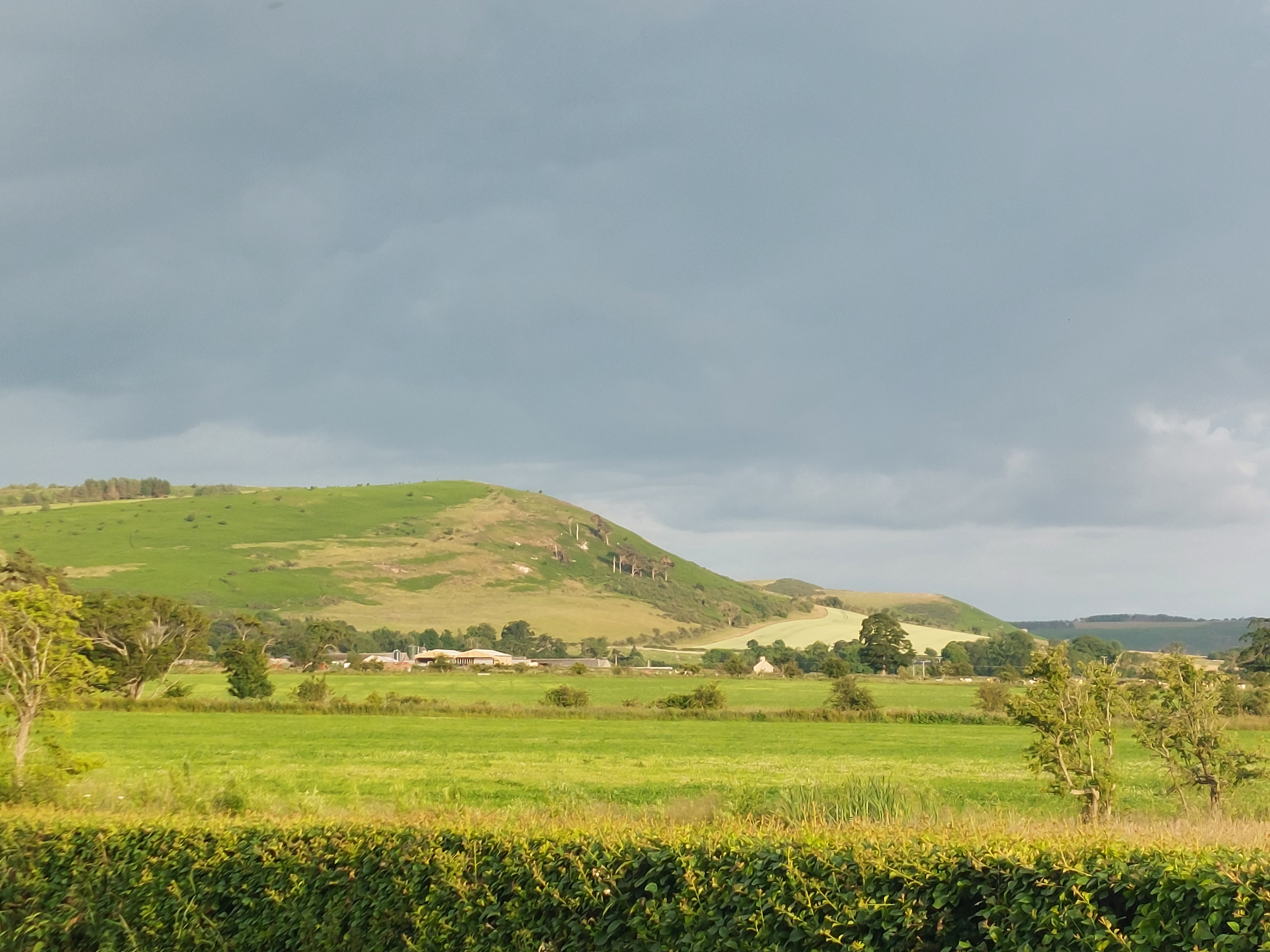 The sun even came out, giving a strange late afternoon glow to the scenery.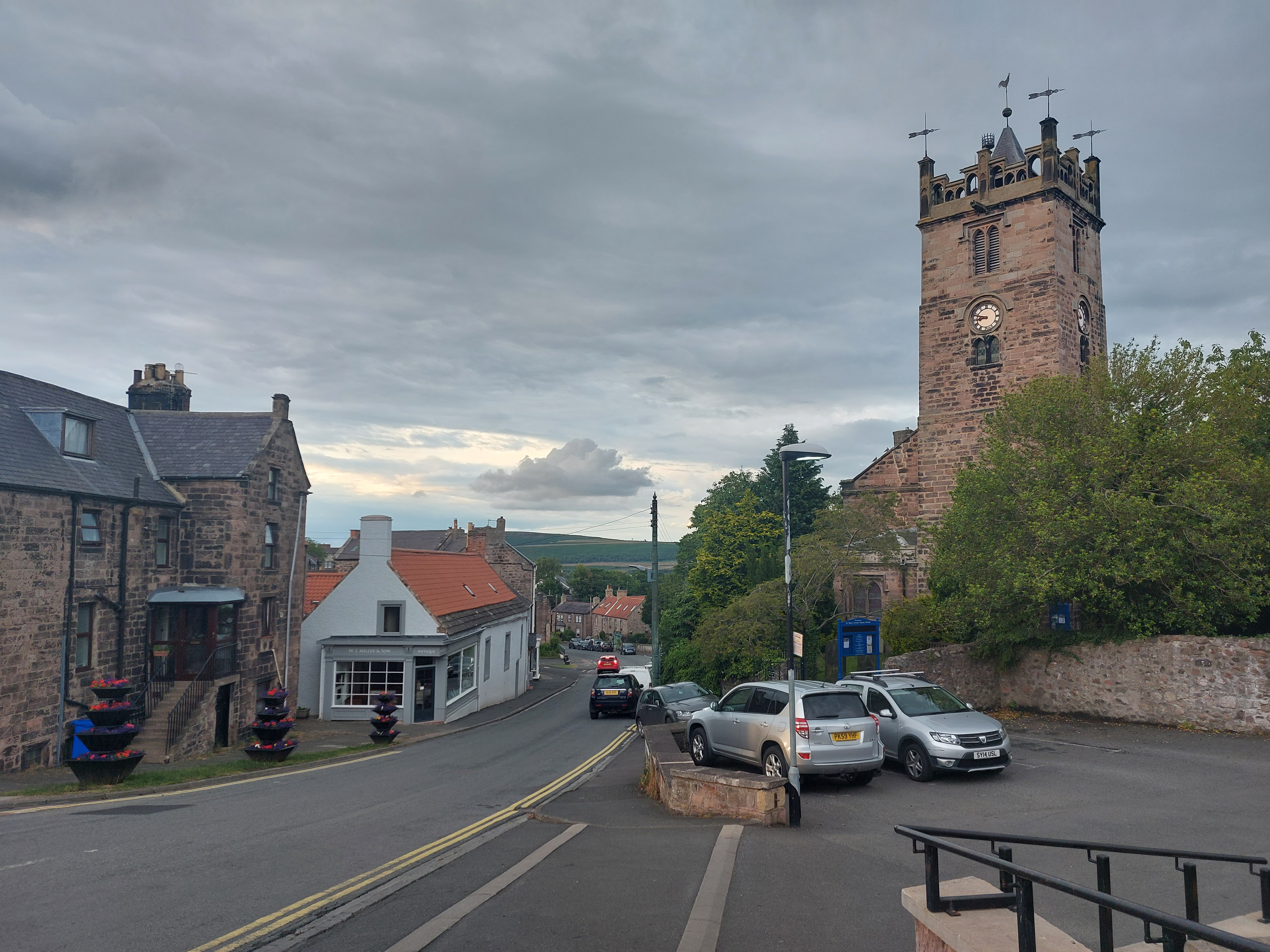 And here's the town of Wooler, from the top of the very last hill I had to climb today.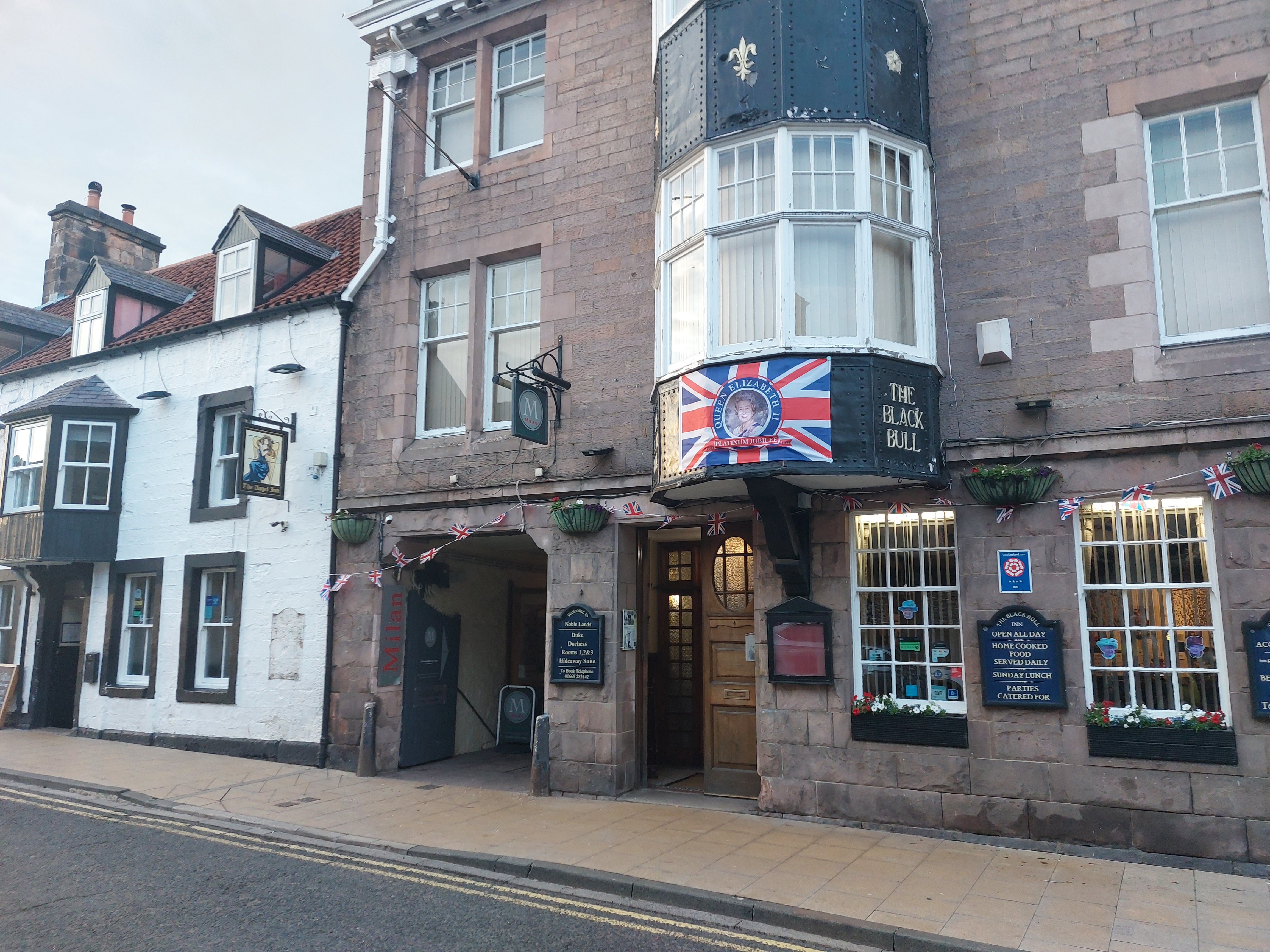 And here's my hotel. Well, not really. This is the pub next to the hotel. The actual place is through that entryway to the left. Oh and see what I mean about the Queen's celebration? It says on the sign there that it's a Platinum Jubilee, which I take to mean 50 years of rule. Sort of like an anniversary of rulership, or something. Anyway, most every town had flags or signs or something about it here and there.
That's it for now. Tomorrow, the journey back to London continues. 6 more days...