Day 22 – July 1, 2022
Wooler to Sunderland
Miles: 62
Terrain: Very hilly including some long, grinding climbs
Weather: Cool, very rainy, moderate crosswinds
Once again I really didn't want to leave my hotel room today. First of all it was amazing...the nicest place so far this trip. (See photo below.) Then of course I had another day of over 2000 feet of climbing to look forward to. And then, for the icing on the cake, the weather forecast...nothing but rain all day, some of it heavy. No, I was not excited to leave today at all. However, I only have 6 days left to reach London and it's a little over 425 miles away so I can't afford a day off. So into the rain I went.
Things started out okay...just light drizzle as I made my way southeast out of Wooler. A few miles out of town I got on the A697, another of these two-lane no-shoulder affairs similar to a small state route back home. I was on this for 31 miles, the longest single stretch of road I've been on this entire trip. Here and there there might be a shoulder or bike path but for the most part it was narrow street the entire way. Then the rains and hills began...and there was a stretch of about 6 miles of nothing but climbing, whereupon the skies opened up and I got completely dumped on. Best of all, just before all of that, I heard the loud ping of a spoke breaking on my rear wheel...the second this trip. So I had to do all that rain-soaked climbing with a broken spoke, worrying about more of them going out and the wheel collapsing before I could get to a bike shop.
Of course there weren't any nearby and I wound up finishing the entire first half of the ride, exiting the A697 in Morpeth and then riding a few more miles to the first bike shop on my route. Luckily they had Brian the expert wheel builder on staff and he had my spoke swapped out by the time it took me to eat lunch and have a brief chat with one of the store's patrons who hopefully is now following along on this blog. Anyway, Brian also greased my chain and tightened up my brakes without being asked, then tried to let me out of the store without paying for any of this (I refused, but the gesture was appreciated). So far both my bike shop visits in England have been outstanding. They know how to treat their customers here, that's for sure!
Luckily, the second half of the ride went better than the first. The rains petered out and became just occasional showers for the next couple of hours, then died out completely long enough for me to air-dry as I rode along almost exclusively bike paths in the Newcastle area (in fact I almost couldn't tell I was in a pretty major metropolitan area at all). In one of the cooler events of the trip, I got to take a bicycle tunnel underneath the Tyne river (more photos below) which I've never experienced before. Then it was on to my hotel, which I had a little trouble finding since it was just an unmarked door along the edge of a building, and nobody there to check me in...just a door code and a lockbox thing with my key in it. These sorts of things became more common during Covid, apparently, as places like this found ways to stay in operation without having to subject staff to face-to-face meetings with customers. Even better for me, though, they tend to be way cheaper than standard hotels (I think this one was 35 pounds a night and it was actually very comfortable in the room, once I figured out how to get into it). Even better, I got to have a great conversation with Connor, one of my neighbors down the hall, who is from Ireland and spending a few weeks in the hotel while working nearby. With all the trains and buses running in places like this, you can actually travel for work and get around without needing a car...this would be far more difficult/expensive back in the States.
Anyway, the one downside of the place was poor wifi so I didn't get the site updated that night. Otherwise everything went great. Time for some photos!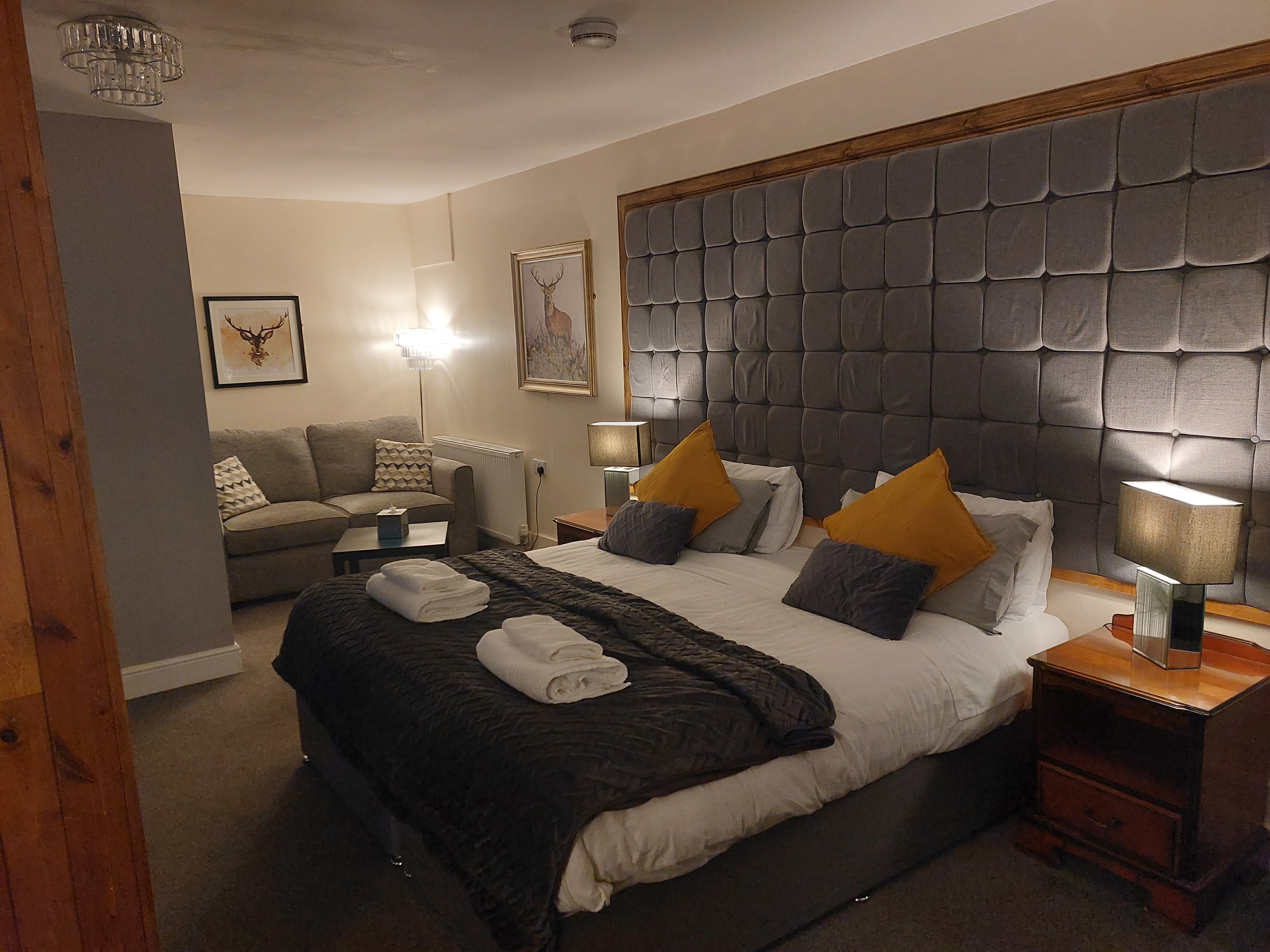 First off, here's my hotel room from last night. Now you can see why I didn't want to leave.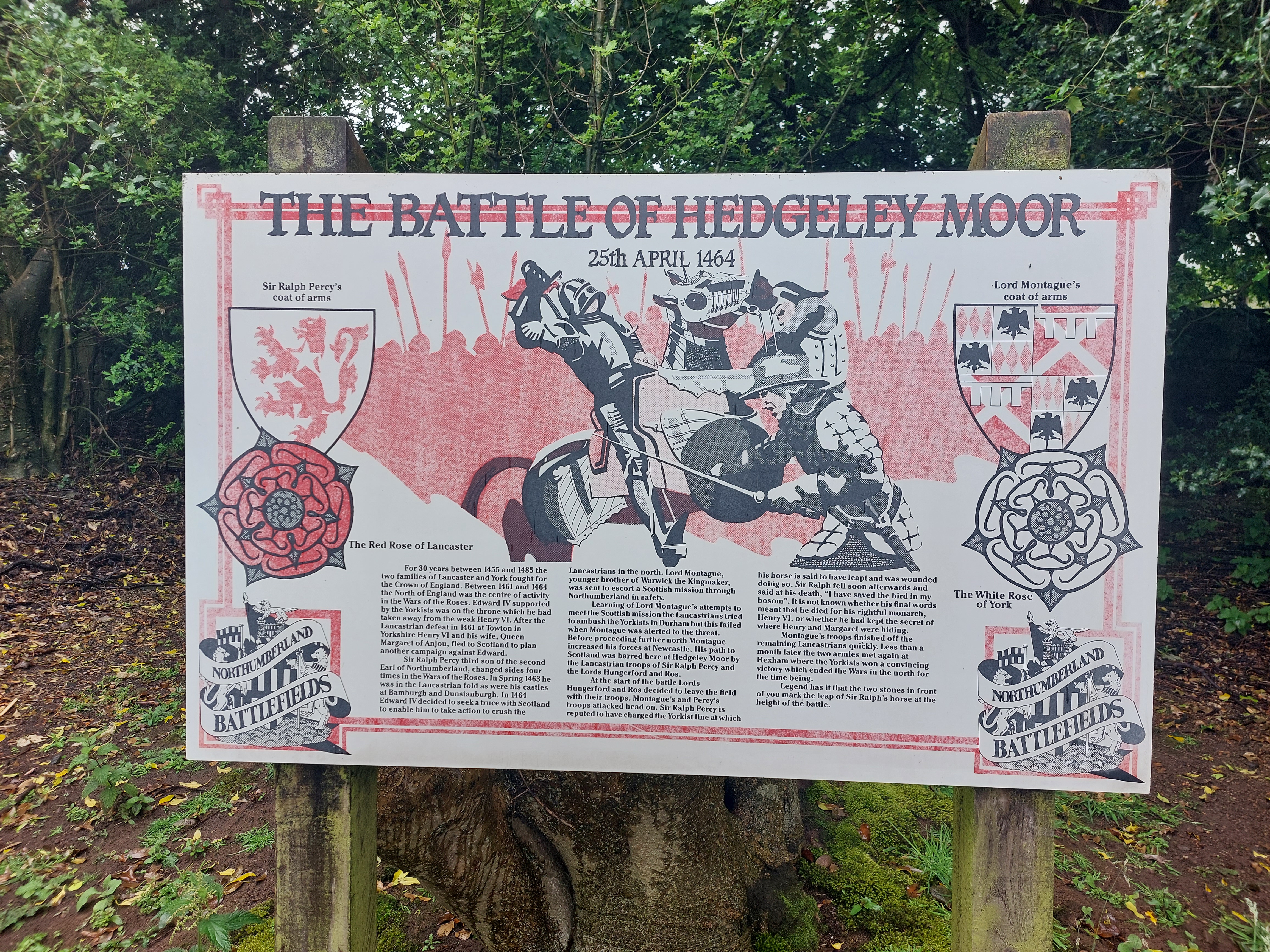 Riding across the USA last time I ran into lots of historical signs, but they're much more detailed here, and the battles are way older. This battlefield is from 1464!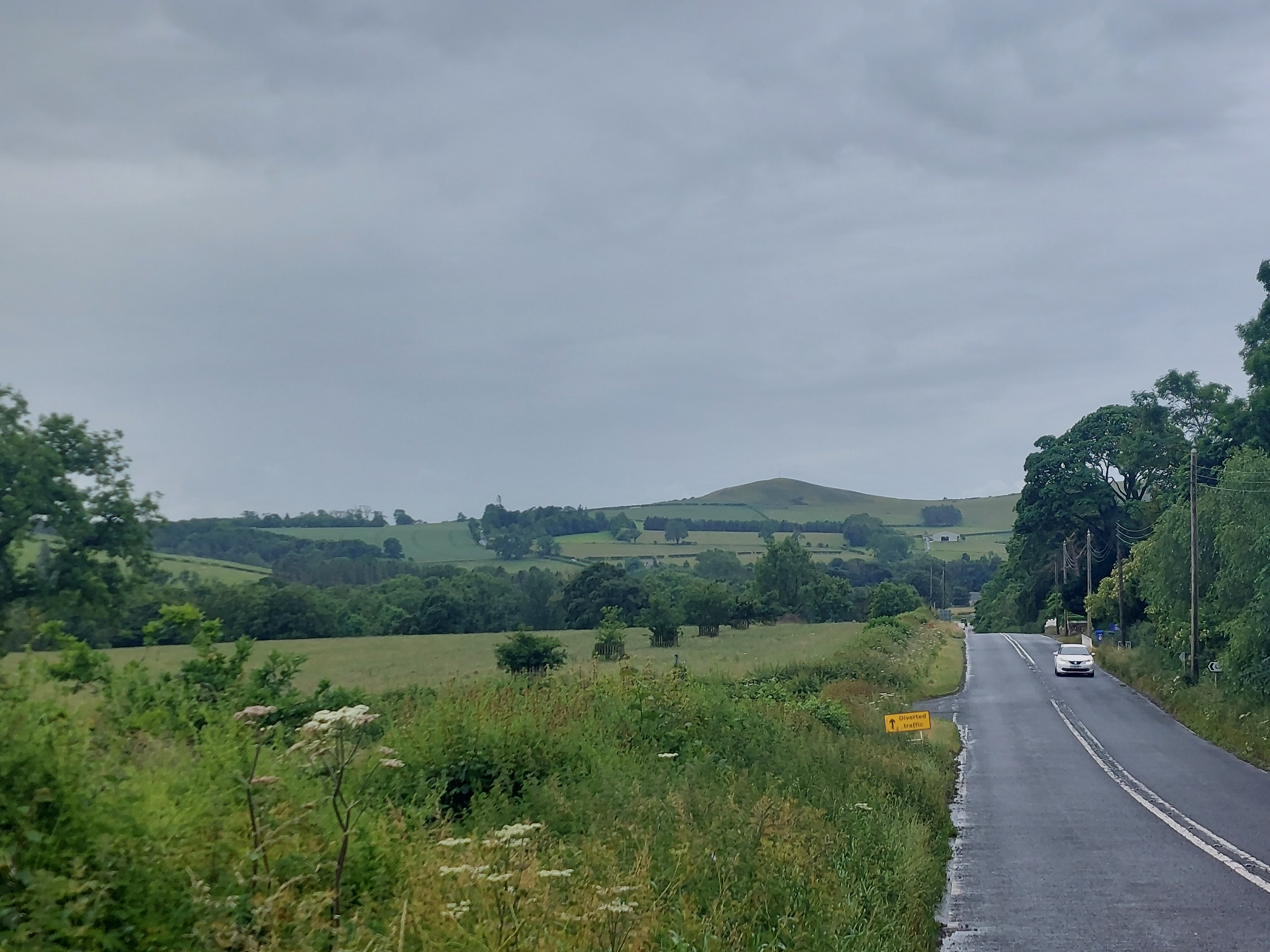 Here's a picture that shows a decent bit of scenery, the wet conditions, and the extremely narrow road I had to ride on for the first half of today's trip.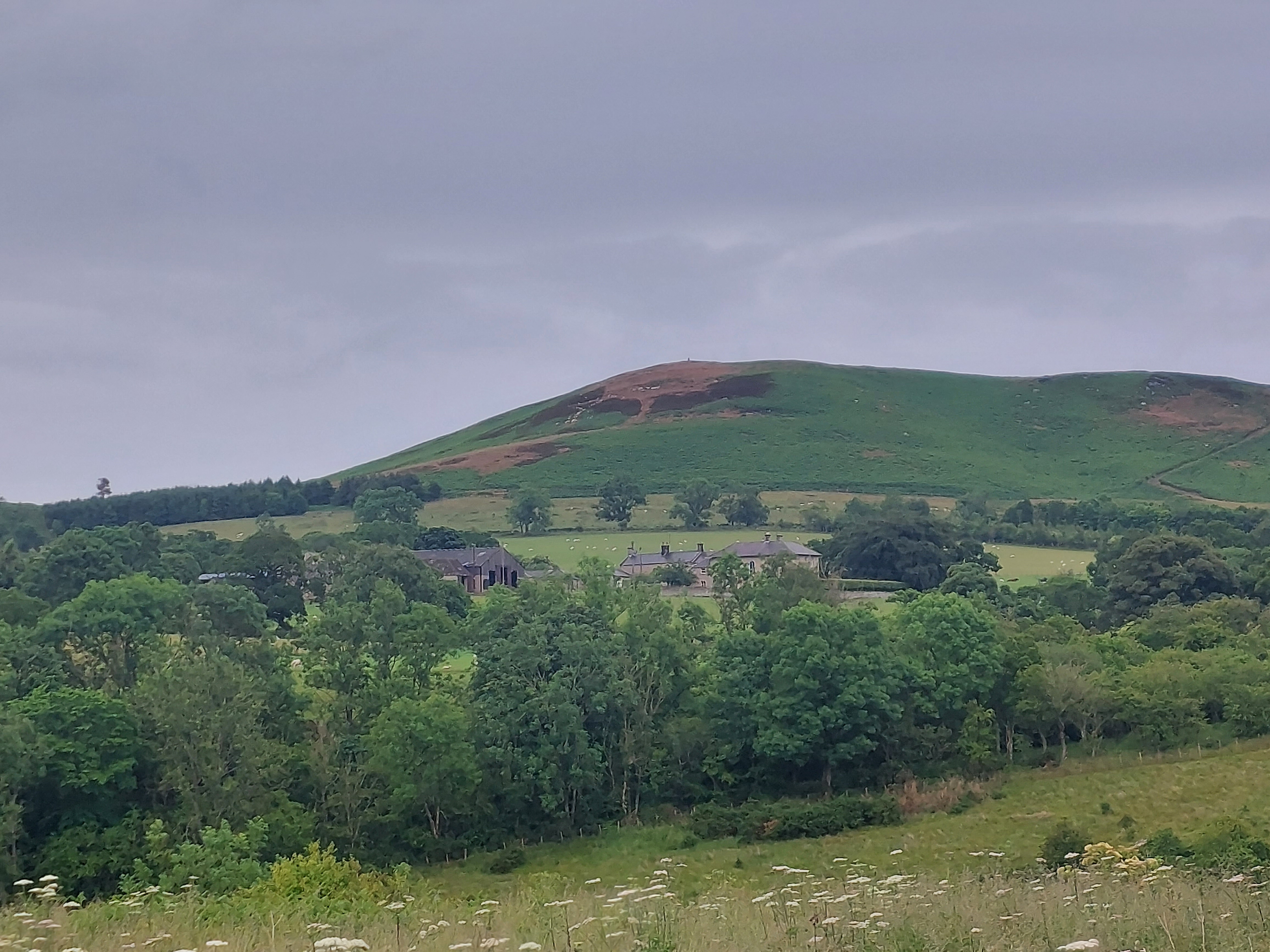 More nice (but very wet) scenery.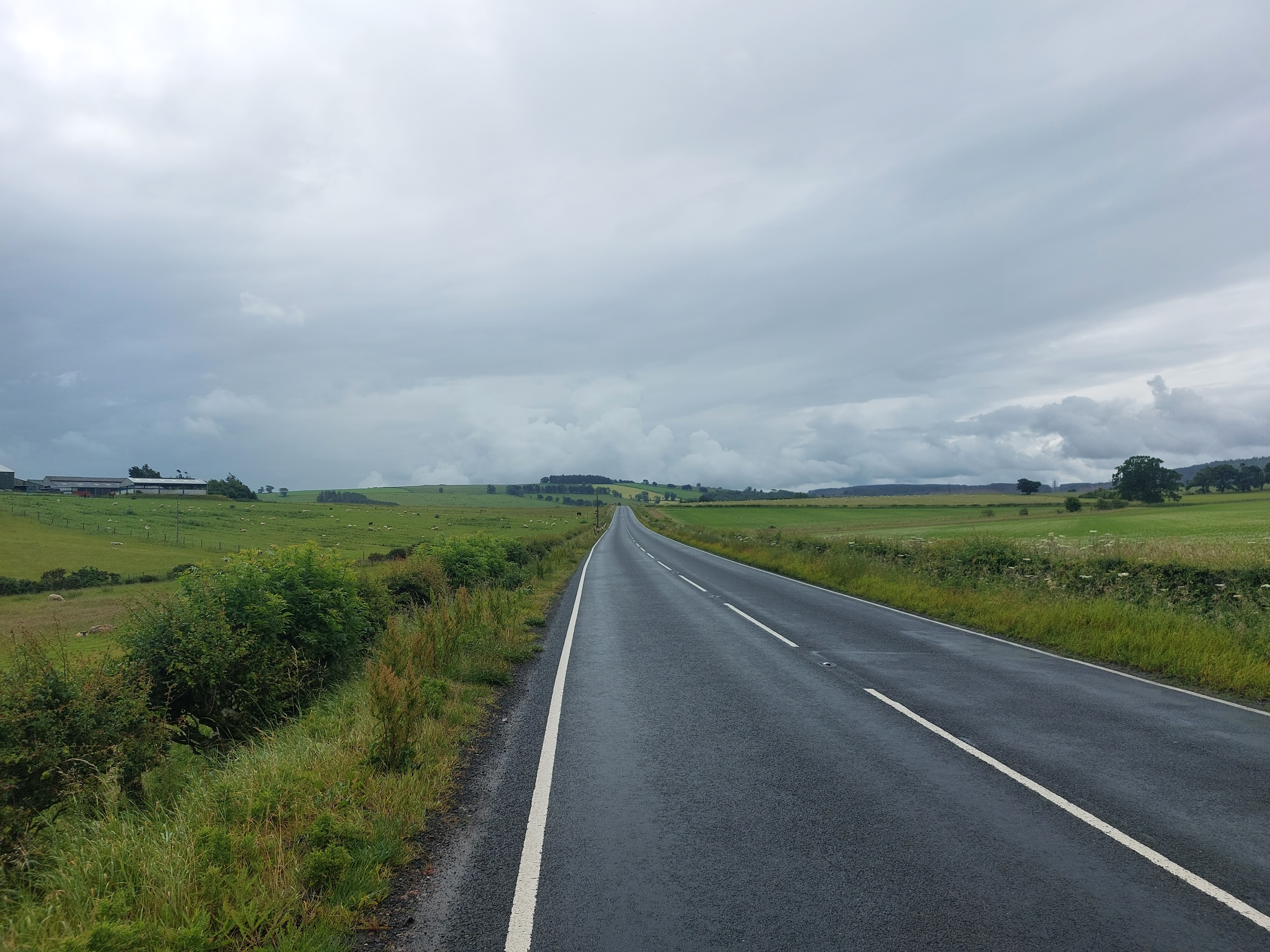 Look, a shoulder! Yeah, okay, not much of one. But the road conditions were better in this stretch of highway.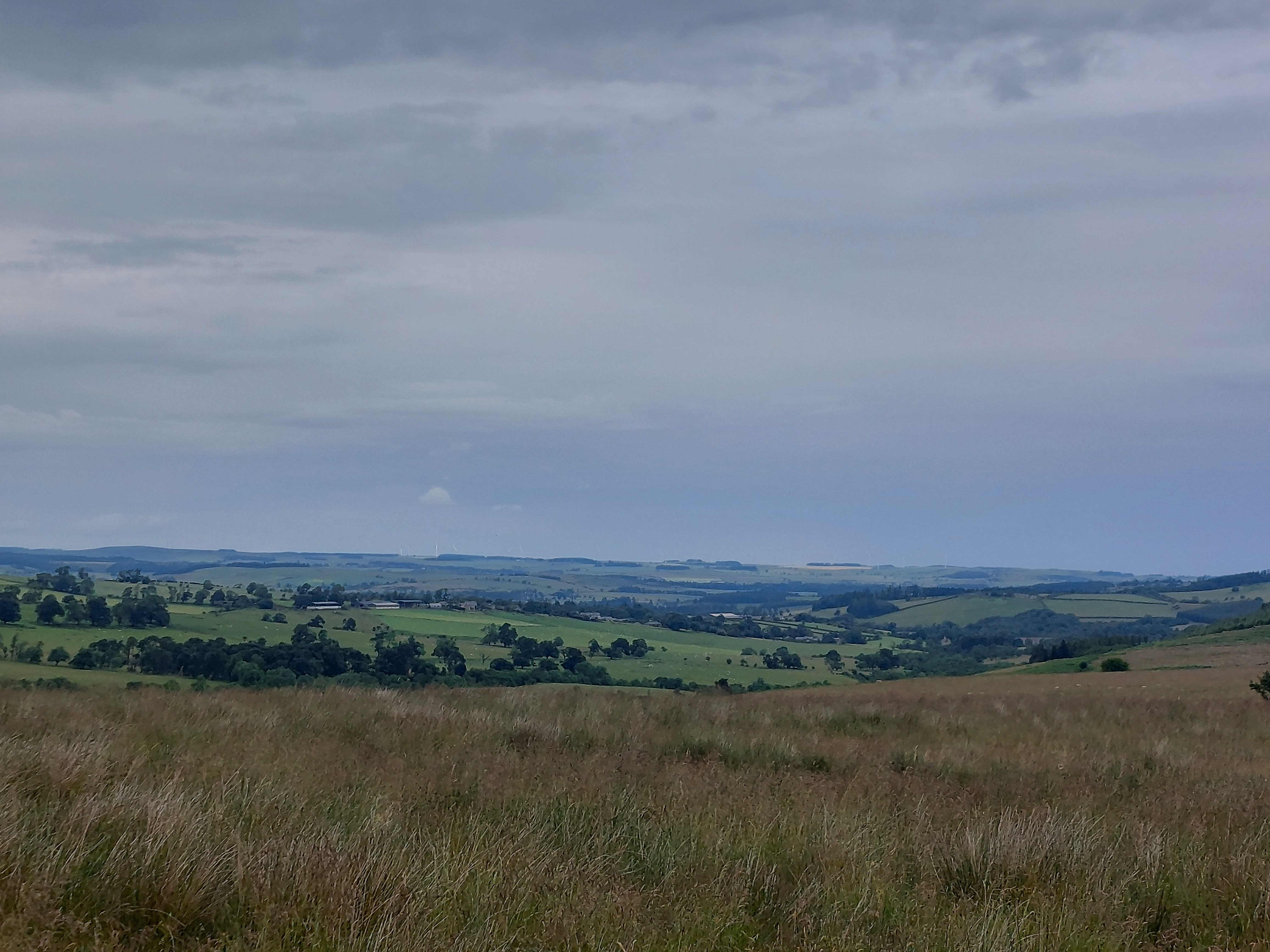 More decent views, which I expect will start to become less common once I get out of these hills in a couple of days.

Is that a tornado? It sure looks like a tornado. If I were back home in Dayton, I'd be looking for a ditch to hide in right about now. But this is England and they don't get tornados (I guess), plus in this particular case there was almost no wind and no sound from it, so I guess it was just an odd cloud formation.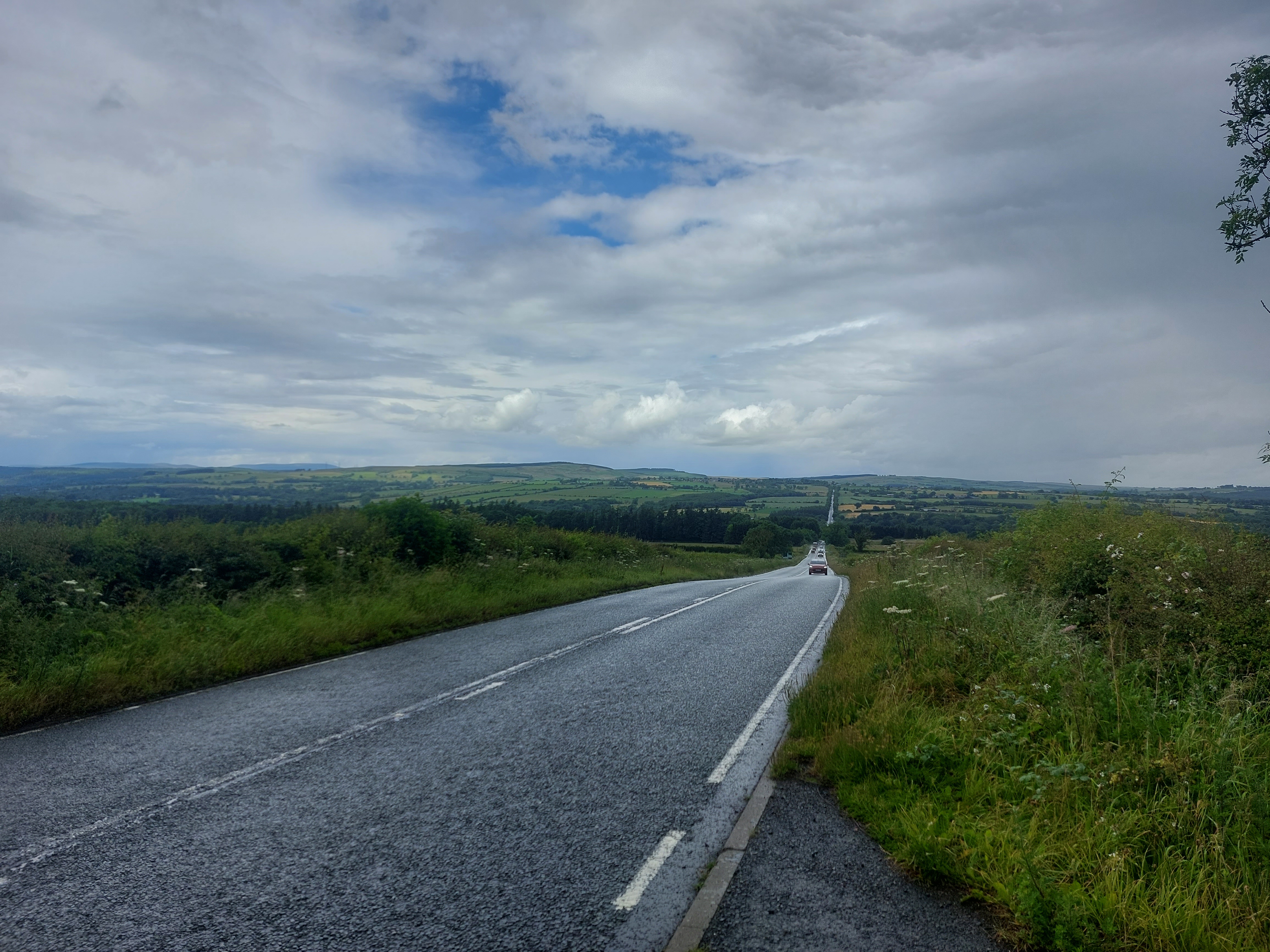 Looking back at one of the big hills I just climbed. This is about where the spoke broke, too.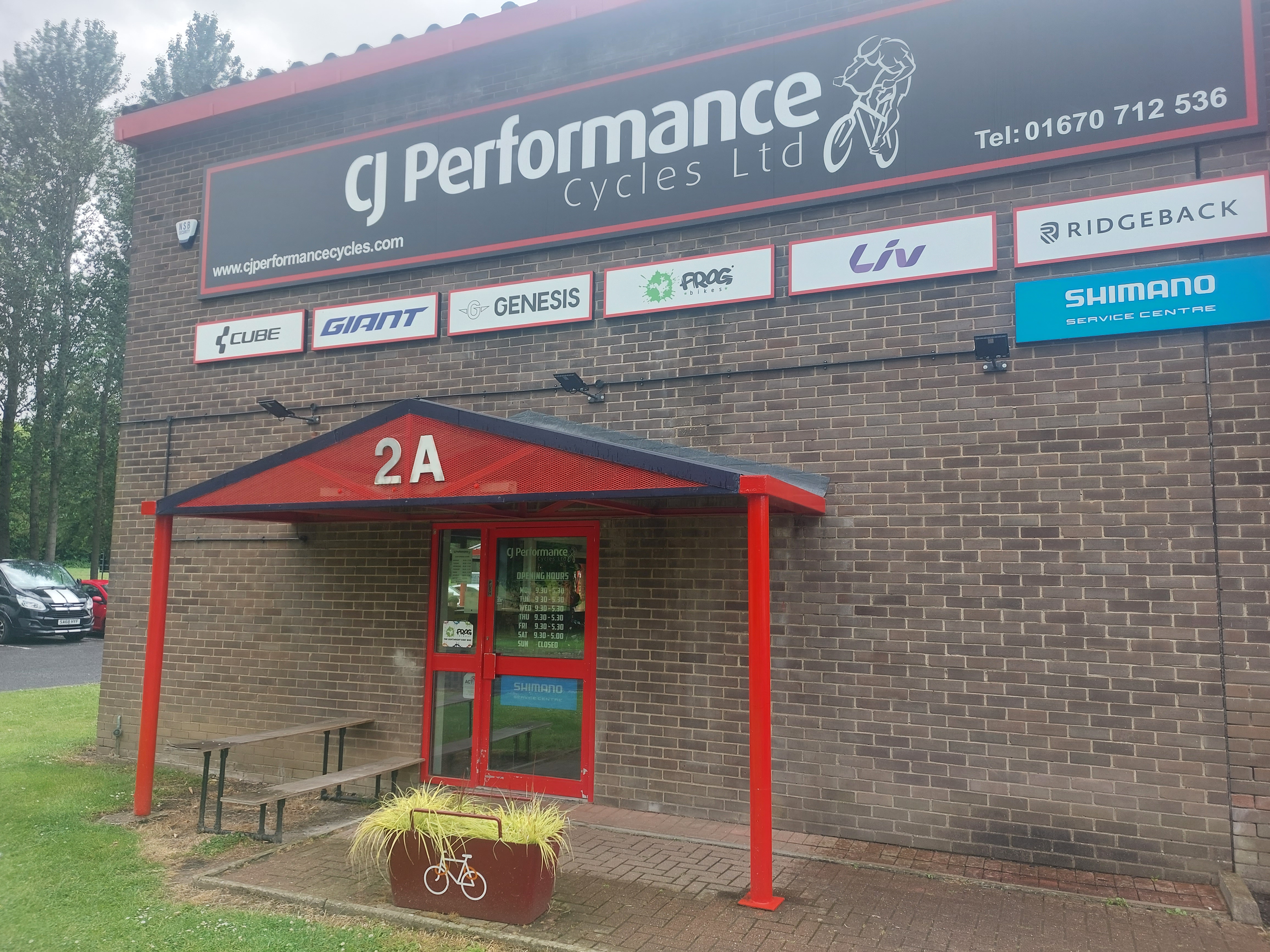 And this is where I got it fixed, in Morpeth. Great shop!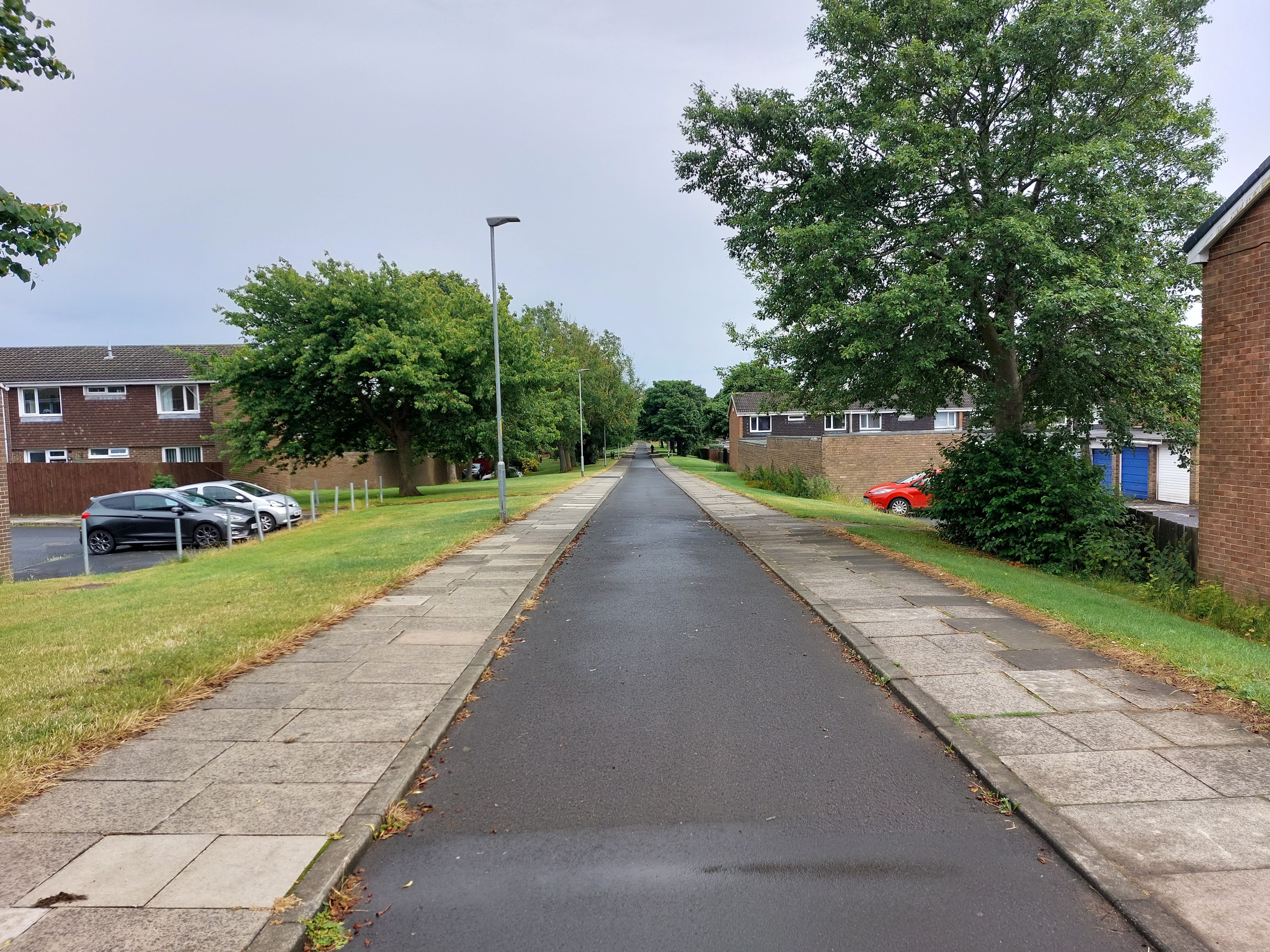 Now here is a bike path I really like...sidewalks on the side for pedestrians, and their dogs, and the middle exclusively for bikes. More please!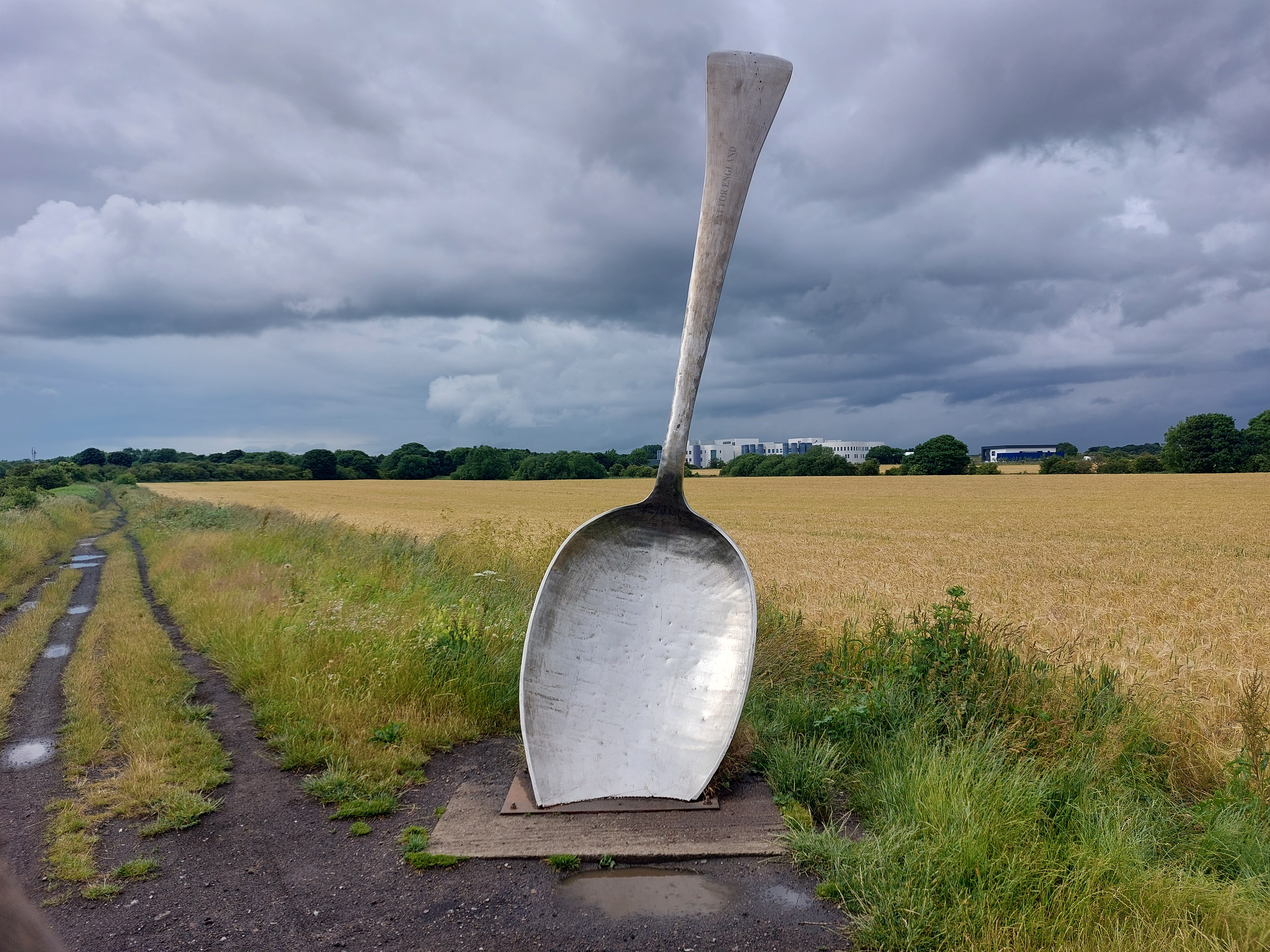 Out on the trails (sometimes they weren't paved, as you can see) I ran across this. I've heard of a fork in the road, but...well, you get the idea.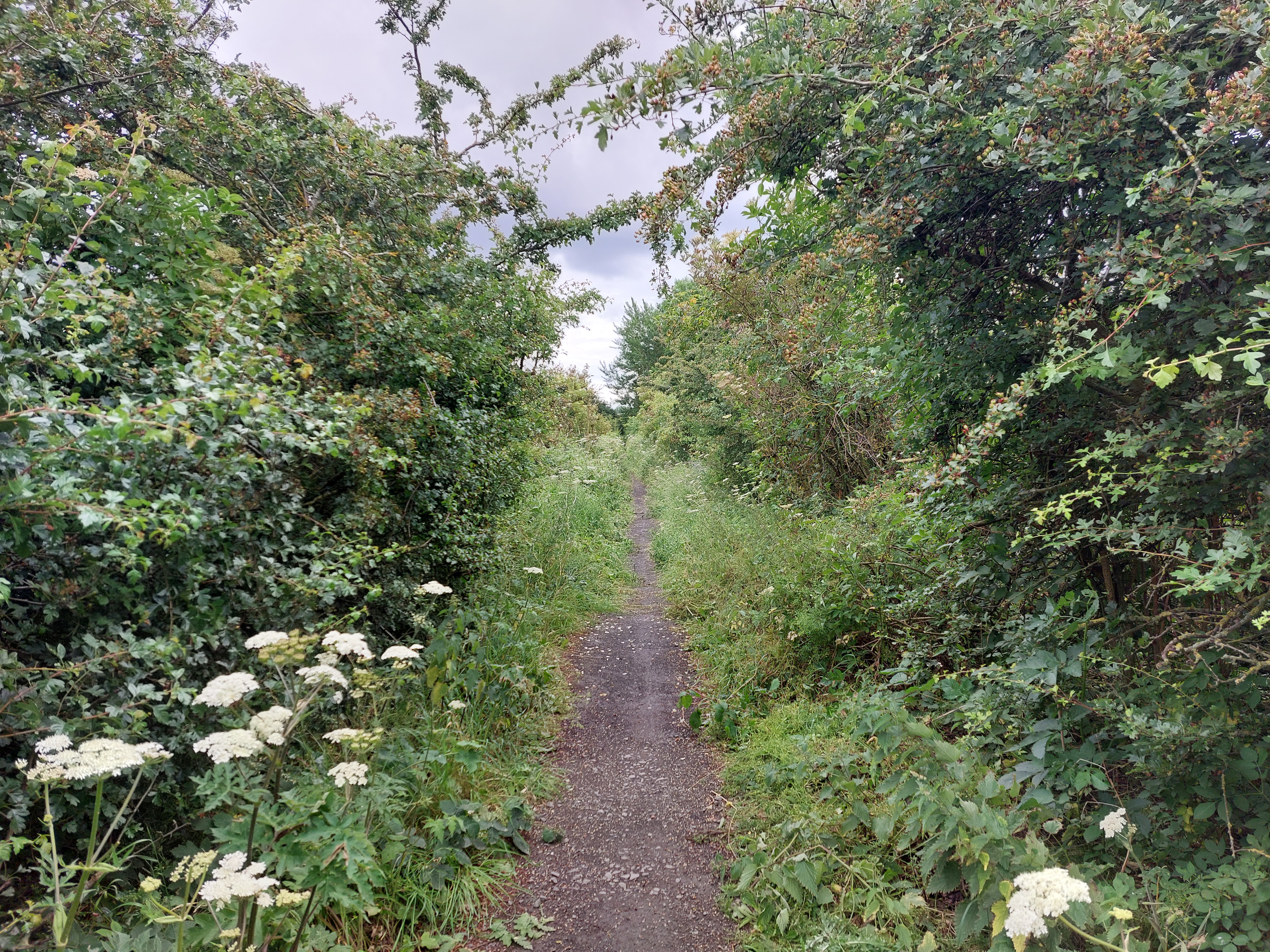 The bike paths sometimes almost disappeared.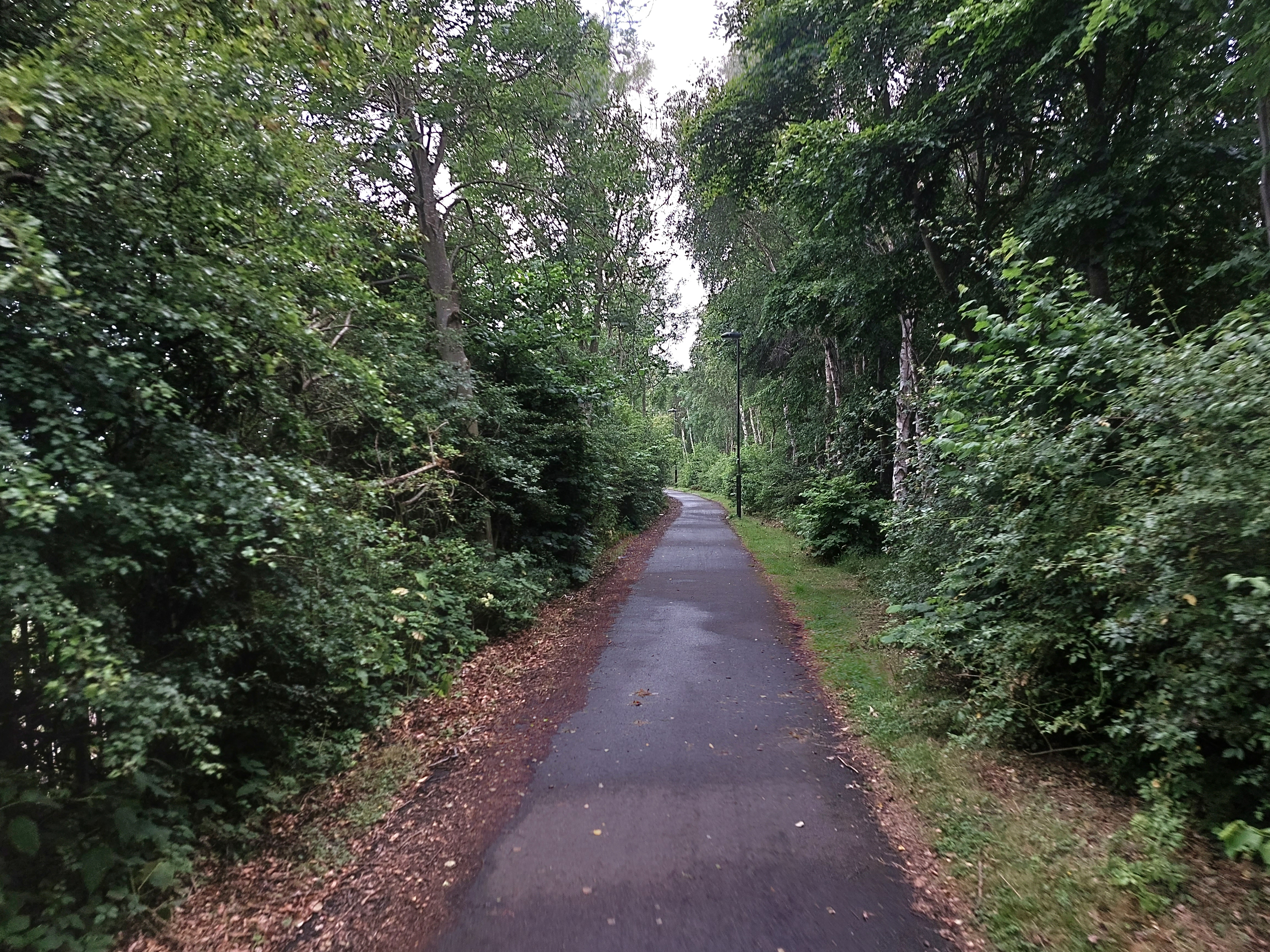 But then, some of the time they were like this, which were fantastic. This was in the outskirts of Newcastle.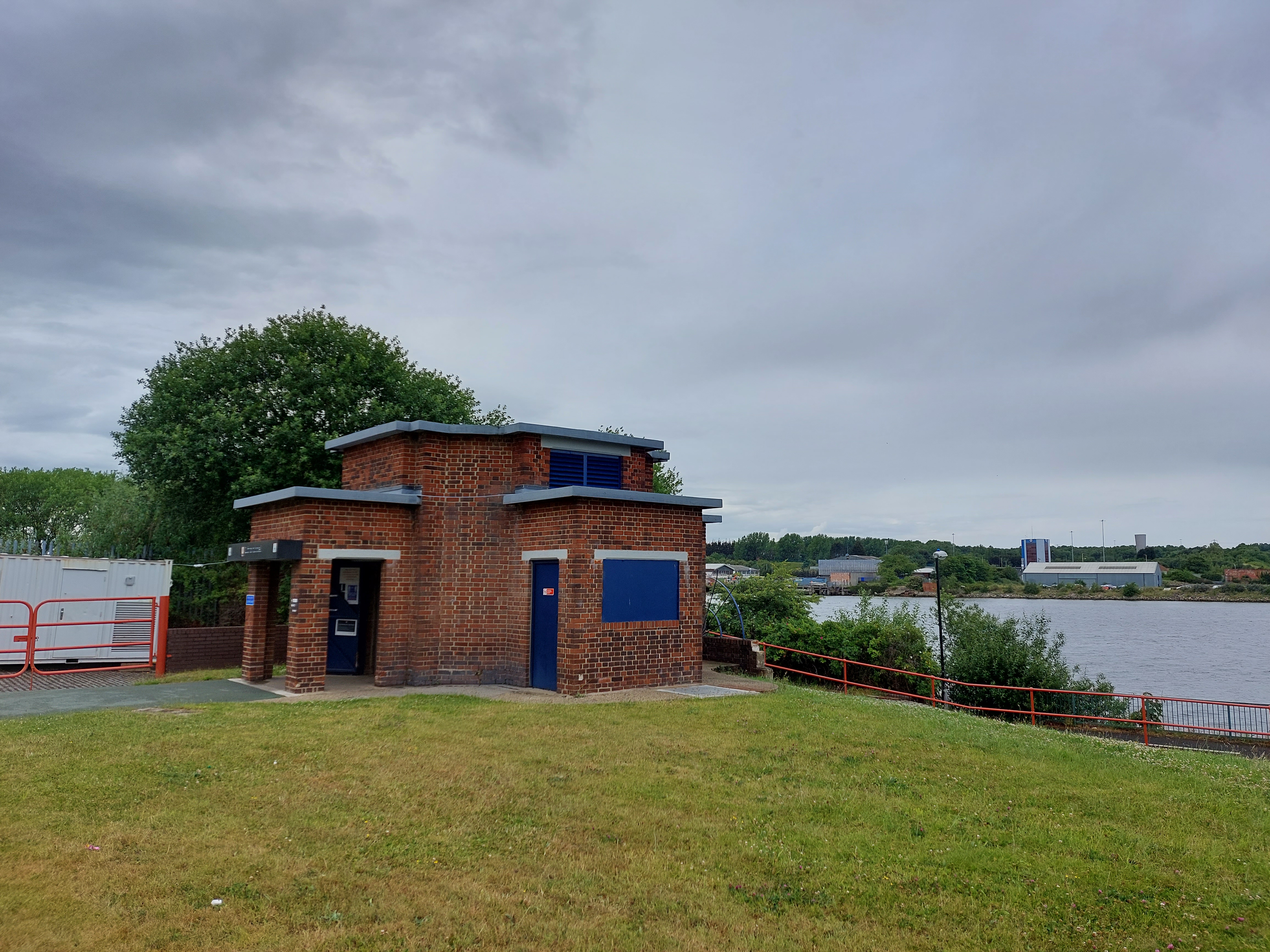 Ultimately the route brought me here whereupon Google Maps said, "Take the pedestrian tunnel." I had to go under that river over there, apparently. I've never heard of a cycling tunnel under a river before, but hey, I'm game.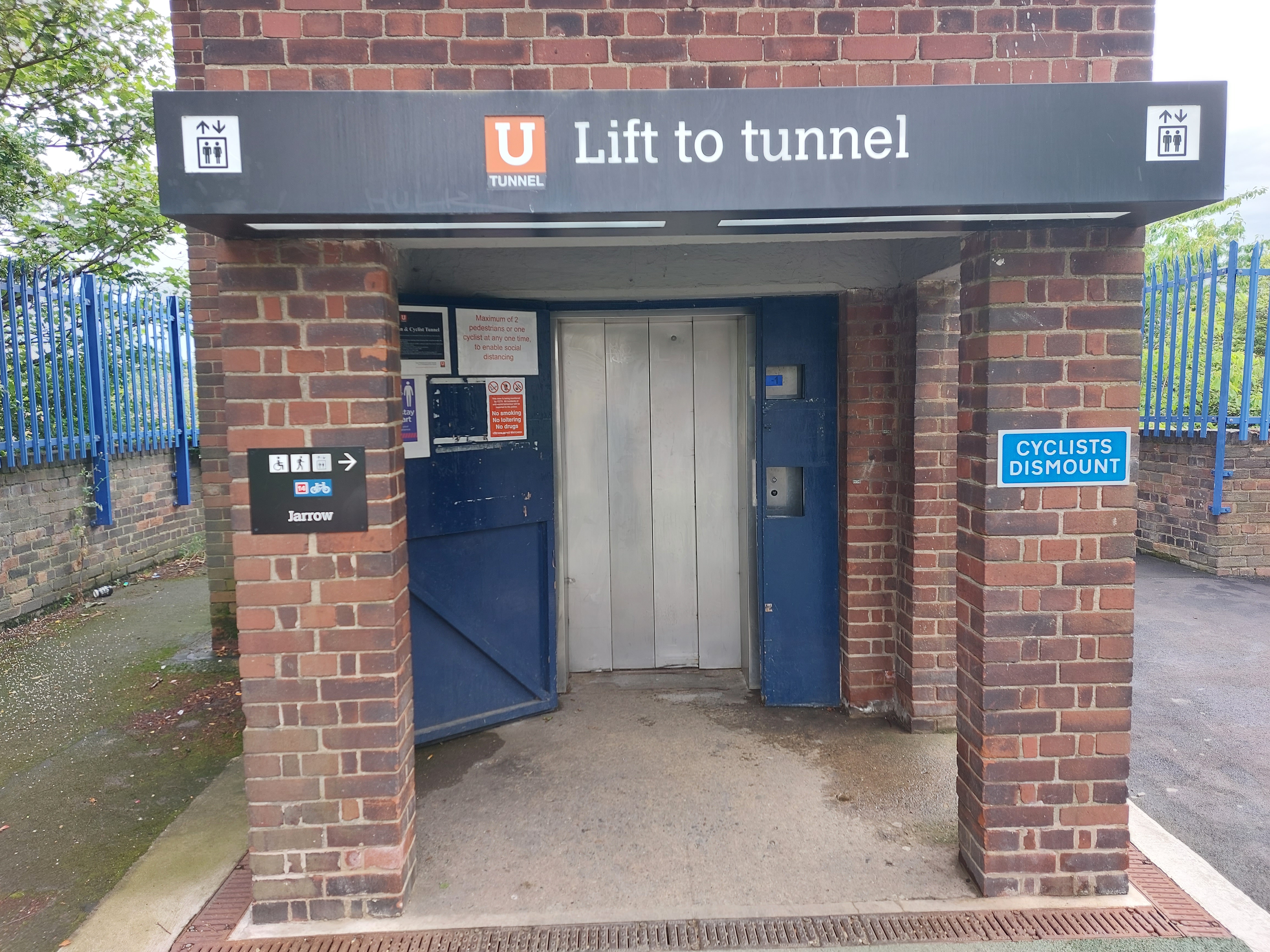 So into the lift I went. There was just enough room in there for me and my overloaded bike, and nothing else. At least this was bigger than the lift I used in the train station back in Liverpool.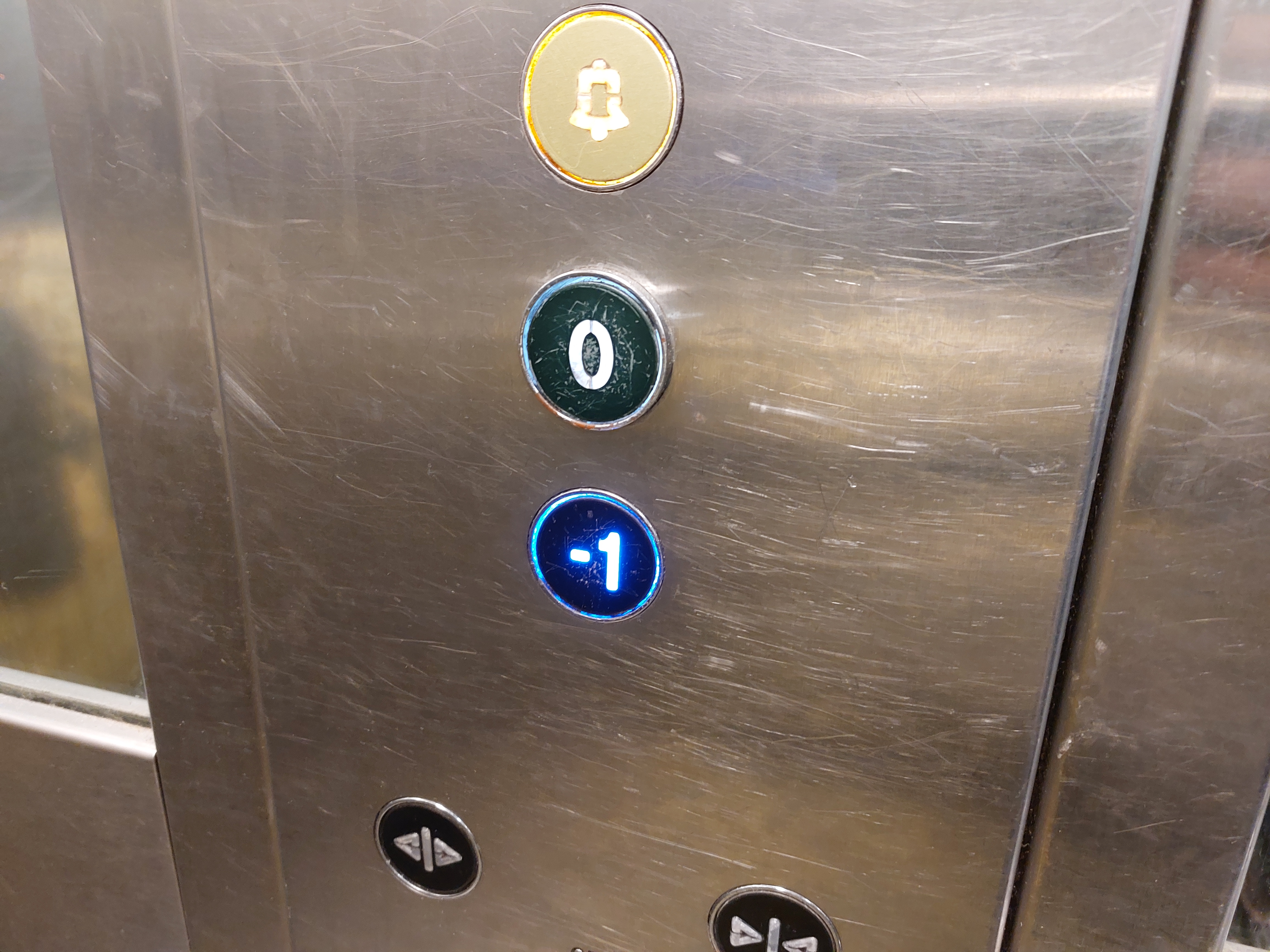 Ever gone to floor negative-one before? I have!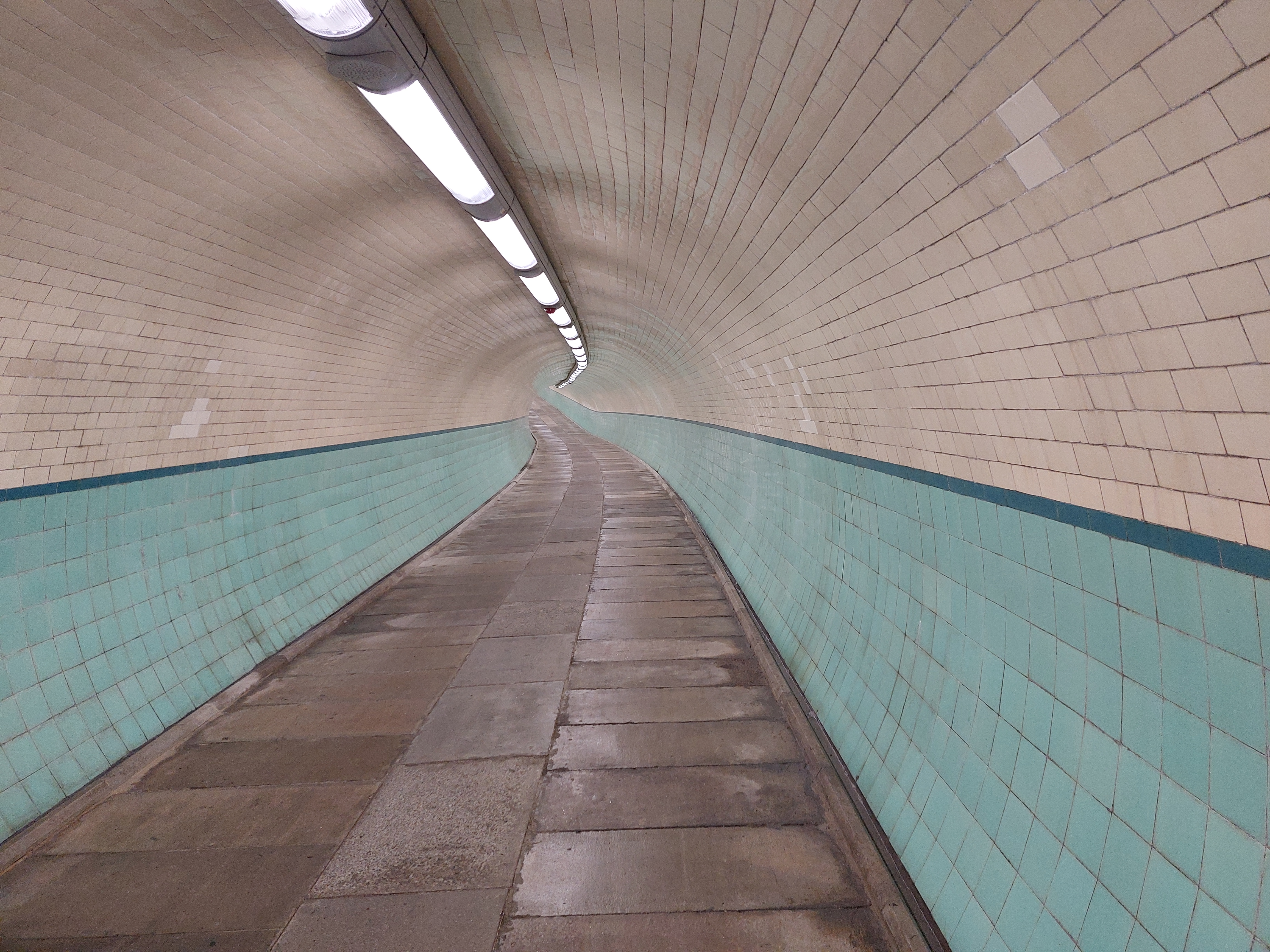 And into the cycling tunnel I go! This was such a cool experience...I wanted the tunnel to go on farther but it was actually fairly short.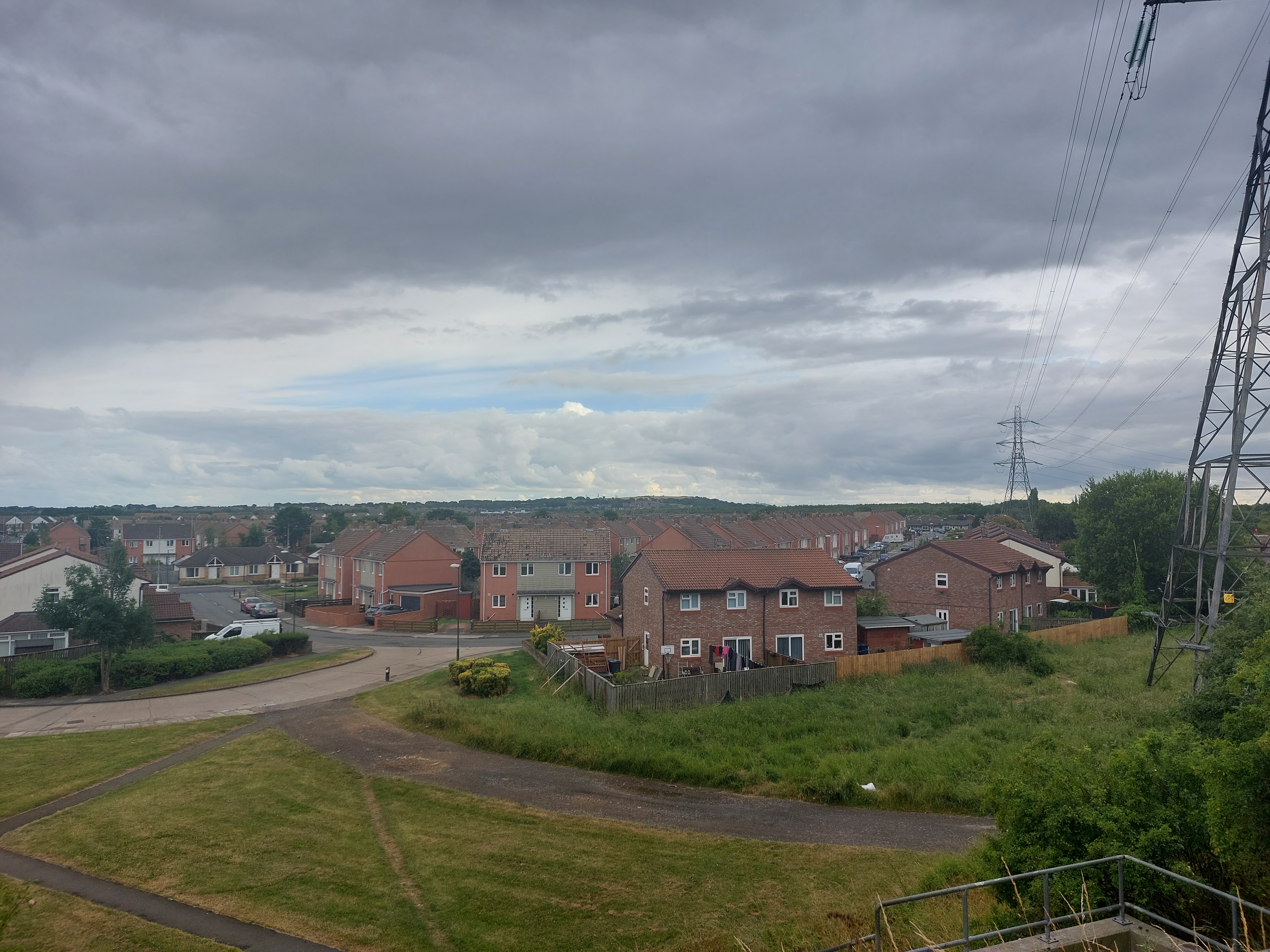 On the other side I rode through the edge of Newcastle, but didn't see much of the place...this is just a small neighborhood I got a good look at before it was back onto the bike trails.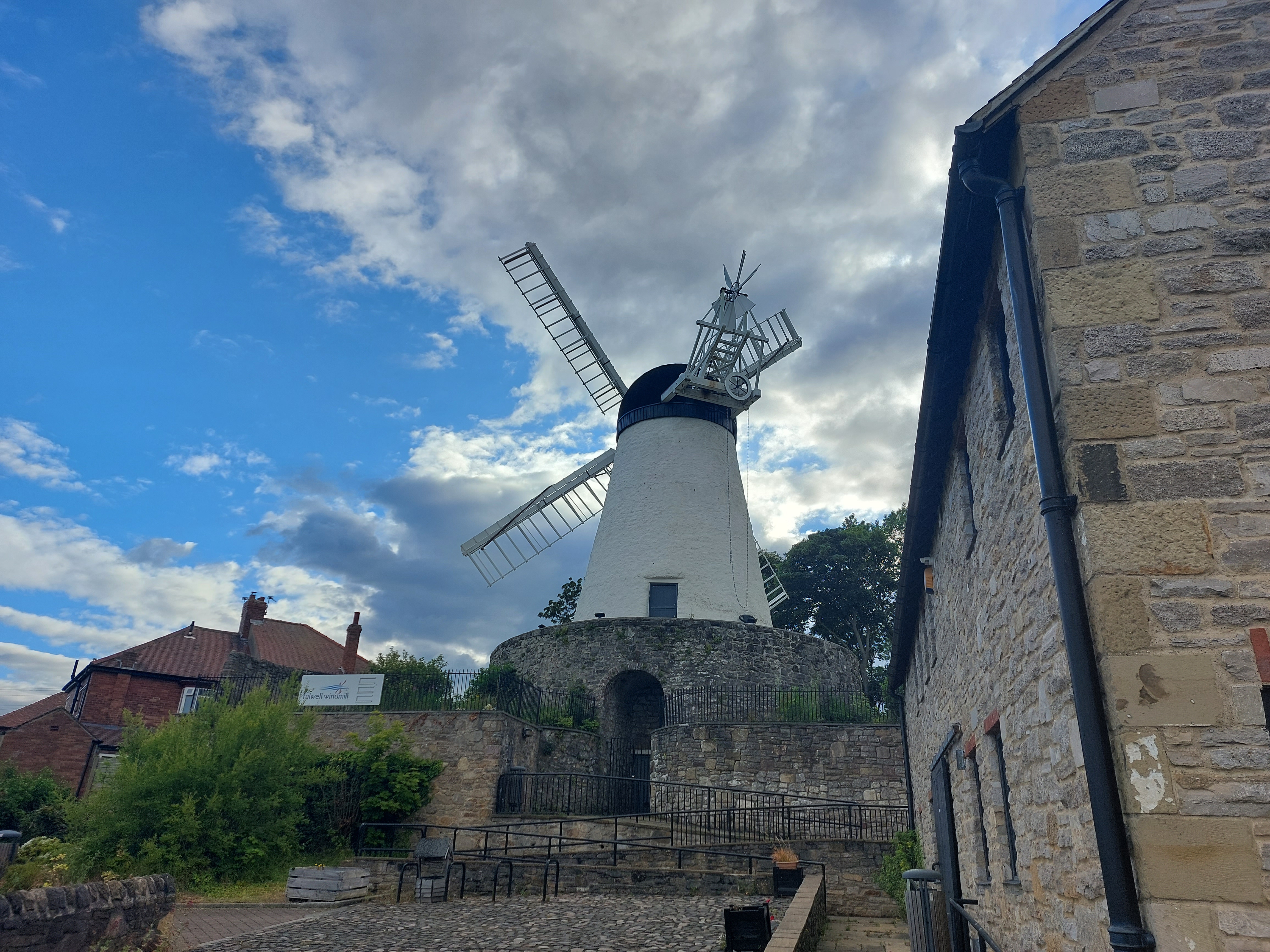 A short while later I ran into this actual working windmill that was used up until recently to mill flour. Now it's available for tours.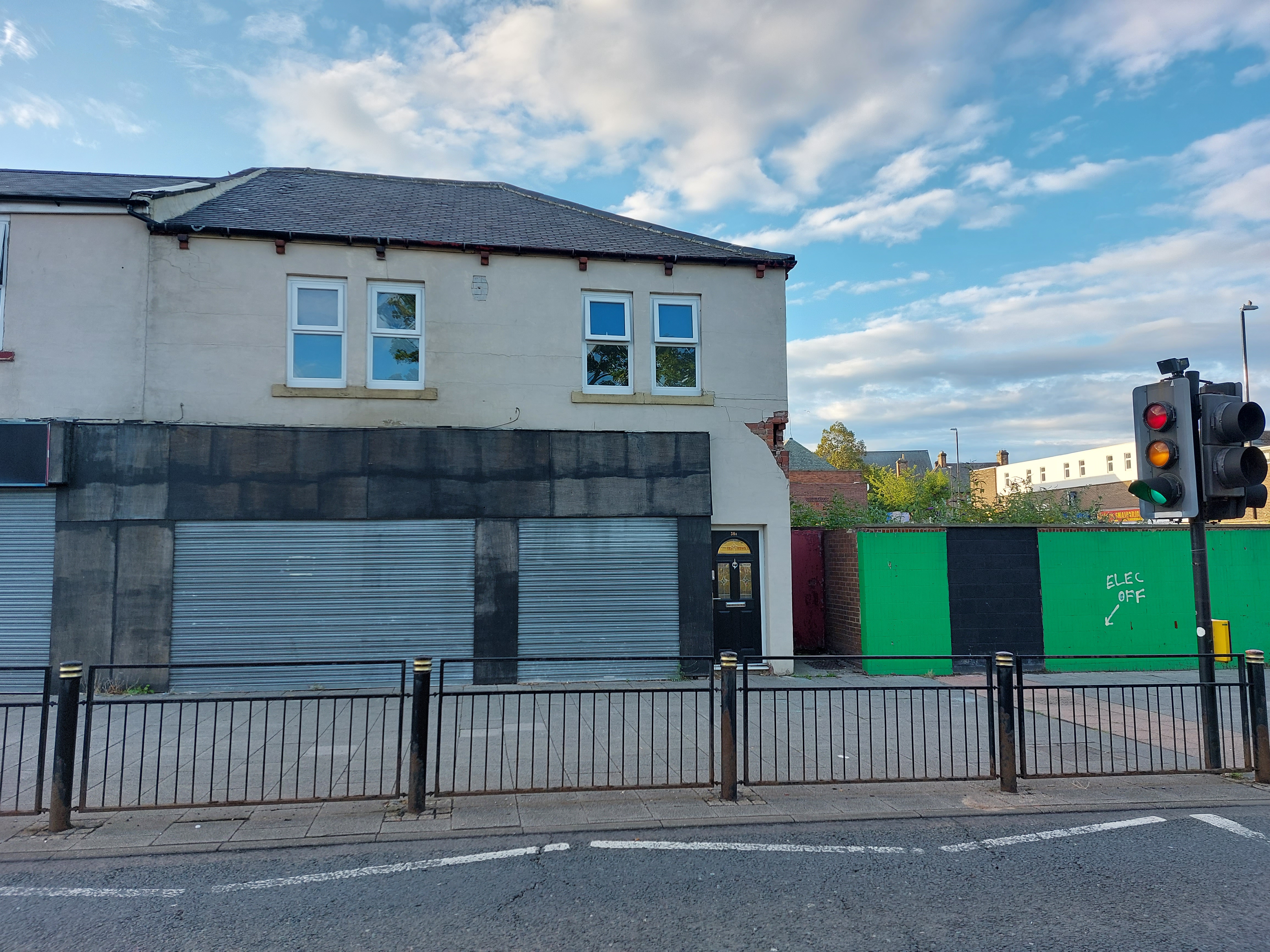 At last, I've reached my hotel! Impressive, isn't it? (Yes, it's that tiny yellow door there.)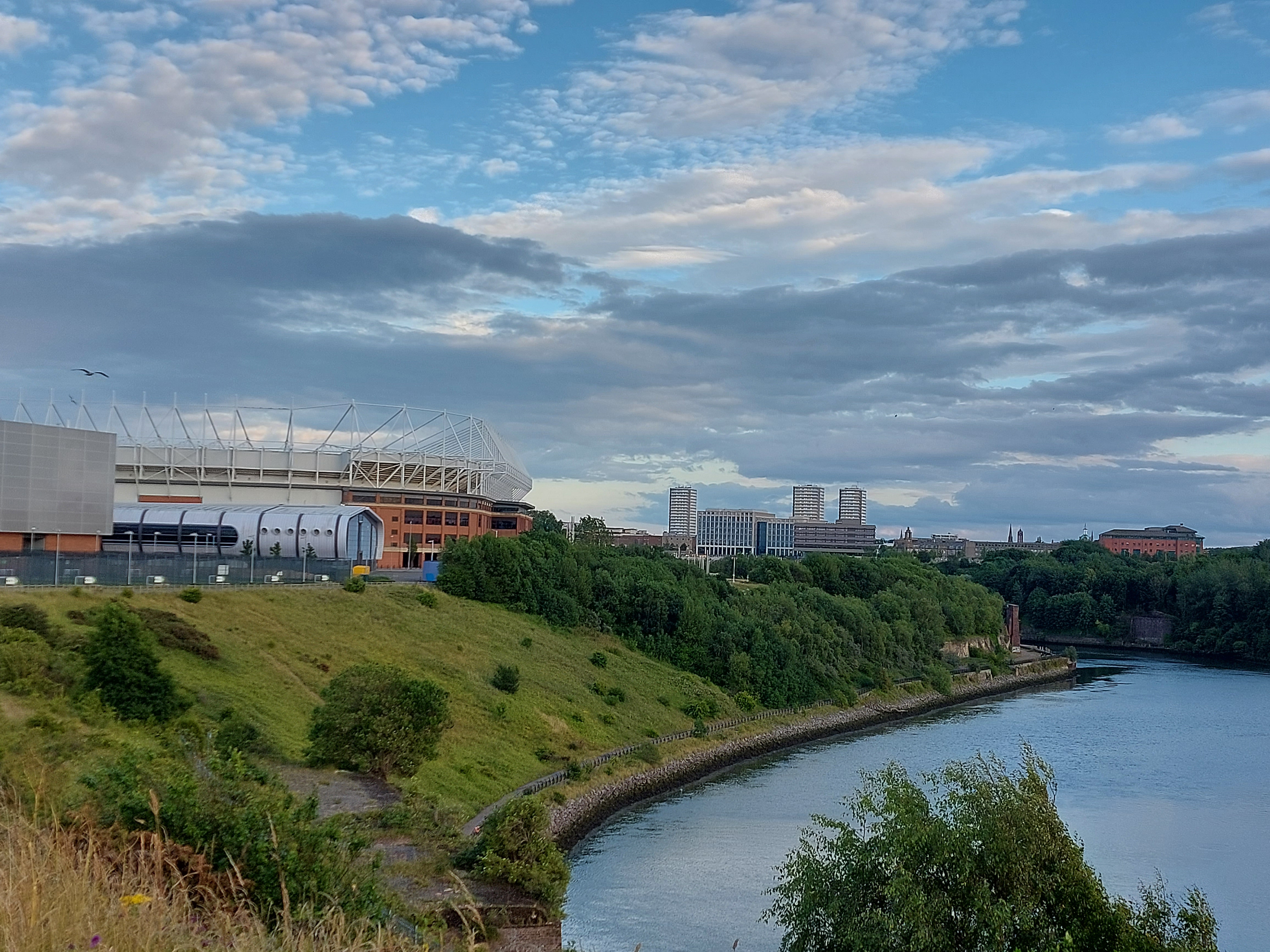 After "checking in" and dropping off my stuff, I went for a quick ride around the area and encountered this football (soccer) stadium along the river. Apparently the Sunderland Black Cats are quite the rival of the team from Newcastle. Nothing happening tonight, though...the place was deserted. And that was it for today...back to the room to plan tomorrow's hopefully less rainy adventure...