Day 23 – July 2, 2022
Sunderland to Sandhutton
Miles: 58
Terrain: Just a few relatively easy hills
Weather: Cool, a touch of drizzle, moderate crosswinds
Google Maps presented me with three possible routes today, as you can see from the map over there. All were relatively similar in terms of total climbing, but the first one was slightly shorter...the only downside was the complexity, sending me through a whole bunch of twists and turns in the second half of the day. It can be hard to keep on track when you can't really look at the phone to follow the map, but are relying on voice directions you can't hear half the time over road noise, and are frequently misleading or outright wrong. Plus Google Maps has a tendency to not notify you if you missed a turn and off you go the wrong way while it reroutes you, silently adding miles to your trip and taking you way off course.
However, the other nice thing about this route was it sent me down a long bike trail south of Middlebrough that had a whole line of geocaches on it. I haven't had the opportunity to do very many of these because I'm usually too busy struggling up hills and trying to get to the hotel before they close their reception (usually 9pm but it varies). I've managed to get a few caches every day this trip but not as many as I'd like. Today promised a nice bonanza of them all in a nice line. So I had that to look forward to and also a distinct lack of climbing (less than 1000 feet of gain for the first time in as long as I can remember). I did have to deal with a fairly long climb early but it was quite gentle, also on one of the many rail-trail conversions I've encountered this trip (and thus on a fairly level railroad grade). The rest of the day's hills were not that tough except for one very short but steep one that I had to push the bike over. After that it was smooth sailing. Even the wind cooperated a bit, coming out of the west and not putting up too much resistance most of the time.
So I got to do all those caches and they did take a bit longer than expected so I had to pick up the pace a bit as I headed south toward the hotel. This particular one allowed check-in up to 10pm, and they actually called me at 9 to make sure I was still coming (I was 20 minutes out). I told them I'd be there at 9:30, which gave me time to stop and grab a soft drink to have with dinner, and then the rest of the day was a fairly brisk ride right at sundown. In fact, thinking back on it, this is probably the latest I've reached my destination any of the days this trip.
The one downside to today is that it was through mostly ordinary terrain without any really great views or scenic things, so there aren't too many pictures. Here, allow me to demonstrate...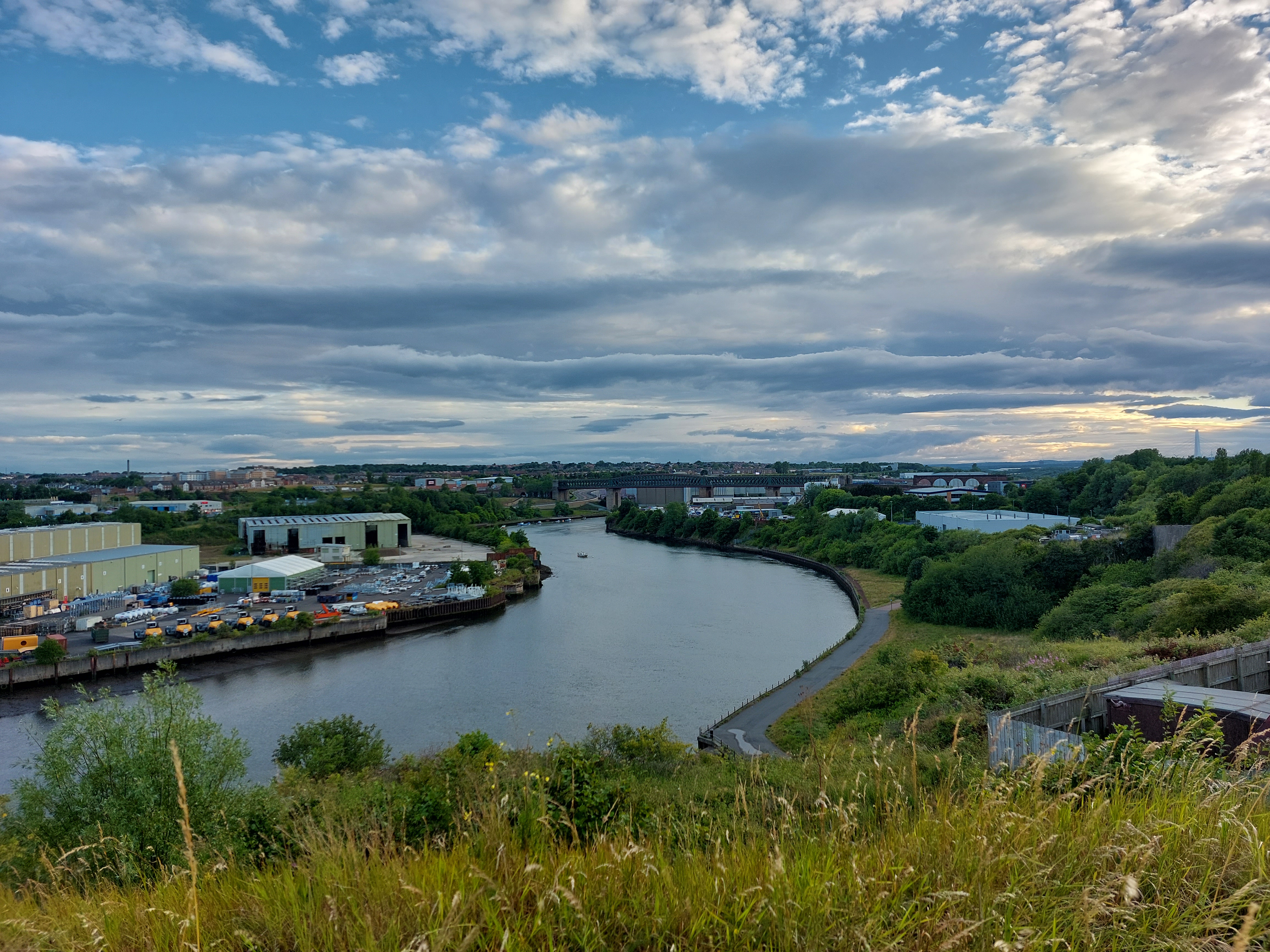 Here's one last look at the river before I leave Sunderland.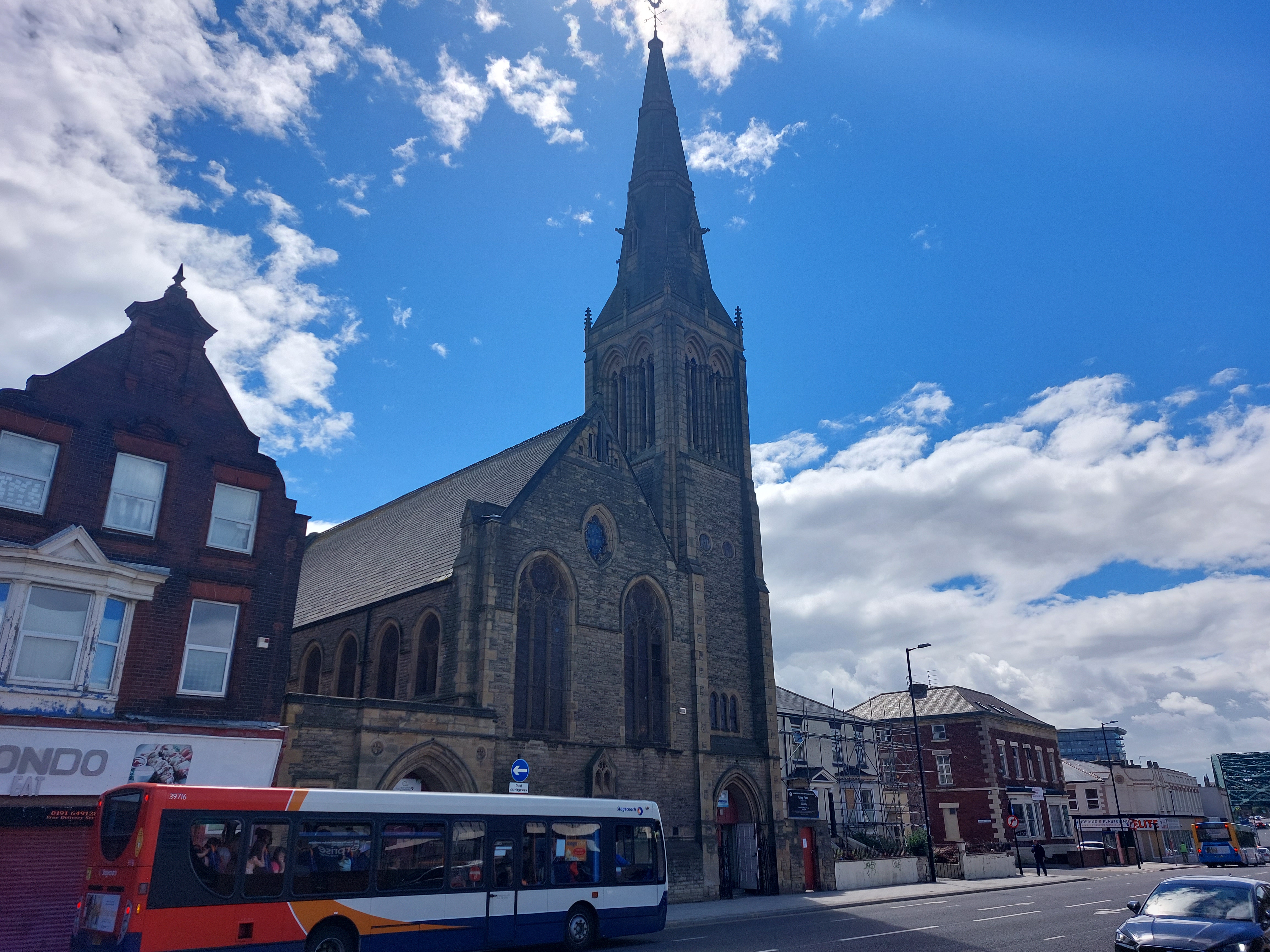 Another of the many amazing churches to look at all over Britain.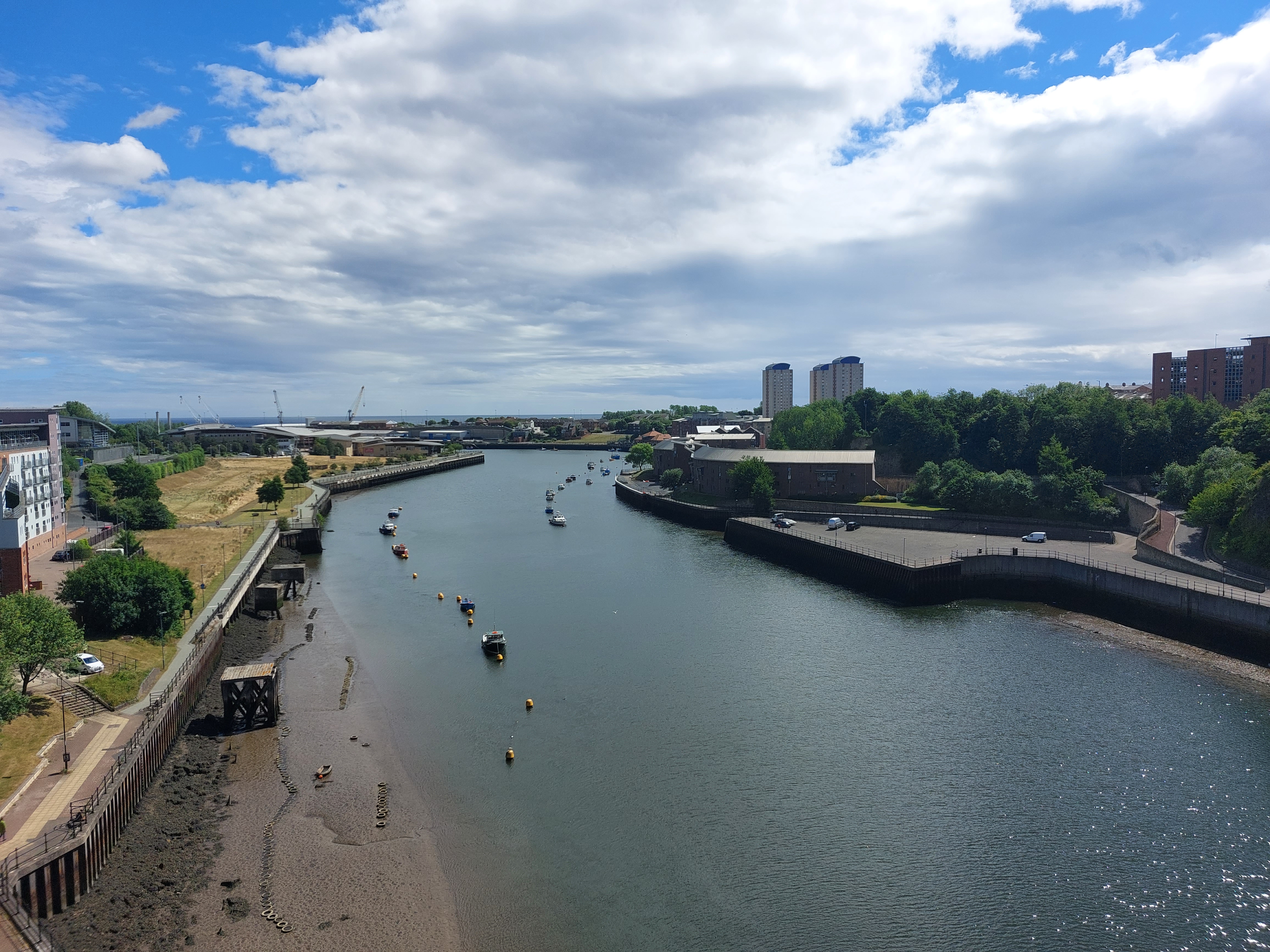 Another river crossing later on in the morning. Notice how the weather improved over yesterday. It's still only in the mid-60s temperature wise, but compared to the 95+ back home in Ohio right now, I should be glad for that.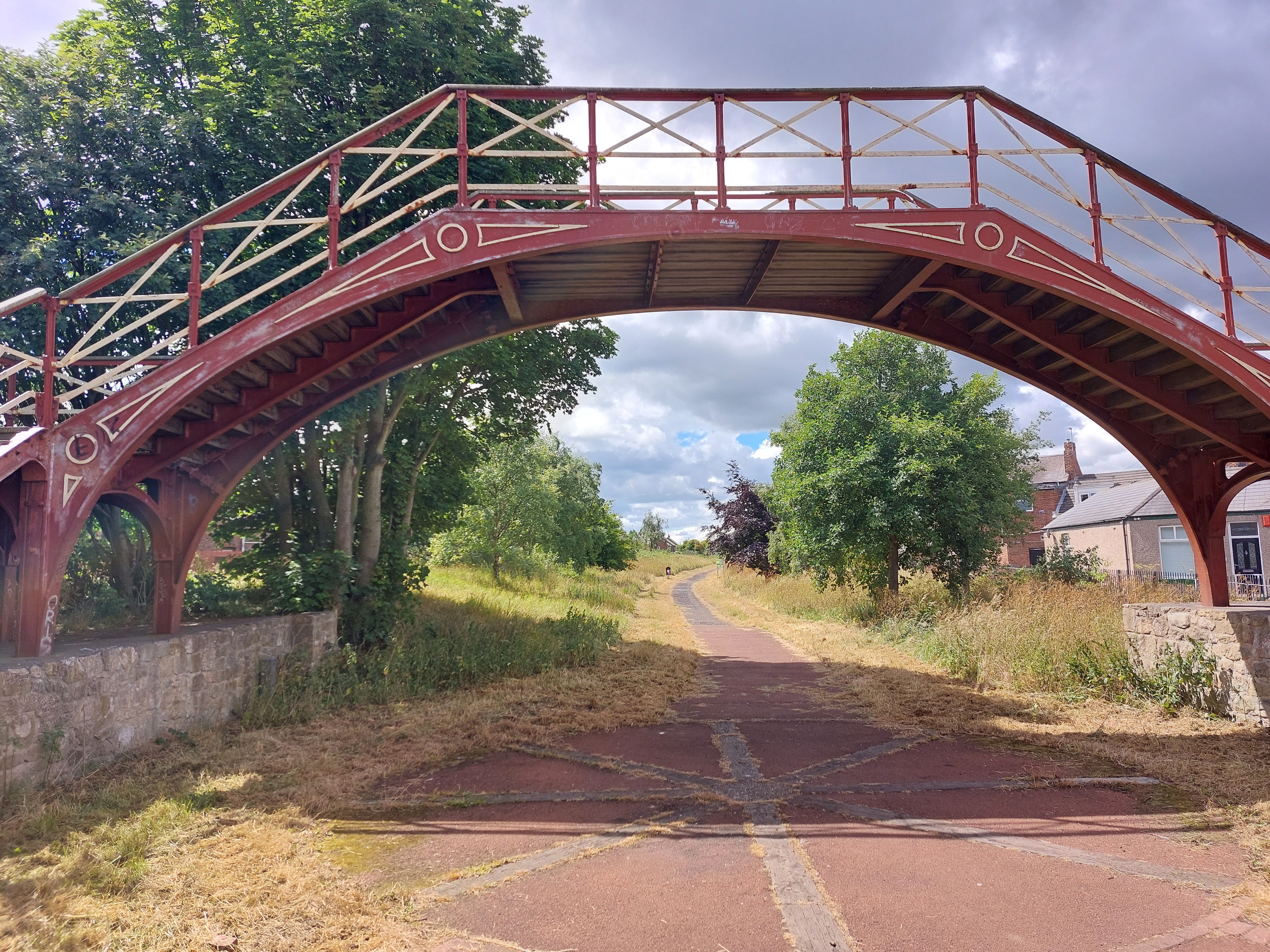 This arch and circle represent the start of National Cycle Route 1, which I had hoped would be among the nation's best. Sadly, it turned out to be mostly broken asphalt and rough gravel. There were signs here and there saying it was going to be repaved soon, but not soon enough for me!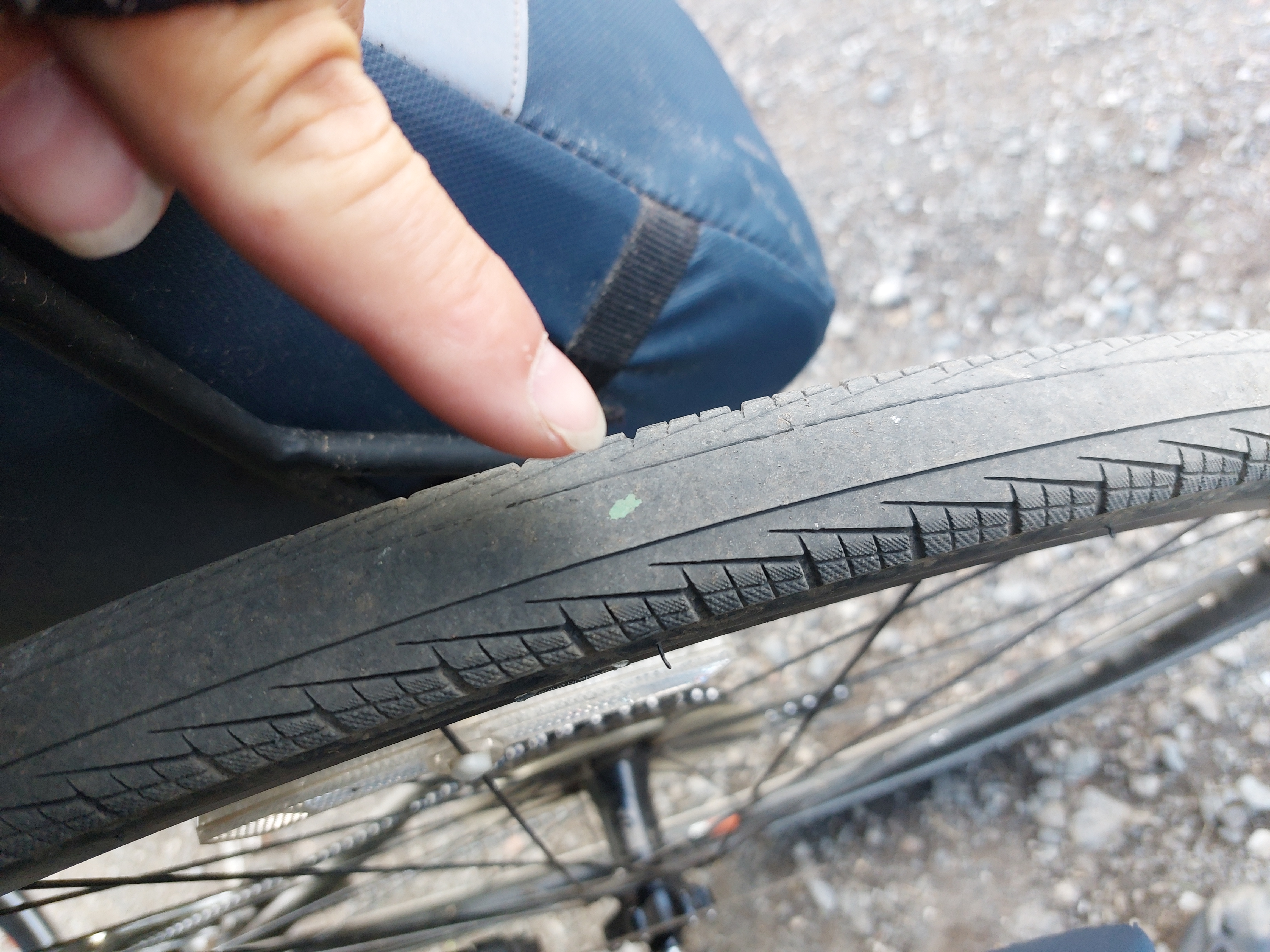 After riding on that awful stuff for about an hour, I checked my tires during a break and spotted this. The outer surface of the rear tire has just now started wearing off, so the inner lining is starting to show. Underneath this green puncture-resistant layer is a kevlar lining which (if I wait long enough to let it wear into that part) will start to look like little frayed threads. I'll have to keep an eye on this because if enough of that green stuff appears and wears away, it's time to replace the tire with that spare I've been carrying this whole time. Can I make it to London without having to do that? Stay tuned!

Here, this is what I'm talking about with the crappy path surface. This is some of the best parts, actually.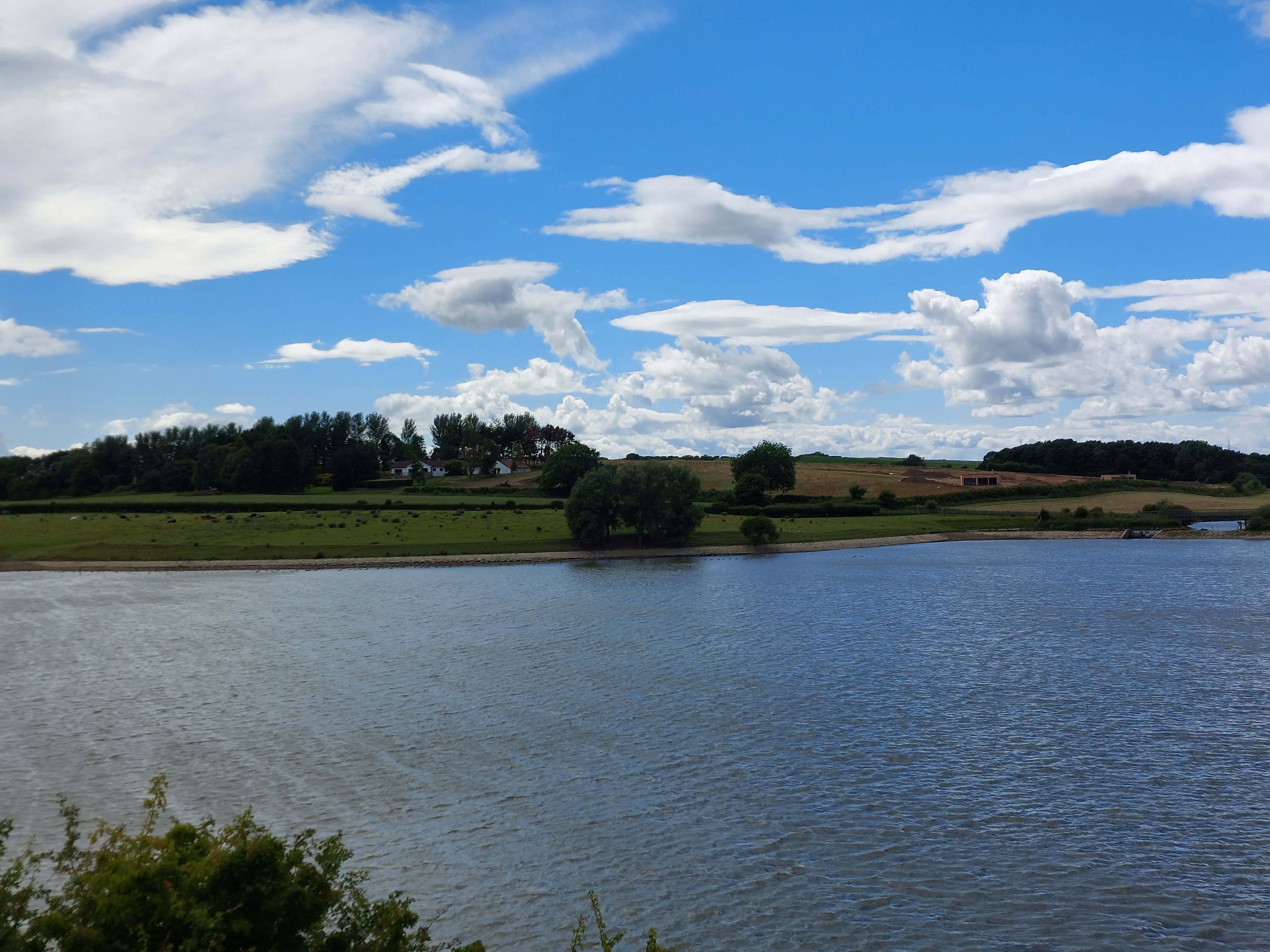 One of my few genuinely scenic views of the day.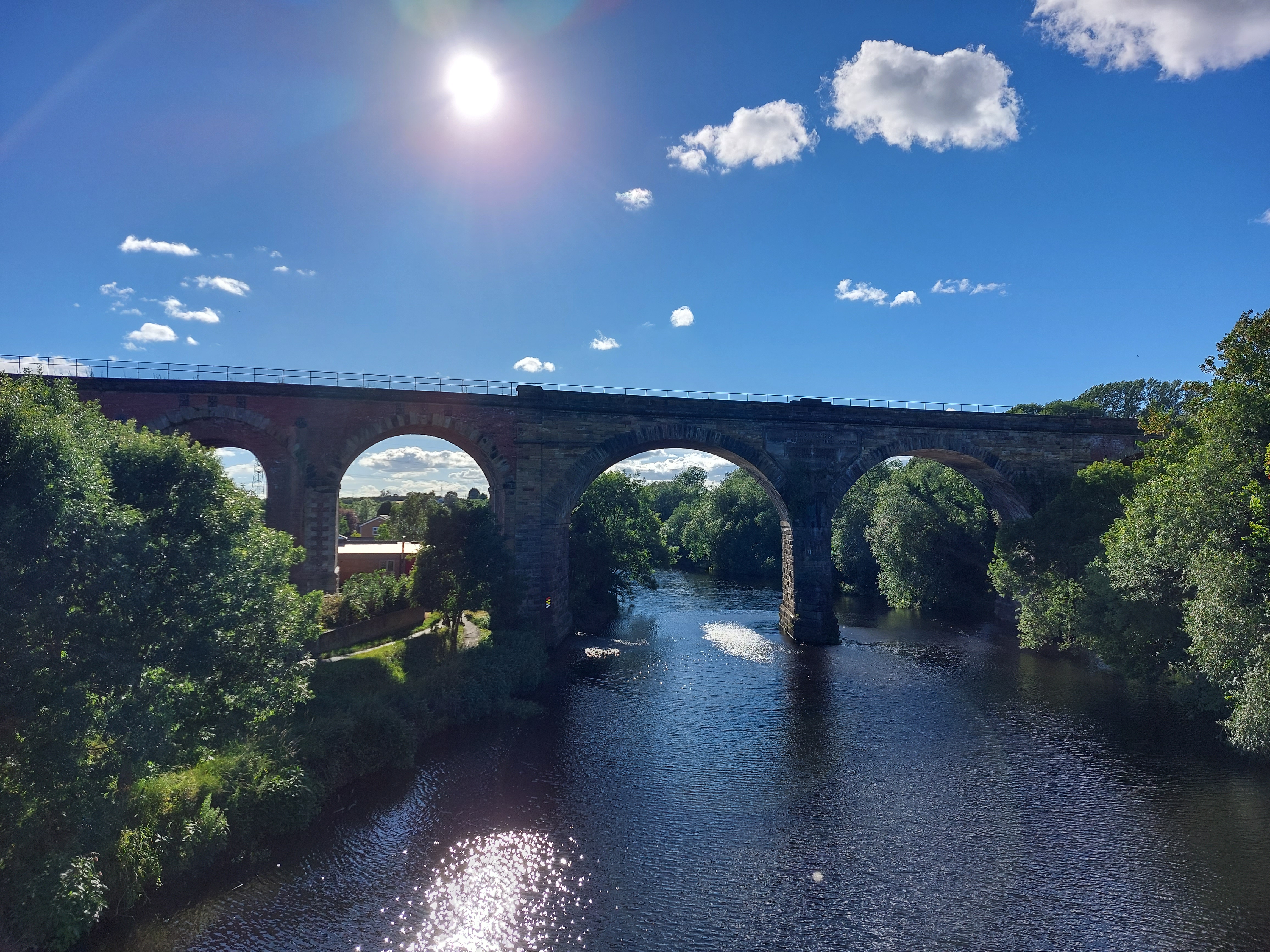 Here's another one, on a different river.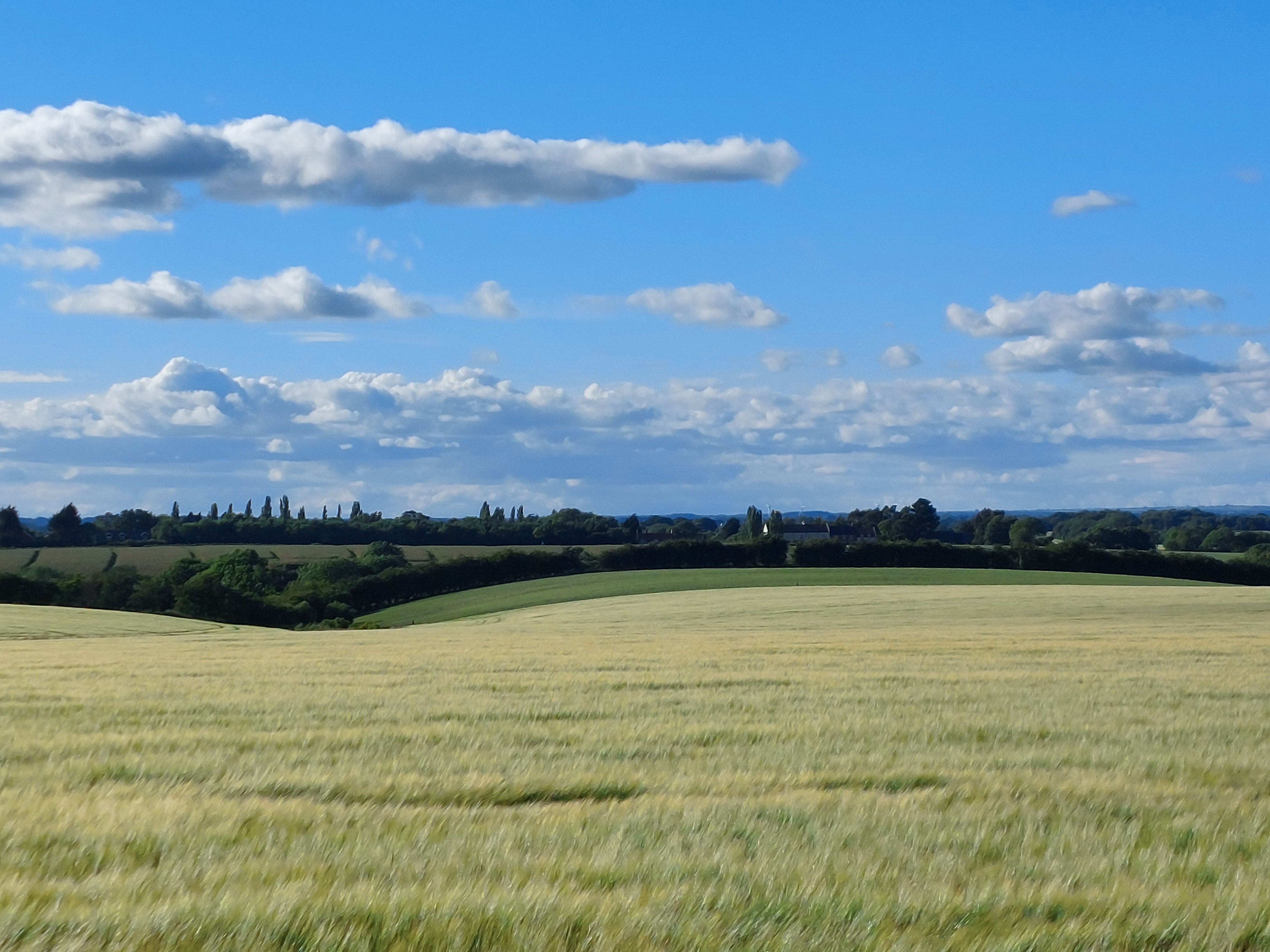 Most of the time I was looking out at stuff like this...relatively flat terrain in the distance with farmland all around.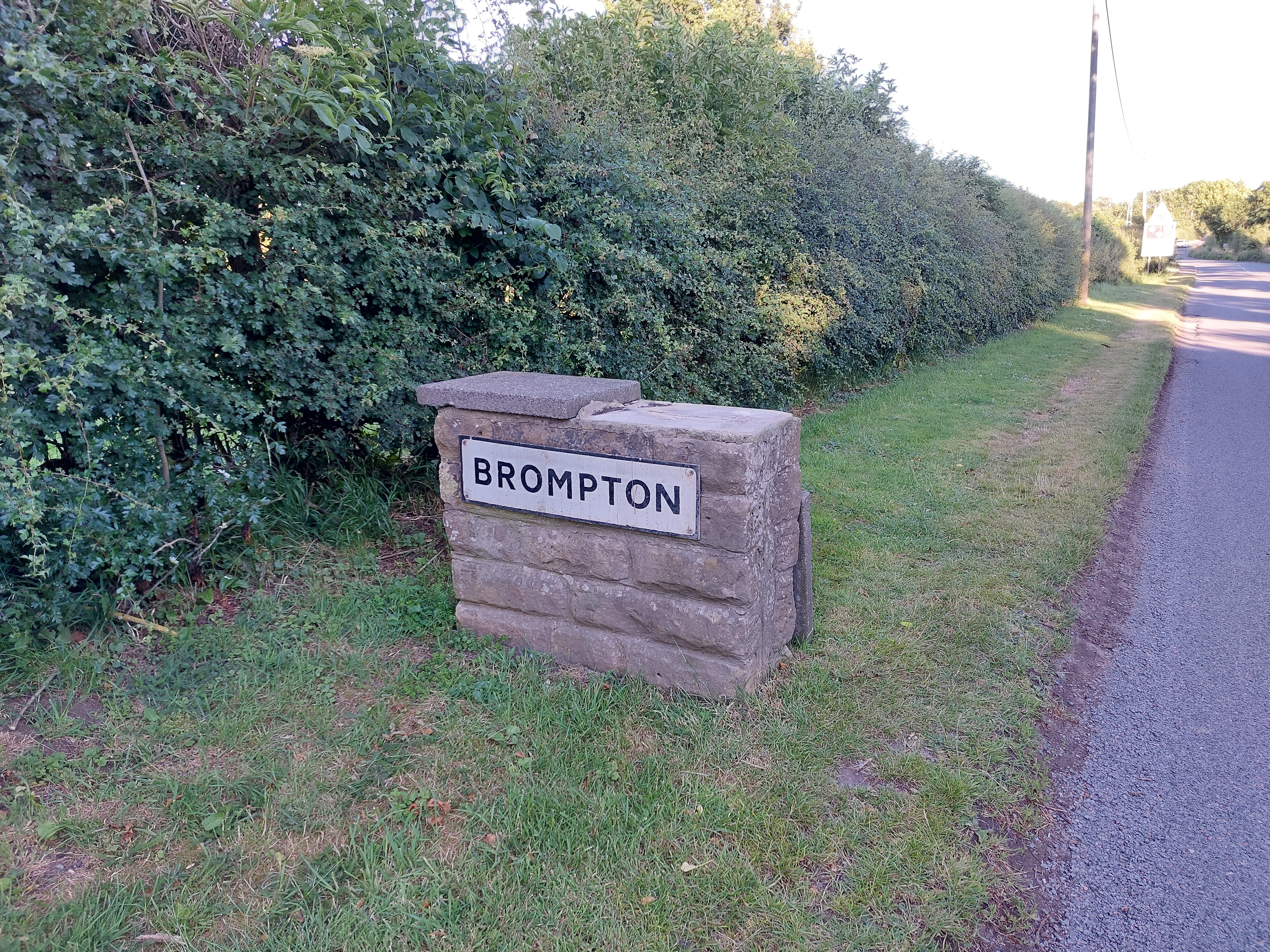 Later on in the day I passed through this little town. As some of you may know, I own a Brompton folding bike, which is the one I take with me on most trips because it fits in a suitcase that doesn't cost extra because of weight or size. I thought when I took this photo that maybe this is where the folding bike got its name, but it turns out nope, this is just a totally unassociated place. Oh well.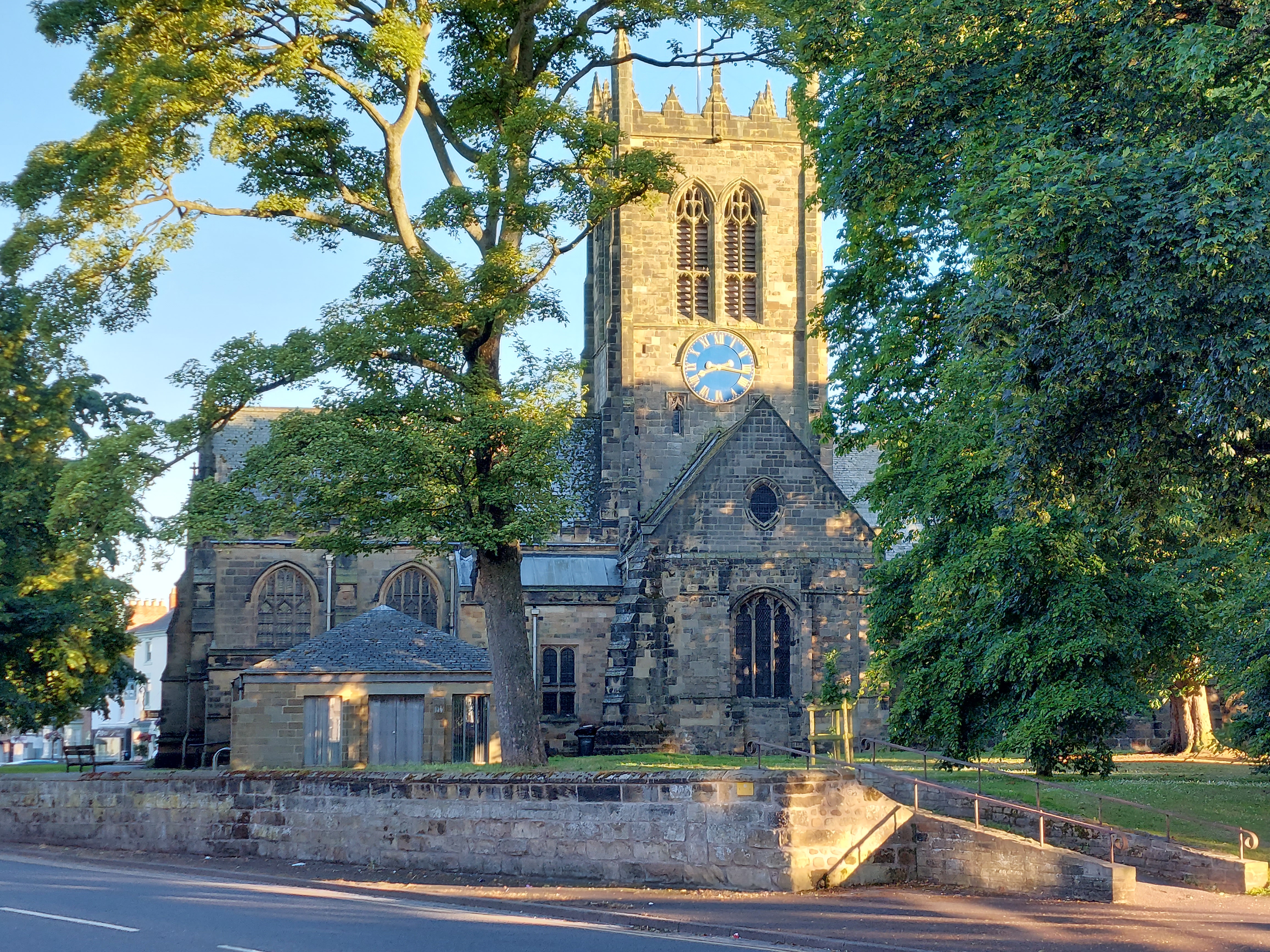 This church looks really good as the setting sun lights it up.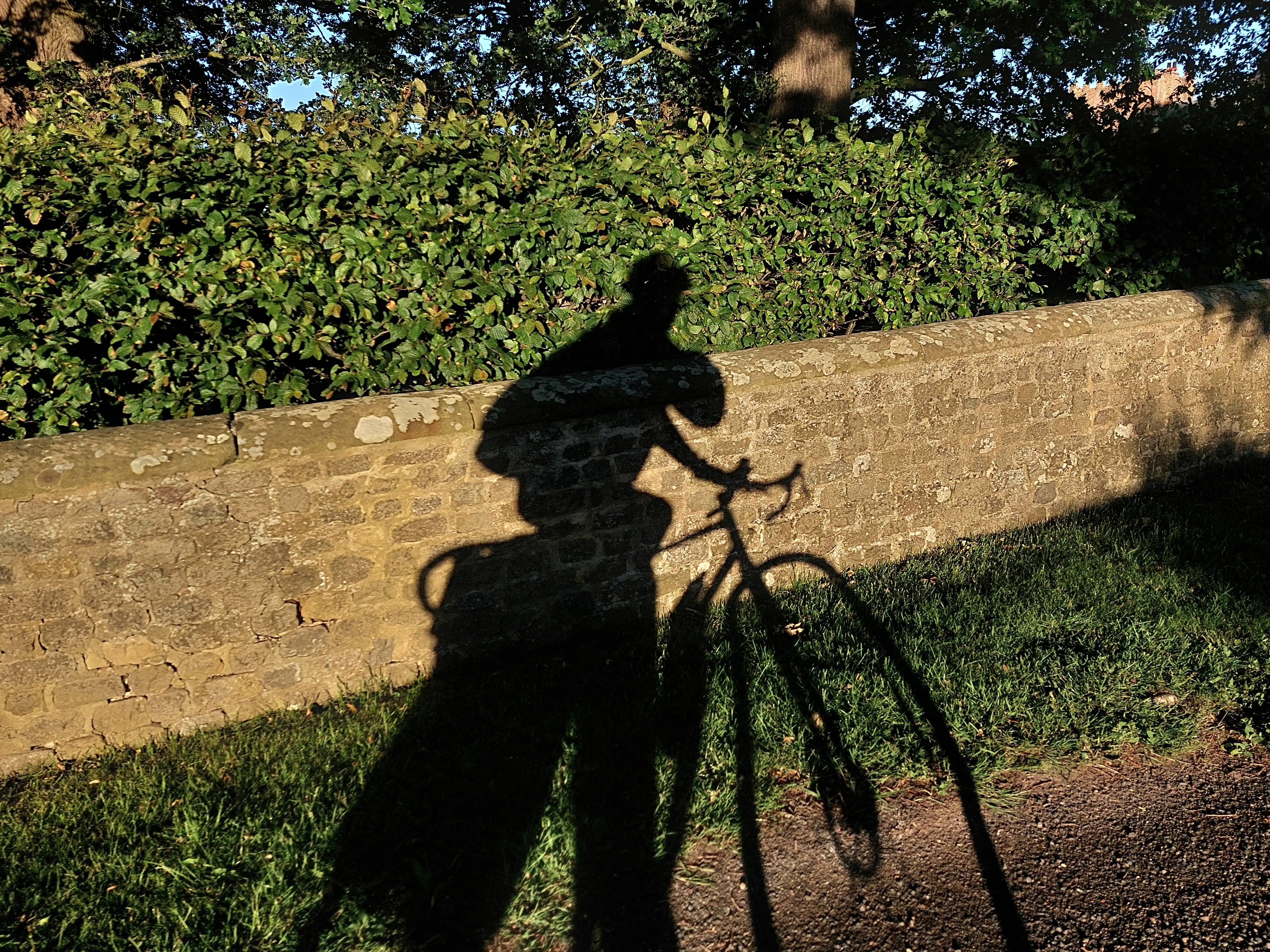 This late in the day I cast a nice shadow while rolling along. It's not as hard to take a photo while riding as you might think, either.

And here's my hotel, yet another one built into a pub. The stairs were way too tiny and had far too tight an angled turn to carry the bike up to my room, so for only the second time this trip I had to spend the night without my bike in the room with me. Luckily this place had a locked storage area they agreed to let me keep it in. (I think they were more concerned I'd gouge out their walls trying to muscle the bike up the stairs, but I wouldn't...there's no way it would've fit.) The room was fantastic here, the place was relatively inexpensive for a Saturday night, and they gave me a nice big bucket of ice for use with my soda for dinner. Yay!