Day 24 – July 3, 2022
Sandhutton to Doncaster
Miles: 75
Terrain: Hardly any climbing of note
Weather: Cool, partly sunny, moderate west winds
So yesterday I talked about Google Maps doing weird things with the routing, and today was even better (or worse, depending on how you look at it). First off, it gave me a couple of options, but anything that made me go west of the route you see on the map here basically more than doubled the climbing, and after weeks of hill grinds, I can use a couple of relatively flat days. Plus with the wind coming out of the west and me mostly going southeast, I thought it wouldn't matter if I went a few extra miles and skip the climbs. So I settled on something that looked sort of like this route here, at least the middle part of it, and had only just over 500 feet of total climbing...I don't think I've had a day that flat since London. The total miles should've been about 63, well within my usual target range.
However, shortly after setting off, the routing took me to a gated footpath that was nothing but deep mudholes and rough gravel singletrack. I had no intention of going down that for the next several miles, so I set out to go around, which should've been only another couple of miles...except that road wound up being private farm access...and so did the next one! So by the time I got around that debacle I'd added a good 8 or 9 miles to the trip already.
Making things worse, I had lots of trouble finding a store that was open (it's Sunday) in any of the small towns I went through, and wound up not getting lunch until right on the outskirts of York, at something like 2:30 pm. Luckily I had some chips (crisps, I mean...sorry UK readers, this is one of those words with a different meaning across the pond) and cookies in my backpack to tide me over.
Things got better after that, for a while. I had a nice trip through York using decent bike trails almost all the way, and as long as I continued going ever so slightly southeast, the west winds didn't bother me, and actually even helped some of the time. However, there about where you see that big dot on the map near the last part of the ride, Google Maps did it to me again, sending me off too far southeast and off track such that it cost me several more miles, and made me ride into Doncaster heading southwest, so I got to fight the wind for the last hour of the trip. Every day it seems like that last hour is the worst! But I got in about 8:15, plenty of time to beat the 9pm check-in deadline, and luckily for me I'd stopped at a convenience store earlier for my soft drink because absolutely nothing was open at this hour on a Sunday evening. Once again the hotel was able to furnish me with some ice so I had a great meal to finish out the day. Tomorrow should be another long ride as I try to position myself for the finish in a few more days.
Anyway, now on to some more photos...a little fewer than usual, again, but here they are.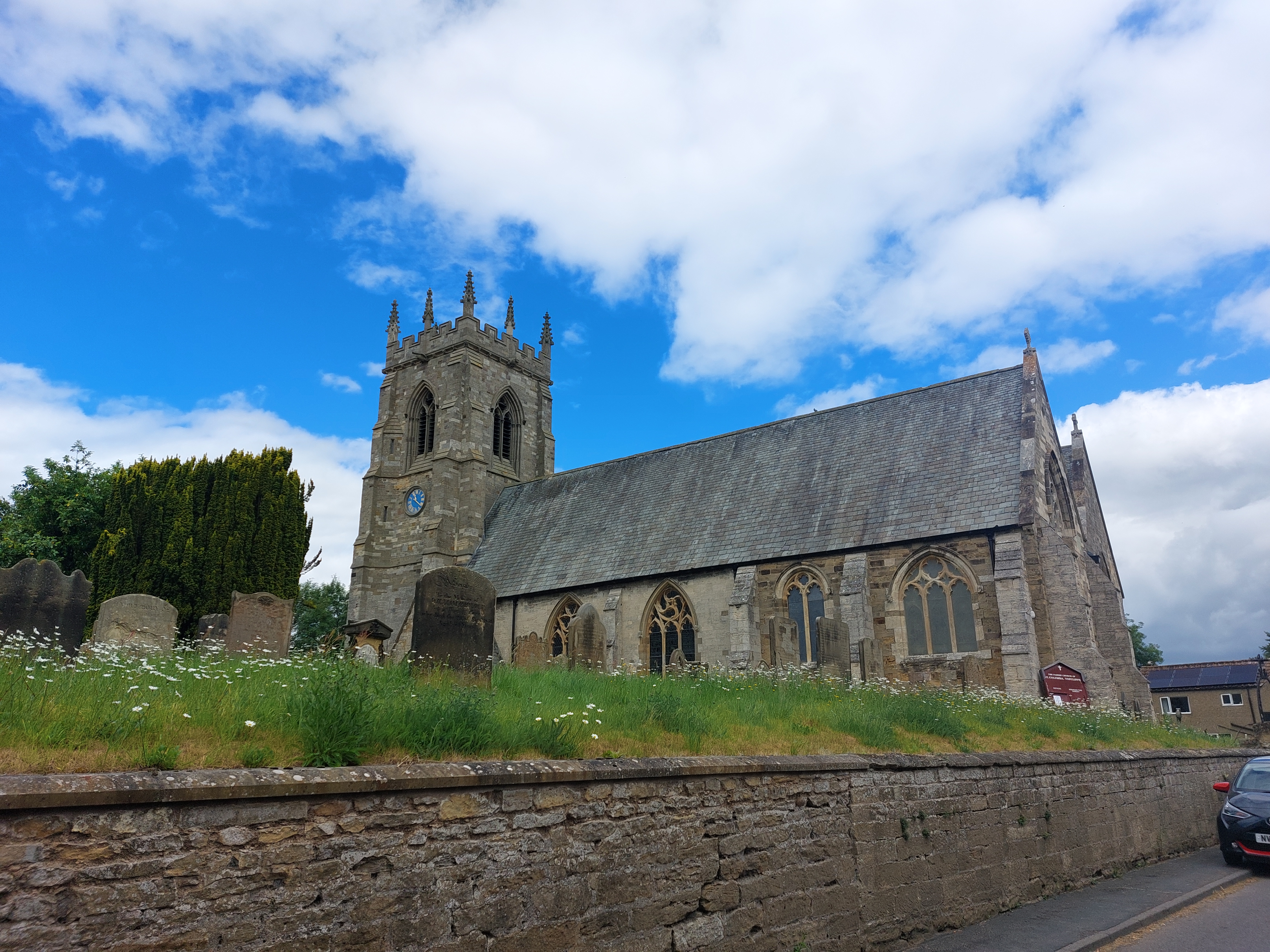 Another beautiful old church, this one on the way out of town.

Here's that nasty, muddy, awful-looking bridleway I was supposed to somehow ride my bike on. Not a chance. Going around was the right decision, even if it did wind up costing me an hour.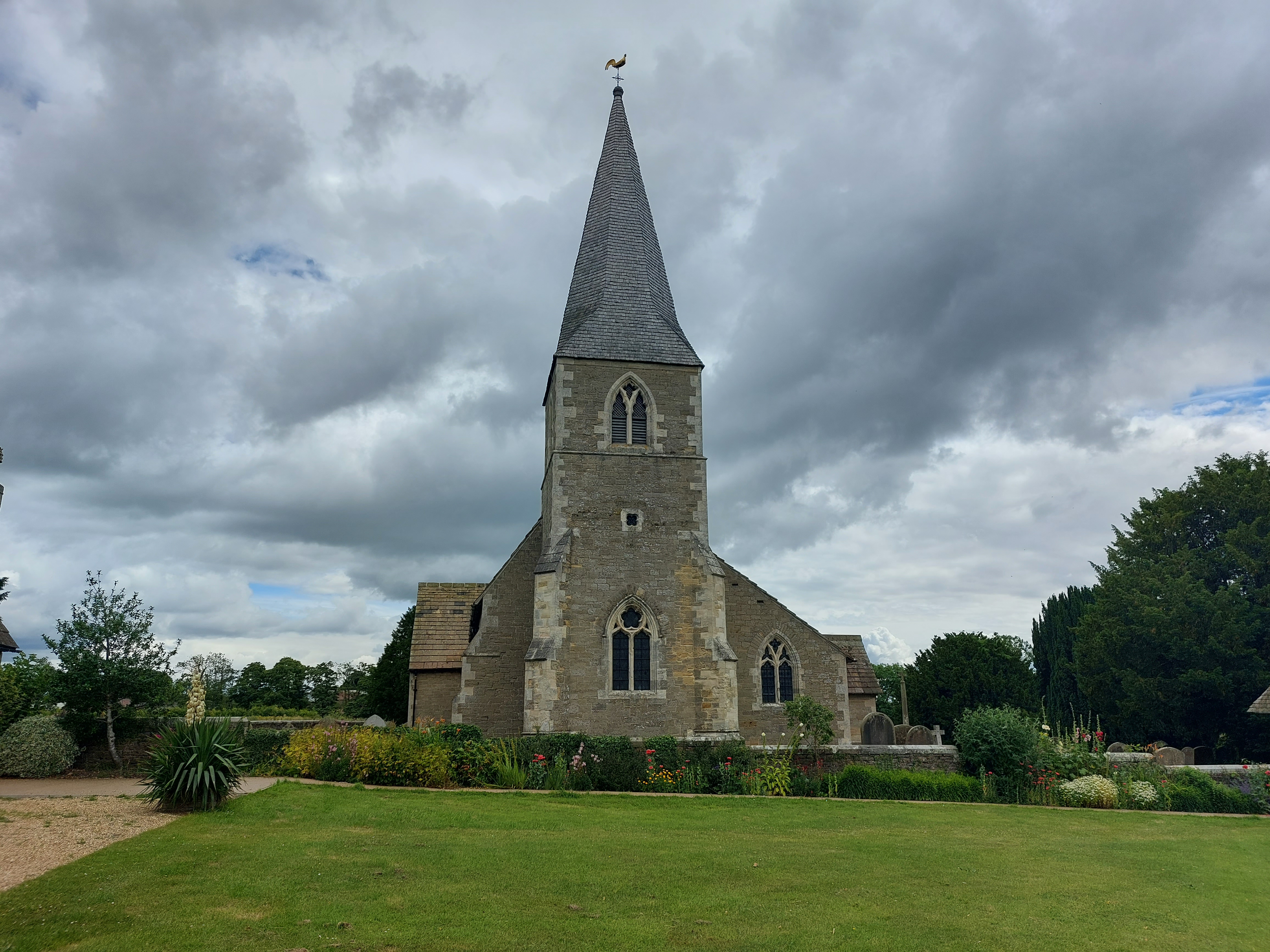 Yet another awesome church, this one on some really well-tended grounds.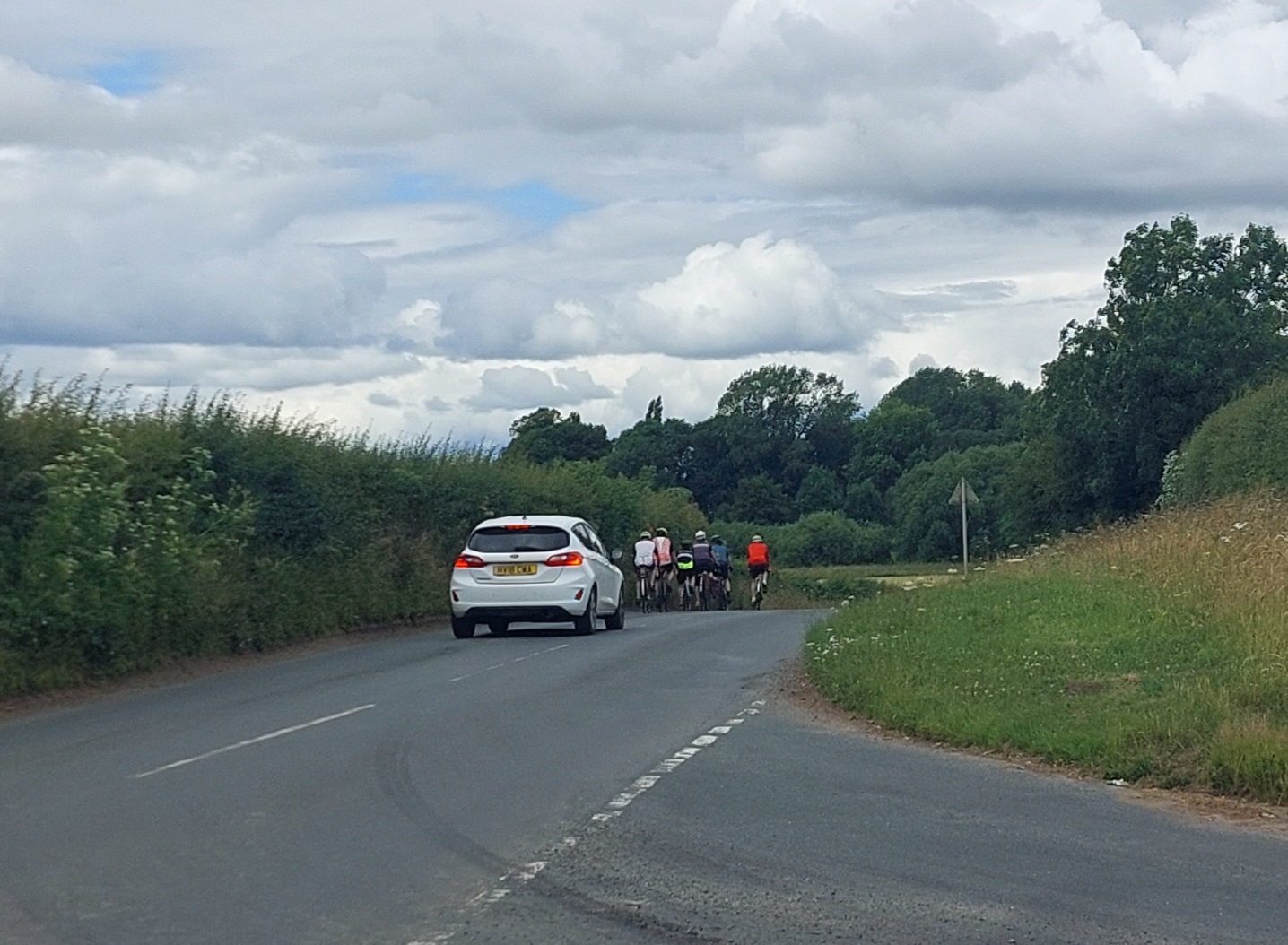 After I had my little side adventure and started to head south again, I ran into these folks out for a weekend group ride. They hung with me (and by that I mean they slowed down a lot) to chat for a bit and it was nice to meet some fellow cyclists out on the lonely road!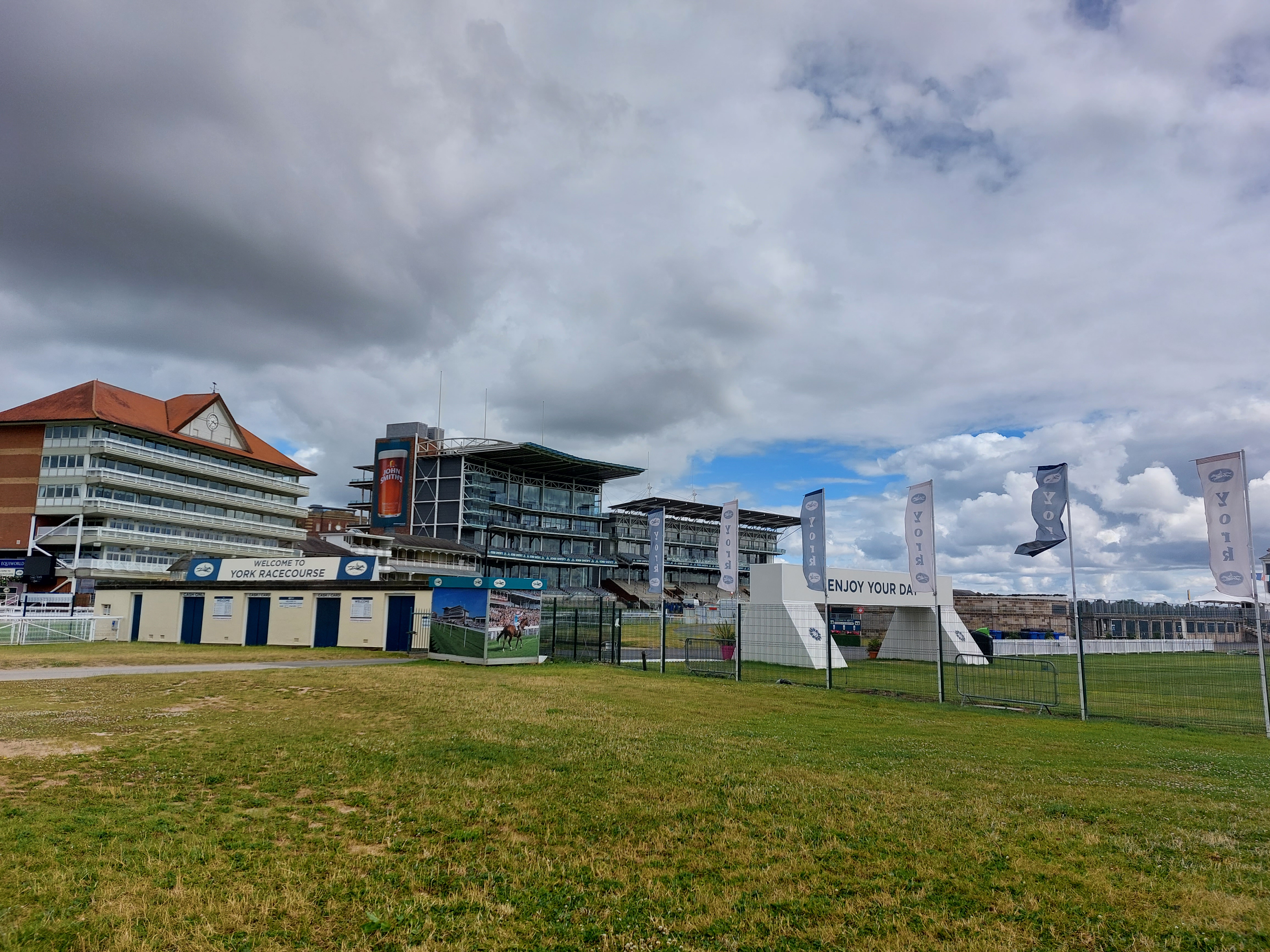 When I got to York the route took me past this huge racetrack, and to my surprise the cycle path took me out onto the track itself, along with a bunch of other people out to enjoy the day. I'd never ridden through a horse race track before! Imagine doing that at Churchill Downs...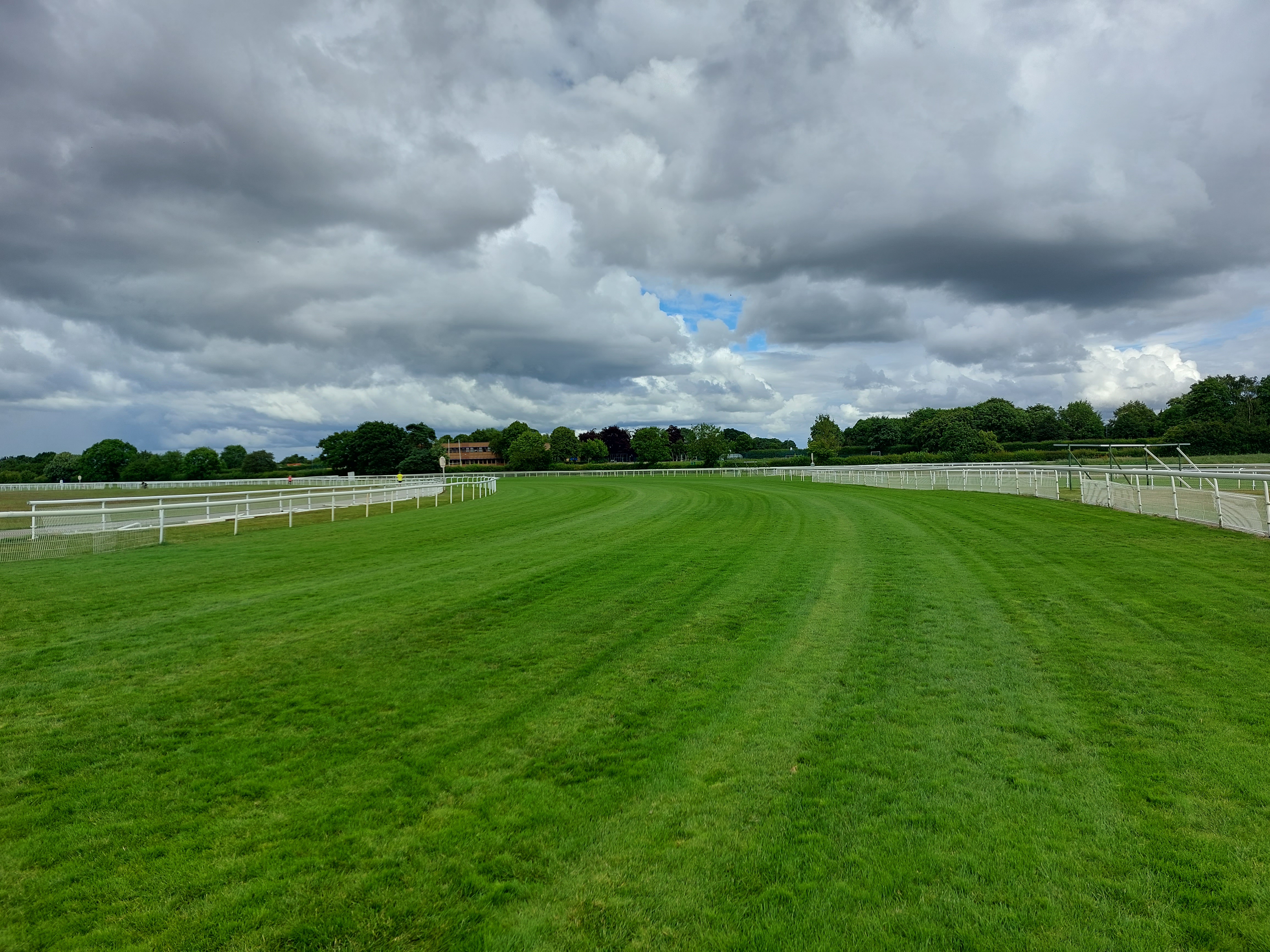 I mean, here I am right in the middle of the track! How cool is that?

This is an old palace I passed by, now a private residence (the sign by the gate says to keep out).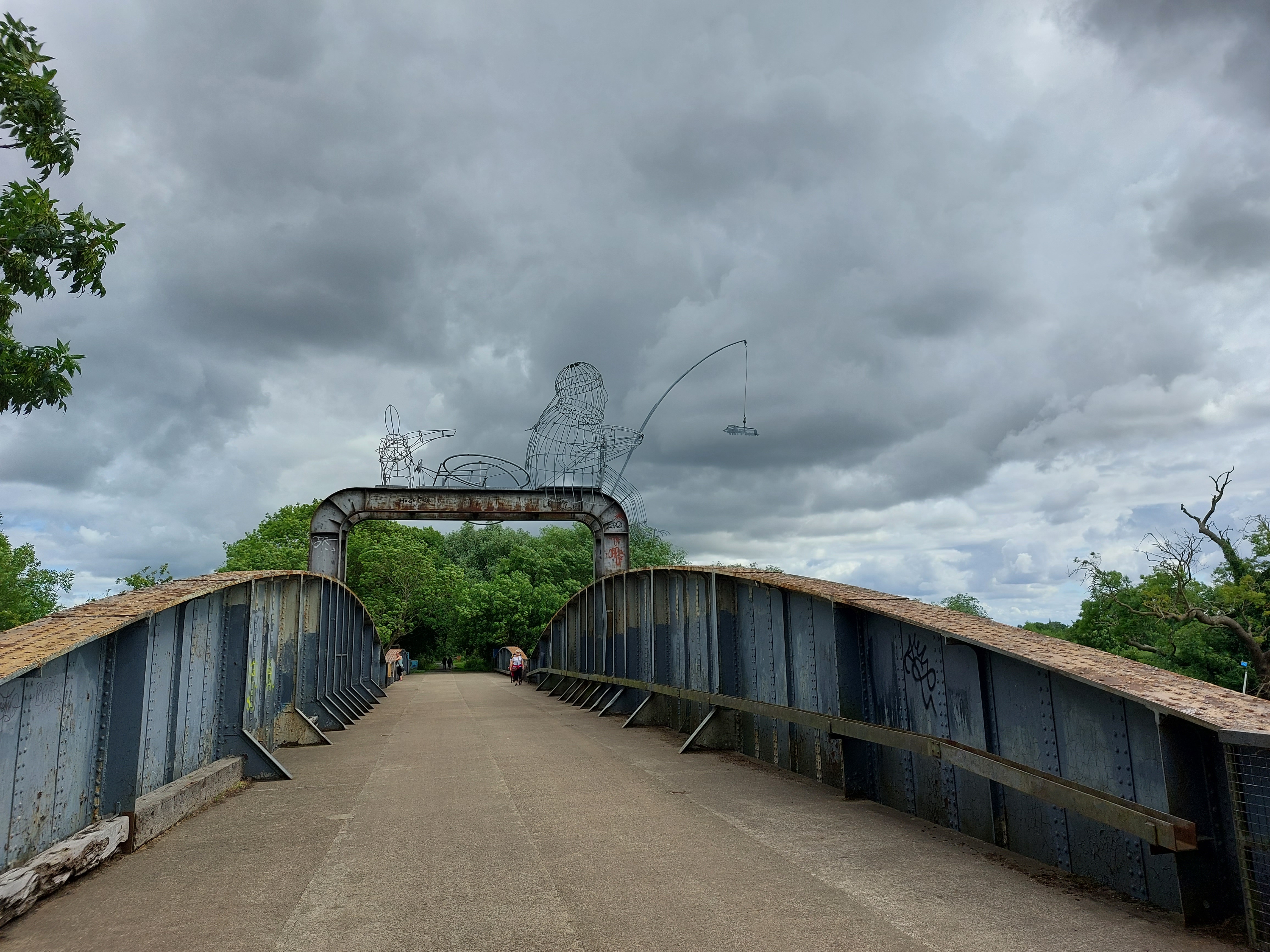 I love the sculpture on top of this bridge. It looks like they can light it up at night, too.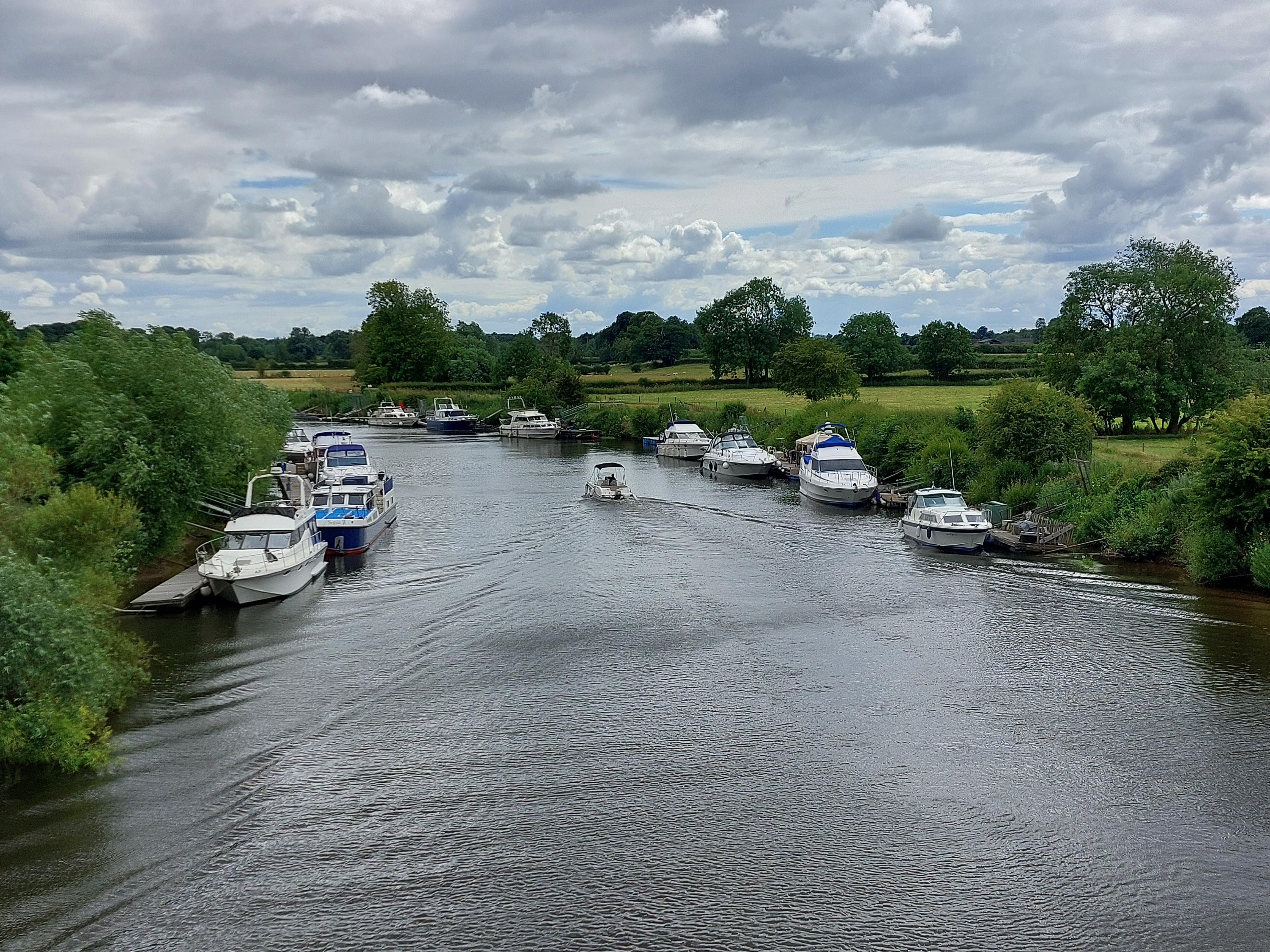 Sunday afternoon boating time!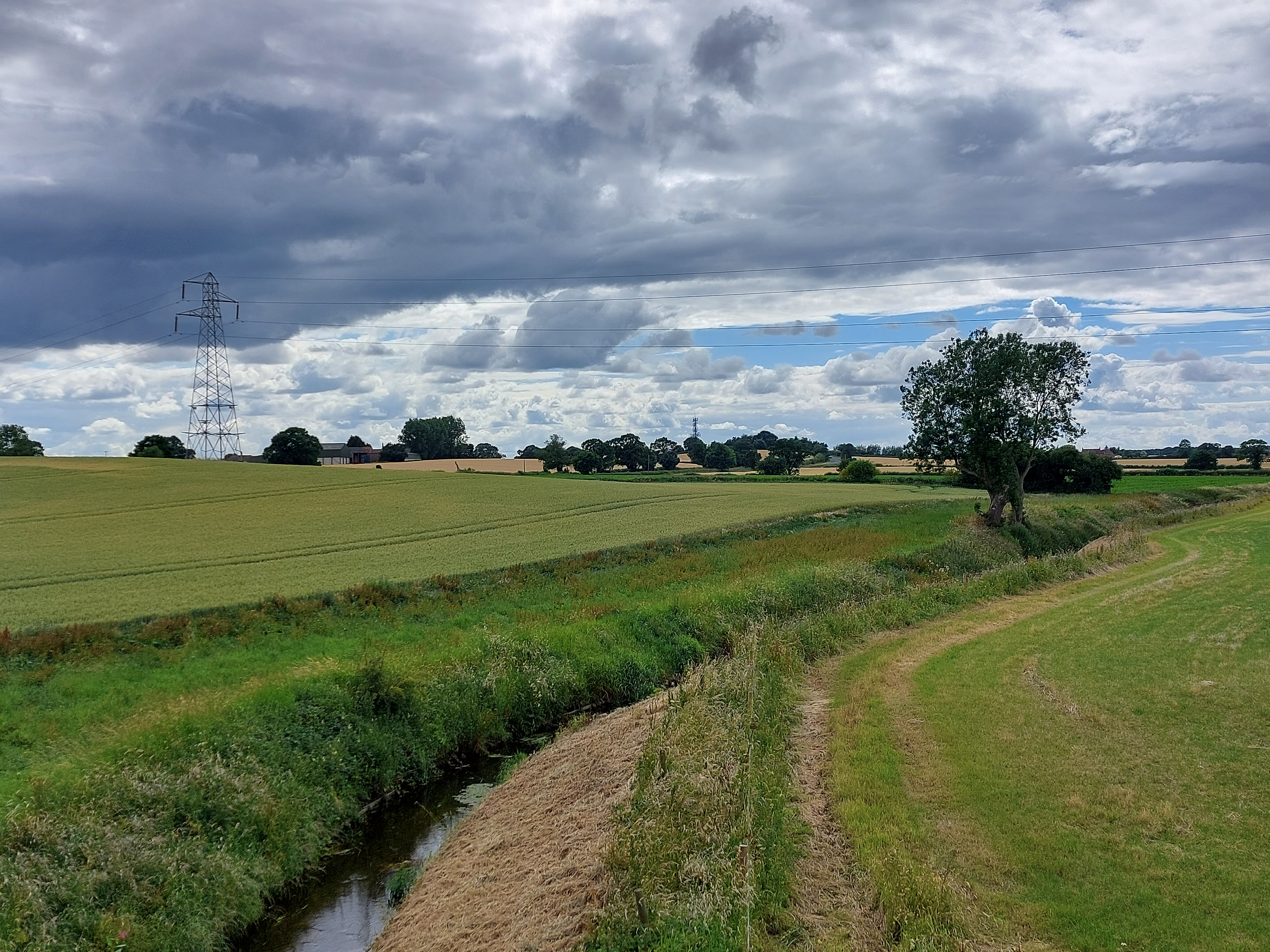 Most of the day I looked out at terrain like this...so nice and flat, making the ride easier, but a little boring, too.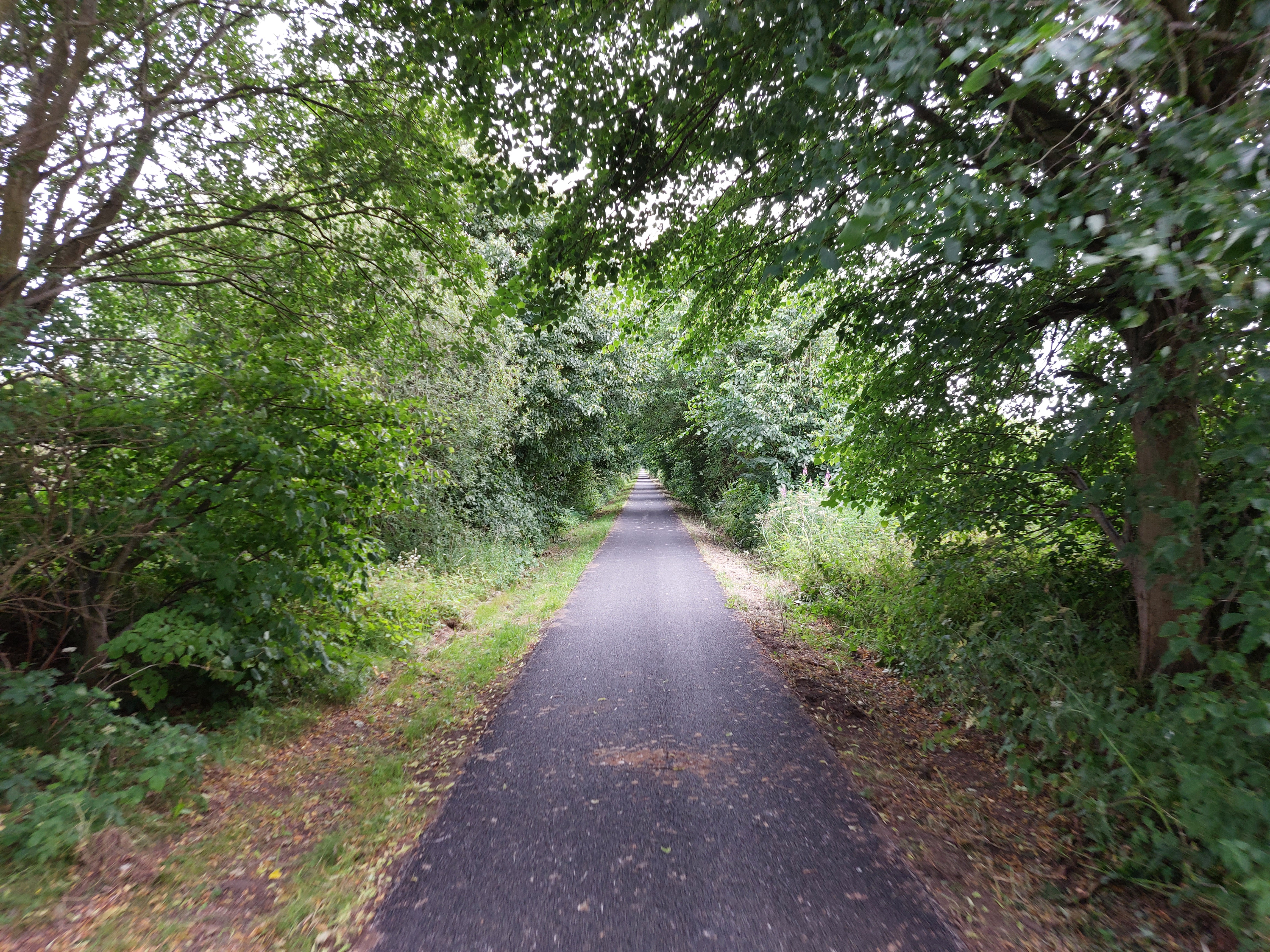 York had some of the nicest bike paths I've seen this trip. So much better than the bridleway this morning!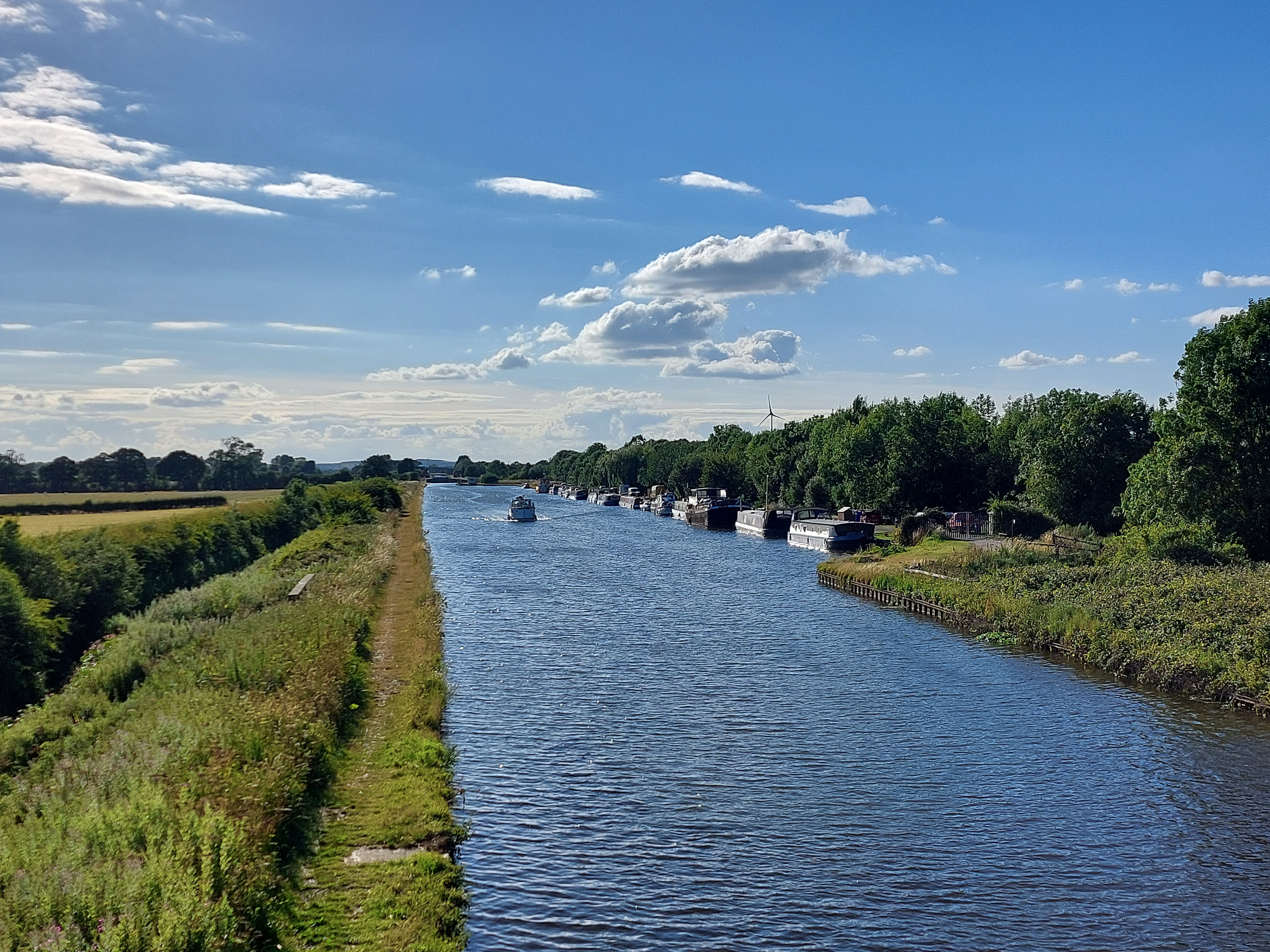 Another river crossing...actually more of a canal, I think. And lots of houseboats, too.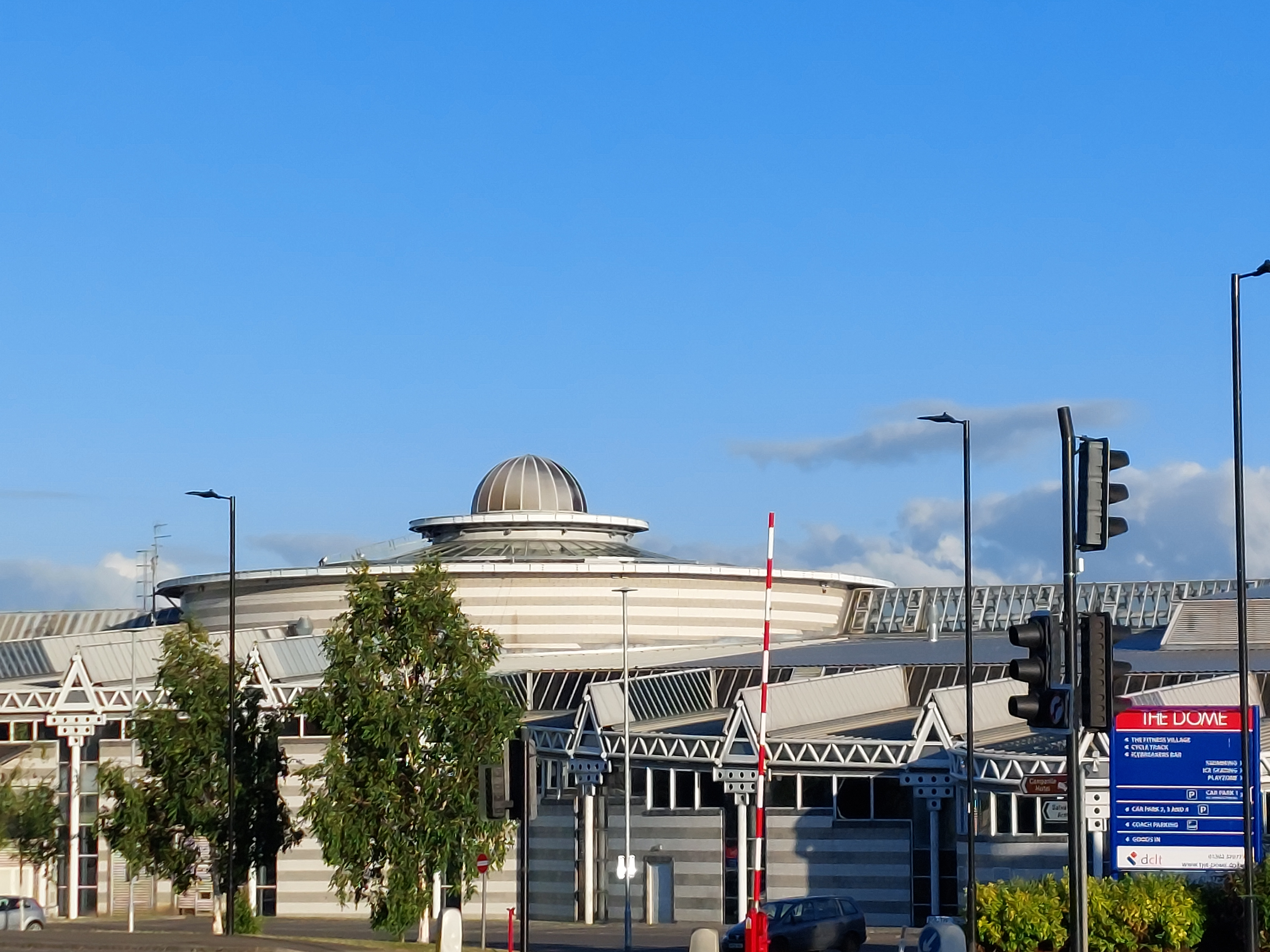 On my way to my hotel I encountered "The Dome," a series of fitness and leisure activities all in one place...they even have ice skating. If I lived here, you can bet I'd be a frequent visitor.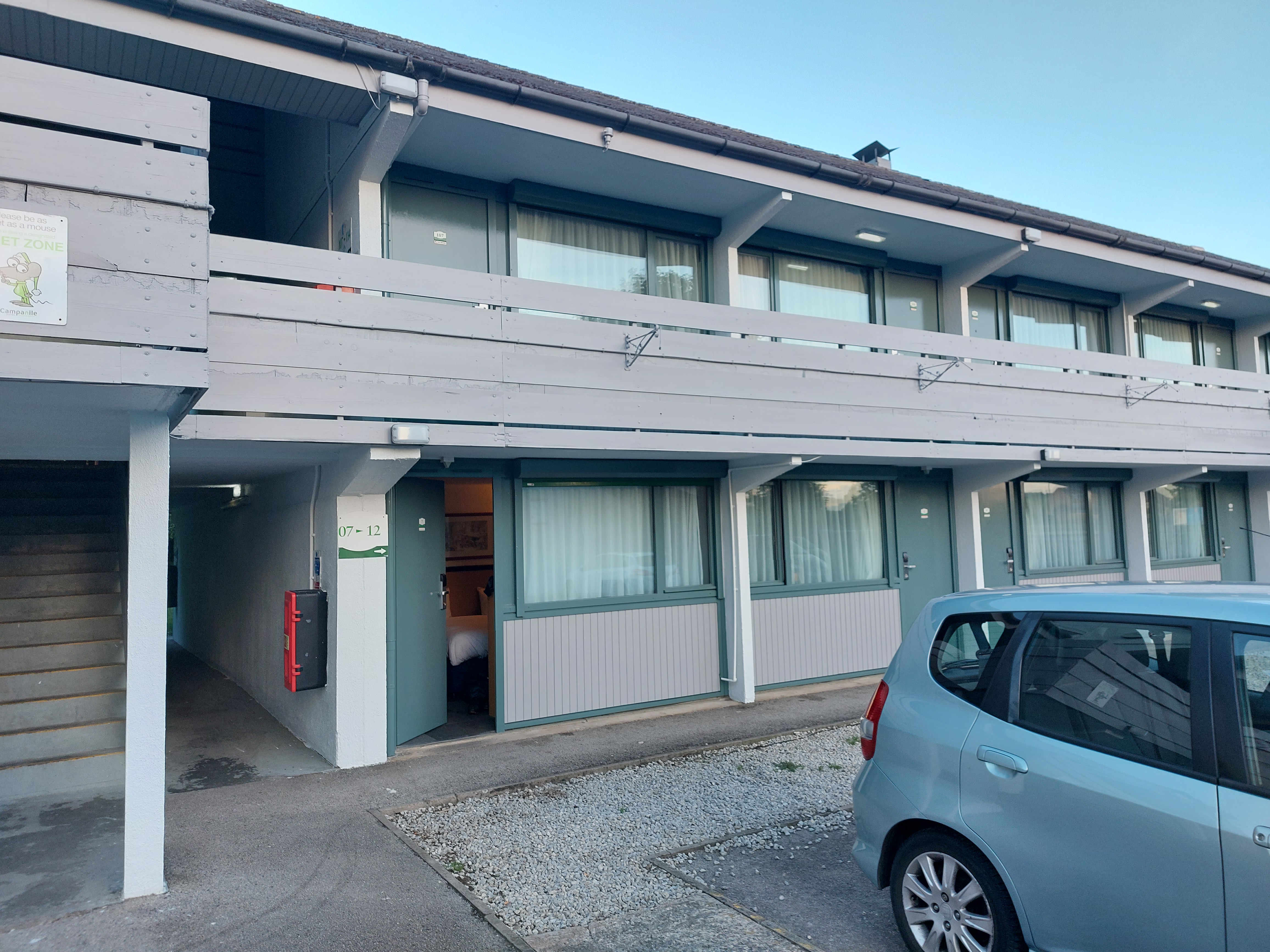 And here's my hotel room...you know, this is the first time, in my entire time here in England, that I've stayed at a place like this, with the sort of look I expect from small hotels I encounter back in the USA. Everything else has been more of a pub hotel (even that Best Western) or hostel. Inexpensive and it has great internet and showers. I expected I'd have to pay more on Sunday night during 4th of July weekend, too! (haha)

Anyway, one more thing, here is an update on the tire wear I mentioned yesterday. This is after basically 2 days of riding (all of yesterday since I took that picture in the morning, and then near the end of the day today). You can see the worn spot has expanded and brought a friend along. I'll keep an eye on it and see how bad it is tomorrow night. I may have to change the tire then...we shall see.